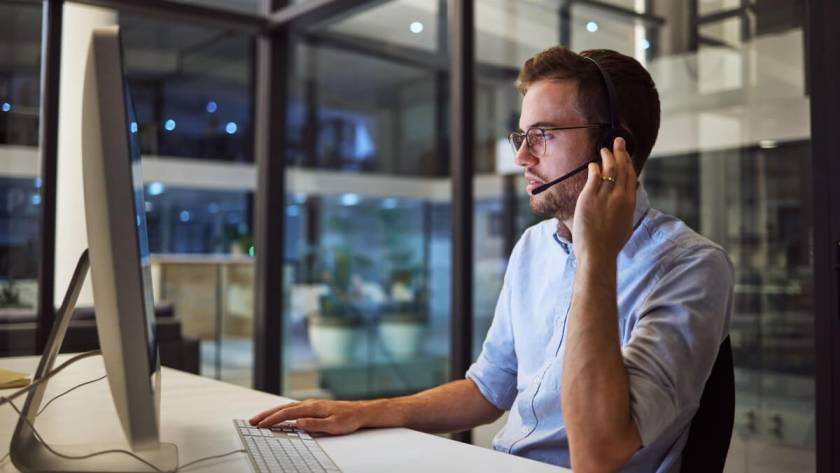 Written by Allie Delos Santos
Are you struggling to support your growing workforce? As your business expands, you might find it more difficult to support employees with their technical needs. You might realize that you need help with information technology (IT) and desktop support.
If you cannot hire desktop technicians, try IT support outsourcing. Outsourcing is becoming more popular as a way to keep costs down and improve end-user experience.
This article discusses the role of a desktop support technician. It also covers the skills desktop personnel need and how outsourcing can help find the best agents.
What Is a Desktop Support Technician?
A desktop support technician is in charge of keeping your computers running smoothly. They are what most users envision when they think of an IT department—the crew the rest of the organization turns to when something goes wrong with a device. 
These professionals are computer support specialists who maintain and troubleshoot desktops and networks. They help by assigning a ticket to each request and working with a user to solve a problem.
Desktop support technicians are crucial because companies have many devices to monitor, maintain, and update. Organizations can acquire back-office outsourcing services to handle this function.
Desktop support technicians need to solve a wide range of problems and explain how to fix them in easy-to-understand terms. This job requires both good communication skills and technical knowledge. That means a desktop support technician needs the following:
Proficiency in IT-related applications

Familiarity with TeamViewer functions and remote access software

Superb diagnostic, installation, restoration, and upgrade abilities

Clear written and verbal communication

Effective time-management skills

Excellent coordination skills

Attention to detail

Flexibility, patience, and supportiveness
Roles and Responsibilities of a Desktop Support Technician
Desktop support professionals are present in almost every sector or company. Retail, healthcare, banking, finance, and pharmaceuticals all need desktop support technicians. Businesses can turn to outsourced IT solutions to acquire seasoned experts.
Support agents are the primary point of contact for end users. They deliver on-site or remote support to an organization's devices. They perform various tasks to ensure all network connections, computers, and software are running properly. 
Here are the general responsibilities of a desktop support technician:
Troubleshoot Technical Issues
Crashing applications, unresponsive servers, and faulty network connections are all within the purview of a desktop agent. Technicians use their knowledge to find solutions to these problems. Here are some ways they resolve concerns: 
Analyze, diagnose, and resolve complex desktop problems for end users

Recommend and implement remedial solutions as needed, such as repair for remote users

Fix issues with the operating system when a device freezes or crashes

Coordinate with suppliers to solve technical issues
Provide Remote Desktop Support
Remote desktop support involves connecting to a device remotely and offering IT assistance. Using applications that let them control another person's computer from any distance, agents can see what the end user is doing. At the same time, they can guide the end user through the solution.
Remote desktop support is crucial because it allows technicians to help users from any location. Technicians provide remote support through the following methods:
Delivering fixes, including implementing file backups, installing and upgrading software, and configuring systems and applications using remote access technology

Assisting in the planning and installation of desktop computer hardware, software, and cabling for local area networks and remote sites

Using collaboration tools
Install and Maintain Equipment and Software
A desktop support technician should know how to install software on a computer. Installation includes deploying operating systems and downloading applications and software.
Outsourced tech solutions often involve contractors trained in the proper set up of devices. Business process outsourcing (BPO) companies also provide their technicians with knowledge of different software to ensure easy troubleshooting.
When companies hire new employees, a desktop support technician sets up their workstations. They ensure that the new hires have the applications, programs, and other tools needed to do their jobs. They also set up, configure, maintain, update, and upgrade computers and software.
A support technician's responsibilities further include: 
Setting up a company's computer system to fulfill business objectives

Maintaining and resolving issues with voice over internet protocol (VoIP) telephones, biometrics, local and wide area networks (LANs/WANs), and audio-visual (AV) systems connections

Installing, configuring, testing, troubleshooting, monitoring, and maintaining end-user and network hardware, presentation equipment, printing/scanning devices, peripheral devices, and software

Supporting the development and deployment of new software installations and new computer projects

Reducing migration time by installing System Center Configuration Manager (SCCM) for patch management, endpoint protection, and software distribution
Maintain PCs
Support professionals maintain computer systems. Thus, their role includes troubleshooting common problems and installing new hardware. Technicians should know how to replace or repair broken components so that businesses no longer need to call an additional service provider.
Outsourced IT support technicians perform the following maintenance procedures:
Monitor day-to-day computer performance

Prepare tests and applications to generate performance statistics and reports

Manage and keep computer equipment and inventory up to date

Ensure that the desktop connections (i.e., network jacks) are in proper working order

Research and make recommendations for hardware products for procurement 

Liaise with third-party support and computer equipment vendors

Ensure seamless interconnection of desktop computers with desktop systems based on compatibility factors
Configure VPN and Networks
Virtual private networks (VPNs) are software programs that let users remotely access a network as though they are physically nearby. A desktop support technician uses VPNs to work with users remotely to configure VPNs properly.
VPN configuration involves:
Installing the program on the employee's and technician's computer

Entering log-in information

Making sure all data transferred between two devices is encrypted
Conversely, network configuration is the ability to deploy and modify computer networks. This skill involves knowing how different devices are connected and how to install applications that let desktops communicate.
Provide Client Service
Essentially, desktop support technicians' clients are the company's employees. They must provide excellent service to meet the needs of the client. This includes training staff to use company applications, responding to urgent and ad hoc requests, and holding workshops for new software implementations. 
Here are some other examples: 
Train and guide end users in hardware and software usage

Train and develop operations staff

Motivate, reward, and recognize staff performance

Deliver a client-focused service experience for technology users 

Respond professionally and promptly to client questions, demonstrating the highest standards of verbal communication

Assist in capacity planning and developing long-term strategies for meeting organizational hardware needs
Manage the Ticketing System
Help desk ticketing systems are applications that let companies track IT work orders. They are used by both small and large businesses to give end users a way to ask questions and get answers in an organized way.
A desktop support technician should have strong knowledge of ticketing systems since they receive work orders via phone calls, email, or mobile apps using ticketing software. It converts each work order into a ticket so that technicians can track and update its status. If a technician cannot solve a problem, they will pass it on to the next team or department.
Here are some processes under this function: 
Create and manage user accounts and permissions to grant access to certain networks

Receive and respond to incoming calls, chats, and/or service requests regarding desktop problems

Follow best practices for ticket management

Ensure tickets are handled and updated as per the process 
Ensure Security
Technical support is a common target for hackers and cybercriminals. Compared to old methods, advanced security protocols make it easier for technicians to confirm a user's identity and stop unauthorized access.
Security protocols include the following: 
Perform preventive maintenance to reduce unexpected downtime and failures

Validate and approve VPN access for work-from-home (WFH) employees

Manage replications, backups, and disaster recovery plans of mission-critical database files and servers 

Maintain file systems, passwords, and data integrity

Uphold and ensure text security, blocking unapproved access
To keep up with new developments, a desktop support technician must get certifications for new IT trends and best practices for customer service. A reputable back-office outsourcing provider invests in training its employees to stay ahead of competitors.
Desktop Support Technician Roles vs. IT Help Desk Roles
If you have done some research, you have probably heard the term "IT help desk" and wondered what makes it different from "desktop support." The terms are similar enough that they can be used interchangeably. Still, there are key differences that depend on the type of support offered and the company that uses it. 
Let us take a closer look.  
Specific Support vs. General Support
As mentioned earlier, desktop support technicians assist with company devices. They deal with issues involving VPNs, Wi-Fi, and connections. 
IT help desk agents, on the other hand, deal with various user problems. They help with simple problems, answer common questions, and send complex tickets to the next department. If the customer's problem is something they know about, they will help solve it.
Customer-oriented vs. Employee-oriented
A help desk assists customers, while desktop support technicians assist employees.
IT help desks assist customers unfamiliar with a product's features and settings. They help resolve issues regarding purchased goods and services.
On the other hand, a desktop support technician works with a company's front-end users and employees. They help with company computer networks and are knowledgeable about the devices used.
What Education Should a Desktop Support Technician Have?
The education requirements for a desktop support technician depend on the company. 
Desktop support jobs require computer knowledge but not necessarily a postsecondary degree. Individuals who take computer-related courses have the necessary skills. Most employers accept candidates with an associate's degree, and others prefer those with a bachelor's degree in IT or similar fields.
The educational requirements for this role vary because desktop support comprises three tiers. For instance, you can find job titles such as:
Desktop Technician T1,

Desktop Technician T2,

Desktop Technician T3, and so on.
The U.S. Bureau of Labor Statistics says that some employers hire people with a high school diploma and more training. In contrast, others require an associate's or bachelor's degree, depending on the work. Generally speaking, companies require candidates with higher education to fill more specialized technical support roles.
Desktop Support Technician Certification
Vendors or vendor-neutral providers offer certification programs. Certification validates the skills and best practices required by the role. Some products and services used by a company might require technicians to have certifications.
Certifications are a powerful tool to verify a technician's skills. That said, not all certifications are equal. Getting the right certification makes desktop support technicians more valuable and gives them an advantage when looking for work.
Information technology is always changing, so people who work in desktop support should always learn new things. 
Here is a list of common certifications for desktop support:
CompTIA A+
The Computing Technology Industry Association (CompTIA) A+ certification is ideal for beginners. It prepares them to maintain, configure, and install desktops, laptops, printers, and mobile devices. It teaches technicians basic PC troubleshooting and networking and lets them interact with different operating systems.
This vendor-neutral, foundational certification serves as a gateway for new IT professionals. Vendor-neutral certifications cover skills technicians can use with any supplier's product. Meanwhile, vendor-specific certifications focus on only one company's products.
CompTIA A+ teaches the skills needed for jobs such as technical support specialists, help desk technicians, and desktop support administrators.
CompTIA Network +
The CompTIA Network + certification is another vendor-neutral certification that tackles the skills required for desktop support. It authenticates technicians' skills to deploy, troubleshoot, and maintain networks on platforms.
This is ideal for individuals who want a career in IT. It discusses topics such as network security and cybersecurity best practices.
Cisco Certified Network Associate (CCNA)
The CCNA exam covers security fundamentals, programmability and automation, IP services, and networking fundamentals. Earning this credential proves that a desktop support technician can manage advanced networks.
But CCNA is not ideal for beginners. Rather, it is best for candidates with at least one year of experience managing Cisco products and services. The technicians should have basic internet protocol (IP) addressing knowledge and an understanding of network fundamentals.
Google IT Support Professional Certificate
The Google IT Support Professional Certificate helps technicians learn relevant IT skills. This program prepares them for activities such as:
Program installation

Wireless networking

Computer assembly

Customer service
This is a vendor-neutral program. The majority of the people who have earned this certificate recommend it to others.
The Google IT Support Professional Certificate differs from a certification. A certificate ensures that you have knowledge in the field, while a certification authenticates that you have passed the exam. Thus, the Google IT Support Professional Certificate shows you have the skill and prepares you to be certified.
Salary of a Desktop Technician
An average desktop support technician in the U.S. earns anywhere from $30,914 to $60,992 a year. The salary for this role varies widely depending on location, experience, and various other factors. Because the job tends to be tiered by expertise and skills, compensation can vary.
Data from the Bureau of Labor Statistics (BLS) states that the lowest a desktop support technician and related professions can earn is about $32,822 a year as of 2021. In contrast, the highest earners can make up to $88,941 annually. The median salary for this role in the United States in 2021 was $52,686.
BLS also broke down the hourly rate for a desktop support technician. The median hourly pay for this role in 2021 was $25. The lowest-paid hourly workers earned $16 per hour, while the highest reported hourly salary for desktop support employees was $43.
Cost of Outsourced Desktop Support
A BPO provider's location greatly affects how much it costs to outsource desktop support. When a job is outsourced, it is given to a service provider in a country where the cost of living is lower. The pricing is better due to the relatively low labor costs paid to technicians. 
Based on Indeed's website, the average monthly salary of a desktop technician in offshore countries is as follows:
| | |
| --- | --- |
| Location | Salary |
| Philippines | $288 |
| India | $238 |
| Ukraine | $499 |
| Mexico | $1,216 |
| Brazil | $3,426 |
Onshore desktop support is better than offshore support because regions share the same time zones. In addition, support technicians experience little to no language barriers and cultural differences with local customers. 
The competitive edge of offshore locations is their affordable workforce. It can significantly reduce the cost of desktop support services. Offshore countries have a lot of workers who are technically skilled and able to speak English well. 
How Can Outsourcing Help You Create the Best Desktop Support?
Outsourcing helps you rest easy knowing that professionals are taking care of your IT needs. If you have a lot of downtime or are having trouble getting the latest technology, outsourcing can help.
When technical problems arise, employees do not need to spend valuable time trying to solve a problem that is not in their area of expertise. Your trusted service provider has the problem under control. BPO companies can help you find the best support agents for your company based on outsourced IT trends. 
Outsourced desktop support aims to help your company flourish using advanced technological solutions. Technicians know the significance of keeping your computers functional. 
Here is a deeper dive into how outsourcing lets you maintain amazing desktop support.
Save on Costs
Maintaining in-house desktop support is expensive for a company, especially when benefits packages and salaries are taken into account. Keeping an in-house team means regularly paying for the compensation of your full-time desktop support employees. You also have to shoulder other benefits such as sick leave, holiday pay, insurance, and retirement plans.
Whether you outsource data entry services or desktop support, the main reason to do so is to save money. When a business outsources a function, it can choose specific services to fit its needs and finances. In addition, the cost of hiring contracted technicians is included in the service package.
Respond Immediately and Increase Flexibility
Support technicians need to respond quickly and effectively. Suppose your business has an in-house desktop support team. In that case, all your tech resources should be available round-the-clock to keep your business competitive. But what happens if one of your servers experiences downtime on a public holiday and your in-house IT team is unavailable?
BPO support technicians are only one phone call, ticket, or email away. Third-party vendors have many agents on call to address problems as they arise. Having a large pool of contractors ensures all client companies receive equal service.
Working with an outside provider also gives employees more freedom. As a result, they can work during their most productive hours without worrying about getting help if they have a problem. Even while working remotely or outside office hours, staff members can reach a live desktop agent for support.
Divert Management Responsibilities
When you outsource desktop support, you can focus on your core business. While having an in-house team is useful, management can be a headache if they do not have the necessary expertise, experience, and resources to handle the function. 
So consider whether you are capable of managing IT processes and technologies. Outsourcing to a reliable BPO provider gives you access to a wider range of experts and specialists. 
A BPO service provider manages its own IT team. This takes the pressure off you and your HR department. The third-party oversees the management of their employees—from hiring and recruitment to onboarding and retention—tracks their performance and hours and addresses personnel problems.
Access More Resources
Some businesses lack the financial freedom to jump at emerging solutions and purchase the latest IT equipment. On the other hand, service providers are sure to have the newest tools and various resources.
Tapping into a BPO company evens the playing field, especially for small companies. A service provider lets them leverage advanced technologies without worrying about the financial burden of acquisition.
Get Support From Highly Trained Experts
Does your in-house desktop team have an up-to-date understanding of PCs and servers, Wi-Fi solutions, data security, and backup solutions? If they do not, your business might lose its competitive edge.
Much like with equipment and resources, BPO firms provide a wealth of expertise. Their technicians have the right training, credentials, and experience with similar clients, giving you a strategic advantage.
When a problem arises, one of your technicians is bound to have the right set of skills to solve it.
When subcontracting the role, ask what an outsourced IT provider offers their technicians in terms of training. 
The Bottom Line
A desktop support technician's job is to ensure that your computers, networks, and devices run smoothly. They are the ones you turn to when you encounter a problem.
Their main job is fixing IT problems, keeping an eye on how computers are running, installing and maintaining hardware, and ensuring software is up to date. Desktop support technicians undergo training and certification programs to keep up with the latest trends.
Companies struggling to find desktop support experts can turn to BPO companies for help. Outsourcing lets businesses reach a wide talent pool and access the latest resources. It levels the playing field, especially for small and medium-sized businesses.
Ready to outsource your desktop support? Contact Unity Communications today.