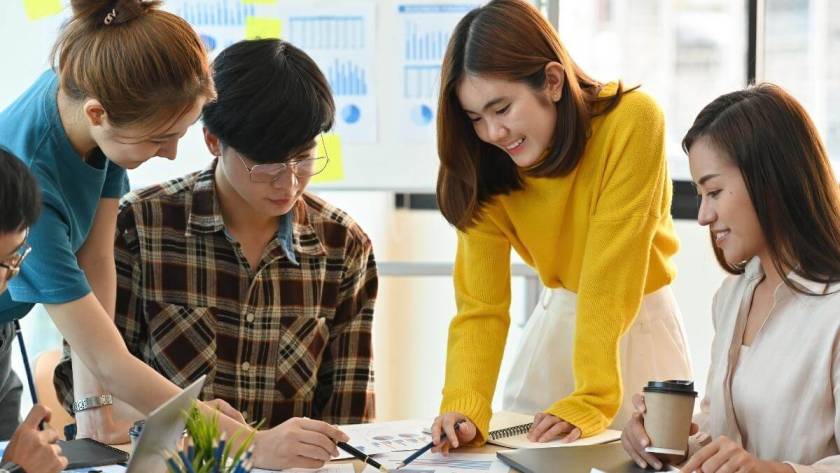 Written by Joyce Ann Danieles
Because of constant technology upgrades and global issues driving significant changes in the IT industry, companies often seek help from outsourced technical support providers to adapt to the evolving business landscape. 
But before closing a deal, small, medium, and large enterprises must understand recent market shifts in the BPO industry to formulate their investment strategies better. A glimpse into the future of IT outsourcing also helps improve growth-focused action plans. 
Let's look at the current outsourced IT trends influencing contractors' offerings. We'll also explore outsourced IT predictions to better prepare for unforeseen challenges.
Five IT Outsourcing Trends That Are Shaping 2022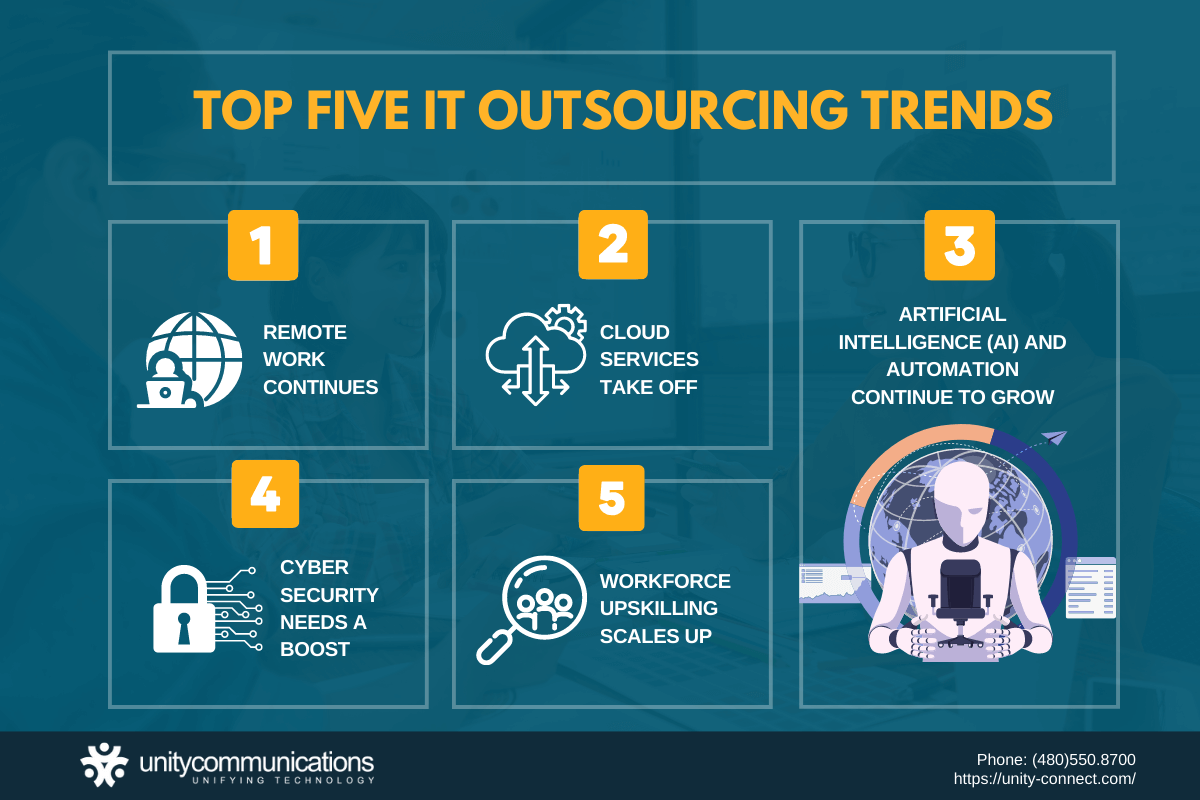 In IT outsourcing, a third-party service provider delivers technical support for another company. The approach helps businesses avoid spending extra dollars on labor and technology infrastructure. They also prioritize their primary offerings and capabilities by delegating such non-core IT services to vendors as:
Help desk support.

Address simple technical questions and problems. 

Data entry.

Encode and update datasets via computer systems.

Desktop support.

Remotely repair damaged devices such as laptops and computers.

Troubleshooting.

Identify and resolve complex issues in electronic systems.

Software development.

Design, deploy, and support critical business software.

Cloud services.

Enable real-time collaboration among remote workers.

Security.

Implement strict measures to protect data, systems, and networks.

System maintenance.

Maintain and update relevant enterprise platforms.
According to a Mordor Intelligence report, the IT outsourcing market reached $526.6 billion in 2021. The research firm said that the operational efficiency and cost-effectiveness of this type of outsourcing resulted in the increased demand for outsourcing, especially by offshore service providers.
As the need for immediate tech support grows, contractors constantly look for ways to enhance their products and services. They also explore revenue opportunities to expand their innovations. Their efforts start by understanding the latest outsourced IT trends and outsourced IT predictions below.
1. Artificial Intelligence (AI) and Automation Grow
Businesses encounter massive datasets and workloads as they transact daily with their clients and partner companies. Doing these labor-intensive activities hinders in-house teams from working on their core projects. This results in delays, increased backlogs, and slow time to market.
To help address those issues, third-party service providers use AI for cost-efficient and accelerated task completion. They deploy the technology to manage critical data and processes better. The solution also assists in improving customer experience by analyzing demand patterns accurately and quickly.
Alongside AI, contractors also expand the application of robotic process automation (RPA) to enhance their back-office outsourcing services. They optimize RPA to speedily handle repetitive tasks such as data entry, help desk support, and tech support. These capabilities help their clients keep up with the fast-paced market competition.
2. Remote Work Continues
The COVID-19 pandemic obliged IT, service providers to adopt teleworking in early 2020. They expand their online software tools to continue collaborative processes while working from home. This setup also enables them to save on operating and real-estate costs.
Furthermore, telecommuting provides personnel with more flexibility in accomplishing their assignments. According to a report from Owl Labs, 67% of employees said they were more productive working remotely than at the office. Meanwhile, 86% confirmed that they were able to provide better support and be with their families. 
Due to such advantages, the research reveals that 56% of workers will quit or seek a new job if their current employer no longer provides flexibility after the public health crisis fully ends. Companies thus offer a hybrid work setup even when the pandemic is ending. They also modernize their systems to enhance cooperation among their team members.
3. Cloud Services Take Off
Since remote work setups persist toward the end of the pandemic, cloud services have become among the most popular outsourced IT trends. As part of LogicMonitor's outsourced IT predictions in 2020, 87% of global IT decision-makers said the pandemic would push organizations to accelerate their cloud migration. And that's what's happening nowadays.
Providers rapidly expand their cloud services to ensure real-time collaboration between remote workers and clients. Cloud computing also enables them to offer their back-office outsourcing at affordable service packages. Furthermore, the technology enhances their operational efficiency and scalability.
4. Cybersecurity Needs a Boost
As mentioned in the previous sections, many companies are moving to the cloud, and more employees are working remotely. Because most transactions occur online, businesses and their customers face cyber threats. In its 2022 Data Breach Investigations Report, Verizon confirmed that 5,212 of 23,896 security incidents this year were data breaches.
As a result, organizations search for ways to strengthen their cybersecurity posture. They seek extra protection from providers while outsourcing data entry and other IT services. Contractors provide cybersecurity experts and advanced software solutions to help safeguard sensitive data and critical infrastructure.
Meanwhile, providers and their clients work together to update their security policies and procedures. These measures help monitor remote access to company networks and systems. They further enhance cyber defense while implementing the hybrid work setup.
5. Workforce Upskilling Scales Up
Despite the flexibility offered by telecommuting, some enterprises and employees still struggle to keep up with outsourced IT trends. The advancements and outsourced IT predictions also encourage expertise in emerging solutions and enhanced business approaches.
Therefore, third-party service providers hold regular training for staff upskilling. They host workshops and team-building activities virtually or in person. This initiative helps teams increase productivity and adaptability while working from home or on-site.
IT Outsourcing Predictions to Consider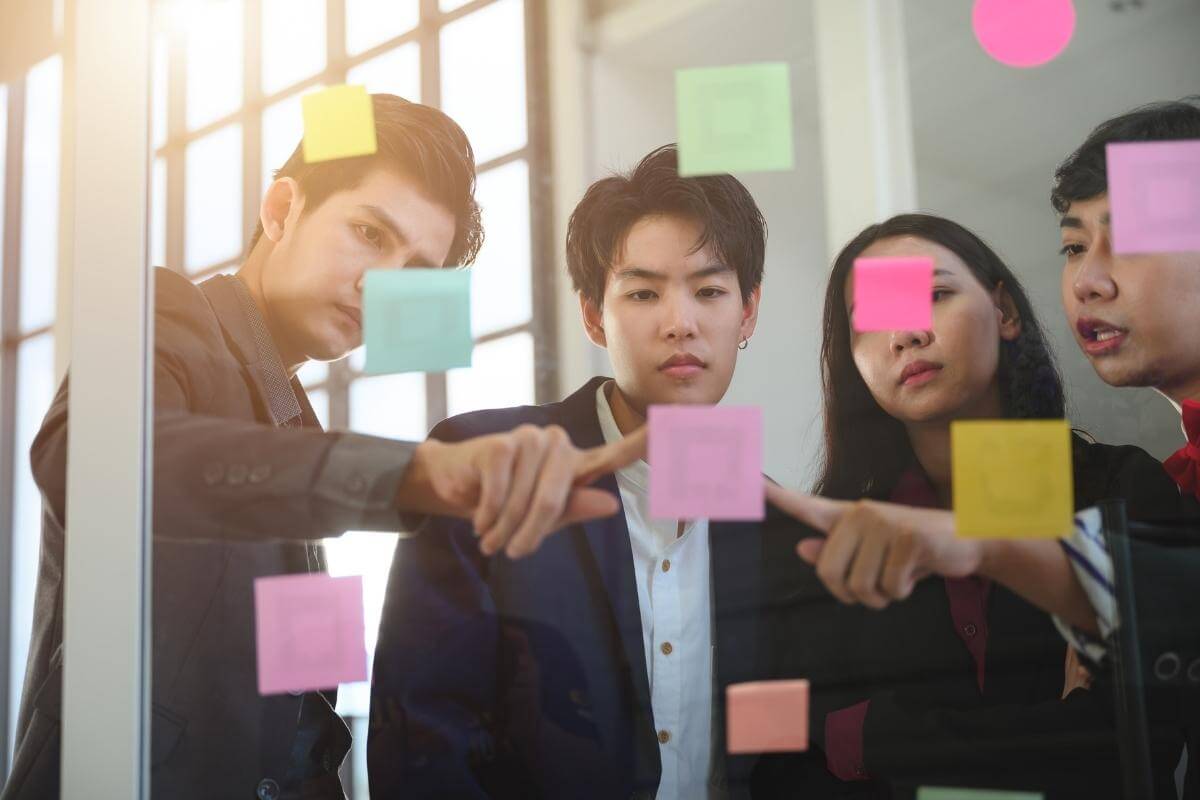 Because of digital modernization and pandemic preparedness, businesses rely on providers for cost-efficient tech support. Hence, Precedence Research expects the global IT outsourcing market to reach around $1.06 trillion by 2030. In its latest report, the organization also anticipates the industry will register an 8.06% compound annual growth rate (CAGR) until 2030.
Embracing outsourced IT trends helps providers and their clients improve their products and services. But to better prepare for the forecasted growth, learning about the outsourced IT predictions is also essential. The following insights show how IT outsourcing will impact labor opportunities, security, infrastructure, and management in the next few years.
IT Management Outsourcing to Extend
Establishing an in-house IT management team requires considerable funds for labor and infrastructure. So to reduce operating costs, companies will continue to hire third-party providers to manage their IT services. Prioritizing core projects also drives this trend.
However, the future of IT outsourcing won't solely focus on providing a one-size-fits-all approach. Contractors will further offer multiple customized options for their client's convenience.
Those choices include the traditional service-level agreement for full-range IT management support. Another option is a short-term contract to accommodate customers' need for scalable tech services during peak season. Clients can also pick the pay-as-you-need model, where they spend only a few dollars for a specific IT service. 
Cloud and AI Deployment to Expand
Because the hybrid work setup continues even after the pandemic ceases, cloud services and AI-powered solutions will remain relevant. Providers will further optimize these technologies to streamline their processes. Such platforms also eliminate the need to hire many IT employees, allowing them to offer cost-effective service packages.
The same goes for their client companies. AI and RPA help accelerate the completion of their non-core tasks, enabling them to focus on their primary projects. The cloud increases their collaboration while gradually moving away from on-premises infrastructure due to telecommuting.
Thus, businesses will continue to depend on third-party companies for IT management. They want to experience those benefits while reducing operating costs. The opportunity to prioritize their product improvements also gives them a competitive advantage.
Outsourcing to Fill Talent Shortage
According to a recent survey by ManpowerGroup, 78% of 40,000 polled employers reported talent shortages in the U.S. IT and tech sectors in 2022. The employment agency cited the difficulty in finding the right skilled people as the main reason.
But as the demand for talented employees continues to grow, workforce recruitment and retention will also become more expensive. After all, employees have the right to demand higher salaries and compensation packages depending on their professional experience and skill.
Therefore, businesses will continue outsourcing their back-office IT functions to reduce labor expenses. As stated, contractors use automation tools to ease workloads and accomplish tasks quickly. They also have a pool of IT experts who offer services at affordable costs. 
Reliance on Third-party Security to Increase
While companies carry on with remote or hybrid work setups, their critical data and infrastructure become more prone to breaches, phishing activities, and ransomware attacks. They will encounter increased expenses on threat mitigation if they don't strengthen their cybersecurity posture beforehand.
Businesses must invest in sophisticated IT security solutions and implement strict measures to address such issues and follow best practices to enhance their protection. 
Monitor network systems 24/7

Implement multi-factor authentication

Encrypt confidential data

Update software tools regularly

Patch any security flaw immediately

Train employees in cybersecurity rules
However, establishing a separate security team in-house is costly and doesn't directly contribute to revenue-generating initiatives. Hence, companies will continue to outsource data entry services and other IT functions. Hiring third-party providers help them ensure more robust cybersecurity protection while generating savings.
Contractors have dedicated experts to provide round-the-clock security support. They also consistently upgrade their software tools and follow strict rules to strengthen cybersecurity. Organizations must know what an outsourced IT provider is to leverage such capabilities.
The Bottom Line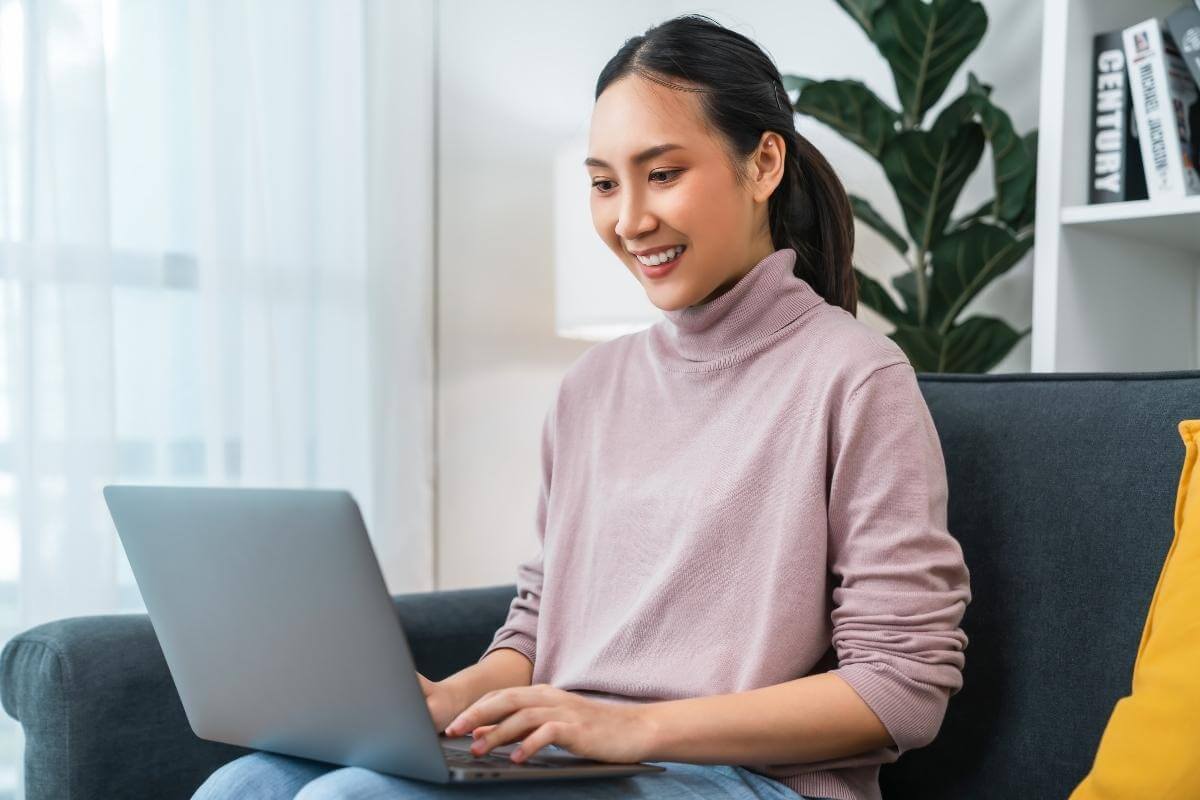 Learning about the latest market trends provides an overview of the factors and technologies that shape IT outsourcing. Predicting the industry's future also helps determine business goals and expectations in the long run.
Ultimately, such insights inform concrete action plans to keep pace with tech advancements, industry shifts, and global challenges. Seeing the big picture helps third-party providers boost their IT support services. Organizations can also adjust their outsourcing investment strategies to match their operational needs.