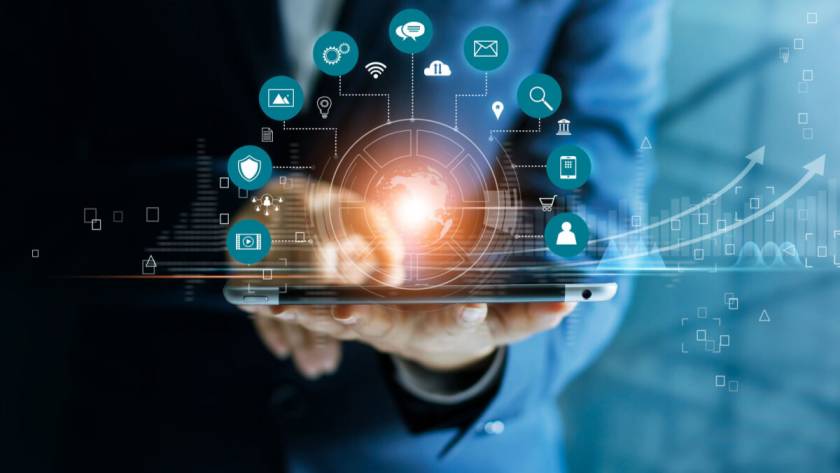 Written by Allie Delos Santos
Information technology (IT) is an essential secondary function for most businesses. But they sometimes mistakenly sweep this department aside because their employees have limited time and resources to manage all business activities in-house. 
IT support outsourcing is a good option for your technical support needs. Outsourcing saves you time and gives you access to experts without the high cost of hiring full-time professionals.
This article discusses technical support outsourcing solutions. It also covers the right time to outsource, the benefits of outsourcing, and its costs.
How To Outsource Technical Support
Technical support outsourcing solutions might sound simple. But your implementation will be more successful if you follow the correct steps and plan properly. A thoughtful, comprehensive plan helps you overcome any challenges that can arise related to outsourced IT solutions.
1. Double-check Your Security Policies
Security is a major factor to consider before sharing confidential information with business process outsourcing (BPO) providers or outsourcing tasks. Depending on the nature of your business, you need specific permissions, licenses, and certifications. For instance, medical practitioners must comply with the Health Insurance Portability and Accountability Act of 1996 (HIPAA) regulations to strengthen security policies. 
When sharing confidential information with a third party, you must understand the legal implications of such an action.  You must also verify whether your customers or patients agree to allow their information to be shared.  You must allow them to decide what you can or cannot share, under what circumstances and for which purposes. Customers and employees who have never used outsourcing will be more likely to trust you if you keep your processes, policies, and security systems up-to-date and transparent.
While technical support outsourcing solutions help keep data secure, you still need to perform due diligence. Find out what licenses are needed to send information to an outsourcing vendor and ask the right people for permission.
2. Assess Your Needs
Look at your operations and analyze the kind of technical support you need. Depending on your company, you might need the following:
Different technicians for different software products

Help desk service and day-to-day maintenance for your enterprise applications and networks

Two teams split between employee- and customer-facing roles
Remember to ask your staff for feedback. They might run into IT issues you do not know about but that your potential BPO partner can help with.
When choosing outsourced technical support services, you should also consider your customers. Do they prefer talking to agents over the phone, live chat, social media, or email? Note that phone calls are still popular with customers. The partner you choose should be able to help you with all channels or have experience in the channel customers prefer.
When you know how outsourcing can boost your support, make a wish list and a business plan showing how each service will fit others you already have in place.
3. Research Multiple Providers
You have a variety of choices to choose from when it comes to technical support outsourcing solutions. Most will be unsuitable for your unique business needs. So you should explore available vendors and make a short list of the ones that specialize in your needs.
For example, some BPO firms are better at managing large ticket volumes with similar topics. Others are more capable of handling complex issues. Moreover, you need to determine whether the service provider can handle your ticket quantity, especially if you get them in large amounts.
You might need to message or call the BPO company with specific questions. You can ask about their niche experience, the minimum contact time, and their agents' spoken languages.
4. Choose the Best BPO Company For Your Needs
Not all outsourced tech solutions or companies are the same. 
The best ones have a strong and transparent track record. They can point to current clients with similar needs to yours and have an extensive pool of trained agents. Additionally, the right service provider allows the use of its advanced tools while still giving you control over your support team.
Here are some points to consider when choosing technical support outsourcing solutions:
Experience.

Experienced firms are essential because they have a competitive edge. Their staff members have the industry knowledge and expertise needed to handle difficult situations. 

Security.

Data security is crucial when outsourcing. Your chosen BPO firm must have strict service-level and non-disclosure agreements since you will share sensitive data. Make sure to verify their cybersecurity practices, too.

Firm's strength.

Talent availability is also crucial. To deliver tasks on time, the BPO firm should have qualified agents. Do not forget to check their staff qualifications before committing.

Technology.

Modern technology boosts efficiency. Check whether the company uses the most updated technology and whether they are familiar with the software in your system. Integrating every platform improves outsourcing.

Scalability.

Scalability means reliability. Resources and facilities need to be scalable.

A scalable BPO firm can serve clients during the lean season without increasing costs.

Infrastructure.

Good technical support requires good infrastructure. Its operations require hardware, software, phone connectivity, and high-speed internet. 

Quality assurance.

When picking a partner, ask

what is the outsourced IT provider

's quality assurance protocol. Service providers must follow the client company's data breach and quality assurance policies.

Referrals.

Consider competitors or contact referrals. Find the best BPO firm by comparing performance and customer reviews.

Turnaround time.

Timely work delivery is crucial. So choose an outsourcing partner with a fast turnaround. If your service provider regularly meets milestones, your business can easily succeed. 

Cost-effectiveness.

Compare BPO prices and quality. Note that low fees might sometimes indicate poor service. You will, however, need to select a reliable vendor within your budget.
5. Create Brand Guidelines
Some leaders are afraid to outsource because they do not want their company to lose its identity. They assume outsourced services are highly commoditized, especially when tasks are repetitive and time-consuming. But businesses can avoid sounding generic by creating brand guidelines. 
Brand and style guidelines are important because they help keep your business' voice and tone consistent. They also save you time and money when you need to support business growth with outsourced technical support. Third-party agents can easily follow the guide to ensure alignment with your tone and voice. 
The last thing you want is generic technical support. When you use technical support outsourcing solutions, make brand and tone guidelines to help agents talk to customers in your style and voice. This way, you can still have customized and personalized support even when outsourcing.
6. Prepare a Service-level Agreement (SLA)
An SLA is a contract that specifies the standards and quality that the BPO company must meet. It should outline the business objectives the service provider must achieve through its solutions. SLAs also define the required services in detail and provide relevant performance metrics.
This agreement outlines the obligations of both parties. It protects the client company's assets and reputation. It lets you rescind the contract if the vendor does not provide satisfactory services.
Finally, an SLA provides peace of mind to businesses that choose to outsource. It holds the service provider accountable. If the agreed-upon requirements are not met, the client can mitigate the damage by making the outsourcing vendor pay for the losses.
7. Communicate With Your In-house Team and Lay Ground Rules
Your approach to sharing your back-office outsourcing plans with your employees depends on their position and openness to change. Here are some suggestions to make staff members more comfortable about adding a third-party team:
Explain how they will benefit.

They might no longer need to handle manual tasks because the BPO team will oversee them.

Tell them about the general advantages.

Advantages can include delivering faster results, providing exceptional customer service, boosting profit, and being more competitive.

Reassure staff.

Let them know you are not planning to replace them and that their jobs are safe. You merely want to scale the business efficiently and more profitably. In fact, sustainability keeps their jobs secure in the long term.

Let employees know you need their help.

Work together to systemize functions with the coming changes so you can better onboard the third-party team.

Educate them about what the initiative will look like.

Educate your staff about outsourcing to ease their concerns. Share BPO service provider tour videos or articles explaining the process.
Most importantly, be transparent with your team. Technical support outsourcing solutions fail because stakeholders and staff do not feel involved in the process.
Look at things from their perspective. They might have had a previous negative outsourcing experience and be in need of your reassurance. Prepare to talk, listen to their concerns, and answer questions.
When staff members and stakeholders realize the benefits, they are more likely to help.
8. Write Accurate Job Descriptions
When you know the roles you want to outsource, write detailed job descriptions to find your ideal candidates. At a minimum, include the following in your job descriptions:
Skills needed

Experience needed

Expected responsibilities and tasks

Benefits
Submit your job description to your BPO partner. Your service provider can also help you prepare these descriptions.
Your partner BPO then uses that information to scout the labor market and find talent that matches the experience and skills you need. The service provider filters a large pool of candidates and gives you the top options to pick the best individual for the job.
9. Hire Technical Support Staff
After carefully analyzing your technical support outsourcing options, you are ready to accept third-party agents. A good BPO company offers the best candidates from their pool of vetted support staff.
If possible, meet the candidates yourself. Match them against a list of your preferred qualifications and skills such as:
Near-native English speaking skills

Proven problem-solving skills

Engaging and polite personality

Excellent time management
If you want to expand your operations globally, ensure that you outsource to a provider that knows your target country or market well.  
10. Train Agents and Staff
You must provide extensive training for current employees and your outsourced technical support agents so that everyone understands how the two teams will work together. Training should also consider the new setup and align with the changes in workflow.
You can recruit agents with prior experience in your sector or the systems you use. But you still need to give them instructions for handling calls and solving problems. Give them clear rules about your systems and databases and when and how to send tickets up the help desk hierarchy.
Service desk agents who interact with customers should have access to a full set of manuals that explain the following:
Modes of communication in your customer support team

Product details

Database of previous issues
Consider creating a knowledge book or troubleshooting manual that you regularly update. The handbook should have information about possible problems, where to find help for those problems and suggestions for how to deal with them. You can also direct callers to relevant frequently asked questions (FAQs) pages, videos, or forums.
11. Integrate the New Tech Support Team Into Your Organization
Whether or not the new IT team addresses customer or employee concerns, they are critical to your company's success. External support teams are motivated when they feel part of the community at work.
Include your employees when onboarding your new team. Send the latter "virtual introductions" once they are established. Fostering a friendly culture between the two will:
Help the contractors identify with your brand and mission

Lay the groundwork for more productive teams

Reduce the risk of distrust and resentment
You also want to assign someone from your in-house team to oversee third-party agents. Typically, this is a manager with experience in customer service and IT systems maintenance. This individual is responsible for the following:
Integrating the contractors into the company

Managing training and ongoing support
Lastly, use the same onboarding programs with your new support agents but tweak them to account for their situations.
12. Use the Best Systems
The saying goes, "A workman is only as good as his tools." This also applies in the digital age. The cloud made online help desk tools possible, allowing agents to seamlessly answer calls, emails, live chat, and social media messages remotely.
This abundance of tools is great for companies seeking technical support outsourcing solutions. But it also means plenty of products are available on the market, and not all of them are created equally.
As part of your contract, a company specializing in back-office outsourcing services has top-of-the-line technical support software ready. Check whether the platform can smoothly integrate with your current infrastructure. Ask your BPO partner how to upgrade if necessary.
13. Maintain Constant Communication
During the first three to four weeks of any project, keeping the lines of communication open is important. Your third-party team should be able to ask questions, get a speedy response, and report issues as they arise. Ensure constant communication by creating a regular meeting schedule (e.g., once a week) for updates and questions.
Remaining in contact with the BPO provider itself is also crucial. More than the promise of cost savings or return on investment (ROI), having an intermediary on the third-party team gives you a better sense of security.
The outsourcing company and the client company must communicate. Open communication increases the likelihood of success, problem resolution, and problem avoidance. 
14. Track Performance and Get Feedback
Once your technical support outsourcing solutions are up and running, keep an eye on agent performance to ensure the new arrangement meets your goals. No matter what software you use for technical support, it should automatically record tickets and resolutions to problems. This makes it easy to keep track of how often specific types of problems arise, length of time for response, whether and how often problems are resolved, as well as how long it takes to actually work on fixing a problem.
Regularly monitor metrics. You can also survey employees about their thoughts on the arrangement and collect customer reviews.
Hold regular meetings with your IT support team to discuss successes, problems, and suggestions to make things run more smoothly. Lastly, follow up with your contractors to check whether they have everything they need to function at their best and receive feedback.
Levels of Technical Support Outsourcing Solutions
Outsourcing allows you to hire a company for technical support. A virtual help desk lets customers and ends users ask questions and get support when troubleshooting a product or service.
You can hire contractors onshore, nearshore, or offshore if you need to outsource data entry services or technical support. Most companies turn to offshore outsourcing for technical support. Offshoring delegates often help agents in distant countries in these roles.
Technical support outsourcing solutions streamline IT support departments, cut costs, and provide convenient, consistent service. Outsourced tech solutions often have three tiers.
Level 1 Support
This tier is run by IT support staff with the least technical knowledge, experience, and access to company information. Level 1 technicians perform the following:
Collect customer data and requests

Answer customer calls

Respond to social media messages and email

Provide product information

Resolve common issues such as menu navigation, installation, setup, username, and password, and verification.

Perform basic troubleshooting to determine the support level needed

Create tickets for level 2 support
When building a level 1 technical support team, choose junior-level staff. Level 1 agents usually solve issues by following scripts and standard operating procedures. If the manual does not have a solution, they will send the ticket to level 2.
Level 2 Support
Level 2 agents collect tickets from the previous tier. This level handles in-depth back-end analysis and troubleshooting. Level 2 support looks something like this:
Technician review of service requests from level 1 to identify the previous support provided.

Agent determines the client's issue and how long they worked with the level 1 personnel.

That person then communicates with the user to thoroughly analyze the problem before diving into the solution.

They move the ticket to the next level if a solution is unavailable.
Level 2 technicians have more troubleshooting experience and know more about the company's products. They have more time working for the organization, training, and access to company information.
When staffing this tier, look for experienced support technicians.
Level 3 Support
This tier needs subject-matter experts (SMEs). Level 3 consists of professionals such as engineers, designers, architects, and developers. These support staff members know the most about the company or product and can help with most types of technical problems.
Level 3 support looks like this:
The technician attempts to identify the root cause of the issue by checking the code and designs in a lab setting.

The technician raises the problem to the company to make product changes accordingly.

The technician passes down the solutions and changes to levels 1 and 2.
When building level 3 support, hire product creation experts or people who have made a similar product.
Is There a Level 0?
Levels 1 to 3 involve human intervention. Before that, the support level is called level 0. This tier lets users get information independently from built-in help platforms, FAQs, search functions, manuals, or sources on the web.
For this level to work, the developers who make apps and company websites must do their jobs well. Level 0 also needs moderators who check the knowledge base and customer forums for reviews to make sure they are always up to date. When this tier lacks information, users turn to level 1.
When To and Not To Outsource
Outsourcing makes sense if your back office is taking a toll on your resources. Or perhaps you are building a program or growing a team but cannot scale. Technical support outsourcing solutions can free up money and time to grow your business.
Here are some indicators that it is time to outsource:
You lack the expertise and need specialists.

You want to spend less.

You need to take the pressure off your in-house team.

You are trying to gain a competitive advantage.

You aim to reach users in their own language.

The company is growing fast, and scalability is a matter of importance.

You need more hours in the day for strategizing.
The BPO industry is booming, with IT services being a major driver. As with any partnership, however, there are drawbacks that you should know about before committing to a contractor.
Here are reasons not to outsource:
Your tickets are overly complex.

Onboarding is difficult and takes a long time.

You worry about losing your brand image.

You cannot commit to long-term contracts.
You can also check outsourced IT trends to solidify your decision before committing to an outsourcing partner.
How Much Do Technical Support Outsourcing Solutions Cost?
The short answer is that it varies. The average cost of technical support outsourcing solutions is between $6 and $55 per hour. You have simple generic requests at the low end, while at the high end, you have more complex work orders.
Additionally, service providers offer cloud-based tools that cost less than in-house servers and landlines. A simple cloud-based solution costs about $150 to $200 per month.
The final price depends on many factors such as the outsourcing model, the payment model, the number of calls, and the services needed. For instance, you can use shared or dedicated agents. Outsourcing payment models include hourly, pay-per-performance, or a mix of both. 
Outsourced technical support costs vary greatly from vendor to vendor, but it is still less expensive than in-house support. Here is why:
No software or infrastructure costs

Pay only for productive hours

Save on training time and costs

Lower cost of living in the outsourced country and favorable currency exchange

Liability protection
The Bottom Line
Just because many big companies use technical support outsourcing solutions does not mean it is right for you. Outsourcing has advantages and drawbacks. Outsourcing IT support is best if you lack expertise, staff, time, and budget. Do not outsource if you want to eliminate the function. 
Assess your needs before choosing a BPO partner. Consider the company's strength, pricing, quality, and experience. Brand and tone guidelines prevent generic tech support. Train the third-party team like it is your in-house team, stay in touch, and track its performance.
By taking the right steps when outsourcing IT support, you can avoid most problems.
Are you ready to start outsourcing? Schedule a call with Unity Communications today to learn how we can help.