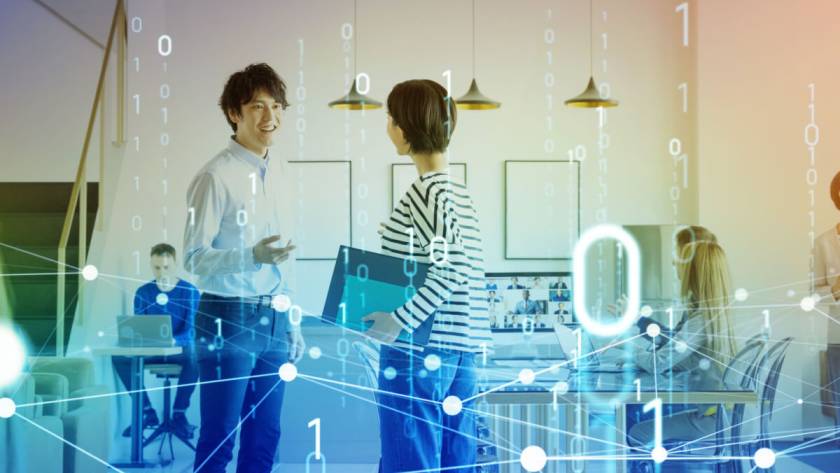 Written by Joyce Ann Danieles
Do you spend too much on an information technology (IT) department that mostly solves desktop-related technical challenges? Have you considered hiring IT support outsourcing services to enhance your remote desktop support capabilities? 
If so, then you are in the right place. Read on to learn more about the different options and steps in outsourcing remote desktop services. 
Your Options for Outsourcing Virtual Desktop Assistance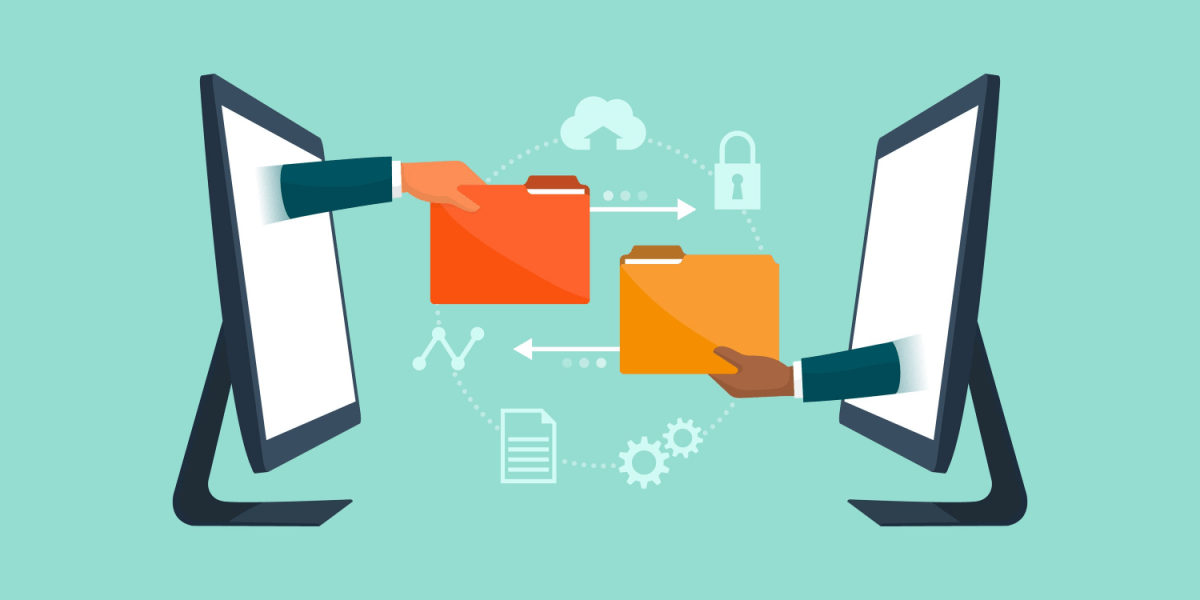 Delegating desktop support processes to a business process outsourcing (BPO) provider significantly cuts your operating costs, especially when done remotely. This back-office outsourcing process allows the provider to address desktop issues over the Internet. 
Remote desktop support outsourcing often suits the specific needs and budget limits of small and medium-sized businesses (SMBs). These businesses mostly encounter problems involving computers and laptops. So putting together a whole in-house unit is unnecessary. Instead, they can temporarily hire specialists to quickly repair desktops using unique tools. 
But even if you run an SMB or have different reasons to outsource, you should still do your due diligence before making a decision. The first step in that process is to gain a good understanding of what an outsourced IT provider is so you can maximize its benefits. Then, you will be ready to choose the best desktop support vendor. 
Before outsourcing, you must consider many factors. To help guide your decision-making, we put together descriptions of the service options a competent contractor offers.
Desktop Services To Outsource
Third-party support technicians undergo regular training and certification to provide effective desktop support. Your BPO partner should hold workforce engagement initiatives to ensure its team can conduct computer-related services outside the office.
Depending on your needs, you can acquire the following back-office outsourcing services individually or through a service package.
Software troubleshooting.

This process scans, detects, diagnoses, and mitigates software bugs and errors.
App installation and configuration.

Desktop support agents install and configure relevant applications on work computers and laptops.
Network monitoring and management.

Your third-party support agents track and address potential threats to computer networks. This process includes resolving internet connection problems.
Malware removal.

This process identifies and eliminates different computer viruses affecting desktop solutions.
Desktop account recovery.

Desktop support agents can recover hacked or blocked user accounts and implement multifactor authentication to avoid the recurrence of such incidents.
Computer optimization.

This process maintains the operating system's average usability and performance.
Data backup and recovery.

Your sensitive data can be stored in a safe cloud drive and recovered during emergencies.
System update rollout.

Your third-party desktop support team regularly updates operating systems and desktop apps to address lags and strengthen security.
Software/app integration.

This process makes desktop apps and software solutions interoperable for more efficient business processes.
Remote Desktop Support Tools To Optimize
IT specialists use desktop-specific tools to resolve defects and bugs on your computer systems. Such solutions are also used to interact with end users and organize requests. Artificial intelligence (AI) and automation power these platforms to deliver more accurate resolutions.
You can access next-generation technology as part of your contract with a third-party desktop support team. Alternatively, you can buy these tools from vendors if you do not want to hire a whole technical unit.
Remote access software.

You can allow desktop technicians to remotely access a user's computer, server, or network to resolve software defects. This technology lets IT specialists connect two or more devices, even if they are on separate networks or in different geographical locations. 
Cloud desktop.

Service providers monitor and manage relevant resources through a virtual desktop. Also called desktop as a service (DaaS), the single virtual machine lets IT specialists support many users from any device. The technology brings significant cost savings because employers no longer need additional computers and laptops.
Ticketing system.

This accelerates the process of sorting and tracking desktop support requests. It also automates ticket tagging, categorization, and agent task distribution.
Omnichannel communication platform.

User experience can be unified across multiple channels such as phone calls, chat, email, and social media. This single-point platform helps optimize interactions collectively regardless of the channel used.
Cybersecurity software.

This safeguards computer systems, confidential data, and apps.

 
Payment Structures To Choose From
When planning to outsource tech solutions, study the various payment options available. Identifying the best payment method helps you develop a concrete budget plan. This action ensures you receive the best returns on your investment. 
Here are typical payment methods for remote desktop support:
Managed services.

Select this payment type if you want a long-term service agreement with your potential BPO provider. The contract includes a fixed rate for all desktop services necessary to boost your operations.
Time and material.

You define and establish a pre-negotiated outsourcing rate with your contractor. This deal charges for the materials and service hours needed to provide virtual desktop assistance.
Block hours.

You pay your provider for a certain period of time to conduct its services. This option allows you to flexibly use your prepaid hours for desktop support.
Self-service.

A cloud-based solution is ideal if you do not need to hire third-party personnel for desktop support services. You can buy a full or partial subscription plan to access the platform's features based on your requirements. Vendors also deliver after-sales maintenance and consulting as part of the package.
Service Locations To Consider
Knowing where a BPO company operates is crucial to planning your outsourced IT solutions. Note that pricing, service scope, and policies vary per country. So inaccuracies and conflicts might occur if you do not assess this regional factor when outsourcing remote desktop support.
Onshore BPO.

Domestic outsourcing occurs when you partner with a BPO service provider in the same country. For instance, your business is located in New York, while your BPO partner is based in Virginia. Even though the vendor is perhaps located in a different city or state you can expect similar rules regarding wages, tax, and work ethics.
Nearshore BPO.

Service providers operate outside your home country but within three time zones. For example, your U.S.-headquartered business contracts with an IT support vendor in Canada. This setup helps cut operating costs and offers similarities in language, culture, and work policies.
Offshore BPO.

You hire a non-U.S. company to streamline your IT processes from across the globe. This process lets you further reduce expenses.  Many offshore contractors often have low labor costs.
Four Ways To Outsource Remote Desktop Support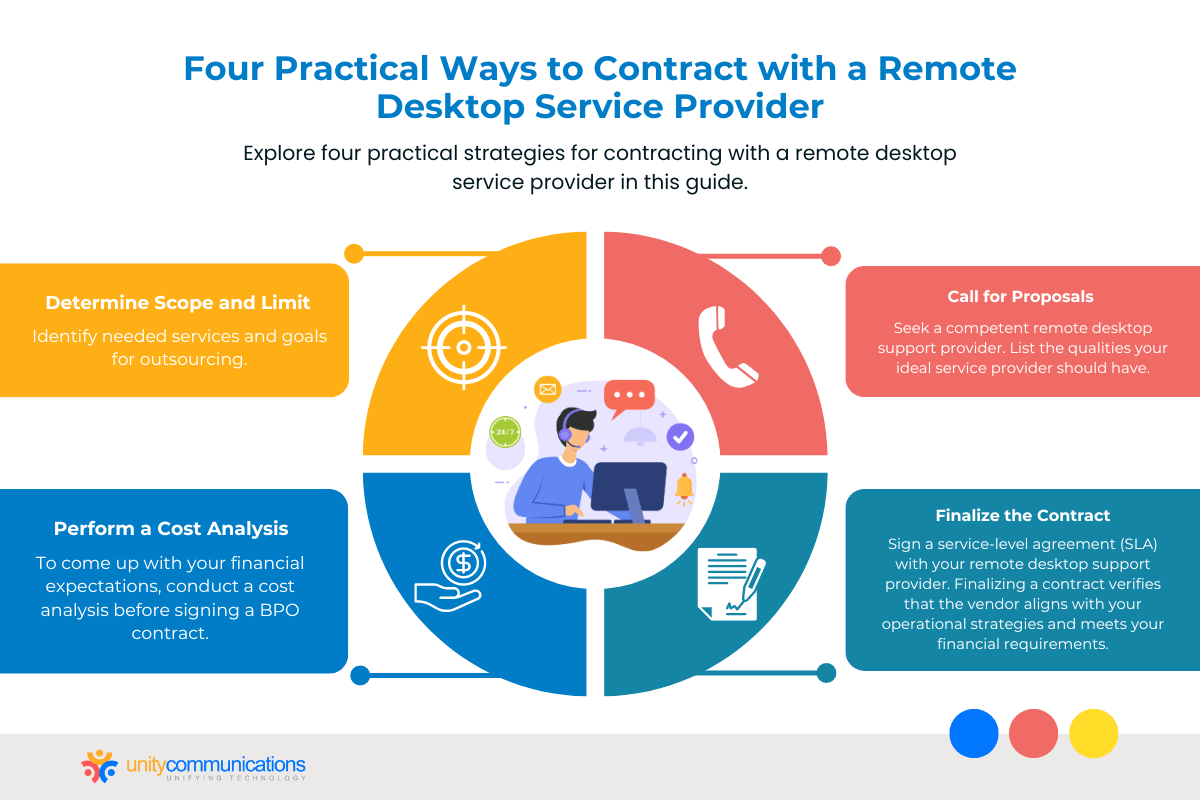 Suppose you have decided to push through with outsourcing. In that case, you must learn how to select a reliable BPO partner to ensure you get your money's worth. 
Below, we dig into the practical ways to contract with a remote desktop service provider.
1. Determine Scope and Limit 
The first and most crucial step in outsourcing is to identify which services you need and what goals you want to achieve. This helps you create a detailed BPO strategy, thus alleviating worries about wasted money, time, or effort.
Since we are talking about remote desktop support, clarify the specific services you want to outsource based on your identified needs. This way, you can evenly distribute resources and tasks. Start by answering these questions:
Do in-house team members struggle to quickly and effectively resolve specific desktop issues? If so, what are these issues?

When do I hire a service provider?

How many third-party contractors do we need for desktop support?

Do we need to replace or update our IT equipment and desktop security platforms?
When your scope and limitations are clear, carefully set your objectives with your contractor. Use this list to guide you as you monitor the pros and cons of outsourcing and as your partnership progresses. It also helps you keep up with changing market demands and outsourced IT trends. 
2. Call for Proposals 
Post a proposal request notice to look for a competent remote desktop support provider. A reliable BPO partner helps reduce back-office expenses and increase team productivity. It resolves your desktop issues efficiently while you prioritize your business development efforts.
To find the best BPO company for your company, list the qualities your ideal service provider should have. Setting criteria ensures your chosen contractor matches your business goals and work strategies. The provider should:
Have a strong market reputation and credibility

Be transparent

Have a competitive service history

Be scalable and flexible

Employ well-trained and certified technicians

Use advanced desktop-centric tools

Value service quality and cost efficiency

Be easy to contact

Have robust cybersecurity
3. Perform a Cost Analysis
Deloitte's survey found that cost reduction is a significant, tangible benefit of outsourcing.  To come up with your financial expectations, conduct a cost analysis before signing a BPO contract. The following steps let you estimate cost savings and investment returns:
Specify your desktop requirements.

Select your preferred payment options.

Total the in-house costs that you can save by outsourcing.

Sum up the money you will allot to hire a provider.

Get the difference between BPO expenses and in-house costs.

Proceed to close a deal after seeing potential savings.
4. Finalize the Contract
Sign a service-level agreement (SLA) with your remote desktop support provider. Finalizing a contract verifies that the vendor aligns with your operational strategies and meets your financial requirements. Execute these measures when closing your deal:
Set a contract signing meeting with the BPO company.

Discuss transaction terms, partnership policies, and billing details.

Merge each other's work culture, technology, and cybersecurity.

Appoint project coordinators.

Identify communication and collaboration platforms to use.

Arrange task timelines, meetings, maintenance activities, and training sessions.

Sign an official SLA.
More businesses are outsourcing their IT and remote desktop support because it is easy and offers significant savings. In fact, a Precedence Research report shows that the global IT service outsourcing market reached $530.15 billion in 2021, and it is expected to continue to increase to $1.06 trillion by 2030. 
The growing demand for virtual software such as remote access tools and DaaS drives growth. As long as you know the different options for desktop support outsourcing and select a provider wisely, you do not need to worry about investment failure.
The Bottom Line
Unaddressed daily desktop challenges lead to critical backlogs and revenue loss. Fortunately, remote desktop support outsourcing addresses such problems in a fast and cost-efficient manner.
Before outsourcing, identify the different available options for contracting a desktop support provider. Determine service types, deployed remote tools, payment selections, and regional factors for outsourcing. Moreover, follow the steps for choosing the right service provider. These insights give you assurance regarding potential investment returns and cost reduction.
Reach out to Unity Communications if you plan to outsource your desktop support remotely. This Inc. 5000 company offers affordable managed technical services to boost your daily operations.