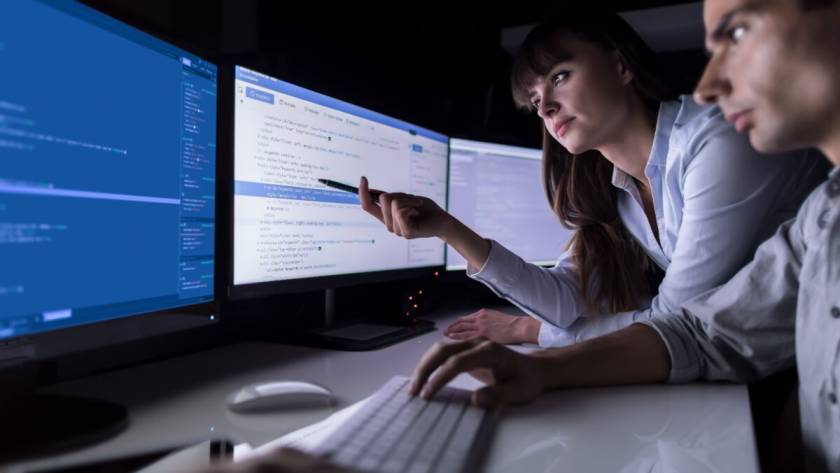 Written by Joyce Ann Danieles
All digital transactions and business processes pass through computers and laptops. So system lags, and errors can interrupt your team's daily productivity. Such inefficiencies cause significant backlogs and high mitigation costs. 
Don't worry! IT support outsourcing provides a cost-efficient way to keep your desktop systems running. But you need a concrete investment plan when outsourcing desktop support. This article guides you through the step-by-step process of outsourcing your IT processes.
What Is Desktop Support Outsourcing?
Desktop support outsourcing involves hiring a service provider to manage your desktop support processes. Business process outsourcing (BPO) companies help your in-house team resolve problems with computer systems. They also provide direct desktop support for your customers. 
Third-party technicians undergo frequent training and certification. So you can trust them to accomplish their tasks properly while you focus on growing your business. Technicians also use remote access and new technologies to perform the following:
Troubleshoot software and network defects

Repair defective computer hardware

Fix malfunctioning printers, scanners, and other computer-related machines

Install and configure relevant business applications

Monitor operating systems and server performance

Detect and remove computer malware and cyber threats

Recover hacked or blocked user accounts

Make desktop systems interoperable

Manage security patches

Back up and recover relevant data and files

Launch regular system and software updates
Six Steps in Outsourcing Desktop Support
Having an in-house IT team is ideal for fast resolution. But maintaining this non-revenue-generating unit takes significant effort and capital. Proper budget allocation is important so as not to overshadow your growth-driven programs. 
Back-office outsourcing is your best option if your daily IT concerns are limited to desktop solutions. The approach helps free up resources, access diverse talent, and optimize technological infrastructure. 
Still, you need the right BPO partner to maximize IT outsourcing services. Explore some practical ways to find a reliable service provider below. 
1. Identify Reasons To Outsource
Outsource desktop support with careful consideration. You must know exactly why you need the help of a service provider and how it can supplement your desktop support processes. This helps ensure you are not wasting more money than needed.
So develop your BPO strategy meticulously. Begin by answering these questions to clarify your reasons for outsourcing:
Do our team members solve day-to-day desktop issues quickly and effectively?

Does our tech unit require more resources and funds than our core functions?

Does our in-house IT team remain efficient and productive during hectic seasons?

Do our technicians get enough training and upskilling?

Is our IT equipment up to date?

Do our desktop support employees struggle with project delays?

Does our IT division suffer from growing cyber threats?
Additionally, you can consider the following factors to determine whether you need back-office outsourcing services.
High operating costs.

Growing and maintaining an in-house IT team can be costly on top of developing other areas of the business. You need extra funds for labor, infrastructure, and office space expenses to scale your IT department. But if your major IT concerns focus only on desktops, the expansion might not be necessary.
Little to no access to skilled employees.

Hiring desktop support experts requires significant time and resources. The recruitment process hinders your team from completing urgent matters, especially during busy seasons. 
Difficulty maintaining and upgrading IT equipment.

Due to heavy workloads, your IT team struggles to perform frequent system maintenance and upgrades. Old and sluggish computers, laptops, and related platforms delay work progress.
Slow problem resolution.

Irregular maintenance activities and outdated systems result in persistent desktop errors. Your IT team struggles to resolve such problems if more than half of the members experience them simultaneously.
Growing cyber threats.

Your IT specialists have numerous technical issues to address. As a result, they cannot monitor desktop security and file sharing regularly. This gap makes your sensitive data vulnerable to cyberattacks.
2. Create Clear Objectives
Once you identify your reasons for outsourcing desktop support, determine your engagement goals carefully. Listing clear objectives helps track the benefits and achievements of your BPO partner in the long run. 
The SMART guide is an effective tool in project planning. It also helps you find success in implementing outsourced IT solutions. So ensure your BPO targets are:
Specific.

Specify your desktop outsourcing goals. Note that a lack of focus makes it difficult to realize such objectives. The more generic your targets are, the less eager you become to reach them.

Measurable.

Identify quantifiable objectives to monitor your vendor's progress. A measurable goal lets you see how much you have accomplished while outsourcing and which areas still need improvement.

Achievable.

List practical goals for bringing in a third-party desktop support team. Review overlooked opportunities and draft well-structured plans to attain your outsourcing targets.

Relevant.

Align your BPO goals with your operational needs and work strategies. Ensure outsourcing objectives remain relevant to your business growth.

Time-bound.

Plot a coherent timeline to establish urgency when fulfilling your goals. Deadlines remind you of your priorities and the actions you still need to take. 
Suppose half of your digital marketing team experiences sudden system shutdowns due to overuse while preparing for holiday-related promotions and activities. This affects many employees and the hectic season, and your IT department has difficulty fixing the computers and laptops of your marketing staff. 
Because the main problem concerns computer systems, outsourcing desktop support is your best solution. So you aim to hire a service provider to boost desktop repair productivity by 20% daily.
Such a scenario is an example of a SMART goal because:
You have a specific goal: hire a provider to boost desktop repair productivity;

You set a measurable target for improvement by aiming to achieve 20% productivity; 

The vendor employs skilled and highly trained desktop technicians who can be deployed in the field immediately, making the objective achievable;

You need immediate desktop repair services to avoid delays in your digital marketing projects; and

You want to see enhancements in productivity per day during the holiday season.
3. Identify Outsourcing Challenges and Benefits
Understanding the pros and cons of outsourcing desktop support can help you set realistic goals, align your business strategies, and budget accordingly. You can get such insights directly from contractors, the internet, or regular BPO clients.
But to give you an initial idea, here are some challenges you might encounter while working with a service provider. Also, explore the common advantages of outsourcing to balance the difficulties.
Challenges of Desktop Support Outsourcing
Restricted quality control.

Expect to lose some control over your desktop services when outsourcing. A provider has its own techniques for delivering desktop support. So remember to match your work strategies or else risk delays, conflicts, and low-quality output.
Incompetent third-party workforce.

Research states that the addition of

new staff can affect service quality

. Although it rarely happens, third-party contractors might fail to execute their tasks per agreed service standards. Without proper screening, you might employ less qualified workers who worsen your desktop problems.
Overlooked hidden charges.

A non-U.S. BPO company might have hidden costs due to fluctuating currency rates and conversions. Hence, the invoice you receive might differ from your final outsourcing budget.
Unstable communication.

Different time zones and business hours affect how you connect with a contractor operating outside the U.S. Your team might experience prolonged desktop issues if you do not establish close communication with the provider.
Noticeable cultural differences.

Culture largely influences your interaction with your contractor.

When partnering with an offshore vendor, you might encounter many cultural barriers, such as language differences

. Incompatible work cultures result in misunderstandings and conflicts.
Increased security threats.

Desktop support outsourcing involves the sharing of confidential data. Anticipate high cyber risks as you perform transactions online. Combine security policies and procedures to better prevent hacks and data breaches.
Benefits of Desktop Support Outsourcing
Reduced operating expenses.

Outsourcing desktop support lets you save on labor, infrastructure, and office space costs. Vendors provide packaged services payable through monthly billing or on a pay-as-you-need setup.
Easy access to skilled personnel.

BPO companies ensure their desktop support technicians can complete tasks effectively and keep up with the latest

outsourced IT trends

. They hold regular training and upskilling sessions to achieve such goals. Thus, this workforce is always ready to take on assignments whenever necessary.
Optimized technology.

Third-party teams use niche technology to streamline desktop support services. They make sure the infrastructure remains up to date to avoid backlogs. You can access such advanced technology as part of your service package.
Enhanced productivity and scalability.

Because desktop support contractors are specialists in the field, they help increase your team's productivity. You can temporarily hire these professionals to clear your backlogs and ease your workloads during hectic periods.
Improved security.

Providers adhere to strict security measures and use sophisticated tools to safeguard data. They also adjust to your existing cybersecurity protocols to triple the protection.
Better growth focus.

Contractors accomplish their desktop support tasks quickly and accurately with skilled workers and advanced technologies. This efficiency enables you to prioritize your primary functions. You also have more time to improve your products and services.
4. Look for Potential Providers
Post a call for proposals before outsourcing desktop support. This makes it easier to find a reliable BPO company to help you reduce operating costs and increase efficiency. The contractor should also be able to handle your desktop problems well while you focus on revenue-generating tasks.
But first, understand what an outsourced IT provider is and how it can match your business goals and strategies. Consider the following factors when creating criteria for your ideal desktop support partner:
Reputation and credibility.

Assess your target provider's work history, portfolio, and customer reviews. Observe how the market acknowledges and trusts them. High credibility and a good reputation show that the provider delivered a top-notch performance in previous work.
Service pricing.

Every contractor has different pricing schemes for their services. Their rates depend on their market status and client demand. But while aiming to save on costs, never overlook service quality. Carefully evaluate whether you can pay a premium in exchange for long-term benefits.
Workforce expertise.

Your goal is to have a third-party team of highly trained and certified desktop technicians. Although considered a non-revenue-generating unit, your IT support team needs technical experts to handle desktop issues and processes effectively. 
Technology and infrastructure.

Confirm whether the service provider owns and uses next-generation technologies; these tools streamline your daily desktop processes and maintenance activities. Ensure you can integrate third-party infrastructure with some of your existing solutions for smooth interoperability.
Scalability and flexibility.

Ensure the vendor aligns with your business structure, operations, and schedule. It should be able to adjust to meet your desktop support needs and requirements. This flexibility is especially crucial during peak season.
Quality assurance (QA).

Select a BPO company that values service quality while still offering affordable pricing. Your agreement must include QA for monitoring day-to-day services, transactions, and resolutions. Mutual understanding regarding the importance of QA in ensuring superb output helps avoid future problems.
Security posture.

Evaluate the vendor's data and privacy protection policies. You entrust sensitive information to a third party when you

outsource data entry services

and desktop support. Therefore, ensure your potential BPO partner has strict security measures that match yours.
In addition, ask for referrals and feedback from prospective candidates' colleagues or past clients. This way, you have more insights to consider during the selection process.
After you have narrowed your choices down to at least two prospects, conduct one-on-one interviews to reach a final decision. Here are some questions you can ask when choosing a partner for outsourcing desktop support:
How long have you been in business?

What types of clients have you handled?

What kinds of desktop services do you offer?

How do you manage desktop support processes?

How do you ensure quality service?

How much do you charge for short-term and long-term contracts?

Does your workforce undergo frequent training and upskilling?

Is your IT infrastructure up to date?

Can our existing systems integrate with yours?

How do you monitor and mitigate security threats?

What channels do you use for communication and task distribution?

Can our company opt out of the contract easily?

How long does the onboarding process take?
5. Calculate Outsourcing Costs
Recent data shows that businesses perceive cost reduction as one of the most tangible benefits of BPO. But remember to manage your expectations and conduct a cost analysis before finalizing a service agreement. These five steps help guarantee cost savings and investment returns:
Clarify your desktop needs and requirements.

Calculate the in-house expenses you can save by outsourcing desktop support.

Verify the budget you can allocate for a contractor.

Subtract outsourcing expenses from the expected in-house cost savings.

Proceed to employ a service provider after seeing potential savings.
As you plan your BPO strategy, check out the available payment options. This information helps you conduct a more accurate cost analysis. Such insights also guide you in developing a concrete budgeting plan. 
The following are examples of payment methods:
Block hours.

Contractors charge you for a specific amount of time. It lets you use the prepaid hours flexibly, disregarding additional paperwork for billing.
Crowdsourced.

This option allows you to seek desktop support and consulting services from a group of IT experts through online forums and discussion boards. It is usually free, but some providers with large online communities might charge a premium.
Managed services.

Signing a service agreement is typical when you want long-term, large-scale outsourcing. The contract states the fixed rate for all desktop services included. It also consists of key performance indicators (KPIs) for QA.
Self-service.

If you do not plan to hire third-party personnel, the self-service option suits you. It lets you acquire cloud-based software comprising all features needed for desktop support. The package also includes after-sales maintenance and consulting.
Time and material.

You and your potential BPO partner set a pre-negotiated rate for the materials and services necessary to provide desktop support. 
6. Wrap up the Service Agreement
After completing the previous steps, finalize your contract with your selected desktop support provider. This last procedure confirms that the outsourced tech solutions vendor meets your operational and financial requirements. 
When wrapping up your deal, you need to do the following:
Schedule an in-person or virtual meeting with the service provider.

Discuss transaction terms, billing details, and collaboration rules thoroughly.

Match and combine each other's work strategies, systems, and resource distribution.

Designate program managers and point persons.

Set up communication and collaboration platforms.

Organize project timelines, meetings, and training.

Sign a formal contract.
The Bottom Line
Desktop problems cause significant delays, backlogs, and lost revenue if not resolved immediately. Outsourcing desktop support is the best way to address such issues quickly and cost-effectively. 
But before you outsource your desktop support, know how to maximize the benefits of BPO and identify the right reasons and goals for outsourcing. Moreover, learn how to choose the right service provider, conduct a cost analysis, and settle on the terms of the contract. Your due diligence verifies possible investment returns, cost savings, and quality outcomes. 
Add Unity Communications to your list of potential providers if you plan to outsource your desktop support. The award-winning BPO company offers responsive and affordable managed IT services.