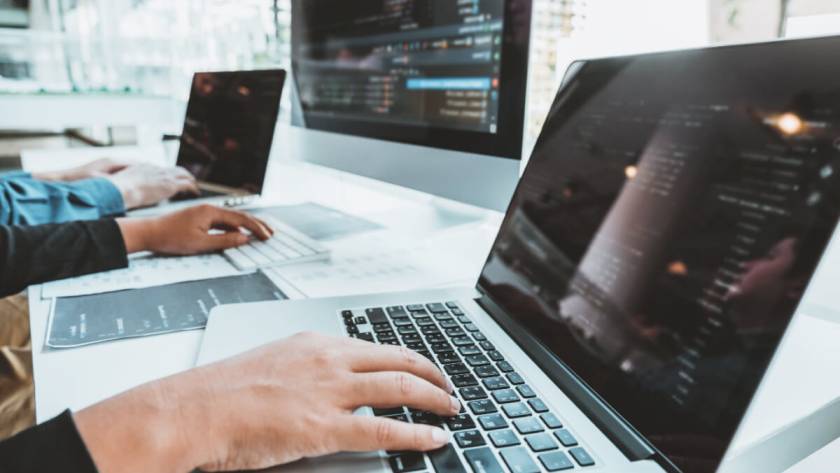 Written by Joyce Ann Danieles
Owning a small business can be challenging. Although you have a narrow customer and workforce base, you must keep up with the fast-paced market competition. Optimizing information technology (IT) solutions and processes help you achieve that.
Due to high technology deployment and maintenance costs, your IT budget might surpass your capital for core functions. Fortunately, IT support outsourcing providers offer a cost-effective way to streamline your front- and back-office operations.
Keep reading to discover how to contract IT support services for your small business without overspending.
Average Cost of IT Support Outsourcing
According to the latest Gartner research, global companies spent $4.5 trillion on IT support services in 2021. The consulting firm expects the figures to grow through 2025 as businesses increasingly rely on IT providers for their digital strategies.
Business process outsourcing (BPO) vendors set varying prices for every IT-related service. Even when comparing two providers from the same country with the same offerings, you can still notice a tremendous difference in their total fees.
This is because outsourcing costs are flexible. Your charges can increase or decrease depending on your needs and the following factors:
Market reputation and credibility (e.g., client ratings and notable industry awards)

Workforce experience and expertise (e.g., certification levels and employment history)

Service scope (e.g., general or specific service types)

Outsourcing framework (e.g., entire IT department or part-time team)

Organization size (e.g., number of employees)

Operating hours and location (e.g., time zone difference and country of origin)

Turnaround time (e.g., weekly, monthly, or seasonal service timeline)

Cost structure (e.g., break-fix, flat rate, per user, or hourly)

Technology and infrastructure (e.g., deployed software tools)

Industrial and economic trends (e.g., outbreak-driven pricing changes)

Government policies and standards (e.g., tax rules and exceptions)
If you require ongoing and complex IT support, you should consider partnering with a managed services provider (MSP), whose average monthly costs usually range from $10 to $250 per user. This pricing excludes any extra spending that might be company-specific. 
Here are examples of cost estimations when setting up an in-house IT team and outsourcing to a provider to give you an overview of what to expect when outsourcing. 
In-house vs. Outsourced IT Support Costs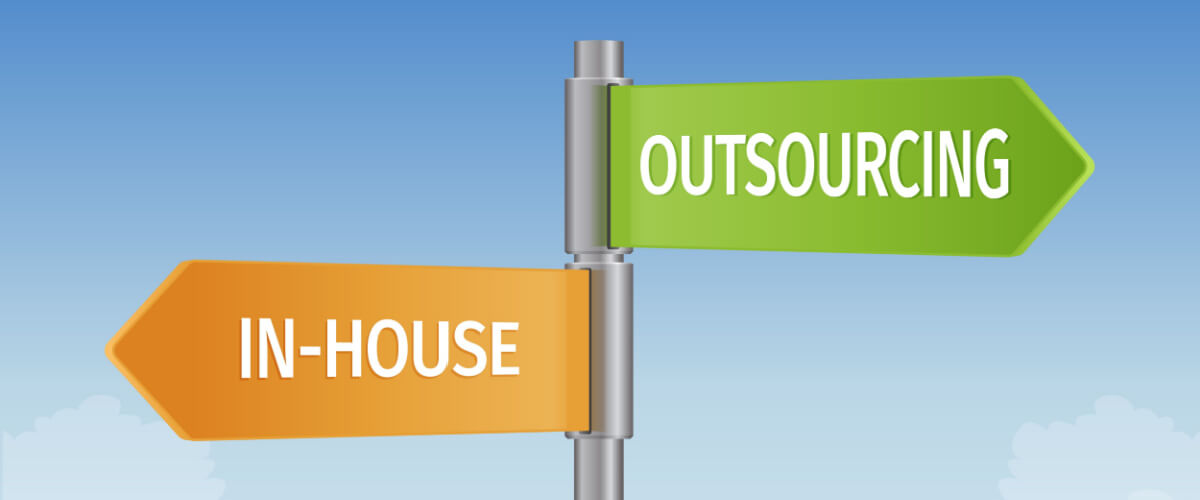 Establishing an in-house IT team requires you to allocate funds for employee compensation, office space, and equipment.
Let us say your small business needs a 20-member unit for voice-based technical support. These technical support representatives (TSRs) will answer incoming calls from your employees or end users facing tech problems.
If you do not want to hire a third party, you must allot significant capital for employee compensation, real estate, and work equipment. Your operating costs might look like this for a whole month:
Cost of In-house Operations(20 TSRs)
Item
Cost Description
Total

Rent 

$160 per individual service space

$3,200 

Salary 

Eight-hour daily work 

20 days

$53,472 

8 Gb RAM Laptops

$1,700 per unit

$34,000 

Total
 
$90,672 
Based on the table above, your initial technical support costs reach over $90,000 monthly. This sample computation does not include other utility costs such as internet service, electricity, and water bills.
But if you hire front- and back-office outsourcing services from a provider such as Unity Communications, expect a significant cut in your operating expenses. Not only is outsourcing more affordable than in-house production, but offshore outsourcing providers generally have lower service costs.
To illustrate, check out this sample one-month computation for voice technical support from a BPO company headquartered in the Philippines.
Cost of Outsourced Operations

(20 TSRs)

Item
Cost Description
Total

Rent 

Not applicable

$0

Salary 

$9.75 per hour

Eight-hour daily work 

20 days

$31,200

8 Gb RAM Laptops

Not applicable

$0

Total
 
$31,200
This table shows you achieve over 50% cost savings by outsourcing IT support services for your small business to an offshore provider. 
Hourly vs. Monthly IT Support Costs

Besides knowing the cost estimations for IT-related front- and back-office outsourcing, you must also understand how providers structure their service pricing. This way, you can make a concrete strategy for your BPO investment and avoid excessive fees.
Service providers offer various payment plans that cater to your business needs and budget. Consider two primary types of cost structures for IT support outsourcing. 
Hourly Rate 
Companies of all sizes partner with IT support providers that charge per hour if they need support for small projects. Choosing this payment plan is best when your business requires short-term technical support.
For instance, you need about five third-party TSRs to help increase your inquiry responses during a busy week. Instead of preparing an entire contract for each, negotiate a fixed hourly charge with them for their temporary services. 
Monthly Rate 
If you want to outsource tech solutions with a clear, long-term timeline, pick this flat-rate option. It allows your small business to receive multiple IT services at an affordable cost. This payment option allows you to adjust your budget based on your current needs and available resources.
For example, your small business lacks the staff to answer growing tech support requests during the holiday season. Because you do not have sufficient time to recruit new employees to handle such a boom in demand, you can hire a vendor and pay their fixed monthly fees.  
Fully Outsourced vs. Co-managed IT Support

Since you now know the expected BPO costs and payment options, you must identify the outsourced IT support model that fits your needs. 
As discussed, forming an in-house team costs you more than outsourcing IT support services for your small business. Despite the price difference, you can still establish an in-house tech team and hire outside professionals to boost your operations.
But if your enterprise heavily relies on your network for productivity, fully outsourced IT solutions provide long-term benefits and savings.
So while looking at service pricing, explore these two basic models of IT support outsourcing:
Fully Outsourced IT Support
You are adopting fully outsourced IT support if you decide not to have an in-house technical team and entrust all tasks to an MSP instead. Under a service-level agreement (SLA), your selected MSP handles the processes below to help improve your bottom line:
Technical support

resolves various tech problems using diagnostic tools and methods. 

A

help desk

is a go-to hub for IT support requests and ticket management.

Desktop support

focuses on addressing computer-related issues.

Network and server management

is monitoring enterprise networks and servers.

Outsourced data entry services

refer to critical data input, collection, and handling.

Telecommunications support

involves telecom troubleshooting and maintenance.

Wireless and mobile computing

enables seamless access to collaboration platforms.

Cloud services

encompass computing solutions and services provided online.

Cybersecurity

defends essential data and systems against cyber threats.

Firewall administration

is establishing a virtual firewall to block unauthorized access.

Virtual private network (VPN) monitoring

uses encryption to enable VPN connections.

Antivirus scanning and mitigation

removes malware and other system viruses.

System maintenance and updating

help eliminate system lag and bugs.

Multifactor authentication

leverages biometrics and unique codes to secure accounts.

Data encryption

is converting data into a secret code to avoid interception.

Risk management

covers security threat identification, assessment, and resolution.
MSPs reduce the burden on your budget by offering fixed hourly or monthly rates for all their services. Because they specialize in IT, you have sufficient time and resources to grow your enterprise and keep up with changing market demands.
Co-managed IT Support
This BPO model lets you outsource IT support services for your small business while still having your own tech team. It enables you to hire MSPs or third-party professionals to perform specific tasks that your IT staff cannot handle due to a lack of time or skills. 
Aside from the tech services mentioned above, you can hire an MSP to provide strategic IT consulting. Since they have in-depth knowledge of outsourced IT trends and market demands, vendors advise you on your tech investments, growth initiatives, and security measures. They provide the services below to help you make informed decisions.
Strategy planning

is creating an IT roadmap that matches core business targets.

Infrastructure designing

involves developing IT infrastructure for your daily needs.

Cloud service technique drafting

means designing a cloud adoption plan.

Security and compliance analysis

covers regular compliance reviews and reports.

Disaster recovery plan development

ensures data recovery during emergencies.
To further illustrate this framework, let us take the case of a U.S. IT company that hired Unity Communications to deliver a 24/7 IT help desk. The client won a large contract that prompted it to expand operations; it now has to provide round-the-clock voice support rather than the traditional eight-hour daily help desk.
Due to the lack of qualified workers to accommodate the new graveyard hours, the company struggled to address requests. But by approaching the BPO provider, the client could deliver 24/7 call center operations in three countries. This milestone resulted in more contract awards, allowing it to stay ahead of the market competition.
Your small business can attain the same advantage if you outsource some or all of your IT functions. Conduct thorough market research to understand what an outsourced IT provider is. Also, conduct a comprehensive cost analysis to ensure cost savings and BPO investment returns.
The Bottom Line
Now that you know the average cost of IT outsourcing, you need a reliable tech partner to meet your daily operational requirements.
As an award-winning BPO contractor, Unity Communications offers robust technical support solutions and skilled professionals. These resources help businesses accelerate growth and increase efficiency.
Contact our team today to experience superior IT support services for your small business.