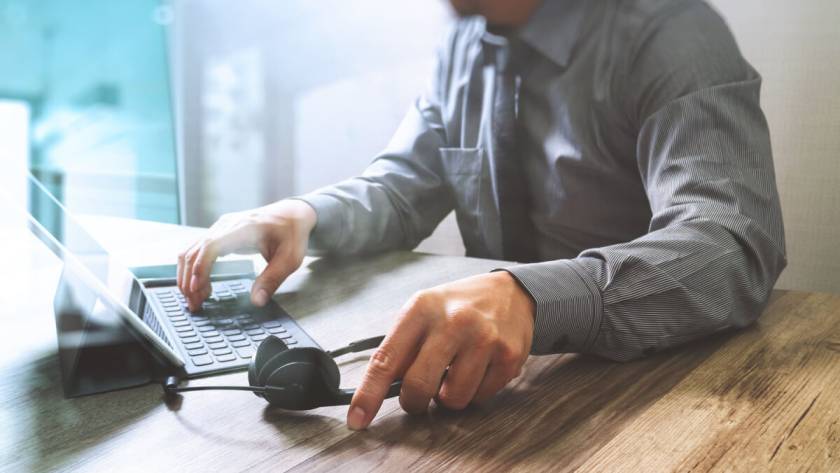 Written by Joyce Ann Danieles
Companies frequently treat help desks and technical support as one business process. After all, they are part of the information technology (IT) department and aim to resolve end-user concerns. 
If you ask any IT support outsourcing company, they will tell you these two functions have entirely different objectives and service structures. 
So before you contact a business process outsourcing (BPO) company, familiarize yourself with the differences between these two tasks. Keep reading to learn more.
Help Desk vs. Technical Support: The Major Differences 
A help desk's job is to quickly answer simple questions, while technical support mainly solves difficult IT problems. Both of these services are commonly offered by an outsourced IT provider. 
Before contracting a BPO vendor, take a closer look at help desk tasks vs. technical support. The comparison helps ensure you sign up for the service that addresses your needs.  
Customer-first vs. Solution-centric
People outside the IT industry often equate help desk support with customer service. Similar to customer service agents, help desk agents put customer needs first and work with the channels and solutions that customers choose. Even though they share the same goal, help desk support solely focuses on solving simple technical problems.
So what about help desk services vs. technical support? 
A help desk team personalizes outsourced IT solutions, putting customers at the center of their service. They make sure they: 
Are present on all communication channels so they can respond to inquiries quickly, be it via phone calls, live chat, email, or social media.

Provide relevant, fast, and clear responses to repetitive issues using scripted guides. These preset responses are based on customer feedback collected from surveys, market studies, and company reviews.

Troubleshoot issues remotely using predefined diagnostic strategies. These techniques are created in alignment with industry standards and with insights from market research.

Use ticketing tools to sort problems according to urgency and difficulty. 
If all else fails, the help desk forwards problems to the technical support team. 
Technical support specialists take a more solution-centric approach to IT services. They handle complicated technical issues beyond the capacity of help desk agents. They prioritize finding the root cause of defects and systematically resolving them.
Technical support teams often resolve issues by communicating with customers on the phone or through other channels customers prefer.  They might provide in-person assistance if the issue involves physical equipment. Their primary responsibilities are to:
Repair and maintain various devices, software tools, and machines

Apply technical policies and procedures when fixing complex issues

Track network and system vulnerabilities

Manage business and customer data 

Strengthen infrastructure security and cyber defense 
Specific Work vs. General Service
A help desk is part of technical support outsourcing. This business practice generally involves assigning IT tasks to a provider's team of experts.
Back-office outsourcing service providers divide their technical support into three tiers based on agent capability and work difficulty. The tiers are as follows: 
Tier 1.

Tier 1 agents address simple IT inquiries and troubleshoot common technical issues. They answer repetitive questions and forward more complicated matters to tier 2 agents. The help desk falls under this category of technical support.
Tier 2.

Tier 2 technicians take over technical problems that tier 1 agents cannot solve. They use more advanced and systematic solutions to deliver in-depth technical support.
Tier 3.

Tier 3 IT specialists and product engineers handle the most complex technical issues that tiers 1 and 2 agents cannot address.
Technical support covers a broad range of services. For a better idea of its scope, here are other services technical support might include:
Cloud computing

enables easy

access, organization, and storage of data and digital files via the internet.
Repair and maintenance

fix defective equipment components and keep them in good condition.
Telecommunications

monitors various transmission systems and solves related problems.
Account management

opens new user accounts and recovers hacked or blocked accounts.
Desktop support

repairs defective drivers, operating systems, and desktop tools on computer systems.
System modernization

rolls out regular system updates to fix bugs, strengthen security, and update operations of multiple business devices.
Installation and configuration

set up critical enterprise software and hardware.
Security and data monitoring

track and address system vulnerabilities and data threats.
Web hosting

provides leased servers for secure and streamlined website operations.
Software/application development

designs and creates software and apps to expedite business operations and data management. 
Data entry

inputs, categorizes, and stores enterprise data using word-processing apps. Companies

outsource data entry services

to ease employee burdens and save on operating expenses. 
Software/app management

oversees installed software and apps necessary to advance business processes.
Comprehensive Solution vs. Targeted Problem-solving
Help desk and technical support also differ in the problem-solving approach they take. A help desk takes a holistic approach to resolving technical issues. In contrast, a technical support unit implements a targeted problem-solving procedure. 
Expect help desk agents to:
Have basic IT knowledge

Be familiar with all IT products and services 

Personalize and speed-up customer support

Adhere to scripts and preset solutions when guiding customers

Provide predefined, straightforward responses to repetitive consumer inquiries
Expect technical support technicians to:
Have an in-depth knowledge of systematic IT support procedures

Apply specialized hardware, software, and network resolutions and processes

Provide remote or in-person repair services

Follow tech manuals and guidelines

Use dedicated virtual and physical tools to fix issues
Here are some examples that show the differences between how a help desk and technical support technician solve problems.
A help desk agent helps a caller experiencing a long internet outage. The agent asks whether the user has rebooted the modem or laptop/computer. If not, they try to restore internet connectivity together.

The agent then creates a ticket to escalate the issue if the process fails.

After receiving the ticket, a technician identifies the issue's root cause using a dedicated network monitoring tool.

The technician contacts the user to fix the issue remotely if the problem results from software errors

. Otherwise, they schedule a service area visit to see whether broken wires are causing the issue.
Personalized Interaction vs. Tech-wise Engagement
Here is another point to remember: help desk agents speak to customers in a personal and engaging way. Technical support specialists talk to customers in a tech-focused way. 
Companies strive to meet market needs and demand to build a loyal customer base and generate more revenue. Recent studies have found that customers tend to stick with brands that provide a personalized customer experience. This makes the assistance help desks provide absolutely vital to the success of a company. 
Help desk agents focus on personalizing IT services for customers. They provide solutions to simple issues while:
Addressing customers by their names

Listening to concerns with sympathy

Responding to inquiries through customers' chosen communication platforms

Delivering fast and convenient support

Collecting feedback on the effectiveness of customer service
Technical support specialists are just as important as help desk staff. They emphasize the technical side of the service when interacting with customers. Although these specialists accommodate consumers' preferred channels, they prioritize:
Providing straightforward and systematic solutions

Resolving technical issues quickly and accurately

Following step-by-step procedures

Fixing problems remotely or in person

Collecting feedback on the effectiveness of problem-solving strategies
Help Desk vs. Technical Support Technology
Technology is the point of similarity between help desks and technical support. These functions share the same outsourced tech solutions despite their varying goals and service techniques. 
To meet the need for fast and effective IT support, third-party teams use up-to-date technology and infrastructure. Here are the modern solutions you can use when outsourcing help desk and technical support: 
An

omnichannel dashboard

features multiple integrated communication platforms such as voice calls, live chat, email, and social media. Omnichannel helps to quickly and seamlessly address customer inquiries in the format customers find the most comfortable for themselves.
A

customer relationship management (CRM) platform

stores and organizes consumer data for immediate access and sharing. CRM platforms can be cloud-based, on-site, or open-source. The solution removes the need to input data repeatedly for existing customers.
Artificial intelligence (AI)

simulates human intelligence to run large-scale help desk and technical support tasks. AI handles big data and includes processes such as machine learning (ML) and natural language processing (NLP).
Cloud computing

enables the secure storage and access of data and digital files over the internet.
A

data management tool

sorts and analyzes company and customer datasets to inform efforts to enhance service delivery.
Robotic process automation (RPA)

uses AI-powered bots to automate data collection and customer responses. RPA includes chatbots and interactive voice response (IVR) systems.
Blockchain technology

provides a decentralized, shared ledger that combines IT systems and enables interoperability.
A

remote monitoring and management (RMM) solution

gives authorized agents remote access to network endpoints to ensure strong security and execute early mitigation.
Ticketing software

categorizes and routes IT support requests to appropriate support agents. 
A

knowledge management system

contains data crucial to technical support and help desks. The digital content repository also includes workplace rules and regulations for employee refreshers and training sessions.
Augmented reality and virtual reality (AR/VR)

deliver simulated guides for agents providing hardware support or undergoing training.
Incident management capability

comprises all available business resources to mitigate cyber and technical incidents

and prevent a recurrence.
A

security hub

scans, identifies, and resolves system vulnerabilities and cybersecurity threats.
An

automated scheduler

optimizes AI-powered algorithms to automate task distributions and work schedules.
Software integration

lets companies combine their existing tools with third-party systems for better collaboration, data collection, and work management.
Teletypewriters (TTY) and telecommunications display devices (TDD)

assist customers with hearing disabilities as they seek technical support.
Customer vs. Support Service Quality
Help desk and technical support have different priorities in terms of performance. Back-office outsourcing service providers have quality assurance (QA) centers to meet client expectations. A help desk's QA focuses on how well it serves customers. A technical support team's QA monitors how well it supports customers.
A help desk unit focuses on providing a top-notch customer experience while responding to simple technical issues. Team leaders review customer service quality to improve work performance and communication.  
Meanwhile, a technical support department monitors service quality, covering customer engagement, repair, maintenance, and related tasks. Team leaders prioritize enhancing the overall technical support process.
Both departments use a QA program to ensure their help desk and technical support services are of high quality. They take the following steps when setting up a QA strategy:
Specify goals.

Clearly define your objectives for technical support outsourcing. Establish a unique set of best practices to meet business and customer needs.
Set quality standards.

Draft QA policies and procedures based on identified goals. List the key performance indicators (KPIs) to use when reviewing and assessing employee performance and customer satisfaction.
Designate team members.

Employ or assign a team of specialists to perform QA-related tasks. They should be trained and well-versed in the field to guarantee accurate QA results.
Identify techniques.

Develop strategies to monitor service quality. Call recording activities, ticket reviews, and customer feedback surveys are some examples.
Develop feedback flows.

Track team performance and customer engagement. Schedule team meetings to review and evaluate results. This approach helps identify areas of improvement.
Implementing a QA team helps achieve a strong brand image and success. It measures your reliability and uniqueness amid the fast-paced competition. So if you're exploring what an outsourced IT provider is, remember to add service quality to your criteria. This helps ensure long-term benefits and a stable working relationship with your potential BPO partner.
Help Desk vs. Technical Support Security
In 2021, the latest year for which figures are available, victims from 70 countries filed over 23,000 technical support fraud complaints with the Internet Crime Complaint Center. The incidents cost over $347 million, 137% more than in 2020. Help desk and technical support outsourcing are one when it comes to security concerns. Both strictly protect business and customer data. 
They implement the following features to provide maximum cyber defense:
Data encryption

converts readable, plaintext data into an unreadable, encoded format called ciphertext. Authorized users can access the data with a secret key.
Multifactor authentication

requires users to successfully verify their identity two or more times to log on to their online accounts. Unique codes sent through text messaging, email, or phone calls are examples of authenticators.
Biometrics

uses fingerprints and facial features to verify user identity before accessing sensitive files or online accounts.
Network and data monitoring

track and mitigate potential cyber threats surrounding network systems and data.
Antivirus solutions

scan and remove malware and malicious files infecting computers and devices.
Virtual private networks (VPNs)

establish safe, encrypted web browsing. They allow internet users to protect their privacy and circumvent geography-based censorship.
Data backup and recovery

duplicate and store data in a secure cloud-based or system storage to avoid loss. The method enables users to restore data when needed.
Compliance management

conducts compliance reviews and assessments to ensure adherence to industry and government security standards. These measures help prevent unexpected rule violations and sanctions.
24/7 vs. Eight-hour Availability
As outsourced IT trends and customer demands change, service providers must strive for maximum availability to meet consumer needs. Help desk and technical support agents both work eight-hour shifts. The difference is that outsourcing makes it possible for a help desk to be available 24/7.
As stated earlier, help desk agents respond to simple, repetitive inquiries. But AI and RPA solutions can also quickly and effectively accomplish such tasks. As long as no human intervention is needed, you can achieve round-the-clock capabilities through the following methods:
Chatbots automatically reply and send predefined responses to customers seeking immediate resolution, even at midnight.

IVR lets callers access information about specific technical issues via an automated voice response system containing pre-recorded messages.

Digital articles published on company websites detail step-by-step procedures customers can take to solve common technical issues at home.

Software bots moderate online community forums where registered users post their IT concerns and share insights into how to solve them. 
The situation is different for technical support teams, which cannot run the 24/7 setup because it requires human interaction. AI and bots cannot solve complicated technical problems, especially those involving physical equipment.
Technicians and engineers need occasional in-person work. Home visits are vital if customers cannot bring damaged products to service centers. IT specialists also remotely access computers for customers facing complex software challenges. 
The Bottom Line
Businesses often mix up help desk and technical support functions because they sound remarkably similar to customer service in other sectors, such as ecommerce and retail. But these two functions have different concepts in IT outsourcing. 
The two IT activities vary in terms of purpose, service quality and scope, problem-solving approaches, and customer engagement strategies. This article also notes a few similarities regarding technology, security, and availability. 
Understanding these insights helps validate your decision on whether to invest in the two separate services. They also guide you in creating a well-structured plan for hiring a reliable service provider such as award-winning BPO company Unity Communications.