Written by Joyce Ann Danieles
When it comes to information technology (IT) support outsourcing, people often use the terms "help desk" and "technical support" interchangeably. They assume these terms have the same function as customer service in the e-commerce and retail industries. But the help desk and tech support are two completely different concepts. 
Read on to understand the differences between these two functions before hiring a third-party service provider.
Help Desk vs. Tech Support: Five Major Differences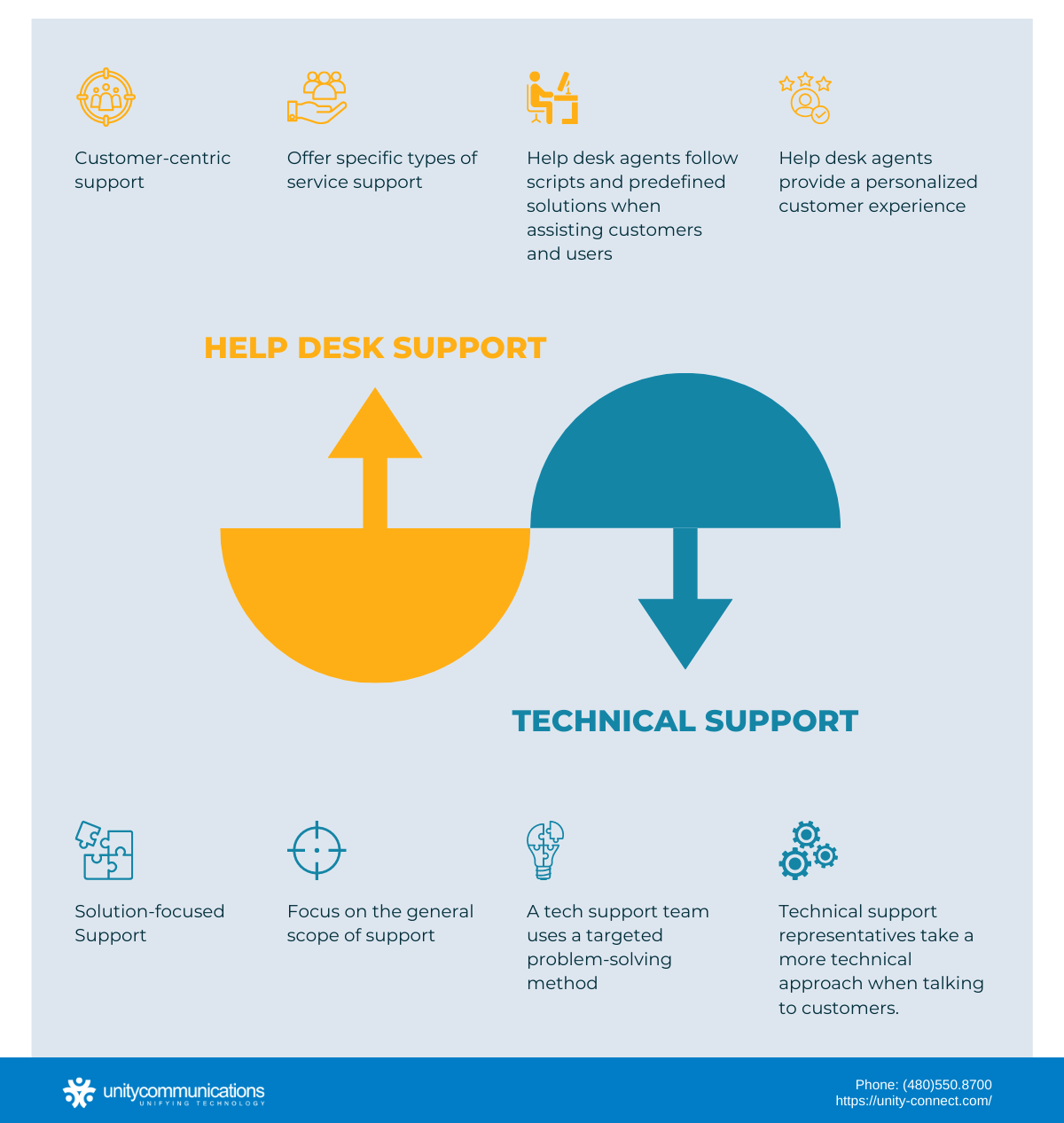 Whether in-house or outsourced, help desk and tech support teams hold distinct roles and responsibilities. Help desk agents focus on providing streamlined responses to customer inquiries, while tech support specialists prioritize resolving technical issues. 
In short, a help desk is a central point of contact for customers or end users with basic IT problems such as password reset and account recovery. But when issues require high-level technical expertise, tech support enters the picture. 
Identifying the differences between these concepts helps you understand what an outsourced IT provider is and which service you need most. 
1. Customer-centric vs. Solution-focused Support
Understanding the goals of each service makes it easier to weigh the help desk against tech support. Familiarizing yourself with both approaches lets you develop a concrete investment plan to ensure returns when you outsource tech solutions. 
A help desk is a go-to hub for consumers with simple technical issues and questions about IT product features. Help desk agents practice a customer-centric approach to achieve maximum customer satisfaction and retention. They do so by providing quick and personalized support services such as:
Answering incoming calls, chats, or emails

Recommending step-by-step procedures for simple, repetitive IT issues

Conducting remote troubleshooting through predefined diagnostic techniques

Performing data entry, management, and analysis

Categorizing customer inquiries based on urgency, difficulty, and importance
Technical support teams take over once help desk agents escalate problems to their department. They cover complex IT issues such as hardware repairs, boot loops, and malware mitigation. Technicians investigate the root cause of problems and resolve them systematically and quickly.
Whenever needed, tech support specialists directly contact customers while addressing issues. The interaction happens through voice or video calls, live chat, and email. An in-person engagement is also possible, especially when the problem involves physical equipment.
2. Specific Service Type vs. General Work
Not all front-office and back-office outsourcing services are made equal. Consider the service scope when comparing help desk to tech support. Understanding such differences helps you analyze your possible outsourcing expenses and identify which function suits your operational needs. 
Generally, tech support outsourcing entails delegating a range of IT services to a reliable provider. Tech support is the umbrella term for the IT processes necessary to deliver a superb end-user experience. 
A help desk, on the other hand, is a specific service type of tech support. As discussed in the previous section, it handles basic IT issues and inquiries by directly engaging with customers. 
The following are other types of tech support services:
Desktop support

– remotely accessing computers, laptops, smartphones, and tablets to identify and fix damaged drivers, operating systems, and software tools
Data entry

– inputting and managing data using word-processing platforms. (Businesses typically

outsource data entry services

to accelerate these repetitive tasks, cut operating costs, and avoid employee burnout.)
Account management

– creating accounts for new users and recovering hacked or blocked accounts
Telecommunications

–

tracking network systems and resolving related issues
Cloud services

– easy access, retrieval, and storage of relevant data and digital documents via the internet
Repair and maintenance

– fixing damaged components of various equipment and performing maintenance to avoid further destruction
Security monitoring

– identifying and mitigating system vulnerabilities and cyberattacks
Information analysis

– collecting, processing, and analyzing critical customer and market data to inform business growth
Installation and configuration

– installing and configuring software and hardware
Software/application management

–

managing installed mobile apps and computer software
Another distinguishing factor of help desk vs. tech support is service levels. IT companies categorize their outsourced tech support into three levels of support. This approach allows them to distribute tasks efficiently, resulting in smoother and faster operations. 
The three levels of tech support are:
Level 1.

Agents respond to simple customer inquiries related to IT purchases. They also perform basic IT support and troubleshooting for common technical issues.
Level 2.

Technicians provide in-depth tech support using more advanced solutions. They take responsibility for technical problems that a level 1 agent cannot address.
Level 3.

Product engineers and IT specialists work on technical challenges that level 1 and 2 contractors cannot handle. They resolve the most complex product or service issues.
3. Comprehensive vs. Targeted Problem-Solving
Problem-solving strategies are important when tackling help desk and tech support issues. As you plan to adopt front-office and back-office outsourcing, you must know how help desk and tech support teams perform their jobs differently. This information guides you in developing outsourcing management strategies that align with your established in-house routine.
A help desk unit executes a holistic approach to address customer tech issues. Agents do not need in-depth IT knowledge. But they must be familiar with all tech products and services to expedite and personalize responses to customer inquiries.
Help desk agents follow scripts and predefined solutions when assisting customers and users. Such resources help simplify their replies to repetitive customer concerns. Having preset answers also ensures customers receive appropriate and straightforward responses. 
Conversely, a tech support team uses a targeted problem-solving method. Technicians use dedicated approaches to resolve each issue. So as part of your outsourced IT solutions, expect your provider to have specialized solutions and procedures for addressing issues regarding software, hardware, and networks.
In addition to their in-depth industry experience, tech support experts follow a manual or guideline to help them fix complicated issues in various hardware and software products.  
4. Personalized vs. Tech-wise Customer Interaction
Refine your consumer engagement approach by understanding how different help desk agents and tech support specialists interact with customers. Aligning your in-house communication strategy with your potential business process outsourcing (BPO) partner helps avoid conflicts and misunderstandings.
Due to the COVID-19 pandemic, many customers switched to online transactions to meet their needs. Digital adoption and the growing prominence of online platforms paved the way for the rise of new  and different customer expectations.
A Zendesk report reveals that 90% of consumers spend more with a company that offers a personalized customer experience. Another 93% do the same if they can contact customer service through their preferred communication methods.
These findings add context to why help desk agents prioritize customer demands and choices. Agents listen to customers with empathy and engage with them through their selected channels. To provide a personalized customer experience, they recommend immediate solutions while keeping note of customer preferences.
Meanwhile, tech support representatives take a more technical approach when talking to customers. They are straightforward with their clients, aiming to resolve technical issues quickly and effectively. 
Tech support agents accommodate customers' communication preferences, but they focus on providing step-by-step procedures when fixing technical problems remotely.
5. Help Desk vs. Tech Support Technology
Technology is where help desk and tech support outsourcing meet. Businesses continue to encounter changing trends in outsourced IT as technology evolves. 
Help desk and tech support share similar advanced solutions despite having different goals and work strategies. They use up-to-date platforms to deliver customer support quickly and effectively. The following advances continue to assist BPO companies in expanding IT services.
Artificial intelligence (AI)

imitates human intelligence to complete tedious, large-scale tech support and help desk tasks. AI includes natural language processing (NLP), speech recognition, machine learning (ML), and voice biometrics.
Robotic process automation (RPA)

deploys software bots to automate data gathering, sharing, and analysis. Often combined with AI, RPA helps expedite replies to repetitive customer inquiries. Chatbots and interactive voice response (IVR) are examples of RPA.
Augmented reality and virtual reality (AR/VR)

serve as visual guides for IT service agents, especially when providing hardware support. Many businesses believe AR and VR can be used to grow expertise beyond organizational, time, and geographical boundaries.
Omnichannel communication

provides integrated communication platforms in a single dashboard. This unified view lets help desk and tech support agents seamlessly and quickly respond to customer inquiries via email, phone calls, or chat.
Cloud computing

provides secure data storage and access to digital files through internet-hosted remote servers.
Knowledge management

is a digital content repository containing relevant data on IT services such as tech and help desk support. Employees use this platform to review workplace rules and regulations as part of their refreshers and training.
Blockchain

delivers a decentralized, shared ledger that integrates IT systems. The interoperability helps boost tech support.
Incident management

uses all available enterprise resources to address cyber and technical incidents, mitigate their impact, and prepare ways to prevent a recurrence.
Remote monitoring and management (RMM)

enables authorized agents to access all network endpoints remotely. The RMM platform monitors networks and IT infrastructure to ensure security and conduct early mitigation.
Data management

tools enable agents to quickly compile, store, organize, and analyze relevant datasets necessary to enhance tech support and help desk delivery.
Ticketing software

manages and simplifies requests for technical assistance. The tool boosts task distribution across help desk and tech support teams for efficient problem resolution.
Customer relationship management (CRM)

stores and manages consumer data for immediate access. The solution helps improve the customer experience by eliminating the need to repeat data input for existing clients. It can be deployed in the cloud or on-premises, and open source CRM software is available.
According to Precedence Research, the growing demand for virtual software and technology solutions has expanded the IT outsourcing industry. The research firm's latest report found that the global IT services outsourcing market will reach $1.06 trillion by 2030. A compound annual growth rate (CAGR) of 8.06% is anticipated.
Thus, the technologies mentioned above do more than just connect help desk and tech support. They also help the IT BPO sector broaden its scope. BPO companies consistently explore hardware and software innovations to improve their tech support and customer experience.
The Bottom Line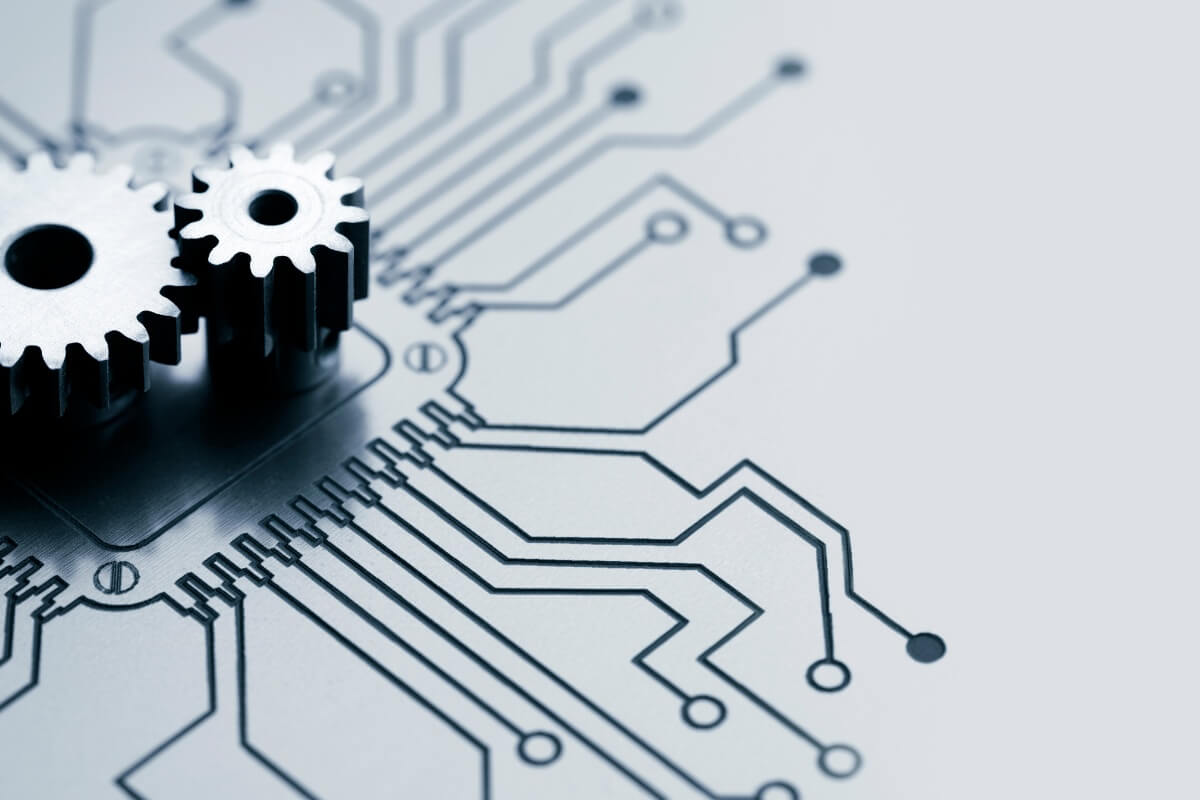 Help desk and tech support sound remarkably similar, but these two terms have significant differences in IT outsourcing. While help desk agents prioritize streamlined customer responses, tech support specialists focus on accelerated resolution of technical issues.
Knowing the important differences in these two IT services helps guide you as you decide whether you need the two functions separately or in combination. They also help you develop a well-structured plan once you want to hire a competitive BPO company such as Unity Communications. 
Contact us today to discuss your outsourcing needs in depth.