Written by Allie Delos Santos
Businesses without a help desk or desktop support are at risk of having unhappy customers due to inefficient ticket resolution and long queues. Users want to connect with information technology (IT) specialists and find solutions immediately. They are more likely to leave a brand that takes a long time to resolve problems.
This is precisely why you need IT support outsourcing. It streamlines the service desk and helps customers feel valued.
Read on to learn how outsourced desktop support and help desk management let you achieve more of your goals.
15 Ways To Leverage Outsourced Help Desk Management and Desktop Support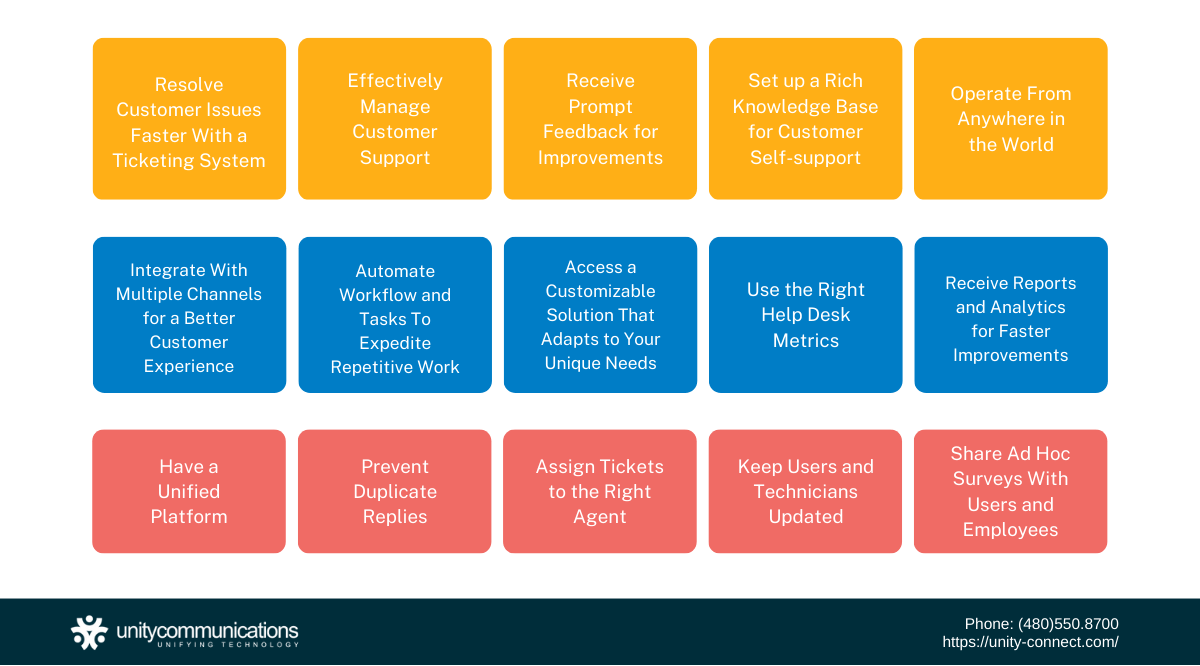 Running a busy office is overwhelming, especially if demand is skyrocketing and customer tickets are growing. While seeing the business grow feels amazing, it can easily seem like you are running around all day. Missed calls, unanswered emails, and customers requiring attention—all of these add up when not handled immediately.
Having outsourced IT solutions helps expedite work. A help desk and desktop management team streamlines processes and boosts productivity. 
Here are the many ways outsourced desktop support and help desk management benefit your business.
1. Resolve Customer Issues Faster With a Ticketing System
The key to superior technical support is fast problem resolution. Part of this is ensuring no issue is left unnoticed and resolving tickets as they come in. Having a robust ticketing system is one way to guarantee an efficient help desk.
A ticketing system acknowledges receiving the request, places it in the queue, and assigns it to a support technician for rectification. This way, service desk managers can guarantee that each query receives appropriate attention and that the customer gets a faster resolution.
The IT support outsourcing solution of Unity Communications comes with a reliable ticketing system and a flow management tool. These resources log customer concerns, assign requests to agents, and follow up effectively. We also support ticket tracking in real time. Such capabilities are the greatest advantage of an advanced service desk.
2. Effectively Manage Customer Support
One of the primary advantages of an outsourced service desk is that companies get a dedicated group of agents to manage customer concerns and troubleshoot issues. This team addresses complaints and solves problems faster than a legacy help desk.
No customer wants to wait for days and deal with multiple agents to get answers to their questions. The quicker you fix the problem, the more likely customers will stick with your company.
When outsourcing tech solutions with Unity Communications, you get access to a top-of-the-line ticketing system that logs and prioritizes customer requests. You also get access to flow management features that ensure pending tickets are addressed and closed immediately.
3. Receive Prompt Feedback for Improvements
Help desks and desktop support with a real-time feedback management system let you receive, collect, and see constructive criticism about your team's performance. It also allows you to view feedback regarding the contents of your knowledge base. 
You can implement immediate changes with real-time feedback, follow up with results, and improve overall customer experience.
4. Set up a Rich Knowledge Base for Customer Self-support
Help desk and desktop support solutions have a rich knowledge base filled with instructions, how-to articles, frequently asked questions (FAQs), and other insights for users and your service team. It gives readers general information about your products and services, including automated responses for fast technical support.
Choose a solution with a fantastic knowledge base feature. The best platforms let you add individuals to create articles, publish content, add HTML tags and links, and seamlessly collaborate with colleagues for better outcomes.  
5. Operate From Anywhere in the World
The COVID-19 pandemic has affected how modern businesses and employees operate worldwide. According to Buffer's 2022 State of Remote Work report, 61% of employees have a positive experience working from home. How can desktop support and service desks adapt to this?
Cloud help desk software is accessible from anywhere globally using various devices such as laptops, personal computers, and mobile phones. Your IT support agents can instantly resolve problems, regardless of whether they work at home or in the office, thanks to remote monitoring systems.
Remote access to ticketing systems is an amazing feature, especially when technicians require immediate insights from a colleague or manager who is away. Agents can see and respond to users with their service desk mobile applications, even when away from their desks.
6. Integrate With Multiple Channels for a Better Customer Experience
Making technical support available across all messaging channels is essential. Omnichannel support allows customers to interact with you from any platform convenient for them. It makes your brand accessible to users, providing an exceptional experience and improving their trust and loyalty.
Unity Communications provides an omnichannel help desk and desktop support system that integrates with phone calls, email, live chat, and social media. It collects user concerns from every channel and queues them into the ticketing system.
The system automatically logs each request as a ticket. Support personnel can immediately follow up to ensure a fast resolution. Thus, it offers an organized and accelerated workflow as a unique advantage of help desk management.
7. Automate Workflow and Tasks To Expedite Repetitive Work
Technical support inevitably involves mundane, repetitive tasks. Logging an issue as a ticket, delegating a request to an agent for resolution, and sending an acknowledgment message for every request all involve time and effort. These tasks cause delays in closing tickets and eventually lead to bottlenecks.
Help desk management outsourcing lets you automate mundane tasks and expedite the technical support process. It automatically sends pre-set responses and templates for common questions. Automation is an advantage and an important feature of back-office outsourcing solutions.
Unity Communications provides automation tools to streamline and speed up recurring activities, with canned replies designed for general technical concerns and questions. You can address issues promptly with crafted canned messages. Staff can skip copying and pasting the same message to send to different customers.
8. Access a Customizable Solution That Adapts to Your Unique Needs
Customizability is crucial in a help desk and desktop support system. With configurable task and ticket management features, you can add, create, or remove capabilities to meet your unique business requirements.
A customizable system lets you organize the IT support process and improve user experience. Hence, you should pick configurable software that lets you make the most of the system.  
9. Use the Right Help Desk Metrics
The right help desk management tool helps you get the data you need. You can track important metrics in your organization and generate insights to make informed decisions. For example, if you aim to respond to users promptly, you can track your first response time.
Here are some important help desk metrics to keep in mind:
Ticket resolution time (TRT).

This refers to the average time agents take to close a ticket. Simply acknowledging customer issues or sharing the initial reply is different. Tickets are only fully closed once the problem is resolved.
TRT = total no. of tickets resolved / total time spent
verage first response time (FRT).

FRT is the median time for agents to send an initial reply to a user. This number might differ depending on the channel. For example, the average response time for live chat is shorter than for email. Calculate this metric using the formula below.
FRT = total FRTs during a particular hour / total no. of resolved tickets
Ticket backlog.

This metric indicates the total number of tickets awaiting resolutions. You need to keep the ticket backlog at a minimum for exceptional help desk performance. A high ticket backlog implies a problem such as inefficient staff or manpower shortage. Use this formula to get the ticket backlog.
Ticket backlog = average end-of-day backlog / average no. of tickets
10. Receive Reports and Analytics for Faster Improvements
Help desk tools provide insightful analytics and reports on your team's performance, which you can use to make future improvements.
With back-office outsourcing services, you get accurate analytics that gauges how fast and how well agents resolve tickets. This helps you detect and address problems immediately, such as when tickets take too long to close. You also get a visual representation of your data in an intuitive dashboard.  
11. Have a Unified Platform
Help desk management and desktop support outsourcing offer a unified platform of relevant data for everyone involved. IT support managers can access all information related to a particular issue on a single dashboard. Data includes the following:
Customer's details

Ticket number

Date the ticket was created and closed

Assigned agent
A unified platform for all information makes it easier to refer to past tickets whenever necessary.
12. Prevent Duplicate Replies
When answering IT support tickets via email, the help desk team might send two to three responses to a single user. Mistakes are inevitable, but this particular instance is embarrassing for your company. It also raises questions about your reliability.
With a help desk management and desktop support tool, your agents receive alerts when another team member is already responding to the ticket. This avoids duplicate replies and keeps everyone on the same page.
Without a centralized system, you can lose track of customer messages and their replies. But with the right service desk tool, transparency is guaranteed. Your technicians can easily see who is handling what and change their tasks accordingly.
13. Assign Tickets to the Right Agent
The right tool lets you assign support tickets to the agent who suits them best. For example, you can assign a technical support ticket to someone with relevant expertise.
Looking at outsourced IT trends, there is complete work accountability. Every ticket received has a technician responsible for resolving and closing it in the fastest turnaround time.
Why is accountability crucial?
Work accountability ensures that issues never slip through the cracks and remain unresolved. It gives staff a better sense of ownership over their jobs. They understand what is expected of them and care more about work quality.
This way, users can always be sure the right agent is available to handle their problems and answer all their questions.
14. Keep Users and Technicians Updated
Your technical support agents require regular updates throughout the various stages of the ticket lifecycle. Even end users can bombard you with endless chats or calls if they wait long to receive updates.
A help desk management tool keeps agents on their toes. They get timely notifications, starting when customers send a ticket and continuing until their concerns are resolved.
What exactly is a help desk notification?
Notifications are automated messages sent to agents and end users when a preset condition is met. For instance, a technician receives a "New Ticket Alert" when a customer sends a request. Similarly, clients get notified when someone is assigned to their request or their ticket is closed.
15. Share Ad Hoc Surveys With Users and Employees
Surveys show how customers feel about your support operations. Sending regular surveys captures valuable insights and customer suggestions. Plus, it makes customers feel valued by your company.
With a help desk management tool, you can easily create ad hoc surveys and send them to your end users. You can even automate sending emails once the ticket has been completed.
Regardless of whether you outsource data entry services, customer support, or the IT service desk, knowing how your clients feel about your services is crucial for future improvements.
Help Desk Management and Desktop Support Outsourcing Tips to Achieve More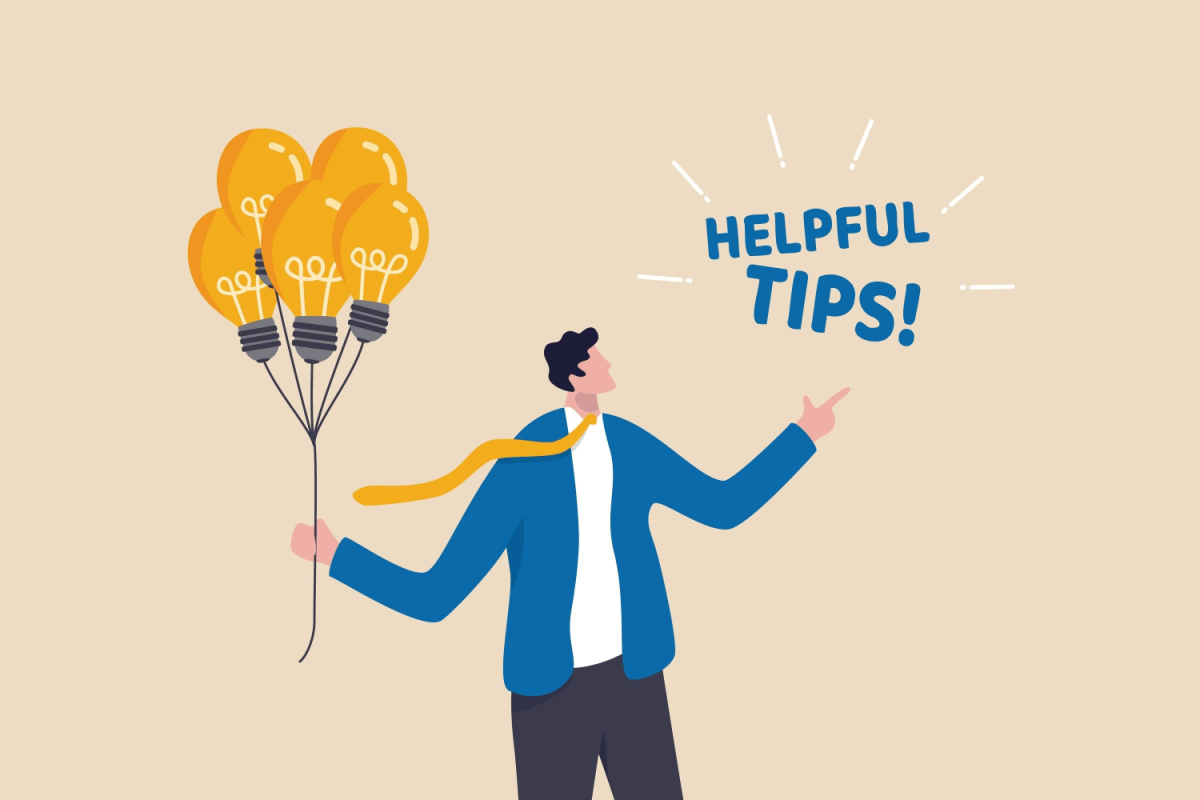 The global IT outsourcing market was valued at $318.5 billion in 2020. It is expected to grow to $425.2 billion at a 4.5% compound annual growth rate (CAGR). Additional data shows numerous companies rely on outsourcing to streamline operations and quickly realize their goals.
That said, you can only fully leverage outsourcing when you take the right steps and make the right decisions. Here are our tips for outsourcing the right way.
Define your goals and metrics.

The first thing to consider when outsourcing is what success means to you. Service desks can easily frustrate customers if left without direction and strategy. Identify the level of support you want from your service provider, align them with your goals, and measure relevant key performance indicators (KPIs).

Centralize information.

Some tickets have multiple touchpoints, and customers might sometimes work with different agents. You want to centralize information in one location so that agents can easily find what they are looking for when resolving a ticket.

Implement what you learn from customers.

Customer needs and desires should be the basis of your help desk. Thus, you should collect feedback and make changes accordingly. Ask your customers

what an outsourced IT provider

can do better to keep them more satisfied.

Prioritize transparency.

You should prioritize transparency with clients. Being straightforward and honest creates rapport and improves the relationship with them. A reliable BPO company doubles down on transparency by ensuring open communication between agents and end users.
The Bottom Line
Help desk and desktop support systems have changed over the years to accommodate generational changes, support customer behavior, and adapt to technological advancements.
Help desk solutions help you prevent frustrated customers whenever issues arise with your products. By resolving problems immediately and being available at the user's request, help desks and desktop support systems improve customer experience.