Written by Dion Jay Tality
When end users face problems with computers and electronic devices, they naturally seek guidance from information technology (IT) specialists. 
IT support outsourcing helps companies address technical issues and meet consumer demands. Businesses of all types would be wise to consider the cost-effectiveness of working with an external vendor for desktop support. These service providers not only offer the best technology and resources, but they also employ an expert workforce.
How do desktop support outsourcing companies guarantee skilled teams? Read on to find out.
What Is Desktop Support Outsourcing?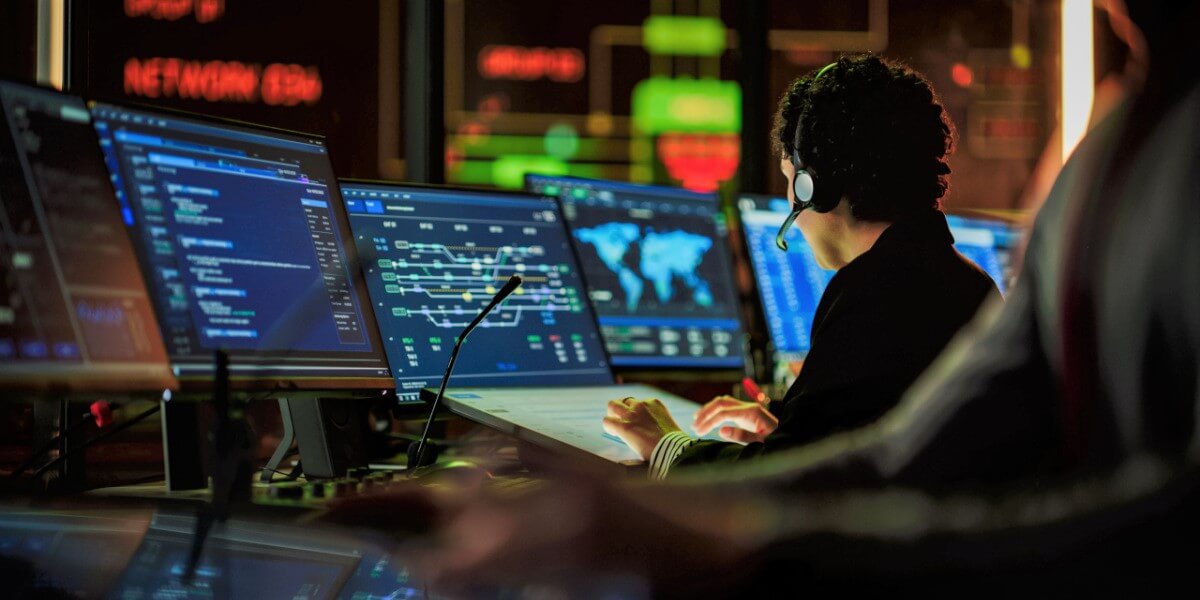 In simple terms, desktop support outsourcing involves hiring a third-party service provider to handle this work. As a subset of IT support, the people employed in these service agencies provide end users with technical assistance.  
A desktop support team offers direct help to front-end users of technology. Business process outsourcing (BPO) agents access and troubleshoot computer systems from a remote location. They often communicate with users via phone calls or live chat and walk them through steps to fix technical issues. 
Many companies see the benefits of front- and back-office outsourcing. They delegate customer service, sales, and technical support to BPO service providers.  But they also work with desktop support outsourcing companies to access technical experts and advanced technologies without having to pay the considerably higher cost of maintaining such a department themselves.
IT Support vs. Help Desk vs. Desktop Support
It pays to understand how processes differ when hiring front- or back-office outsourcing services. Unfortunately, many decision-makers tend to use terminologies interchangeably, thereby causing some confusion about exactly what each task involves. 
Case in point: Suppose you are a company that wants to delegate desktop support to external vendors. Your needs are different from companies that require IT support and help desk services. So when planning to hire desktop support outsourcing companies, you should take note of the key differences.
IT Support
Help Desk
Desktop Support

IT support is a broad term for technical assistance for end users, whether employees or customers. 

It covers IT-related services such as:

Troubleshooting

Hardware deployment

Software installation

System updates

System maintenance

Network management

A help desk is a team that supports customers or employees experiencing certain types of end user/consumer computer and product related issues. 

It serves as a central point of contact for users, covering two key areas:

Customer service

Technical assistance

Help-desk agents perform the following:

Answering questions

Processing orders

Providing updates

Troubleshooting

Repairing and replacing technical products

Handling complaints

Desktop support is a specific service that falls under technical support.

Note: Technical support assists end users of technology or electronic devices such as computers and mobile phones.

Desktop support also provides users with technical help. But it only applies to desktop systems such as computers and laptops.

A desktop support team's tasks include IT-related services such as troubleshooting, system maintenance, and network management.
How BPO Companies Build Great Desktop Support Teams

Hiring BPO service providers proves beneficial in more ways than one. Desktop support outsourcing companies provide more than just the latest technology and resources. They also give you access to a crew with solid technical expertise. 
But first, what is an outsourced IT provider? It is a third-party vendor that provides end users with technical assistance. To aid its clients, it invests in digital tools and advanced technologies. It also hires and trains IT professionals to establish an expert team. 
Working with an IT BPO partner for desktop support saves you from resource and talent acquisition. To make the most of the service, select a third-party vendor with a robust workforce. 
Here are some ways outsourcing companies ensure reliable desktop support teams.
1. Familiarizing Themselves With Common Desktop Issues
Companies of all sizes employ outsourced IT solutions. They believe third-party providers have the technical expertise to handle several computer operations-related business processes, such as desktop support.
Desktop support outsourcing companies establish great teams by gathering information and training agents for common desktop issues.
Before service providers work with a company, they learn about its industry, business type, and the technical support functions it seeks to outsource. They then hire people with technical backgrounds and train them to handle the following desktop issues in preparation:
Computer or Laptop Troubles.

Viruses and insufficient memory cause devices to freeze, lag, and overheat. Third-party agents are well-aware of the common causes of poor device performance. They access affected devices and troubleshoot problems.
Hardware Malfunctions.

Rebooting devices might be the go-to method for resolving issues, but sometimes you need to fix and replace physical components, too. BPO agents handle hardware malfunctions by examining and repairing parts remotely.
Software Problems.

Customers often encounter problems with applications, such as log-in issues and software malfunctions. A third-party team ensures the availability of agents who can understand software issues and diagnose systems remotely.
Network Issues.

Users regularly face software and hardware problems and network issues. A BPO team establishes and monitors the connection between the provider's network and users' devices.
2. Establishing Multiple Communication and Support Channels
These days, end users have higher expectations than ever. They demand omnichannel solutions for a personalized experience. So it is unsurprising that 60% of service teams provide support via more than two channels, according to Hiver's 2021 report. 
Desktop support outsourcing companies offer more channels for interaction. They invest in communication technology and strengthen contractors' capabilities across different channels. They create contact centers with agents who are adept at providing support via phone calls, live chat, and email.
When looking for a service provider for desktop support, ensure agents are competent in the following channels:
Phone calls

remain the most preferred communication method. The same Hiver report cites that 83% of service teams use this channel.
Email

is a powerful tool in business. Following phone calls, more than three-fourths of service teams use this communication channel.
Live chat

ranks third after phone calls and email. About 42% of service teams use this communication channel for customer support.
Self-service portals

empower end users by providing tools such as a knowledge base. A knowledge base helps users help themselves by serving as a resource guide and troubleshooting manual.
3. Investing in Digital Tools and Advanced Technologies
Businesses can no longer ignore the importance of staying completely up-to-date technologically in order to have a competitive advantage. The pandemic accelerated digital transformation among companies worldwide when so many employees began working remotely. 
According to Deloitte, the top digital enablers of shared services centers (SSCs) and global business services (GBS) are:
Automation

Single-instance enterprise resource planning (ERP)

Case and service management

Cloud computing
Desktop support outsourcing companies leverage the latest technologies when building their teams. Digital tools make their staff more efficient, accurate, and productive. 
For example, automation helps reduce employee workloads. It automates tedious tasks so that agents can help end users better and faster.
Before outsourcing desktop support, check whether your service provider has the following capabilities:
Contact Center Technology.

Contact center as a service (CCaaS) platforms make for seamless customer communication. Further, consider unified communications as a service (UCaaS) for employee interaction. Both systems significantly improve desktop support.
Customer Relationship Management (CRM).

Does the firm employ a CRM system for end-user interaction?  This service enables your third-party team to track desktop issues and manage affected customers.
Data Recording and Remote Monitoring.

Does the company use computer telephony integration (CTI) to save calls and track agents' performance? A team of quality analysts measures data gained through this kind of monitoring to guide agents' ability to improve user satisfaction.
Data Analytics and Business Reporting.

Whether you

outsource data entry services

or desktop support, be sure the third-party company you hire makes use of machine learning (ML) and big data analytics (BDA). These assist in forecasting and reporting desktop issues.
4. Following the Service-level Agreement (SLA)
Desktop support is not just one of the latest outsourced IT trends. These third-party providers handle technical tasks and sensitive data. To help build trust with clients, the outsourced firm and the hiring company collaborate to create SLAs and commit to meeting the stated business goals.
What is an SLA? This contract defines your relationship with your BPO partner. It details your obligations and your vendor's responsibilities.
Desktop support outsourcing companies build great teams by following SLAs. How? First, they ensure contractors are familiar with the client's goals and objectives. They then set critical metrics and monitor agent performance. They also ensure compliance with industry standards and company-specific protocols.
Avoid miscommunication by ensuring SLAs include the following:
Business Goals and Operational Objectives.

Ask yourself what you hope to achieve for your business. Do you want to satisfy end users, generate leads, or convert sales? Additionally, set operational objectives for the outsourcing engagement. For example, specify that you want desktop support agents to help reduce backlogs or enhance user experience.
Key Performance Indicators (KPIs).

Determine the right metrics to measure and improve agent performance for your desktop support. Service efficiency, quality, and user satisfaction are fundamental metrics. Under these are specific metrics such as average handling time (AHT), quality assurance (QA), and customer satisfaction (CSAT).
BPO Policies, Guidelines, and Instructions.

Outsourcing is a partnership between your business and a contracted BPO company. Ensure you set parameters for your relationship. Establish policies, set fair guidelines, and provide clear instructions to ensure successful collaboration.
Standard Operating Procedures (SOPs).

After discussing the SLA with your BPO service provider, allow them to set their own SOPs. Give them the liberty to make decisions and handle your desktop support operation. However, you should still review and approve the SOPs for the following tasks:

Initial technical assistance

Support level identification

Ticket creation

Department escalation

Technical issue resolution
5. Hiring and Employing IT Experts and Professionals
Businesses outsource tech solutions for several reasons, but accessing IT experts and professionals remains a major factor.
Desktop support outsourcing companies guarantee strong teams by using the following steps:
Hire the best candidates.

Train employees to be the best.

Provide agents with regular updates about changes to protocols. 
The next section expands on these ideas.
Recruiting the Best Candidates
A BPO company has a stringent hiring process. Its goal is to hire people with knowledge and skills suited for a particular role. Regarding desktop support, they use the following criteria for IT professionals and experts:
Industry Experience.

Agents must have experience working in the IT sector. If not, experience handling technical support tasks will suffice, no matter the industry.
Areas of Expertise.

Agents must specialize in the IT field. They should not only have experience; they should also have undergone IT-related training and earned certifications.
Educational Background.

Some applicants have insufficient IT or technical support expertise. In that case, outsourcing companies might factor in their educational backgrounds. Candidates should have taken up at least some IT-related courses.
Technical Know-how and Specialized Skills.

Outsourcing companies examine applicants' experience, specialization, and education. During the recruitment process, they also employ assessments to gauge candidates' technical knowledge and skills.
Training Employees
Efforts to build a solid desktop support team continue after recruitment. Most BPO companies provide new contractors with proper training before deployment for:
Foundation Training.

This program covers cultural orientation and training for soft skills such as language proficiency and interpersonal relationships. It does not focus on products or processes for the desktop support role.
Process Training.

This program tackles what the desktop support job entails. It covers the actual duties and responsibilities of the BPO agents. It also exposes them to the tools and systems required for the role.
Regularly Updating Agents 
The best BPO companies build competent teams by continuously training their contractors through the following methods:
Production Updates.

BPO agents regularly get updates from the management team. These updates are vital, especially if there are changes in business policies, standard workflow, and technical products.
Training Programs.

BPO agents also join training programs from time to time. These programs are not necessarily process-based; they can also be for personal development and career advancement.
6. Establishing a Solid Management Team
Employees are the most valuable assets of any company. They are on the front line, working directly with customers and performing day-to-day functions that represent the company itself.  Organizations also usually have a management team to oversee employees and instill policies.
To build a strong workforce, desktop support outsourcing companies establish management and support teams. They hire competent managers to handle the account. Managers build teams crucial to operational success and choose team leads to supervise them.
Make sure your BPO partner has the following:
A

management team

is composed of a manager and team leads who oversee the entire desktop support operation. It bridges the gap between you (their client) and the contractors (or BPO agents). The end users (customers or employees) will benefit if both parties work together toward common goals.
A

workforce team

that includes analysts who forecast staffing requirements ensures employee availability and monitors agents in real time. In desktop support, they predict how many technical issues might surface and ensure the team has enough members to support affected users.
A

QA team

consists of quality analysts who audit your desktop support operation and monitor agents. They measure QA scores to ensure quality services, adherence to SOPs, and compliance with business policies. They coach agents and even provide performance improvement plans.
7. Empowering Employees While Prioritizing End Users
Outsourcing is a partnership between two companies. One company hires a third-party vendor to handle its business functions.  The two most important stakeholders in an outsourcing engagement, however, are the employees and customers.
Desktop support outsourcing companies empower their employees. They bring out the best in their agents to serve customers better. They not only hire skilled employees, but they also train them to be the best they can be. They equip employees with advanced technologies and cutting-edge resources.
Desktop support outsourcing companies also focus on end users. They form a user-centric team for efficient and effective desktop support. They build a reliable workforce by prioritizing customers.  Their agents' ultimate goal is to keep desktop users happy.
According to the Claes Fornell International (CFI) Group, agent effectiveness remains an issue. But the Contact Center Satisfaction Index (CCSI) report notes that giving agents more freedom is key to achieving success. 
Ninety-three percent of service teams agree that customers today have higher expectations. Thus, nearly 50% plan to create a great customer experience.
Ultimately, to achieve quality desktop support services, hire a BPO partner that:
Empowers agents

Focuses on end users
The Bottom Line

Businesses can greatly benefit from working with desktop support outsourcing companies. You should consider outsourcing desktop support if you have employees or customers accessing computers and laptops.
Desktop support outsourcing companies establish a solid workforce using the seven practical methods discussed above. Make sure to look for these qualities when hiring a BPO service provider.
The right BPO partner can provide you with an excellent desktop support team that satisfies your end users and optimizes your business.