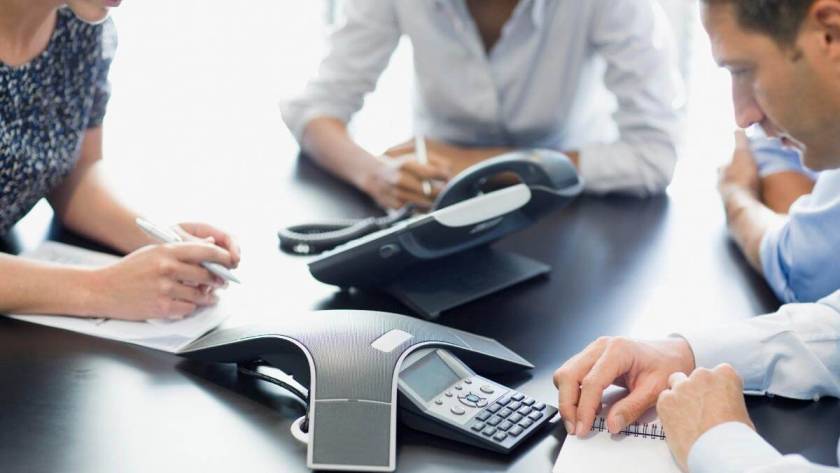 Voice Over Internet Protocol (VoIP)  technology first became commercially available in the 1990s.  Since that time, it has advanced considerably, in both ability and popularity. In the beginning, consumers complained that the sound quality on VoIP was inferior to that of a landline; such problems are no longer a source of worry.
VoIP is now the basis of most modern corporate phone systems and is the favored telephony option for many diverse sectors.
Businesses that use VoIP systems often see a roughly 90% decrease in their initial communication start-up expenses. This is particularly true for enterprises that rely on constant telephone communication, such as fast-food restaurants and marketplaces, the hotel industry, the health care sector, and outsourcing firms.
Cloud-based phone systems link calls through Voice over Internet Protocol (VoIP) technology. They do not use analog telephone lines or on-premises equipment. 
Our comprehensive guide to the pros and cons of cloud-based phone systems should help you select the best options for your business.
In this article, we'll cover everything from how VoIP phone systems work to all the ins and outs of making phone calls through the internet, and describe the kinds of businesses that can best use this technology.
What Is a Business VoIP Phone Service?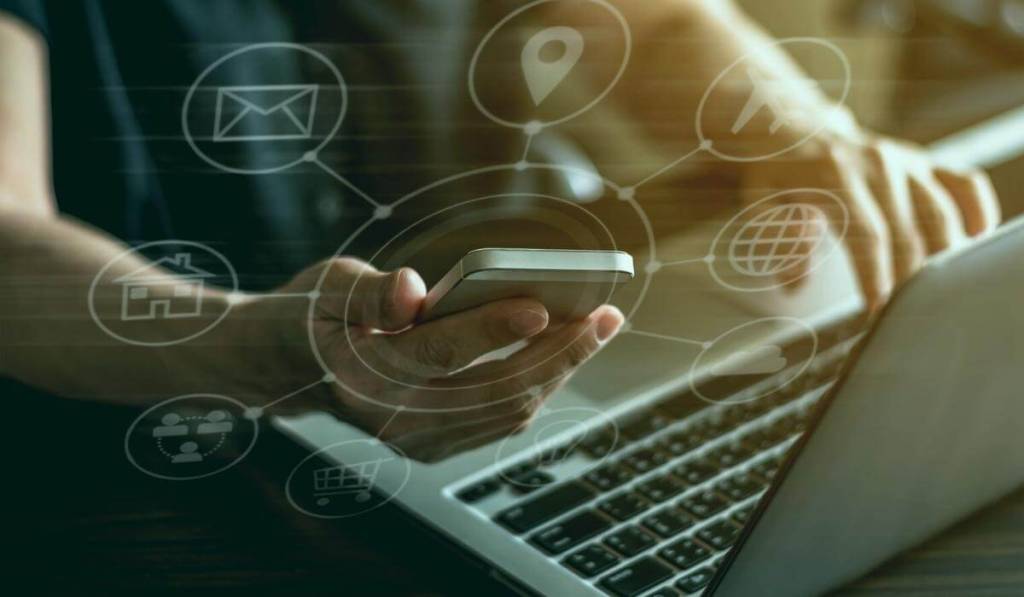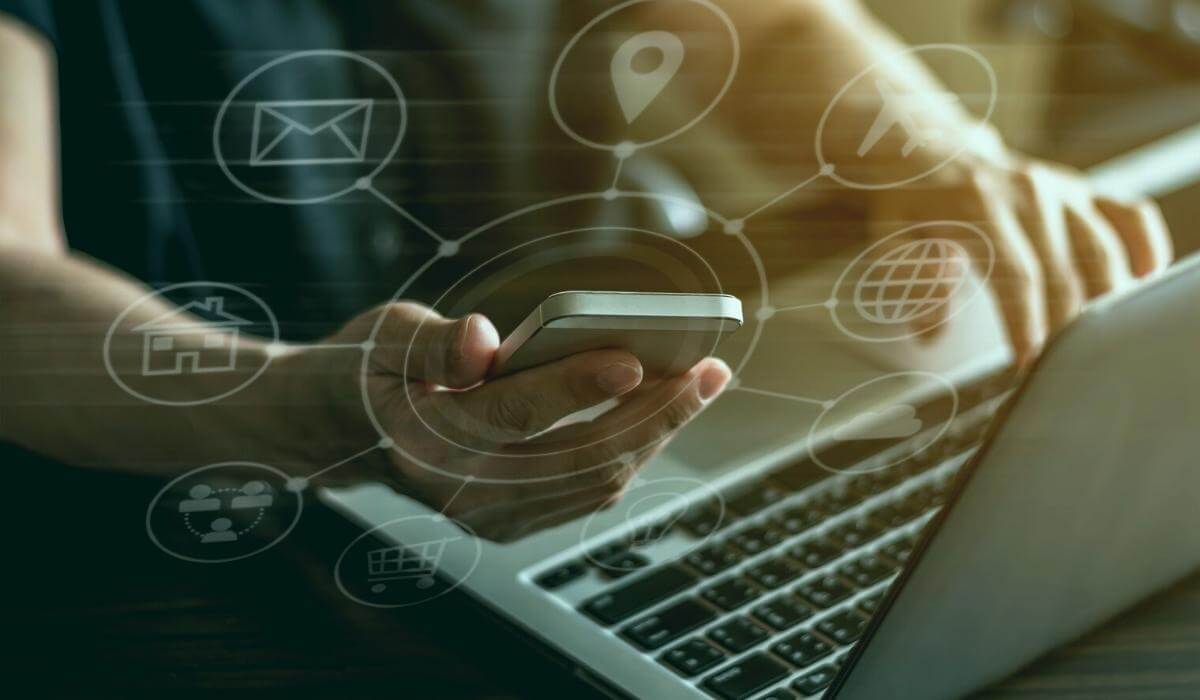 From the 1940s until the 1980s, phone calls were made over the Public Switched Telephone Network (PSTN), which consisted of copper cables and switches. VoIP, in the context of a business phone system, refers to a VoIP technology-based phone system that delivers calls to workers through their office's IP data network. 
With the introduction of VoIP, phone conversations can be performed over the same IP data networks that your computer (and, more recently, your smartphone and tablet) uses for web browsing, email, and other activities.
Business VoIP phone services have been evolving for about two decades.  They often do not involve the purchase of expensive gear. However, with so many alternatives available on the market, executives and information technology managers must do their homework if they are to select the best phone solution for their company. 
Make sure that the service provider you pick has the features and dependability that your corporation requires to perform successfully.
If your business is expanding rapidly, odds are that you have outgrown your current phone system. Setting up a multiple-line phone system enables you to manage two or more calls concurrently. Workers can put calls on hold, dial internal or external numbers, and then reconnect to the line.
How Do VoIP Phone Systems Work?


A VoIP system transforms analog speech impulses into digital signals and transmits them via a high-speed Internet connection. A VoIP server is needed to connect calls to different telephone networks.
As long as you have a high-speed internet connection, including a router and a modem, you may make use of any VoIP service. Basic VoIP configurations consist of a desk phone and a SIP server, which is typically hosted by a VoIP service provider, as shown in the diagram below.
VoIP performs even better than your standard landline phone since it provides a plethora of functions that were previously unavailable via regular phone service.
VoIP is delivered via the internet, so your data is kept in a secure cloud environment. The VoIP system can be managed online using a dashboard interface. Users can make changes to their contacts, business phone numbers, call forwarding, and the addition of new phone numbers using this dashboard.
We have covered the best cloud-based business phone systems this year, an unbiased ranked list that tackles which companies provide the best systems, why you need them, and their advantages and disadvantages. 
Does Your Business Need a VoIP Phone System?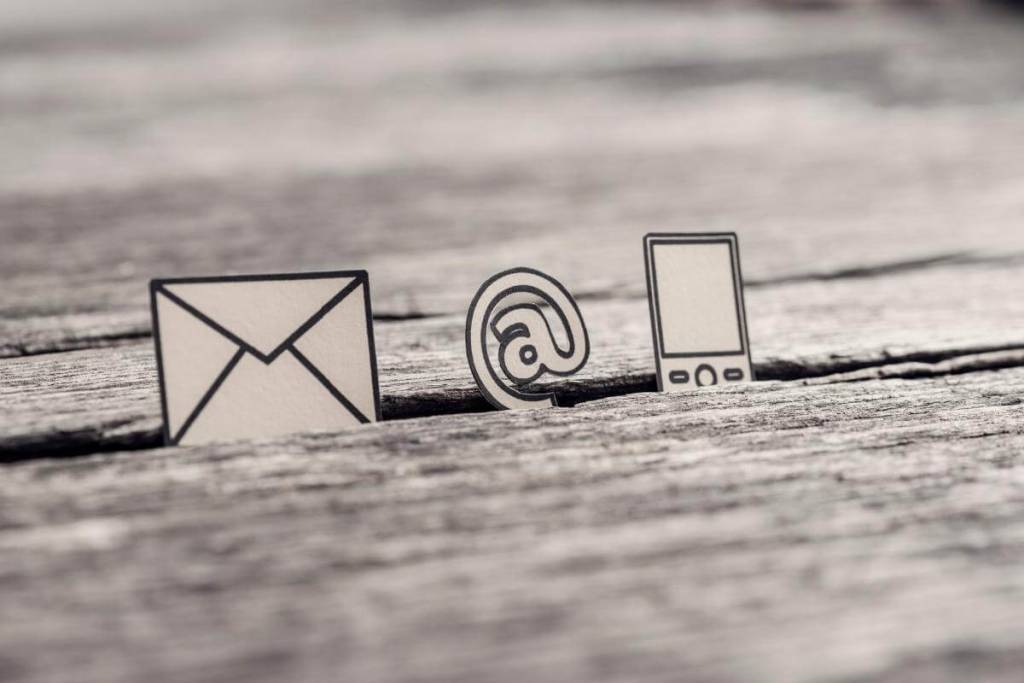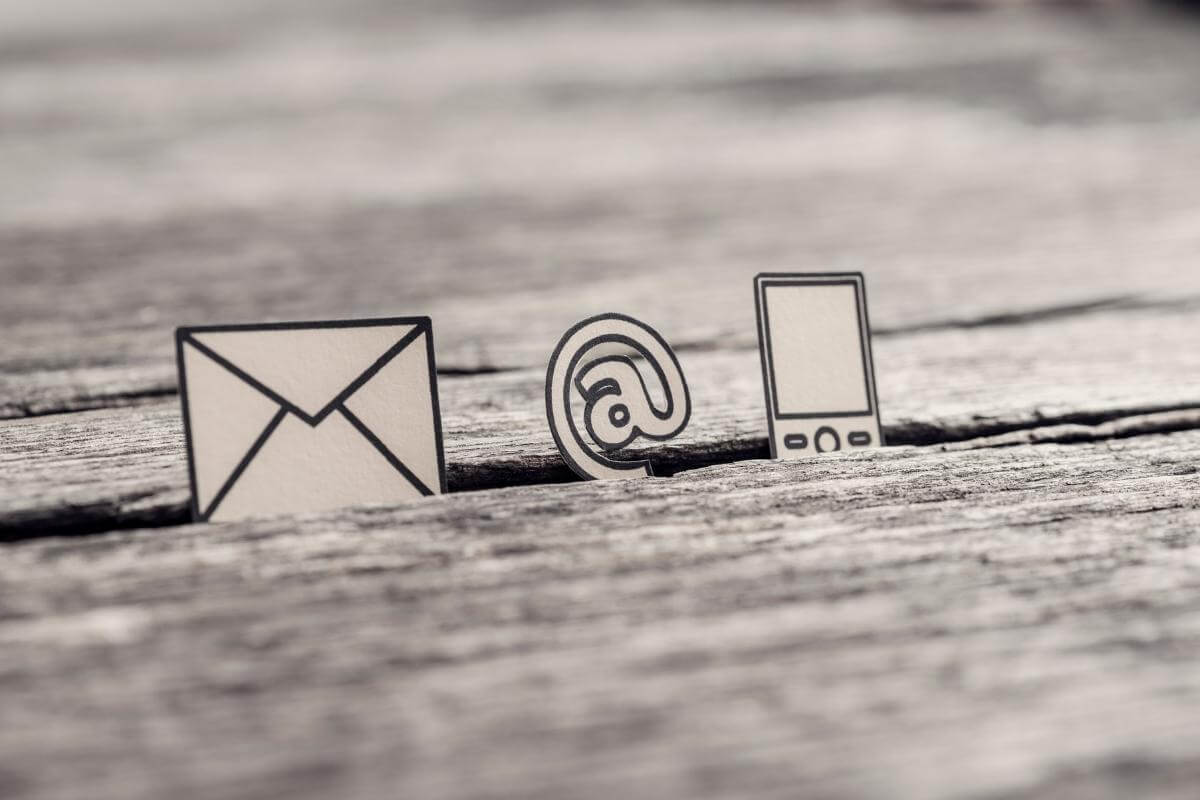 After gaining a thorough understanding of VoIP technology and how it operates, you can consider the many benefits of incorporating a VoIP system into your company's operations. These advantages are as follows:
1. Tool Flexibility
VoIP provides your firm the ability to more effectively operate networks by selecting and using just the tools that are most appropriate for your company's specific requirements. 
You can create a unified communication offering that incorporates a range of features such as a messaging platform, video conferencing capabilities, and telephone services by partnering with one or a few of the communication service providers available. 
These choices are appealing because you can choose one or a mix of providers based on the day-to-day activities of your business.
This adaptability helps your company expand without interruption since you have the opportunity to change the number of active channels on the network with the press of a button, depending on your needs.
2. Application Features
Employee productivity is increased with the use of applications provided via a unified communications suite, which functions in coordination with phone conversations performed on the computer. 
Agent productivity is increased by the ability to multitask while using capabilities such as email voicemail delivery, a voice call button in an email, and presence information, among others. 
Client retention rates increase when using these phone systems since they facilitate the ability of personnel to deliver better service to their consumers.
3. Backup Plans
Because of the number of hours that a company may be closed and the possibility of repairs, the expenses connected with losing phone service could be enormous. 
Although VoIP does not prevent outages from occurring, it can help you minimize the effect on your organization by swiftly diverting calls in response to an outage or pre-setting routing plans in advance of a worst-case scenario.
What's a cloud-based system? Today, these systems include a broad variety of capabilities, ranging from storage, networking, and computing power to natural language processing and artificial intelligence, as well as typical office applications. Almost any service that does not need physical proximity to the computer hardware being used may now be supplied over the cloud.
4. Remote Capabilities
The absence of fixed phone lines associated with VoIP services gives businesses the benefit of the ability to serve remote employees. Calls can be made and received from any place by using any compatible device in this manner, regardless of location. 
VoIP companies make it simple to switch devices by providing programs that make it possible for you to set up your phone extension on any device, even your smartphone. Whether you are on the road visiting customers or traveling overseas, you can access all of your key tools from your mobile device, helping you to get more done while on the go.
Things To Consider When Choosing a VoIP Service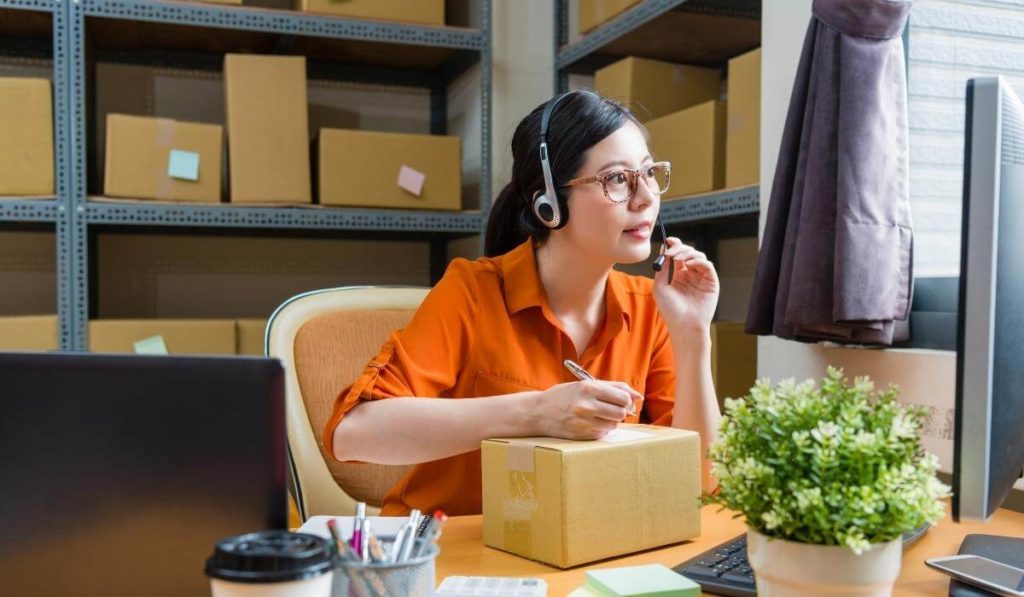 Selecting a corporate communications solution has the potential to have a significant influence on your company. VoIP may be the best answer, but it is essential to first undertake a current condition and needs analysis. 
Then you can decide whether incorporating VoIP is a good fit for your company. Here are some suggestions to assist you in determining your requirements and making informed decisions.
1. Do you wish to retain the equipment you already have? Is that equipment able to meet your requirements?
Choose a VoIP solution that enables you to make a gradual transition from your conventional PBX if you are already using it and have a restricted budget for a total replacement of the existing equipment. 
You need to know if your new VoIP system is compatible with your existing phone system, how to link them together, how to guarantee that the upgrade does not disrupt business continuity, and so on. 
It is also vital to ensure that the VoIP service providers you are considering can support the equipment you have already purchased. When you are at this stage, you must communicate directly with your VoIP service provider.
Choosing the best business phone system requires extensive research to determine the number of lines necessary and which system delivers the services required by your business.
Budget constraints, as well as the present state of your communication system's infrastructure, are critical considerations to consider throughout the decision-making process. 
For example, a PBX or key system may be the right solution for firms that are unable to secure a high-speed Internet connection due to geographic limits. Thus, these elements contribute to your business phone system cost.
2. What kind of unified communications features does it provide?
Even though VoIP phone systems include a variety of telephony functions to manage audio conversations, contact with colleagues and customers is not restricted to voice communications alone.
UC was brought to the corporate communication environment for this reason.  It should be one of the top considerations when evaluating your VoIP alternatives as you review your VoIP options.
A simplified definition of unified communications is the consolidation of a diverse range of communication channels and alternatives into a single point of access. In reality, VoIP is the backbone of most unified communications systems, and many VoIP service providers include certain UC features in their portfolios to further enhance the capabilities and flexibility of their products.
Moreover, hosted VoIP is a term that refers to Hosted PBX. The term "hosted" refers to the fact that the hardware and PBX are located at a remote location away from the area where the VoIP telephone service is being utilized.
3. Ideally, this system can be incorporated with other systems and tools.
In a world that is always changing, organizations need to remain nimble and prepared to pivot. With an increasing number of systems, platforms, and software becoming available in the workplace, both managers and employees expect to have a unified and integrated solution to improve efficiency.
As a consequence, the ability of a VoIP system to integrate and seamlessly work with other solutions becomes more important than ever.
You and your team will have an easier time communicating, collaborating, and engaging with one another when your phone system is linked to other business-enhancing solutions. 
Fortunately, VoIP service providers make it a point to guarantee that their phone service is compatible with some of the most popular collaboration and communication applications available today.
How do you set up an office phone, then? The process of setting up a home office phone system is simple and can be accomplished almost instantaneously online. A business phone system can enhance the professional appearance of your home-based company and empower you to easily handle your business calls.
Depending on the nature of your company, you may choose to establish an automated greeting with extensions, business hours, call forwarding, and voicemail, among other features. With a cloud-based phone system, you can easily adapt and change features to meet your business's exact requirements online at any time.
The Bottom Line


Transitioning to VoIP can lead to cost savings on your communication expenses. With VoIP services, you typically won't incur charges for long-distance and international calls. Your only expense will be your internet connection.
Incorporating VoIP doesn't necessitate that your entire staff switches to IP-enabled phones. You can protect your investment in existing telephone equipment by utilizing top-notch VoIP services, even if you continue to have analog telephone setups.
Furthermore, multi-line phone systems facilitate seamless communication among you and fellow members of your organization. In today's landscape, small companies require utmost flexibility, rendering your outdated single-line desk phone inadequate. Contemporary business phone systems aid small businesses in optimizing their time and efficiency.
Acquire the best multi-line phone system designed for small businesses, and observe the substantial improvement in your employees' efficiency and communication.