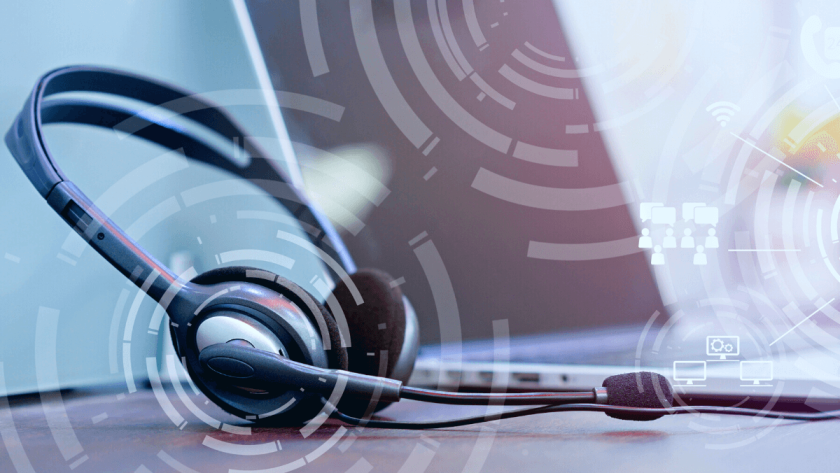 New technologies, such as cloud phone systems, have led to significant changes in the way businesses operate. When you consider all of the other individuals and businesses you come in contact with during your workday, the number is rather amazing.
When your customers or prospects get in touch with you, they expect your representatives to answer the phone quickly. As a growing business, you must focus on providing excellent service and have the proper tools to scale up.
Most companies who offer customer service support options face this challenge: should I invest in phone systems and live agents, while risking delivering customer satisfaction and consistency?
What if I told you there's a way to both control costs and provide great service to your customers? 
According to BullsEye Telecom's market research in 2019, businesses can save 50% to 70% on communication costs by using VoIP instead of landline services.
What are Cloud-Based Phone Systems?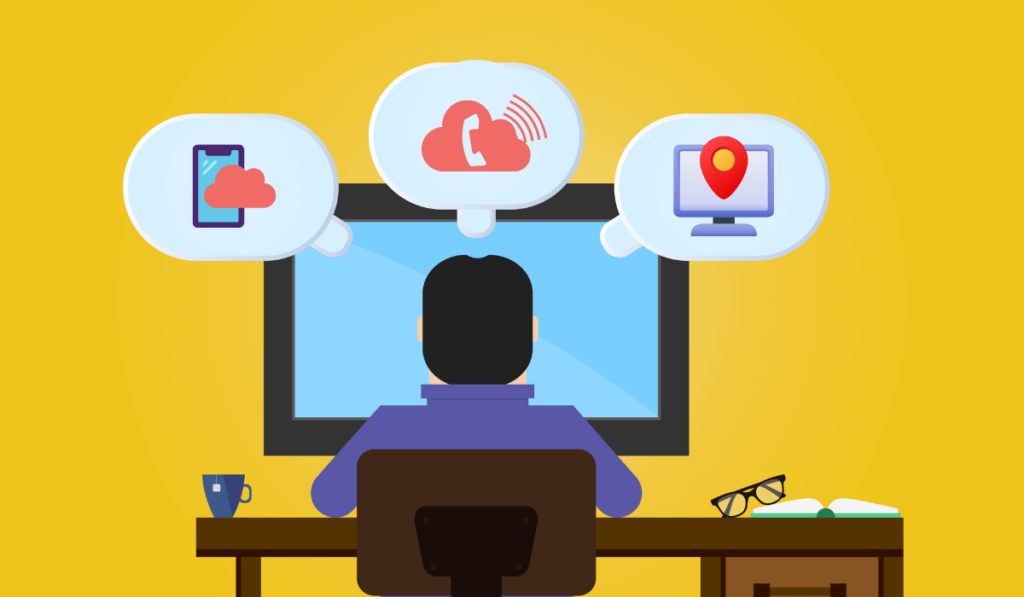 A cloud phone system (also known as a cloud PBX, hosted PBX, or hosted phone system) is a VoIP technology designed to allow you to make phone calls over the internet which helps companies reduce upfront investments in telecommunications infrastructure. 
IP-based phone systems are compatible with a wide range of devices, including traditional phones with adapters, smartphone apps, computer software, and VoIP-enabled phones. And by a wide range of devices, we mean a cloud-based system that can connect with mobile phones, computers, tablets, and even traditional office landlines. Any device with an internet connection.
All information and data are stored in the cloud rather than maintaining software on-premises through a server such as a private branch exchange (PBX). Because everything in the cloud can be easily updated, you can save money on costly maintenance and updates.
Cloud phone systems convert sound waves into electrical signals and transmit them to a terminal via a cable. The signals travel through various terminals, offices, and fiber optic cables (or copper wires) that carry the signals as light pulses (or electric currents). Through this process, you have the same call quality as traditional phone systems at a fraction of the cost. 
Cloud-based Phone System Features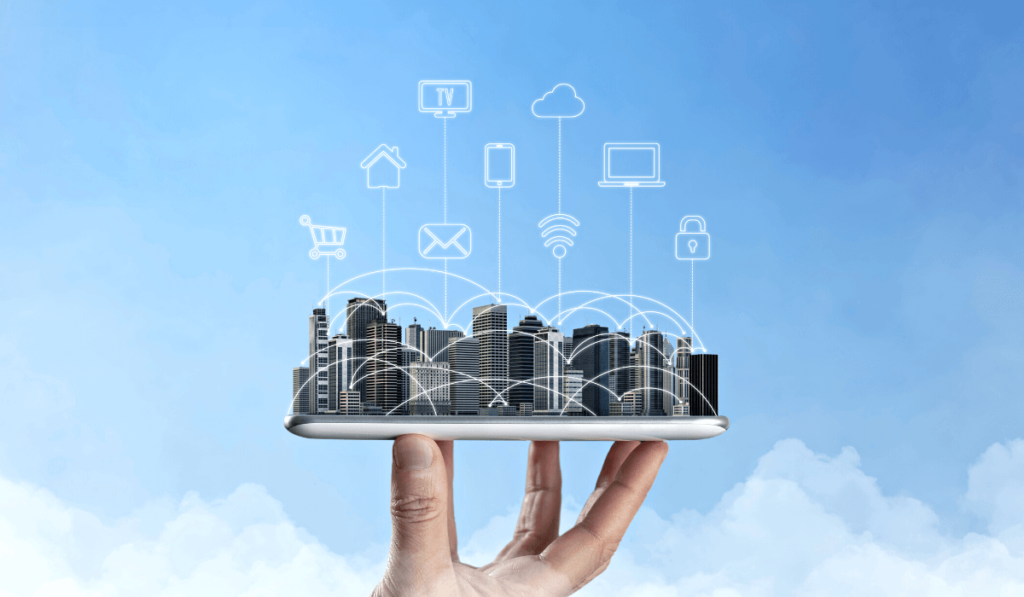 Let's review the top cloud-based phone system features most commonly used by small and medium-sized companies that invest in this technology.
Find me follow me is an auto-directed funnel that directs calls through a priority system until they are answered. Calls, for example, are routed to your desk phone extension first, then to your private mobile number, and finally to the receptionist. Businesses find it incredibly helpful when some employees are out of the office and allow businesses to provide a smooth service at all times. It enables receiving calls from clients, regardless of where they are.
Call handling refers to the auto-attendant on the phone system, which directs callers to the appropriate department. Employees use an auto-attendant to spend less time directing calls to the appropriate department and more time concentrating on the task at hand.
Conferencing calls are made possible by a conference bridge technology, which allows individuals in various workplaces to join the same phone conversation using different devices. Video conferencing has never been made easy, given that it improves communication, helps build relationships, and makes scheduling meetings easier.
Features on a landline, PBX, or other legacy systems are typically difficult to configure and, in some cases, result in additional fees Cloud-based systems are extremely nimble and provide more flexibility in terms of features provided to companies of all sizes that can be applied, adjusted, and configured at the touch of a button — no IT expertise required.
Other add-on features that larger businesses can ask providers to set up are:
Call center integration – Connect your phone system to an offsite call center to help route a call overflow as needed.
Interactive voice response – Leverage voice recognition to provide callers with answers to questions, or to collect data for identification purposes.
Cloud Phone System Pros and Cons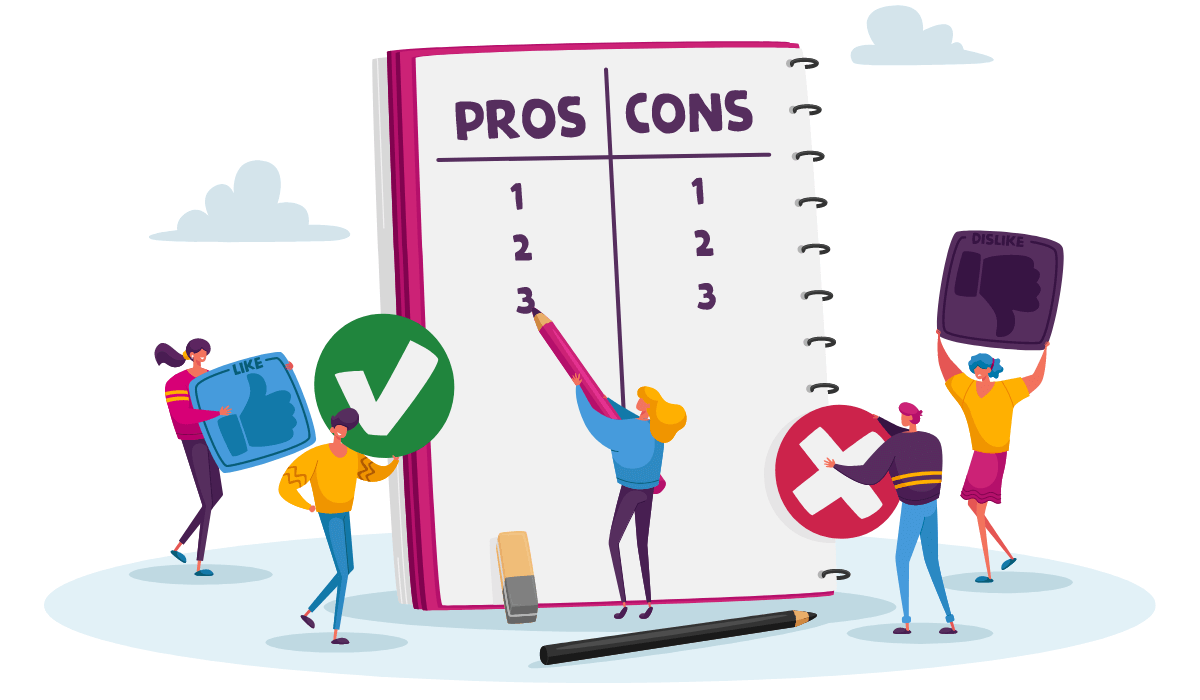 Now that you're familiar with some of the most common Cloud Phone system features, let's look at the advantages of using this technology over a traditional phone system. Here are the cloud phone system pros and cons.
Pros Of Cloud Phone Systems
Affordable To Install And Maintain:
Cloud-based phone systems are significantly less expensive than traditional on-premises phone systems. This is a no-brainer if you want to reduce your communication costs.
According to Tech. co, modern VoIP solutions can save you up to 40% to 60% on your phone bill.  
How are cloud-based phone systems so affordable?  Because cloud phone systems are dependent on your internet connection, whereas traditional phone lines incur unavoidable costs such as:
An initial investment in an on-premises PBX.

Costs of recurring maintenance.
Because of free local numbers, toll-free numbers, and low-cost international calls, a more affordable cost structure is often available when you choose cloud phone systems. 
With a cloud-based phone system, you may help your business grow at any time. It keeps all of your business communications running, and helps you adjust your communication strategies based on your business goals, hiring needs, and seasonal needs for your call center (example: retail, finance, healthcare.) 
Easy To Scale Up Or Down:
As with all cloud-based systems, you can easily scale up or down without any additional upfront costs, and it is as simple as reaching out to your cloud phone system provider and having them add a new user license to your account.
The ability to scale efficiently is a significant benefit of using this type of business phone system. As your company expands, your cloud phone system can adjust as needed. In contrast, if you want to expand your traditional phone systems, you'll need to buy more hardware and wait until this hardware can be installed and configured. On the other hand, you'll be up and running with a cloud-based phone service the same day you decide you need one.  
Works Great With Remote Teams:
Many businesses are planning to build a remote workforce as working from home becomes more popular. And according to the Business Leader in 2021, whether a business is in "recovery mode" or trying to expand, the driving power of every company –  its workers – is at the core of it all.
Traditional phone systems, with their outdated PBX systems and clumsy wiring, simply cannot meet today's demands as quickly and efficiently as cloud-based phone service providers.
Remote work features are available right out of the box and do not require any complicated configuration.
Incredibly Secure:
Mobile connectivity is built into cloud communications. Remote employees have the same access to the services as on-site employees, including extension dialing, direct voicemail access, and caller ID.
Cloud apps can also transform smartphones into full-featured business phones, complete with messaging, faxing, audio conferencing, and web meetings.
Because of how cloud-based phone systems were designed and built from the ground up the cloud-based approach significantly improves data security over traditional phone systems.
The information stored in the center is safeguarded by the most recent security measures, which are updated by providers following the most recent regulatory compliance requirements. 
Now that your data is safely kept at a data center, your IT department and IT teams at each business site are relieved of the duty of functioning as security experts.
Smartphone-enabled:
A cloud-based phone system is an innovative, cost-effective solution for businesses to collaborate and communicate online.
Most cloud-based phone systems come with mobile apps, and because of that, there is no need for hardware, thus lowering overall costs to running phone systems.
You can also connect your phone system to third-party applications such as CRM or accounting software for better tracking of your overall call center performance. This will assist you in creating a centralized location for your business operations.
Cons Of Cloud Phone Systems
Cloud-based phone systems have a series of compelling benefits which we have covered so far in this article. That said, we should also discuss some downsides or disadvantages of this technology to help you make an informed decision about your communication investment. 
Internet Provider:
All of the advantages of migrating your phone system to the cloud will be lost if your internet connection fails.
The only system requirement is a reliable and stable internet connection. If your ISP goes down, you can forward calls to cell phones using advanced call forwarding and immediately log into your dashboard.
Cloud-based systems rely only on the internet and your connection. If your service is inconsistent, a cloud-based phone system may not be the ideal solution for you. 
Specific Costs Tied To Running Cloud-Based Phone Systems:
The requirement for high-performance networking equipment such as routers and switches is one of the disadvantages of cloud-based phone systems. 
The function of a router is to split networks, assign IP addresses, and shape network bandwidth. Older routers may not be capable of supporting large-scale VoIP deployments.
Wi-Fi does penetrate well through thick walls, and as more employees use laptops and softphones, they will most likely connect wirelessly. If your company has not performed a wireless site audit, you may have some dead spots. You should consider doing this audit first before investing in a cloud-based phone system to avoid downtime or a negative customer experience.
Disaster Recovery:
There is no telling when bad weather can impact internet connection which in turn affects cloud phone systems, so it's always best to come prepared.
One advantage of a cloud-based phone system is that calls can instantly be redirected in the event of a power outage or a natural disaster. Because the managed solution includes activity storage, all call data can be backed up, offering even more peace of mind and preventing financial loss.

Key Points
To sum it all up, moving your office phone system to the cloud will provide you with distinct advantages that a traditional landline will never be able to provide.
A cloud-based phone system is a viable option for quick and effective scalability, especially if your company is experiencing or anticipates significant growth.
A cloud management system allows you to easily add phone lines, extensions and offers advanced features without the need for hiring a professional or purchasing other equipment. This also applies to maintenance; all upgrades can be performed in the cloud, saving you both time and money.
After learning about everything you need to know about cloud phone system pros and cons of cloud-based business communications and its features, you will have hopefully gained insight and learned more in this detailed review.