A multi-line phone system is required if your company has a high number of incoming and outgoing calls, or if it is rapidly approaching that level. Choosing the best multi-line phone system for a small business enhances productivity and efficiency by allowing you to swiftly and conveniently transfer calls and interact internally with workers and externally with customers. 
Several systems are available with simple and complex capabilities, so you have a choice that is ideal for your company and its requirements. When it comes to functions and the maximum number of lines supported, multi-line phone systems considerably differ. 
While some business owners want to construct a system using the cheapest VoIP phones, others prefer sophisticated features for users who will handle the most calls, such as built-in Wi-Fi and touchscreens.
In this article, you will find the best multi-line phone system for small businesses and services accessible to US businesses along with their pros and cons.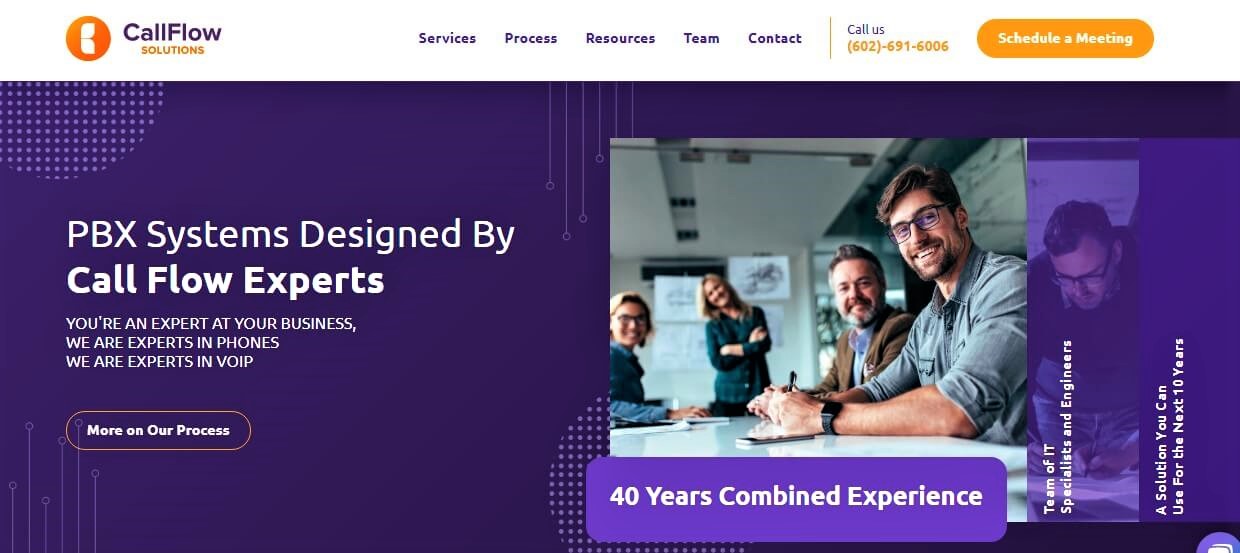 1. Call Flow Solutions
Our score: 9.8 / 10 

Gilbert, Arizona, United States
Providing wireless internet services to small- and medium-sized businesses, Call Flow Solutions helps them design the perfect office system. They not only provide office phone systems, but they also help each client with specific call flow paths tailor-fitted to their unique business needs.
Whichever package you select, the company's personnel will give a white-glove solution for selecting, configuring, and integrating your call phone system. CRM connectivity, analytic capabilities, and simple reporting are all part of the package.
Call Flow Solutions is our top contender in the business phone systems sector due to its comprehensive combination of cost, functionality, support, and substantial up-front help. Their skilled call flow specialists will assist companies in picking the best multi-line phone system for small businesses. Moreover, their fees are substantially lower than those of some of the other rivals examined below.
Pros
Call flow design and creation are free.

SLA of 99.9 percent uptime

Cost-effective and dependable.

Provides a variety of price choices.

Reporting and insights on use that are tailored to your specific needs.
Cons
Not a direct manufacturer or provider, but rather a consultancy business.

Software updates are less frequent than those of rivals.

The company does not have complete control over vendor updates.
Visit Call Flow Solutions here!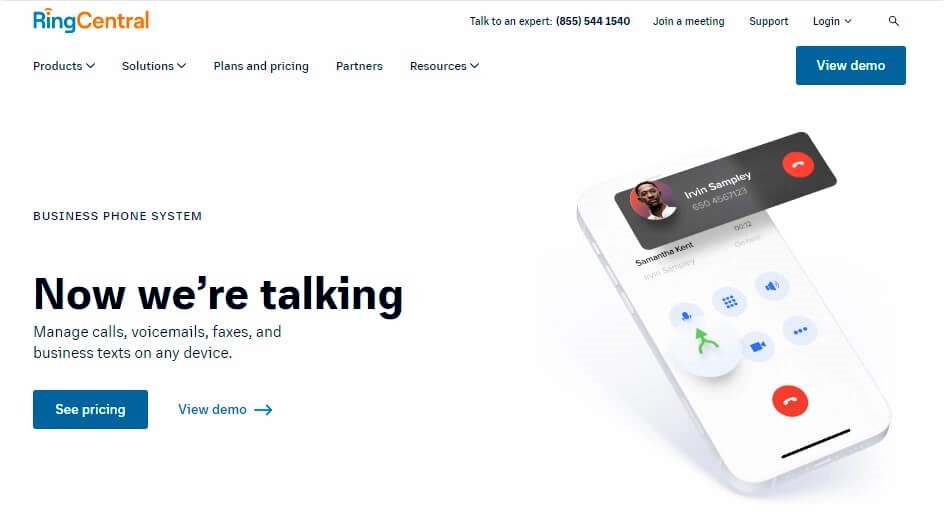 2. RingCentral
Our score: 9.4 / 10 

Belmont, California, United States
An all-in-one business phone system vendor that aims to improve corporate communication.
RingCentral, Inc. is a well-known and publicly listed cloud communication service. The corporation offers a multi-user and enterprise-grade communications system that enables customers and workers to interact via voice, text, HD video and web conferencing, and fax on a variety of devices, including smartphones, tablets, and desktops.
Unlike Call Flow Solutions, the company develops, maintains, and upgrades the call flow communication software. RingCentral also offers video conferencing, team messaging, and inbound/outbound contact center solutions to expanding organizations.
Pros
Extremely high level of service in terms of uptime and quality.

Extensive feature set that can be readily tailored to individual user requirements

Using a dial-by-name directory and a hot desk, customers are linked to the appropriate agent.

The service provider provides call recording and forwarding.
Cons
After-hours switchover of transferred phone numbers

According to some users, faxes are frequently distorted and illegible.

Current users frequently claim that the software's user interface is clumsy and unintuitive.
Visit RingCentral here!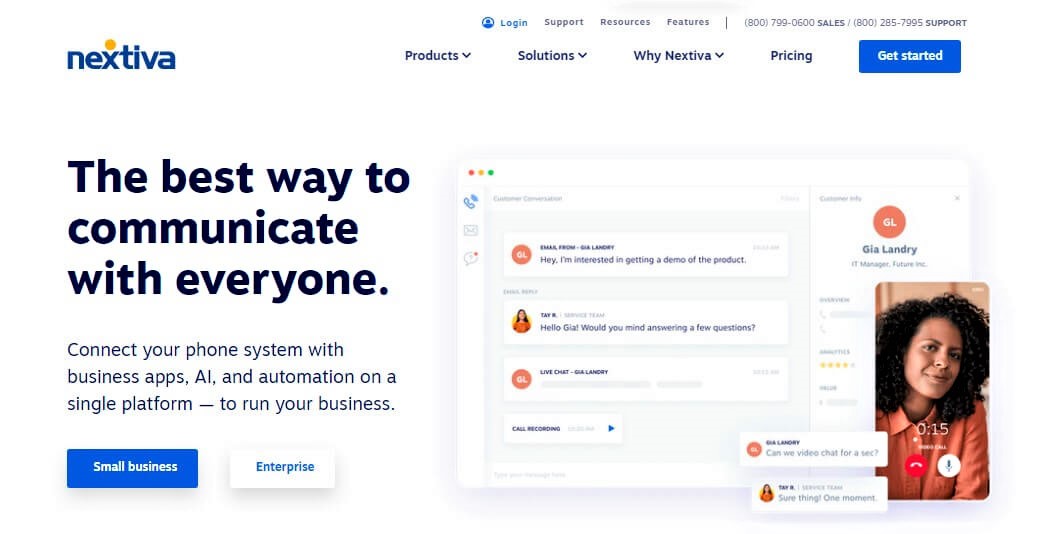 3. Nextiva
Our score: 9.1 / 10 

Scottsdale, Arizona, United States
Nextiva is a cloud-based phone system that integrates with numerous customer and contact management systems, as well as basic calling, faxing, and video conferencing.
Nextiva provides a cloud-based phone system package that links to numerous customer and contact management systems.  The service package includes basic calling, faxing, and video conferencing. Nextiva provides a unified platform for corporate phone, video conferencing, collaboration, and customer management services.
This software-as-a-service platform helps businesses manage internal and external communications, productivity (accessing corporate analytics to make better decisions), and customer relationships (monitor how customers feel about your service and track interactions with each client).
Pros
Nextiva offers round-the-clock customer assistance with all of its business phone plans.

Nextiva can be used in conjunction with existing office and mobile phones.

The solution from Nextiva integrates with current contact and customer relationship management systems.

In general, it is less expensive than RingCentral (but pricing is comparable across most categories).
Cons
Some features, such as unlimited SMS and extensive CRM connections, are not included in the subscriptions for the starting plans.

Nextiva's base plan is more expensive per user than some of its competitors' entry-level offers.

In contrast to Call Flow Solutions or RingCentral, getting the best and most inexpensive Nextiva rates requires a three-year commitment.
Visit Nextiva here!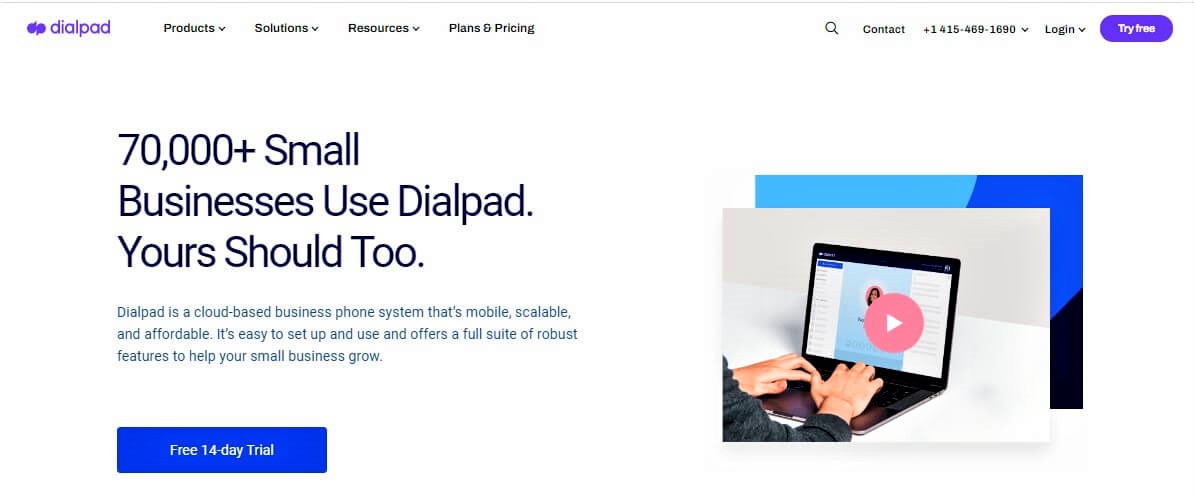 4. Dialpad
Our score: 8.8 / 10 

San Francisco, California, United States
Interactions between phone operators and customers are used as learning tools.  This data is also used to make business decisions, Dialpad uses artificial intelligence to enable organizations to increase productivity, and improve each customer's experience.
Dialpad is built on the Google Cloud Platform. All data, including sensitive client information, is stored there.
Unlike some other corporate phone systems, the entry-level plan includes Google and Microsoft Office 365 connectivity, which some organizations may consider advantageous.
Pros
Access to Google and Microsoft Office 365 app integrations is included in all price tiers.

Call analysis and transcription are driven by artificial intelligence, saving time and improving customer service.

APIs provide cell data as well as additional user control options.
Cons
The 14-day trial period is less than the majority of business phone systems in our rankings offer.

The free video conferencing session lasts 45 minutes and may accommodate up to ten people.

The firm gives extremely limited reporting options for determining an agent's performance.
Visit Dialpad here!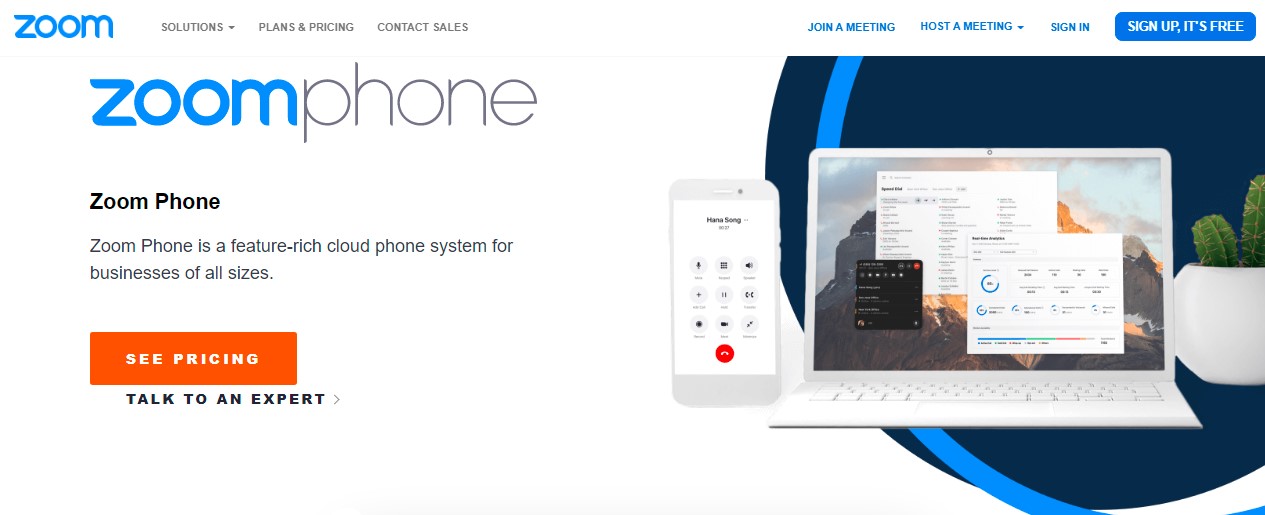 5. Zoom Phone
Our score:8.4 / 10 

San Jose, California, United States
Zoom Phone is a single software that can be used for phone, video, meetings, and chat. Users can make and receive phone calls, exchange material, participate in video meetings, and send chat messages from the Zoom desktop and mobile apps in real-time.
The tool is intended to be as simple to use as the rest of the Zoom experience, so there is no need to download any complicated software to utilize it. You may easily switch from video to voice calls with Zoom Phone, allowing you to discover the best communication approach for you.
Pros
Audio and video of the highest quality

Switching between audio and video devices is simple.

When you call someone, you have the option to invite them.
Cons
Queues and groups cannot have their own shared voicemail box for voicemail processing.

Texting is not yet supported.

It takes far too long to transfer data from the carrier to Zoom.
Visit Zoom Phone here!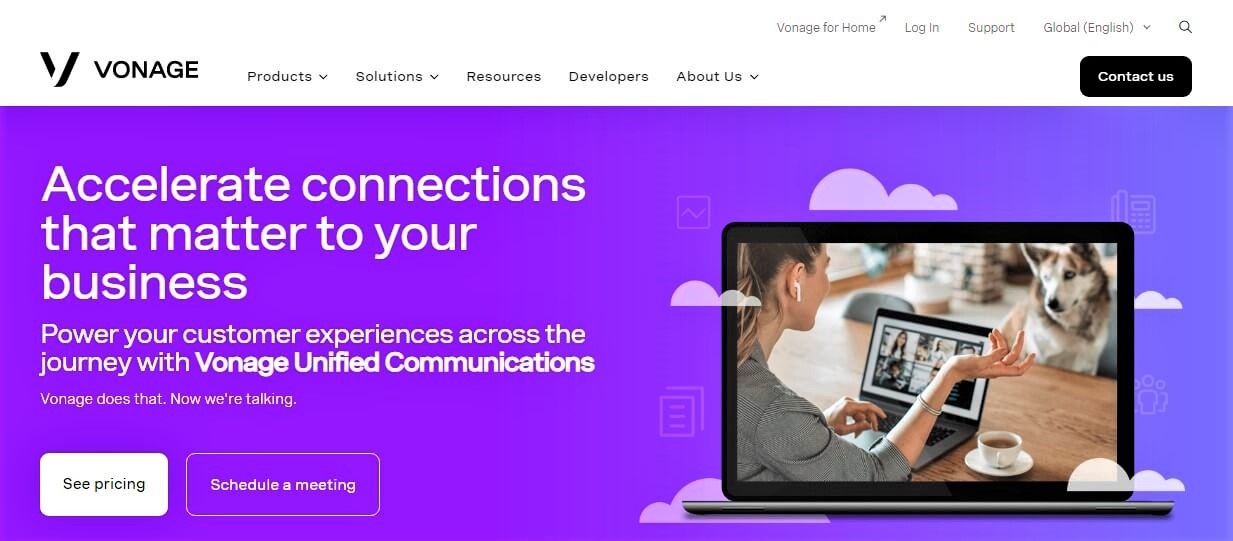 6. Vonage
Our score: 8.1 / 10 

Holmdel, New Jersey, United States
Vonage provides a comprehensive variety of communication services to organizations of all sizes that may benefit from unified communications as a service (UCaaS).
Vonage Business Communications, formerly known as Vonage Business Cloud, is an all-in-one system that integrates phone, text messaging, video conferencing, team collaboration, and other services into a single user interface.
The firm offers just three service packages, each with a unique set of unified communications features. Companies like RingCentral or Nextiva, on the other hand, provide 10-15 customizable choices.
In addition to corporate phone services, the company provides contact center solutions, and third-party developers may use its application program interfaces (APIs) to build communications systems for their companies.
Pros
Even Vonage's most basic "Mobile" plan includes unlimited calls, corporate SMS, and group messaging.

Customer relationship management (CRM) software is included in Vonage's mid-tier "Premium" package.

Vonage distinguishes itself from the competition by providing service and technical assistance 24-hours a day, seven days a week, with a rapid response time.
Cons
Visual voicemail and call recording are only accessible on higher-tiered plans (unlike Call Flow Solutions, Nextiva, and RingCentral).

Most packages do not include toll-free numbers, which must be purchased individually.

The basic "Mobile" plan includes only PC and mobile apps, no desk phones.
Visit Vonage here!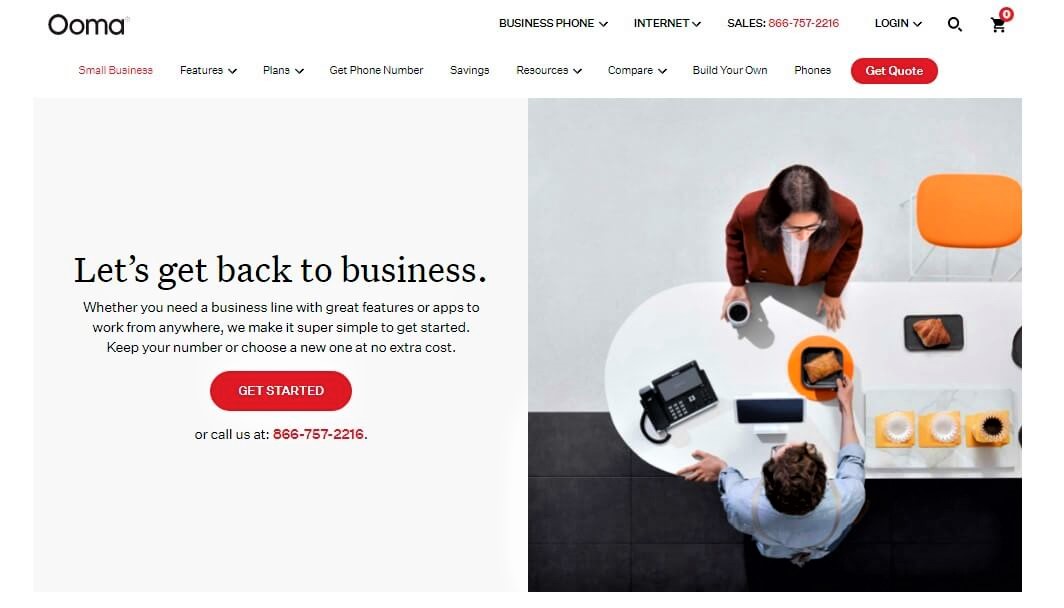 7. Ooma
Our score: 8.0 / 10 

Sunnyvale, California, United States
The Ooma business phone system incorporates video conferencing, texting, and audio phone calls.
Ooma Telo, a device that connects to a cloud service to provide toll-free calling, high-definition voice quality, and connected capabilities, was introduced alongside Ooma's home phone service. The Ooma system is compatible with current analog phones as well as a variety of internet-capable phones and Ooma's smartphone apps.
Ooma offers phones as well as base stations to connect your current phones and fax machines, with a 30-day return period. In addition, they provide extension-to-extension dialing and limitless standard domestic phone number calling.
Pros
Ooma provides companies with customer service 24-hours a day, seven days a week (same as Vonage).

Ooma is compatible with modern phones, analog office phones, and smartphones.

The entry-level Ooma Office subscription includes SMS services and online faxing, which most rivals do not provide at this price point.
Cons
Ooma charges extra for some features, including toll-free numbers.

Video conferencing and Ooma's desktop applications are only available with higher-tier subscriptions.

Integration with customer relationship management (CRM) platforms is included with Ooma's Enterprise subscription.
Visit Ooma here!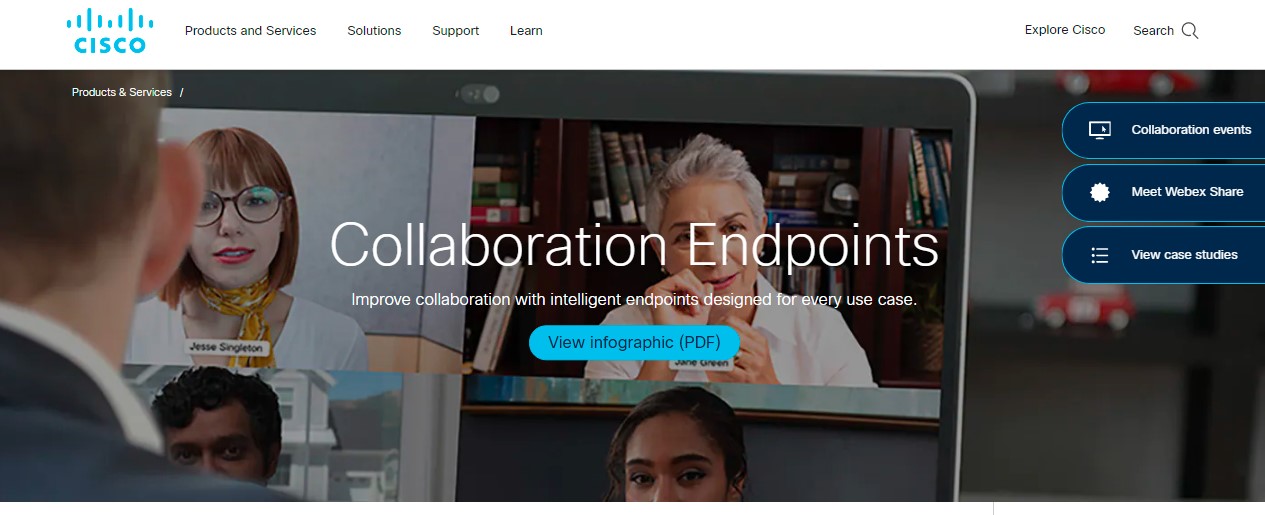 8. Cisco
Our score: 7.7 / 10 

San Francisco, California, United States
Cisco is a massive global technology firm that provides a wide range of business phone and unified communications services.
Cisco can be your company's best choice for an all-in-one communications system, thanks to its vast array of currently available plans, integrations, features, and emphasis on unified communications. This is especially true if you don't mind speaking with the sales team or a Cisco partner to sign up for the plan that best meets your needs.
Pros 
Offers solutions for almost any size organization.

A reliable video conferencing platform.

Compatibility with well-known apps.
Cons
Pricing is quite complicated.

Their software is not well-known for its user-friendliness.

Few options for help.
Visit Cisco here!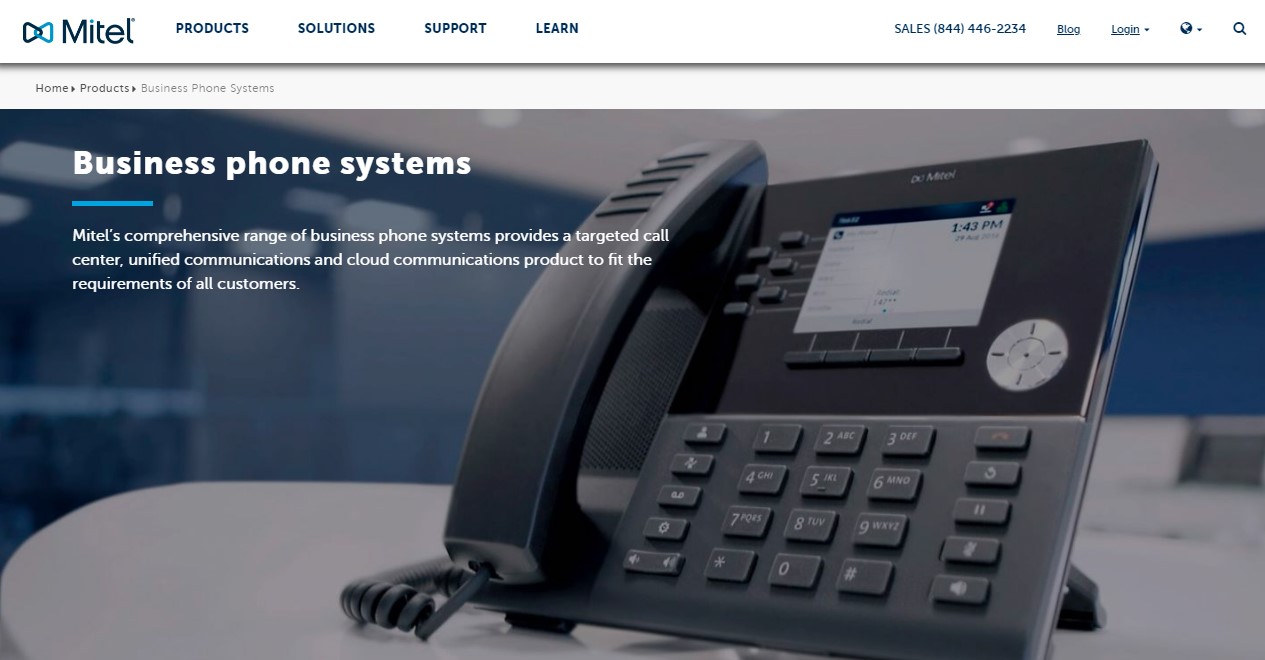 9.  Mitel
Our score: 7.6 / 10 

Ottawa, Canada
Mitel provides a wide range of platforms in Unified Communications, VoIP, Contact Center, Collaboration, Cloud Communications, Mobility, Unified Messaging, Virtualization, and UCaaS to help you discover the ideal match for your business in a number of locations across the world.
MiCloud Connect is a full-featured collaboration and communication solution that enables users to work more effectively and productively regardless of where they are. The emphasis is on usability and the mobile workstyle results in simplified features and intuitive interfaces that allow users to effortlessly communicate with one another without having to focus on making the program work.
Pros
Contact import from CSV, as well as Google and Microsoft 365 synchronizing.

A comprehensive list of CRM connectors is provided.

Excellent value and scalability.
Cons
There is a fixed number of reports; changing or adding new ones costs extra.

Because overall expenses are incremental, they can quickly grow.

The system is difficult to manage and the Essentials package features low participant limitations for its audio and video conferencing capabilities.
Visit Mitel here!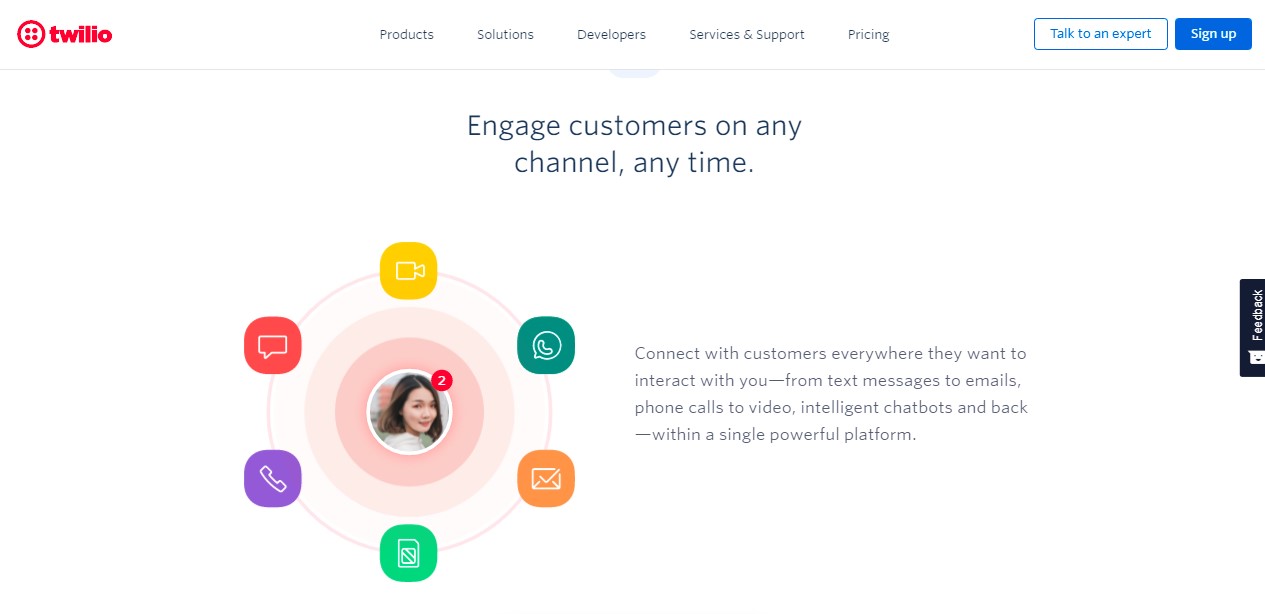 10. Twilio
Our score: 7.3 / 10 

San Francisco, California, United States
A customer engagement platform that provides a set of channel APIs, serverless tools, and fully programmable, deployable solutions.
Twilio drives the future of business communications by allowing the integration of phones, VoIP, and messaging into the web, desktop, and mobile apps. They handle the complicated telecom hardware and offer a globally accessible cloud API with which developers may engage to construct intelligent and sophisticated communications systems. Twilio automatically adapts with your app's use as it grows or shrinks.
Pros
A great tool for setting up a system for making phone calls and sending SMS messages.

The cost is reasonable, and the global user interface makes the entire system simple to operate.

The call quality is excellent, and customers may choose between bridge dial (using a physical phone attached to Twilio) and voice-over IP calling.
Cons
Limits the number of log data rows, limiting employees' ability to extract entire log data.

Documentation for training and learning needs improvement.

These solutions will require the involvement of an IT staff.
Visit Twilio here!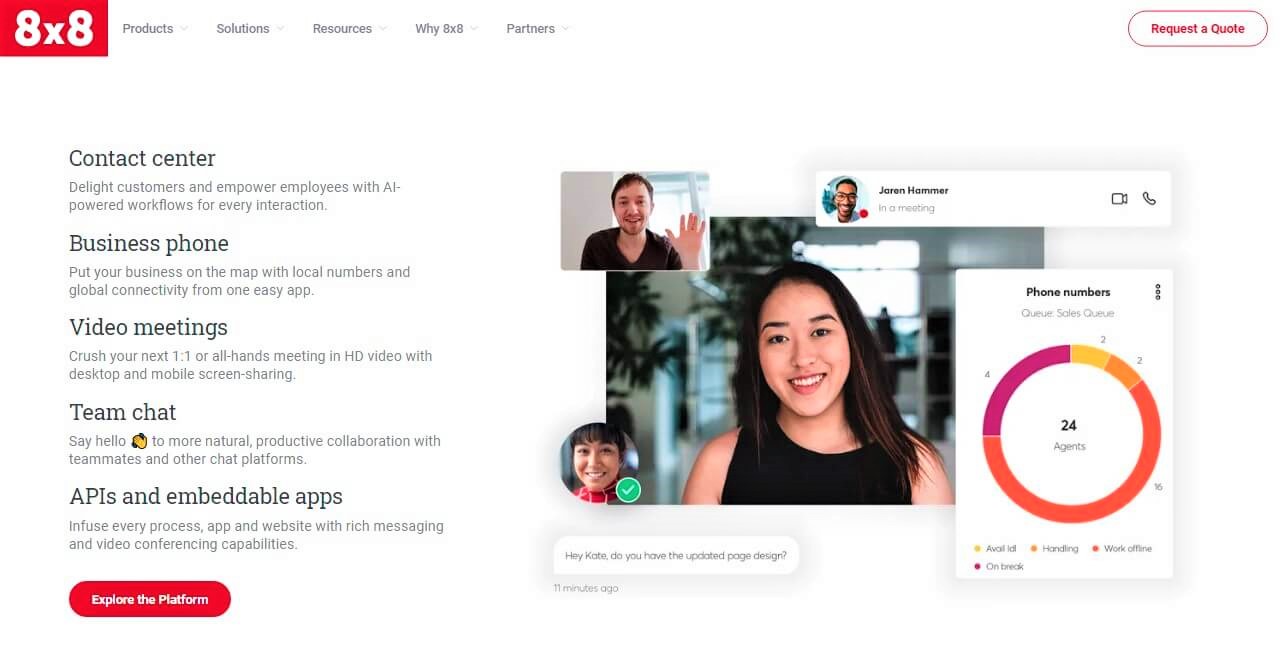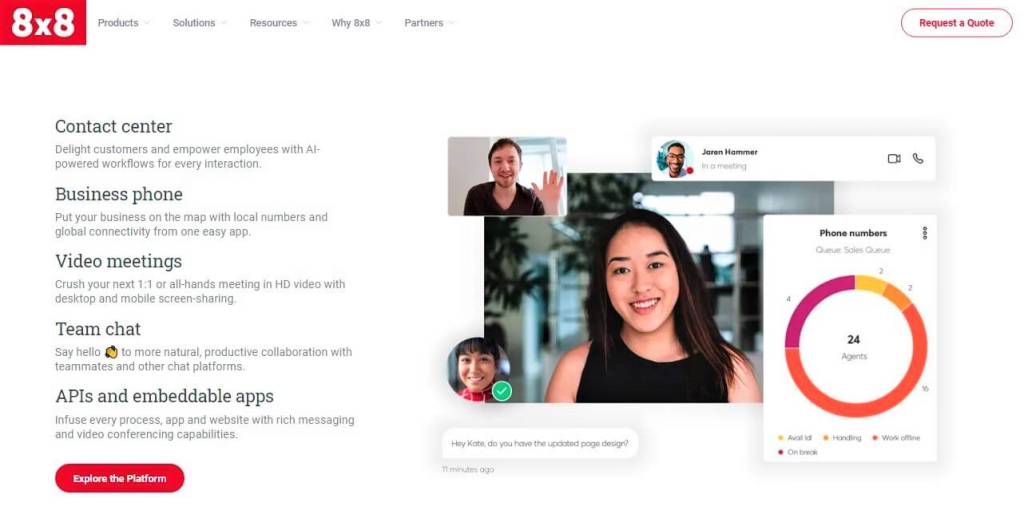 11. 8×8
Our score: 7.2 / 10 

Campbell, California, United States
8×8 provides a variety of calling choices, as well as conference calling and videoconferencing services.
8×8 provides all of the features that a small business would want in a phone system. It's a dependable, cloud-based unified communications solution that's simple to use and packed with important calling, collaboration, and mobile features and capabilities.
Pros
The entry-level Express plan is one of the cheapest we've seen, with a monthly fee of only $12 per user.

Several privacy requirements, notably the GDPR in Europe and HIPAA in the United States, have been met.

Many plans include unlimited international calling to a large number of countries.
Cons
Even on higher subscription tiers, video conferencing sessions are limited to 100 participants.

There is no on-premise IP-PBX, as opposed to Dialpad, which provides on-premise gateway choices.

Only the company's higher plan tiers offer 24/7 help.
Visit 8×8 here!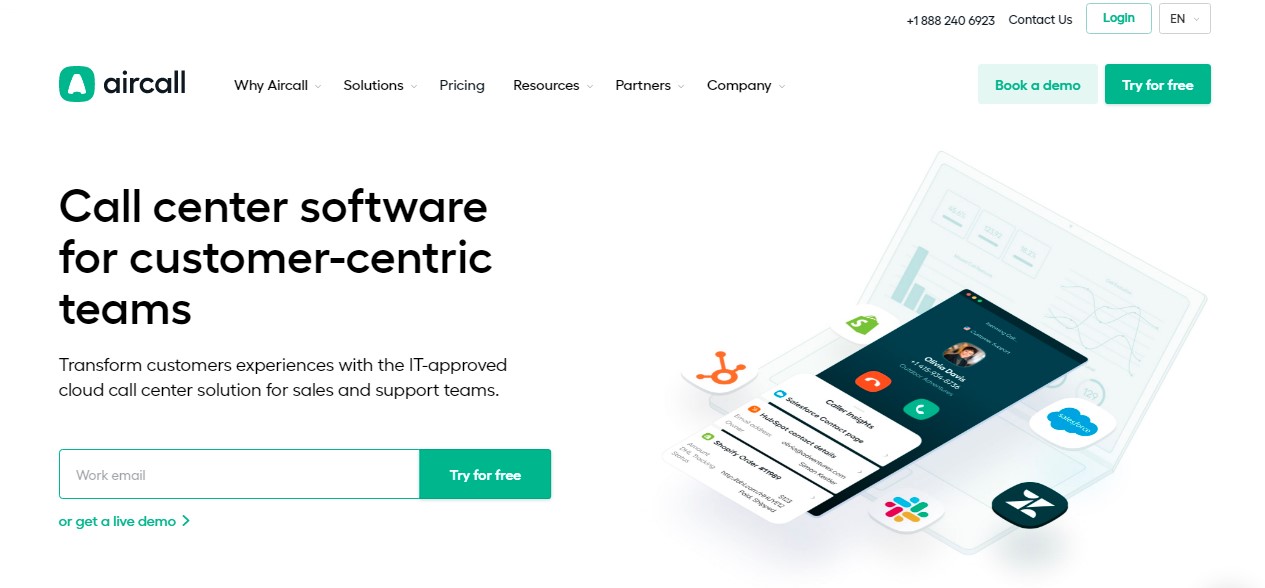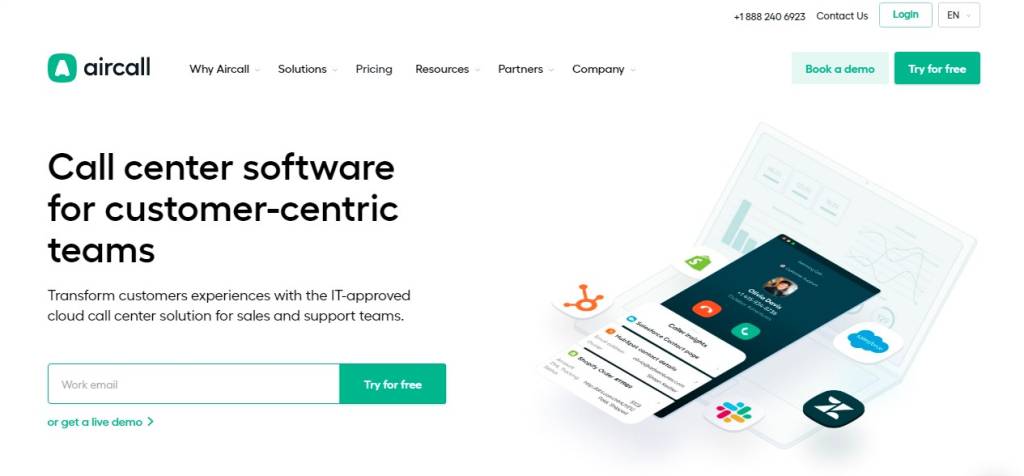 12. Aircall
Our score: 7.1  / 10

New York, New York, United States
Aircall is the ideal cloud-based call center and phone system for modern enterprises. A voice platform that easily interacts with popular productivity and helpdesk apps.
Aircall has three subscription categories for businesses: Essentials, Professional, and Custom. Each is paid yearly and offers a variety of features. While the plans are rather pricey, the program itself eliminates long-distance call fees, which are normally highly expensive.
Aircall was created to make phone systems easier to operate – to make them more accessible, transparent, and collaborative. It is intended to facilitate wonderful moments of human interaction.
Pros
On both Pcs and mobile devices, functions are straightforward.

Over 60 integrations are available.

Both a desktop computer and a mobile device may be used to make calls.
Cons
More costly than other options.

Video calling is not available.

Both the Essentials and Professionals tiers need a minimum of three users, making Aircall a pricey VoIP alternative.
Visit Aircall here!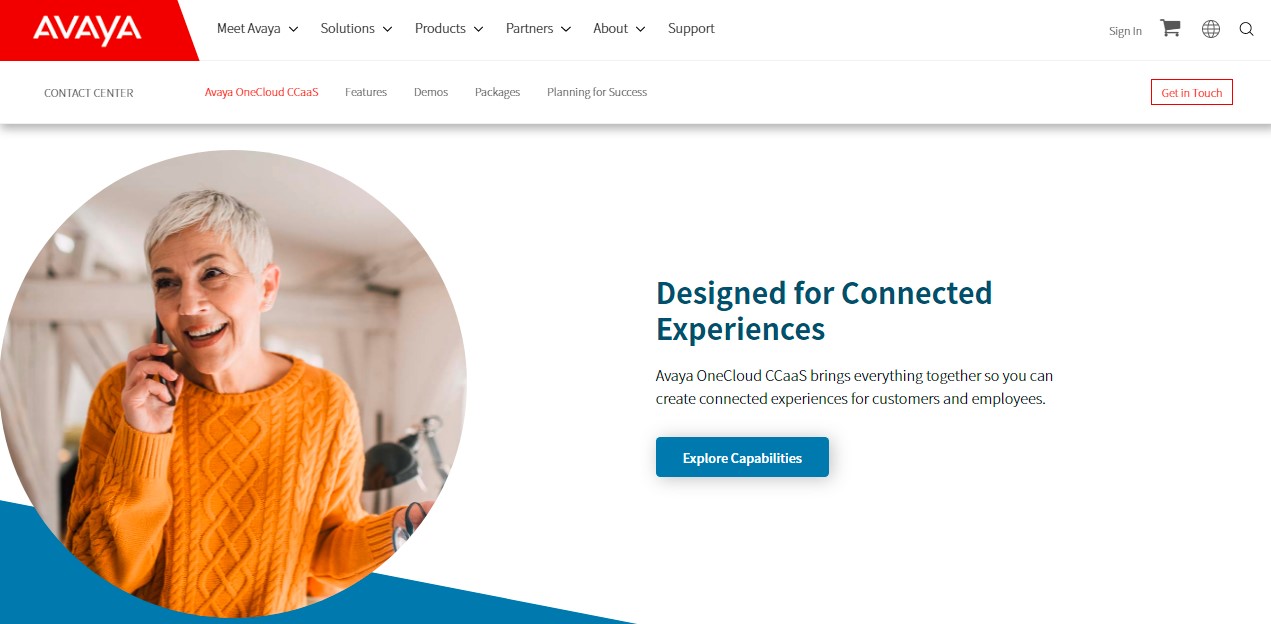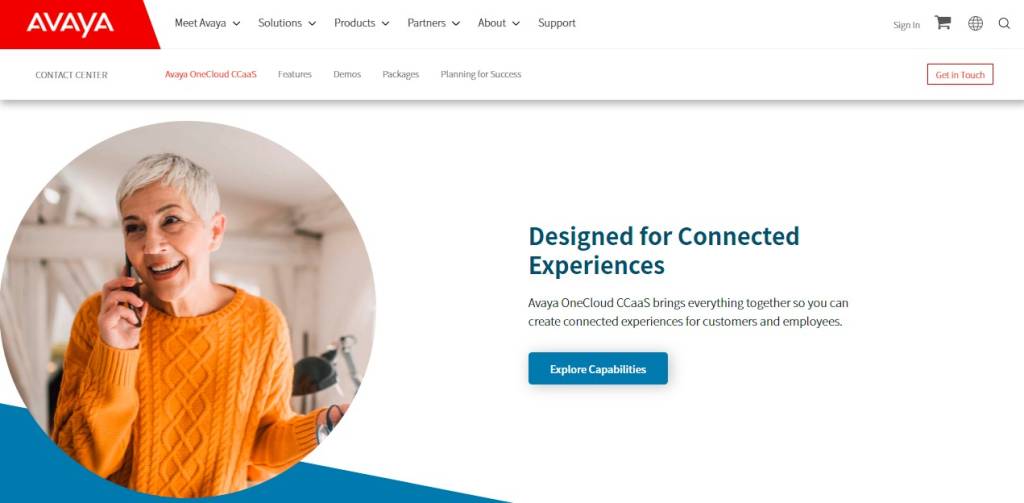 13. Avaya OneCloud
Our score: 7.0  / 10

Durham, North Carolina, United States
Avaya OneCloud provides a variety of VOIP telecommunications solutions that enable simple digital communications both within and outside of your organization.
Avaya has been in the telecommunications industry since 2000, but its recently renamed Avaya OneCloud is a fully digital alternative with a variety of communication capabilities.
The Communications Platform as a Service (CPaaS) bundle from Avaya OneCloud is designed to integrate cloud-based calls and messages into your company's apps and user experience. It operates on a pay-as-you-go basis, so you only pay for the minutes and messages you use.
Pros
With a variety of capabilities to fit your needs, Avaya OneCloud makes it simple to integrate voice conversations into your business's apps.

A diverse selection of goods and services to meet the needs of any company.

With simplicity, it can integrate voice and message into your apps and customer journeys.
Cons
Support is hard to acquire.

On paper, the Avaya OneCloud interface appears to be a good fit; nevertheless, there is a lot of interaction that the operator must perform that might be automated.

A cluttered help page that might be difficult to browse
Visit Avaya OneCloud here!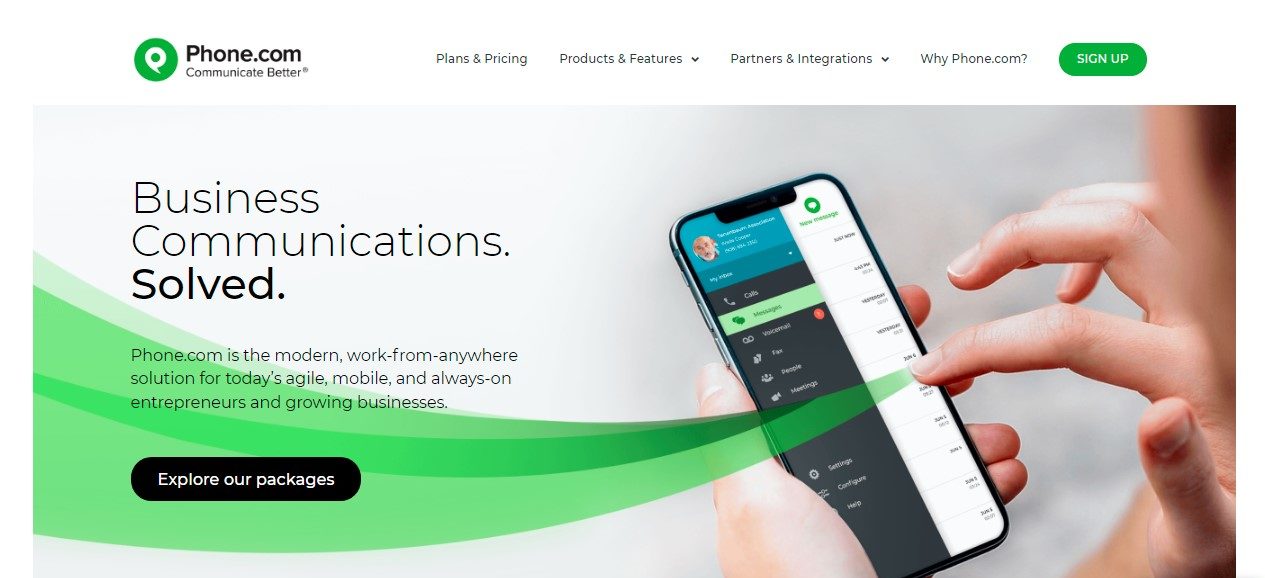 14. Phone.com
Our score: 6.9  / 10

Newark, New Jersey, United States
Phone.com provides unparalleled flexibility for users that only want to pay for what they need, including the ability to add, delete, or upgrade people from one plan to another.
Phone.com offers flexible solutions for businesses and entrepreneurs that are concerned about their expenses. Its Basic plan offers usage-based pricing and is designed for those who use fewer than 300 call minutes per month. Higher-tier plans provide unlimited calls and text messages, and you may upgrade at any time.
Pros
Phone.com does not offer a free trial, but it does provide a 30-day money-back guarantee.

Provides free mobile and desktop apps for making and receiving business calls from any device at any time.

There is no need for new hardware.
Cons
App integration possibilities are limited.

Limited videoconferencing.

Does not provide the unlimited minutes and video conferencing that other providers give, even in their most advanced plans.
Visit Phone.com here!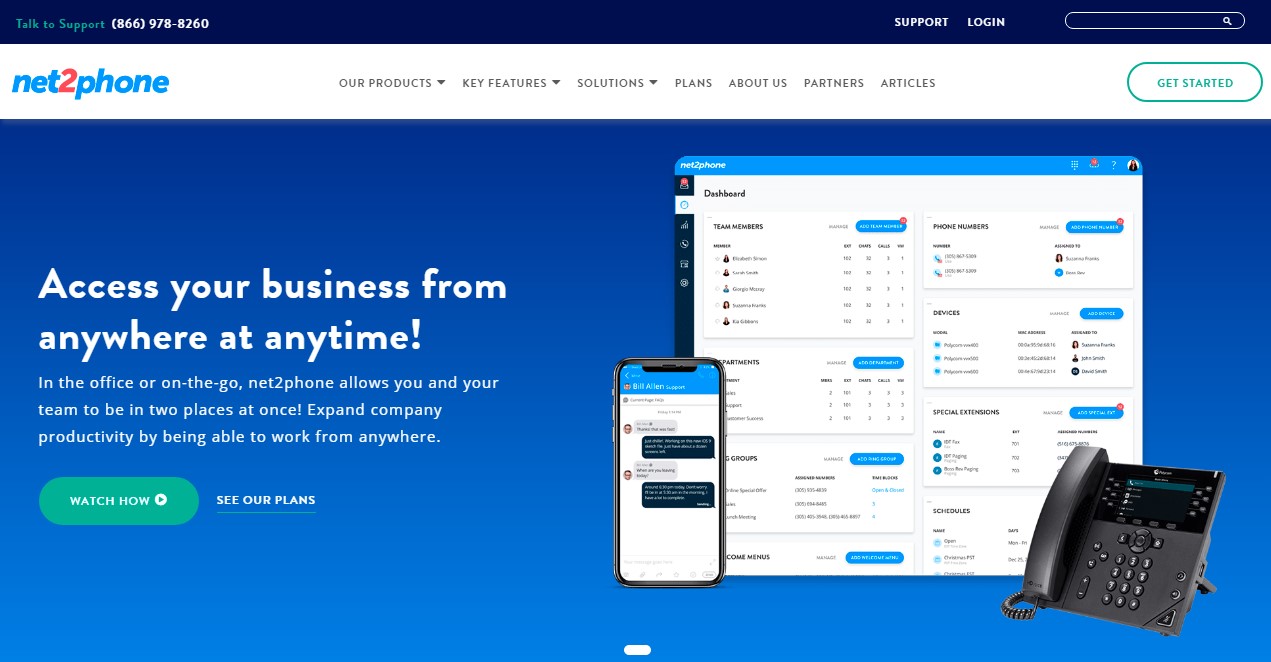 15. Net2Phone
Our score: 6.8  / 10

Newark, New Jersey, United States
Net2Phone is a cloud-hosted phone system with useful features, a slew of useful connectors, and a variety of low-cost subscription options that make it excellent for expanding enterprises.
Net2Phone offers four standard business phone plans as well as a virtual-only package. All subscriptions include unlimited calling inside the United States and Canada, as well as online calling, voicemail, ring groups, and reporting and analytics.
The monthly cost of each plan is determined by the size of your team. The lower the per-user fee, the more users your plan includes, the lower is the per-user fee. 
Pros
Excellent Google Chrome add-on is included with all versions except the free plan. Users may utilize their VoIP system to dial calls directly from their web browser with this. 

An easy-to-use user interface.

The extension offers the click-to-call capability for phone numbers provided on websites, may be linked with desk phone hardware, and allows quick, effective listening access to voicemail messages.
Cons
The UCaaS platform lacks a collaboration feature.

There is no information on security features.

The live chat feature is not always available.
Visit Net2Phone here!
Top 8 Factors To Consider When Choosing the Best Multi-Line Phone System For Small Business
1. Plan Features
The first aspect to consider is the features offered in each package. Is it packed with all of the functions you need? Is it outfitted with any additional features that might be useful to your business? You should also inquire about possible additional expenses for certain tools. Some features may be missing from the basic bundle you are considering purchasing. 
Inquire with the vendor about maintenance intervals, update schedules, and plans for new features. Examine previous versions of the service to verify if the provider meets the specified deadlines.
2. Total Cost Of Ownership
There's no denying that the best multi-line phone system for small businesses is affordable. While the quoted price may appear to be low, the overall cost of ownership should be considered (TCO).
What are your projected costs for the first year of service use? Consider the phones and equipment you'll need to buy. Take into account the expense of updating your data network if it is required. Some of your workers may require more training on the new system. These little expenditures build up to a sizable portion of the overall budget.
You should also think about your return on investment (ROI). If you want a return on your initial investment, you should start saving money during the first month of ownership. The lower the original investment, the greater the likelihood of a good ROI.
3. Existing Infrastructure
You should also determine if the company phone system you are considering will operate with your current infrastructure. Is there any old equipment that should be replaced or upgraded? Perhaps you'll need to obtain a second Internet connection only for VoIP. Making these adjustments takes both time and money.
If you do not have in-house specialists, you may need to hire someone to evaluate your current network. Some providers may perform this function in-house for a small cost or even for free. Allow sufficient time and resources to evaluate (and update) your current configuration.
4. Current And Future Needs
Consider whether the phone solution meets your present demands as well as your future development. Your business may be tiny for the time being, but you never know what will happen in the future. Over the next few years, you may see amazing development and expansion. Alternatively, your company may remain steady for the next decade with no big changes.
Your phone system should be able to cope with either situation. With cloud VoIP, you can quickly add and delete lines as needed. You only need to pay for what you need. New recruits can be assigned numbers in minutes.
However, inquire with the seller about whether any modifications are free or must be paid for, how fast they will be implemented, and the approximate cost if the modifications are not free.
5. Mobile Phone Support
Telecommuting and remote workers must be supported by your phone system. This includes compatibility with all types of mobile devices. Your workers may be working on the move using cell phones, tablets, and laptop computers.
In the future, mobile support will be even more crucial for small businesses. Make certain that the system you choose has this capacity. Mobile support guarantees that your staff, no matter where they are, are constantly connected.
6. Easy Usability
The simplicity of use of cloud VoIP is a major factor in its popularity. Many systems do not need any kind of training. Your staff can get started right away. Each system, however, is unique.
Consider the ease of use of the technologies you're evaluating for your staff. Don't rely solely on marketing or promotional materials. Even the most user-friendly solution may not be the greatest match for your organization.
7. Support For Old Features
Many businesses utilize their phone system for more than just communication. Landlines, for example, can be linked to security or door alarm systems. So, if you have such needs, be sure the system can handle them. 
Digital faxing is supported by the majority of reputable cloud VoIP phone providers. That means you can get rid of your fax machines! Faxes are delivered to your mailbox as emails. Employees can also transmit faxes in this manner. You do not have to print every fax you get; just the crucial ones must be printed.
8. Vendor Expertise
Aside from these major aspects, there are a few other points to consider. Consider the vendor's track record and competence, for example. Do they have a history of helping small businesses? Is the system in compliance with any necessary standards if you work in a regulated industry?
Another aspect that organizations sometimes ignore is customer service. The cloud VoIP service provider should be seen as a business partner rather than a vendor. How quickly can you anticipate assistance if your system fails? How fast will you be able to restore phone service if it goes down? Before making a selection, all of these questions must be asked and answered by the seller.
The Bottom Line
When your small business expands, it can be difficult to scale equipment and services to meet changing demands. Whether you have one person or 15, knowing the best multi-line phone system for small businesses and being able to respond swiftly to changes in your organization is critical to its success. 
The best multi-line phone system for small businesses we propose, most especially for growing organizations, is suitable for both small- and medium-sized enterprises. The best part is that they can expand with your company. 
A strong multi-line phone system is the foundation of your support and sales operations. As a result, you must not compromise on the functionality of the phone system you install for your company.
And according to the Grand New Research in July 2021, the worldwide cloud computing industry was worth USD 274.79 billion in 2020, and it is anticipated to expand at a compound annual growth rate (CAGR) of 19.1 percent between 2021 and 2028.
It is critical that you select a multi-line phone system that will not only optimize productivity and efficiency but will also help you to expand your reach and develop your organization.
You should constantly assess the advantages and drawbacks of each model and consider your company's demands and unique requirements.