Written by Joyce Ann Danieles
Businesses sometimes encounter challenges while boosting and maintaining information technology (IT) operations. An IT team requires resources, such as personnel and technological infrastructure, to accomplish tasks and grow. But building and handling this unit in-house might increase costs and inefficiencies.
A business process outsourcing (BPO) company helps streamline your IT functions while you focus on core initiatives. More importantly, IT support outsourcing helps expand your enterprise at a lower cost. 
This article explores the concepts behind IT and technical support outsourcing projects. It also discusses the benefits and drawbacks of BPO and the right time to outsource.
What Is IT Outsourcing?

IT outsourcing involves partnering with a third-party service provider to handle your IT tasks. Most companies cite cost reduction, flexible access to resources, and smooth upscaling as their primary reasons for outsourcing.
Such benefits encourage businesses of all sizes to adopt IT BPO. This large-scale adoption contributes to the fast growth of the global IT services outsourcing market, which is expected to double to $1.06 trillion between 2021 and 2030.
Commonly Outsourced IT Services
Billions of digital transactions happen every day. Organizations rely on their IT departments to handle such high demand and keep things running smoothly. 
But continuous technological advancements and changing market trends lead to rapidly outdated systems, inefficiencies, and increased operating expenses. BPO providers help address these issues by offering their services through contractual and retail-like options. 
IT outsourcing guarantees a good return on investment (ROI) if you clarify your needs well. Here are some business functions you can outsource:
Technical support.

IT specialists lead technical support outsourcing projects. They also provide comprehensive consulting and repair services for end users facing complex technical issues. 
Software development.

Technical experts design, develop, and maintain the software apps necessary to help expedite tedious tasks.
Knowledge management.

Highly trained BPO contractors take a unified data collection and analysis approach

, using knowledge to inform enterprise, product, and service improvements.
Telecommunications.

Third-party teams deliver technical support to ensure connectivity through fiber optic networks, mobile phones, satellites, broadcast networks, and the internet.
Cloud services.

External vendors host and enable access to data, digital files, and software solutions via the internet.
System maintenance.

Technicians perform various system maintenance procedures to keep business operations smooth and effective. 
Web hosting.

Web hosts enable secure website activities by managing all online data stored on rented servers.
Backup and recovery.

Dedicated contractors facilitate the storage and retrieval of relevant business data.
Quality assurance.

Service providers conduct market analysis and reporting to help businesses identify ways to improve their products and services.
You need a clear plan, whether you want to outsource all or some of your IT activities to a BPO provider. A detailed strategy helps you ensure long-term benefits and avoid future conflicts. 
Be specific about which IT services you want or need to outsource to achieve your goals. Let us start by exploring the most commonly outsourced process: technical support. 
Understanding Technical Support Outsourcing Projects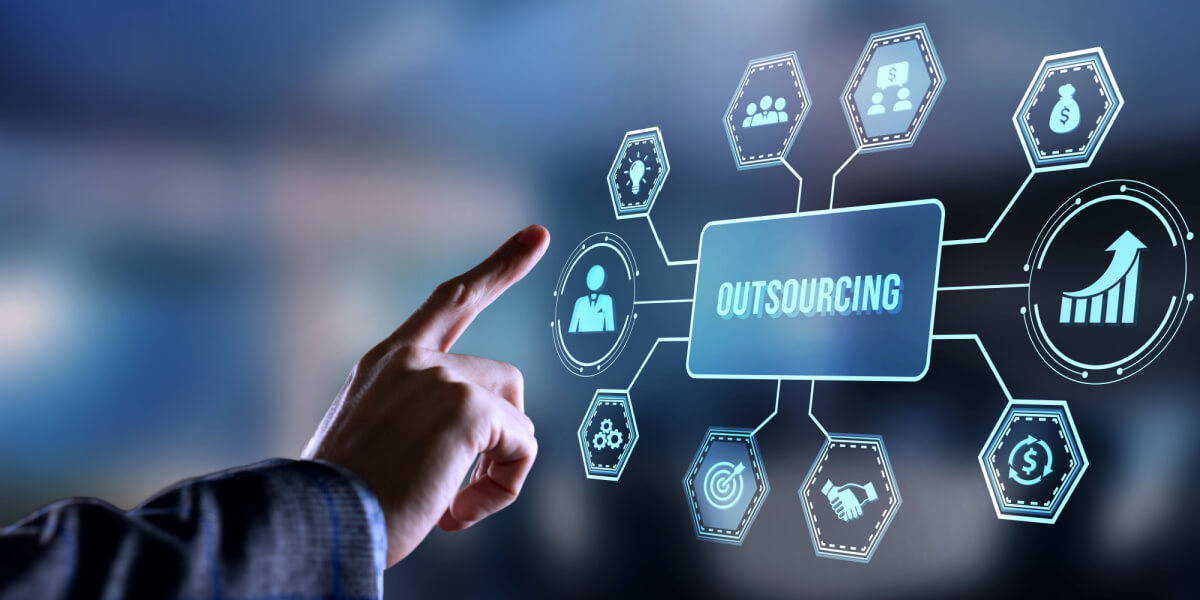 Similar to customer service, technical support involves resolving end users' technical problems through phone calls, live chat, and email. Depending on the complexity of the issue, face-to-face interactions are also possible.
Due to the increasing demand for cost-effective solutions, Research and Markets expect the technical support outsourcing market to reach almost $14 billion by 2026. The need to prioritize core competencies also drives companies to seek third-party expertise.
Technical support is an umbrella term that covers multiple processes. Keep reading to learn what to expect when implementing technical support outsourcing projects.
Different Types of Technical Support per Structure
Outsourced technical support services vary depending on the service scope and method of payment. 
Managed services.

Large companies usually require a service-level agreement (SLA) for technical support. This contract states the fixed rate they will pay BPO partners for providing well-defined services. It also outlines the key performance indicators (KPIs) that monitor service quality.
Time and material.

Also called break/fix, this support structure is common in the IT industry. Providers and clients set a pre-negotiated rate for the materials and technical services used during the period.
Block hours.

Organizations pay their contractors for a specific amount of time. This technical support structure lets businesses use the prepaid hours flexibly without worrying about additional paperwork or billing.
Crowdsourced.

A group of technical experts provides consulting and support services through online communities, discussion boards, and website forums. Crowdsourced support is typically free, but some IT companies or teams might charge a premium.
Self-service.

Self-service technical support suits companies that are not interested in hiring third-party personnel. Instead, they buy cloud-based software containing all features necessary to meet their technical support needs. Their agents can use the solution while receiving third-party consulting and maintenance services.
Different Types of Technical Support per Level
Service providers divide technical support into three tiers to ease work and streamline end-user inquiries.
Level 1.

Agents respond to common customer concerns and provide resolutions. They follow scripts or predefined guidelines to address simple technical issues.
Level 2:

Experienced and trained

agents give in-depth technical support using advanced strategies and solutions. They handle complex problems a level 1 agent cannot resolve.
Level 3.

Engineers and specialists fix the most complicated problems using sophisticated procedures. They take over if level 1 and 2 agents cannot address a particular product or service concerns.
Different Types of Technical Support per Service
Technical support outsourcing projects have specific types of services available.
Help desk.

Similar to level 1 technical support, agents respond to basic technical inquiries and quickly troubleshoot issues. They engage directly with customers through various communication channels.
Desktop support.

Agents fix defective drivers and operating systems by remotely accessing computers, laptops, and electronic devices.
Account creation and recovery.

The technical support team can create accounts for new users of online portals and reinstate access to hacked or blocked accounts.
Service desk.

The service desk is a contact hub that takes a broader and more strategic approach to resolving technical issues. It accommodates business investors and other stakeholders. Its goal is to provide high-quality services such as incident management, request fulfillment, and reporting.
Security monitoring.

Technical support representatives detect and mitigate system vulnerabilities, threats, and cyberattacks.
Installation and configuration.

Agents guide users in installing and configuring software and hardware.
Software management.

The technical support team monitors deployed computer software tools and mobile apps.
Data analysis and reporting.

The technical support team can also gather, sort, and examine relevant customer and market insights to inform business expansion and process improvement. 
Repair and maintenance.

Technical support specialists maintain on-premises equipment, roll out system updates, and repair damaged components.
Different Types of Technical Support per Location
Technical support outsourcing projects can also be broken down into three types based on a service provider's country of origin.
Onshore.

BPO companies deliver technical support to domestic clients, although they might operate from a different city or state.
Nearshore.

Contractors providing specialized services are situated in regions close to clients' home countries.
Offshore.

Vendors are headquartered far away from clients' native countries. They might even come from other continents, such as Asia or Europe.
Advantages and Disadvantages of Outsourcing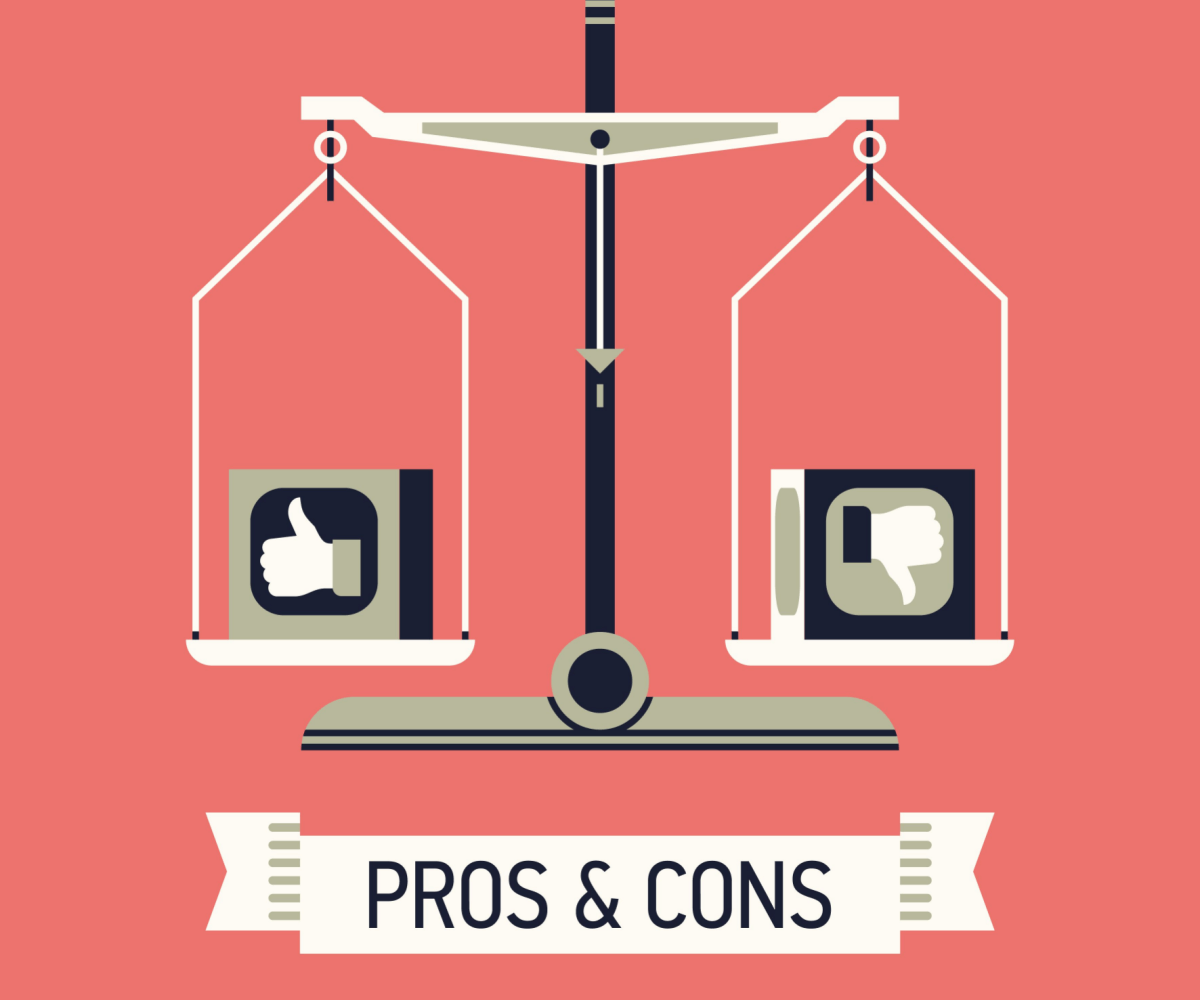 Beyond a basic understanding of IT BPO and technical support outsourcing projects, you must also know the benefits and drawbacks. These insights will assist you in deciding whether to pursue your back-office outsourcing investment. 
Advantages
Save on costs.

Entrusting IT and technical support processes to a third party reduces your labor, infrastructure, and real-estate expenses. Service providers employ skilled talent, use up-to-date technologies, and own comfortable workstations. They offer all these resources through affordable service packages.
Access a skilled workforce.

Vendors empower their workforce by providing regular training and coaching sessions. They ensure that contractors, especially level 2 and 3 members, have the certifications to provide cost-effective technical support.
Optimize advanced technology.

BPO service providers let companies use updated hardware and software tools without extra costs. These solutions help them provide fast and convenient IT and technical support services.
Enhance productivity.

Contractors accomplish their tasks smoothly and accurately with a highly trained workforce and advanced technology

. Their clients can thus focus on completing core functions and meeting daily quotas.
Improve scalability.

As market demands grow and your business expands, your IT needs also expand. Service providers accommodate your evolving requirements and adjust to your work strategies. They help scale your operations, especially during peak season.
Prioritize growth.

The

outsourced IT provider

specializes in technical support. You can trust it to boost your back office and provide superior outcomes. Hence, you have more time to prioritize product and service improvement. 
Strengthen security and compliance.

Trustworthy BPO providers use strict security measures to protect sensitive data and assets

. They also conduct scheduled compliance checkups to avoid unforeseen violations and sanctions.
Disadvantages
Reduced quality control.

You might fail to monitor quality when you have IT and technical support outsourcing projects. If you do not establish a close working relationship with your BPO partner, it will follow its own methods instead of yours. In that case, expect inconsistencies in output quality.
Security risks.

Third-party teams could pose security risks to your business. While rare, you might encounter contractors targeting your systems and data for personal gain. Therefore, you need to be wary of accepting workers from BPO companies.
Hidden charges.

You might miss hidden fees when outsourcing IT and technical support offshore. The fluctuating currency conversion rates might result in higher payment costs. Hence, you must clarify these factors with your provider.
Communication issues.

Language barriers are one of the most common disadvantages of

outsourced IT support services

. This drawback affects you the most when you hire a contractor overseas. Misunderstandings and conflicts can happen if you do not settle this matter immediately.
Excessive dependence on outsourcing.

Relying too much on IT BPO leaves you unprepared for unforeseen challenges. You might experience project delays and system downtime if you do not cooperate actively with your contractor.
Weak in-house IT approach.

When outsourcing, you might fail to create, keep or expand your own IT strategies. So you might encounter inefficiencies and slow problem resolution if you terminate your contract with the service provider.
Limited on-site availability.

Many providers deliver their services remotely, especially when outsourcing nearshore or offshore. The lack of a local office means they cannot address urgent issues requiring on-site maintenance and repair. 
How To Outsource IT and Technical Support?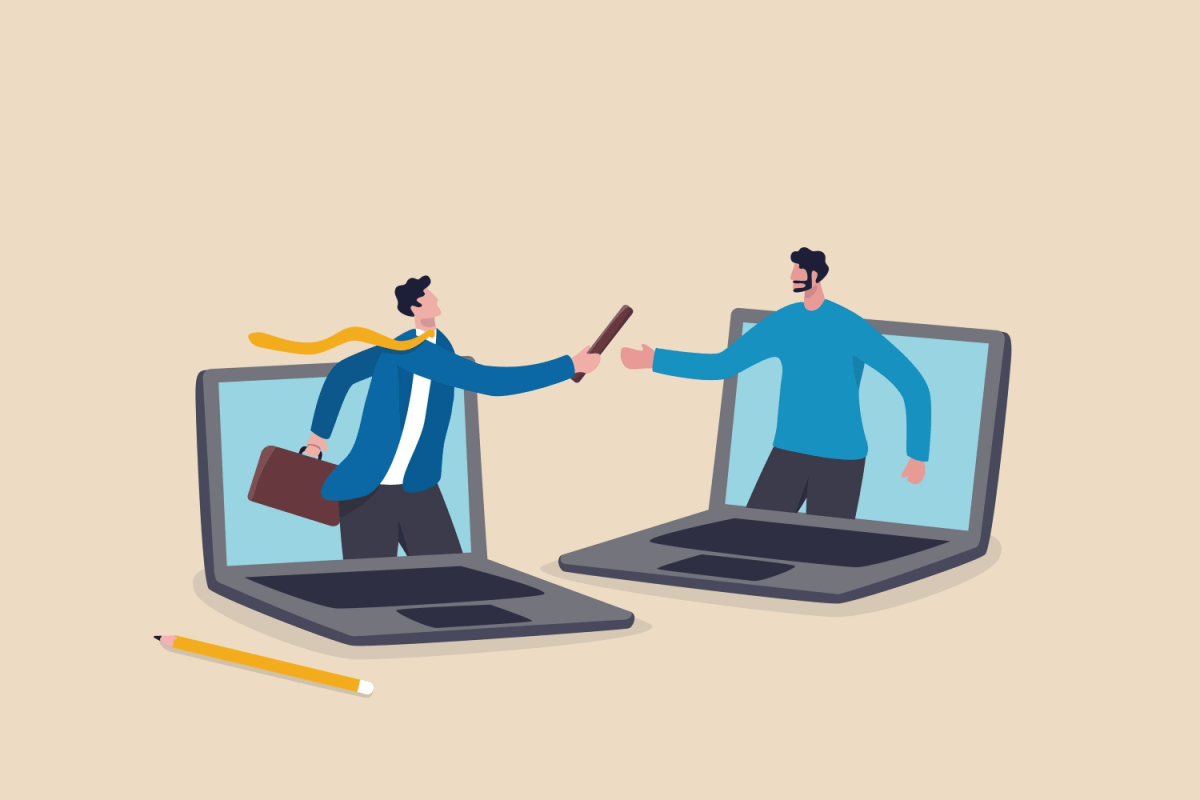 Many factors can influence your decision to outsource functions to a BPO company. 
Based on the benefits discussed above, you should acquire IT support outsourcing if you experience employee shortages or need to boost cost savings. But keep in mind there are real disadvantages that might make you hesitant to invest in technical support outsourcing projects.
If expenses are your main concern, here are some cost-effective tips for back-office outsourcing services:
Hire only the number of contractors you need

Weigh whether to employ offshore workers that can cost less to train

Use online conferencing software instead of traveling to meet your provider

Choose a competitive BPO partner offering cost-effective service packages
Here are 10 ways to properly outsource IT and technical support to solidify investment returns.
Balance cost reduction and quality service goals.

Cutting operating expenses should not be your sole reason for outsourcing. You should still strive for high-quality service to guarantee revenue. Seek a vendor capable of delivering outstanding service at an affordable rate.

Ensure the provider adheres to legal requirements.

Confirm that your potential BPO partner follows all industry-related laws and regulations.

You should study relevant minimum wage, tax, and security policies regardless of location

.

This knowledge allows you to carefully plan your IT and technical support outsourcing projects.

Calculate outsourcing costs.

Contractors set varying prices for their service packages. Service speed and scope, reputation, expertise, and track record are some factors affecting their pricing. Take note of these factors when conducting cost analysis.

Clarify business needs and goals.

Given the variety of IT services, you must clearly define your outsourcing goals. Identify which functions you need to outsource to cut back on unnecessary expenses. You will not have to spend extra money if your in-house team can do the job better.

Set requirements and expectations.

You must outline your BPO expectations. This helps you obtain more accurate quotes and find a vendor that best meets your needs. Create an SLA or official document stating your requirements for service quality.

Emphasize access to advanced technologies.

Partner with a BPO provider that uses cutting-edge technologies. These automated solutions help you keep up with the fast-paced market competition.

Ensure contracted solutions integrate with your existing systems to avoid additional expenses

. 

Assess workforce skills.

The workforce plays a crucial role in streamlining your IT operations. You must evaluate third-party contractors who will join your team. This ensures that workforce capabilities align with your operating needs and requirements.

Verify security and compliance measures.

Examine your potential vendor's security policies and procedures. Assess their compliance with industry and government regulations. Ensure these crucial practices match with yours to avoid high mitigation and violation costs.

Screen potential service providers.

Create a list of qualifications you want for a BPO partner. Setting criteria helps simplify your screening process. It also helps narrow down your list of qualified contractors.

Make sure your chosen BPO provider matches your business goals and budget allocations.

Create a practical BPO management strategy.

Once you have decided on a BPO partner, you must create a concrete outsourcing management plan. This allows you to establish a harmonious work relationship with your potential provider. 
When To Start Outsourcing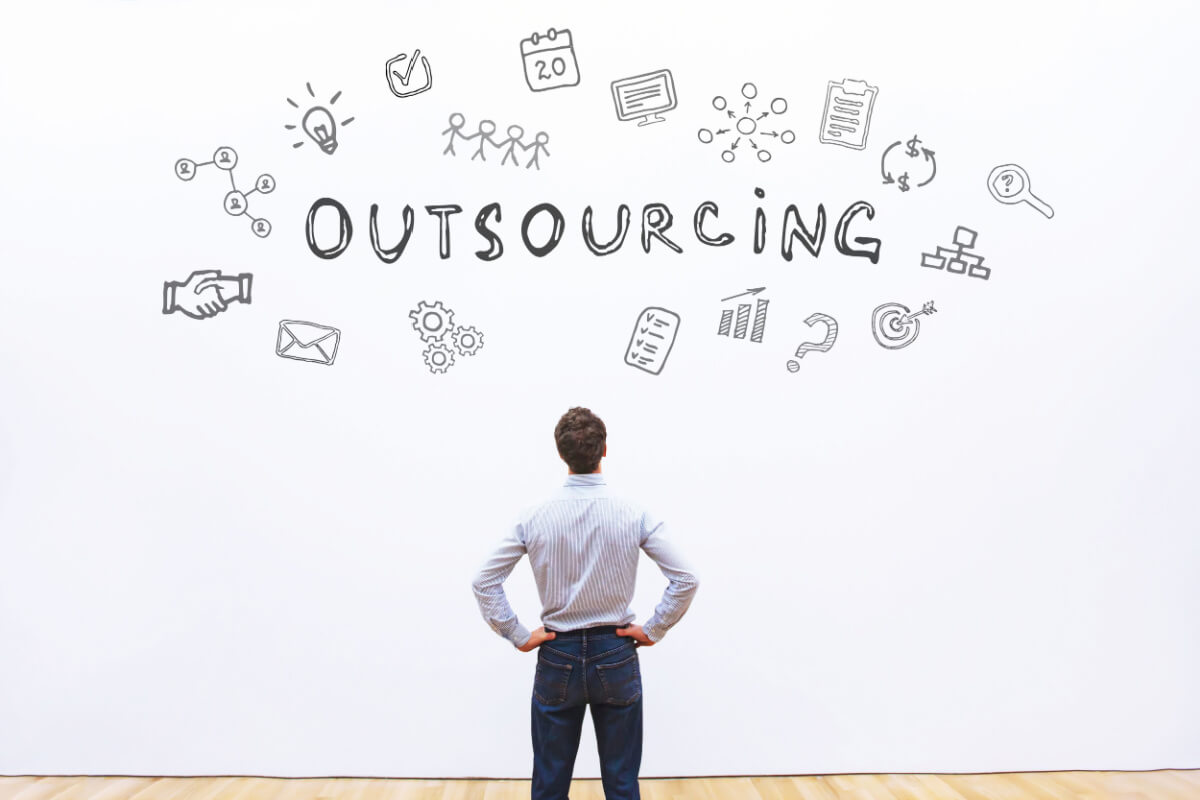 Now that you understand the basics of outsourcing IT and technical support, you must hire a service provider for the right reasons. Start planning your outsourcing engagement if you experience the following:
Outdated hardware and software solutions impede your work progress.

You lack the funding to replace or upgrade to the latest technology. You also struggle to fulfill maintenance and labor fees. 
Incompatible task assignments lead to employee burnout.

Designating core and secondary functions to the same team results in poor performance and overwork. Overtime due to backlogs also discourages your workers from attending regular training and upskilling sessions.
IT support is more expensive than core initiatives.

Although indirectly involved in revenue generation, your IT unit requires a considerable budget to respond quickly to technical issues. Save on costs so that you can spend that budget on your growth-focused efforts instead.
Team members encounter project delays.

Backlogs and technical issues prevent your employees from catching up with due dates. Insufficient IT support specialists during peak season and holidays also delay your primary offerings and projects.
Employees provide slow customer responses.

Because of outdated systems and burnout, your workers finish their tasks late. This results in slow support services, which frustrate your customers. As a result, they leave low ratings and negative comments that significantly affect your reputation. 
The Bottom Line
An in-house IT department helps you achieve continued growth and expedite your business processes. But the large investment prevents companies from providing the resources required to improve this unit. 
By implementing technical support outsourcing projects, you can meet your IT needs while saving money on operating costs. But to get maximum returns, you must understand how outsourcing impacts your company. This guide explains what the service is, what it offers, and what factors to consider before signing a formal contract with a provider. 
Reach out to Unity Communications today to learn how to take advantage of IT support outsourcing. The award-winning BPO company is proactive in monitoring your IT environments. Our efficient workflow enables you to focus on expanding your core business.