Written by Dion Jay Tality
Information technology (IT) support outsourcing is an effective solution when optimizing IT operations and scaling businesses. 
Despite its success, this business practice also comes with risks. When outsourcing, businesses might encounter language barriers, cultural gaps, and loss of control.
This post tackles the risks of outsourcing desktop support to help you make informed business process outsourcing (BPO) decisions. Keep reading to understand the potential drawbacks and learn practical solutions to mitigate their effects. 
10 Possible Risks to Outsourcing Desktop Support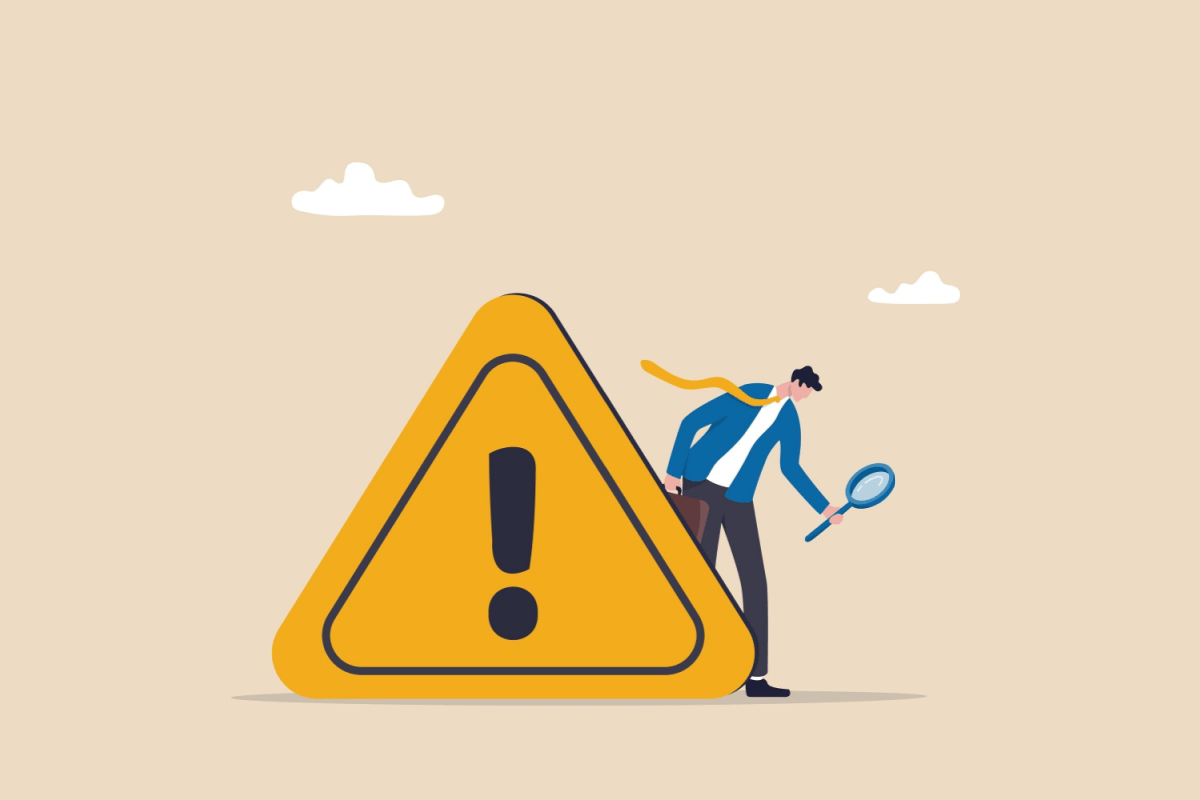 BPO is a rapidly growing market. The desire for the many benefits of front- and back-office outsourcing services play a crucial role in its expansion. Companies even outsource functions requiring more technical know-how, such as IT and desktop support, to trusted service providers.
IT outsourcing has long been shown to benefit companies of all sizes. As a result, many companies work with an IT BPO vendor for desktop support. But what is an outsourced IT provider?
It is a third-party service provider hired to handle IT tasks. Outsourced IT services come in three forms:
You can hire a managed service provider (MSP) to remotely oversee your entire IT operations. 

You can outsource a specific IT function such as desktop support. 

You can hire third-party technicians to fix user desktop systems only when necessary.
But no matter how robust its service offerings are, the IT outsourcing industry has drawbacks. To decide whether you should proceed with outsourcing desktop support, ask yourself, 
"Can IT BPO technicians effectively assist my end users and fix their computers remotely?"
Is hiring an IT BPO service provider worth the possible risks of outsourcing desktop support? 
Find your answer by reading through this article.
1. Business Goal Misalignment
Outsourcing desktop support involves two companies working together toward common goals. The problem starts if your MSP implements strategies not aligned with your business objectives. If you fail to reconcile with each other, you risk misunderstandings and business failure.
Solution:
Create a service-level agreement (SLA) detailing your operational objectives and key metrics. Orient your MSP to what you aim to achieve for your desktop support and your business in general. This information helps the MSP align its strategies and practices with your business goals.
2. Cultural Differences
Offshoring, or hiring a BPO company headquartered in a distant country, helps save on costs without compromising service quality. But this method poses potential risks to outsourcing desktop support, such as cultural disparity. If technicians and end users cannot meet eye to eye, unresolved issues might pile up and lead to user dissatisfaction.
Solution:
Your contracted MSP must have robust training programs for its staff. It should not only offer process training; it should also provide cultural orientation. This program should be part of the foundational training meant to close the gap between BPO technicians and end users.
3. Communication Barriers
Besides cultural differences, language barriers can also be a challenge when offshoring. Suppose a Canada-based company outsources its desktop support to an MSP in Asia. These BPO technicians might have difficulty communicating with French-speaking end users, affecting service efficiency, quality, and productivity.
Solution:
As part of its foundational training, your MSP should cover language proficiency. It must do its best to eliminate the barriers between IT BPO specialists and end users. That way, outsourced desktop technicians can more effectively assist your employees or customers.
4. Security Risks and Privacy Issues
IT outsourcing entails hiring an external vendor to handle your IT operations and entrusting it with your network security and crucial business data. Your company might become vulnerable to cyberattacks when you outsource data entry services or IT functions. Breaches, leaks, and theft are security-related risks to outsourcing desktop support that you should be wary of.
Solution:
Choose an MSP that prioritizes security and privacy. Check and double-check its network security measures and data privacy policies.
Create and implement stringent policies with your contracted IT vendor if there are none.
(In which case you might want to think twice about hiring that one.)
5. Loss of Business Control
Some companies outsource IT operations because they lack the necessary resources. Even then, they should not give up control and entrust their entire operations to the MSP. Becoming overly dependent on BPO service providers causes entrepreneurs to lose sight and direction in running businesses.
Solution:
An SLA allows you to balance BPO ownership and business control. Set careful well defined parameters within which your MSP is free to operate and continue to offer it your full support.
6. Lack of Technical Expertise
Other companies outsource tech solutions to gain access to IT experts. MSPs have global and diverse talent pools from which to choose. But if you are not critical when hiring the right MSP, you risk outsourcing desktop support to subpar contractors. The lack of technical expertise and relevant skills will affect your operations.
Solution:
Select an MSP with strict recruitment processes and solid training programs. Make sure it hires contractors with technical backgrounds. More importantly, it should provide them with proper desktop support training. These factors ensure BPO technicians can competently assist your end users.
7. Less Quality Control
Delegating your desktop support to a third-party provider means you have less control over its service delivery. Outsourcing this function to the wrong MSP compromises your service quality, resulting in poor desktop service, unresolved technical issues, and end-user complaints.
Solution:
Building a quality assurance (QA) team is common practice for BPO vendors. Work with an MSP with a QA team that monitors the performance of your desktop support technicians. This team ensures business compliance and quality services for high user satisfaction.
8. End-user Dissatisfaction
Fixing devices on-site is different from troubleshooting them virtually. The problem with IT outsourcing is that BPO technicians provide desktop support remotely. They might be unable to properly assist users and resolve their issues. Thus, end-user dissatisfaction is one of the risks of outsourcing desktop support.
Solution:
You can achieve high user satisfaction when your IT team provides efficient and effective technical assistance . Hire an MSP capable of providing excellent desktop support with the help of an expert workforce and advanced technology.
9. Hidden Outsourcing Costs
Outsourced IT solutions are your best bet for reducing operating costs. Why? Outsourcing is more affordable than establishing your own IT team. The latter requires building IT infrastructure and employing desktop technicians. Just be wary of incurring hidden BPO costs, or else it defeats the purpose of outsourcing to save money.
Solution:
Do your due diligence. Ask for quotes from varied prospective service providers. Then compare the costs and check their pricing models. Choose the MSP that will help reduce your operating expenses over the long term. Remember: Done right, IT outsourcing is a practical solution for saving money.
10. Business Disruption
Many businesses employ offshoring for practical reasons. For example, American corporations outsource to BPO service providers in Asia for lower labor costs. But some BPO companies are in countries prone to natural calamities, geopolitics, and even terrorism. Such disruptions pose risks to outsourcing desktop support and your business.
Solution:
Do not entrust your entire IT operations to an MSP. Establish a core in-house team and outsource only specific IT functions such as desktop support.
That way, you can continue operations when your service provider experiences a disruption
. Better yet, set up a contingency plan for possible disruptions.
Eight Potential Benefits of Outsourcing Desktop Support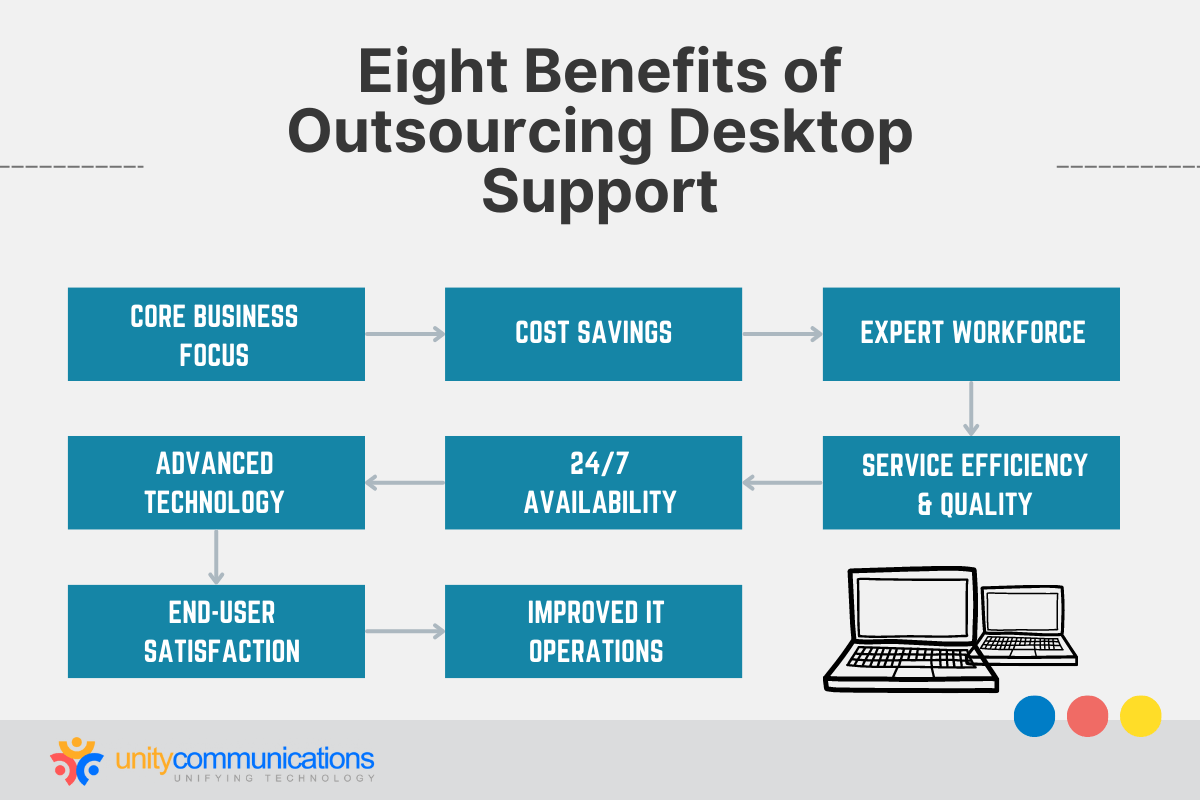 At this point, you understand the possible risks of outsourcing desktop support. More importantly, you have learned how to address these risks to maximize the business strategy.
So should you consider outsourcing desktop support for your company? The short answer is yes.
The global IT outsourcing segment is expected to achieve an 8.07% compound annual growth rate (CAGR). From $395.1 billion in 2022, it might grow to $587.3 billion by 2027.
Furthermore, the IT and telecom segment had the largest revenue share in 2021. This segment comprised nearly 35% of the overall BPO market, showing no sign of stopping or slowing down.
The IT BPO's market growth is proof of its many advantages for your company. Here are a few benefits of outsourcing desktop support to illustrate why you should consider hiring an MSP for your IT functions.
Core Business Focus

. IT is integral to business operations. But few companies require a strong in-house focus on technology and IT functions. Outsourcing lets you delegate desktop support to a third-party vendor so that you can prioritize your core operations—making money and growing your business.
Cost Savings.

Did you know that outsourcing saves

up to 70% of your labor costs

? Investing in your technicians and technology is more expensive than hiring an IT BPO service provider. The latter helps you reduce operating expenses and save money in the long run.
Expert Workforce.

Desktop support involves IT professionals assisting end users and fixing computer devices. Outsourcing is best if you need technical experts to handle this function. An MSP not only hires employees with technical backgrounds; it also provides further training to hone their knowledge and skills.
Advanced Technology.

Access to the latest technological resources gives you a competitive advantage. Leverage robotic process automation (RPA), artificial intelligence (AI), and big data analytics (BDA) to improve your IT operations. Outsource your desktop support to have easy access to up-to-date technology. 
24/7 Availability.

Round-the-clock IT support is one of the

outsourced IT trends

delivered by BPO service providers. Third-party partners usually operate 24 hours a day, seven days a week. So companies that outsource desktop support can assist their users all the time.
Service Efficiency and Quality.

IT technicians handle troubleshooting, hardware installation, software updates, and system maintenance. Their primary task is to promptly and effectively resolve technical issues. Hire the right BPO partner to manage these tasks to guarantee service efficiency and quality.

End-user Satisfaction.

Desktop support caters to two key stakeholders: employees and customers.

The ultimate goal is to satisfy these end users with your services.

A reliable IT BPO vendor helps you achieve almost 100% end-user satisfaction.
Improved IT Operations.

Desktop support massively impacts your business because employees rely on computers for daily tasks. You can significantly improve your IT operations if you outsource to a skilled MSP.
Business Growth.

Companies resort to front- and

back-office outsourcing

to scale various operations, including desktop support. An MSP streamlines your IT operations, improves productivity, and increases your bottom line. Ultimately, it helps your business grow and succeed.
Similar to other strategies, there are rewards and risks to outsourcing desktop support. 
A rule of thumb is to carefully weigh the pros and cons of outsourcing to see how each package and individual factor affects your business. This will help you make the right BPO decisions for your company.
Outsourcing should scale your desktop support, satisfy the end users, and boost your business.
***
Here at Unity Communications, we offer affordable and robust IT services. Desktop support is but one IT function we can handle for your business.
We build a solid team of technical experts and invest in technological resources. Our goal is to streamline your processes and improve your IT operations.
If you plan to outsource your desktop support, let us help you weigh the pros and cons of your decision. Get in touch with us today for a consultation!
The Bottom Line
Companies have long seen the benefits of IT outsourcing. The business practice allows companies to prioritize core operations, satisfy end users, and achieve business growth. Potential drawbacks are unavoidable, but companies should find ways to address them.
Factor in the risks of outsourcing desktop support discussed above. Keep these in mind before hiring a BPO service provider. More importantly, consider the recommended solutions to make informed decisions.
In the end, IT outsourcing should help, and not hurt, your business.