Written by Dion Jay Tality
Customers buy desktop systems for personal and professional use. But even the latest computers from top brands encounter technical issues. Thus, businesses should have a team of information technology (IT) specialists ready to support and keep customers happy. 
IT support outsourcing makes it possible for companies to address customer concerns. With the help of a reliable business process outsourcing (BPO) partner, you can enjoy enhanced customer experience (CX) as one of the benefits of outsourcing your desktop support. 
Let us explore how outsourcing desktop support improves CX. Keep reading to get practical BPO tips!
The Role of Desktop Support in Customer Experience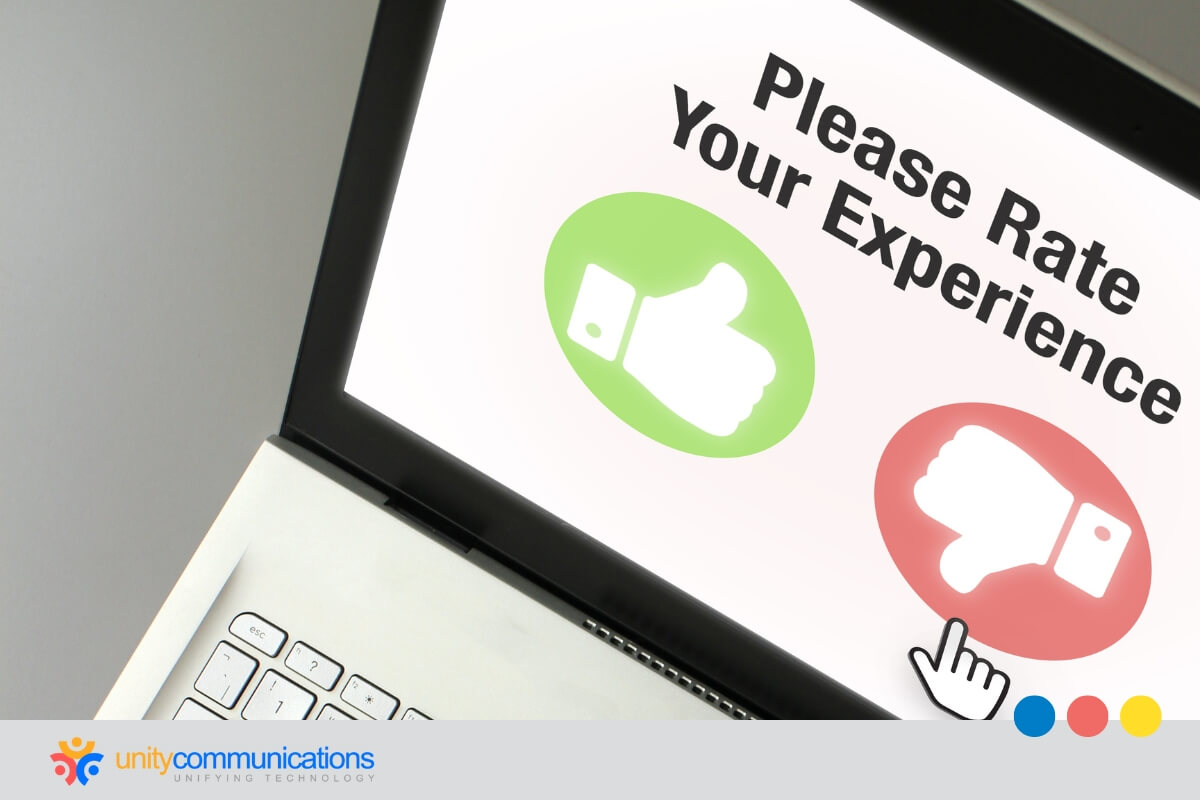 Desktop systems are essential for businesses and individuals alike. Remote work arrangements and online meetings further boosted the need for computers and laptops. With their daily activities reliant on a working desktop, customers want to ensure their devices are always in top shape.
Thus, it is no wonder there are more than 395,000 desktop support technicians in the U.S. Tech companies, such as computer centers, establish robust desktop support so that technicians can assist customers whenever technical issues arise. 
But some businesses lack an expert workforce and advanced technologies to resolve customer issues. Instead, they hire third-party service providers to handle their desktop support and improve CX. 
Read on to further understand the role of desktop support in providing superb CX.
What Is Desktop Support?
As a subset of IT services, desktop support provides end users with technical assistance. Specifically, it involves maintaining and repairing desktop systems, whether computers or laptops. Desktop support technicians perform the following services:
Troubleshoot the entire desktop system (computers or laptops)

Examine and repair hardware malfunctions

Check and diagnose software issues

Maintain and update network connections
Note: Desktop support is a specific business function. To avoid confusion, here is how it differs from other related terms:
IT support

is an umbrella term covering IT-related services. These services include troubleshooting, hardware deployment, software updates, system maintenance, and network management.

 

A

help desk

serves as a point of contact for all customer and/or employee concerns. It provides both customer service and technical support.

Technical support

entails offering technical assistance to end users of technology products. These products are desktops, mobile phones, and other electronic devices.

Desktop support

usually falls under IT support services. It is also a technical support task; however, it covers only computers and laptops.
What Is CX?
CX is the customer's overall impression of a business based on their buying journey. It captures how customers feel about the brand, its products or services, and their interactions with the company. Customers might have different experiences, but your company is responsible for providing a satisfying CX for everyone.
According to HubSpot, customers now have higher expectations than ever. Nearly half of the polled service teams rank "creating a great experience" as their top priority. More service teams thus aim to reduce friction throughout the customer journey.
How Desktop Support Impacts CX
Desktop support is a front-office task where technicians interact directly with customers, significantly impacting your CX. As such, your goal is to ensure your customers have the best experience working with your agents. You can achieve this objective by:
Assisting customers promptly

Resolving their technical issues immediately

Ensuring the efficiency and quality of the service they provide
Desktop support outsourcing brings you one step closer to your goals by providing the following benefits:
Access a skilled workforce

Leverage advanced technology

Increase business productivity

Ensure service efficiency

Provide quality service

Achieve customer satisfaction

Boost business profits

Attain business growth and scalability
At this point, you might ask: what is an outsourced IT provider? It is a third-party service provider that handles your desktop support function. It staffs you with expert technicians who can easily troubleshoot your customers' devices while providing top-notch service.
Still unconvinced? Learn how outsourced desktop support improves CX in the next section.
Seven Ways Outsourcing Desktop Support Improves CX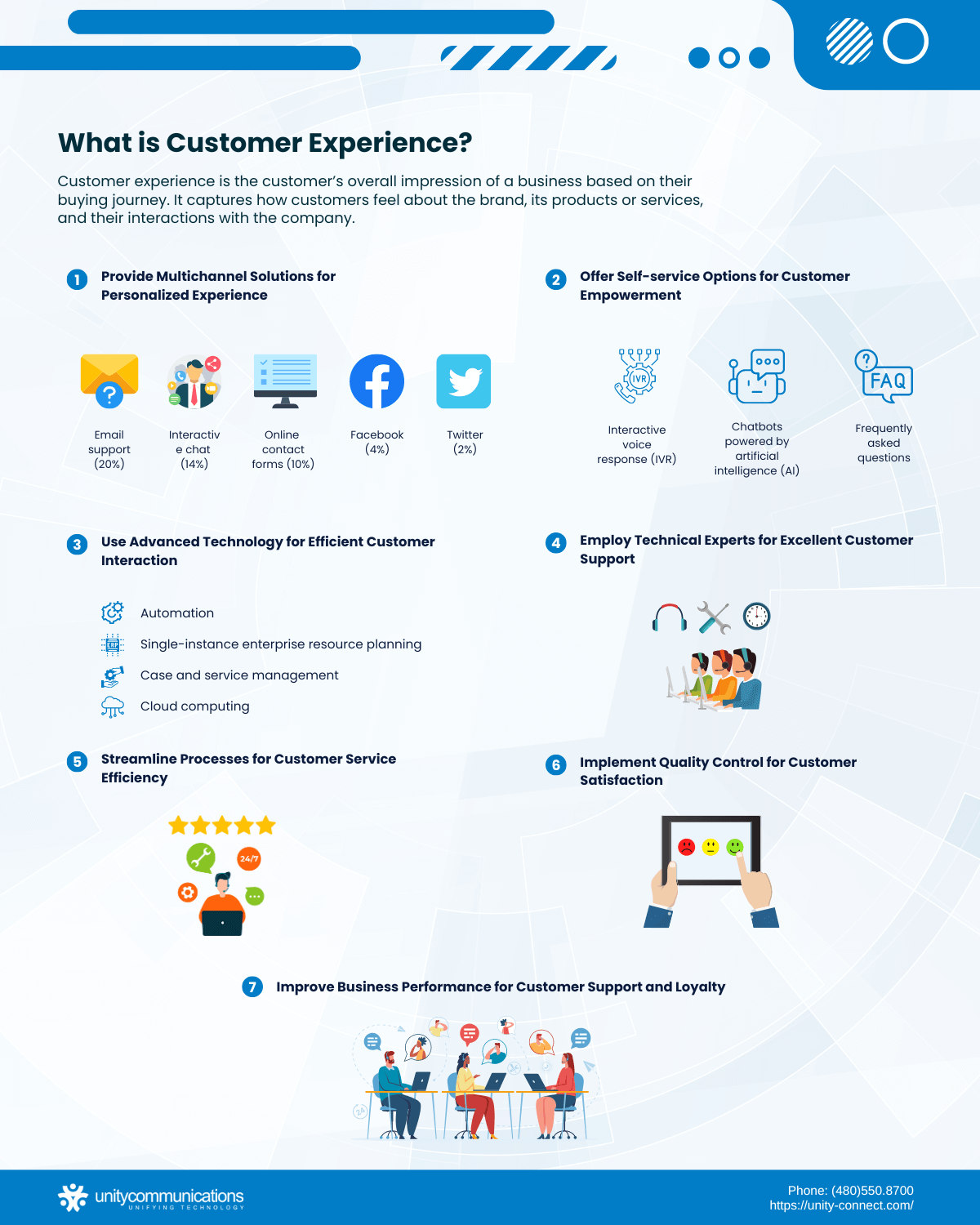 Many companies employ front-office and back-office outsourcing. Delegating their technical or IT support functions is just one reason they outsource.
BPO companies offer a wide range of services and help companies achieve customer satisfaction and business success. As a result, the global BPO market size is projected to grow from $241.7 billion in 2021 to $512.4 billion by 2030 at a compound annual growth rate (CAGR) of almost 9%. 
Explore the many advantages of outsourcing your desktop support below as they relate to customer experience:
1. Provide Multichannel Solutions for Personalized Experience
According to Claes Fornell International (CFI), phone calls remain the most preferred channel for customer service (76%). But its report revealed that customers now use other means of contact. Next to phone calls are:
Email support (20%)

Interactive chat (14%)

Online contact forms (10%)

Facebook (4%)

Twitter (2%)
Many BPO companies have since transitioned to contact centers with omnichannel solutions, replacing traditional call centers. Outsourced desktop support ensures you can effectively reach customers through any channel, personalizing how they interact with your brand.
2. Offer Self-service Options for Customer Empowerment
The top three communication channels are phone calls, email, and live chat. Businesses also employ text messaging and social media channels for greater accessibility. On top of all these efforts, they now offer self-service options using the following:
Interactive voice response (IVR)

Chatbots powered by artificial intelligence (AI)

Knowledge base centers (frequently asked questions and troubleshooting guides) 
Self-service portals contribute to the pros of outsourcing your desktop support. Not only do they improve your customer journey, they also empower customers by helping them find solutions to their problems. Providing customers with an independent and immediate way to resolve issues vastly improves their experience.
3. Use Advanced Technology for Efficient Customer Interaction
Familiarity with technology is necessary for business. Amid the pandemic, many companies underwent a rapid digital transformation. The top enablers of global business services and shared services centers  include the following:
Automation

Single-instance enterprise resource planning

Case and service management

Cloud computing
Outsourcing gives you access to advanced technological resources, helping improve your CX. For instance, automation expedites your process and increases productivity. Outsource your desktop support for efficient customer interaction.
4. Employ Technical Experts for Excellent Customer Support
IT outsourcing is the largest segment in the BPO industry. Due to businesses' need to access technical experts, its global revenue might grow from $395 billion in 2022 to $587.3 billion by 2027 at an 8.26% CAGR.
BPO companies let you employ skilled professionals with IT support backgrounds. These technicians assist your customers, troubleshoot desktop systems, and resolve technical issues. One benefit of outsourcing your desktop support is that you have a talented workforce that helps improve your customer experience and achieve high customer satisfaction.
5. Streamline Processes for Customer Service Efficiency
Many businesses constantly improve processes to enhance CX and meet consumer needs. To achieve this business objective, they rely heavily on outsourced IT solutions.
Outsourcing gives you access to two valuable assets: an expert workforce and advanced technology. Both factors streamline the processes involved in your desktop support. As a result, customers reap the benefits of efficient service. Customers have the best experience when technicians provide fast and efficient service.
6. Implement Quality Control for Customer Satisfaction
Every company strives to provide its customers with quality service. Whether companies outsource data entry services or desktop support, they establish quality control protocols to ensure excellent CX.
Most BPO companies set key performance indicators (KPIs) and commit to meeting them. They usually have a quality assurance (QA) team to monitor agents and track their performance. They set actionable metrics to guarantee high-quality service and customer satisfaction. 
7. Improve Business Performance for Customer Support and Loyalty
A Clutch survey found that about 90% of small companies planned to outsource in 2022 to augment various business processes. They sought to improve their performance by:
Accessing flexible resources (33%)

Working with experts (26%)

Improving efficiency (27%)

Growing their business (19%)
Most BPO companies have three fundamental KPIs. Aside from quality, they place a premium on service efficiency and customer satisfaction. Meeting these key metrics results in superior business performance and a loyal customer base, which are significant pros of outsourcing your desktop support.
Five Practical Tips for Outsourcing Your Desktop Support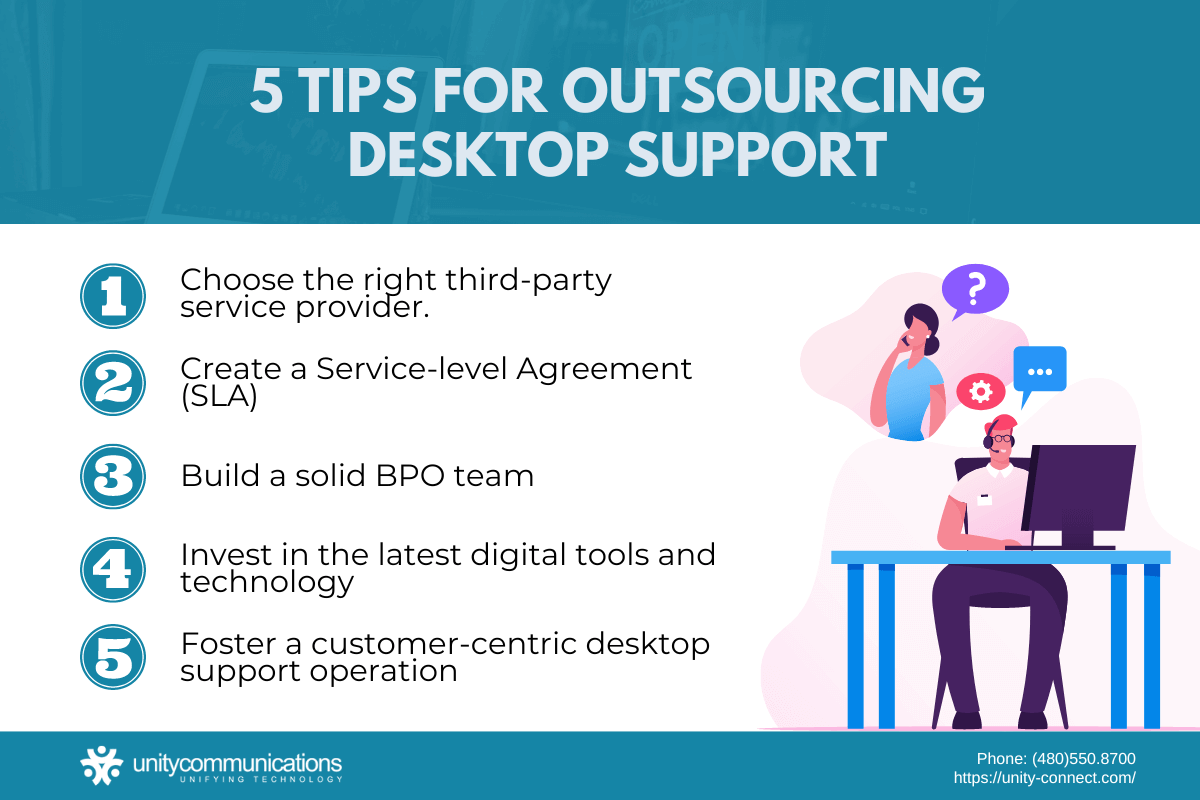 The benefits of outsourcing your desktop support through front-office and back-office outsourcing services extend to optimizing your operations.
But a successful outsourcing engagement requires proper planning and critical decision-making. Do your due diligence and research the process and your prospective outsourcing partners beforehand. Doing so helps you launch your BPO operation on the right foot and succeed in the long term.
To guide you through this important decision, here are some practical tips for desktop support outsourcing:
1. Choose the Right Third-party Service Provider
Outsourcing optimizes help desk support and improves CX. But not all third-party service providers are as reliable as they should be. Some BPO companies are a bad fit for your industry, business type, and outsourced business function. Choosing the right partner is key to a successful BPO operation.
When searching for and screening your BPO prospects, consider the following critical factors:
Business Credentials.

Reputation is everything. Check the company's credentials, from its business licenses and certifications to the awards and recognitions it has received. Review customer and client feedback. Multiple positive reviews distinguish the best vendors.
IT Industry Experience.

Desktop support falls under IT support services that are technical in nature. A BPO company with proven experience in the IT sector is best. Otherwise, opt for BPO service providers with experience handling technical support.
IT Support Specialization.

Aside from experience, check your prospects' areas of expertise. You can hire a BPO vendor specializing in IT support services or service providers with technical backgrounds.
Workforce.

The BPO agents comprising your desktop support team are your most valuable assets. Ensure they have experience, expertise, or an educational background in IT. Examine your prospects' recruitment process and training programs to better understand the quality of their workforce.
Technological Resources.

Help desk support deals with computers and laptops. For this reason, factor in prospective companies' digital tools and technologies. What good is your contracted IT BPO partner if it does not have the latest technology? Ask this critical question if you are looking to narrow your options.
Pricing Structure.

Deloitte considered

cost reduction as the top reason for outsourcing

. So check your BPO prospects' pricing models. Opt for a pricing structure that fits your industry type and business model. More importantly, select a BPO partner to help you save money in the long term.
2. Create a Service-level Agreement (SLA)
Usually, the business that needs support creates the SLA, while the BPO partner commits to honoring the contract's terms. The SLA defines your relationship with your hired BPO vendor. It outlines the following:
Business Goals

. Define what you want to achieve from the outsourcing engagement. Make sure to set specific, measurable, achievable, relevant, and timely (SMART) goals for your desktop support.
Key Metrics.

Create KPIs for your outsourced desktop support. Monitor the three primary metrics: service efficiency, quality control, and customer satisfaction. Measure average handling time (AHT), QA score, and customer satisfaction (CSAT) score.
Policies and Guidelines.

Orient your service provider and agents toward the specific business policies of your desktop support. Make sure they understand these policies by heart. Set outsourcing guidelines for your BPO partner to follow.
Standard Operating Procedures (SOPs).

Third-party service providers likely implement their standard workflow when handling your desktop support. Allow implementation of these SOPs, but review and approve them beforehand.
Duties and Responsibilities.

Define what the desktop support job entails. List all the specific duties and responsibilities of BPO agents and technicians. Remember to cover the general roles of your BPO service providers.
Penalties for Contract Breach.

Underscore the importance of honoring the contract. State the consequences of a contract breach, such as hefty fines or legal ramifications. Signing this contract makes both parties responsible and legally accountable.
3. Build a Solid BPO Team
Companies outsource tech solutions to tap into a pool of global IT talent. Access to the worldwide market is one of the pros of outsourcing your desktop support because it has technical experts with IT backgrounds, specializations, and experience.
Your contracted service provider is responsible for creating a desktop support team. But it is ultimately your responsibility to build a robust crew. Participate and be actively involved in business planning, preparation, and implementation.
To establish a solid desktop support team, consider the following:
Workforce.

The employees are the most valuable stakeholders in your business. Your desktop support technicians work directly with your customers. Examine your BPO partner's recruitment process, training programs, and production support. It should have a stringent hiring process, practical training, and ongoing support.
Management Team.

This team usually consists of managers and team leads. It is the mediator between you (its client) and its workforce (the contractors). Offer your BPO management full support while giving them the freedom to operate. More importantly, ensure constant communication and collaboration.
Support Teams.

Support teams are part of a BPO account as well. A workforce team consists of  real-time analysts that ensure employee availability for customer support. Meanwhile, a QA team monitors agents for business compliance and quality service. Both teams are crucial to your operational success, so ensure they have qualified staff.
4. Invest in the Latest Digital Tools and Technology
Desktop systems have become indispensable in our business and personal lives. Vendors should have desktop support readily available for customers, regardless of how big or small their concerns are.
Hiring a BPO service provider is key to building a robust technical support team. Leveraging advanced technology is one of the pros of outsourcing your desktop support. It gives you access to the latest digital tools and advanced resources.
When searching for the right BPO partner for your desktop support, consider the following:
Computer Telephony Integration (CTI).

CTI enables telephones to work with computers. Since phone calls remain the most popular communication channel, further integration is helpful for desktop support.
Contact Center as a Service (CCaaS).

CCaaS software is ideal for building a contact center for desktop support. It is a cloud-based, provider-hosted technology for customer interaction.
Self-service Portals.

When investing in contact center technology, including self-service portals. Incorporate IVR systems, AI-powered chatbots, and knowledge base centers.
Customer Relationship Management (CRM).

CRM is a contact database for managing customer interaction. It allows you to record, organize, analyze, and report customer-related information.
Quality Management Software (QMS).

QMS is a robust platform ideal for QA teams. It helps QAs record, monitor, and audit calls, chat messages, and email exchanges.
Workforce Management Software (WMS).

While QMS is for QA teams, WMS is for the workforce. This technology allows seamless employee forecasting, scheduling, and monitoring.
Big Data Analytics (BDA).

BDA examines massive amounts of data collected from your desktop support. This technology unravels patterns and provides insights that help in business forecasting.
5. Foster a Customer-centric Desktop Support Operation
Almost 67% of businesses outsource some or all of their contact center operations. About 70% plan to change their existing arrangements in 2023. Additionally, 80% of contact centers plan to grow their workforce this year. They want to invest in new or updated technology to:
Improve the customer experience

Reduce operating costs

Grow the customer base
The many pros of outsourcing your desktop support make it easier to meet these goals. But more importantly, you must foster a customer-focused operation so that customers continue doing business with you. Satisfied customers consistently buy your products or hire your services.
Here are ways to boost CX for your desktop support:
Communicate with customers as though you are always smiling

Show sympathy and empathy

Practice active listening

Use paraphrasing

Acknowledge customer concerns

Answer questions directly

Process customer requests efficiently

Resolve issues promptly

Update and follow up with customers

Deal with angry customers professionally

Ensure first contact resolution (FCR)
The Bottom Line
Companies of all sizes should consider hiring third-party service providers. An IT BPO vendor provides a robust workforce and advanced technology so that you can maximize the pros of outsourcing your desktop support.
Your contracted partner helps enhance your CX. Take note of the seven ways in which outsourcing desktop support improves your CX. Consider these when choosing an IT BPO service provider to work with.
In addition, follow our practical tips above for outsourcing your desktop support. Your IT BPO partner will not only help you achieve customer satisfaction, but it will also lead your business to operational success.