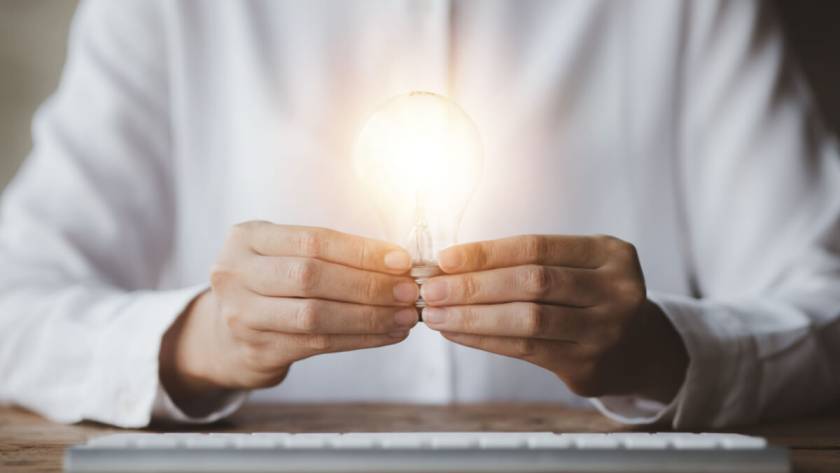 Written by Dion Jay Tality
Every organization requires a robust information technology (IT) unit that can effectively address technical concerns.  One way to achieve this is by creating a help desk to serve as end users' single point of contact (SPOC) for all IT needs.
Some companies, unfortunately lack the expertise and technology to build a solid in-house team. Instead, their management turns to IT support outsourcing for a solution.
If you are a manager who does not know where to start when creating a help desk, this article is for you. Keep reading to learn practical management tips for your IT support help desk.
Nine Effective Ways To Manage Your IT Support Help Desk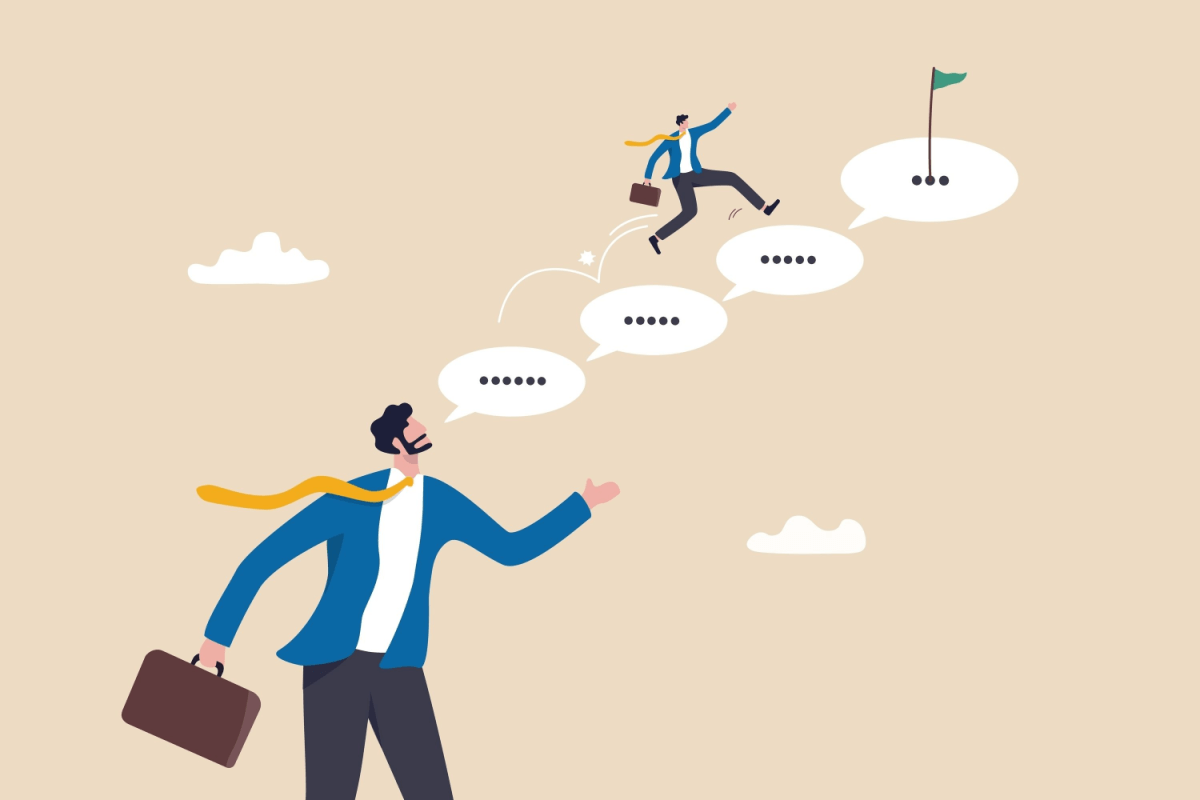 The IT support help desk affects the end user's productivity and your bottom line. As a manager, you are responsible for improving this business function.
You can implement various strategies to streamline your IT help desk.  One of the best ways to improve help desk processes is IT outsourcing (ITO).
Gain an understanding of what an outsourced IT provider is to maximize its benefits and empower your help desk. You work with a third-party service provider, so your chosen ITO partner can make or break your organization.
When you find the right ITO partner, follow our tips below to effectively manage your IT support help desk.
1. Examine Your IT Help Desk Operation
A good IT manager examines the organization's help desk processes before implementing new strategies. Analyze and evaluate the current processes and systems to identify and address areas that function well and those that require improvement.
You should audit your current operation and see whether it aligns with the latest outsourced IT trends. When conducting an audit, keep an eye out for two things:
IT problems.

See what challenges your IT help desk is currently facing. Do you have ticket backlogs, escalation problems, or unresolved technical issues?
IT needs.

List the specific resources you need to optimize your IT help desk. Do you need technical experts, advanced technologies, or streamlined processes?
With these insights, you can find effective solutions for your operational IT needs.
2. Define Your SMART Goals
Over 80% of executives deem strategic goals "extremely critical" to their success. So make sure to establish clear operational objectives for your IT help desk.
The key here is to anchor your business strategies on SMART goals. This helps you define operational objectives that are:
Specific.

Be specific about what you hope to achieve. Do you want to improve user satisfaction, boost service efficiency, or increase productivity?
Measurable.

Set benchmarks for tracking progress and measuring success. The key metrics for a help desk are efficiency, quality, and user satisfaction.
Achievable.

Your goals should be realistic and attainable. Take your company's capabilities and resources into account when setting goals.
Relevant.

Your goals should be relevant to your business objectives. They should make a meaningful contribution to your company's growth and success.
Time-bound.

Set a specific timeline for achieving your goals. A deadline helps motivate your team and keep them focused, ensuring they make significant progress.
3. Establish Clear KPIs and Measure Performance
Key performance indicators (KPIs) are a vital yardstick for businesses. They help you improve business processes, achieve long-term goals, and find profitable opportunities.
Set clear KPIs for your IT support help desk. Measure your IT performance to identify areas of strength and weakness. You can make the necessary changes to your organizational strategies when you have this insight.
Here are the fundamental metrics for your IT operation:
Service Efficiency.

End users promptly and satisfactorily receive the technical assistance they need. IT help desk metrics include average handling time, resolution time, and abandonment rate.

Service Quality.

End users get correct resolutions to their technical issues. Agents provide quality services when they follow standard workflow and ensure business compliance. The quality assurance (QA) score is a critical metric for help desks.

End User Satisfaction.

This metric indicates how well your services satisfy customers. It measures how well IT support services meet or exceed customer expectations.
4. Create a Comprehensive SLA
Companies draft a service-level agreement (SLA) when employing front- or back-office outsourcing services. An SLA is a formal document that defines the terms of service. It specifically details the level of service users should expect. More importantly, it outlines agents' responsibilities in meeting these expectations.
Consider the following elements to create a comprehensive SLA for your help desk:
Operational Objectives.

Make sure to define your SMART goals. You should base your objectives on the terms discussed above.
Key Metrics.

Follow the KPIs recommended above. They are critical to your IT help desk for measuring performance, progress, and success.
Scope of Work.

Create detailed descriptions of the specific required tasks, deliverables, and resources. Outline the engagement's boundaries, inclusions, and exclusions.
Agent Duties and Responsibilities.

Clearly define the duties and responsibilities of your IT help desk agents. Create job descriptions for different agent levels involved in the operation.
5. Create Clear SOPs
Standard operating procedures (SOPs) are detailed written instructions that outline the steps agents should follow when performing a specific task. The goal is to guarantee work efficiency, quality, accuracy, safety, and compliance.
Companies create SOPs for various business functions to deliver the outcomes they expect. To develop effective SOPs for your IT help desk activities, follow these steps:
Identify the help desk tasks or processes that need SOPs.

Gather input from relevant end users, whether customers or employees.

Write the SOPs clearly and concisely to make them understandable to agents.

Review and revise the SOPs to ensure they are appropriate to the IT operation.

Cascade SOPs to employees through orientation or training.
6. Hire Technical Experts and Provide Ongoing Training
An IT support help desk requires technical experts. To guarantee your business has access to critical expertise and talent, IT managers should factor several qualifications into the hiring and training processes. Whether you outsource tech solutions or optimize your in-house department, consider the following:
Recruitment Process: Hire talent with technical expertise. Employees should possess the following:
Educational Background.

They should have taken up IT-related courses. The more relevant their courses are, the better.
Employment Experience.

They must have experience working in the IT industry. They should have worked in IT support, network management, or help desk support.
IT-related Training and Certification.

They should have undergone and earned certifications for IT-related training programs.
Technical Know-how and Skills.

They must have the technical knowledge and IT skills vital to your help desk.
IT Interest and Passion.

They should be passionate about IT work with a strong interest in troubleshooting, software maintenance, or hardware installation.
Training Programs: Offer help desk agents ongoing training with these in mind:
Initial Training Programs.

Provide new employees with proper training before their deployment so they have a good grounding for

accomplishing their IT help desk tasks.
Agent Development Opportunities.

Ongoing training programs should be offered to agents. Continuous training hones their technical knowledge and skills and strengthens your IT help desk operations.
7. Create a Four-tiered Department
An IT support help desk is a SPOC for all IT needs. It caters to all the technical concerns of end users. Thus, IT managers should establish different levels of support.
Whether you outsource IT solutions or only a help desk, establish the following teams:
Tier 0.

Self-service portals empower end users. They allow end users to handle many technical issues by themselves. These portals include interactive voice systems (IVRs), chatbots powered by artificial intelligence (AI), and knowledge base centers.
Tier 1.

Level 1 support is the first POC for users with IT problems. Technicians at this level are responsible for identifying and resolving basic technical issues.
Tier 2.

Level 2 support handles more complex technical problems. These technicians have more specialized skills and can diagnose advanced technical issues.
Tier 3.

Level 3 support consists of a core team usually based in-house. It addresses the most challenging and complex issues. Level 3 technicians cover the problems that levels 1 and 2 technicians cannot handle.
Tier 4.

External support deals with technical products that are offered but not supported by your organization. For instance, level 4 technicians can provide machine maintenance, printer support, vendor software support, and other outsourced services.
8. Invest in Advanced Technology and Resources
IT managers should constantly optimize their IT help desk processes. They should regularly invest in new technologies, whether software, hardware, or cloud technology. Their goal is to improve the organization's efficiency, productivity, and effectiveness.
So whether you outsource data entry services or an IT help desk, be sure to employ  the following:
Automation

involves using software to automate IT processes for technical support. Automated ticketing systems, IVR, and knowledge base centers use this technology.
AI

is the simulation of human intelligence in systems. Leverage AI-integrated software to perform automated tasks such as analysis and reporting. Chatbots, natural language processing (NLP), and predictive analytics utilize AI.
Big data analytics

(BDA) examines large and complex datasets to uncover hidden patterns and correlations. You can employ BDA to forecast open tickets and ensure help desk agents' availability.
9. Outsource Your IT Help Desk
Front- and back-office outsourcing has become increasingly popular due to its potential benefits such as:
Cost savings

Focus on core operations

Streamlined processes

Service efficiency

Quality control

User satisfaction

Business Productivity

Scalability and growth
Every IT manager would be wise to consider outsourcing their IT support help desk. By taking this route, you no longer need to build an in-house team, employ tech experts, or invest in technology. Instead, you can entrust these aspects to an IT service provider such as a managed service provider (MSP).
To outsource your IT help desk, follow the crucial steps below:
Audit your current IT operation

Identify IT problems and needs

Decide which IT functions to outsource

Look for an IT service provider

Create an SLA

Start your IT outsourcing operation

Offer support and ensure communication

Track your outsourcing progress

Streamline your ITO operation
The Bottom Line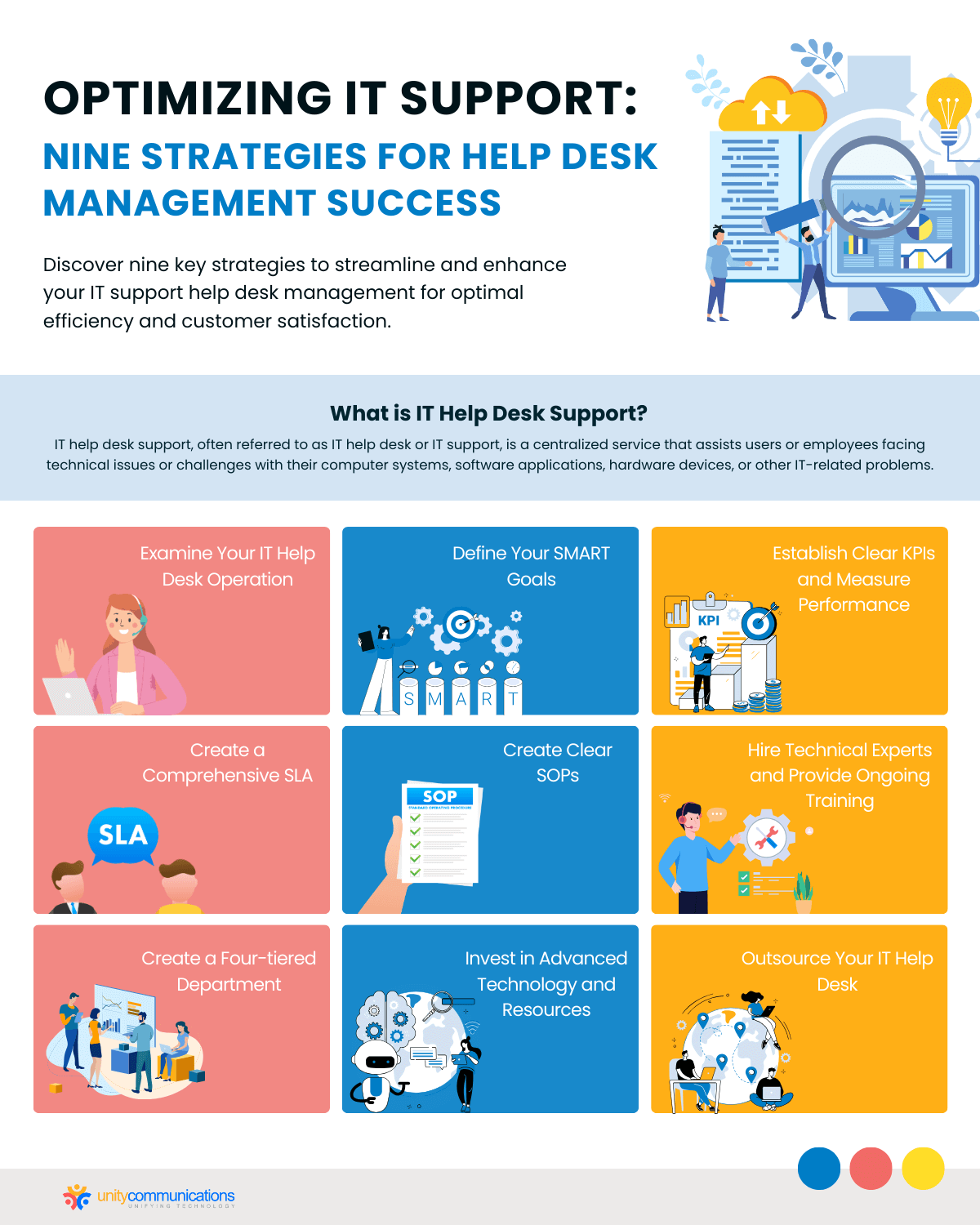 The IT support help desk is crucial to your IT operation because it serves as your end users' SPOC. A robust IT department leads to user satisfaction, business productivity, and overall success.
Every IT manager should make a conscious effort to streamline their IT help desk. Consider the practical management tips above, from examining IT processes to utilizing technologies.
Ultimately, IT outsourcing is probably your best option for optimizing your entire IT operation.