Written by Dion Jay Tality
Outsourcing proves beneficial for scaling and growing businesses. But companies looking to optimize operations while reducing costs should consider outsourcing to overseas vendors. 
Working with an offshoring provider in the Philippines is the best way to reach these organizational goals. The country makes up 13% of the global outsourcing market. According to Outsource Accelerator, it is also the world's call center capital.
Start outsourcing to the Philippines by closely examining its BPO market. Keep reading to learn how to outsource successfully. 
A Closer Look at the Philippine Outsourcing Market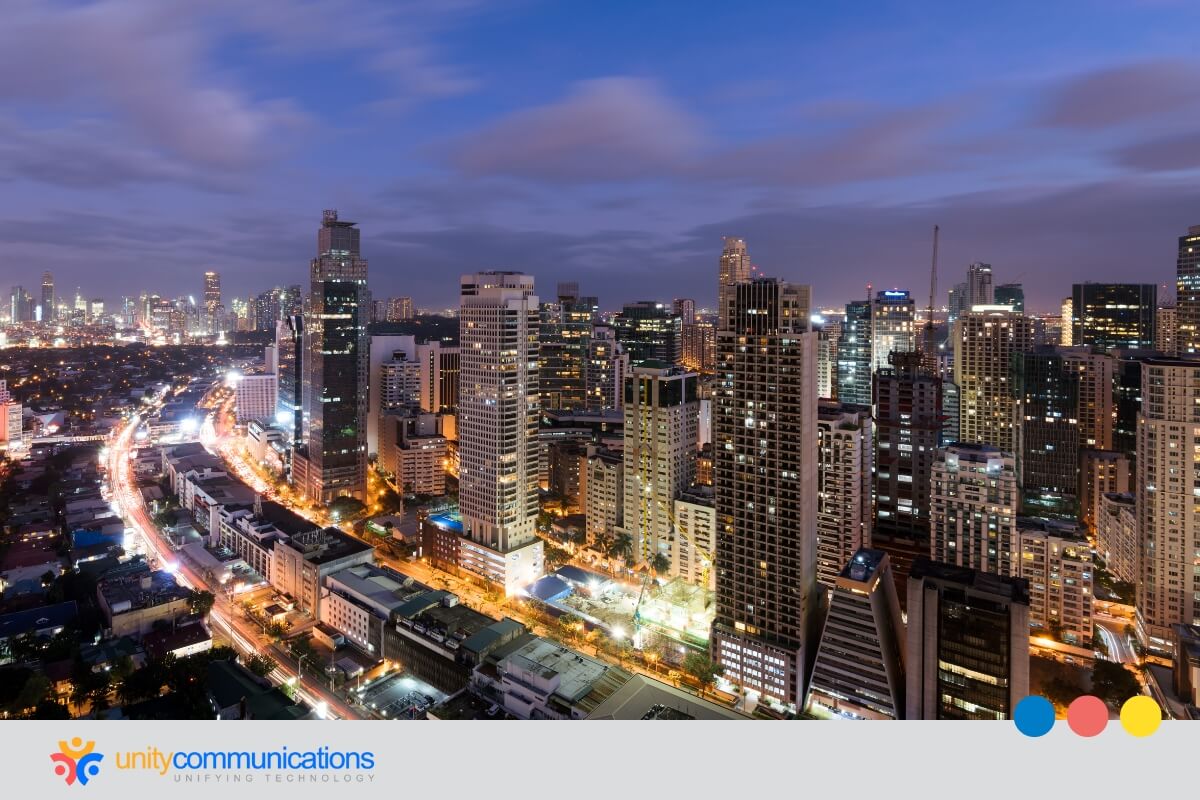 To begin, what is business process outsourcing (BPO)? It is when your company delegates tasks to a third-party service provider instead of handling them in-house. You can outsource your business functions to a BPO vendor onshore, nearshore, or offshore. 
Offshore outsourcing, the practice of outsourcing to an overseas vendor, is the most popular option. This strategy effectively streamlines processes while saving on costs. And when it comes to this type of outsourcing, the Philippines is at the top of the list.
The Philippine BPO Market Growth
According to Outsourcing Journal, the country's information technology and business process management (IT-BPM) market comprises 13% of the global market share. It also ranks first in voice-related services. Additionally, the sector's revenue was expected to grow from over $26 billion in 2020 to over $29 billion in 2022.
To achieve the industry's growth potential, IT-BPM firms are focusing on:
Accelerating digital transformation

Upskilling digital talent

Improving ease of operation

Establishing the country's BPO foundation

Strengthening the IT-BPM ecosystem
Thus, outsourcing to the Philippines is ideal for capitalizing on its market growth and expansion.
A Glimpse Into the Philippine BPO History
The Philippine BPO industry has exponentially grown over the years. Accenture might have lit the first spark, but the industry has since blazed on to become a massive outsourcing network with over 700 BPO firms in the country.
Accenture opened its first contact center in 1992, and Sykes later started a multinational BPO company in 1996. The Philippine government then enacted the Special Economic Zone Act, paving the way for BPO growth and expansion. This law encourages foreign investment to create job opportunities and bolster the economy. 
Today, the Philippine BPO market comprises 8% to 10% of its gross domestic product (GDP), contributing almost $30 billion annually to the economy. So outsourcing to the Philippines makes perfect sense.
Top Reasons for Outsourcing to the Philippines
The business process outsourcing industry in the Philippines shows no sign of stopping. Companies worldwide trust BPO companies in the Philippines with their business operations. So here are a few reasons you should  consider outsourcing to the Philippines, too:
Economic factor.

Outsourcing to the country helps reduce your labor and operating expenses. Compare the

average hourly rates for BPO vendors

in the Philippines ($12 to $14) and the United States ($24 to $28). The difference makes it clear that offshore outsourcing is the best cost-saving solution. 

Diverse talent.

The country has a vast talent pool, whether for the IT, healthcare, or banking, financial services, and insurance (BFSI) industries. Its BPO sector added about 120,000 full-time employees (FTEs) in 2020, totaling

1.44 million FTEs in 2021

. These BPO agents are highly skilled,  thanks to the government's upskilling programs.

Language proficiency.

English is one of the official languages of the Philippines, so it is widely used and spoken. It is also a medium of instruction; citizens use the language from grade school to college. That is why the country ranked 22nd worldwide and second in Asia in the 2022

English Proficiency Index

(EPI).

Desirable traits.

Filipino workers are highly respected for their strong work ethics and positive attitude. They are known for being hardworking and resilient, making them valuable employees. Filipino culture also emphasizes hospitality, politeness, and patience, which are ideal traits in business. These qualities have helped turn the Philippines into a top outsourcing hub.

Cultural compatibility.

Because of its history as a U.S. colony, the Philippines has much in common with the U.S. regarding culture. Both countries get along well and work together on business deals. The U.S. even seeks to

expand its BPO investments

in the country by exploring more industries.

Government support.

The Philippine government has implemented multiple policies and programs to promote the BPO industry's growth, including the Special Economic Zone Act. Recently, government agencies have begun preparing for the

Digital Cities 2025

initiative by developing more economic zones.

Market growth.

The country's BPO market continues to grow, making it an attractive destination for businesses looking to outsource. As mentioned above, it comprises 13% of the global outsourcing market share.
Five Key Steps in Outsourcing to the Philippines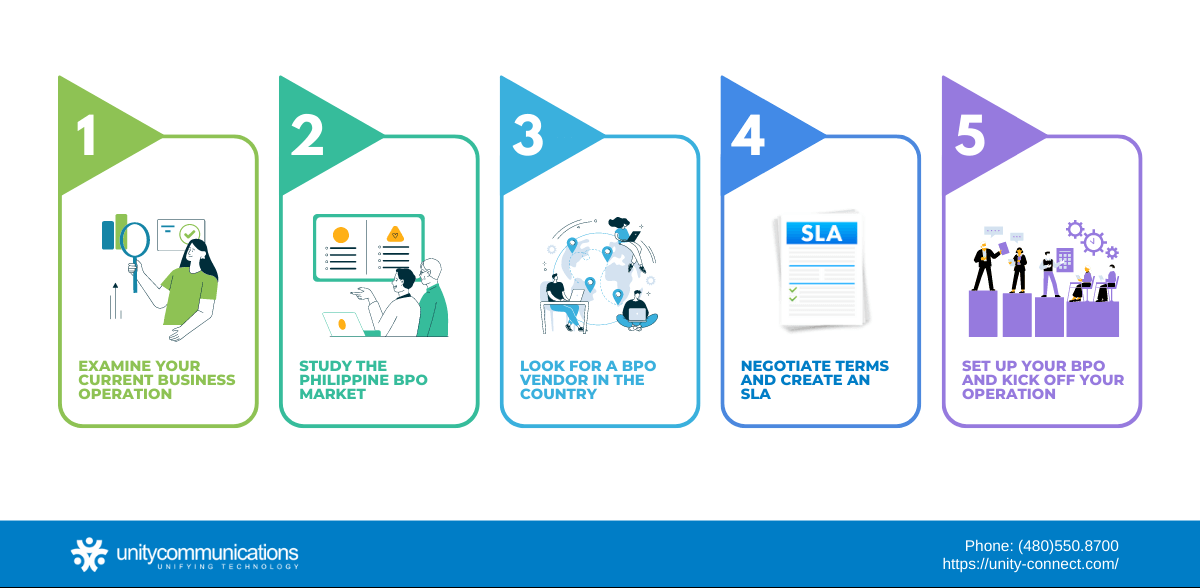 Outsourcing to the Philippines has become a popular option for companies looking to cut costs and improve business performance. With a diverse pool of skilled talent, the country has become a top spot for front- and back-office outsourcing. You can outsource various business functions such as:
Customer service

Sales or telemarketing

Technical support

Data entry

Order fulfillment

Administrative tasks
To get started with outsourcing telemarketing in the country, follow the five crucial steps listed below.
1. Examine Your Current Business Operation
Studying your existing operation before outsourcing is crucial. A thorough examination helps you understand what you want to achieve from outsourcing and what qualities you need from a BPO vendor. Audit your business processes by following these steps:
Review your business goals.

Ensure your goals are SMART—specific, measurable, achievable, relevant, and time-bound. Ask yourself: What do I want to achieve from outsourcing? As an e-commerce merchandiser, for instance, your ultimate goal is to increase your sales.

Identify problems, challenges, and needs.

An audit helps you see the areas you must improve, the resources you need, and possible obstacles in your way. For example, you have low monthly sales (problem) because you lack salespeople and technologies (challenges). So you need a BPO partner with sales experts and advanced technological resources (needs).

Determine business functions to outsource.

After reviewing goals and identifying needs, you can decide which tasks to delegate to a third party. In the example above, you need to outsource your sales function. But while you mainly seek to improve your sales, you can also consider outsourcing order fulfillment,

data entry services

, and inventory management.
2. Study the Philippine BPO Market
Now that you have examined your business operation, you can begin outsourcing to the Philippines. But that raises the question: Is partnering with a Philippine BPO firm a worthy investment? 
Study the following factors to determine the value and longevity of outsourcing to the country:
Assess its market growth.

The Philippine BPO market is growing. Still, you must stay abreast of the latest developments to leverage this growth. Some BPO trends to watch out for include multichannel solutions, employee upskilling, technological adoption, flexible work, and vertical evolution. Find a BPO partner that keeps pace with these trends.

Examine its BPO expansion.

The country's outsourcing market has expanded, with more than 700 BPO firms in various locations. Recently, BPO firms have started recruiting talent from the provinces, which make up

30% of the total workforce

. Stay ahead of the competition by tapping into this new talent pool. Study the Digital Cities 2025 initiative mentioned above to learn more.

Ensure regulatory compliance.

Whether you

outsource tech solutions

or outsource customer service to the Philippines, familiarize yourself with the country's laws and regulations. Some legislations to keep in mind are the Special Economic Zone Act, Data Privacy Act, and Telecommuting Act. Stay on top of relevant laws to ensure 100% compliance.
3. Look for a BPO Vendor in the Country
Once you understand the Philippine outsourcing market, it is time to look for a BPO service provider. Your goal is to find and hire a provider best suited for your business type, size, needs, and budget. This phase comprises three crucial steps.
Searching:

There are a handful of ways to find a BPO partner in the Philippines.

Internet search.

The search engine is a gold mine of prospective BPO firms. Search online, and you will find numerous vendors located in the country.

Referrals.

If you are part of an industry association, affiliation, or network, seek recommendations from other businesses or professionals. Industry colleagues can refer you to reputable BPO vendors they have worked with previously.

Industry events.

You can attend business events, where you can meet potential BPO vendors in person.

Screening:

After the initial search, you have a list of worthy prospects. Start your screening process by considering the following factors:

BPO reputation.

Reputation speaks volumes about BPO firms' three C's: credibility, competency, and credentials. Start by checking their business licenses, standard certifications, and BPO awards. Gather actual feedback through online reviews or from actual customers/clients.

Workforce access.

Your business has specific needs regarding the workforce. Still, the Philippines has a diverse talent pool. You can find the right agents by factoring in your BPO prospects' three E's: experience, expertise, and education.

Technological resources.

Leveraging the latest technology gives you a competitive edge. So consider BPO vendors with advanced tools and technologies such as software automation for accounting and

contact center as a service

(CCaaS) technology for customer service.

Outsourcing cost.

Cost reduction is the top reason for offshore outsourcing. As such, check your prospects' BPO costs and compare their pricing models. Choose the firms

that can help you save money in the long term.

Selecting:

The last phase is to choose a BPO service provider. When outsourcing to the Philippines, selecting the right partner helps your business grow and succeed.
4. Negotiate Terms and Create an SLA
After you have selected a BPO partner, you should negotiate the terms and conditions of the partnership. Before outsourcing to the Philippines, draft a service-level agreement (SLA). This legally binding contract includes the following details:
Business goals.

Aligning your business goals with those of your BPO partner is crucial. Define your operational objectives for outsourcing. You want to ensure you and your BPO partner work toward the same goals.

Key metrics.

Establishing key performance indicators (KPIs) to track and measure your BPO engagement is imperative. These metrics should cover service efficiency, quality and compliance, and customer satisfaction.

Work scope.

The scope of work should clearly define the duties and responsibilities of you and your service provider. Set expectations properly by highlighting the work's inclusions and exclusions to avoid potential misunderstandings.

BPO cost.

The SLA includes the financial arrangement between you and your hired service provider. It should detail the cost of labor, infrastructure, and technology required. It also often includes additional charges such as project management fees, training costs, and performance-based incentives.

Contract breach.

Include a section for the breach of contract. This part ensures you and your hired vendor are accountable during your partnership. It informs both parties of the legal and financial consequences of breaking these agreements.
5. Set up Your BPO and Kick off Your Operation
Once the SLA is in place, you can implement your BPO operation. Ensure your BPO operation starts in the right direction by following this checklist:
Provide BPO instructions.

You should give your BPO partner clear and detailed instructions on how to set up the operation and perform the outsourced functions. These instructions outline the specific tasks, responsibilities, and expectations for the BPO team.

Establish SOPs.

Standard operating procedures (SOPs) are vital to ensure the consistency and efficiency of your BPO operation. Establish SOPs with your BPO partner to ensure all agents follow the same processes, reducing errors and improving performance.

Create BPO teams.

A well-structured team is key to your BPO success. Offer guidance in setting up groups of agents to perform day-to-day tasks, whether for customer service or

technical support outsourcing

. Additionally, establish a management team to oversee the entire operation.

Build infrastructure.

Building the necessary infrastructure is another critical step in setting up a BPO operation. Provide your BPO partner with the tools, equipment, and facilities they need to perform the outsourced functions effectively.

Integrate technology.

Once the infrastructure is in place, integrate your BPO partner's technology into your business. Set up systems and platforms for seamless communication and collaboration between teams. Lastly, secure the networks and implement security measures to protect sensitive data.

Start BPO operation.

At this point, it is time to launch your BPO operation. You can formally introduce the BPO team to your company and allow them to operate. While offering the utmost support, give them the freedom to keep your functions up and running.

Monitor outsourcing progress.

Monitoring your BPO progress is critical to your business success. Evaluate the outsourcing performance, identify areas that require improvement, and make necessary adjustments regularly. More importantly, ensure constant communication and collaboration to guarantee your outsourcing engagement's success.
***
As a leader, you know the importance of staying globally competitive in today's business landscape. One way to achieve this is by outsourcing to a trusted and reliable partner. The Philippines has become a leading outsourcing destination thanks to its cost-effective workforce.
At Unity Communications, we help businesses like yours outsource to the Philippines successfully. We provide BPO services such as customer service, sales, or IT support outsourcing and serve various industries, from e-commerce to healthcare.
Use this chance to become more efficient, cut costs, and get ahead of the competition. Contact us today to get started with outsourcing to the Philippines.
The Bottom Line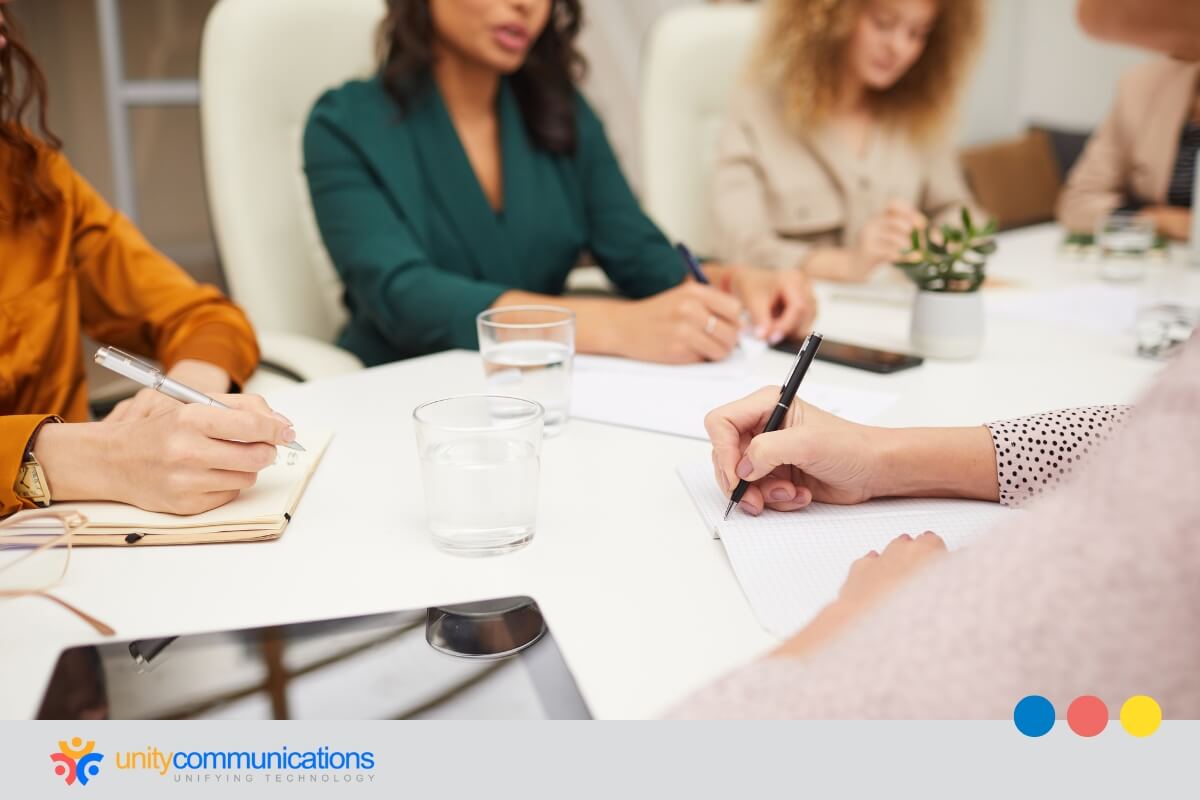 Outsourcing to the Philippines is a viable solution for improving business performance and reducing expenses. Your business benefits from the country's affordable costs, diverse labor force, English competency, and cultural compatibility with Western countries. You can also capitalize on its government support and market growth.
By following the five crucial steps outlined here in this article, you will find the right BPO partner, negotiate fair terms, and set up a successful BPO operation. You will also establish clear communication and good relationships with your hired service provider.
Remember that outsourcing is a business partnership—work closely with your BPO partner to achieve your goals.