Written by Dion Jay Tality
Outsourcing has become a popular solution for companies worldwide due to its numerous advantages. According to Colliers, the Philippines stands to grab a bigger slice of the BPO global market share. Its customer support, English proficiency, and cultural compatibility with North American markets make it a formidable player in the outsourcing industry. 
If you seek to hire an offshoring provider in the Philippines, you have come to the right place.
Keep reading to learn more about customer service outsourcing in the Philippines, its emerging trends, and potential benefits.
Six Trends in the Customer Service Outsourcing in the Philippines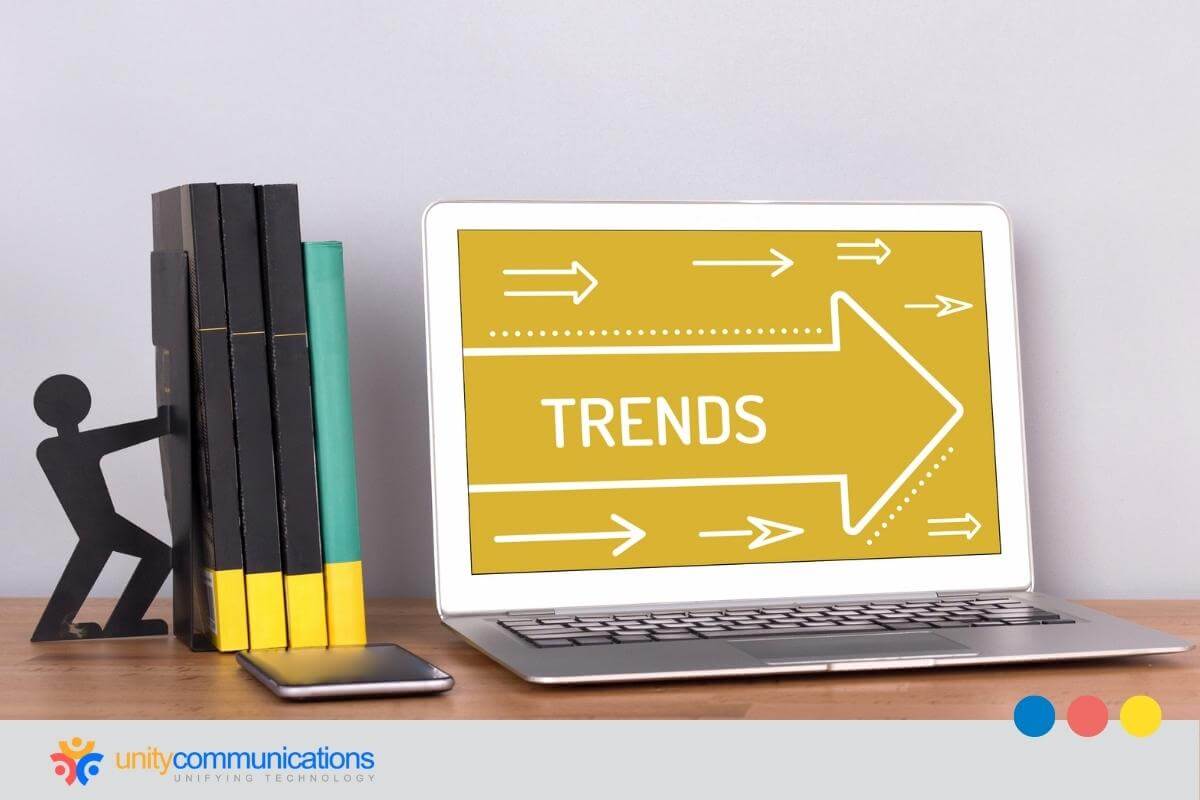 The Philippine business process outsourcing (BPO) market is on the rise. Now is the perfect time to capitalize on its growth and expansion by finding a reliable partner in this nation. Ensure you make informed decisions by staying abreast of the latest BPO trends in the country.
Explore the existing and emerging trends in customer service outsourcing in the Philippines on our list below.
1. Multichannel Solutions
The Philippines is home to a booming BPO industry that is still growing. In 2015, the Los Angeles Times reported that the country had taken over India to become the world's call center capital. 
However, given the speed of technological advancements, 2015 was a radically different time. Businesses increasingly rely on multichannel solutions to better connect with customers. Hiver reported that 60% of service teams now offer customer support across two to three communication channels, including phone calls, email, and chat. 
Businesses want BPO firms that grow and keep pace with technological developments. The Philippines offers tech-savvy BPO providers that have transitioned from regular call centers to contact centers providing multichannel and even omnichannel support.
Further, more Philippine BPO companies will likely follow this trend by capitalizing on technologies such as contact center as a service (CCaaS). They seek to personalize and enhance customer experience through omnichannel solutions.
2. Employee Upskilling 
The BPO industry is highly competitive. To stay ahead of the game, BPO firms invest in their most valuable assets—their employees. Employees must handle evolving technologies, growing customer demands, and a shifting business landscape. As such, regular upskilling is crucial to maintain a competitive advantage.
The Philippines invests in people for its BPO market. Its government is committed to not only providing jobs but also developing the skills of its workforce. For instance, the IT and Business Process Association of the Philippines (IBPAP) launched the Philippine IT-BPM Roadmap 2028. 
Aside from infrastructure development and government policies, the Roadmap 2028 initiative also focuses on talent development. It seeks to ensure a consistent supply of skilled BPO workers through the following strategies:
Modifying existing curriculums

Launching new educational courses (including internships and work immersions)

Creating a talent hub (for training programs and to provide career options)
Producing highly skilled and passionate BPO agents is a priority for the Roadmap 2028 initiative. With this strategy, companies outsourcing to the country can expect a diverse workforce with various skill sets and expertise. Thus, companies can find their perfect match, whether they outsource customer support or data entry services.
3. Technological Adoption
The business world is constantly evolving, which poses a challenge to the BPO industry. BPO companies adapt to such changes and improve their offerings using what Deloitte calls the top digital enablers that include:
Automation

Single-instance enterprise resource planning (ERP)

Case service management

Cloud computing
In recent years, the Philippines has made significant technological advancements. Such progress is particularly apparent in the BPO sector. As a leading outsourcing destination, the country is well-positioned to leverage the latest technology and remain competitive. 
For instance, capitalizing on automation for service efficiency and artificial intelligence (AI) for data analytics have become increasingly popular in the country. Whether companies outsource tech solutions or customer service, expect to see a growing trend of technological adoption in the Philippines. 
4. Continued WFH Arrangements
The pandemic caused massive disruptions worldwide, affecting even the BPO industry. Governments initially imposed mandatory work-from-home (WFH) policies, which led to the eventual rise of remote work. Today, the global BPO sector has embraced flexible working arrangements.
The Philippines is no exception. In September 2022, the government granted the request of IT-BPM companies to keep the WFH setup without risking their tax incentives. To do so, these companies must transfer their registrations from the Philippine Economic Zone Authority (PEZA) to the Board of Investments (BOI). Since then, the industry has seen extended transfer deadlines and national support. 
The move to keep the WFH setup in the Philippine BPO sector is ideal for gaining a competitive advantage. Colliers cites that the flexible work model, including relevant tax perks, will sustain the country's global competitiveness.
5. Evolution of Verticals
Verticals refer to industries that provide specialized services. The banking, financial services, and insurance (BFSI), IT and telecommunications, manufacturing, and healthcare segments are the four primary verticals that leverage IT-BPM services. These segments rapidly evolve in terms of capital requirements, regulatory environment, and process optimization.
As such, the Philippines focuses on vertical evolution as one of the BPO trends. Even though this trend provides IT-BPM firms the golden opportunity to grow, they should stay abreast of the verticals' progress and development.
The Philippine government should specifically consider the top three parameters that business leaders measure when choosing a BPO destination: 
Regulation.

The BPO sector in the country has government support. It ensures favorable business regulations, streamlined tax-payment procedures, and minimum capital requirements.
Costs.

The Philippines has long been known for being a cost-efficient BPO destination. The country continues to offer more affordable outsourcing services, including talent as a service (TaaS).
Labor.

The country invests in people through employee upskilling, making it a more attractive destination for BPO employment.
6. Continued BPO Growth and Expansion
The Philippine BPO market shows no sign of slowing down. Since its inception, it has continued to grow and expand. What started as a simple investment has grown into a BPO sector, now comprising 8% to 10% of the country's gross domestic product (GDP).
The government initially enacted the Special Economic Zone Act to attract foreign investors, provide job opportunities, and improve the economy. This paved the way for BPO growth and expansion in the country.
BPO firms have expanded into the provinces, where 30% of the total 1.44 million workforces resides. These companies are looking for cost-effective solutions, not to mention cutting-edge technology and a talented workforce. 
In line with this, IBPAP, PEZA, and the Department of Information and Communications Technology (DICT) have worked to prepare for The Digital Cities 2025 initiative. This initiative seeks to develop ICT hubs and economic zones for BPO expansion. 
Furthermore, the United States plans to expand its investments and explore more industries in the Philippines. This follows the country's current BPO and tech investments, which have already created 1.5 million jobs in the past year.
The United States Agency for International Development (USAID) also launched Strengthening Private Enterprise for the Digital Economy (SPEED). This five-year project aims to advance the country's digital ecosystem for economic growth. 
The regional BPO expansion, ICT hub development, and U.S. investments are part of the collective effort to grow the country's BPO sector. To capitalize on its BPO market growth and expansion, consider customer service outsourcing in the Philippines.
Seven Key Benefits of Outsourcing Customer Service to the Philippines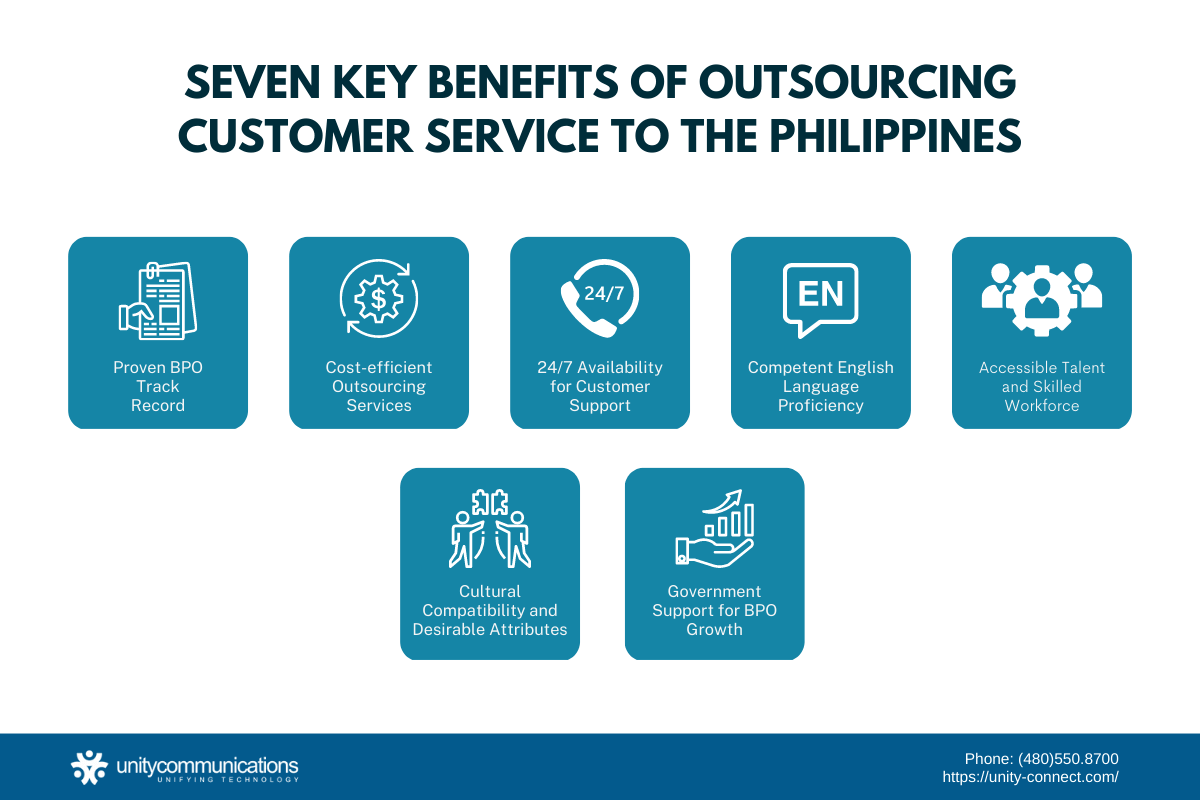 The Philippines is a global outsourcing powerhouse. As reported by the L.A. Times in 2015, the country has become the world's call center capital. That reputation still holds to this day. 
It is not just about outsourcing call centers to the Philippines, though. North American companies have flocked to the country for its front- and back-office outsourcing services, particularly customer service outsourcing. These businesses have reaped the benefits of outsourcing to Philippine service providers for a long time. 
Discover the potential benefits of customer service outsourcing in the Philippines on our list below.
Proven BPO Track Record
According to Outsource Accelerator, the Philippines reigns supreme as the top outsourcing destination. This success started when Accenture outsourced work to the country. Ever since, the Philippines has remained one of the best BPO destinations, with over 700 outsourcing companies.
The Special Economic Zone Act established PEZA and paved the way for the country's outsourcing growth. This law helped attract foreign and local investors by developing ecozones. Today, the Philippines is a global BPO leader with a track record that speaks for itself.
Cost-efficient Outsourcing Services
Outsourcing is a cost-effective solution for businesses looking to reduce expenses. Offshoring, the practice of outsourcing to overseas vendors, is particularly effective in achieving this goal. The Philippines is a prime destination for cost-efficient outsourcing, especially customer service.
Outsourcing customer service to the Philippines can reduce labor and operating costs by up to 60% and 50%, respectively. The average hourly rate for BPO vendors in the Philippines is only $12 to $14, compared to $24 to $28 in the U.S. Not only does outsourcing help cut costs, but it also improves service efficiency and business productivity. 
24/7 Availability for Customer Support
According to the same Hiver 2021 report, over 75% of service teams provide customer support during non-working hours. Gone are the days when employees worked only on weekdays from 9:00 p.m. to 5:00 p.m. Today, most companies offer 24/7 availability for customer support.
Filipino employees can work at night, serving customers within business hours on the other side of the globe. However, most Philippine BPO firms operate 24 hours a day, seven days a week. They employ BPO agents such as customer service representatives who work on shifting schedules.
Competent English Language Proficiency
Most Filipinos are proficient in English, making them one of the best global workforces in the BPO industry. Such proficiency is due to the country's standard education. English is the primary medium of instruction and one of the subjects taught from elementary school through college.
In the 2022 edition of the English Proficiency Index (EPI), the Philippines proved highly proficient in English by ranking 22nd out of 111 countries. It is the second-highest English-capable country in East and Southeast Asia. This language competency gives them a competitive advantage when delivering customer service.
Accessible Talent and Skilled Workforce
The country's BPO sector has always welcomed businesses looking to outsource. IBPAP said the industry added around 120,000 full-time employees (FTEs) in 2020, totaling 1.44 million FTEs in 2021. Therefore, businesses are sure to find technical support outsourcing or customer service outsourcing staff in the Philippines. 
What is good about the country is that it offers world-class customer service. BPO firms do not just make talent readily available for companies; they ensure employees are highly skilled in their respective fields. As mentioned above, employee upskilling is one of the country's BPO priorities.
Cultural Compatibility and Desirable Attributes
The Philippines has a long and amicable relationship with the U.S. that has persevered to this day. Hence, Filipinos better understand Western culture, making them valuable assets for outsourced customer support.
Additionally, Filipino culture values traits such as hospitality, patience, politeness, empathy, resourcefulness, resilience, and hard work. All of which are desirable attributes for customer service. Therefore, outsourcing customer service to the Philippines makes perfect sense.
Government Support for BPO Growth
The BPO sector in the Philippines is thriving, thanks to government support. The government heavily invests in the industry because it comprises over 10% of the country's GDP and annually contributes almost $30 billion to the economy.
The Department of Trade and Industry (DTI), through BOI and PEZA, also offers tax incentives to BPO firms to promote growth and expansion. This move solidifies the government's crucial role in the BPO sector's development.
The Bottom Line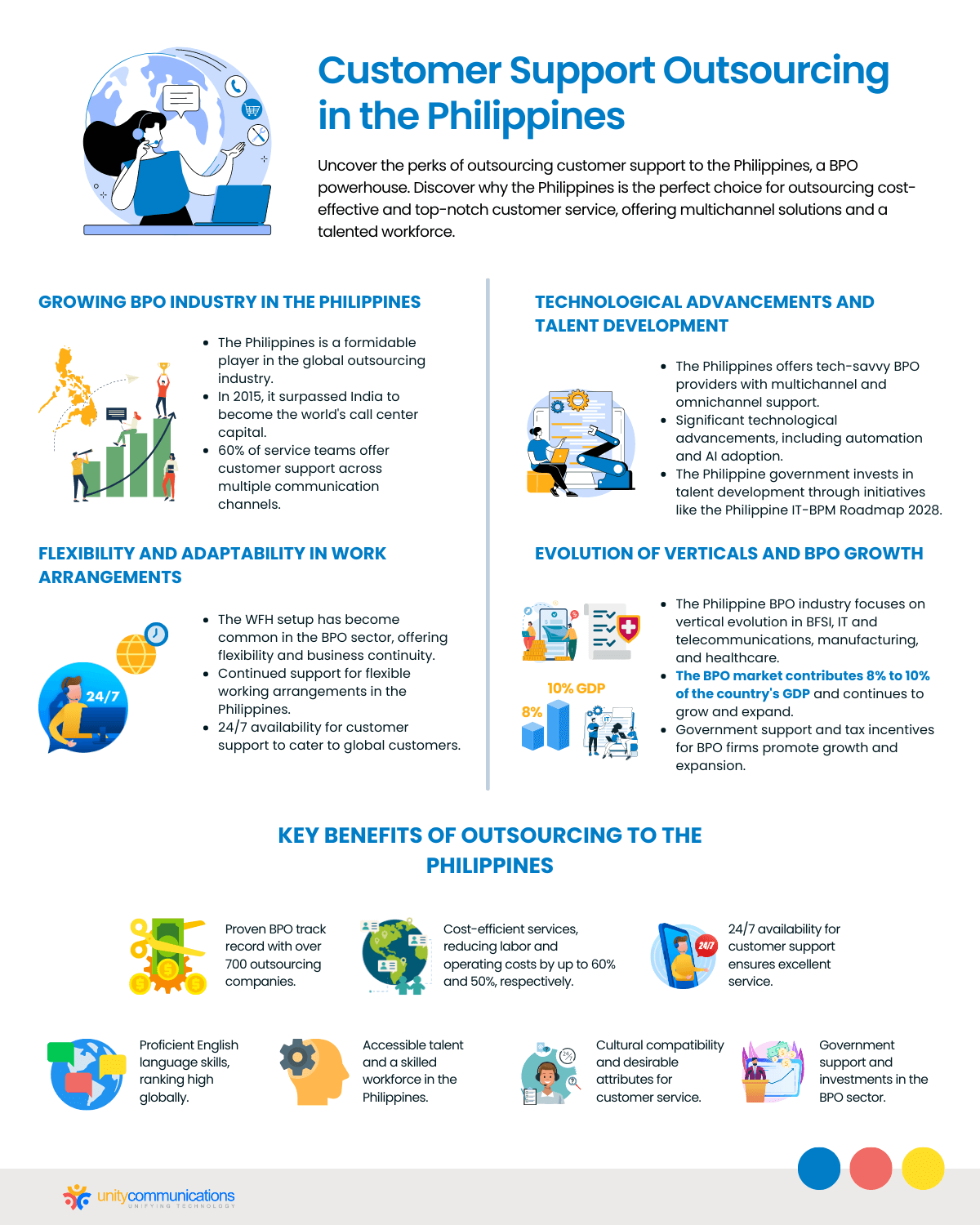 When it comes to customer service outsourcing, tapping into Philippine service providers guarantees business success. The country has a strong BPO track record, cost-efficient services, 24/7 availability, high English proficiency, and a flexible workforce. 
Businesses looking to outsource to the country can expect a high return on investment (ROI).
Do not just take our word for it, though. The outsourcing market in the country is constantly evolving and expanding, with new trends always emerging. Stay informed, capitalize on these trends, and make sure to choose a reliable BPO partner for business growth and success.