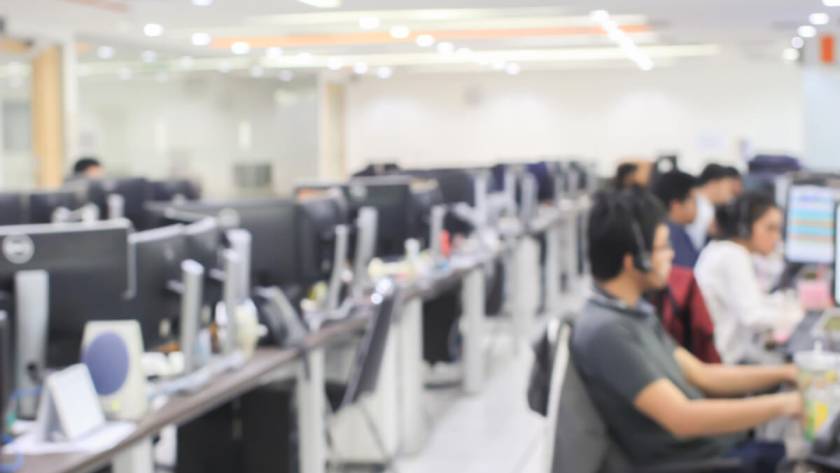 Written by Joyce Ann Danieles
The Philippines is one of the primary hubs for cost-effective business process outsourcing (BPO). Recent data proves that the country's BPO market constantly expands, with nearly 11% yearly growth.
Many U.S. companies seeking offshoring providers in the Philippines cite Filipinos' English proficiency and hospitality as the workforce's top strengths. But differences in economic structures and work strategies hinder some potential clients from outsourcing to this country.
In this article, we help put your worries to rest by discussing the practical steps in contracting a BPO company in the Philippines.
Five Ways To Tap Into a Philippine BPO Firm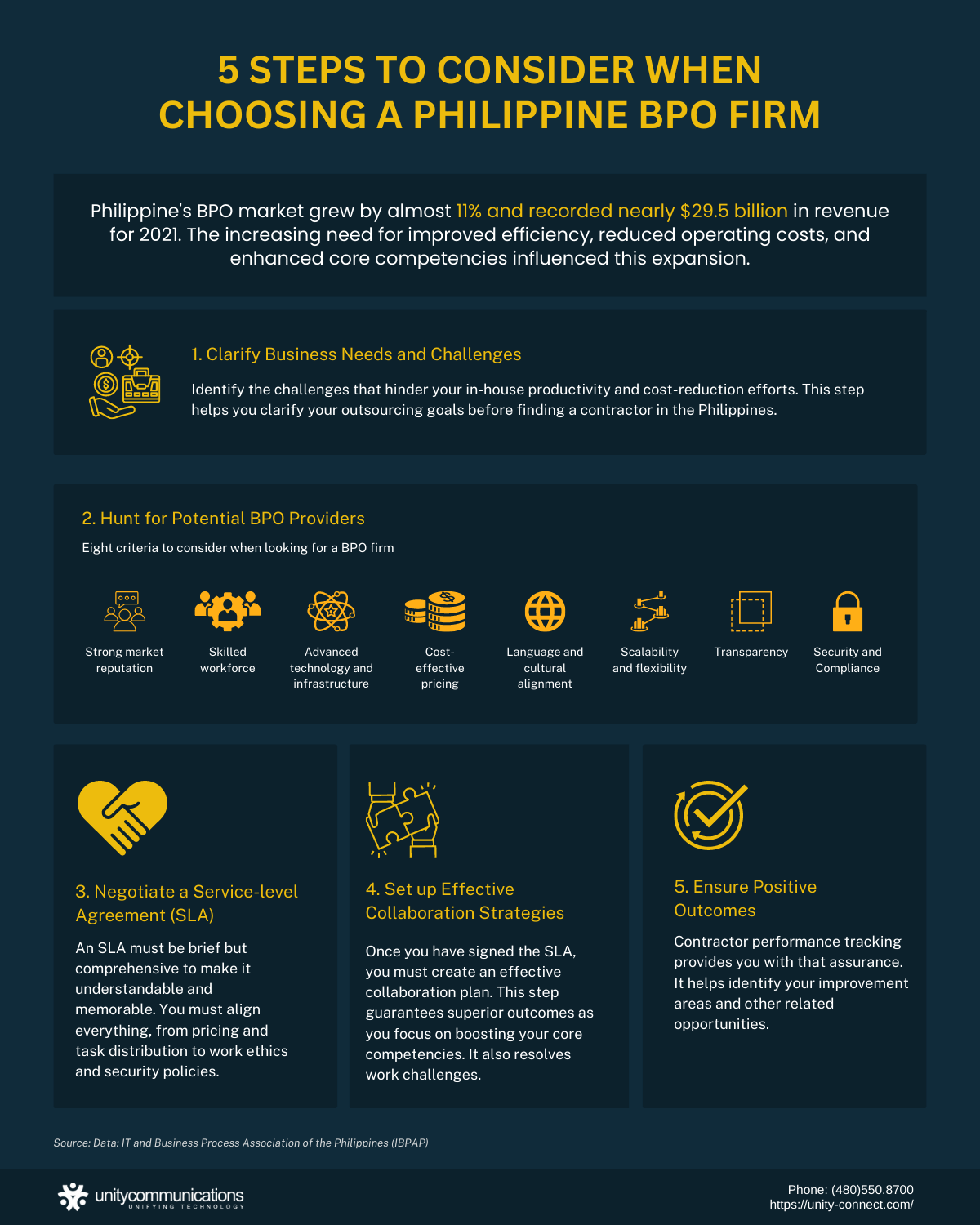 According to the IT and Business Process Association of the Philippines (IBPAP), the country's BPO market grew by almost 11% in 2021. The industry also recorded nearly $29.5 billion in revenue for that year. The increasing need for improved efficiency, reduced operating costs, and enhanced core competencies influenced this expansion.
In the next six years, IBPAP expects the BPO industry to continue contributing to the country's economic and employment growth. The organization hopes this sector will create about 1.1 million direct jobs by 2028 and reach $59 billion in revenue.
This projection is possible through the widespread adoption of BPO as a business strategy. Although it seems easy to join big companies in maximizing the benefits of BPO, you must carefully strategize your outsourcing investment. 
Ensure returns by executing the simple methods listed below when working with a BPO company in the Philippines.
1. Clarify Business Needs and Challenges
Specifying business needs and challenges is crucial in acquiring the country's front- and back-office outsourcing services.
Philippine BPO firms offer different non-core support services at varying price points. These include customer service, technical support, and data entry. So you must clearly define your business needs to match your budget allocations.
Begin by identifying the challenges that hinder your in-house productivity and cost-reduction efforts. This step helps you clarify your outsourcing goals before finding a contractor in the Philippines.
Perform a SWOT analysis to assess business needs and strategically set measurable objectives. This step lets you identify business strengths, weaknesses, opportunities, and threats to ensure the best return on your offshoring investment.
Answer these suggested questions when evaluating your SWOT:
What makes your brand unique from competitors?

How do you retain your customers?

What value does your business deliver?

What factors hinder your enterprise growth?

What prevents your team from achieving the desired output?

What stops your company from keeping pace with the competition?

How can you optimize your strengths to achieve continued success?

Do buying and deploying new technologies fit your operational budget?

Why would outsourcing a business function overseas be beneficial to your business?

How could your weaknesses be exploited?

What are the potential risks when outsourcing to the Philippines?

How does contracting a third-party service provider affect your company?
You can also apply this strategy when choosing the best BPO company in the Philippines. Consider asking your potential provider these recommended questions during screening and negotiation:
What makes your BPO firm stand out from competitors?

How can your team help keep our loyal customers?

What significant benefits would your outsourcing business bring to us?

What factors can hinder your team from accomplishing our assigned tasks on time?

What issues can impair our agreed communication and collaboration platforms?

What can prevent your company from aligning with our work strategies and policies?

How can you accommodate our changing company and customer demands?

How can you help our business cut operating costs?

What internal and external factors can affect your work with us?

What is the status of your security and compliance?
2. Hunt for Potential BPO Providers
Upon listing your specific challenges, needs, and goals, perform market research or launch a proposal call to identify potential offshoring partners from the Philippines. Pick at least three vendors from a large pool of bidders so that you have options.
Compare your prospects' service offerings and narrow your selection to one bidder based on these criteria:
Strong market reputation.

Examine a provider's industry track record, client history, and market credibility. Confirm its excellent standing and background by seeking referrals and checking customer reviews. Make sure it can deliver high-quality outcomes.
Skilled workforce.

Assess the talent pool of your chosen BPO company in the Philippines and evaluate its workforce's ability to provide outstanding

business process outsourcing

services. Also, study how the service provider manages, compensates, and trains contractors to maintain exemplary work performance.
Advanced technology and infrastructure.

Verify whether the provider uses emerging technologies such as artificial intelligence (AI), robotic process automation (RPA), and cloud computing. These tools enhance your collaboration, output speed, and service delivery.
Cost-effective pricing.

Check whether your potential BPO partner can provide superb services at an affordable cost. Consider paying a premium if the vendor can bring long-term benefits to your business. Be cautious about hidden fees to avoid excess payment.
Language and cultural alignment.

The Philippines is notable for its workforce's English proficiency and globalized culture. Select a provider that best matches your language and culture to avoid future conflicts and misunderstandings.
Scalability and flexibility.

Gauge the vendor's ability to adjust to your planned organizational changes or unexpected market events. Measure its ability to carry out exemplary performance, especially during peak season.
Transparency.

Choose a service provider that can share all data crucial to your deal. A transparent offshore collaborator values trust and honesty for joint business success.
Security and Compliance.

Work with a vendor that strictly adheres to security and compliance standards. This factor is significant when outsourcing customer service and

data entry services

overseas. Examine its practical solutions for threat mitigation, risk management, and data privacy protection.
3. Negotiate a Service-level Agreement (SLA)
Finalize contract terms and conditions before signing an official SLA with your selected BPO company in the Philippines.
You must align everything, from pricing and task distribution to work ethics and security policies. This way, you can ensure measurable outcomes and investment returns when outsourcing tech solutions and other services to the country.
Carefully discuss your service inclusions via virtual or in-person meetings with your selected vendor. Here are some steps to take in negotiating contract terms and conditions for offshore outsourcing:
Define service scope.

You need a comprehensive description of the contracted work, including information on tasks, expected results, and deliverables. Be as specific as possible to avoid any mishaps.

Set project timelines.

Establish a clear and reasonable service timeline. Include deadlines for each phase and final delivery. This step helps ensure your offshoring partner completes the work on time and within budget.

Specify billing and payment terms.

Emphasize straightforward billing and payment options for smooth transactions with your BPO partner. Clarify pricing schemes, total costs, payment schedules, and late or non-payment penalties.

Spell out performance standards.

Set clear criteria for evaluating your service provider's work performance. Include service quality requirements, productivity targets, and response time to achieve your outsourcing targets.

Indicate intellectual property ownership.

Confirm who owns the intellectual property if your BPO project involves developing or using intellectual property. The agreement must identify the terms of use and the intellectual property owner.

Implement confidentiality and security measures.

Set and align both parties' data and privacy protection rules and regulations. These steps are crucial when the deal involves sensitive information, such as when procuring a

contact center as a service

(CCaaS) solution.

Establish termination clauses.

Add termination clauses when negotiating with your chosen BPO company in the Philippines. Expound on the circumstances under which both parties can terminate the agreement.

Include dispute resolution.

Tackle and draft provisions for dispute resolution, such as mediation or arbitration, in case of disagreements.
An SLA must be brief but comprehensive to make it understandable and memorable. Consider hiring legal counsel to review the contract to ensure compliance with all relevant laws and regulations in the country.
4. Set up Effective Collaboration Strategies
Once you have signed the SLA for technical support outsourcing and other BPO services, you must create an effective collaboration plan. This step guarantees superior outcomes as you focus on boosting your core competencies. It also resolves work challenges.
Achieve a successful partnership with your chosen BPO company in the Philippines by taking these approaches:
Set up a communication and project management plan.

Identify which channels to use for collaboration, such as email, videoconferencing, or instant messaging. Likewise, specify the work management platform your teams will use for streamlined task distribution and monitoring.

Assign roles and responsibilities

. Clarify the roles and responsibilities of your third-party team members. This step helps avoid confusion and ensure fair work.

Establish a feedback mechanism.

This measure lets you identify areas for improvement and adjust to changing industry demands. It includes workforce and client reviews and ratings.

Determine the process for escalating issues.

This technique is crucial to promptly addressing concerns that surpass the team's capacity, such as lawsuits and legal violations.

Foster collaboration.

Facilitate healthy collaboration by allowing in-house and third-party team members to cooperate and share knowledge through doable workforce engagement activities. These initiatives include virtual cross-training and regular team updates.
5. Ensure Positive Outcomes
Hiring a BPO company in the Philippines does not stop with developing your partnership strategies and SLAs; you must know how to ensure positive outsourcing outcomes. Contractor performance tracking provides you with that assurance. It helps identify your improvement areas and other related opportunities through the following procedures:
Create work performance metrics that match your joint goals and expectations.

Develop and apply key performance indicators (KPIs) for progress monitoring.

Seek feedback from customers and employees.

Analyze, review, and submit data-driven reports.

Perform frequent service quality checkups such as user acceptance testing.

Study performance data and market trends.

Connect with your BPO partner to keep your data up-to-date and secure.
The Bottom Line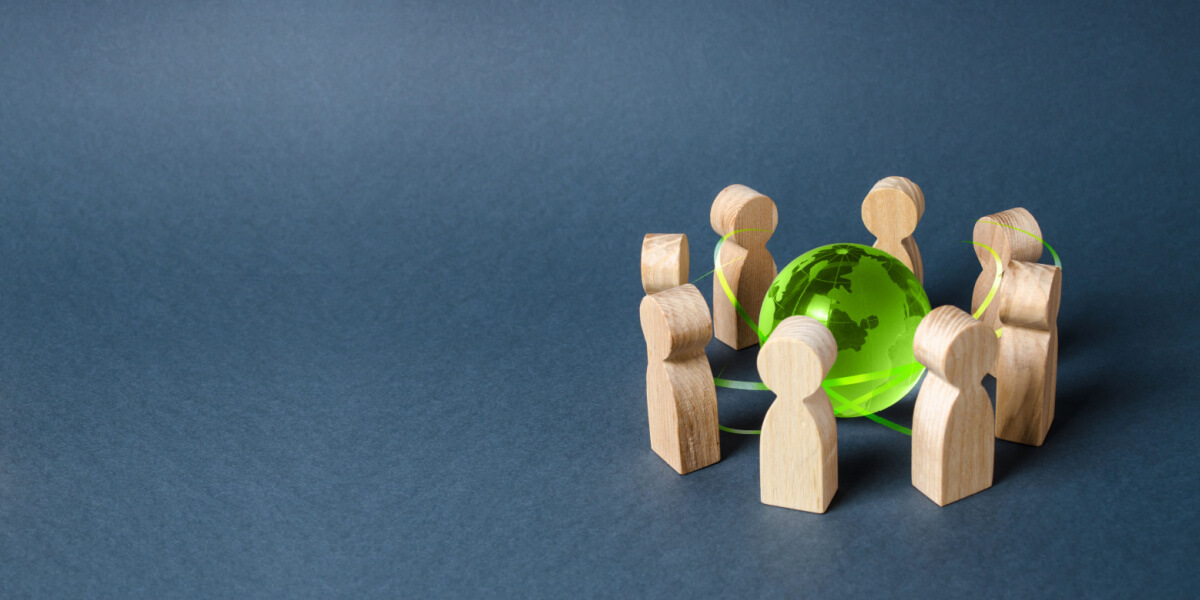 Using a BPO company in the Philippines starts by stating your business needs and challenges and developing a concrete plan for guaranteed investment returns. Before signing a formal contract, you must carefully screen and choose your potential provider. 
You must set criteria for selecting the best provider to achieve such an advantage. You must also establish your collaboration and performance evaluation strategies. Expect prolonged benefits when you assemble a well-organized third-party team.
We at Unity Communications achieved continued success in the country by communicating with our clients and following best practices. You can also obtain consistent growth by applying the steps detailed in this article.