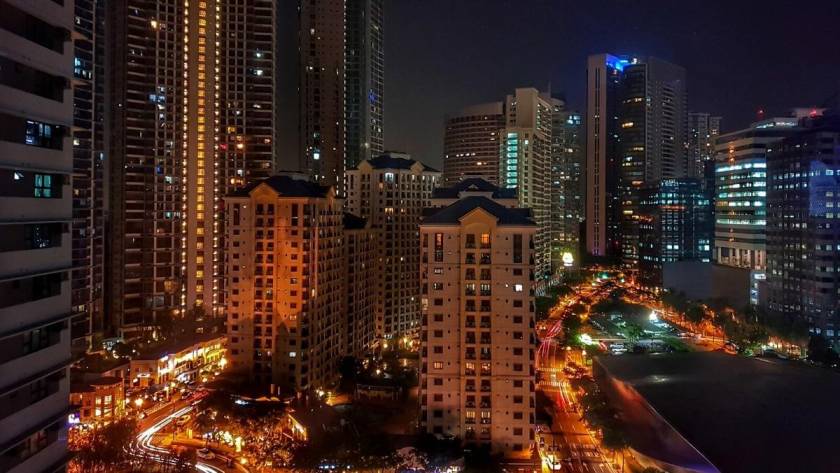 Written by Joyce Ann Danieles
Companies from every industry face many challenges in balancing efforts to accomplish their everyday tasks and business development projects. Outdated systems, employees lacking appropriate training, and limited resources hinder such entities from adapting to fast-paced competition. These factors also prevent them from making progress toward achieving enterprise growth.
Outsourcing a business process offers an effective way to address these problems. A third-party service provider can help your company thrive by streamlining your admin work at affordable, fixed costs. 
Do you wonder how business process outsourcing (BPO) can contribute to your expansion? Take a look at this brief guide to learn more.
What Is Business Process Outsourcing?
BPO involves hiring a third-party service vendor to perform specific tasks for a company. Entities of all sizes outsource a business process to keep up with the continuously changing, highly competitive environment. They want a partner that can perform their admin work without investing more time, funds, and human resources. 
As a result, the demand for BPO services has experienced an increase in the past years. In 2021 alone, the global BPO market was worth more than $231 billion, according to a 2022 report from FactMR. The market intelligence firm expects the industry to reach $620 billion by 2032, with an impressive 8.5% compound annual growth rate (CAGR).
You can hire a BPO provider to perform your front-office functions, covering customer-facing services such as technical support, sales, and marketing. This kind of company can also perform your back-office tasks such as accounting, information technology (IT) support, data entry, and medical processing.
Continue reading to learn more about front- and back-office tasks you can outsource.
What Services Can You Outsource? 

You can outsource different services to a BPO provider to ease your workload. Below are some of the most common outsourced tasks.
Data Entry
Data entry is encoding and organizing information through computer systems. It is a repetitive, time-consuming task that needs a dedicated team. However, setting up an in-house team can cost more because of the need to regularly update training for employees, deploy modernized systems, and build an office space. 
Data entry outsourcing can help you streamline this back-office service while reducing your expenses. A BPO provider has skilled workers and advanced platforms to more efficiently accomplish this task.
General Bookkeeping
Bookkeeping refers to recording and compiling all the financial transactions of a business. It is a crucial back-end function but it does not directly contribute to your company's growth. 
Outsourcing finance and accounting services can help you devote more time to productive activities directly associated with your company's growth. This way, you can gain access to expert bookkeepers to help you streamline financial record management. Outsourced bookkeeping allows you to generate savings by eliminating the need to pay for full-time specialists.
Customer Service
Customer service covers tasks that respond to customer inquiries through phone calls, email, and live chat. It involves answering questions about product features or resolving technical issues. It plays a vital role in achieving customer satisfaction and retention.
You can outsource this process to free up the time and resources necessary to focus on your core competencies. Skilled agents and upgraded software tools from a BPO partner can help you support your customers while exploring ways to improve your business.
Ecommerce Support
Ecommerce support encompasses all services that help you manage your online business. From order processing to fulfillment, you need a partner to accelerate these labor-intensive and time-consuming tasks. 
Hiring a third-party vendor can provide a certified team to securely and accurately process your online transactions. You can focus on ramping up your ecommerce business without worrying about backlogs in your back-office functions.
Healthcare Service Assistance
Healthcare service assistance includes support for medical billing, insurance verification, and claims processing. These monotonous tasks benefit both medical providers and patients in properly handling their financial proceeds and expenses. 
A third-party vendor can help speed up this process by delivering an experienced team to ensure the safe handling of medical records. Firms offering this service will maintain the advanced software needed to more accurately and promptly classify medical data.
Knowing the kinds of services a BPO provider delivers, you can more clearly see how they help escalate your company's expansion. 
How Does Outsourcing a Business Process Contribute to Accelerated Growth?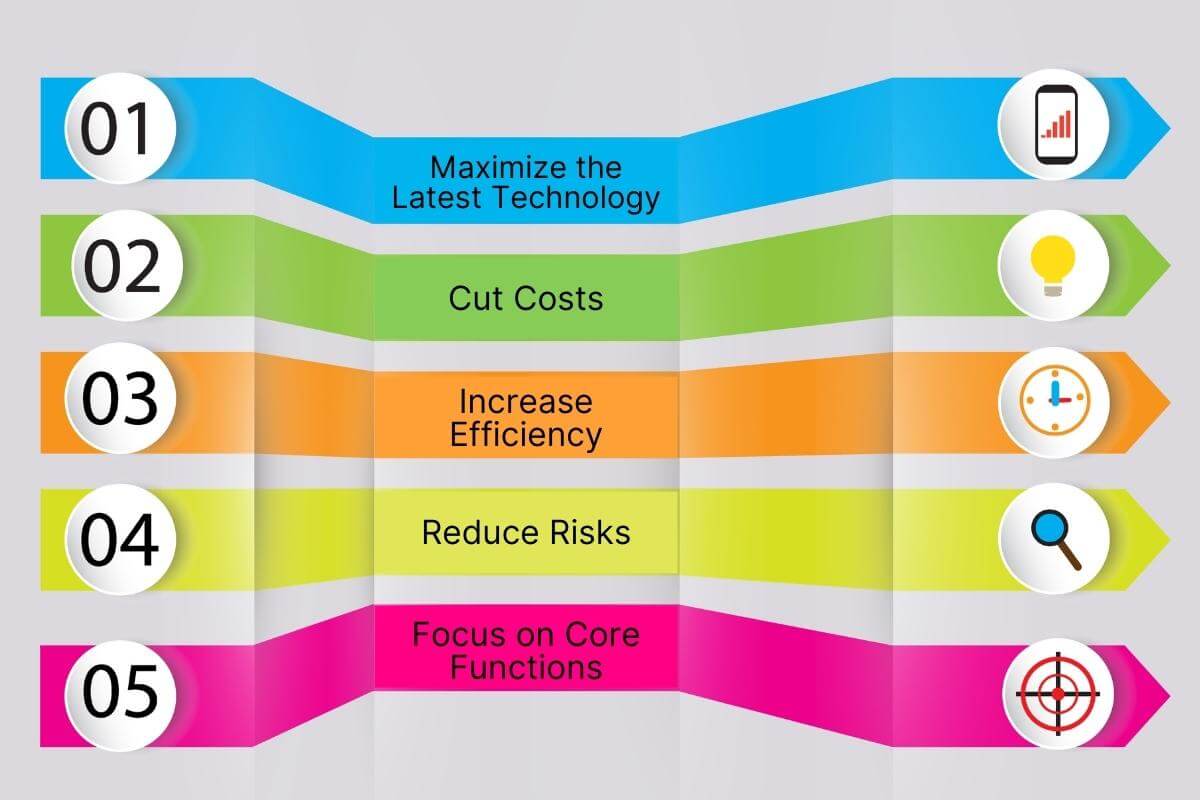 There is always a reason behind patronizing a service or product. Before looking for a partner, learn how outsourcing a business process can aid accelerated growth to develop a more concrete budget plan.
1. Cut Costs
BPO offers a valuable option to improve productivity while controlling costs. You pay only for the services you need when outsourcing to a highly-skilled, flexible remote workforce. You can also save money by reducing costs associated with frequently buying the newest, most advanced equipment and other resources. 
2. Increase Efficiency
Outsourcing allows you to work on critical business processes while entrusting other non-core functions to outside specialists. Instead of having an in-house team handle these repetitive front-office or back-office tasks, you can tap into a third-party team at your disposal. This approach saves you time and effort associated with employee onboarding, training, and benefits.
3. Focus on Core Functions
A BPO provider employs certified workers to perform your labor-intensive and time-consuming administrative work. Delegating these repetitive tasks to a trusted third-party team helps you focus on your core business functions. You can then set priorities for improving specific areas to grow your enterprise.
4. Reduce Risks
Selecting the right BPO partner can help you minimize and manage potential risks facing your company. Expect that a third-party team has the experience and expertise to keep your business running while minimizing downtime. 
5. Maximize the Latest Technology
Outsourcing a business process involves using new technology to communicate with your partner remotely. You can also maximize the latest technology, such as robotic process automation and artificial intelligence (AI), to reduce your workload. Your BPO partner should provide these solutions as part of their service package offering.
If you want to confirm whether these advantages are real, look up the following large companies that acquire back-office and front-office outsourcing services.
Which Companies Outsource Their Business Processes?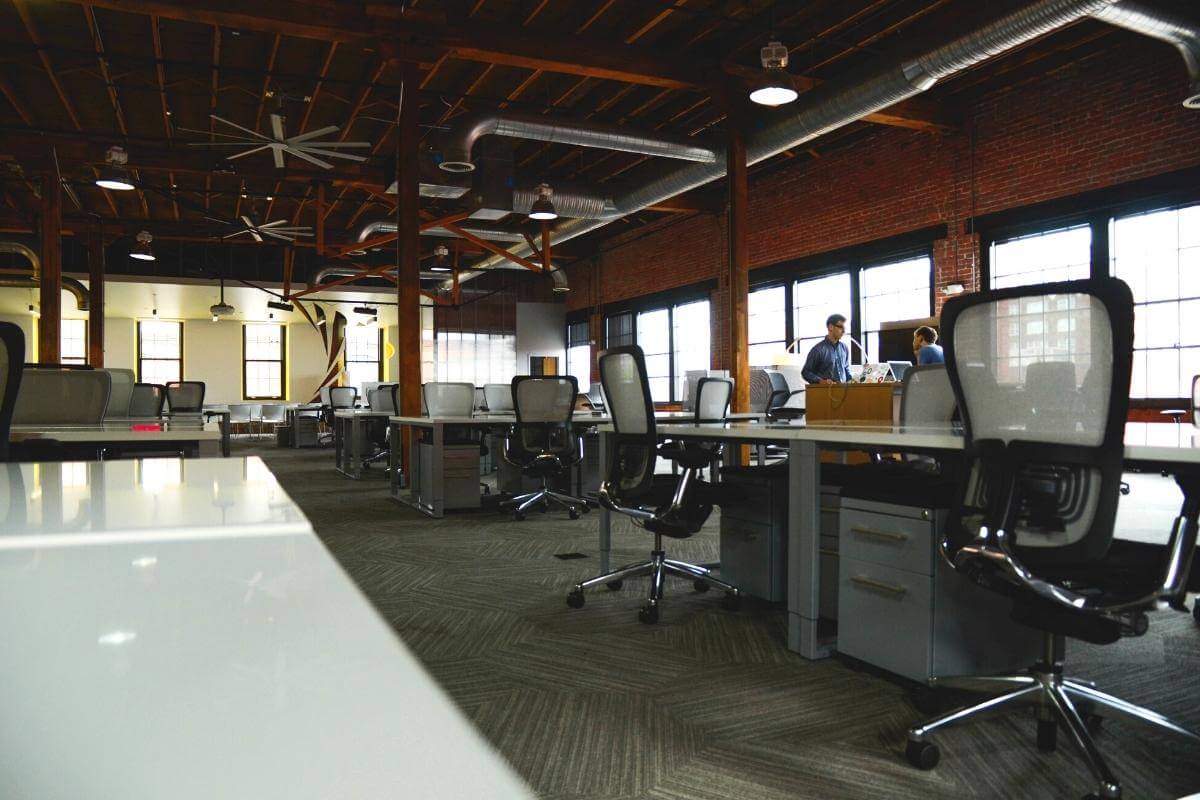 Before buying a new product or trying out a service for the first time, you need insight from consumers who have already experienced it. Do the same when outsourcing. Know which well-known companies use this business strategy to expedite their growth.
Alibaba
In its early stage, Alibaba outsourced web development to the U.S. The technology giant needed this service to expand its platform, but it was not broadly available in China. By accessing a talent pool from the U.S., Alibaba could improve the quality and expand the reach of its site. The company has kept its local manufacturing and resources costs low while outsourcing. 
Slack
Launched in 2013, Slack initially had only four developers who created the product and launched it to the market.  To support continued success, Slack hired a third-party design firm for beta testing. The collected feedback helped the company ensure that its site looks good and runs smoothly.
IBM
IBM currently uses offshore IT outsourcing to support its daily business processes. The company relies on its outsourced staff to handle IT functions, including network management. This third-party team also helps the technology giant manage its IT infrastructure.
Optum
Part of UnitedHealth Group, healthcare company Optum outsources its global solutions team. The company hired an offshore team to fulfill its healthcare operations, customer service, engineering, consulting, and project management.
Amazon
Outsourcing inventory management enables Amazon to organize its supply chain more effectively. Outsourcing allows Amazon to reduce redundant inventory and separate infrequently ordered products. The approach also allows the online ecommerce giant to free up its working capital.
Now that you know which big companies outsource a business process, you still need some more tips for back-office outsourcing. You can apply the following framework to help you decide whether to outsource your front-office tasks, too.
What Is the Outsourcing Decision Matrix?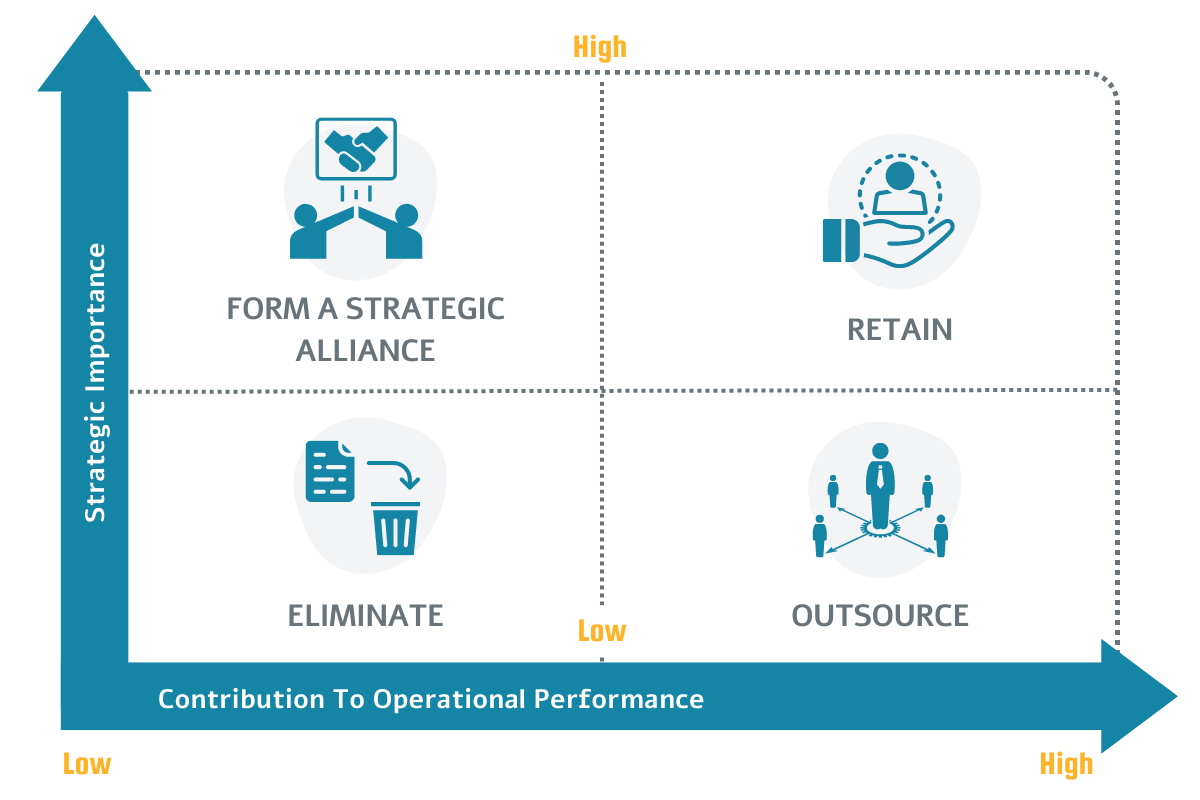 The Outsourcing Decision Matrix helps you decide whether to hire a third-party service provider. You can categorize which processes you can safely outsource and which tasks you should keep in-house. It identifies the two most significant factors to consider when outsourcing a service—strategic value and impact on operational performance.
The model is divided into quadrants to identify a task's level of importance for outsourcing.
Form a strategic alliance.

Tasks that are strategically necessary but contribute little to operational performance can be outsourced to a trusted partner.
Retain.

Keep tasks that are high in strategic importance and have a significant impact on operational performance.
Outsource.

Outsource tasks that are critical to achieving successful operational performance but are not strategically important.
Eliminate

. Remove tasks that are not essential to your company's overall strategy.
Do not hesitate to apply this matrix as a good starting point for making your outsourcing decision.
The Bottom Line
The BPO industry has made significant contributions toward helping businesses streamline their processes and achieve growth. From financial records and data management to ecommerce and customer support, a BPO provider helps ease these labor-intensive front-office and back-office tasks. 
In addition to increasing efficiency, outsourcing a process leads to savings generation, risk reduction, and technology optimization. Most importantly, outsourcing allows you to give priority to your company's core functions to facilitate continued expansion.