Are you wasting too much time on routine accounting and administrative activities when you could be concentrating your efforts on product development and growth? If this is the case, outsourcing your accounting department may be a good idea.
Entrepreneurs often have difficulties streamlining their startup's back-office operations, diverting their attention from product development and growth. Many companies have shifted their everyday business responsibilities to developing technology such as accounting software, but without the correct people and procedures, these may further complicate operations.
This article discusses the criteria that startups should examine, as well as the advantages of outsourcing their financial operations to an accounting firm.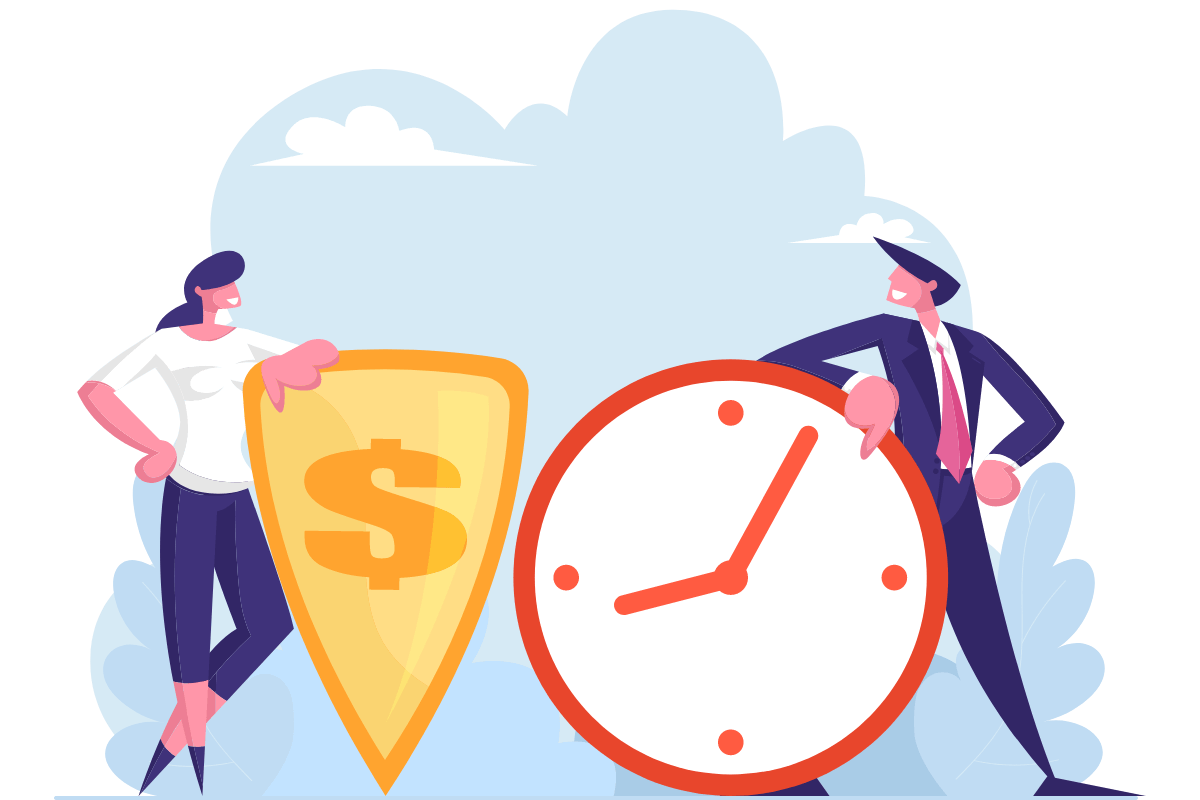 Why Should You Consider Outsourcing Your Bookkeeping Services?
Bookkeeping is necessary, but it does not contribute to your bottom line. Time spent handling the books is time that could be spent growing your business in other ways. It is a back-end function that might even prove to be a distraction from the day-to-day operations of your firm.
Outsourcing frees up time so you can focus on more productive duties connected to company growth.
When you outsource bookkeeping services, you are engaging an expert, someone who is up-to-date on the newest bookkeeping knowledge and abilities. You can count on the task being done correctly the first time, without having to pay for a full-time specialist, which would be prohibitively costly.
According to statistics by Fortunly.com, the worldwide outsourcing business was worth $92.5 billion prior to the pandemic.
Since 2012, global outsourcing income has fluctuated. Revenue peaked at $104.6 billion in 2014 before plummeting to $89.9 billion the following year. Outsourcing numbers for 2021 indicate that the pattern of increasing and decreasing revenues persists; figures have yet to settle due to COVID-19.
Click here for more information on how much a business phone system cost.
Why Should Small Businesses Outsource Bookkeeping?
If you are operating a business – particularly a small/new one – you will appreciate the ability to considerably increase (or decrease) the size of your operations without incurring a loss of earnings. 
If you opt to retain in-house accountants, a sudden decline in income (even if temporary) may require you to lay off an employee.  Or perhaps you will decide to keep them on the payroll even though you can ill-afford to do so. 
One of the major advantages of outsourcing your accounting is that you may drastically scale up or down your operations without a direct effect on your employees. This adaptability is critical for young firms and those operating in volatile industries.
Maintaining more people in your company always results in increased human capital expenses. Additional staff in your workplace equates to additional desks, laptops, coffee filters, and office space. Without a doubt, maintaining a fully equipped office is costly.  For organizations that do not generate many millions of dollars in sales, maintaining a second office is both expensive and unnecessary. 
Workers demand sick leave, vacation time, retirement funds, and a variety of other perks. Managing additional personnel consumes more time and places an inherent strain on a business's human resources; additionally, numerous steps are involved in employee maintenance – recruiting, hiring, firing, and replacement costs, to name a few – that can be avoided by outsourcing to professional remote bookkeeping firms.
Outsourcing enables managers to concentrate on developing their business rather than devoting time to the technicalities of keeping more staff. Outsourcing is one of the simplest methods for small- and medium-sized businesses (SMEs) to reduce overhead costs.
Learn more about The Best Cloud-Based Business Phone Systems This Year here!

Why Is Outsourcing Good For Startups?
Numerous new businesses are popping up left and right, yet the majority of them fail to thrive. Some created a product no one wanted, others may have pursued an unknown commercial purpose, and yet others may have been ill-prepared to open a business. However, one of the primary reasons small companies fail is inadequate management due to a lack of experience in the many areas necessary to operate a firm.
Due to a lack of funding, talent, and other resources, startups often struggle to thrive, much less survive, in a highly competitive business climate. By outsourcing non-core operations, businesses may make the most of their limited resources and concentrate on growing their firm.
The majority of startups consist of a small team of important workers, with others consisting entirely of owners and founders. Since they are just getting started and are concerned about prices and expenditures, they avoid employing new employees and attempt to do everything themselves. 
As a result, the task grows insurmountably large. Lead times are extended and the quality of work begins to degrade. The likelihood of making a mistake is increased since they are attempting to accomplish business operations beyond their area of competence.
When procedures become stretched or deliverables are late, it is time to outsource. In the absence of such measures, the quality of your goods and services would continue to deteriorate. As a consequence, you may have difficulties retaining clients and consumers. Worse, it will erode your brand's reputation.
Startups have a restricted capital flow. By avoiding large capital expenditures and reducing operating costs, they can stretch their cash further and allow the firm more time to develop a presence and flourish.
See how do you set up a two-line phone system?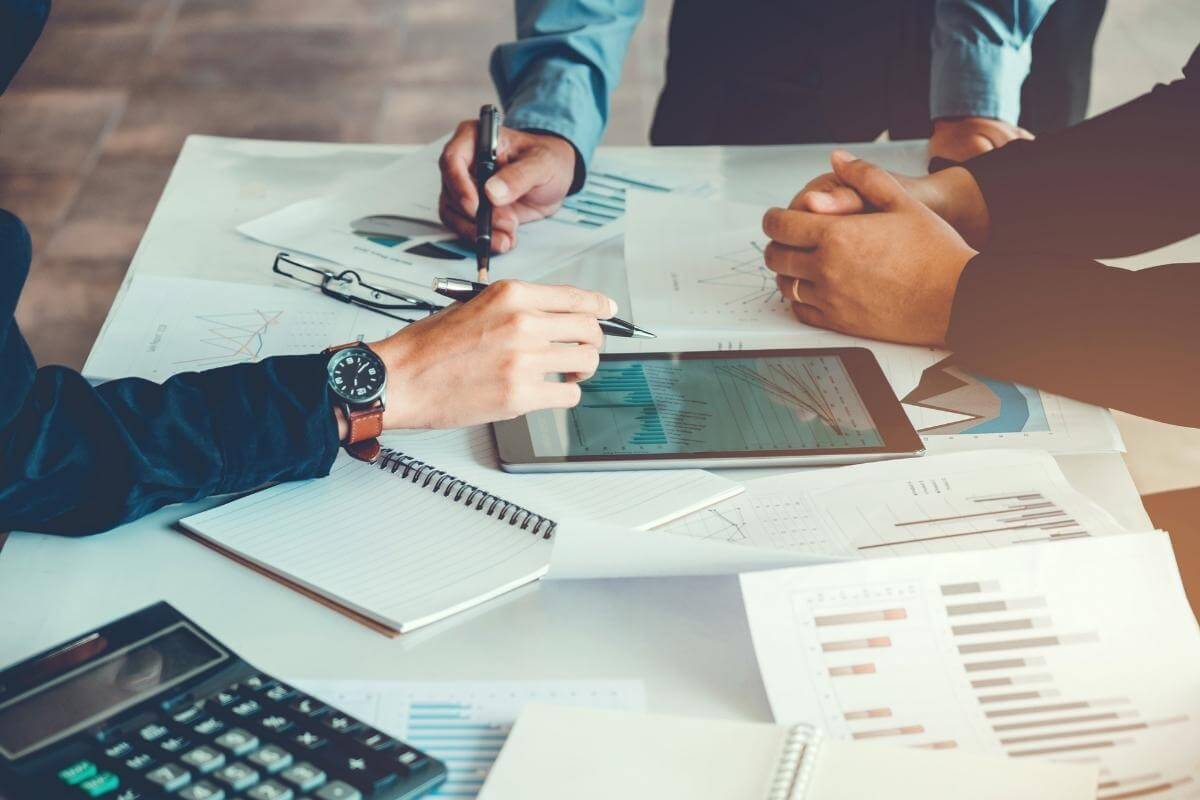 What Are The Crucial Benefits Of Outsourcing Bookkeeping Services?
While accurate bookkeeping and accounting are necessary, they should not consume all of your time each week. As an entrepreneur or small company owner, you value your time highly. You should concentrate your efforts on growing your firm, acquiring new customers, and offering superior service.
Many company owners struggle to relinquish management of critical business tasks to another person or agency. It is a tough mentality to overcome, but one that must be altered if you are to achieve your development objectives. You will not reach your objective if you remain reliant on in-house accounting.
According to Entrepreneur, outsourcing portions of your company might seem like an extra cost and an unnecessary additional expense, particularly when initially implementing a new strategy. After all, outsourcing entails spending time explaining your brand, vision, and ambitions to another person.
The following are some of the benefits of outsourcing your bookkeeping:
1. Additional time to provide value to your clients
As previously said, you might be more than competent in doing your accounting, but it is not the most efficient use of your time. How much time do you spend each week on bookkeeping instead of using the time to strengthen your business? 
Consider how much time you could spend refining your service and delivering value to your customers if you used your time in a different way. Not only would this assistance retain pleased customers who would remain with your business longer, but it would also likely result in more customer recommendations.
2. Enhanced efficiency and concentration
One of the primary reasons firms should consider outsourcing is because it helps them boost their efficiency and focus. Without the distraction of accounting, you can devote your attention to the activities necessary to meet your business's development goals. Any activity that has no direct bearing on your overarching objective is a distraction from your goals.  If at all possible, you should avoid spending your precious time on it.
3. Managing Risks and Ensuring Accuracy
It is unlikely you are a skilled bookkeeper as a company owner. This implies you are spending twice the time it would take a skilled bookkeeper to reconcile your books. Along with enhanced productivity, an outsourced bookkeeper with training would be more accurate.
Bookkeeping errors are prevalent and can have serious repercussions. Another frequent occurrence is that costs are coded to the balance sheet rather than the profit and loss account. As a consequence, profits are inflated, and critical choices are made based on inaccurate data. Outsourcing this function can prevent errors and give you confidence that protocols are being followed. 
See more information about the Cloud Phone System Pros and Cons: Detailed Review here.
4. Access To An Expert Bookkeeper
Outsourced bookkeeping provides immediate access to highly skilled specialists who are always improving their expertise. This is accomplished via the use of technological solutions that simplify the process. 
By collaborating with an accounting specialist, you can guarantee that your bookkeeping is always at its finest. Allow the experts to do what they do best so you can focus on your own strengths.
5. Make Use Of Industry-Leading Bookkeeping Systems
You will profit from outsourced bookkeeping by having the newest systems, technology, and procedures available on the market applied to your business. Your accounting operations will be streamlined and automated – no more spreadsheets or receipts inboxes. This improves the visibility of your data and enables you to make more informed decisions.
6. It Gets Done Regardless Of Your Schedule
If your accounting is handled in-house, you must be prepared to make up time missed due to sickness or vacation. When you hire accounting services, you can stop worrying about when or how you will find the time to complete accounting tasks. You may be certain that your outsourced bookkeeper will always fulfill deadlines.
Check out what a hosted VoIP is!
7. Save Money
Many company owners resist outsourcing their accounting because they assume that doing it themselves saves money. In truth, time is more valuable than maintaining in-house accounting. Rather than coding transactions, you should focus on generating new business and expanding the organization.
8. You Are Not Required To Employ Someone
Small firms, on the other hand, do not need an in-house bookkeeper. By using an outsourced bookkeeper, you can avoid paying employee overhead, holiday pay, payroll taxes, and training costs. This is crucial if you want to improve your profit margins.
9. Business Growth
Outsourcing your accounting allows you to devote your important time to company development methods. Additionally, precise and dependable finances are critical for making sound essential choices. Outsourced bookkeeping puts you in a stronger position to accomplish your goals. 
To be successful in business, you must grasp your company's cost of sales and fixed expenses. Without this information, it is impossible to correctly calculate your business's profitability. This begins with sound financial management. 
Due to the broad availability of cloud technology, outsourcing accounting work is now simpler than ever, and the advantages are obvious. It is far less dangerous, significantly more efficient, and very cost-effective. 
With the additional time, you can concentrate on acquiring and selling to new consumers, enabling you to meet your growth objectives.
Discover the Best Multi-Line Phone System For Small Businesses in 2021 here!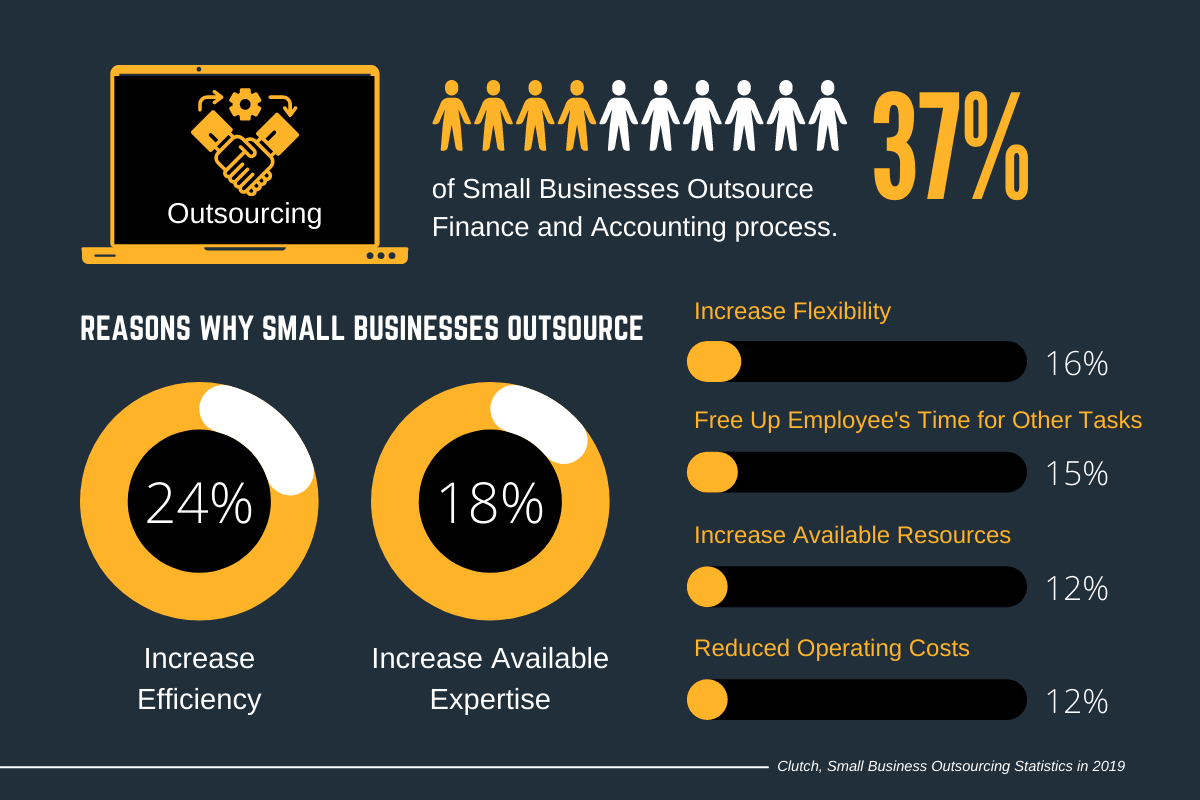 Why Do Most Companies Outsource Financial Services?
Financial services are essential for every organization. This is why competent accountants are hired to handle these jobs. However, keeping an in-house accounting staff is expensive, particularly for SMEs.
In this environment, financial services outsourcing provides organizations with flexible solutions that match their budgets and needs. Outsourcing such services not only helps you solve difficult financial issues but also saves you money because you are not employing extra workers.
Outsourcing allows you more flexibility in responding to market volatility and varying income streams. It also eliminates the need to educate workers or purchase costly accounting software. A company could have an internal accounting team that would expand with the firm. This needs greater infrastructure and resources. Using outsourced bookkeeping services with skilled accountants reduces these rising costs.
Furthermore, outsourced bookkeeping services assist organizations to manage their finances while also addressing client requests. Accounting outsourcing is one of the finest methods to reduce overhead and operational expenses while removing the difficulties and constraints of searching, employing, and training accountants. A third party will handle all of your company's time-consuming accounting procedures for a reduced fee.
Further reading: Simple Steps To Set Up A Phone System For Your Business

Summary
Before you begin searching for outsourcing providers, be certain you understand precisely which company process or function you want to outsource. Outline your company's operations to identify the most critical tasks and those that must be handled by your own small team.
When you have decided to outsource, be careful to choose an outsourcing firm that can assist your business in growing, rather than one that provides offshore and outsourcing services that make it difficult for you to finally take over.
Outsourcing is undoubtedly one of the techniques by which a company can use knowledge, best practices, and management style to free up management time to concentrate on company strengths, clients, and business growth. 
Therefore, whether you own a small-to-medium-sized firm, examine if your organization requires outsourcing or not. 
Find out what a cloud-based system is here!