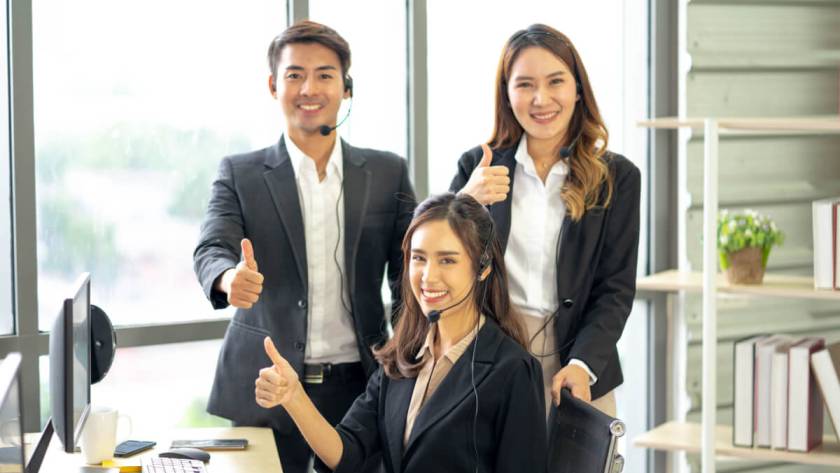 The Philippines teems with offshoring providers that offer call center services to businesses of all types and sizes. It is the world's call center capital, capable of handling most outsourced customer support operations. 
What benefits can businesses expect from outsourcing call center activities to the Philippines? 
This article discusses what hiring a Philippine offshore call center could mean for your company. It explains the advantages and potential risks of delegating customer service functions to the country.
Let us dive into the details. 
What Does a Philippine Offshore Call Center Mean? 
Acquiring Philippine offshore call center services means delegating customer service activities to a third-party provider in the country.
Filipino agents or specialists answer calls from current and potential customers at an offshore call center. They respond to questions, convince callers to buy from your company, process purchases and payments, and help address customers' concerns. 
Through training and work experience, Filipino agents or customer service representatives (CSRs) have above-average interpersonal and communication skills to help, inform, empathize with, and respond to callers.
The CSRs' primary responsibility and objective is to build, maintain, and increase consumer or user relations by consistently providing excellent experience and satisfaction. Achieving this goal translates to stronger customer loyalty, higher sales, and a better business reputation. 
The country offers the world's best call center services. The Philippine business process outsourcing (BPO) industry comprises service providers with different call center operations, such as inbound, outbound, virtual assistants, contact center as a service (CCaaS), technical support, and multi-channel contact centers. 
What Could a Philippine Offshore Call Center Mean for Your Business?   
Should you acquire the services of the local BPO companies, an offshore Philippine call center could mean lower costs, better productivity, higher performance, longer customer support operations, and improved sales or revenue.
Let us discover the realizable benefits of customer service outsourcing in the Philippines. 
Maximized Gains with an Affordable and Competent Workforce
An offshore call center could mean maximizing your revenue and minimizing expenses, as the Philippine workforce offers first-rate third-party contractors at a fraction of the cost.
Filipino professionals' interpersonal, communication, soft skills, educational level, and technical knowledge can compete with their counterparts in more advanced countries, such as Malaysia, Mexico, and Singapore. Their salaries are also reasonable for businesses.
A Filipino call center agent earns a salary of about $550 per month, depending on their work experience and the service provider's wages. The average monthly salary of a Malaysian call center agent is around $1,010; that of a Singaporean agent is $4,340; and that of a Mexican agent is $1,260. Call center salaries in the Philippines are two times lower than in Malaysia and Mexico and four times lower than in Singapore.
Lower wage costs (salaries, employer contributions, and employee taxes) allow BPO companies in the Philippines to provide high-quality outsourcing activities at reduced operating expenses. Because of this, they can offer you lower service fees compared to their high-salaried outsourcing rivals.
The country's modest living expenses are the main reason for the cost-effective wage. A Filipino CSR can almost live sufficiently with a $550 monthly salary. This salary can cover most basic needs, such as rent, utilities, food, groceries, and transportation fares. The CSR typically co-shares the cost of living with family members.
Decreased Financial Costs Through Reduced Legal and Administrative Obligations
An offshore call center could mean lower legal or management financial responsibilities such as labor issue resolutions or tax payments.
Outsourcing to the Philippines is likely a better alternative than setting up your operations there. Your business is not obliged to monitor and deal with various regulations, policies, laws, and issues concerning compliance, administration, and taxes. For instance, the country's labor law allows workers to form unions to negotiate employment contracts and wages.
Getting the services of a BPO company protects you from possible legal and employment-related risks. Your BPO partner keeps abreast of government laws and industry policies and tackles labor issues, ensuring you do not incur legal and management accountabilities. 
A third-party provider manages the hiring process, saving you money that would have gone toward recruiting and interviewing candidates. It also handles and tracks the call center team's attendance and income taxes. The BPO provider submits periodic staff status reports for your evaluation. 
Better Cost Management with Scalable Call Center Operations
An offshore call center could mean more cost-efficiency, flexibility, and agility as it can expand or shrink outsourced operations according to your business requirements and conditions.
It can make operational changes, such as modifying current processes, functionalities, and third-party team size, without negatively affecting your business. Being scalable enables your business to grow without overspending or wasting funds.
The following are some benefits of scalable operations:
Cost efficiency

. Hiring an

offshore call center could mean

getting the right number of third-party agents, regardless of your business situation, to optimize operating expenses. The BPO provider also helps determine which parts of the operations require more or fewer workers.

Flexibility

. Outsourced processes can promptly adjust to fluctuating client, end-user, or business demands. You can improve your competitiveness when your business is flexible.

Agility

. The call center provider assists you in facing unexpected events without disrupting workflow or customer service.
Nonstop Customer Support with a Willingness to Work Different Shifts
An offshore call center could mean obtaining Filipino third-party CSRs available to work anytime. These agents quickly adjust to varying schedules—holidays, weekends, or graveyard shifts—to serve consumers and users from any location. 
Many local service providers require their agents to work on changing or rotating schedules. Most CSRs agree with this policy; shift work is not a big deal. BPO companies that provide nonstop customer service operations might be favorable to your business. 
So, if you are a U.S.-based company, your in-house staff can deal with customer support during the day, and the Philippine third-party team continues running the operations at night. This strategy leads to the following:
Round-the-clock accessibility

. Offshore

call centers could mean

having CSRs in different time zones, enabling your business to be open 24/7 to customers or end users worldwide. 

Quicker response time

. Round-the-clock availability permits CSRs to address ticket queues and customer concerns faster. Consumers experience reduced wait times since they can conveniently contact agents.
Better Output and Efficiency with Healthy Work Attributes
Companies hiring an offshore call center could benefit from Filipino agents' positive work qualities to enhance performance and productivity. Consider their common traits.
Resourceful

. Most Filipino professionals are diligent and work-driven to provide for their families. Family upbringing and economic status are the main reasons behind their resourcefulness. This trait enables them to perform their duties responsibly and creatively, becoming innovative in resolving challenging work situations and tasks.

Optimistic

. Filipino third-party agents are inherently hopeful and often view the positive side of events. An optimistic work habit contributes to better teamwork and customer relations.

Trustworthy

. An

offshore call center could mean

recruiting Filipino professionals who are active listeners and fast learners. Many are reliable, curious, and passionate about a given role. They can complete tasks without supervision if they are familiar with the outsourced activities.

Service-centric

. Filipino CSRs are naturally hospitable and cheerful due to their culture and training. Service providers advise their agents against yelling at angry customers on the phone. They encourage team members to practice patience and display a calm attitude as much as possible. Such qualities contribute to better customer service.
Enhanced Customer Service Operations with Experience in Best Practices
An offshore call center could mean working with a BPO partner that applies effective methods to constantly improve the customer support team's productivity and performance. Using customer service best practices helps the third-party team offer a first-rate consumer journey and satisfaction.
Check out a few best practices:
Harness customer feedback.

Call center agents must glean customer remarks, suggestions, feedback, and comments after engagement. They sort, review, and gain insights into this information and use it to enhance the buyer or user experience. 

Interact with customers through their preferred channels.

The

offshore call center could mean

employing agents ready to engage with customers. They must be aware of customer communication preferences based on demographics. The younger generation prefers social media, while the older generation prefers phone calls.

Deliver personalized service.

Customers are humans and need personal connections, especially during emergencies. Call center professionals must offer customer service with empathy and understanding. These qualities are necessary to form strong consumer relationships, resulting in more solid loyalty and repeat business.
Systematic and Efficient Teams with Remote Work Capabilities
An offshore call center could mean collaborating with organized and effective remote workers to manage the daily customer service operations. Below are some useful strategies that BPO companies carry out for their work-from-home (WFH) agents:
Capitalize on cloud technology.

WFH agents receive accurate and timely information using a cloud-based system that integrates communication, software, and data for quick and secure access.

Set and attend online meetings.

Remote workers regularly interact with their supervisors and team members for work progress and other task-related concerns. 

Build a knowledge portal to share information.

CSRs can promptly and properly resolve customer concerns using an online resource containing updated information on your company, products, and services.

Empower remote workers.

The

offshore call center could mean

engaging WFH staff with higher but achievable work responsibilities to raise their drive to succeed, sense of leadership, and morale. Supervisors or team leaders help and guide them during the process.
Maximized Capability Through Effective Team Assembly
A Philippine offshore call center could mean getting the ideal customer service. The third-party provider is an expert in building a group of agents to match your needs. To meet your dream team of customer support specialists:
Identify the correct team size.

The size of your customer service department and the average daily call volume determine how many call center representatives you need.

Recruit qualified agents.

The service provider hires experienced and new talent. This complete team combines seasoned specialists (composed and knowledgeable) and rookies (passionate, energetic, and trainable).

Select the appropriate technologies.

Hiring an

offshore call center could mean

working with a BPO provider that equips the third-party team with the proper software, applications, and tools to aid them in customer service activities.

Foster open communication.

Team members can speak their minds and express their work-related ideas and suggestions. They should also maturely handle any misunderstandings or divergent viewpoints.

Re-train and upskill.

The third-party company provides customer service team training and upskilling programs to hone skills and strengthen morale. Filipino CSRs regularly have coaching sessions with supervisors to connect and learn.
Sharp CSR Skills with Intense Training Efforts
An offshore call center could mean teaming up with a Filipino service provider that executes the following proven training policies to help CSRs display their best abilities and qualities:  
Job shadowing.

Also known as work shadowing, it is a type of training that involves recruits working directly with veterans. New hires learn different customer service tips and practical advice from experienced co-workers, including shortcuts, smart alternatives, workarounds, and persuasive conversation skills to use with callers.

Role-playing.

This training method simulates real-life circumstances to enhance CSRs' ability to resolve tough customer concerns or handle difficult customers.

Avoid saying "no."

Trainees perform exercises on rephrasing and summarizing customer statements to help them answer positively in actual interactions. 

Crisis resolution.

Your BPO partner may offer crisis resolution training for smaller groups as part of the offshore call center. Each team should resolve an urgent issue as quickly and efficiently as possible. This method develops leadership skills and the ability to work under pressure.

"

Sell me this pen.

" This procedure trains agents to persuade hard-to-please trainers to purchase a regular pen. It hones presentation, marketing, and product knowledge skills.

Training games.

Trainees join customer service games to encourage communication, cooperation, resourcefulness, and ease among team members.
Amplified Verbal Skills with a Strict "English-Only Policy" (EOP)
A Philippine offshore call center could mean choosing an outsourcing company that imposes stringent English language rules on CSRs, specialists, team leaders, and other staff in the production area. They must converse only in English where they work and take or conduct calls to intensify their communication skills, allowing them to perform at their peak levels.
Some callers complain about hearing other agents talk in their local languages. Following the EOP, external teams may not use their native tongue (including Tagalog, Kapampangan, and other regional languages) during phone conversations. Anyone caught talking on the job or during a recorded customer call receives a formal reprimand. 
Implementing EOP in a highly controlled workplace enables agents to speak the language more naturally. Offshore call centers may provide clients with agents who internalize Western expectations and culture, improving customer service and satisfaction.
Smooth Customer Interaction with Multichannel or Omnichannel Features
A Philippine offshore call center could mean your business would receive support for various communication modes, including audio, video, and text, and integrate them into a single platform for holistic customer and user interaction. This capability provides seamless agent-customer conversations despite changing from one mode to another.
The following are communication modes in multichannel or omnichannel networks: 
Social media

lets consumers post feedback and product or service concerns on Instagram, Twitter, Facebook, and other social platforms.

Standard phones

are fixed-line, durable, dependable, and quick to use. 

A

self-service portal

contains helpful customer information, including frequently asked questions (FAQs) and video tutorials. 

Live chat

allows individuals to contact a live CSR on your website. 

Email

transmits electronic messages from and to the customer support team. Customers and agents can attach big files to an email. 

Short message service (SMS)

enables customers and agents to send short text messages to one another using mobile devices.

Chatbots

allow customers to interact with intelligent computer applications through text or voice instructions

.
Better Understanding with Well-Versed English-Speaking Agents
A Philippine offshore call center could mean gaining a business edge over your competitors, thanks to the Filipino third-party customer support team consisting of agents with high English fluency. 
Many local CSRs, particularly the experienced ones, speak English with a neutral accent that Westerners can quickly understand. As such, Australian, Canadian, American, and British callers can place orders, pay, and discuss service or product issues with Filipino agents without language barriers. 
English is the country's second standard language, next to Tagalog. It is a medium of instruction in elementary schools and colleges. Years of formal language learning and exposure via different media enable millions of Filipinos to speak and write in English. 
The Philippines consistently ranks in the top group in international polls of English-proficient countries. It only falls behind Singapore in the Asia-Pacific region and is regularly included in the top 30 in the world. Its English skills and comprehension are comparable to those of Hungary, Greece, and other progressive European nations.
The English proficiency of Filipino workers at an offshore call center in the Philippines could be an asset to your company. This comparative advantage over competitors makes outsourcing call centers to the Philippines more attractive. 
Great Customer Rapport Resulting from Similar Cultural Traits
A Philippine offshore call center could mean having a Filipino call center third-party team that can easily engage with Western callers due to cultural familiarity. 
Cultural similarity largely contributes to the success of outsourced customer support in the Philippines. Filipinos, Australians, Britons, Canadians, and Americans have common traits, practices, expectations, and values: religious beliefs, holiday celebrations, close-knit families, and respect for older people.
The Philippines was a U.S. colony for nearly half a century. During their occupation of the country, Americans brought along their food preferences, lifestyle, government systems, and education programs, sharing them with the local populace. 
Therefore, English has become the language of instruction in most schools and the language of choice for official government and business documents. Local legal systems also use it; even signs posted by businesses and the government are in English.
Sharing the same culture enables local agents to engage Westerners in small talk while helping them resolve product or service issues. This approach can improve customer rapport, leading to a better consumer experience. 
Better Access to a Large Reserve of Active and Educated Talent
A Philippine offshore call center could supply young, trainable, technically literate professionals. The country's educational institutions consistently generate tens of thousands of fresh millennial and Generation Z graduates. The graduates are motivated, enthusiastic, adaptable, and curious. 
Both generations (aged 26 to 42) are in the millions and willing to work when an opportunity comes. They are skilled in the latest technologies and trends, including social platforms, computer systems, and mobile phones. The said skills are necessary to perform customer service and technical assistance jobs. 
Young professionals joining the country's labor pool continue to grow. The latest data from the Philippine Statistics Authority (PSA) shows the nation's working-age population, aged 15 to 64 years, was 75.3 million in 2021. Sixty-three percent, or 47.70 million, were part of the workforce, meaning six out of 10 employable Filipinos were available to work. 
Service providers looking to set up an offshore call center may consider the Philippines due to its expected steady supply of skilled labor. Their service costs are unlikely to increase either. 
Expanded Operations with Favorable Government Outsourcing Policies
Partnering with a Philippine offshore call center could mean benefiting from the national government's strong support of the BPO sector, including call center operations. The past and current administrations continue to recognize the sector's vital role in job creation, revenue generation, and technological advancements.
Two government agencies are at the forefront of promoting and streamlining call center activities. They are: 
The

Board of Investments (BOI)

helps service providers with government outsourcing procedures.

The

Philippine Economic Zone Authority (PEZA)

oversees the special economic zones across the nation.
Additionally, the government provides different programs for the local workforce. These initiatives train individuals to build and hone skills for the BPO industry, including English enhancement courses, information technology (IT) systems, and customer service. As a result, you can rest assured that your outsourced processes are in capable hands.
Minimized Communication Issues with More Stable Internet Infrastructure
A Philippine offshore call center could mean glitch-free interaction between the third-party team and the customers for seamless transactions and services. 
The country continuously develops its internet infrastructure. Major internet service providers (ISPs) offer subscribers faster and more reliable connectivity via satellite and fiber-optic technologies. 
Specifically, download and upload speeds on mobile and fixed broadband networks are gradually rising, reaching 90.57 Mbps and 25.63 Mbps in March 2023 due to increased competition among ISPs.
Moreover, the current administration assisted the ISP sector by simplifying and shortening the approval process for tower installation permits. Telecommunication providers can establish, expand, and improve cell sites more than before to boost connectivity. 
What Could Offshore Call Center Mean For Your Business: Some Issues
Outsourcing processes, including call center operations, carry potential drawbacks. Check out the three common concerns:
1. Growing Cybersecurity Issues 
An offshore call center could mean giving away critical and confidential customer, end-user, and company information to the BPO partner. The third-party provider may access your home address, usernames, passwords, insurance information, bank account information, and credit card accounts. Data breaches might ensue if these files have weak security systems.
To minimize this concern, you must examine the service provider's data security measures before teaming up. Request a confidentiality agreement and obtain formal assurance of strong data protection. Ensure stringent security and authorization policies for the third-party team to access and use sensitive files. 
2. Releasing a Certain Degree of Management Oversight
Relying on an offshore call center may imply relinquishing some administrative control, with the BPO provider primarily overseeing outsourced processes.
The service provider implements effective strategies and plans for customer service and call centers to streamline business processes. You should trust your partner and ask for periodic reports to know the progress or status of such activities. 
3. Shouldering Unexpected Costs 
Unforeseen expenses might arise during outsourcing and shake up your budget. Your BPO partner might charge you more than the agreed-upon service fee.
Unexpected costs are normally difficult to monitor and anticipate. The service provider might bill you for the following additional services or incidents: 
Work disruptions

Pre-termination or annulment of the agreement 

Knowledge transfer 

Agent layoffs and other personnel incidents

Staff shortfall 

Extra-legal services

Printing, distribution, and delivery of numerous records, reports, and documents 

Employee management and coordination 
Ask the service provider for full-service costs before delegating the processes to mitigate this issue. 
The Bottom Line
A trustworthy offshore call center could mean your success when learning and applying the pros and cons of outsourcing to the Philippines. When developing an outsourcing strategy, consider the advantages and disadvantages of delegating call center operations. 
Call center outsourcing to the Philippines boosts productivity and efficiency, increasing revenue and competitiveness. You enjoy these perks when working with a reliable, reputable, and established BPO provider.
Let's connect if you need more help and information on Philippine offshore call centers!