Written by Dion Jay Tality
Information technology (IT) support outsourcing offers many benefits to businesses, with cost reduction as the top reason for hiring a managed service provider (MSP).
Unfortunately, some companies fail to perform due diligence before contracting with an MSP. As a result, they spend more on outsourcing investments instead of increasing their cost savings.
This managed IT services pricing guide covers the general costs and pricing models of outsourcing. It also discusses the factors affecting costs to help businesses make informed decisions.
The General Costs of Managed IT Services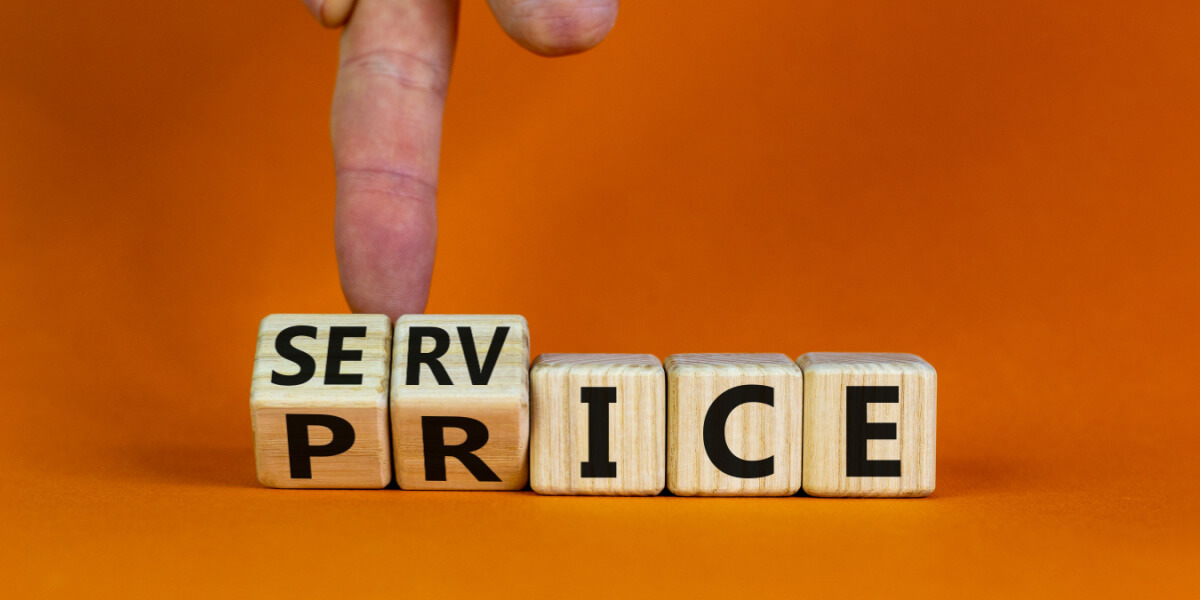 The cost of managed IT services varies from one MSP to another. It depends on the specific services offered and business needs. This idea applies to all front- and back-office outsourcing services, especially IT business process outsourcing (IT-BPO).
Managed IT services generally cost a few hundred dollars per month for basic services. However, it can go up to several thousand dollars per month for more comprehensive services. Try to get multiple quotes from prospective MSPs to compare their service rates.
As a general guide, Kaseya's 2022 Global MSP Benchmark Survey Report covered 1,200 MSPs from 40 countries to provide valuable insights on managed IT services. The report revealed that:
Almost one-third of MSPs charge clients between $51 and $100 per device per month

More than one-fourth of MSPs charge clients between $51 and $100 per user per month
Some companies offer fixed pricing for their services, but others, like Unity Communications, consider your company's needs and long-term goals. We offer flexible or quote-based pricing to enable affordable access to top-notch service.
Before working with an MSP, consider auditing your current IT operation and determine which services you need. From there, find an MSP that meets your IT budget and requirements.
Do you know what an outsourced IT provider is and how it differs from an MSP? The former is any company that provides IT services to other businesses on a contract basis. It offers the following services:
Managing and maintaining your computer systems and networks

Providing technical support to end users

Implementing IT solutions for your specific business needs
On the other hand, an MSP is one type of outsourced IT provider capable of remotely managing your entire IT operation. Hiring an MSP is the most viable solution for streamlining your IT operation.
Different Pricing Models for Managed IT Services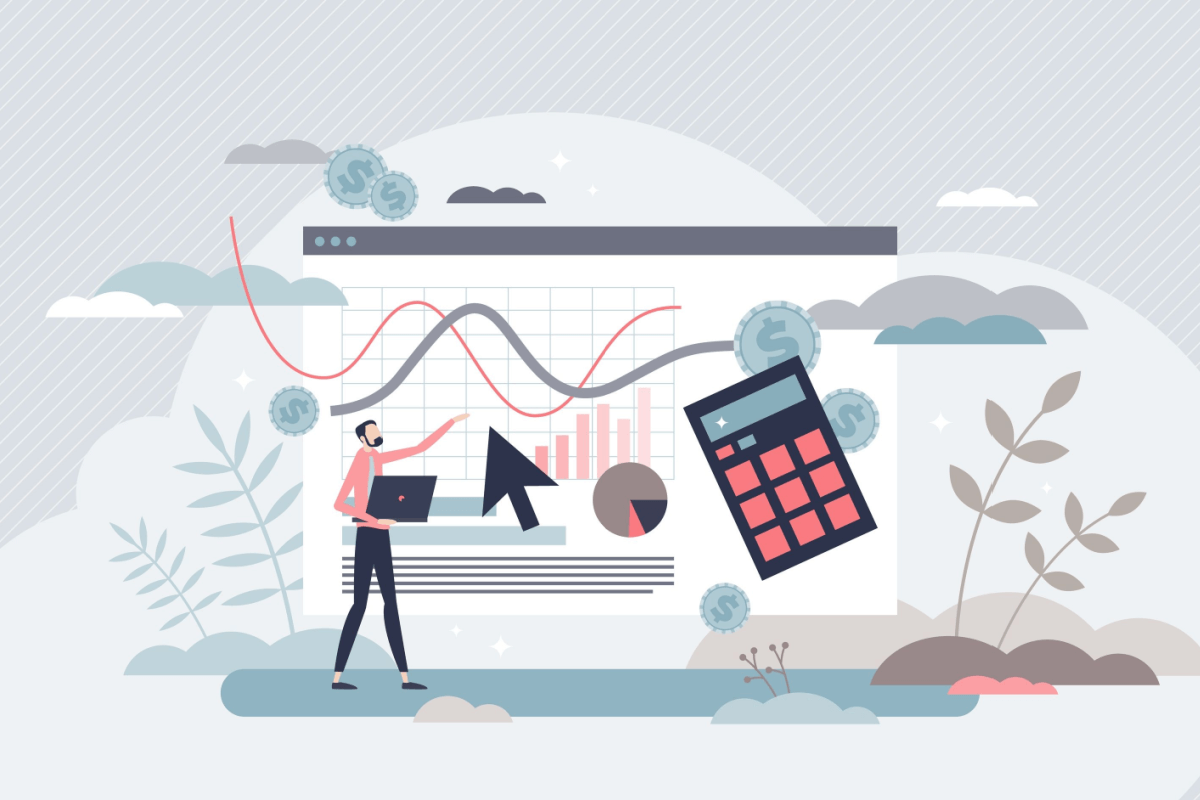 Front- and back-office outsourcing is a practical strategy for saving on costs. This applies all the more to IT-BPO and managed IT services.
MSPs offer a wide range of pricing models to meet business needs and budgets. The right pricing model for your organization depends on various factors, including but not limited to:
The type of IT services you need

The size of your business

Your outsourcing budget
When checking any managed IT services pricing guide, consider the different pricing models below:
Monitoring only.

You pay your IT service provider only to monitor your systems. Your contracted vendor is not necessarily responsible for providing proactive IT support or maintenance.
Break-fix.

You hire an IT service provider on a per-incident basis.

Your IT partner charges you only for their help and support on an ongoing technical problem

. Its IT professionals and technicians are on call.
Per user.

This model charges a fee for each user who receives IT services. It is ideal for a company with a large number of users or employees who need access to IT support.
Per device.

With this model, you pay a fee for each device supported by IT services. It is a good option for your business if you have several devices such as computers or laptops.
Tiered pricing.

This model offers various IT services at different price points. It allows you to choose the level of support that best fits your needs and budget.
Usage-based pricing.

With this model, you pay for IT services based on how much you use them. For example, your MSP charges you for the amount of data transferred or the number of transactions processed.
Fully managed IT services.

You agree to pay for a service package provided by an IT-BPO vendor. Your hired MSP is responsible for maintaining, monitoring, and supporting your entire IT operation.
Regardless of your IT needs, carefully review the managed IT services pricing guide and decide whether a pricing model works for you. Understanding the pricing models can help you make an informed decision and hire the MSP that best meets your IT needs and goals. 
10 Key Factors Affecting the Costs of Managed IT Services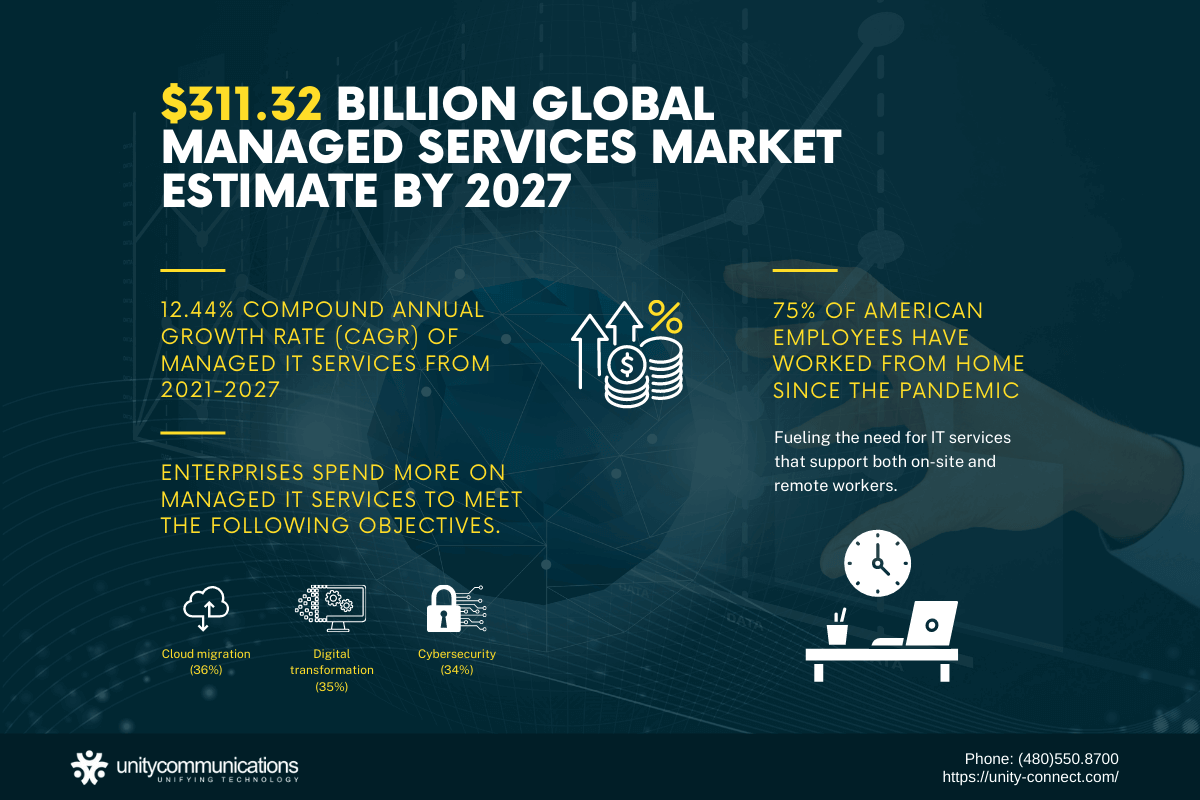 The global managed services market could grow from $161.37 billion in 2021 to $311.32 billion by 2027 at a compound annual growth rate (CAGR) of 12.44%. Managed IT services have become an outsourced IT trend due to their cost-saving benefits.
But over half of the recently polled enterprises spend more money on managed IT services today than in previous years. They do so to meet the following operational objectives:
Cloud migration (36%)

Digital transformation (35%)

Cybersecurity (34%)
Still, companies should make a cost-efficient IT investment by outsourcing to a reliable MSP. This means working with a third-party vendor that can help you streamline your IT and save money.  
Do not just look at managed IT services pricing guides; also consider the following crucial factors:
Your IT needs and requirements.

Audit your IT infrastructure to identify operational needs and tasks to outsource. Your overall cost for hiring an MSP depends on your IT requirements. You can set your outsourcing budget after the audit. 
Co-managed or fully managed services.

You can delegate IT processes or entrust the entire operation to an MSP. Note that the latter is more expensive than the former. Choose a service package that is cost-efficient for your business.
Service location.

An MSP remotely maintains IT systems and manages IT processes. It is capable of handling multiple business sites for global enterprises. Outsourcing for multiple business locations costs you more.
Remote or on-site employees.

Almost 75% of American employees

have worked from home since the COVID-19 pandemic. Having on-site or remote employees notably changes business IT needs. It is more expensive for an MSP to serve remote workers than assist on-site employees.
Number of devices.

Review managed IT services pricing guides. Consider the monthly cost per device when hiring an MSP. The more devices used, the higher the cost of managed services.
Number of users.

Managed IT services have become vital

outsourced IT solutions

. However, connecting more end users results in a more expensive MSP bill. As mentioned, most MSPs charge clients between $51 and $100 per user.
IT workforce.

Consider the types of IT professionals you need. They might be IT support specialists, help desk agents, or desktop technicians. Your contracted MSP can charge you per IT-BPO agent.
IT infrastructure and technology.

The entire IT infrastructure influences the outsourcing cost. An MSP with a state-of-the-art facility and advanced technology charges more. However, you will benefit from its quality-managed IT services.
Pricing structures.

Examine your IT operation and assess which functions to outsource. That will help you decide which pricing model best fits your business.
Service-level agreement.

When companies

outsource tech solutions

, they create an SLA. It details your operational objectives, key metrics, work scope, and the consequences of a breach. Negotiating with your MSP helps with deciding the overall outsourcing cost. The contract seals the deal.
It is time to optimize your IT operation by hiring managed services. However, you do not necessarily have to make a costly IT-BPO investment to receive efficient service.
Unity Communications has a proven track record of  IT support outsourcing services. We offer technical support, a dedicated help desk, and remote technical support. We are proud to have a team of technical experts leveraging the latest technology.
We extend affordable managed IT services to our clients without compromising quality. Contact us today so that we can discuss your IT needs and requirements.
The Bottom Line
IT outsourcing is a practical solution for reducing operating costs. You must be highly critical and selective in hiring an MSP to work with, though. Get a service package that can help you save money in the long run.
To ensure maximum cost savings, follow our practical pricing guide for managed IT services. Weigh the general market cost and your IT outsourcing budget. Assess which service types and pricing structures best suit your company. Lastly, consider the ten crucial factors that influence the service cost. Remember to strike a balance between service affordability and quality.