Written by Allie Delos Santos
A successful business comes down to excellent products, efficiency, intelligent and innovative processes, and good management. Modern techniques and effective strategies can take your company from good to great. If appropriately enacted, business process outsourcing (BPO) can help bring that change to your company.
This article tells you everything you need to know about business process outsourcing types, categories, and examples, plus BPO's current state.
Let's get started!
What Is Business Process Outsourcing?
Business process outsourcing (BPO) involves hiring an outside agency to manage a company function. In other words, you outsource your company's non-core operations to an experienced and capable third-party vendor.
BPO began in the manufacturing industry to reduce costs. But almost every company outsources now, with the U.S. BPO valued at $132.9 billion. 
Businesses outsource when a specialized firm can handle a task better than they can. In most cases, outsourcing business processing is more efficient and practical than hiring and paying staff.
Types of Business Process Outsourcing Based on Categories
BPO firms vary in terms of the type of work they do, the location of the BPO company, and the particular service offered.
Types of BPO Based on Structure
When companies refer to examples of business process outsourcing, they often divide the type of work they are subcontracting into two structures: 
This outsourcing type deals with the backend needs of an organization. That means providing all admin functions and tasks like outsourcing finance, document management, human resources, and payroll.
Front office outsourcing is the practice of farming out customer-facing activities. It includes standard services like marketing, customer service, and tech support.
Your organization might do well with one or both examples of business process outsourcing. Ultimately, the type of outsourcing that would benefit your company the most depends on your specific needs. Conversely, you may choose to retain control over specific business processes, but you can streamline certain functions that are not part of your core value proposition.
Types of BPO Based on Location
Examples of business process outsourcing can also be grouped based on the vendor's location. Companies can achieve positive business process outsourcing results by combining these three types.
Offshore business process outsourcing
Offshoring happens when companies outsource services overseas. Businesses that offshore their processes are incentivized by lower labor costs, political stability, various tax savings, available resources, and more.
An example of offshore business process outsourcing is when an e-commerce shop in the U.S. contracts with a call center vendor in an overseas country. This can lower overhead costs for the e-commerce shop through lower labor costs, positively impacting the bottom line. 
Nearshore business process outsourcing
Nearshoring is outsourcing a business process to a vendor located in a country close to the hiring company. US companies might use service providers in Mexico and Central America.
Language proficiency, time zones, and cultural differences are essential factors when considering outsourcing. Nearshoring, therefore, is a good option when specialized skills are available in nearby nations for a lower price. An example of nearshore business process outsourcing is when a company in Silicon Valley outsources data entry to a vendor in Mexico.
Domestic business process outsourcing 
Domestic or onshore outsourcing refers to receiving services from vendors within the boundaries of your country. In other words, the service provider is in the same city, state, province, or country as the hiring company. Factors like cultural familiarity and ease of collaboration incentivize companies to participate in domestic outsourcing.
Types of BPO Based on Service
Examples of business process outsourcing can also be divided based on the type of service that the vendor provides. Here's a list of the most common types of BPO services.
Information Technology Enabled Services (ITES)
An example of business process outsourcing that manages tech solutions over the Internet is ITES. This type of BPO usually fulfills functions like production support analyst, technical support, and service desk analyst.
Knowledge Process Outsourcing (KPO)
KPO is the process of hiring service providers to offer advanced expertise on specific business processes. KPO services include content creation, legal processes, web design, and financial or accounting analysis.
There are two subsets to KPO:
Legal Process Outsourcing (LPO)

involves a variety of high-level legal activities. LPO providers employ seasoned paralegals to accomplish complex tasks such as performing legal research, drafting patent applications, and creating legal agreements.

Research Process Outsourcing (RPO)

is mainly concerned with data analysis and research functions. Data-driven companies such as investment firms, marketing agencies, and pharmaceutical companies often utilize RPO. Services included in RPO are primary and secondary market research, data analytics, and investment research.
Examples of Business Process Outsourcing Functions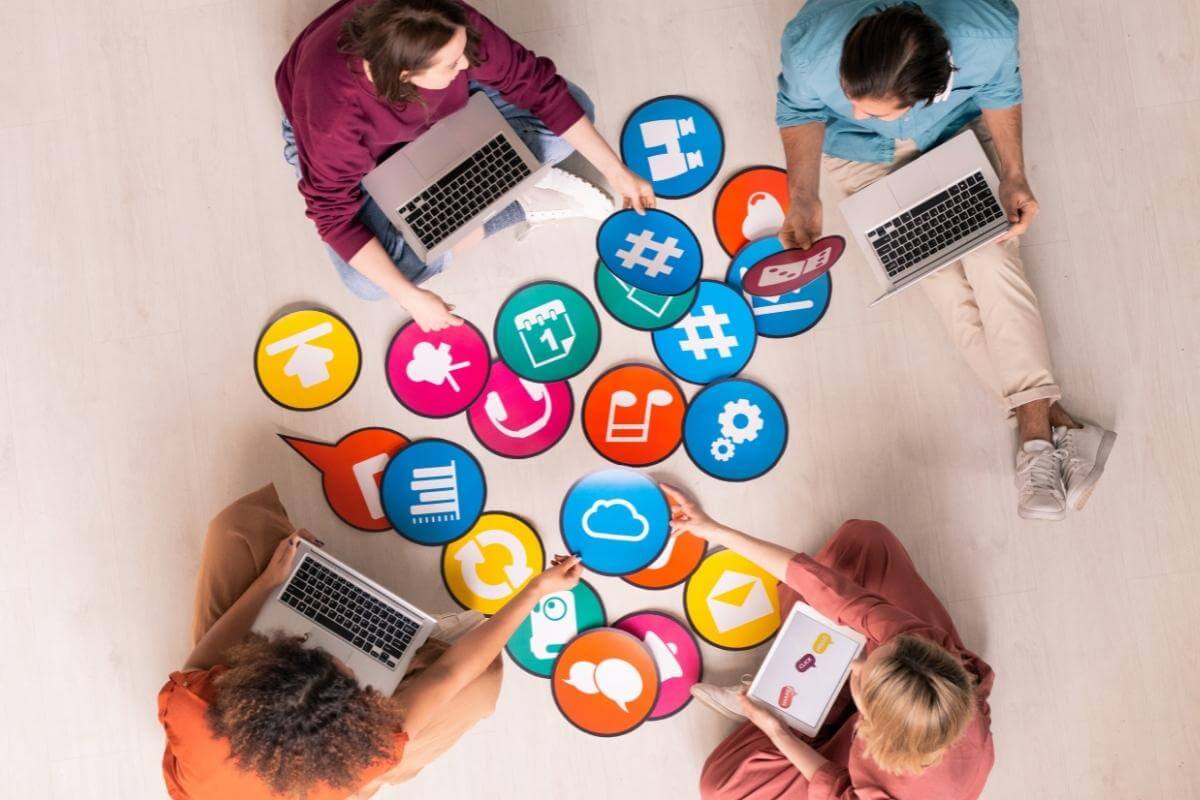 Every year, companies in the U.S. outsource about 300,000 jobs. For many small to mid-sized businesses, outsourcing allows them to get more things done without hiring more full-time employees, thus keeping costs down and increasing productivity.
Outsourcing can be an excellent idea for several business functions. Here's a list of the top business processes you could outsource.
Accounting makes a good option for outsourcing. Learning the process and compliance standards can take much time and resources if your company doesn't specialize in finance functions. Outsourcing to a reliable BPO can address your accounting needs much faster, increasing efficiency and saving you money.
Concentrate on your internal business functions with an external marketing agency taking content creation and social media management off your plate. This team of professionals brings your creative ideas to life and creates strategies on your behalf, thus efficiently doing your marketing while giving you peace of mind. 
Likewise, your business might not have the expertise and personnel needed to set up funnels and make sales calls aimed at closing deals. With outsourcing, you can hand over those functions to experts who can bring in more clients.
Information technology is one of the most significant outsourcing sectors. The global market for the IT outsourcing industry could reach $85.6 billion this 2022. Companies can outsource to a BPO firm that provides on-demand assistance to troubleshoot issues or handle tech concerns.
If your business primarily interacts with customers online or through the phone, you can outsource customer support to an external chat or call center provider. Establish your processes with your service provider and give clear instructions on managing customer interactions on your behalf. 
Establishing a dedicated manufacturing facility may not be viable for some companies, especially small businesses. That's why many companies outsource this function.
However, the US has a 15.83% market share in the global manufacturing business. So, you could opt for a domestic manufacturing service provider for this function to keep operations close to you. 
Companies can also outsource their shipping service, logistics, and delivery of products to customers. Outsourcing this process is ideal for e-commerce shops that want to concentrate on sales and marketing rather than fulfillment and shipping.
Is there something you need to know about your clients or your sector? Proper research is important whether you're considering expanding to foreign markets or releasing a new product.
If you don't want to spend weeks or months surveying consumers, you may outsource research to an RPO provider. They will have access to more information resources and bring invaluable insights.
A common outsourcing solution for HR is a recruiting service, in which the provider brings in candidates for vacant positions. There are also opportunities to outsource payroll, benefits administration, training, and time or attendance issues.
These listed functions are commonly outsourced to a BPO company. In essence, businesses can outsource any function that takes up too much time and can be accomplished faster and cheaper externally. If you're still undecided, there are BPO articles online to help you decide whether outsourcing is right for your company.
Reasons for Business Process Outsourcing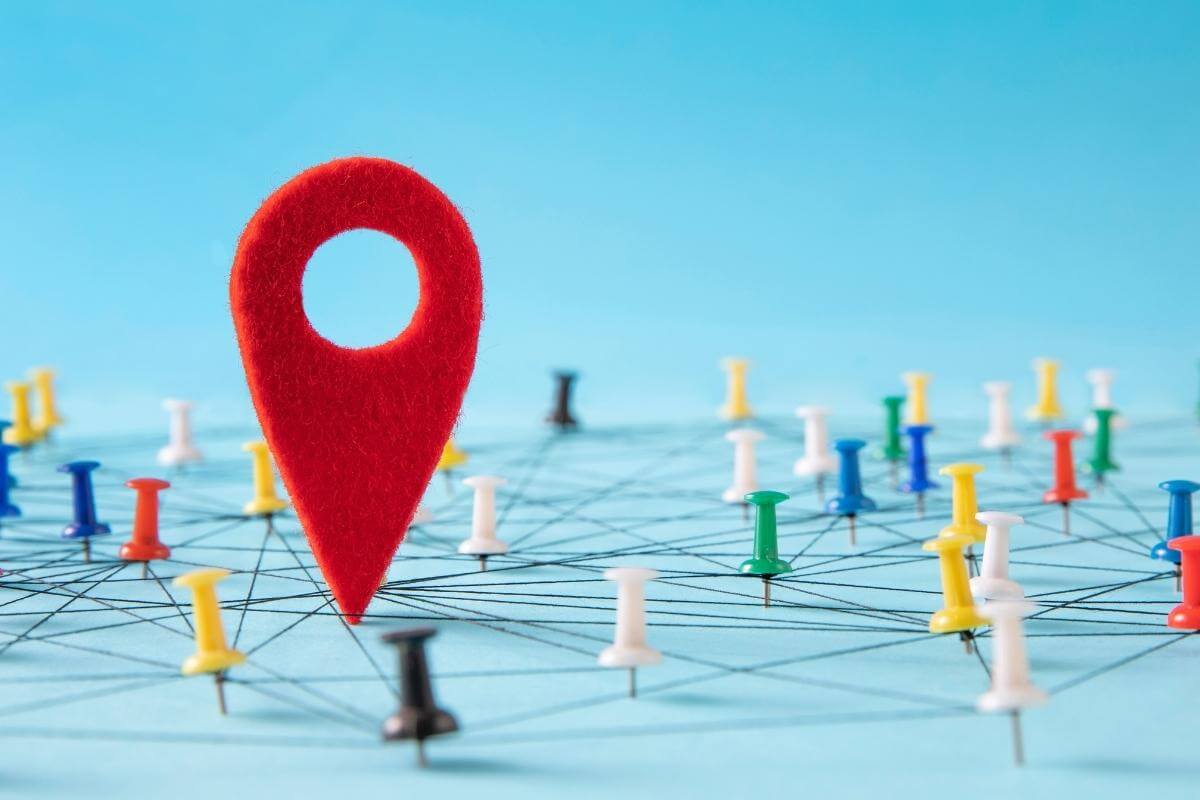 Zippia reports that 66% of U.S companies outsource at least one department. From startups to Fortune 500 companies, BPO continues to be in demand. What began in the call center sector now extends to technical and professional services like accounting, HR, and web design.
Why do companies outsource? Here are the most common reasons:
Decrease cost:

With business process outsourcing, companies can

cut overheads by 70%

, particularly in recruitment, training, and rental expenses. Additionally, businesses can worry less about the cost of deploying and maintaining infrastructure in-house.

Concentrate on primary functions:

Low-hanging fruits like monitoring payroll, data entry, and checking emails are a few of the functions that can take your focus off more important matters. Outsourcing lets you concentrate on

growing business strategies

.

Attain better results in non-primary functions:

Most BPOs handle administrative tasks and offer cutting-edge client solutions. A software development company might not invest in the latest payroll system, but a BPO might. Outsourcing gives the hiring company better solutions.

Improve efficiency and speed:

The hiring company can increase its capacity, improve accuracy, and save time. For instance, a BPO provider specializing in managing records can automate the indexing of documents, saving the client the need to enter and store information manually. Plus, they can save money on automation software.

Expand global presence:

Companies can use

BPO for long-term planning

. Businesses looking to expand can use BPO to tap into the global market. Outsourcing allows companies to serve clients round-the-clock and in multiple languages, so local employees are freed of such tasks. 

Enable flexibility:

Outsourcing companies are more agile and can act faster when mitigating risks associated with launching a new product or changing customer demand. They can scale the operation up or down depending on the situation required.
Different Categories of Industries Using BPO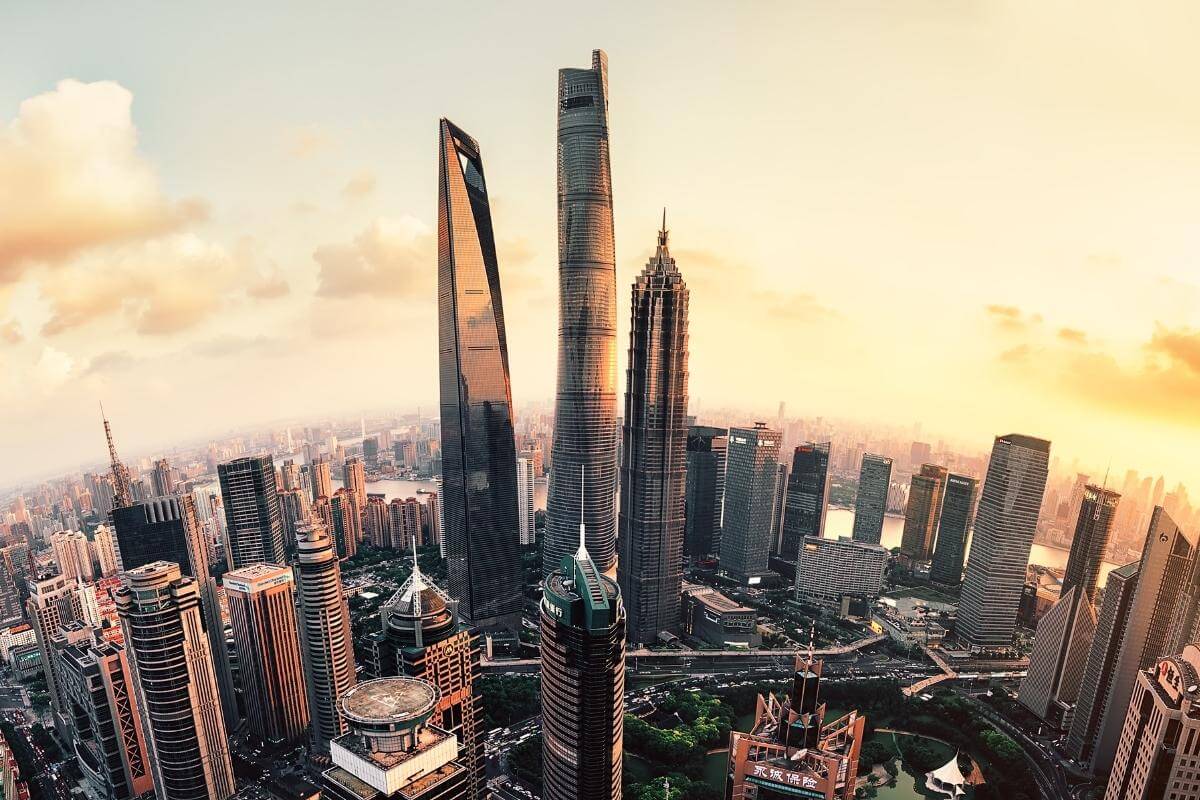 Now that you know what business process outsourcing is, it's time to look at industries that use it. Now, more than ever, companies use BPO extensively. The BPO industry has grown more than four times since 2018 and is expected to have an 8.5% compound annual growth from 2021 to 2028.
Here's a look at the various sectors that use BPO companies.
A growing number of legal companies are using business process outsourcing. Law firms can hand over low-level legal activities like transcribing to a BPO company. However, BPO firms can also take on higher-level tasks like drafting patent applications and conducting legal research.
Facility managers and property development companies use business process outsourcing to manage real estate analytics, including benchmarking and fee analysis. Real estate companies can also partner with BPO providers to assist with accounting, administration, and lease abstraction tasks.
Most businesses have an IT department, so it's only practical to have a dedicated tech support team to mitigate cyberattack risks and protect the company's infrastructure. Companies can use BPO to oversee necessary services on the network and troubleshoot day-to-day IT mishaps.
The medical industry has many non-core activities to outsource. These activities include healthcare billing, coding, data entry services, and claims processing. The idea is that administrative work should not bog down medical workers whose focus should be on patients.
With so many tasks associated with mortgage collection, lenders are now handing these off to BPO agencies. For instance, a loan approval process includes handling the closing process, processing the document, underwriting the agreement, and making various verifications. A BPO partner allows lenders to transfer labor-intensive work.
E-commerce shops receive plenty of customer calls and messages in a day. Whether inquiring about a product or asking about a return/refund policy, shoppers like to receive an immediate response. E-commerce brands can outsource customer service functions to a BPO company to manage all customer interaction points.
The Bottom Line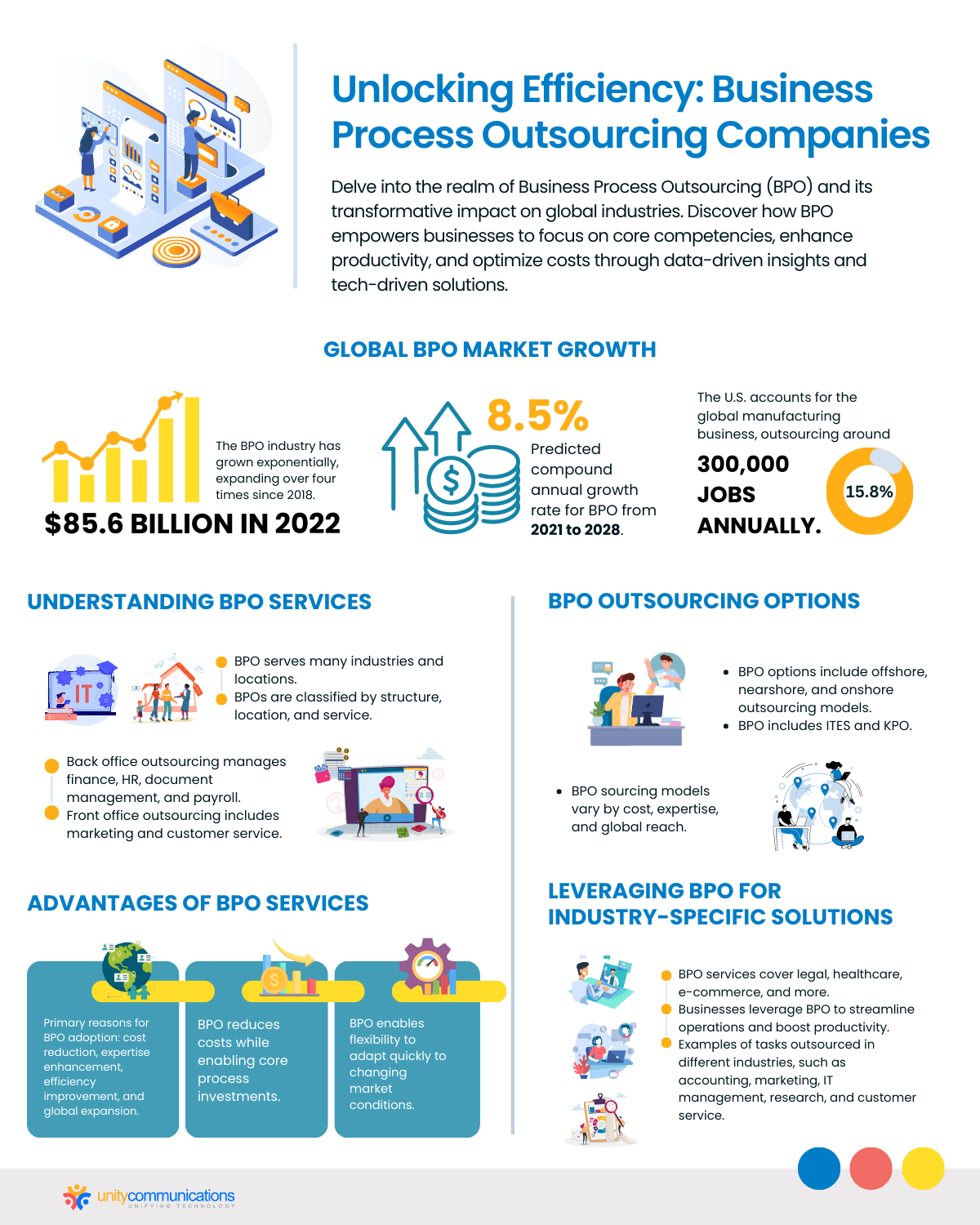 As you've observed, there are numerous BPO service options available to companies of all sizes. When used effectively, partnering with a third-party service provider can open up numerous opportunities for businesses.
Business process outsourcing is a highly efficient method to streamline your work processes and accomplish more with fewer resources. By embracing BPO, you can allocate more resources to essential tasks, cut down on expenses, and maintain flexibility in your operations.
Ready to explore the world of Business Process Outsourcing further? Check out our informative infographic for a visual breakdown of the benefits. And if you're eager to get started, don't hesitate to reach out to Unity Communications for expert guidance and support. Your business's success is just a click away.