Written by Joyce Ann Danieles
A wise entrepreneur develops a well-structured plan to benefit from business process outsourcing (BPO) in the long run. A strategically thinking businessperson values their partnership with a third party. A sharp-witted merchant emphasizes cost efficiency to produce superior outcomes.
Now, read back the first sentence. Do you have the same mindset?
Yes? No? Unsure?

Fret not! This article discusses key concepts to support your BPO long-term planning. You will also learn the best tips and tricks for establishing outsourcing and business growth strategies.
Importance of BPO Long-term Planning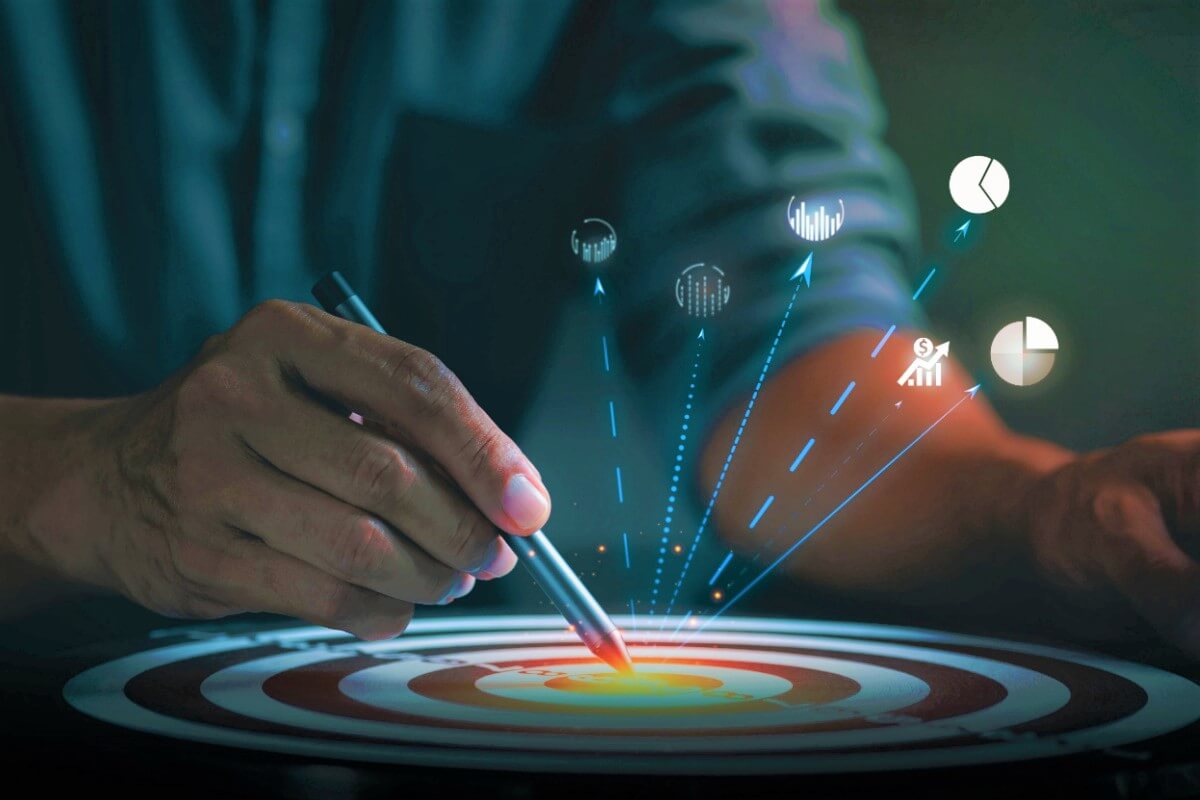 When asked what BPO is, "hiring a provider to deliver outsourcing services" is the answer most people give. Increased productivity and enhanced product quality urge many organizations to entrust their front- and back-office functions to a third party.
In addition, recent statistics from Deloitte state that cost savings remain the primary driver of outsourcing; 57% of polled executives said so.
As such, most businesses consider hiring BPO companies as a short-term solution for their in-house struggles and backlogs. However, some take BPO long-term planning seriously. Here is why:
Align strategic goals.

A concrete plan ensures you and your service provider are on the same page. It assures that the BPO partner helps your enterprise achieve sustainable growth.
Perform due diligence.

Background checks and verification are crucial when seeking a healthy BPO partnership for the

long term

. Evaluating a vendor's market position, expertise, and professional history lets you identify potential issues and resolutions beforehand.
Streamline integration planning processes.

Working with a BPO provider requires a detailed integration strategy, especially for large-scale operations such as manufacturing. So you need an action plan to optimize your BPO partner's strengths.
Ensure balanced resource allocation.

BPO long-term planning

guides you in effectively distributing your resources between your non-core and

core business

functions.
Manage risks.

Collaborating with

outsourcing firms

involves the exchange of sensitive data and business assets. Thus, a well-organized plan assists in identifying and addressing related threats.
10 Key Elements of Successful BPO Long-term Planning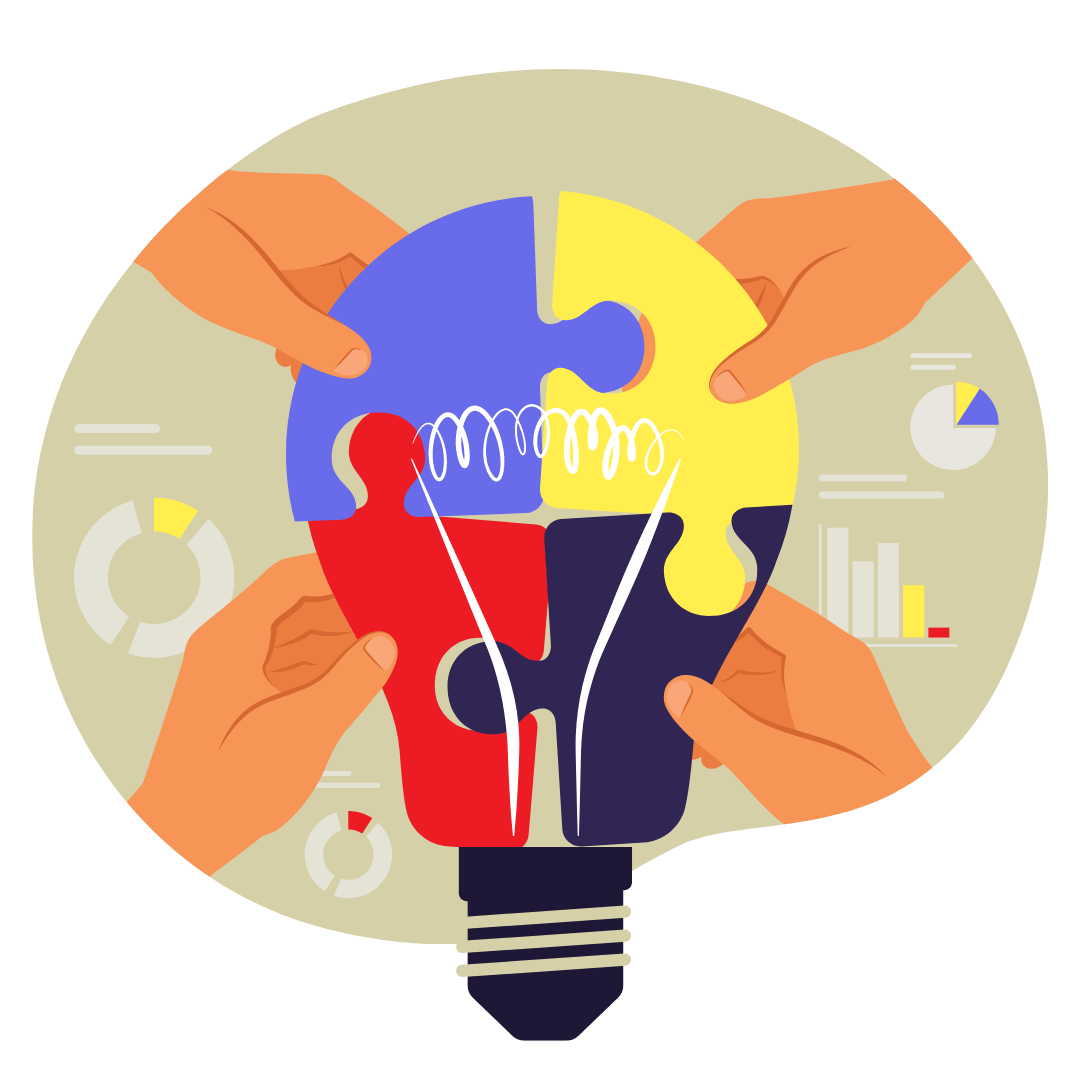 Long-term strategic planning before hiring BPO firms is your key to success. It involves several elements crucial to obtaining positive outcomes with your service provider.
Strategic alignment.

Long-term planning ensures the contractor's goals and work strategies match yours. It helps avoid the hassle of conflicts and misunderstandings. 

Market analysis.

Studying the latest market and

BPO trends

provides essential insights for decision-making. Moreover, monitoring consumer demands with the vendor assists in your planning to attain

customer satisfaction

and retention.

Resource planning.

A well-organized resource plan describes dividing funding equally between your primary initiatives and outsourcing projects. It informs you of any resource gaps and ways to address them.

Contract negotiation.

Whether you seek IT or

call center

support, securing a prolonged partnership requires careful negotiation with your ideal provider. As part of

BPO long-term planning

, you must discuss all your terms, conditions, and expectations with the third-party company. 

Service-level agreement (SLA).

Drafting an SLA comes before, during, or after contract negotiation. It contains all service requirements, rules, payment conditions, and performance metrics for working with a third party.

Risk management.

BPO long-term planning

includes creating a risk management framework. This strategy outlines practical solutions to mitigate potential risks that impact your partnership, such as cyberattacks and regulatory changes.

Knowledge transfer.

Setting up a knowledge transfer method establishes transparency between you and your service provider. The transfer method should securely and effectively facilitate the sharing and access of data relevant for smooth collaboration.

Relationship management.

Maintaining a good relationship with your BPO partner allows you to maximize long-term benefits. You need a coherent relationship

management process

to ensure seamless communication and coordination despite location and availability barriers.

Innovation.

BPO long-term planning

involves exploring innovative ways to achieve

higher levels

of quality services and client satisfaction ratings. Close cooperation with your provider helps identify which advanced solutions best fit your requirements.

Continuous improvement. Have a strategy for tracking third-party progress and output. This factor helps you know whether the BPO partner streamlines your non-core functions, improves customer service

, and contributes to growth. The resulting insights also notify you of which issues need urgent intervention.
Seven Actionable Tips and Tricks for Strategic Planning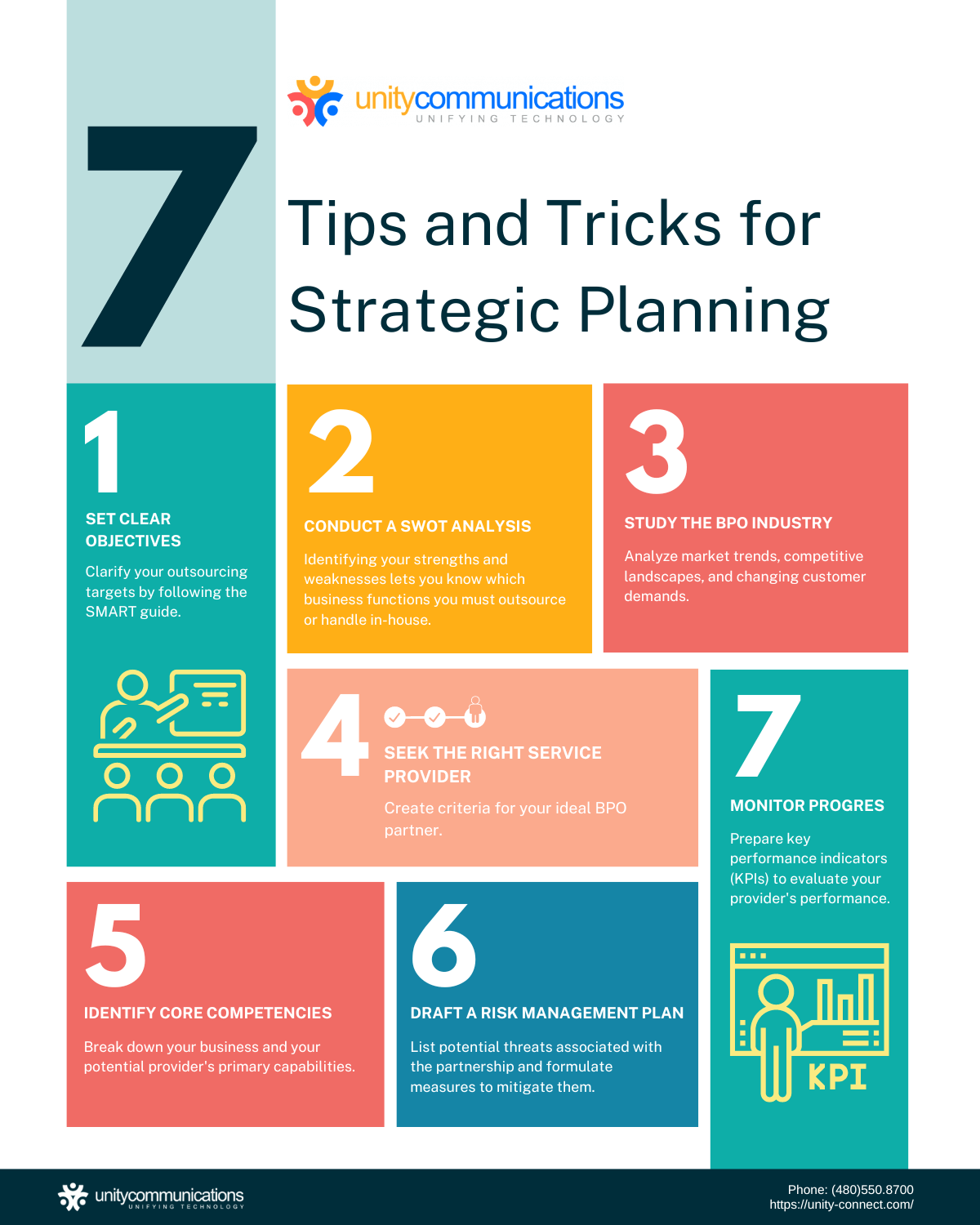 A recent study states that strategic planning supports a company's long-term aptitude and competence. Planning also boosts profitability, enterprise expansion, and market share growth.
However, do you know where to start your BPO long-term planning? Allow us to help you through this business process outsourcing guide.
Set clear objectives. Clarify your outsourcing targets by following the SMART guide. Every BPO model emphasizes that a smart goal should be specific, measurable, achievable, relevant, and time-bound. Such objectives help you focus your initiatives and resources to attain your desired outcomes when partnering with a service provider.
Conduct a SWOT analysis.

Identifying your strengths and weaknesses lets you know which business functions you must outsource or handle in-house. The results also teach you how to align with market opportunities and prepare to address threats.

Study the BPO industry.

As you work on your

BPO long-term planning

, analyze market trends, competitive landscapes, and changing customer demands. The collected data adds weight to your decision-making and budget planning.

Seek the right service provider.

Create criteria for your ideal BPO partner. Ensure your provider has experience in your industry and can effectively deliver your required services. Furthermore, look for a vendor with a strong track record, an excellent reputation, and positive client feedback.

Identify core competencies.

Break down your business and your potential provider's primary capabilities. Closely work together to plan your possible moves on improving, integrating, and maximizing your strengths. This way, you know how to differentiate your offerings from competitors and bring value to your customers.

Draft a risk management plan.

Remember to include risk management in your

BPO long-term planning

. List potential threats associated with the partnership and formulate measures to mitigate them.

Monitor progress.

Establish an efficient system to track your BPO progress and output. Also, prepare key performance indicators (KPIs) to evaluate your provider's performance. These elements help identify improvement areas so that you can adjust your BPO approach.
The Bottom Line
Although outsourcing might be a temporary solution to your high operating costs and huge backlogs, drafting a concrete strategy lets you benefit from this business strategy in the long run. 
Know the importance of BPO long-term planning and the key to its success. The tips and tricks presented here should help you start successfully.
If you have any more questions about BPO long-term planning or BPO in general, let's connect. Unity Communications values strategic business alignment and integration to help boost your efficiency and profitability.
Enjoyed what you just read? Share it with your network.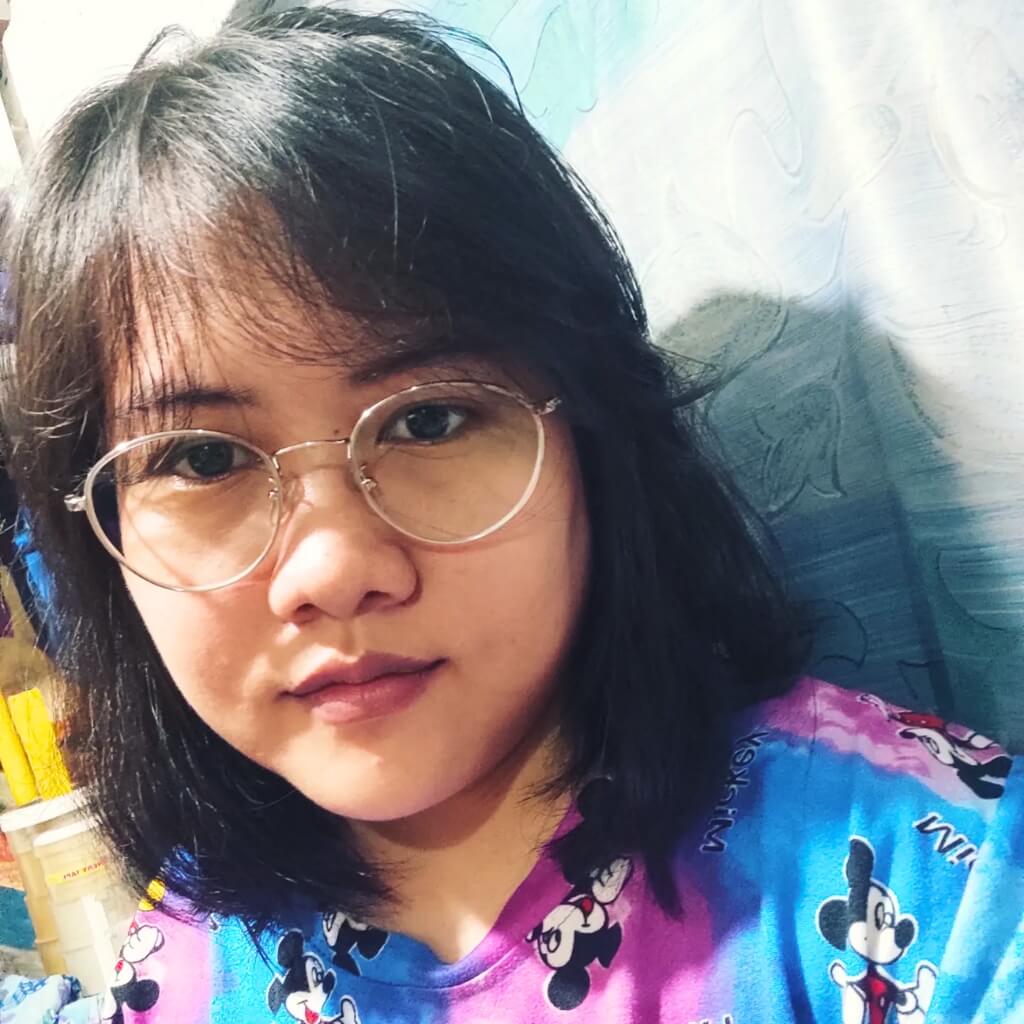 Joyce Ann Danieles is an SEO content writer from Manila, Philippines. She's comfortable writing outsourcing-focused articles, helping you clarify the confusing concepts surrounding the BPO industry. With her experience in news writing and copywriting, she's always ready to feed your brain with random facts and creative insights.
Outside work, Joyce explores the world of literature. She tries to write fiction she hopes to share with everyone someday.