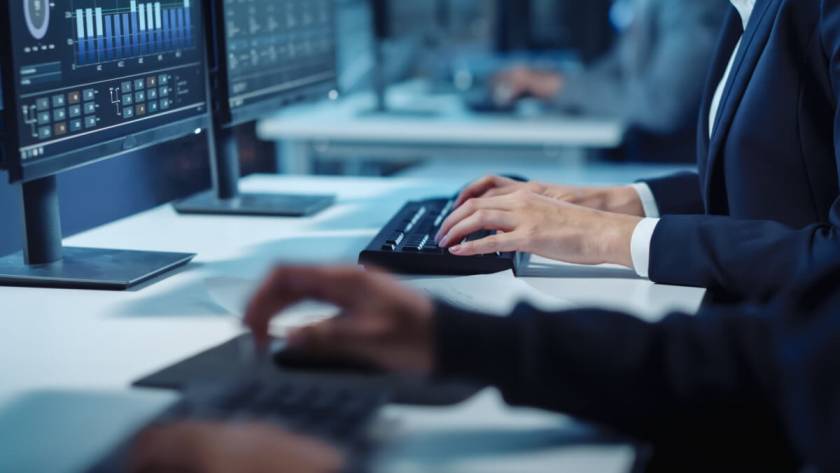 Written by Dion Jay Tality
To keep business operations running smoothly, you likely handle several information technology (IT) tasks daily. 
Regular technology use can lead to issues that require expert help. IT support outsourcing gives your users efficient technical support, and you pay for the service only when you use it. One business function you might outsource is desktop support to help repair, manage, and maintain laptops and computers in your system.
Let us find out what desktop support jobs you can outsource to meet your IT requirements.
Nine Desktop Support Jobs You Can Outsource
IT outsourcing has become the largest business process outsourcing (BPO) subsector. In terms of revenue, it accounted for about 34% of the total BPO market in 2021. Moreover, a recent survey of IT companies found that more than half outsource some of their desktop support tasks. 
Desktop support is one of the most commonly outsourced IT tasks. But what functions can you entrust to a BPO company?
Below are some of the common desktop support jobs that companies outsource. 
1. Computer Support
Computer support is one of the most common desktop support jobs. This task refers to services that trained professionals provide for end users. Services include the following:
Configuring computer systems

Updating and maintaining systems

Troubleshooting hardware and software

Providing support in using computers, programs, and applications
IT BPO firms employ IT professionals who offer computer support remotely. They often send technicians on-site to install, maintain, and fix computer systems. Clients of IT BPO companies can be confident because they receive proper assistance from a team of experts. 
2. Technical Support
The global market for IT outsourcing is expected to grow from $44.36 billion in 2021 to $80.33 billion by 2030. Technical support is still a commonly outsourced IT function. Unlike computer support, this task handles various devices, such as:
Computers

Mobile phones

Software
Outsourced technical support specialists are capable of troubleshooting desktop systems. They ensure computers and related devices are always in top working condition. This way, end users can accomplish their day-to-day tasks.
3. Help Desk
A help desk is where people ask for technical assistance and user support. Customers contact help desk agents via phone calls, live chat, or in-person meetings. Unlike computer support and technical support, a help desk covers a wide range of services, including:
Technical support (troubleshooting, hardware installation, software updates, system maintenance, etc.)

User/customer support (answering inquiries, processing requests, handling complaints, etc.)
Through outsourcing, businesses can establish a help desk for desktop concerns. A third-party team creates a single point of contact (SPOC) for all end users of computer devices. Help desk agents attend to their needs, regardless of the task.
4. Technology Support
Technology support might appear similar to technical support and help desks because they all provide technical assistance. But what sets technology support apart is how it prioritizes an organization's technology. Aside from handling technical issues, experts provide the following support:
Staying abreast of the latest digital tools and technologies

Providing technical advice to business owners or leaders

Installing new hardware and software vital to business operations
Desktop support is not limited to computers; it integrates with other technological tools. Partnering with a managed service provider (MSP) is the best way to get help with technology. An MSP has a wide scope and can take care of an entire IT operation.
5. Data Management
Data management is critical to making informed decisions. This task involves managing business information to make it useful, secure, and accessible. Data management includes the following:
Data Storage.

An IT service provider uses a system, such as a customer relationship management (CRM) tool, to record and store business data. Outsourced data managers are responsible for sorting and organizing information.
Data Protection.

Outsourced data managers safeguard business data, especially confidential or sensitive information. They guarantee such protection by securing your network systems and setting privacy policies.
Data Access.

An IT service provider always prioritizes this task. Outsourced data managers are responsible for regulating access. They ensure that only authorized personnel can access business data and customer information.
Data management is important to desktop support because computer users deal with numerous data sets daily. Companies need data managers who can manage and secure the information collected. So outsource data entry services or management tasks for maximum data privacy and protection.
6. Database Administration
While data management focuses on data alone, database administration prioritizes system maintenance and management. This task involves processes designed to ensure the database's performance, security, and integrity. 
Data protection is part of the overall business function. But specifically, this task includes the following:
Tuning the database for optimal performance

Regulating user access to the database

Backing up and restoring data

Managing the utmost security of your database
Since computer users frequently use databases, businesses need administrators to oversee them. For mid-sized and large companies, working with IT BPO vendors is best for this critical task.
7. Network Management
For the most part, network management is a critical desktop support task. As the name suggests, this task oversees the operation of a computer network, including:
Monitoring the network to ensure it is running smoothly

Configuring devices to optimize their performance

Troubleshooting any issues that potentially arise
Companies should work with an MSP to stay on top of their network systems. Hired network managers ensure your network is always reliable, secure, and efficient. They help meet the end-user needs for service efficiency and business productivity.
8. Web Development
Most people now do business online via company websites. But 94% of first impressions come from a site's web design. Therefore, web development is crucial to business success.
Website development is the process of building and maintaining websites. It involves a variety of tasks such as:
Designing websites for aesthetics and functionality

Writing site codes

Ensuring web pages' optimal performance and excellent user experience (UX)
Companies can outsource this task to web developers or designers. The contracted experts create visually appealing and highly functional websites for their businesses. Likewise, they maintain and fix the websites whenever necessary.
9. Software Engineering
Software engineers are in high demand, and there are currently 4.3 million working in the United States. Software engineering is the application of engineering principles to software design, development, and maintenance. This task includes the following activities:
Requirements analysis

Design

Coding

Testing

Deployment

Ongoing support and maintenance
Software engineering is a highly technical field requiring a solid understanding of computer science. So businesses should outsource this task to a reliable IT service provider. Technical experts create high-quality, reliable, and maintainable software that meets user needs.
How To Get Started With Outsourcing Desktop Support
Outsourcing desktop support jobs provides businesses with several potential benefits. But getting started with it is no easy feat. This IT function requires due diligence, as with many fronts- and back-office outsourcing services. To make informed BPO decisions, plan and create an outsourcing strategy.
Are you trying to figure out how to get started? Follow our steps below to ensure your business receives high-quality support to succeed:
1. Study the Outsourcing Pros and Cons
Outsourcing desktop support jobs has become one of the most significant outsourced IT trends. This business practice is a cost-effective way to support your employees' computer devices. But it also has potential drawbacks.
Therefore, you should weigh the pros and cons of outsourcing before making a decision.
Advantages:
Cost Savings.

IT outsourcing helps reduce your operating expenses on desktop support. It helps you save money for your business long term.
Core-function Priority.

An IT BPO vendor takes care of your desktop support. This way, you can focus on making money and growing your business.
Access to IT Experts.

IT outsourcing guarantees that you work with technical experts and IT professionals.
Technological Integration.

An IT BPO vendor gives you access to the latest technology such as automation, artificial intelligence (AI), big data analytics, and cloud computing.
Service Efficiency.

With the help of technology, technical experts immediately assist end users. They can resolve technical issues promptly.
End-user Satisfaction.

A skilled workforce makes end users feel satisfied with the services they receive.
Scalability and Growth.

A reliable IT BPO partner scales your IT operations and grows your business.
Disadvantages:
Loss of Control.

You might lose business control when you outsource your desktop support jobs to an MSP.
Goal Misalignment.

Choosing the wrong MSP without objective orientation causes goal misalignment.
Security Risks.

Outsourcing to a third-party vendor puts your network systems and business at risk.
Privacy Issues.

IT outsourcing means exposing your customer data to a third-party vendor that might be vulnerable to cyberattacks.
Cultural Disparity.

Cultural differences inevitably arise when you employ offshore or outsource to a distant country.
Language Barriers.

Aside from cultural differences, you experience communication gaps from offshoring.
Business Disruptions.

A third-party service provider might encounter disruptions such as natural calamities. As a result, your operations are halted as well. 
2. Examine Your Desktop Support Operation
Examining your desktop support operation is a crucial step in outsourcing. This step involves assessing the current state of your desktop support operation, including:
The desktop support personnel and

The technology and resources in place.
The goal is to identify areas of improvement in the existing operation.
To achieve this, conduct an audit of your desktop support processes and procedures. You can interview end users and review performance data on desktop support. This helps you unravel operational challenges in your IT unit.
3. Decide What Specific Jobs To Outsource
Identify the specific tasks you must outsource. Consider your organizational goals and operational needs. Match them with the expertise and capabilities of your BPO prospects.
Generally, the desktop support jobs that companies outsource include the following:
Hardware deployment and maintenance

Software installation and updates

Troubleshooting and technical problem-solving

Providing support for specific business applications
Be specific with the tasks you plan to delegate to an IT BPO partner. Note: Consider 10 Desktop Support Jobs You Can Outsource above.
4. Look for IT BPO Service Providers
At this point, you can search for an IT BPO partner. But what is an outsourced IT provider? It is a third-party service provider capable of handling your desktop support. When contracting the services of an IT partner, you have three options:
Break-fix Model.

You partner with an IT BPO vendor. But you hire IT professionals only when technical problems arise.
IT Outsourcing Services.

You only outsource some IT functions to a third-party service provider. You can delegate specific tasks such as desktop support, help desks, and technical support.
Managed IT Services.

You entrust your entire IT operation to a third-party vendor in this setup

. Desktop support is one of the functions you can delegate.
To begin looking for IT BPO prospects, search online. This helps you short-list numerous potential service providers. You can then research further to determine their capabilities and experience.
Additionally, you can ask for recommendations from other businesses or industry professionals. They can help you identify service providers with a proven track record of success. Now, you can create a list of prospects!
5. Request Quotes and Compare Service Offerings
Once you have a list of prospects, you begin the screening process. Start by requesting quotes from prospective service providers and comparing their service offerings.
The goal is to determine which service provider offers the best value. Reviewing multiple offers helps you decide on your ideal IT partner.
Requesting Quotes.

Provide as much information about your company's IT needs and requirements. Include the desktop support jobs, project scope, and relevant details of the outsourcing engagement. By doing so, your IT BPO prospects can provide accurate and detailed quotes relevant to your needs.
Comparing Service Offerings.

Compare quotes and pricing details once you have received replies from your prospects. Weigh their outsourcing costs and the specific services they offer. Remember to strike a balance between service quality and affordability.
6. Consider Key Factors To Narrow Down Options
The screening process continues beyond requesting quotes and comparing offerings. Some crucial factors help narrow down your options. So consider the following when choosing a BPO partner:
BPO Credentials and Reputation.

Business reputation says so much about a company. Check your prospects' credentials: business licenses, BPO certifications, and even awards to help you assess their overall reputation.
Industry Experience and Specialization.

Work with an IT BPO partner that has been in the industry for a long time. It must also specialize in IT activities such as desktop support. The longer they have been in the industry, the better.
IT Workforce or Technical Expertise.

Be highly critical of your prospects' IT workforce. Ask whether they all have IT backgrounds. Have they handled IT functions such as desktop support? Have they undergone proper training and certification?
IT Infrastructure and Technology.

Aside from human resources, factor in your prospects' material resources. Do they have a state-of-the-art facility and world-class equipment? Do they invest in the latest digital tools and technology such as automation, AI, and analytics?
BPO Cost and Pricing Model.

Let us go back to Step 5 by asking for quotes and comparing offerings. Check your prospect's pricing structures. You want to guarantee that its model best suits your industry type, business size, and operational needs. Ultimately, your goal is to increase cost savings without compromising service quality.
7. Choose an IT Provider and Sign a Service-level Agreement (SLA)
After comparing service offerings and considering factors, choose an IT BPO partner. Select the service provider that offers the best value for your organization. Make sure to draft and sign an SLA before implementing the solution.
An SLA protects both parties and guarantees BPO success in an outsourced IT solution. It is a legally binding contract that outlines specific terms and conditions, including:
Desktop Support Goals.

Define your operational objectives for your desktop support. Make sure goals are specific, measurable, achievable, realistic, and time-bound (SMART).
Key Performance Indicators.

Set critical metrics for desktop support, such as service efficiency, quality control, and user satisfaction.
Scope of Work.

List the desktop support jobs your MSP should handle. You should also set the work parameters, inclusions, and exclusions.
Agent Duties and Responsibilities.

Define the roles of agents and include their job descriptions in the contract.
BPO Cost and Pricing Structure.

Highlight the overall outsourcing cost and its breakdown. Include the pricing model and payment terms agreed upon.
Breach of Contract.

Stipulate the legal consequences for violating the contract agreements.
Once done, you can set up your desktop support system and start your BPO operation. Ensure constant communication and collaboration with your MSP because it is officially your business partner. Plus, track your outsourcing performance and progress. All these steps help you achieve outsourcing success.
The Bottom Line
Desktop support is an IT function critical to business operations. It ensures your computer users receive the necessary technical assistance and support. Therefore, you should invest in outsourcing several of its tasks to a reliable MSP.
IT professionals who provide desktop support work in a variety of settings. They even specialize in specific industries or technologies. But they have one goal: to provide end users with the support they need to use computers effectively.
Contact Unity Communications now to know how you can start outsourcing your desktop support.