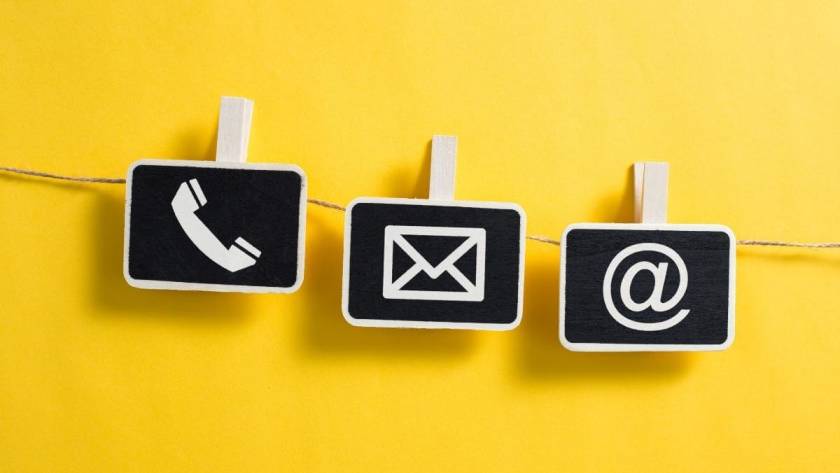 Written by Dion Jay Tality
Companies have recently faced challenges in customer interaction. The pandemic led to a surge in contact volume, obstacles in remote work, and the demand for digital communication. It also triggered changes in consumer demands and customer behavior.
Thus, robust communication between customers and employees has become imperative for businesses. That's where contact center as a service (CCaaS) comes into play. It offers real-time omnichannel communication, enhanced employee service, and personalized customer experience.
This page is a beginner's guide to CCaaS. Learn more about its features and benefits, including the steps for choosing a service provider.
What Is Contact Center as a Service (CCaaS)?
CCaaS is a cloud-based, provider-hosted software infrastructure used for customer communication. Essentially, it's an ideal business solution for enhancing customer experience.
CCaaS gives businesses access to the vendor's contact center solutions. It offers a pay-as-you-go pricing structure. With this, advanced features become readily available to a company when needed.
How Does CCaaS Work?
The CCaaS model enables you to purchase only the cloud-based software you need. Your contracted provider hosts the technology entirely in an offsite data center.
With this model, you don't need to invest in costly hardware and infrastructure. You don't even need an in-house IT team to oversee and maintain it. It's a great way to eliminate in-house IT resources and reduce support costs.
Once you purchase the software, you can start your contact center operation. CCaaS allows you to:
Communicate with customers through various channels (phone calls, email, chat, social media, or SMS).

Manage your customer support teams, whether in-house or remote, using collaboration tools.

Perform real-time or asynchronous recording and monitoring of your contact center agents.

Conduct data analysis and reporting using automation and artificial intelligence (AI).

Optimize the workforce through automated scheduling, quality management, and compliance monitoring.

Integrate

application programming interface (API)

and customer relationship management (CRM) tools into your contact center operation.
How Does CCaaS Differ From Other Communication Solutions?
CCaaS is a customer contact solution. It's different from an on-premise contact center due to its cloud-based technology. It also differs from other as-a-service (aaS) solutions because it caters to customer needs (not those of employees or developers). Lastly, it offers multiple channels, setting it apart from a call center.
CCaaS has recently emerged in the contact center scene. Unfortunately, many people are confused about what it is and how it works. It often is used interchangeably with other communication solutions.
To further understand, here's how CCaaS differs from other solutions.
Cloud Contact Centers vs. On-premise Contact Centers
The global contact center market was worth almost $4 billion in 2021. It might grow to $17.12 billion by 2030 with a compound annual growth rate (CAGR) of 18.24%.
However, only a few understand how CCaaS differs from other contact center solutions. Let's look at the differences between the two:
Cloud Contact Center (CCaaS)

On-premise Contact Center

Companies use the software infrastructure only for their contact center operation.

It's a cloud-based technology hosted by a third-party vendor in a remote location. 

It doesn't require physical infrastructure and hardware.

It's an on-the-ground solution provided by a vendor with technologies installed in a physical location. 

Companies purchase licenses for both software and hardware for their contact centers.

Companies must regularly maintain and update their infrastructure.
CCaaS vs. Other Cloud Solutions
The global everything as a service (XaaS) market was worth $436.82 billion in 2021. It might reach $545.35 billion this year and grow to $2,378.07 billion by 2029, with a 23.4% CAGR.
The aaS sector serves different businesses across various industries. It stands for anything 'as a service,' a cloud-based solution for optimizing business operations. Some examples are: 
Software as a service (SaaS)

Platform as a service (PaaS)

Infrastructure as a service (IaaS)

Data as a service (DaaS)
CCaaS is a subset of the aaS industry. However, people tend to confuse it with other software solutions. Let's look at the differences below:
CCaaS

UCaaS

CPaaS

Stands for contact center as a service

Primarily designed for external communication

Customer-focused

Provides customers with multiple channels

Stands for unified communications as a service

Mainly for improving internal communication

Employee-focused

Offers a business with omnichannel solutions in a unified platform

Stands for communications platform as a service with communication APIs

For clients or developers looking to customize communication channels

Developer-focused

Allows customers to add communication channels to their existing business applications 
CCaaS vs. Call Centers
The global call center market reached $339.4 billion in 2020. It might reach $496 billion by 2027, with a 5.6% CAGR. But what started as a booming sector has evolved into a contact center industry. This sector now offers multiple channels—and more.
CCaaS falls under the contact center industry, which is different from a call center. Let's look at the differences below.
Cloud Contact Center (CCaaS)

Call Center

Offers multiple channels (phone calls, email, chat, social media, SMS, and self-service portal)

Typically used for customer service, telemarketing, technical support, IT service, and more

Includes both front- and back-office workflows

Provides front- and back-office outsourcing services

Provides only one channel (phone calls)

Usually handles customer service, sales, and technical support

Entails front-office workflows (inbound, outbound, or blended)

Offers customer-facing outsourcing services
Key Features of Contact Center as a Service (CCaaS)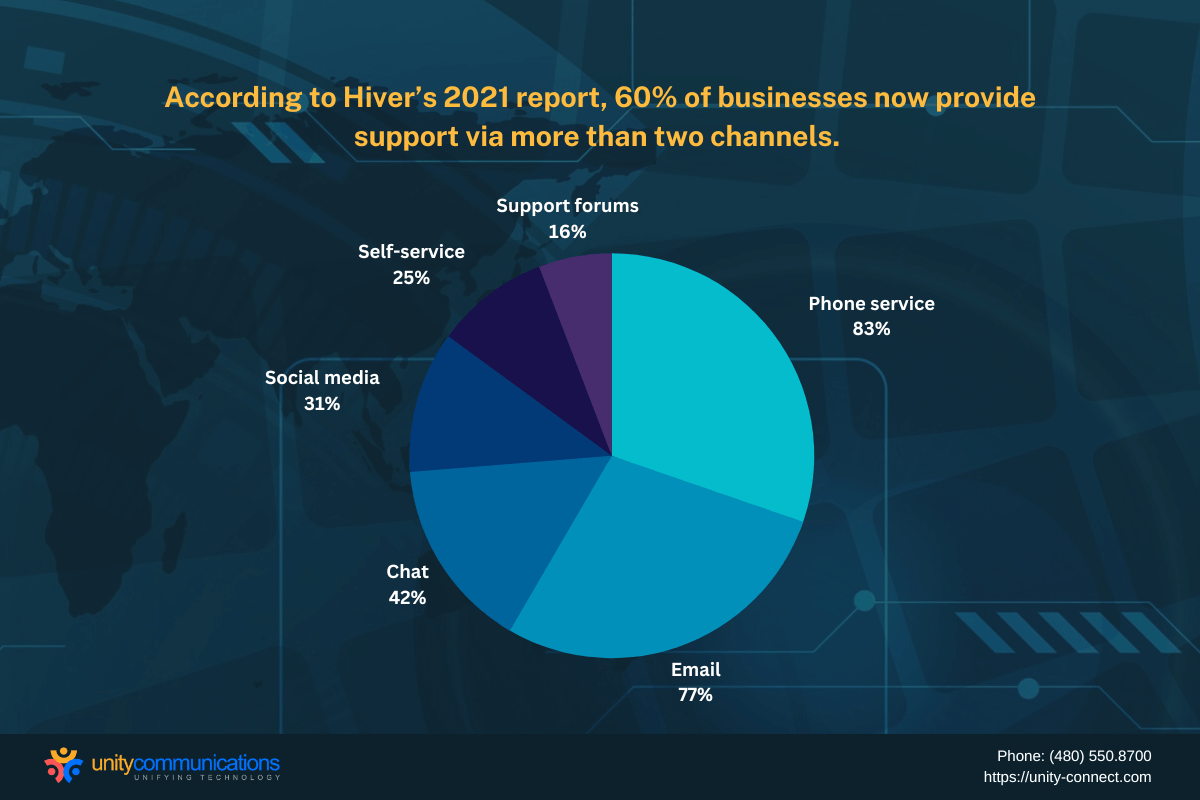 CCaaS has a lot to offer to companies of all sizes. This advanced technology has several features that help scale your contact center operation.
Let's look at some of them.
Accessible Omnichannel Solutions
CCaaS offers multichannel support, which has become the norm in recent years. Technological advancements and consumer demands have driven these omnichannel services.
According to Hiver's 2021 report, 60% of businesses now provide support via more than two channels. Companies use such customer service channels as:
Phone service (83%)

Email (77%)

Chat (42%)

Social media (31%)

Self-service (25%)

Support forums (16%)
Advanced Use of AI and Automation
CCaaS is one of the advanced software technologies in today's business landscape. It employs AI and automation for analytics to reduce manual work and margins of error. Such features are best for contact center operations, which are crucial to decision-making.
Note that automation helps with reporting, while AI enables business forecasting. Almost 60% of contact centers expect their AI investments to empower agents to be more productive. Also, more than 61% expect automation to increase their capacity.
Enhanced Security and Support
CCaaS vendors don't provide only customer support; they also offer complete security, which is a top business priority. Companies use CCaaS to protect their data from cyberattacks (malware, phishing, and denial of service (DoS) attacks).
CCaaS has security features, including:
End-to-end encryption

Security audit and testing

Automated updates and data backups

ISO-27001 accreditation

GDPR, HIPAA, PCI, and SOC-2 compliance
Remote Work Capability
The pandemic led to the rise of remote working. Almost 70% of U.S. employees have worked remotely. Many employers now adopt the hybrid work setup and will continue to do so. CCaaS is the ideal solution for remote work.
Cloud-based software is best for communication and collaboration in a contact center. It allows employees to access the technology remotely. Thus, they connect with customers through various communication channels, even from their homes.
Seamless Recording and Monitoring
CCaaS allows data recording and monitoring. Both are integral to business reporting and decision-making. The perfect examples of advanced CCaaS features include call recording and call tracking. A contact center support team ensures that agents do their job and hit such key metrics as:
Agent availability

. A specialized workforce tracks agents' activities and ensures their availability on calls.

Service quality.

A quality assurance (QA) team monitors agents' calls to ensure customers receive quality services.

Business compliance.

Compliance specialists track agents to ensure adherence to business protocols.
Effective Analytics and Efficient Reporting
CCaaS also has data analytics features for business reporting. Such a feature lets business leaders assess contact center performance based on metrics.
Below are specific key performance indicators (KPIs) for measuring service efficiency.
Average handling time.

AHT is the average of the agent's call handling time, hold time, and after-call work (ACW).
Agent utilization rate.

AUR refers to the agent's overall productivity versus work capacity.
Call abandonment rate:

This is the percentage of disconnected calls before agents speak with customers.
Service level.

It measures agent productivity based on the percentage of calls or contacts handled.
Below are specific key performance indicators (KPIs) for measuring customer experience.
Customer satisfaction rate

. CSAT measures how a contact center meets customer expectations.
Net promoter scores.

NPS measures customer experience and loyalty by answering this question: Will you recommend this company?
Customer effort score:

CES measures customer efforts to complete transactions and resolve issues.
First contact resolution:

FCR measures how customer concerns are resolved during the first contact.
Advanced Computer and Telephone Integration
The contact center industry started as a call center. Most customers prefer phone contact; even today, 70% prefer phones as a communication channel for customer support. For this reason, CCaaS has advanced computer telephony integration (CTI).
CTI allows computers to work with phones. Its advanced features include:
Advanced telephone control.

This technology is not your regular phone system. You have full control of its advanced features, from managing incoming and outgoing calls to analyzing and reporting data.

Automated dialing.

CTI eliminates manual work with calls routed automatically to available agents.

Automated screen pops.

They display customer information on the agents' windows.

Caller authentication.

The screen pop-ups allow agents to verify customers' identities.

Call recording and monitoring

. CTI allows QA specialists to record and monitor calls.

Data analytics and reporting.

CTI uses AI and automation to analyze and report data.

Incoming and outgoing Calls.

CTI allows agents to receive calls for customer support and make calls for telemarketing.

Intelligent call routing.

The technology is smart enough to route calls to the appropriate agents.
Seven CCaaS Benefits for Contact Centers
Cloud-based technology proves beneficial for business in many ways. CCaaS, for instance, has several advantages for your contact center operation, including:
1. Enhanced Customer Experience
In business, companies should provide customers with various options. Offering multiple channels pleases customers and improves their experience. Those with omnichannel customer engagement strategies have an 89% customer retention rate. Hence, contact centers must leverage CCaaS to provide their customers with an omnichannel experience.
2. Centralized Customer Interaction
Yes, offering various channels is a prerequisite for contact centers. However, having customer interaction in one place makes a difference in business. The CCaaS technology is a unified platform for all communication channels. It enables you to seamlessly and effectively manage customer interaction. That makes your contact center operation streamlined and organized.
3. Empowered Workforce
The workforce is the most valuable asset. Why? Front-office employees interact directly with customers. You must provide them with all the support and resources they need. CCaaS empowers your agents to work with customers. Think of the CTI technology and how it reduces manual work and improves efficiency.
4. Increased Efficiency and Productivity
CCaaS has all the advanced features needed to boost a contact center's productivity. For one, automation removes manual tasks, allowing contact center agents to work faster. Think of intelligent routing, automatic dialing, and automated screen pops. As mentioned above, they empower your agents by making them more efficient and productive.
5. Optimized Operations and a Scalable Business
Cloud-based technology has the power to scale a business. As mentioned above, CCaaS has AI and automation features. They allow for more accurate, efficient, and seamless data analysis, reporting, and decision-making. Even offering omnichannel solutions in a centralized platform optimizes contact center operations.
6. Improved Security and Compliance
CCaaS providers don't only offer the technology required for contact center operations. They also provide complete security and ensure business compliance. Why? More than half of companies rely on third-party providers to reduce security risks. They protect data and stay compliant to avoid legal ramifications, downtime, and business shutdown.
7. Significant Cost Reduction
CCaaS is not as costly as you think. Its pricing ranges from $50 to $100 per user every month. Also, you don't have to invest in hardware and infrastructure. You don't have to spend on licensing, maintenance, or in-house IT staff. Lastly, the pay-as-you-go pricing structure helps you save for the long term.
Five Practical Steps for Choosing the Right CCaaS Provider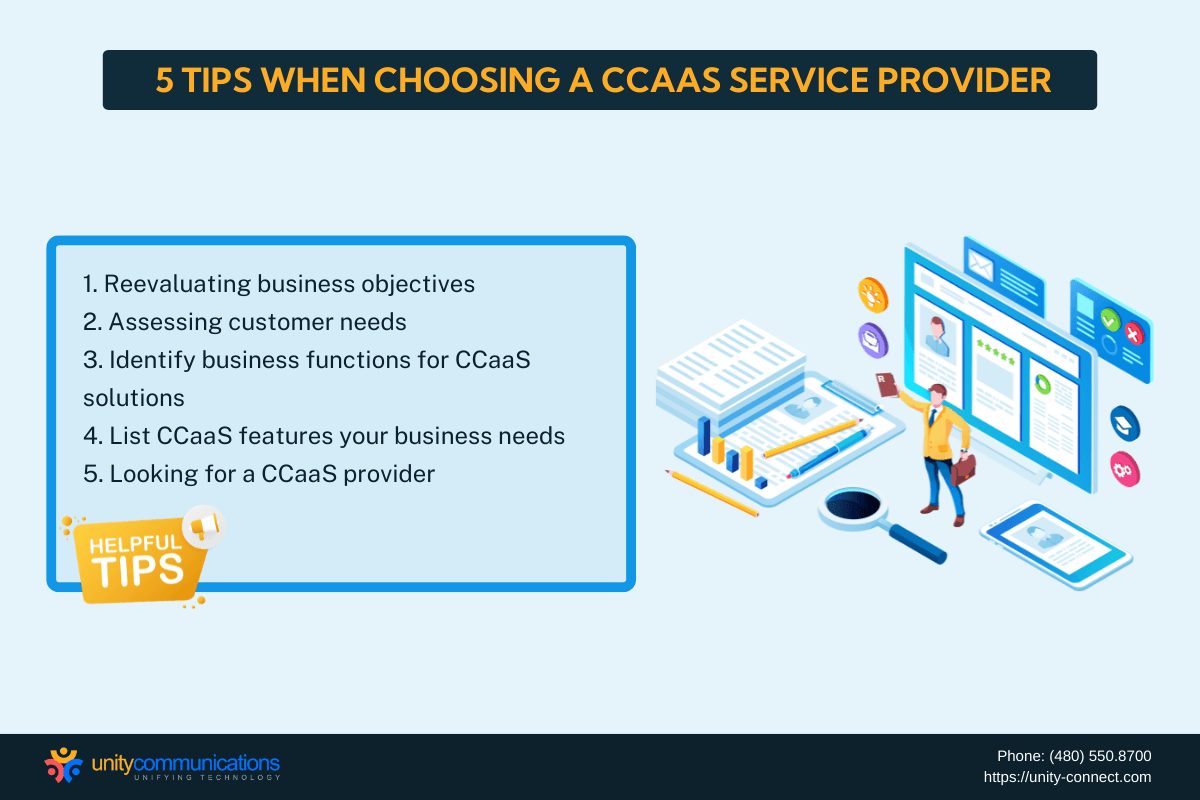 The global CCaaS market size might grow from $4.07 billion in 2021 to $11.72 billion in 2028, with a 16.4% CAGR. The rise of cloud-based technology and remote working drives this growth.
You should start incorporating CCaaS into your contact center operations by:
1. Reevaluating Business Objectives
The first step is reevaluating your current business goals. Ask yourself what you hope to achieve in the long run. Are you looking to improve your customer service/support to keep regular customers? Or are you looking to boost your sales/telemarketing to win new customers? Make sure to set clear business objectives for your contact center operation.
2. Assessing Customer Needs
After setting business goals, study your target consumers. Conduct research to identify customer needs and create your customer value profile (CVP). Are they expecting multiple channels for customer support? Are they looking for less wait time in a contact center? In business, it's about meeting consumer needs and exceeding customer expectations.
3. Identifying Business Functions for CCaaS Solutions
At this point, decide what business tasks to use your CCaaS solution for. A cloud-based contact center is ideal for front-office functions. These include customer service, sales, and technical support. So whether you employ remote workers or outsource to a third party, CCaaS is best for your contact center.
4. Listing CCaaS Features Your Business Needs
After deciding what business functions to use CCaaS for, know what features you need. Create a list of your contact center requirements (refer to the Key Features of CCaaS discussed above). Such a solution varies from one service provider to another. Ultimately, capitalize on those advanced features to optimize your operation.
5. Looking for a CCaaS Provider
The final step is the most crucial part. The ultimate goal is to hire the right CCaaS vendor for your contact center. Of course, there are a few key factors to consider, including:
Cloud-based features

Services

Pricing range and terms

Cloud technology and resources

Business Reputation
Just perform your due diligence. First, shop around and ask for multiple quotes from various providers. Also, compare pricing models and service offerings. Plus, see customer reviews, obtain client feedback, and check vendor ratings.
Have informed decisions. Ultimately, you'll find the best CCaaS solution for your contact center.
The Bottom Line
Your company exists because of your much-valued customers; they buy your products or hire your services. Thus, improving customer contact is crucial to business success.
To ensure solid communication between your employees and customers, turn to CCaaS solutions. But before hiring a provider, know what CCaaS is and how it works. More importantly, assess its key features and see how it will benefit your business.
The right CCaaS solution will lead to enhanced customer service and business success.