Written by Dion Jay Tality
Customers have higher expectations than ever before. They demand enhanced interactions and personalized experiences. Employing omnichannel solutions for contact center operations helps companies meet these objectives.
Some businesses still rely on call centers for customer contact. They haven't used a contact center as a service (CCaaS) for multiple channels. And they wind up losing customers because their call centers provide them with no real competitive advantage.
This page covers the multichannel capabilities of contact center operations. Learn how to employ omnichannel solutions to optimize your customer-facing functions.
What Is a Multichannel Contact Center?

A multichannel contact center offers a variety of channels for customer interaction. In addition to phone service, it employs email, chat, social media, and self-service support. These multichannel capabilities help to provide an exceptional customer experience.
Understanding Omnichannel Solutions
According to Zendesk, only one-third of businesses are omnichannel. Other companies should offer more channels to enhance customer experience for long-term value. But omnichannel goes beyond multichannel capabilities.
As a business solution, omnichannel offers customers a seamless experience across different avenues by integrating all these channels to improve the customer journey. And omnichannel experience continues as customers go from one medium to another.
For instance, customers reach out to your call center to place an order. They send an email to follow up on the order status. Your representatives respond and also refer them to your website for order tracking. That's how omnichannel provides a continuous customer journey.
Contact Centers vs. Call Centers
Contact centers evolved from call centers. Companies usually handle customer-facing functions via call centers. However, they've realized the multichannel capabilities because of technological advancements.
Businesses have recently provided phone, email, and live chat support. Today, however, they offer self-service options and customer service via social media channels.
One must know the difference between call centers and contact centers to further understand omnichannel. Take a look at the table below.
| | | |
| --- | --- | --- |
| Major Difference | Call Center | Contact Center |
| Communication channels | Phone service | Phone calls, email, chat, social media, SMS |
| Self-service options | No self-service option | IVR, chatbots, knowledge base centers, FAQ pages, online forums, mobile app assistance |
| Business functions | Customer service, sales, and technical support | Customer support, tech support, help desks, IT support |
| Business workflow | Front-office workflow (inbound, outbound, or blended) | Front- and back-office workflow (ticket creation, department escalation, etc.) |
| Technology | Computer telephony integration (CTI) | Contact center as a service (CCaaS) technology and more |
| Outsourcing services | Front-office outsourcing services | Front- and back-office outsourcing services |
Note: The global call center market might grow from $404.3 billion in 2020 to $607.6 billion by 2027, achieving a compound annual growth rate (CAGR) of 6%. On the other hand, the global CCaaS market has grown from almost $4 billion in 2021 to $17.12 billion by 2030 at an 18.4% CAGR during the forecasted period.
Six Communication Channels Used in Contact Centers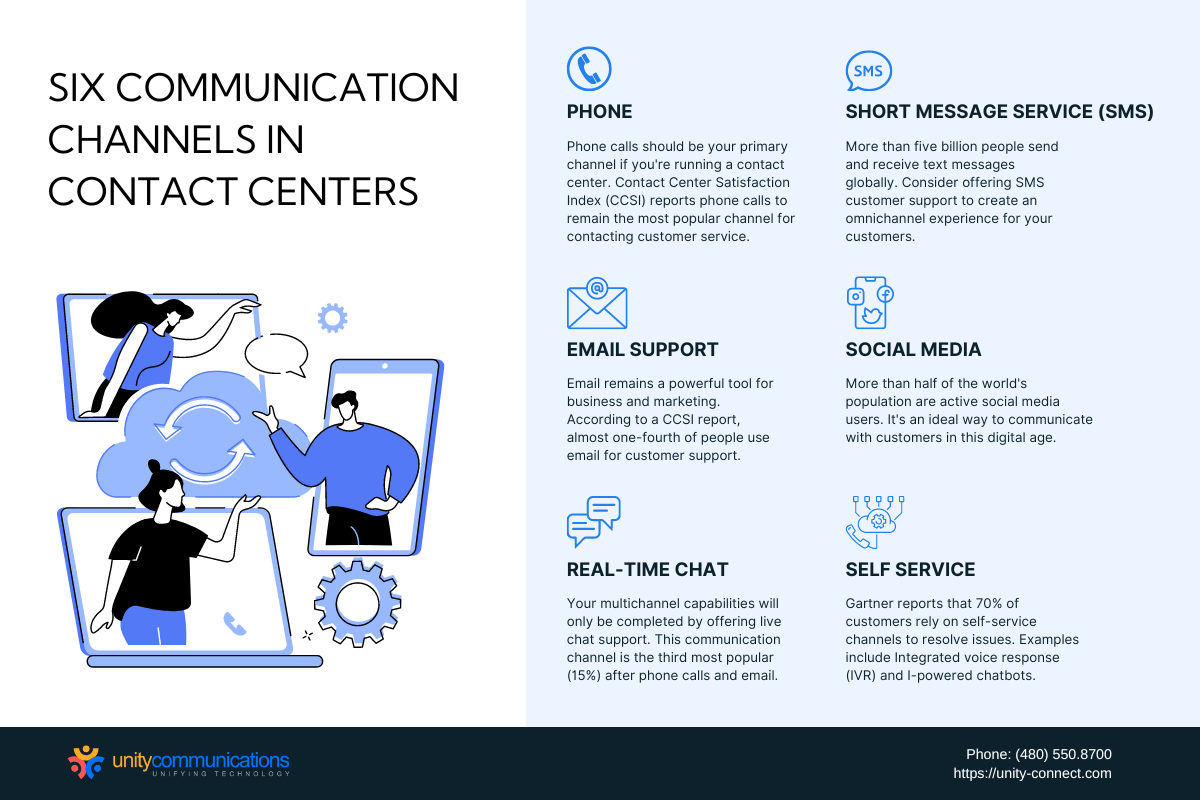 According to an Hiver 2021 report, 60% of service teams offer customer support via more than two channels. Most use phone calls, email, and chat as traditional multichannel support. However, some have begun capitalizing on social media, self-service support, and text messaging.
Businesses across different industries have started maximizing their multichannel capabilities. If you haven't yet employed omnichannel solutions, it's time to take the plunge. Explore the six communication channels for your contact center.
1. Robust Phone Service
According to a Contact Center Satisfaction Index (CCSI) report, phone calls are the most popular channel. More than three-fourths of customers contact customer service using their phones. That's why the call center industry continues to thrive.
Phone calls should be your primary channel if you're running a contact center. Consider investing in a call center if you offer email or chat support. Either set up your own in-house department or outsource it to a third-party vendor.
2. Effective Email Support
The same CCSI report cites email as the second most preferred communication channel. Almost one-fourth of people use email for customer support. Companies have a robust system for managing emails and assisting customers. This system can acknowledge emails, route messages, and enable prompt responses.
Still, email remains a powerful tool for business and marketing. You can start using it more effectively by investing in an email response management system. Make sure to integrate this with other communication channels to optimize your contact center operation.
3. Real-time or Asynchronous Chat
Your multichannel capabilities won't be complete without offering live chat support. This communication channel is the third most popular (15%), after phone calls and email. Busy people prefer to communicate via live chat while in the office. Also, they would rather chat than send emails to get immediate responses.
Start by investing in a web chat platform for your contact center. Then, incorporate it into your communication channels. Employ specialists capable of handling multiple sessions, and your live chat support is good to go.
4. Seamless Short Message Service (SMS)
SMS customer support has recently gained traction in business. For the uninitiated, it's assisting customers through text messaging. It's entirely digital, requiring no verbal communication or face-to-face interaction.
More than five billion people send and receive text messages globally. Gigaom reveals that people open text messages 98% of the time. Thus, consider offering SMS customer support to create an omnichannel experience.
5. Engaging Social Media Channels
Approximately 4.7 billion people worldwide are active social media users. This is more than half of the world's total population. However, they don't use these channels for personal interactions only. Entrepreneurs and digital marketers use them to communicate with customers.
Employ social media as one of your communication channels. Take a look below to know how to use them for customer service.
Facebook. This is the most popular social media channel. Engage with customers by responding to comments. Also, post valuable articles and share resource guides.
Instagram. This channel is ideal for brand and product promotion through images. Use Instagram for customer interaction.
Twitter. Sixty-four percent of customers on Twitter prefer to reach its dedicated support than a call center. Thus, use this channel for customer service.
Messenger. Companies with Facebook pages employ Messenger for customer support. This channel enables customer inquiries and order placement.
LinkedIn. This channel is for professionals and businesses. Use LinkedIn to communicate with clients or customers.
6. Empowering Self-service Portals
Companies with multichannel capabilities empower customers. Not only do they offer various channels, but they also encourage self-service support. This makes customers feel they are in control.
Gartner reports that 70% of customers rely on self-service channels to resolve issues. Here are some self-service options for your contact center operation:
Integrated voice response (IVR). This automated system allows customers to access information. It has pre-recorded answers to commonly asked questions. It also employs machine learning (ML) to guide customer transactions.
AI-powered chatbots. Artificial intelligence (AI) paved the way for chatbots in business websites. These customer service robots assist customers. They answer common questions but refer customers to representatives for more complex issues.
Knowledge base centers. Business websites have pages with helpful articles, tools, and resources. Customers simply visit these pages to seek help, guidance, and support.
FAQ pages. FAQ stands for frequently asked questions. Business websites usually have an FAQ page among their service pages. For instance, an ecommerce business includes its return policy on its FAQ page. That way, customers know what to do with product returns.
Online forums. Customers ask questions and receive answers from others via online forums. Backed by the company admin, an online forum is run by online moderators who help organize information and guide customers to the right pages. It aims to provide a platform where customers help each other.
Seven Key Benefits of Multichannel Capabilities for Contact Centers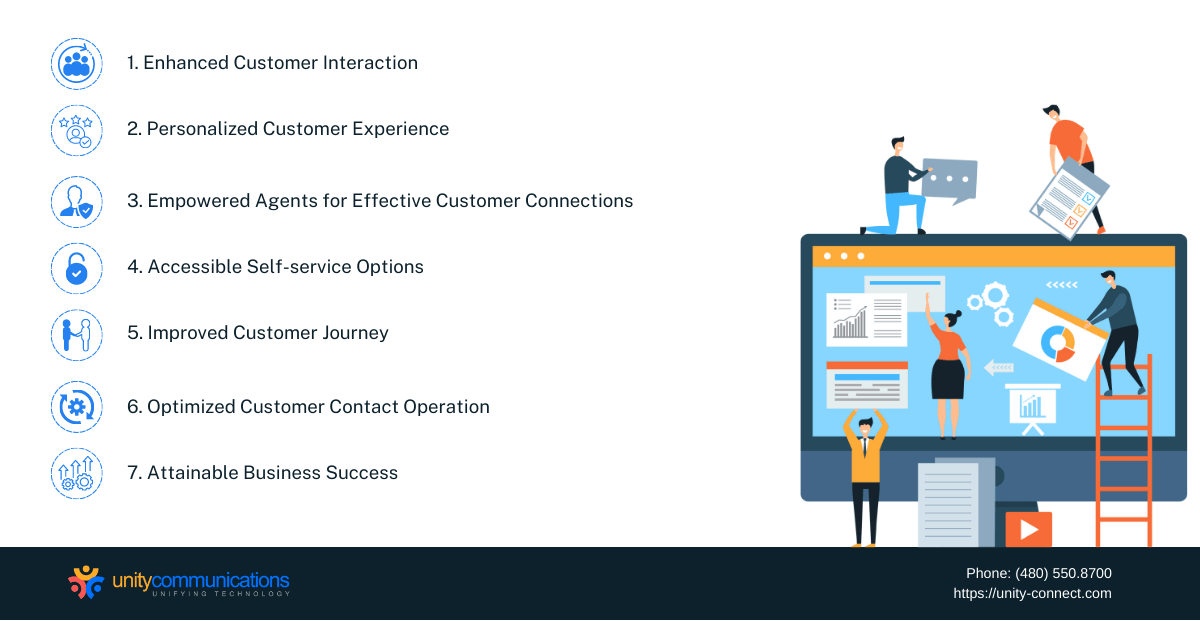 Companies with omnichannel solutions have a competitive advantage. They are able to meet customer needs via their contact center operations. They improve customer interaction, which provides their businesses with more opportunities for positive interaction with customers.
Explore the key benefits of having multichannel capabilities for your contact center.
1. Enhanced Customer Interaction
HubSpot's 2020 State of Customer Service report identified service teams' top priorities. Almost half considered creating a great customer experience their number one priority. According to the report, this means having no friction throughout a customer journey.
Having multichannel capabilities enhances customer interaction. Front-office personnel assists customers seamlessly and efficiently. Meanwhile, customers have the option of using different channels to communicate with representatives. They can choose whatever works best for them.
2. Personalized Customer Experience
The same HubSpot report notes that customers have higher expectations than ever before. Most service teams (93%) agree. Customers assess interactions with greater critical thinking because they have more options. They now demand personalized experiences.
Omnichannel is a viable solution for personalizing the customer experience. Not all people use phones to contact customer support. Some prefer to communicate with representatives via email or live chat. Others opt for social media channels and self-service options. Thus, offer them avenues they are comfortable using.
3. Empowered Agents for Effective Customer Connections
The CCSI report also focused on contact center agents. Of course, the workforce plays a crucial role in customer experience. Unfortunately, agent effectiveness remains a challenge. The report listed key elements for operational improvements:
Demeanor
Communication
Knowledge
Effectiveness
Empowerment
Ensuring multichannel capabilities helps you meet the objectives above. It empowers your customer service representatives, telemarketers, and tech support specialists. With advanced technologies, they will be more accurate, efficient, productive, and effective. Ultimately, they'll establish better connections with your customers.
4. Accessible Self-service Options
Omnichannel solutions won't be complete without self-service options. Statista reveals that 79% of American consumers have used self-service portals for customer support. And 89% of them expect companies to offer these options. Thus, consider IVR, chatbots, knowledge base centers, online forums, and FAQ pages.
Self-service options are for customer empowerment. While providing resources, they enable customers to find solutions to their problems. On the flip side, they help agents reduce the bulk of their work, enabling customer service representatives to focus on more complex or challenging customer issues.
5. Improved Customer Journey
A customer journey refers to the path customers take when dealing with your brand. It's the entire experience involved in buying your products or hiring your services. A smooth path leads customers to the end goal: successful sales. But a complicated route frustrates and drives customers away.
Having multichannel capabilities significantly improves your customer journey. For instance, customers can place orders online and make payments via IVR. From there, they receive an email confirmation and can call customer service for updates.
6. Optimized Customer Contact Operation
Omnichannel has become a buzzword in business. Offering a multichannel solution has become a norm in contact centers. Why? It's a viable solution for optimizing your customer contact operation.
For one, offering multiple channels entails investing in the latest technology. You capitalize on technological resources such as CCaaS and CTI. They have remarkable features such as:
Automated dialing
Intelligent routing
Data recording
Live monitoring
Data analytics
Business reporting
All these resources help scale your contact center operations. They assist your agents and improve your processes. Ultimately, you can serve your customers better.
7. Attainable Business Success
Multichannel capabilities go a long way. Just by offering various channels, you'll achieve the following.
Empowered agents and customers
Improved business performance
Service efficiency, quality, and productivity
Enhanced customer experience
Customer satisfaction
Boost in profits
Ultimately, an omnichannel solution helps scale your business, which translates to overall success.
How To Optimize Your Contact Center for Multichannel Capabilities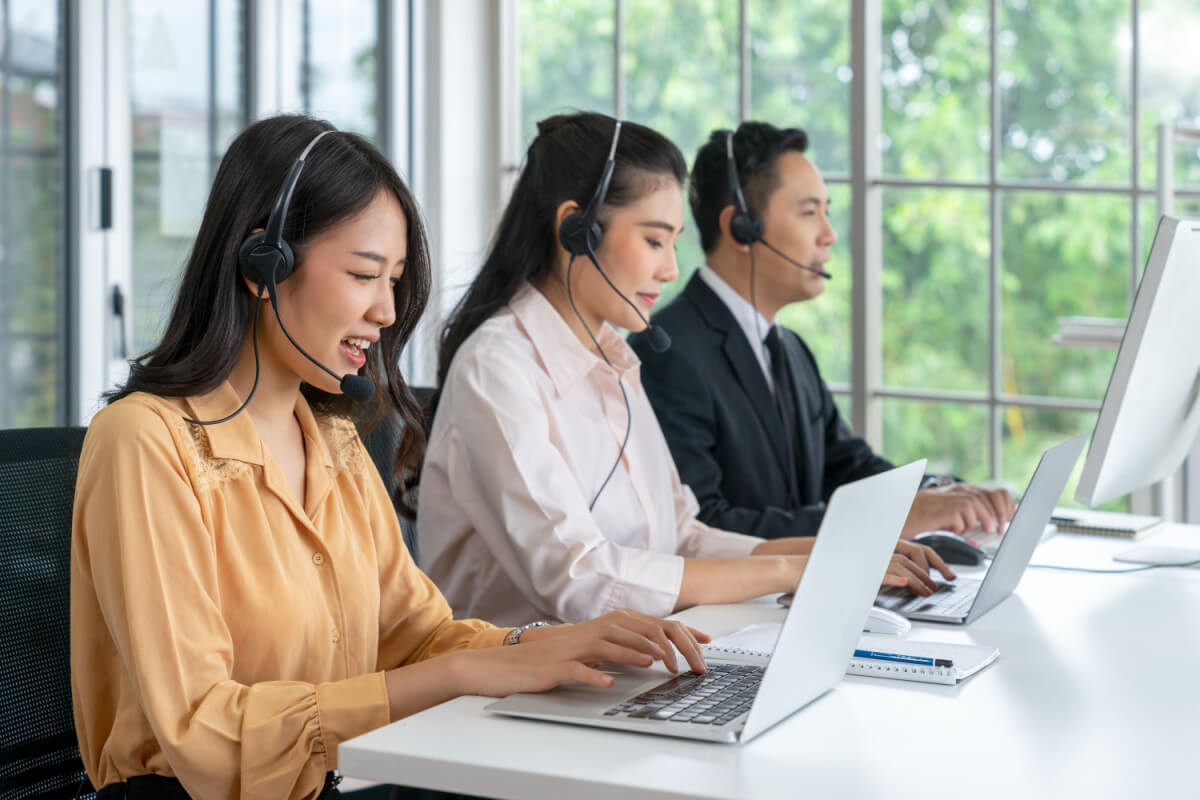 At this point, you already know what omnichannel solutions entail. It's time to build your multichannel contact center or optimize your current operations. Follow the crucial steps below.
1. Examine Your Current Operations
The initial step is to check your current operations. Here are three possible scenarios:
You don't have a contact center but run front-office functions.
You have a call center using only one communication channel: phones.
You have a contact center with two or more channels, but you want to incorporate more.
Make sure to audit your customer contacts. Assess whether you achieve your business objectives and meet your customers' needs. Also, perform due diligence to see how you'll improve their experience. Ultimately, informed decisions will guide you through your optimization steps.
2. Determine What Channels to Incorporate
Multichannel contact centers have more than two communication channels. As mentioned above, service teams offer customer support across three or more channels. Consider doing the same as well. Here are some suggestions:
If you don't have a contact center, offer phone, email, and live chat support.
If you have a call center, turn it into a contact center by incorporating other channels.
If you already have a contact center, add more channels or consider all the options above.
In addition, consider the technologies required for your contact center operation. Below are some of the notable ones.
Computer telephony integration (CTI) is for call centers requiring advanced features.
CCaaS is for a cloud-based, provider-hosted contact center.
UCCaaS is a unified platform for contact center agents.
IVR is an automated system for self-service support.
Customer relationship management (CRM) software manages customer interactions.
A quality management system (QMS) assists QA teams with contact audits.
A workforce management system (WMS) is for ensuring employee availability.
An email response management system is for email support.
Web chat platforms are for real-time chat support.
Social media channels are for customer engagement.
3. Decide on the Contact Center Type
Your contact center type is another vital consideration. There are three types to choose from:
On-premises contact center. This is an entirely on-site customer contact operation. You invest in the software and hardware and tap into a provider for your telecom network.
Cloud-based contact center. This uses CCaaS software for your customer contact operation. Your contracted vendor provides and hosts the technology in a remote data center.
Hosted contact center. This requires hiring a managed service provider (MSP), which provides everything—workforce, technology, and resources. It handles your customer contact operation in its business location.
Consider the three options above and see what works for your business. This will help you make an informed decision.
4. Look for a Third-party Service Provider
After deciding on the channels and contact center type, it's time to hire a service provider. You can start searching for prospects. Check online or get recommendations from business stakeholders. Then, develop a list of potential service providers.
To narrow down your options, consider such key factors as:
Business reputation. Check their credentials such as business permits and standard certifications. Make sure to factor in their awards and recognition. Plus, obtain client and customer feedback.
Service type. Ask what types of contact centers they cater to. Some vendors sell only software and hardware licenses. Others offer CCaaS technology and host the network. MSPs handle everything for you.
Technology. Be highly critical of this. Ensure your prospects have the latest technological resources. Consider advanced features such as automatic dialing, intelligent routing, data analytics, and business reporting.
Workforce. If you opt for a managed service provider (MSP), assess their agents. Make sure they hire a knowledgeable and skilled workforce. Also, ensure they provide ample training before employees hit production.
Pricing: Get multiple quotes and compare prices. A rule of thumb: strike a balance between affordability and quality. The ultimate goal is to save money in your contact center operations for the long term.
5. Jump-start Your Multichannel Contact Center
At this point, go ahead and hire a contact center support provider. If you choose an on-premises contact center, purchase technology for your multichannel operation.
However, create a service-level agreement (SLA) if you opt for a cloud-based or hosted contact center. Also, have clear objectives, key metrics, and operational instructions for your service provider.
With all these, you'll drive your multichannel contact center in the right direction. You'll see it grow and succeed for the benefit of your business and customers.
The Bottom Line
Using multichannel communication capabilities makes a difference in your business. It optimizes your contact center operations and improves customer interaction, leading to customer satisfaction and business profitability.
Thus, consider offering multiple channels for your contact center operations. Understand how an omnichannel solution works for your customer-facing functions. See how you can capitalize on these solutions.
Ultimately, a multichannel solution is key to winning, keeping, and building loyal customers.