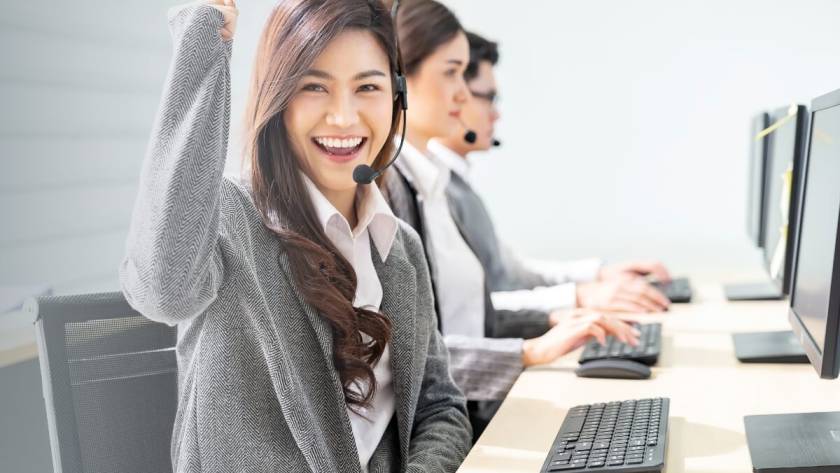 Written by Allie Delos Santos
The best contact center agent resolves issues and represents your organization's values. When dealing with your customers, they are the first line of communication. 
Your company's reputation is at stake if your contact center representative cannot help and leaves your customer with a poor experience.
We've compiled the best ways to find exceptional agents. Read on to learn about the steps in recruitment and the critical competencies every service team requires.
Five Steps in Finding a Good Contact Center Agent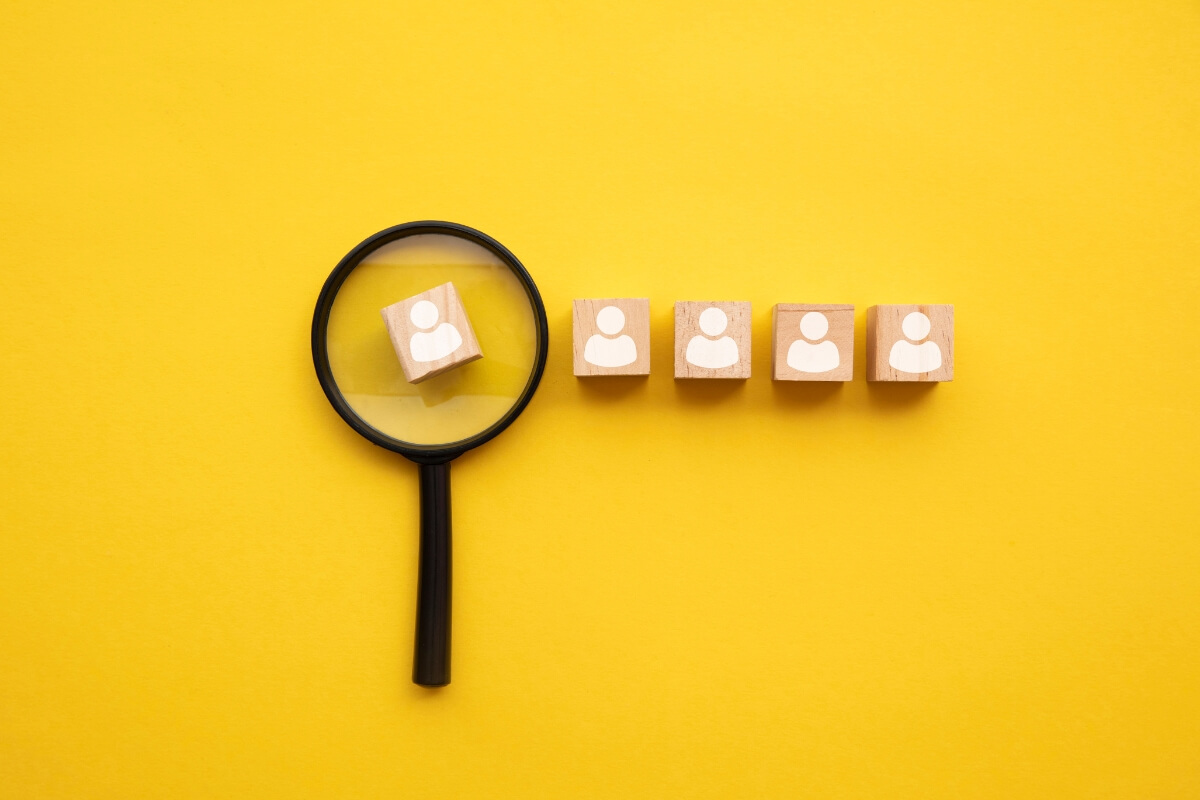 Having the right people on your team to deliver excellent customer service is crucial. Ninety-three percent of consumers are more likely to become repeat customers after experiencing a positive experience. As such, carefully choosing agents to represent your business helps you avoid onboarding poorly suited candidates. 
Follow these steps to find the best contact center agents for your company.
1. Define Your Needs
The first step in finding the best agents is identifying your contact center's needs. This step is vital because your company's needs will define the number and types of agents to hire. When identifying your needs, consider such factors as:
24/7 availability

Seasonal demand

Expected average handling time

Call volume  
Your call traffic might fluctuate based on peak season, which varies by the day or month of the year. You might also receive calls around the clock from multiple time zones if your brand has an international presence.
Moreover, your call center might have a standard for how long agents can spend on every interaction. Not spending enough time on each call can lead to a poor customer experience. Conversely, spending too much time isn't efficient and can significantly affect your team's productivity.
Lastly, knowing the average handling time and call volume for each shift helps determine the appropriate number of contact center agents.
The right candidate can contribute to the team and help meet your needs.
2. Set up a Standard Hiring Process
Hiring the best call center agents takes your customer service and productivity to the next level. You must find and hire a skilled contact center agent, whether you're building your team for the first time or expanding an existing one.
The best way to recruit call center agents is to establish a standard process that encompasses all aspects of hiring. Here's a step-by-step process for call center hiring.
List the common qualities you find in your top-performing agents

Set up a talent profile, listing your best representatives' behavior, skills, and attributes

Create a process for obtaining and validating references

Write a set of questions when preparing for interviews

Develop hypothetical situations and ask interviewees how they would manage them

Include questions about how the candidates handled challenges in the past
Following these steps allows you to weed out contact center agents who might not fit your needs. Additionally, it sets you up for the interview process.
Vet Contact Center Agents
You will receive many applications. You should evaluate each application and spend time only with candidates likely to fulfill your needs. When vetting agents, consider answering questions, including:
Does the applicant manifest the most important traits of a contact center agent?

Does the applicant meet the minimum requirements you have set?

Does the applicant's cover letter reflect what you are looking for? 

Can the applicant's additional knowledge and skills supplement the missing qualifications?

How much training will the applicant need?
The previous step's standards underpin the questions needed in vetting contact center agents. Answers to these questions allow you to sort through applications fast. If an applicant does not meet your qualifications, move on to the next. Follow your gut if something in a resume or cover letter intrigues you.
Remember that the "best" candidate isn't necessarily obvious. Some applicants sound great on paper, but their characteristics and values might not fit a call center position. Thus, you need to keep an open mind when ticking off qualification boxes and wait until you've had a conversation before making the final decision.
After sorting through all applications and narrowing down your options, start preparing for the interview and the questions you'll ask.
3. Assess Skills
Assess applicants with skills tests to determine if they're a good fit for the position. Skills tests can take several forms, including:
Video tests.

Conduct a video assessment where the applicants receive a prompt. They then need to show how they'll respond to the situation.

Paper and pen questions.

Present a list of client questions. The applicant then writes down how they would manage each scenario.
Such tests show whether a contact center agent has enough patience, firmness, and friendliness when dealing with customers.
4. Interview Potential Agents
The interview process tells you more about a candidate and lets you see how they respond to questions in real-time. Interviewing call center representatives involves the following components.
Start with a phone call and proceed with a formal interview if things go well.

Outline what the interview process entails during your initial contact with a candidate to let the applicant know what to expect and how to prepare.

Prepare a face-to-face interview if possible. You can also set up a virtual interview if you work remotely.

Write a list of interview questions and stick to them to evaluate applicants equally.

Allow some time for flexibility and small talk to let the conversation flow naturally. You don't want the interview to be too stuffy.
Here are some common and effective questions to ask prospective contact center representatives in an interview.
Tell me about yourself.

What do you know about the company?

Why do you want this role?

Why do you want to work at a call center?

What do you like the most about working in customer service?

What is the most important part of customer support for you?

Do you have experience managing a high volume of calls?

How do you manage difficult people?

Describe a situation where you have to deal with an angry customer.

Why are you the best candidate for this role?

Why should we hire you?

What sort of working environment are you looking for?

Do you have any questions about the company or the role?
These questions keep you focused on the task while letting the applicant think on their feet. Remember to end each interview with a chance for the prospective contact center agent to ask questions or share their thoughts.
5. Onboard and Train Agents
After interviewing and evaluating candidates and making an offer, you must onboard and train your new hires. Onboarding ensures they have the necessary knowledge to excel in their role.
Here are some ways to optimize the onboarding and training process.
Let new agents know what to expect.

You can give new hires a welcome letter when they report on the first day. The letter outlines what they will learn and who will oversee each session. This is an invitation to the onboarding and training program they will partake in. 
Break down complex modules into easier-to-understand lessons.

Dumping too much information on new hires can overwhelm them, making it harder to absorb each lesson. Hence, break down each module into smaller sessions. Consider dividing the time for each skill development and alternate with breaks rather than allotting a whole month to endless training.
Route simple tickets to new agents.

Routing simple calls, such as inquiries about account information to new hires, must be part of the training strategy until they feel more equipped to manage complex tickets. You can easily do this by setting up rules to connect certain tickets to the new contact center agent or to route them for escalation using a cloud call center. 
Use sentiment analysis.

Sentiment analysis is a natural language processor (NLP) that detects whether a caller has a positive, negative, or neutral attitude during the interaction. It allows managers to spot and get notified when a call needs their intervention. Sentiment analysis is helpful for new agents who do not have enough experience managing an unhappy caller. 
Seven Important Skills Every Contact Center Agent Must Have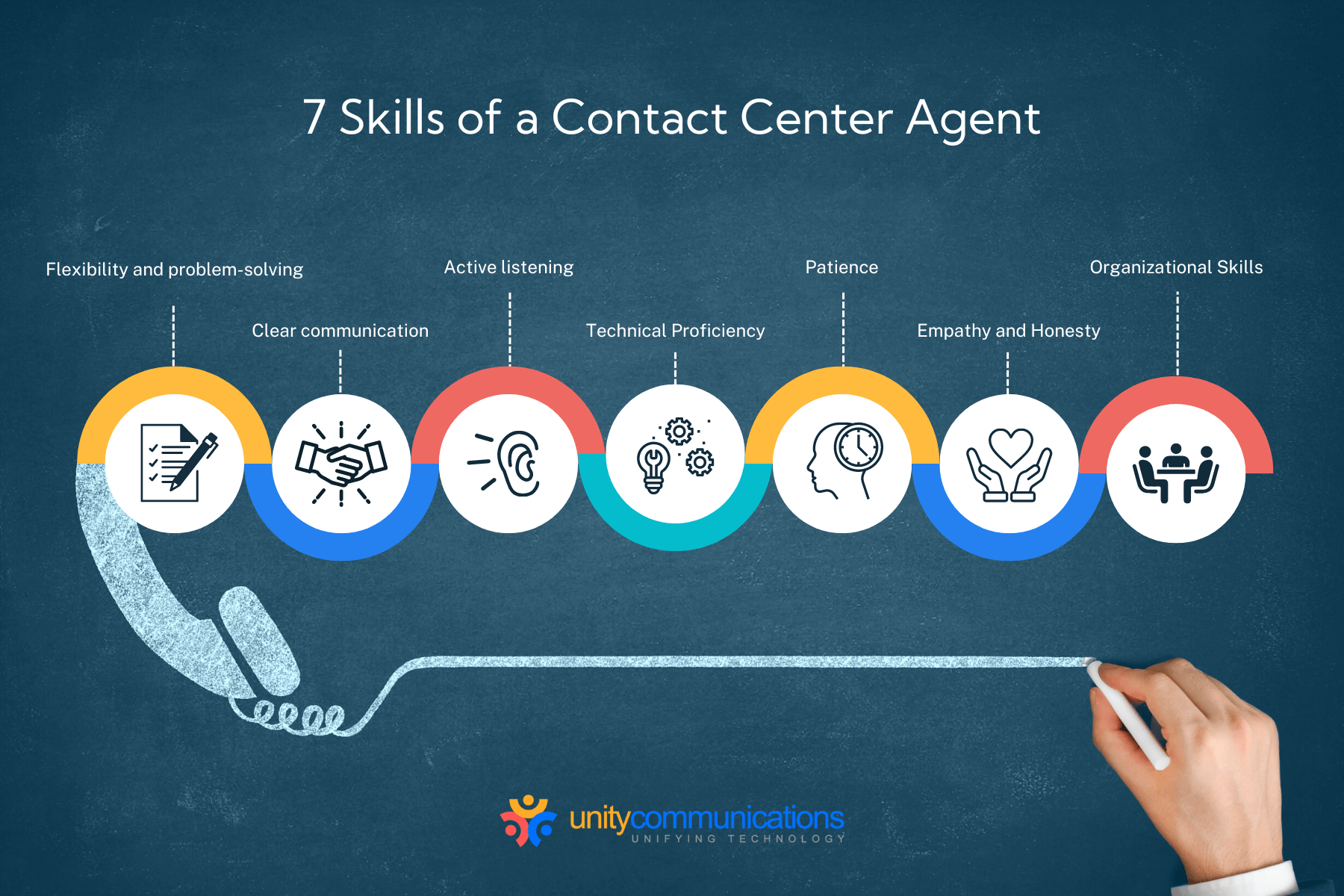 A good call center agent has more than access to client data and a way with words. They go above and beyond to make callers happy, winning their business over for repeat purchases of the brand they represent. 
Here are the most important skills every call center representative must have and the reasons they matter.
1. Flexibility and Problem-solving
Good problem-solving skills involve the ability to reason at the moment. Autonomy on the job helps enhance a representative's ability to act on their ideas. Call center agents who can accurately identify a problem, evaluate it, and provide an appropriate solution can help more clients in less time.
2. Clear Communication
Every contact center agent must have excellent communication skills. Keeping communication productive and clear helps you make good impressions among customers and resolve issues.
Providing a clear and easy-to-understand response reduces repetitive communication between the agent and the customer, thus, reducing average handling time and increasing productivity.
3. Listening Capacity
Listening actively to customers as they explain their concerns pairs well with clear communication skills. Listening intently ensures that the agent does not miss out on any vital information throughout the exchange.
A contact center representative who listens intently reduces the number of tickets needed for individual callers to resolve the problem. It enables agents to offer suggestions and support for all information available to both parties.
4. Technical Proficiency
Your contact center agent must comprehensively know your products and services. Domain expertise benefits your call center team in many ways.
Representatives with in-depth knowledge of your brand, products, services, and common issues and their solutions can provide a better customer experience. Agents who know the ins and outs of your value offering can provide better recommendations and easily solve complex problems regularly.
5. Patience and Tact
Look for a contact center agent that can maintain patience and tact even when faced with a difficult client. Patience in customer service boils down to letting callers take their time to explain the problem and actively listen.
When representatives must interact with particularly confused or upset customers, patience proves its worth. An agent who is patient when working with a buyer leaves a longer-lasting impression. Conversely, an agent who fails to do so can turn the prospect away from your business for good.
6. Empathy and Honesty
Empathy and honesty are defining factors of excellent customer service. Nearly 70% of customers trust companies to tell the truth. 
A contact center agent who shows empathy during a call builds a positive rapport with troubled, worried, or uncertain callers. Letting customers know you understand and value their needs sets them at ease throughout the interaction, significantly streamlining issue resolution.  
7. Organizational Skills
Being organized in customer service requires more than tidying physical spaces. Other organizational skills, such as time management, prioritization, and note-taking, allow the agent to manage workloads more efficiently. Organizational skills also reduce the risk of misplacing information that customers provide or the omnichannel support offered at a given time.
Because agents interact with multiple callers, maintaining an organized record of requests and tickets prevents them from starting from the beginning after every contact. This frees up energy and time for more complex issues. More importantly, customers appreciate not needing to repeat themselves with each call.
Why Is Hiring an Effective Contact Center Agent Important?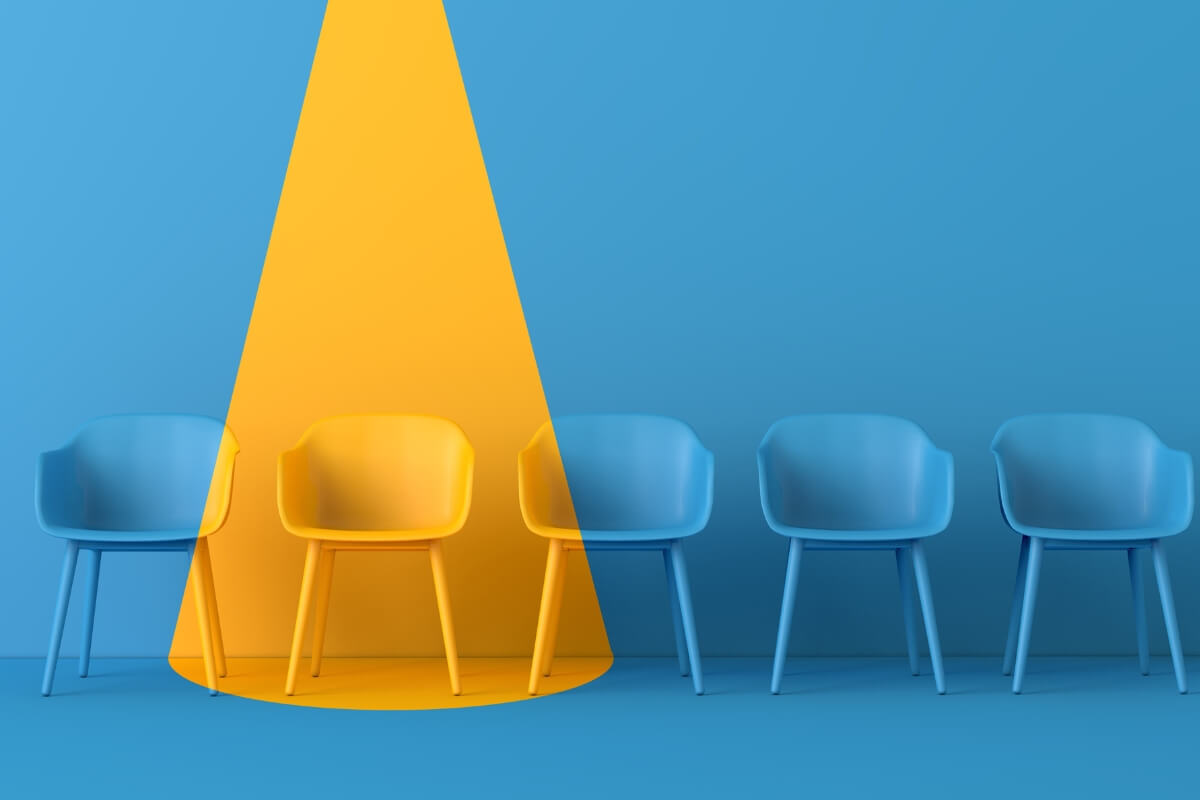 Finding the best contact center representatives is crucial because they serve as your business's first line of communication with customers.
Most consumers see customer experience as deciding between brands to patronize or avoid. Your contact center agents ultimately affect buying experience and how shoppers see your brand. A single poor experience can easily spread online in minutes, affecting your reputation.
Let's explore why finding effective contact center representatives are vital to your business.
Hiring the right agents on your team makes training and onboarding easier.

A professional contact center agent values your clients' time, preventing frustrations or problems from escalating.

An experienced call center agent can prevent common customer service problems.

A skilled customer service agent understands how a positive experience can avoid churn.

An effective customer support staff increases your first call resolution rate.

From an expense standpoint, more customer touch points with your agent mean a higher cost in providing support.

An efficient customer service agent helps increase sales, improve team productivity, and boost the company's bottom line.  
The Bottom Line
Hiring the best contact center agents is crucial in ensuring the success of your customer service team. Follow the steps provided in this guide to find the best representatives for your business.
Start by identifying your needs and writing a well-thought-out job description. Then test the applicants' skills, ask the right interview questions, and properly vet candidates. Following a robust recruitment process ensures that you work only with agents who understand your brand and can maintain a high customer satisfaction level.
To streamline your recruitment process, outsource with Unity Communications now. Connect with us to learn more about how our contact center as a service works.