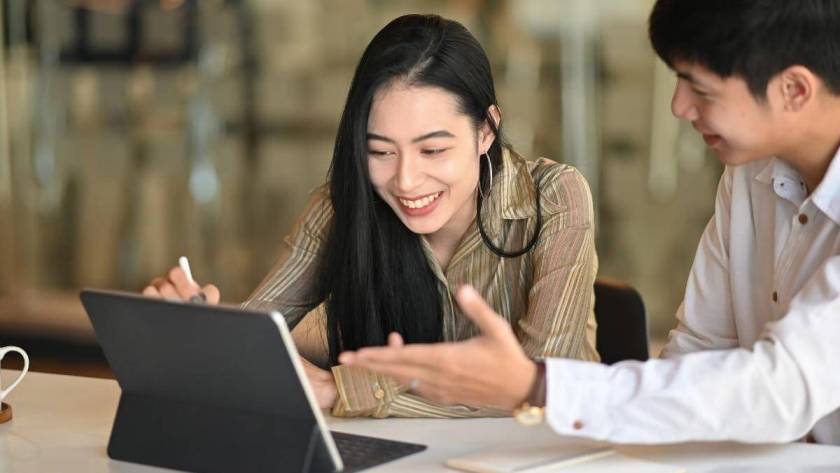 Written by Joyce Ann Danieles
Keeping up with the competition while maintaining cost-efficiency is a challenge for enterprises. Back-end and front-office tasks that pile up hinder a company's effort to prioritize its core competencies. 
Tapping into a business process outsourcing (BPO) provider to perform non-core functions has become a growing business strategy. Companies find it easier to focus on crucial work and reduce expenses through BPO. 
To experience such benefits, you need to choose the best BPO provider for your company. Read on to discover the top considerations before closing an outsourcing deal with a contractor.
10 Factors To Consider When Seeking a BPO Provider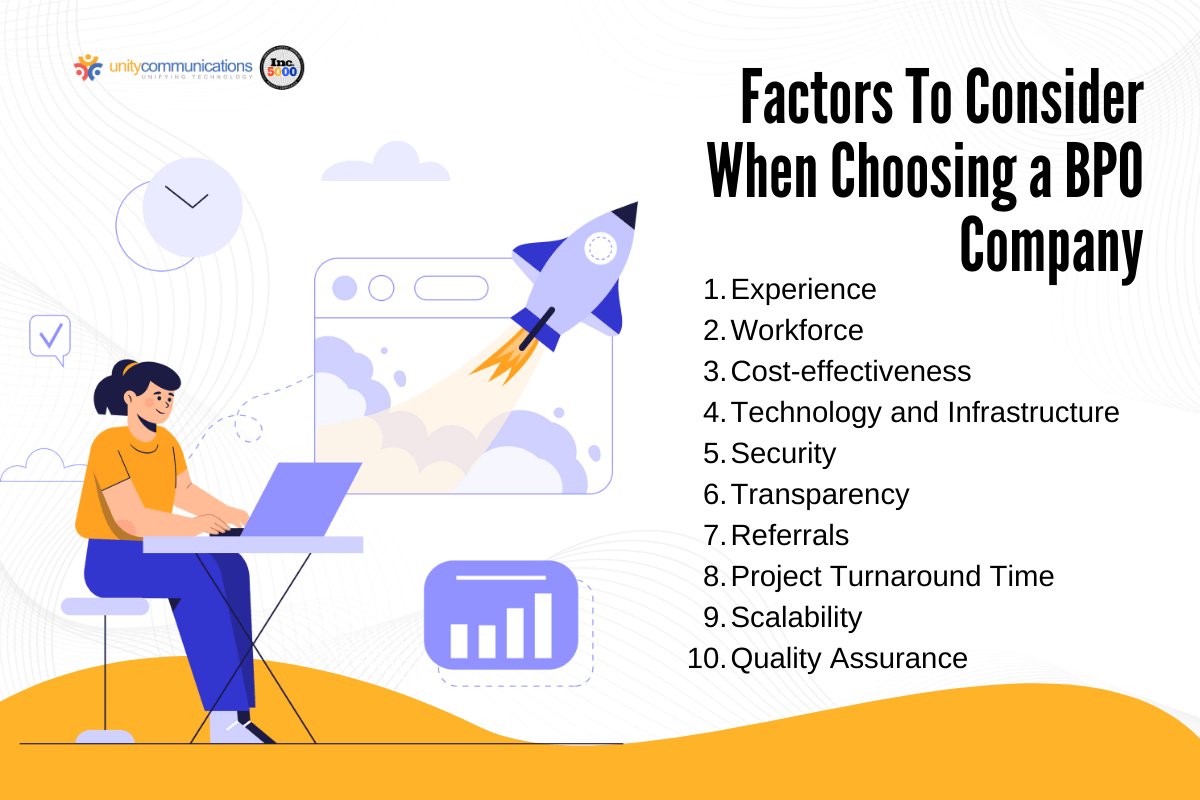 Hiring a third-party service provider to perform specific front-end and back-office tasks defines what business process outsourcing is. Data entry, customer service, information technology (IT), and bookkeeping are some activities you can outsource. These labor-intensive processes help support your firm's daily needs but do not necessarily contribute to your company's expansion.
Thus, most enterprises prefer to hire an outside vendor to handle these time-consuming and repetitive tasks. The benefits they gain from this business strategy include streamlined workloads, lower costs, and increased efficiency.
Experience these advantages by knowing how to select the right BPO company that suits your needs best. Below are the top 10 factors to consider when choosing a third-party service provider. 
1. Experience
A BPO's experience will help you identify whether that third-party service provider can quickly and efficiently perform your tasks. It will also allow you to determine whether the vendor has the industry expertise and knowledge to address growing challenges and respond to unforeseen events. 
Evaluate the servicer's previous and existing projects to know its strategy for managing multiple tasks and resolving issues. Know whether your potential outsourcing partner has positive or negative feedback to understand and measure its performance. Most importantly, assess the contractor's market reputation to ensure it can match your business goals.
2. Workforce
Employee skills are important to accurately, efficiently, and rapidly accomplish tasks to increase productivity and achieve success. Thus, ensure that your possible outsourcing collaborator employs skilled workers capable of completing their assignments with no to very few mistakes.
Examine how the provider manages its workforce by knowing its approach to optimizing employee productivity. Identify whether these workers undergo regular training, receive proper compensation, and have reasonable shifting schedules. Doing so will let you know how to align your project management method with the workforce.
3. Cost-effectiveness
Every entity aims to achieve high levels of efficiency and productivity while reducing costs. When investing, you want to earn the greatest possible return for the amount spent. Thus, you want to make sure your outsourcing provider can help you reach this cost-effectiveness goal.
Amid your search for an outsourcing partner, measure and weigh the possible outcomes with the potential costs of outsourcing. Create a plan on how you want to achieve all your desired business process outsourcing results. 
4. Technology and Infrastructure
You can realize and measure your organization's cost-effectiveness through technology and infrastructure. Advanced software tools and equipment help enhance your efficiency and productivity while reducing expenses. Such solutions are a powerful medium for smooth and stable communication and collaboration.
Ensure that a BPO provider has modernized systems, including robotic process automation, high-speed internet, and cloud computing. Remember that you want to outsource to speed up your monotonous non-core processes while reducing expenses. Look for a BPO company that uses advanced technology at an affordable, fixed cost. 
5. Security
Security is a vital component of business; assets and sensitive data must be completely protected from physical and digital harm. However, you'll need significant funds to combat threats from malicious actors. CSO's 2021 Security Priorities Study found that 44% of polled security leaders anticipate an increase in their enterprise cybersecurity spending in 2022. 
But if you want to save money while strengthening your security, hire a third-party service provider with strict system, data, and privacy protection policies. Analyze the vendor's security agreements and platforms to ensure protection while sharing confidential information.
6. Transparency
Transparency is the foundation of trust between an organization, its partners, investors, employees, and customers. It is being open and honest when making engagements related to any business matter. In terms of outsourcing, seek a BPO provider that can be transparent enough in sharing information and data relevant to your working arrangement.
Look for an outsourcing partner that will disclose information essential to your decision-making process, present service performance, and provide sincere feedback on how to improve your business further. After all, you want to work with an entity that you can trust and will stay with you in the long run.
7. Referrals
Before trying out a new product, you always look for reviews and recommendations from previous consumers to identify its quality and effectiveness. The same goes for outsourcing. You need referrals to know whether a BPO company has the right level of performance for your company.
When fellow CEOs, CFOs, and executives at other enterprises refer a third-party vendor to you, expect that they had a positive experience contracting the provider. This will help you decide whether outsourcing is worth the risk. 
8. Project Turnaround Time
Turnaround time in project management means how long it takes to accomplish a specific task. Each project has a set of completion timelines to avoid delays in other significant business efforts. Always choose a BPO company with proven expertise in meeting project deadlines.
Ensure the outsourcing partner can accomplish your non-core processes based on identified due dates. Select a contractor capable of helping you move forward and attain your business milestones.
9. Scalability
An entity can expand without facing structural issues during increased production as it sustains the quality and while it manages more data by hiring the right BPO firm. In searching for that firm, pick the one that can adapt to changes, trends, and patterns. For instance, outsourcing finance and accounting services help manage repetitive tasks while providing comprehensive financial reports even as the business grows.
Hire a third-party service provider that can support your growth without adding to costs. Furthermore, ensure that it can perform its work consistently regardless of the simplicity or complexity of a situation.
10. Quality Assurance
Quality assurance enables you to measure whether your products and services meet customer demands and expectations. When outsourcing a task, hire a third-party service provider that can satisfy your needs by providing high-quality support. It should be able to handle repetitive activities efficiently and resolve related issues smoothly.
According to Experian's annual Global Data Management report, 75% of businesses that enhanced their data quality in 2021 exceeded their yearly objectives. To achieve similar success, choose a BPO provider that can follow strict quality assurance rules while managing your data securely and effectively.
Things To Prepare Before Meeting a BPO Provider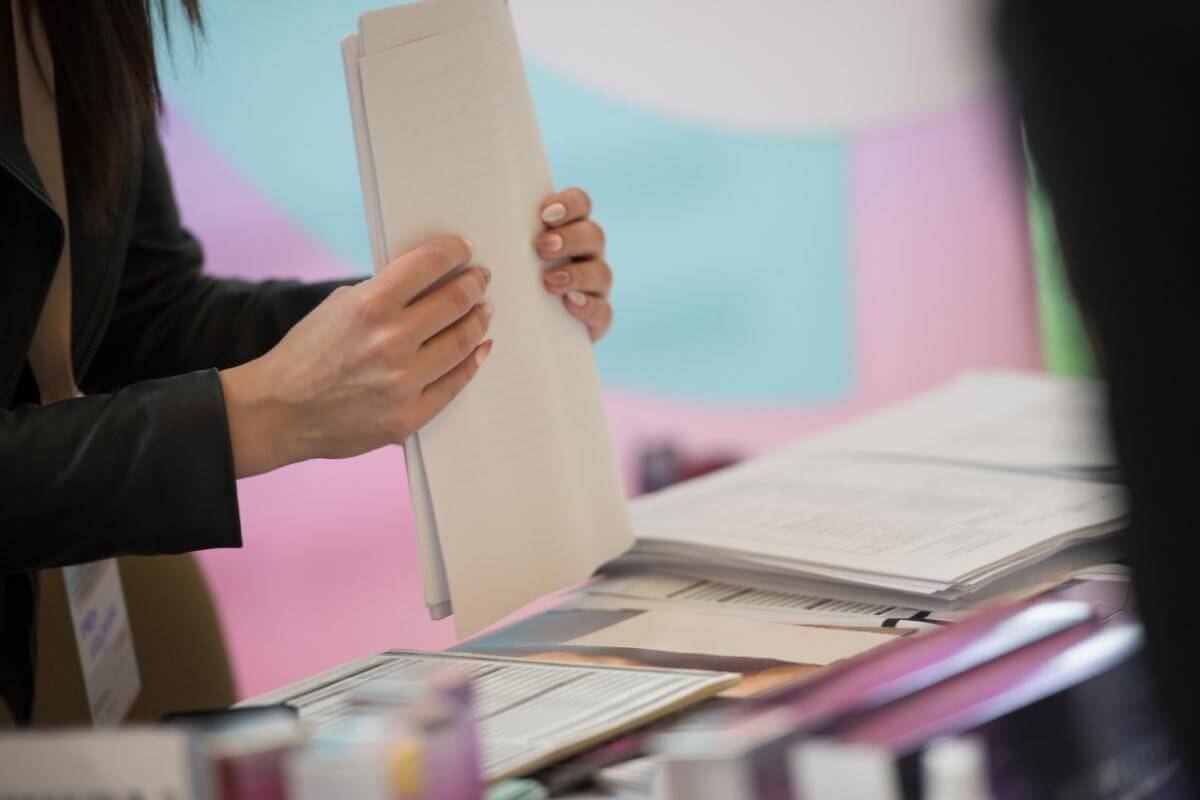 After learning about the significant areas to consider before partnering with a BPO company, start your initial planning for outsourcing a task. Add these things to your BPO learning center in preparation for an upcoming meeting with a third-party service provider:
Contract Proposals.

Carefully draft a contract based on your outsourcing needs and operational funds. Prepare at least three proposals when you plan to choose from three potential BPO providers. Narrow down your selection to one vendor that best fits your strategy.
Policies.

Prepare and clarify your outsourcing policies ahead of time. After a background check of your potential outsourcing partner, develop rules and regulations according to both parties' operational capabilities.
Requirements.

Make a list of requirements your outsourcing provider will fulfill throughout the contract. Ensure that these requirements are clear and attainable. Also, explain why you have included each condition and how you want the potential partner to achieve it to avoid confusion and misunderstandings.  
Work Statements.

Develop a statement of work detailing your outsourcing requirements. Include information about project deliverables, timelines, and work locations. Moreover, do not forget your payment terms and conditions.
Questions.

Prepare a series of questions regarding strategies, policies, and prices that you want to clarify with a BPO contractor. You can also ask about other significant topics such as the vendor's expertise, market reputation, technology, and workforce.
As part of your BPO long-term planning, make these necessary preparations and consider the factors for selecting the right outsourcing partner. These steps will help ensure a smooth transaction when hiring a BPO provider. You can also make a concrete outsourcing investment plan that aligns with your business strategy and operational budget.
The Bottom Line
Expanding your business requires partnering with a third-party service provider capable of managing your back-office and front-office tasks. Delegating these non-core functions to a BPO provider allows you to scale productivity while saving on costs and resources. Above all, you can focus on your primary business functions for enterprise growth.
Hire a BPO company based on the key factors we have presented. From exploring its experience to understanding its quality assurance capability, take all these crucial steps to find a BPO partner that meets industry standards and matches your preferences.