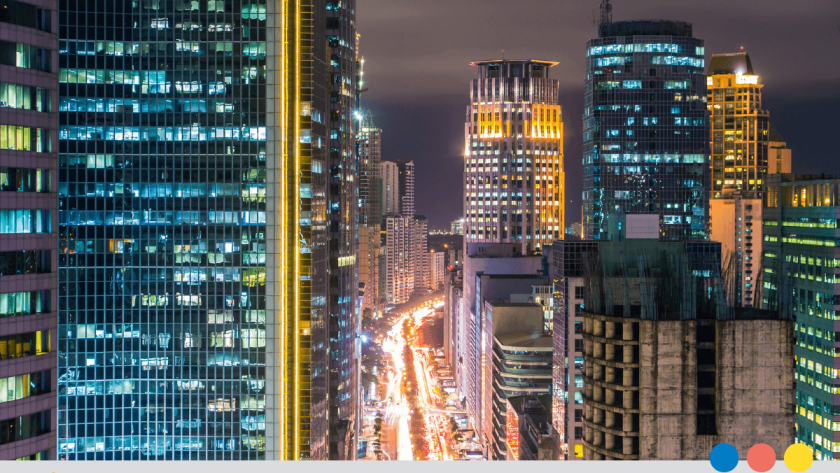 Written by Joyce Ann Danieles
The Philippines has emerged as a critical player in the global business process outsourcing (BPO) market, offering various cost-effective services worldwide. The country has thus seen rapid growth over the years. In 2022 alone, the sector's revenue increased by more than 10% to $32.5 billion.
As the country is a premier offshore outsourcing destination, knowing what the Philippine BPO industry is and where it is headed is important. The insights help enhance deals and negotiations with Filipino providers. Such data also indicates whether outsourcing to the country is ideal in the long run.
Continue reading to learn more.
What Is the Philippine BPO Industry?
The BPO sector in the Philippines has become one of the top outsourcing destinations globally because of its affordable, high-quality services. Its large pool of educated and English-speaking professionals attracts many businesses to delegate the following non-core functions to the country:
Customer service

Accounting and

payment processing

Data entry and analysis

E-commerce and order fulfillment support

Supply chain management

 

Cloud services

Creatives, sales, and marketing

Manufacturing and logistics

Knowledge and legal processing

Healthcare support

Human resources (HR) assistance
Moreover, Filipino BPO vendors use advanced solutions and technologies to quickly and effectively accomplish such tasks. The Filipino workforce's ability to easily adapt to changing consumer demands and industry shifts allows clients to prioritize their core business functions.
Due to the benefits of business process outsourcing, the country's BPO sector has seen accelerated and continued expansion. The IT and Business Process Association of the Philippines (IBPAP) reported that the market's revenue grew by 10.3% to $32.5 billion in 2022. IBPAP cited growth drivers in finance, healthcare, retail, tech, and telecommunications.
What Is the Philippine BPO Industry's Future? 

The Philippine BPO sector constantly evolves. IBPAP expects the market to reach $35.9 billion in revenue in 2023. The organization also projects the BPO talent pool to expand to 1.7 million employees in 2023 from a total of 1.57 million in 2022. 
Based on the association's research results, cost savings will remain the main reason for contracting a BPO company from the Philippines. The sectors listed below will become the primary sources of BPO investments in the Southeast Asian archipelago.
Healthcare

Internet service

IT assistance

Cybersecurity

Financial technology

Shared service
IBPAP also stated that 83% of Philippine BPO providers anticipate growth in 2023 despite a possible global recession. The organization adds that Cebu and Davao will remain leading IT-business process management (IT-BPM) hubs this year.
Furthermore, the following local laws and initiatives will continue to strengthen the country's position worldwide as a preeminent outsourcing nation:
The

Department of Information and Communications Technology (DICT) Act of 2015

ensures high-quality, cost-effective ICT support services.

The

Data Privacy Act of 2012

monitors and necessitates compliance with international data security requirements and standards. 

The

Special Economic Zone Act

provides tax incentives and exemptions for BPO companies operating in selected areas.

The

Telecommuting Act

supports flexible work arrangements in the country and fosters technological advances in improving remote work.

The continued expansion of

BPO centers of excellence

(CoEs) nationwide drives the industry's growth by providing incentives such as tax holidays.

The

Next Wave Cities Program

extends BPO opportunities outside Metro Manila, ensuring lower operating costs.

The Philippine government supports

BPO talent development and training programs

.
Critical Philippine BPO Challenges To Overcome
As you explore what BPO is in the Philippines, note that the sector encounters challenges that hinder its consistent growth. These risks weaken the market's reliability and reputation for providing superior outsourced work if left unresolved. 
IBPAP's Philippine IT-BPM Industry Roadmap 2028 states the following as critical talent-related challenges the country needs to overcome:
Insufficient number of skilled workers for higher-order niche job positions

Low job-readiness of graduates across education levels

Mismatched educational curriculum programs and industry needs

Limited prospects for upskilling and reskilling

Low basic education proficiency and digital literacy

Minimal awareness about IT-BPM career options and growth prospects
Five-year Vision for the Philippine BPO Market
Despite those challenges, what is IBPAP's five-year vision for the Philippine BPO industry? 
IBPAP forecasts the country to become a leading global experience center for digitally enabled and customer-centric services. The association expects the local outsourcing sector to achieve $59 billion in annual revenue by 2028, increasing the workforce to 2.5 million jobs. 
The organization recommends the following strategic priorities for the IT-BPM sector to attain such objectives:
Enable deeper services penetration within existing

types of BPO

segments.

Invest in relatively newer services and segments.

Establish volume in current dominant buyer geographies.

Boost share in relatively under-penetrated locations.

Prioritize upskilling and reskilling, especially domain, technical, and soft skills.

Back up and strengthen the innovation ecosystem.

Catalyze the digital transformation agenda.

Speed up the maturity of global in-house centers (GICs).

Add 2.7 million indirect IT-BPM jobs for the country.

Increase contribution to gross domestic product (GDP).

Open 54% of new jobs outside Metro Manila.

Drive holistic and inclusive economic and social growth.

Accelerate the environmental, social, and governance (ESG) agenda.
Is Long-term Outsourcing to the Philippines Ideal?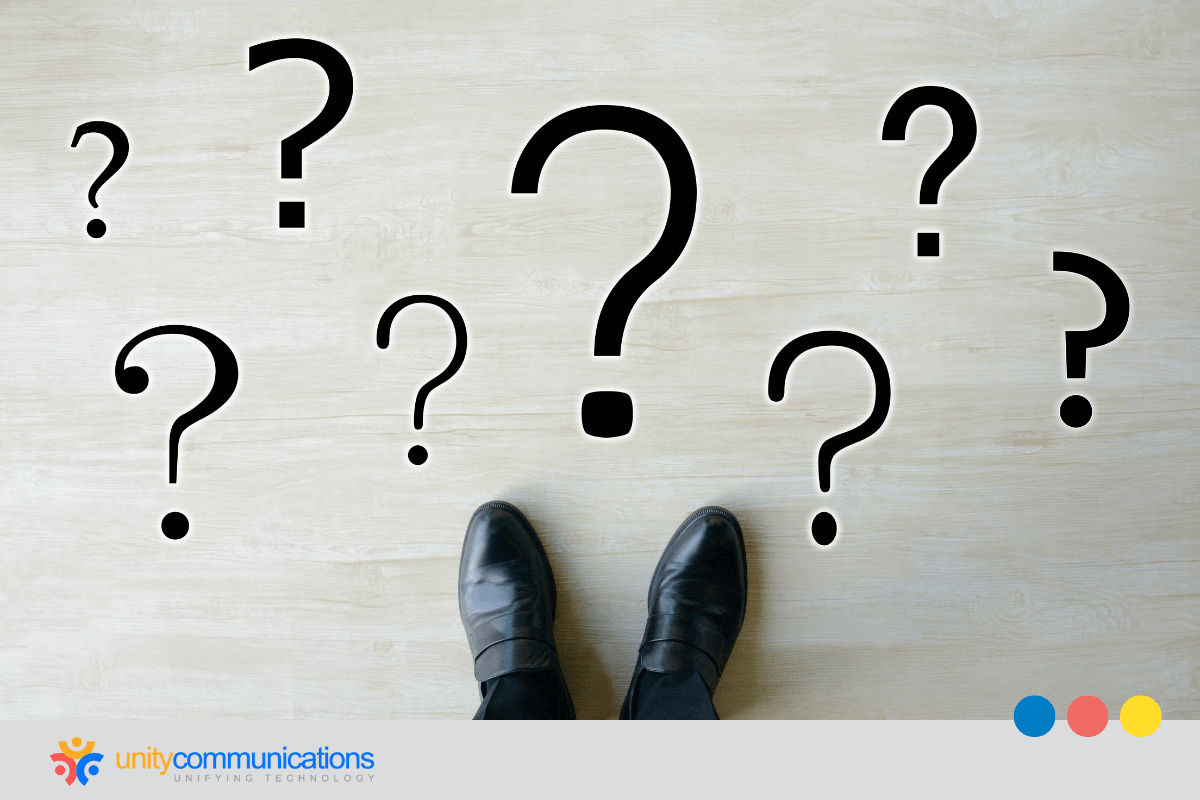 Yes. Given the current market standing and five-year action plan of the Philippine BPO industry, you can say that long-term outsourcing to the country is ideal. Although you need to consider various factors, the statistics above show that the sector can meet your business requirements.
Whether you acquire inbound and outbound BPO customer support, technical assistance, or other services, expect to experience these key advantages shared in IBPAP's 2028 roadmap:
The Philippines has strong English language proficiency, with a 96% literacy rate.

This score makes the country one of Asia's most English-proficient countries.

The BPO market employs an extensive and qualified talent pool.

The association recorded 850,000 college graduates annually, 4.4 million enrollees, and 2,400 higher education institutions nationwide.

The Philippine national government has solid support for the IT-BPM industry.

The administration implements several relevant laws and programs, such as the ones enumerated in the previous section. 

The country invests in a robust ecosystem to support worldwide business services.

It emphasizes high-quality real estate, sets up digital cities, and makes efforts to improve telecom infrastructure.

The Philippine outsourcing sector offers significant cost savings.

According to IBPAP's research, businesses attain at least a 70% cost reduction when outsourcing to the country compared to the United States and Europe. 

Philippine service providers and their employees are immersed in global cultures, especially in the West.

This cultural affinity allows them to deliver natural, personalized services for client organizations and customers.

Philippine BPO companies use up-to-date technologies

, such as artificial intelligence (AI), automation, and cloud computing, to accomplish multiple tasks faster and more accurately.
The Bottom Line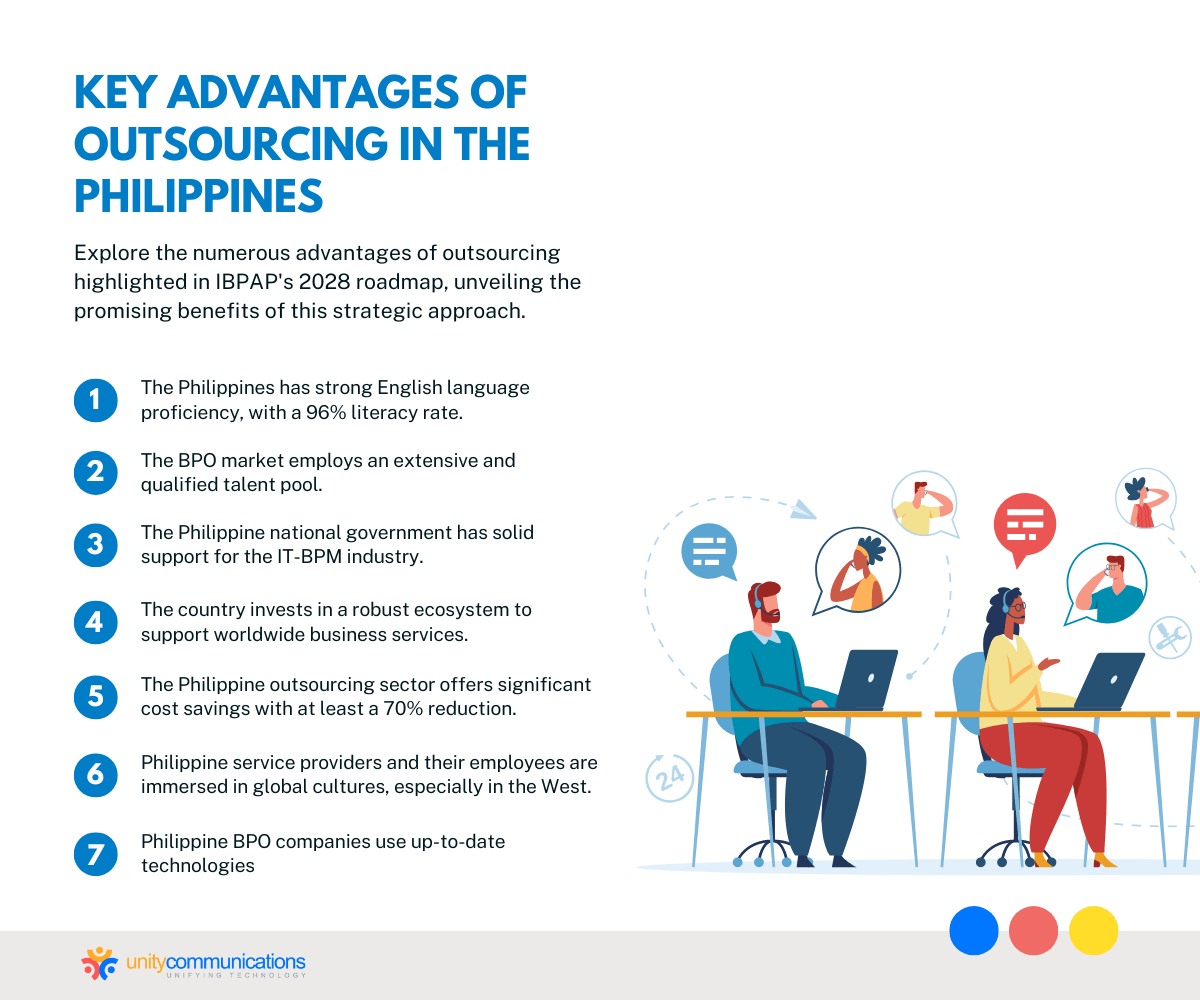 When someone asks, "What is the Philippine BPO industry?"
Immediately answer them: It is a global leader delivering streamlined, cost-effective outsourcing services. Considering its skilled professionals, advanced solutions, and favorable business environments, the market has experienced significant and consistent growth.
Eventually, the archipelago's BPO segment will experience continued expansion. Although challenges remain, ongoing digital advancements, increasing upskilling demands, and diversifying outsourcing verticals push the sector to stay agile and adaptable. 
The benefits above give you confidence that investing in Philippine BPO is best for your business in the long run. Once you are ready to outsource a back- or front-office BPO function, let's connect. Unity Communications has robust solutions and skilled employees ready to meet your daily operational needs. 
Enjoyed what you just read? Share it with your network.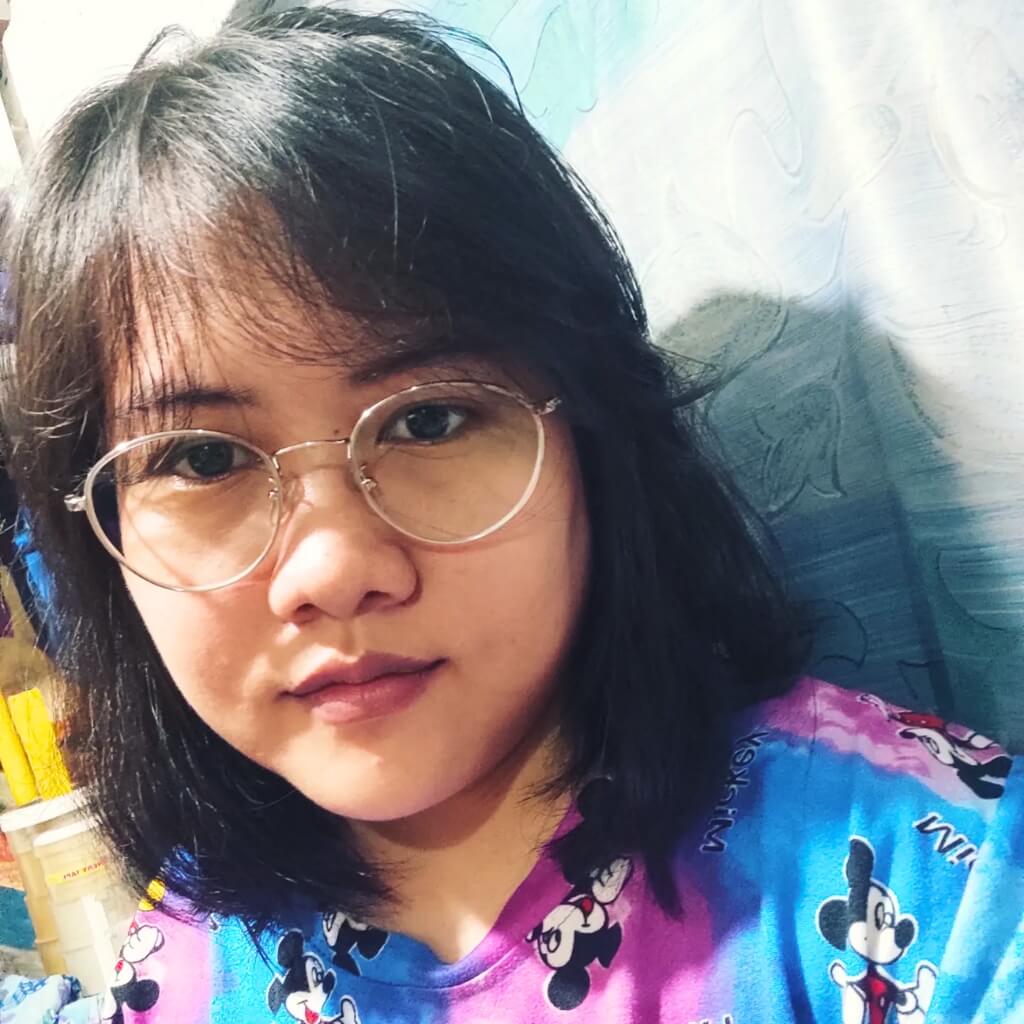 Joyce Ann Danieles is an SEO content writer from Manila, Philippines. She's comfortable writing outsourcing-focused articles, helping you clarify the confusing concepts surrounding the BPO industry. With her experience in news writing and copywriting, she's always ready to feed your brain with random facts and creative insights.
Outside work, Joyce explores the world of literature. She tries to write fiction she hopes to share with everyone someday.