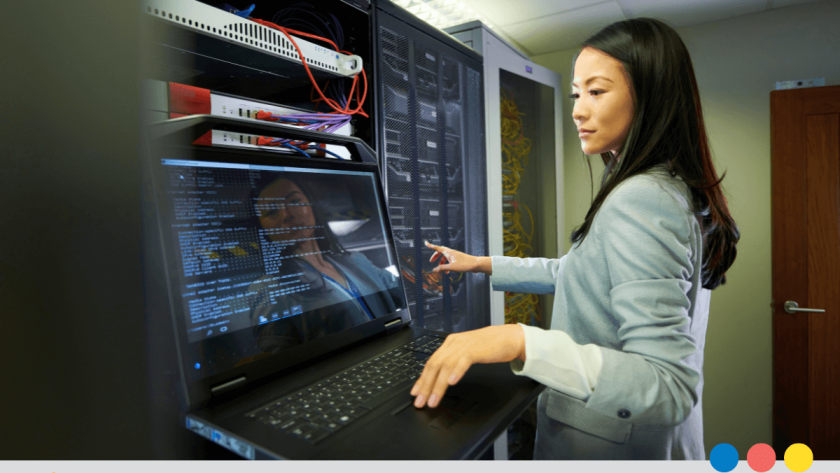 Written by Allie Delos Santos
Studies suggest that most startups fail. Establishing a tech startup is difficult enough, as entrepreneurs must handle various complex tasks while operating with limited budgets and resources.
Planning failures, a fast-paced work environment, and pressure from investors can cause a startup to fail. However, business process outsourcing (BPO) can help. A good information technology (IT) BPO vendor can meet your business needs and take some responsibilities off your shoulders.
This article answers the question, "What is IT BPO?" It also touches on the different ways IT BPO solves common problems experienced by tech companies.
What Is IT BPO?

IT BPO is a sub-category of BPO where a company outsources IT-related business functions. So what is BPO? The strategy involves contracting out standard business functions to a third party.
Among the different types of BPO, IT BPO is popular. It can be done offshore, nearshore, or onshore. The most common method for this strategy is offshore outsourcing due to its significant cost savings. However, partnering with an IT BPO company from a neighboring country via nearshoring is also growing in popularity.
Tech startups should pursue BPO because of the considerable skills needed to perform most IT functions. IT tasks fundamentally differ from most of the work performed in business, where alternative skills such as decision-making, communication, and intuition are necessary. IT tasks require syntax, code, protocols, and machine logic knowledge.
Startups lacking an employee with advanced IT knowledge on their payroll can decide to outsource the function. Common IT BPO services include:
Optimizing IT operations

Infrastructure support

Quality assurance services

Cybersecurity services

Cloud migration

Cloud application development
Supporting business operations

Help desk services

IT support

Digital crisis management and response

Managed analytics services
Planning and implementing new IT projects

IT strategy consulting

Software development services

Application modernization services
Difference Between IT BPO and Traditional Outsourcing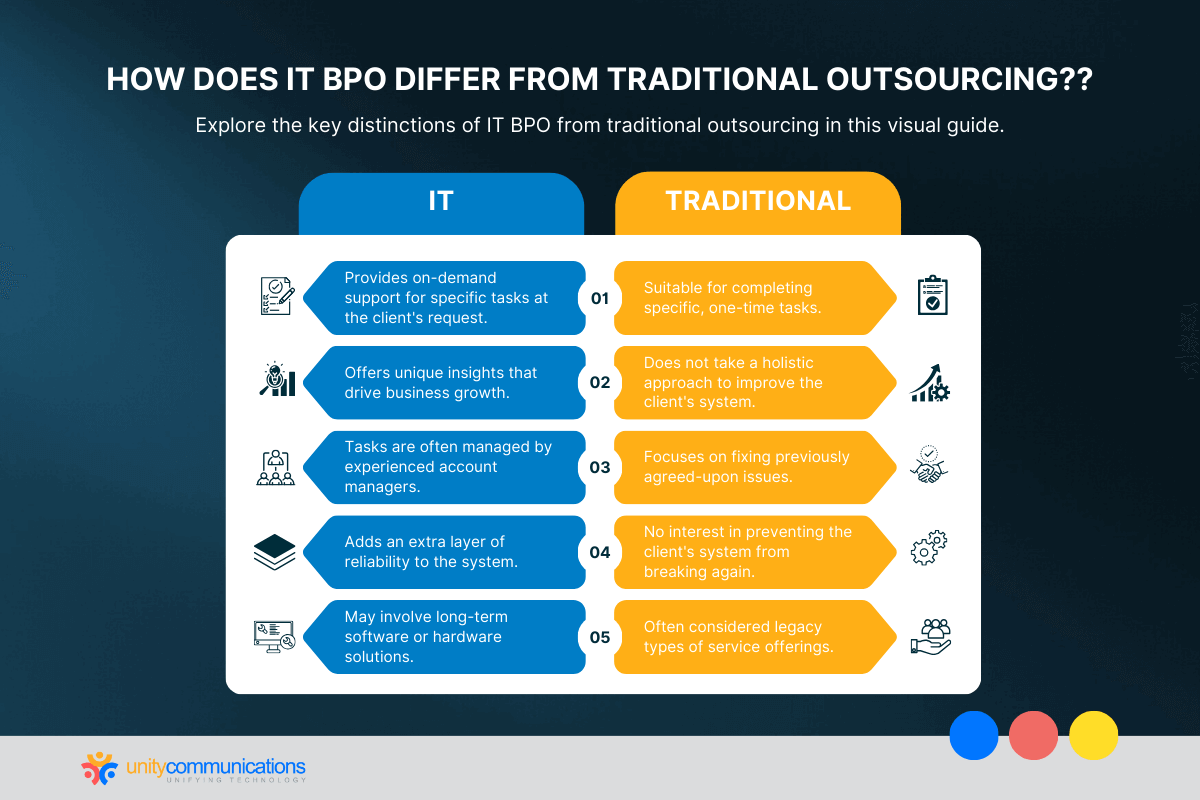 So what is the difference between IT BPO and traditional outsourcing? The two differ in accountability, partnerships, reliability, reporting, and peace of mind.
Information technology in BPO offers expert advice and services tailored to the startup's needs. The vendor can take on any task, whether simple or complex. An IT BPO provider delivers outsourced work such as network security, maintenance, and administration.
Traditional outsourcing is when a company delegated non-core business functions such as customer service, human resources, and finance to a third-party organization. The client asks the provider to take care of the function at their preferred pace without incurring unnecessary overhead expenses from in-housing.
Here is a closer look at their differences:
IT BPO
Traditional Outsourcing

Provides on-demand support for specific tasks at the client's request

Does not offer long-term software or hardware solutions

Gives the client unique insights that propel the business to new heights

Few employees are better suited for such tasks than those who manage the accounts

Adds an extra layer of reliability to the system

 

Legacy types of service offerings

Great way to complete specific, one-time tasks

The external team does not try to improve the client's system using a holistic approach

The focus is on fixing the issues previously agreed upon

Has no interest in keeping the client's system from breaking again
IT BPO Market Overview and Trends
The worldwide market size of IT outsourcing in 2021 was $528 billion. It can grow to $781 billion by 2030. The market will likely expand at a compound annual growth rate (CAGR) of 5% during the forecast period (2022–2030).
Here are the market drivers behind IT BPO:
Need for scalable and efficient IT infrastructure:

Adopting new technologies is predicted to grow significantly since many companies have replaced legacy infrastructure. Outsourcing is a viable option for small-scale companies.

Need for differentiation in a surging market:

Skilled IT technicians are more accessible through outsourcing for small businesses and tech startups. Outsourcing also provides round-the-clock monitoring, with professionals working to prevent and patch security breaches.

Adoption of cloud services:

The rising popularity of cloud solutions will create a favorable market for the IT outsourcing industry. Companies that use cloud services often outsource development and maintenance

to BPO companies

.

Changing end customer demands:

Tech companies are seeing rising demand to serve clients with app modernization, managed security services, and cloud enablement. Hence, tech companies are focused on transforming operations through artificial intelligence (AI), automation, analytics, and data.
How IT BPO Solves Common Tech Companies Problems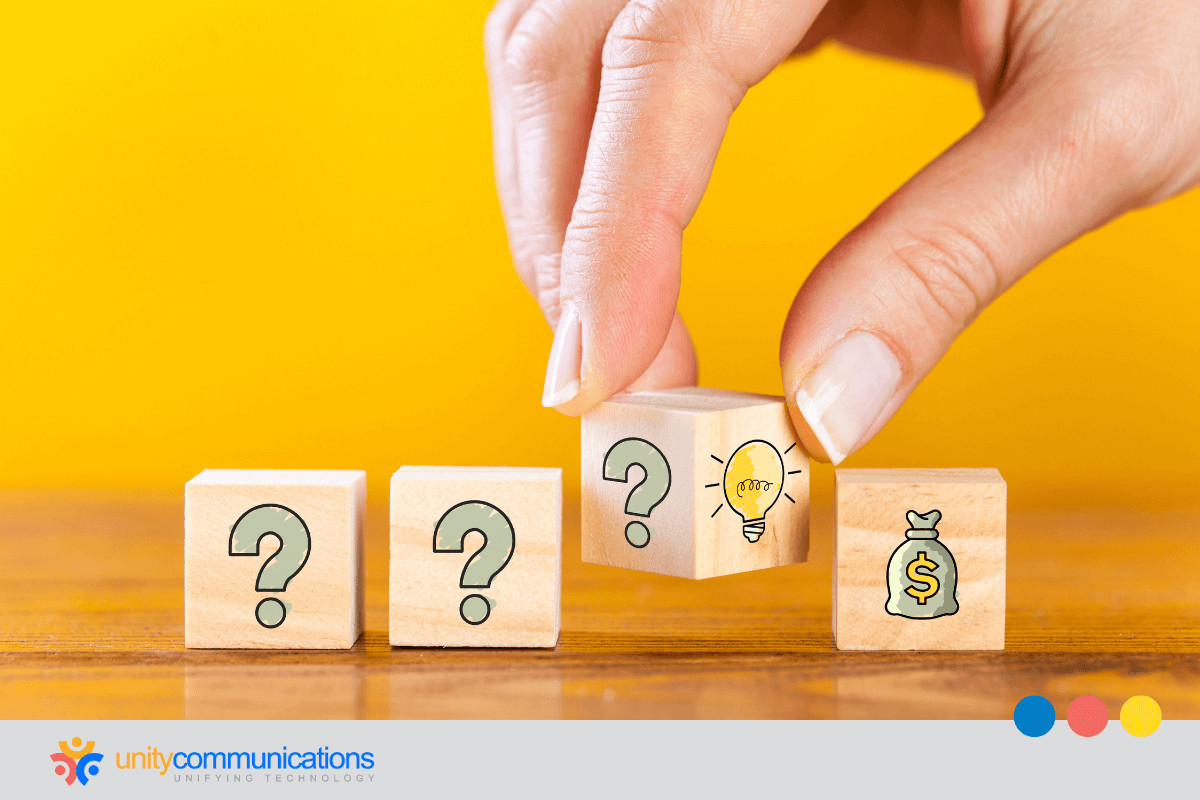 Startups differ because they are tech-oriented. Working from an idea to full implementation is challenging, but IT outsourcing can help.
Tech startups must understand what IT BPO is to fully reap its benefits. Here are some common problems startups encounter and how IT BPO can help resolve them.
Cybersecurity Problems
Cyber threats are becoming more imminent with each technological advancement. The average cost of a data breach in 2022 reached a record high of $4.35 million. Startups are more at risk because they do not have the infrastructure to protect them.
Solution
A reliable BPO company follows strict data and compliance standards established by institutions such as the International Organization for Standardization (ISO) and regulations such as the Health Insurance Portability and Accountability Act of 1996 (HIPAA).
They also value data and cybersecurity and invest in high-quality infrastructure and backups. They train employees regarding the latest data privacy regulations to ensure maximum compliance.
Employee Burnout
A tech startup might overestimate the capabilities of its small team, causing employee burnout before reaching its goals. It might not be a tech problem, but startups rely on strong teamwork. So burnout can significantly affect team productivity.
Solution
IT BPO is an excellent way to get additional staffing, especially in front-office operations or functions that need constant attention. Outsourcing is a great strategy to prevent employee burnout while keeping labor costs low. You might also consider IT outsourcing if you struggle with consistency in employee performance.
Scaling Too Early
Premature scaling is a common reason for the failure of tech startups. Ensuring stable growth before scaling is vital. Moreover, tech startups have a strict budget to consider while scaling their businesses.
Solution
Outsourcing helps entrepreneurs make the most of their pennies. When done properly, IT BPO pays for itself, allowing you to stretch your dollars further.
Working with a third-party service provider is more affordable than paying for the wages and benefits of an entire in-house team. It also does not require long-term contracts. You pay for the outsourcing service you use for as long as it is needed.
Lacking Financial Management
Businesses require money to make money. More importantly, entrepreneurs should know how to manage money to keep the business running in the first place. They must think of new ways to generate and save money.
Solution
Instead of hiring and managing an internal financial team, the BPO provider can match you with a qualified accountant or bookkeeper to manage your company's finances. Besides IT functions, outsourcing firms offer financial accounting services such as payroll processing. Access to services on demand brings immense benefits.
The Bottom Line
Hopefully, this article answered what IT BPO is. As a tech startup, several obstacles can prevent you from attaining your goals. Entrepreneurs must be cautious of hindrances and find strategic solutions.
IT BPO is a practical approach without undue stress. It also minimizes risks and saves your wallet. If you are ready to start your IT BPO journey, let's connect!
Enjoyed what you just read? Share it with your network.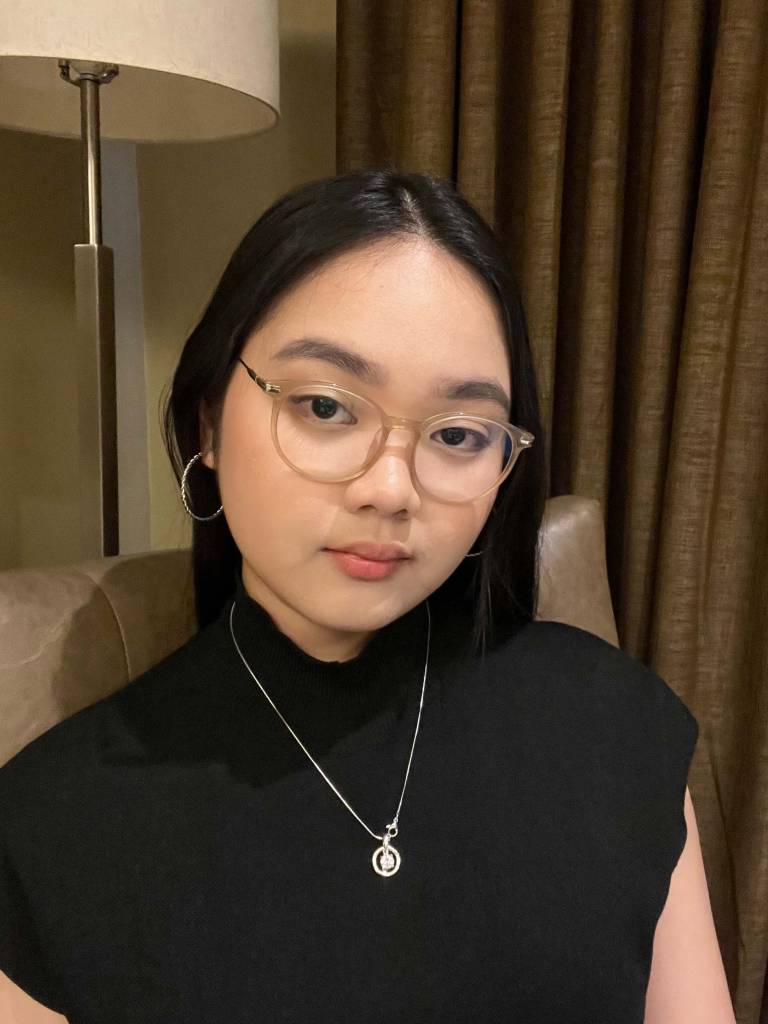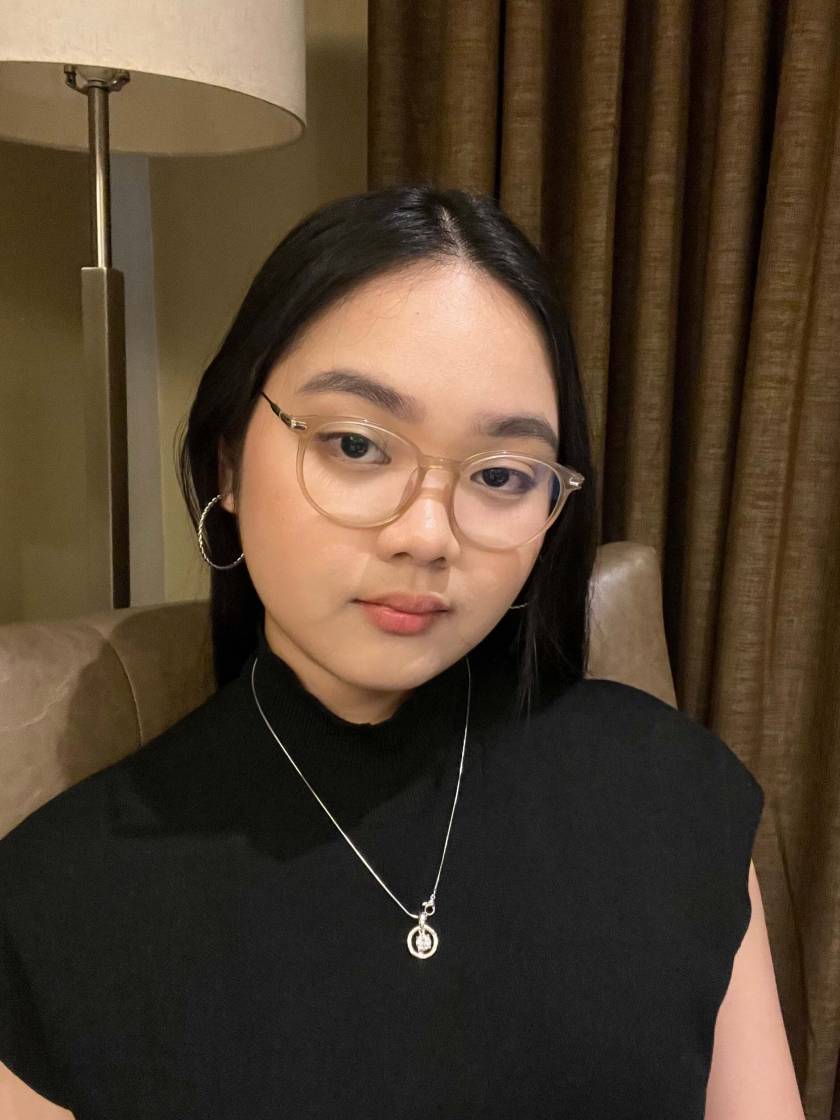 Allie Delos Santos is an experienced content writer who graduated cum laude with a degree in mass communications. She specializes in writing blog posts and feature articles. Her passion is making drab blog articles sparkle.
Allie is an avid reader—with a strong interest in magical realism and contemporary fiction. When she is not working, she enjoys yoga and cooking.