Written by Joyce Ann Danieles
Digital advancements, market trends, and international issues drive constant changes in the healthcare and business process outsourcing (BPO) sectors.
Medical organizations rely on healthcare BPO to enhance patient care and reduce costs. To better align your healthcare organization's priorities with changes in the healthcare landscape, you need to know the latest healthcare and outsourcing trends. 
Let's examine the latest developments in healthcare and outsourcing to help you better prepare for the challenges ahead.
Let's begin!
Five Upcoming Trends in Healthcare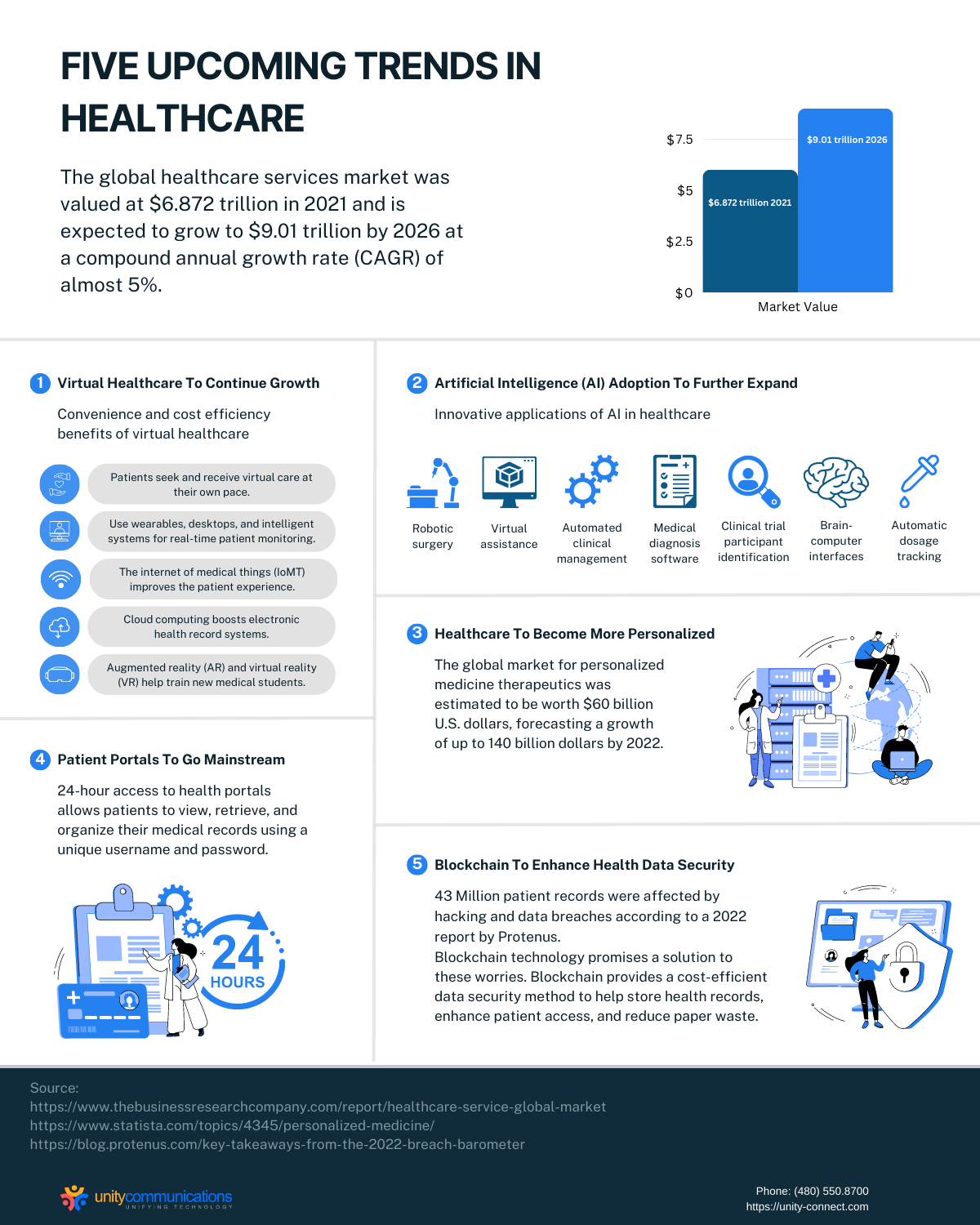 A recent report from The Business Research Company shows that the healthcare services market was valued at $6.872 trillion worldwide in 2021. The company predicts the sector will grow to $9.01 trillion by 2026 at a compound annual growth rate (CAGR) of almost 5%. 
Technological breakthroughs contribute to the growth and enhancement of healthcare services. Today's solutions help medical providers accelerate their clinical and non-clinical tasks. 
To understand how technology transforms healthcare, check out the trends expected to influence and alter the industry in 2023.
1. Virtual Healthcare To Continue Growth
Since the pandemic, more organizations have undergone digital transformation. Individuals, too, have adopted some level of technological capability to match. The risk of infection forced many people to stay home and seek medical consultations remotely. The same technology helped medical practitioners reach a broader patient base.
Due to convenience and cost efficiency, healthcare organizations are continuing to implement virtual healthcare. So even as the pandemic subsides, expect the following scenarios to continue:
Patients seek and receive virtual care at their own pace and in their own comfort zones.

Medical practitioners use wearables, desktops, and intelligent systems for real-time patient monitoring.

The internet of medical things (IoMT) improves patient experience, productivity, and profitability.

Cloud computing boosts electronic health record systems for seamless data access.

Augmented reality (AR) and virtual reality (VR) help train new medical students and provide immersive simulations.
2. Artificial Intelligence (AI) Adoption To Further Expand
Similar to the healthcare BPO industry, AI is one of the biggest trends in the healthcare sector. Along with robotic process automation (RPA), AI helps medical providers complete time-consuming administrative tasks efficiently. AI makes activities such as workflow optimization and data management effortless.
As for medical use cases, AI algorithms enhance the delivery and quality of disease diagnoses. The technology accelerates standard medical procedures such as health record mining and lab test result scanning. 
Other innovative applications of AI in healthcare are:
Robotic surgery

Virtual assistance

Automated clinical management

Medical diagnosis software

Clinical trial participant identification

Brain-computer interfaces

Automatic dosage tracking
Expect these advancements to continue in the upcoming year as the demand for quick and cost-effective healthcare services increases. Moreover, AI algorithms and RPA will optimize remote interactions and transform patient outcomes.
3. Healthcare To Become More Personalized
Personalized healthcare means customizing interactions, medical checkups, and treatments based on the patient's needs and preferences. Omnichannel support, wearable technology, and IoMT make personalized healthcare possible. 
Wearables, such as smartwatches and smart glasses, help individuals monitor and manage their health habits in real time. Meanwhile, IoMT assists medical providers in monitoring their patients remotely.
Furthermore, an omnichannel approach lets patients connect with clinicians using their preferred communication channels. As part of acquiring healthcare BPO services, medical providers turn to third-party contact centers to rapidly address patient inquiries through any of these:
Voice calls

Live chat

Email

Social media

Video calls

Text messaging
Because extended virtual healthcare was so widely adopted during the pandemic and continues, patients anticipate more personalized health services. This helps them feel at ease despite serious illnesses.
4. Patient Portals To Go Mainstream
Patient portals are secure websites that provide individuals with convenient, 24-hour access to their health data. Patients can view, retrieve, and organize their medical records using a unique username and password. These online hubs further allow them to:
Message their doctors and clinicians

Schedule appointments and checkups

Update contact information and other essential data

Check health benefits and insurance coverage

Request prescriptions

Make payments

Download and fill out forms
Because of such advantages, patient portals will continue as one of the crucial trends in healthcare in 2023. Portals are seamlessly linked to electronic health record (EHR) systems. They enable patients to easily and efficiently communicate with their doctors and manage their health amid the growing adoption of remote care.
5. Blockchain To Enhance Health Data Security
According to the 2022 Protenus report, hacking and data breaches affected more than 43 million patient records in 2021. These incidents left patients vulnerable to risks such as identity theft and exploitation.
Blockchain technology promises a solution to these worries. The shared, immutable ledger facilitates transaction recording, asset tracking, and data management in a business network. It allows only authorized members to access confidential digital documents. It helps build trust, enhance transparency, and strengthen information security.
Medical providers need to regulate and keep health records private. As such, blockchain optimization will continue in the coming years. Blockchain can provide a cost-efficient data security method to help store health records, enhance patient access, and reduce paper waste.
Healthcare Outsourcing Trends To Watch in 2023

Adopting BPO services means having a third-party company perform specific back-office and front-office functions. Medical providers usually outsource their non-clinical tasks such as claims processing, billing, coding, and data entry. This approach lets them prioritize the improvement of their health services.
Precedence Research reveals that the global healthcare BPO market reached more than $334 billion in 2021. The research firm expects the segment to be valued at almost $756 billion by 2030 at a CAGR of 9.5%.
Following the recent trends in healthcare, BPO companies constantly innovate their administrative operations and services. They also grab key revenue opportunities to boost their unique offerings. 
The next section covers the latest industry shifts to shape healthcare BPO. 
Expanded AI and Automation Use 
Prompt responses to inquiries, appointments, and requests help medical providers meet growing patient needs. Technology modernization lets them reply swiftly but at high cost to the organization. Procuring medical BPO services allows them to optimize advanced solutions at lower costs. 
Competent third-party companies use AI and RPA to automate repetitive administrative tasks. Such tedious activities include compiling health records, processing bills, and analyzing relevant data. By helping reduce their workload, medical firms can focus on improving their healthcare products and services.  
These technologies also help streamline communication with patients. Contact centers use AI and RPA to automatically and seamlessly answer patient inquiries from any platform. If complicated patient issues arise, AI solutions forward them to the right healthcare professionals for more effective resolutions.
Because many processes and transactions occur online, healthcare providers encounter massive patient data and backlogs. So expect they will continue to hire BPO companies to handle their back-office and front-office functions. In turn, the contractors will constantly upgrade their AI-powered solutions to create a smooth patient experience. 
Extended Telehealth Support
The demand for expanded telehealth services has surged since the pandemic. Virtual technologies and digital communication channels have become crucial in addressing such demands. 
But the high cost of maintaining and managing those platforms hinders medical providers from satisfying patient needs. Hence, they tap into BPO companies to improve their telehealth services.
Such third-party providers use an omnichannel approach to accelerate and personalize telehealth support. BPO vendors will continue seeking innovative ways to extend telehealth channels even as patients change their preferences for receiving remote consultations with their doctors.
Improved Remote Patient Monitoring
One of the most vital advantages of healthcare BPO is the ability to track patient health across any distance. Like virtual healthcare, remote patient monitoring became more popular during the pandemic's peak. This healthcare service allows medical practitioners to track their patients' vital signs and symptoms while working either from home or in their clinics. 
Medical organizations turn to third-party companies to provide, manage, and maintain their EHR systems to ensure a smooth record and flow of information. This enables them to reduce costs on hiring additional staff and buying niche equipment for health data monitoring and analysis. 
This trend in healthcare outsourcing will continue to grow as remote patient monitoring becomes the norm. 
The Bottom Line
Tech upgrades and global challenges continue to transform the healthcare and outsourcing industries and encourage medical organizations to seek innovative solutions. They continue to partner with BPO companies such as Unity Communications to deliver an unmatched patient experience.
But healthcare providers must know upcoming market trends to improve their offerings and fully benefit from outsourced services. The resulting insights guide them in knowing which healthcare outsourcing services to invest in.