Written by Dion Jay Tality
Healthcare providers devote themselves to treating patients and promoting the public's health. But the pandemic posed a challenge for health organizations. During this global health crisis, clinics and hospitals struggled to optimize their operations and deliver quality healthcare.
Enter business process outsourcing (BPO) in the healthcare industry.
Healthcare BPO is delegating clinical and non-clinical operations to third-party service providers. Medical billing, claims processing, and data management are services these vendors offer. Some have even started providing telehealth services amid the pandemic.
But what is the true role of the top healthcare BPO companies? Read on to find out.
18 Outsourcing Services Offered by Top Healthcare BPO Companies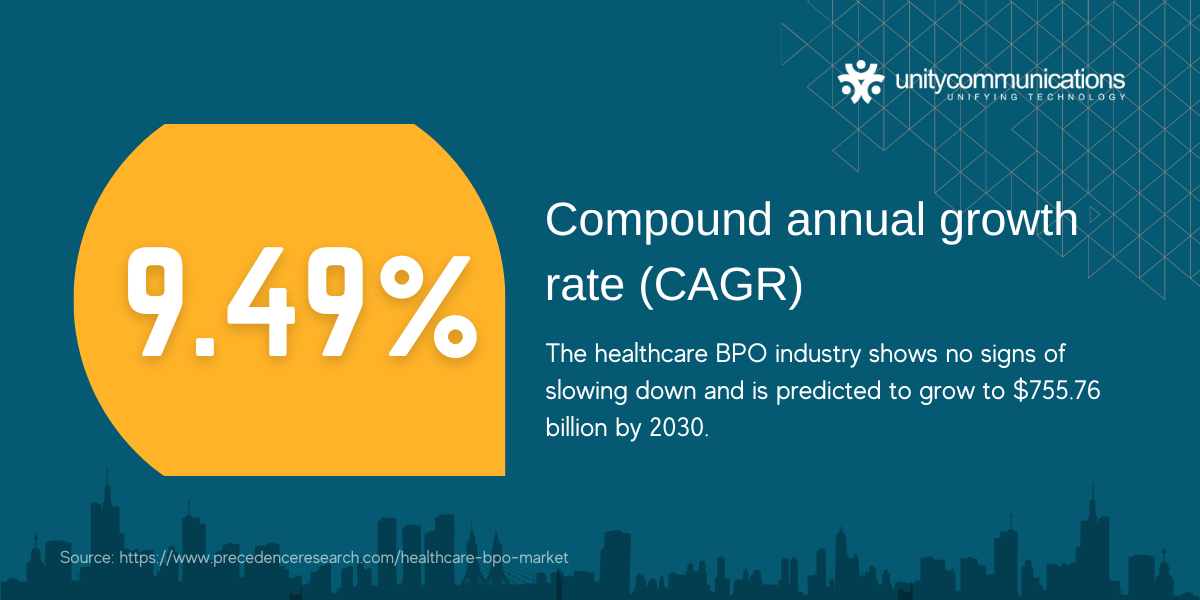 The global healthcare BPO market size might grow from $334.15 billion in 2021 to $755.76 billion by 2030 at a compound annual growth rate (CAGR) of 9.49%. The healthcare BPO industry shows no signs of slowing down. Third-party service providers will play a significant role in the healthcare market. They are expected to go beyond their current offerings and cover even more non-clinical and clinical functions.
That said, what tasks do these top healthcare BPO companies perform today? Below are 18 outsourcing services sorted into non-medical, medical, and administrative operations.
Non-medical Operations
Healthcare organizations outsource to prioritize patient care. They entrust their non-clinical, back-end operations to third-party service providers to free up time and focus on treating patients.
Top healthcare BPO companies usually handle such non-medical functions as:
Healthcare Customer Service.

Some clinics and hospitals establish contact centers. This department helps patients with medical appointments, clinical requests, and non-clinical concerns. Generally, BPO representatives assist patients via phone calls, email, or live chat.

Healthcare Billing and Collections.

A billing department is essential to healthcare organizations. BPO agents receive incoming calls from patients with billing and payment concerns. Meanwhile, they also initiate calls and collect payments from patients.

Medical Billing.

Medical billing is the most commonly outsourced healthcare function. The process involves generating superbills and filing claims for medical services rendered. Medical billing outsourcing, worth $11.1 billion in 2021, might

reach $55 billion in value by 2032

. It is expected to grow at a 15.6% CAGR.

Claims Processing.

Claims processors identify whether an insurance provider pays for the insured members' medical fees. Their job includes reviewing claims, verifying health coverage, and calculating insurance payments. Outsourced claims processors are responsible for the denial or approval of claims. They also disburse funds once a claim is approved.

Data Management.

The healthcare sector records and secures protected health information (PHI) in compliance with the

Health Insurance Portability and Accountability Act of 1996 (HIPAA)

. They also manage patient data and maintain medical records. Outsourced data entry specialists perform these jobs for their contracted healthcare providers.

Medical Transcription.

Transcription involves turning audio files into text formats. Usually, doctors dictate health reports during medical services. BPO medical transcriptionists submit the transcribed data via electronic health records (EHRs).

Appointment Setting.

Some healthcare organizations have a dedicated team for setting appointments. Their representatives receive patient calls or messages via phone calls, chat, email, or text messaging. Patients then schedule their appointments for medical, dental, or even non-clinical services. 

Drug Orders or Medication Refills.

Patients can contact pharmacies to order or refill medications without visiting the stores. Some retail pharmacies and medical centers hire a BPO team to process drug orders and refills.

Health Awareness Campaign.

Healthcare providers are not limited to medical treatment. They are also responsible for promoting public health and well-being.

Healthcare organizations were at the forefront of disseminating health information during the pandemic

. Top healthcare BPO companies can take on such responsibilities.
Medical Operations
Earlier, we mentioned that healthcare providers commonly outsource non-clinical operations. Why? Entrusting clinical tasks to third-party vendors is hard because patient healthcare issues can be a matter of life or death. These activities need health experts on top of advanced technology and resources.
But since the pandemic, top healthcare BPO companies have started offering medical BPO services. Below are some clinical functions commonly outsourced:
Patient Care.

The healthcare sector's primary job is to provide patients with medical services such as checkups, diagnoses, and treatments. These are usually done with a team of healthcare professionals. But medical centers without the proper staff can refer patients to onshore service providers such as external imaging and lab centers for diagnostic tests.

Telehealth Services.

Health professionals these days provide patients with virtual medical consultations, diagnoses, and treatments. More and more people are open to using telehealth services. About

83% of millennials plan to employ these services

, followed by Gen Z (73%), Gen X (68%), and baby boomers (51%).

Remote Patient Monitoring (RPM).

RPM is a subset of telehealth. It entails tracking patients' health conditions through remote methods. Such BPO services have become prominent amid pandemic restrictions, especially as healthcare providers have seen the value of monitoring patients' health at home.

Home Healthcare.

This is one of the fastest-growing industries in the U.S. The shelter-in-place protocols of the pandemic drove its market growth. But healthcare providers do not send their doctors, nurses, or health aides to patients' homes; instead, they partner with BPO vendors and have a team of health professionals on call.
Administrative Operations
Medical institutions are like any other organization. They have departmental units that are fundamental to smooth operations. These departments include payroll for employee salaries, human resources (HR) for people management, and information technology (IT) support for network management.
Healthcare providers also outsource administrative processes to better focus on their core functions. Below are some of the administrative tasks that top healthcare BPO companies handle:
Payroll.

This critical department ensures employees get paid on time. Clinics outsource their payroll so that their doctors and ancillary patient-facing health workers can focus on providing patient care.

HR.

The HR department plays a crucial role in managing employees. This team is responsible for hiring, onboarding, and keeping employees. HR is one of the most commonly outsourced administrative departments.

IT.

This involves troubleshooting, hardware maintenance, software updates, and network management. Clinics and hospitals should have an IT department to oversee day-to-day operations. IT professionals are in high demand, so outsourcing this function to a third-party service provider is an excellent decision.

Revenue Cycle Management (RCM).

Healthcare providers use RCM to manage their finances. The process involves recording, organizing, and collecting patient service revenue. The global healthcare RCM outsourcing market is projected to grow from

$20.1 billion in 2021 to $53.5 billion by 2027.

Supply Chain Management.

Healthcare organizations partner with medical suppliers to consistently supply medications, tools, and equipment.

Entrust your supply chain management to a reliable third-party vendor, and it can manage your supplies' procurement and inventory.
Seven Proven Steps in Outsourcing Healthcare BPO Services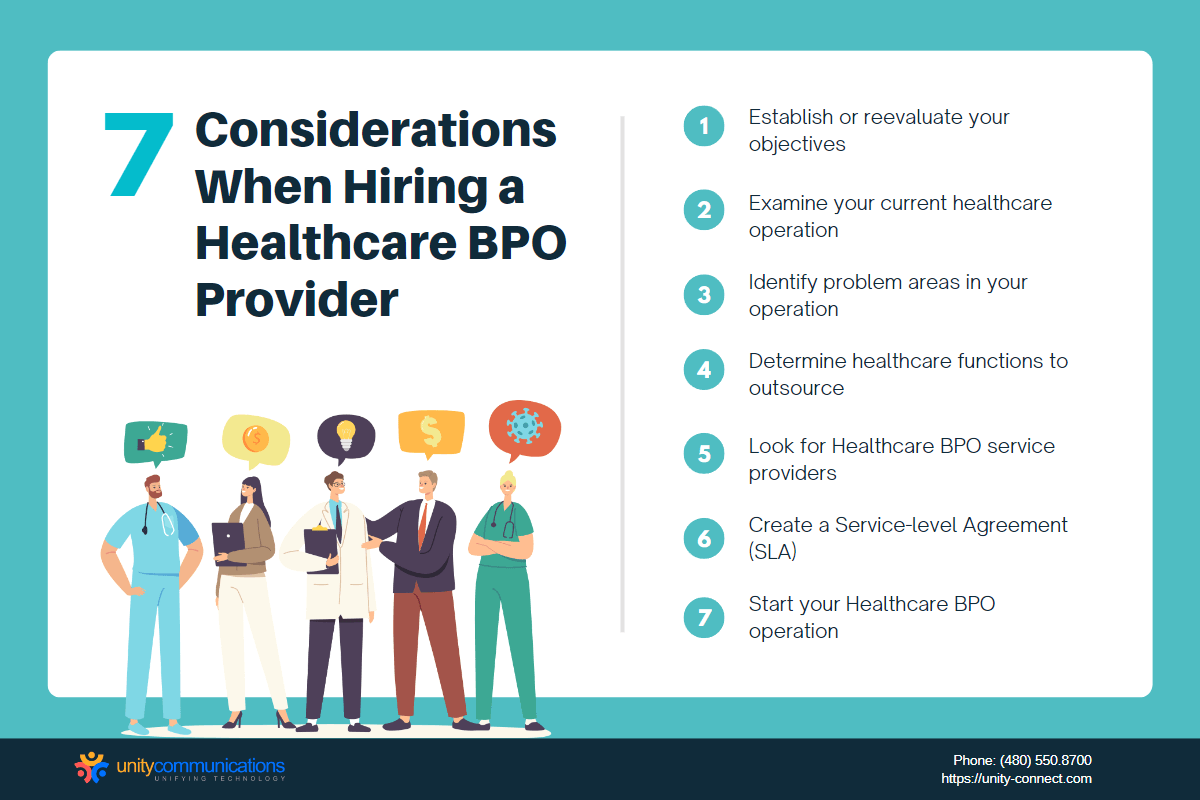 We have identified the critical roles of top healthcare BPO companies. Now, it is time to get started with outsourcing. But before hiring healthcare BPO services, follow these few crucial steps. With the help of our guide, you will make informed decisions and hire the right BPO partner.
1. Establish or Reevaluate Your Objectives
There are many reasons to outsource. Healthcare organizations tap into BPO firms to:
Reduce operating costs

Focus on core medical operations

Gain health professionals and experts

Access advanced technologies and resources

Improve service efficiency and quality

Enhance patient communication and management

Improve patient experience and ensure patient satisfaction

Deliver quality healthcare
Determine your goals for outsourcing and make a list. Every time you accomplish a goal, reassess your list to keep track of the objectives you still have to meet.
2. Examine Your Current Healthcare Operation
To better understand your organization's outsourcing needs, start by auditing your healthcare operation. You should examine all departments and their functions, whether clinical or non-clinical. Look at all relevant aspects, from the workforce to technology and resources.
You can even hire experts to examine your clinic or hospital thoroughly. After the investigation, they create an unbiased report. Their insights can help you see whether outsourcing will add value to your business.
3. Identify Problem Areas in Your Operation
After conducting an audit, you can discover the problem areas in your medical institution. Make sure to double-check the audit report if a third party creates it.
Below are common problems encountered in healthcare operations:
Limited Staffing.

You need personnel to handle non-medical functions. You also need a team of experts to tackle administrative tasks such as payroll, HR, and IT support.
A Lack of Healthcare Professionals.

You need doctors, specialists, and nurses for patient care. In this case, you can outsource instead of hiring direct employees.
Outdated Technology.

Advanced technology optimizes your healthcare operations. ISG identified the leading

digital healthcare technologies

as the following: advanced analytics (45%), artificial intelligence (AI) and machine learning (42%), robotic process automation (42%), and cloud computing (36%).
Insufficient Resources.

Aside from digital technologies, you need various resources for your operations. For instance, you might need MRI and CT machines for your radiology and imaging department.
Complex Processes.

Your medical and non-medical functions are complicated. You might need to outsource non-clinical tasks. This way, your health professionals are free to spend their time and effort on clinical functions.
High Operating Costs.

Maintaining in-house departments for your organization is costly. According to Deloitte,

cost reduction

remains the top reason for outsourcing. A healthcare BPO provider helps you reduce costs while providing incredible value.
No Business Profits.

Clinics and hospitals are healthcare businesses. If you do not earn profits, consider outsourcing to scale your operation.
4. Determine Healthcare Functions To Outsource
You can easily determine which functions to outsource after identifying problem areas in your healthcare operations. Among the options, you can choose:
Non-clinical Functions.

Most healthcare providers outsource non-medical operations such as medical billing and claims processing. You can also outsource administrative tasks such as HR and IT support.
Clinical Functions:

When comfortable working with a third party, consider outsourcing medical operations. Telehealth services have exploded in popularity amid the pandemic. A third-party service provider can easily handle these services.
5. Look for Healthcare BPO Service Providers
Once you have set your goals and learned more about your outsourcing needs, look for a healthcare BPO partner. To start your search, check online or get recommendations from various stakeholders. Make sure their service offerings match your healthcare functions. Do your research diligently, and you can acquire a list of prospects.
To trim down your options, consider key factors, including:
BPO Credentials.

Look for a BPO partner with a valid license in their country of operation. Ask for their business certifications and awards as well.
Experience and Expertise.

Hire a BPO service provider that caters to the healthcare sector. Ensure it has experience handling clinics or hospitals. A BPO vendor that specializes in healthcare is always a better choice.
Workforce.

Tap into a BPO provider with a solid team that comprises health experts for clinical operations. Or they must be medically trained employees for non-clinical functions. For administrative tasks, look for an outsourcing firm with fields of specialization.
Technology.

Top healthcare BPO companies use the latest technology. They are capable of handling AI, automation, and cloud computing. Tapping into these companies will optimize your healthcare operations and give you a competitive edge.
Business Reputation.

Hiring a BPO company with a good reputation makes much sense. Check online reviews to obtain client and patient feedback.
With these in mind, you will find the right BPO partner in no time.
6. Create a Service-level Agreement (SLA)
Once you have decided on a BPO company, finalize your SLA. This contract defines your relationship with your healthcare BPO partner. It details your business objectives, the outsourced functions, and the key metrics to hit. Specifically, it includes the duties and responsibilities of your contracted provider.
Furthermore, include key performance indicators (KPIs) in your SLA.
Service efficiency

refers to how fast your BPO agents assist patients. Healthcare customer service representatives must answer inquiries and resolve issues promptly. Agents are also responsible for creating invoices accurately and efficiently for medical billing.
Service quality

measures adherence to standard workflow and business policies. The goal is to ensure that patients get the best experience.
Patient satisfaction

gauges how satisfied patients are with the services they receive. Patient satisfaction translates to continued trust and support.
7. Start Your Healthcare BPO Operation
Finally, it is time to take advantage of healthcare BPO and kick off your healthcare BPO operation. Make sure to provide strong support at the outset of your partnership. You must ensure constant communication and collaboration with your contractors.
Top healthcare BPO companies optimize operations and scale healthcare organizations. The right BPO partner helps your business succeed and greatly benefit your patients.
The Bottom Line
Healthcare outsourcing gained traction during and after the worst of the pandemic. It has become a viable solution for scaling operations and delivering quality care.
Many third-party vendors plan to penetrate the healthcare market. Top healthcare BPO companies are even looking to grow and expand. As a healthcare provider, you have several outsourcing options. As such, consider the different roles of healthcare BPO companies. Decide which clinical or non-clinical functions to outsource. More importantly, follow the crucial steps above when outsourcing.
The right BPO partner will optimize your healthcare operations. It will help you stay true to your commitment to treating patients and saving lives.