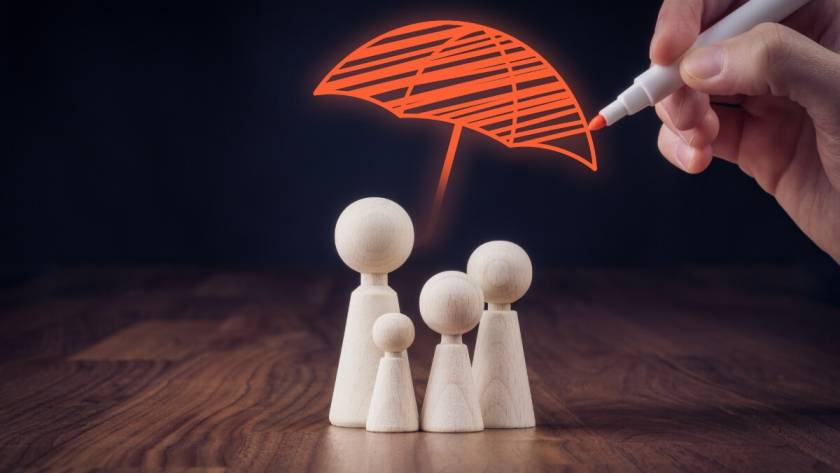 The business process outsourcing (BPO) industry is extensive and complex. It covers certain fields or areas many people are unfamiliar with. 
For instance, healthcare BPO service providers manage a business process called subrogation. If you've never heard about this process before, you are not alone.
This article discusses subrogation—its meaning, prospects, benefits, and challenges when outsourcing. Read until the end to learn about outsourcing best practices. 
What Is Subrogation Outsourcing?

Subrogation outsourcing is when an insurance company assigns a BPO provider to go after a third party that has caused a loss to an insured patient. 
The third party can be a person, a group of people, or an organization. The loss can be of money or livelihood that the affected individual incurs due to an unpleasant event involving the third party. 
Take, for example, a driver who causes an accident and hurts an insurance policyholder. The insurer reimburses the injured policyholder based on the conditions of their policy. 
Subrogation outsourcing then starts when a BPO partner files a claim against the accident-causing driver on behalf of the insurance company. It collects the claim amount from the motorist so that the insurer can recover some, if not all, the expenses paid to the policyholder. 
Healthcare Claims Management Market To Grow Significantly
The subrogation process is part of claims management, which deals with various claims-related healthcare services. These include:
Claims investigation

Loss reserving

Financial management

Denial management 

Litigation management and planning

Medical cost containment

Recovery management (second injury fund, salvage, subrogation)

Settlement

Regulatory compliance 

Information management  
A Research and Markets report says that the global healthcare claims management industry is estimated to reach almost $137 billion by 2030. It will register a compound annual growth rate of around 23% between 2022 and 2030.
The report adds that the sector's focus on denial management, or resolving rejected claims, is the main contributor to its continued growth. Approximately 17% and 14% of in-network claims declined across HealthCare.gov issuers in 2019 and 2018, respectively. 
It also notes that North America (U.S. and Canada) represents the biggest revenue share of more than 35% in 2021. The region's dominance is due to such factors as:
High patient load and healthcare coverage

High adoption of electronic health records and telemedicine services

Increased government spending on medical infrastructure
The Asia-Pacific market could grow the most over the next few years. This is on the heels of medical business expansion, more government intervention in healthcare delivery systems, and the adoption of advanced clinical information technology (IT) systems. 
What Are the Benefits of Subrogation Outsourcing?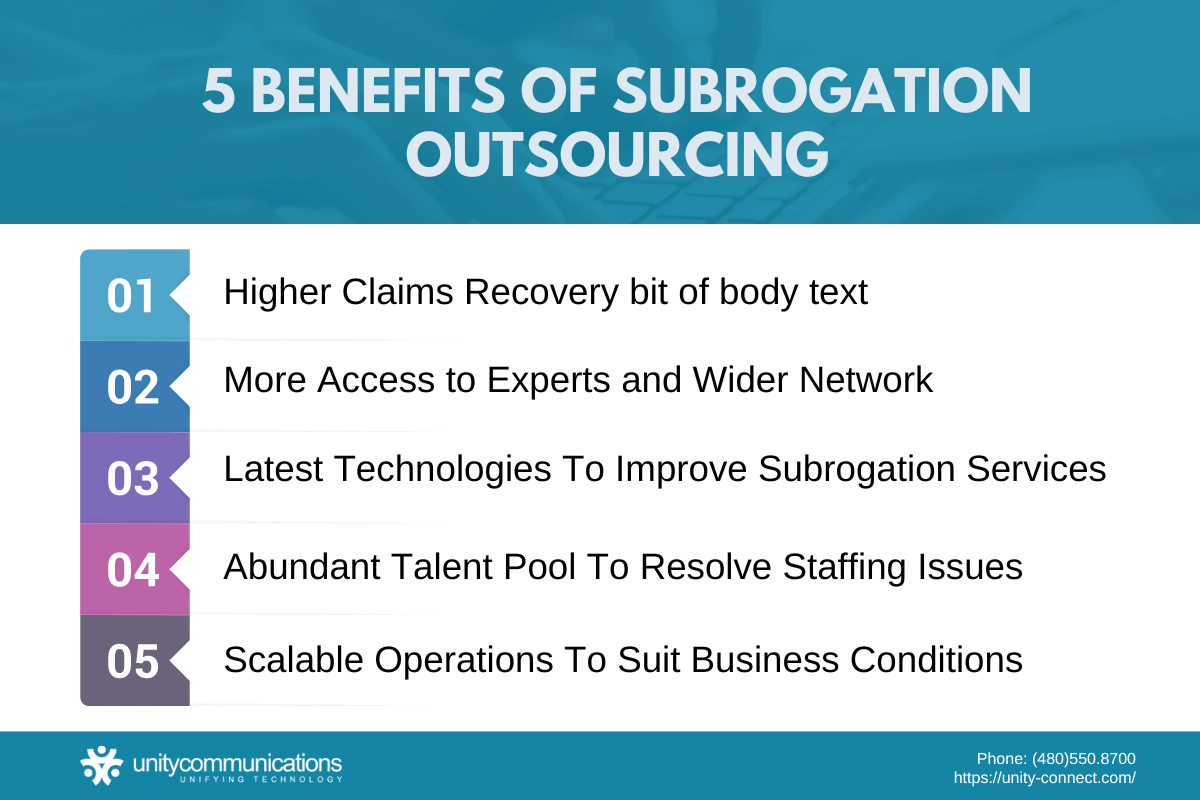 The subrogation function is a difficult element in claims management. Pursuing a third party and collecting some of the money spent on the injured policyholder are a challenge for an insurance carrier.
A study by the National Association of Subrogation Professionals (NASP) shows that insurers lose about $15 billion yearly because of missed subrogation. Such an amount results in lost revenue and higher premiums for policyholders. 
The following are the common causes of missed subrogation opportunities: 
Overlooked third-party liability

. In-house insurance employees document customers' claims. Potential subrogation cases go unnoticed if vital information or details are not identified at the onset.
Considerable manual review

. Insurance providers depend on claims adjusters who look into insurance claims to determine how much to pay for the loss. They conduct their tasks manually and are thus prone to errors leading to incorrect decision-making. 
Lack of evidence

. Information gathered during the investigation is insufficient. P

roving the third party's liability for the insurer's financial loss from shouldering the insured's medical expenses is then difficult.
This is where a third-party vendor that provides healthcare BPO services comes in. Consider the five benefits of delegating subrogation processes:
1. Higher Claims Recovery
Outsourced subrogation specialists can recover more than an in-house team can because they focus on claim collection. The payments obtained replenish the insurer's fund for future use. Recovering more claims means there is no need for a premium or contribution increase. 
Additionally, insurers no longer have to worry about skip-tracing. They do not have to wait for almost a month to receive a reply to a letter. Specialists do all the burdensome tasks involved in locating the third party, such as license or registration searches and police report reviews.
The service providers also have experience dealing with disputes, another time-consuming part of the recovery process. Responsible parties typically contest the amount or liability. The specialists negotiate, gather all versions of events and witness statements, and coordinate with third-party insurers or brokers.
BPO providers can also assist in the following activities: 
Pursue and collect uninsured third-party claims

. What happens if an insured individual gets into an accident, but the one at fault is a third party that is not insured? Service providers can deal with these lengthy cases.

Follow up and collect unpaid premiums

. Policyholders sometimes cancel the payment systems, such as a direct debit, that allow insurers to collect premiums periodically. Outsourced specialists contact the customers to remind them of dues for collection. 
2. More Access to Experts and Wider Network
A service provider engaged in medical BPO services has a team of trained specialists who understand industry standards and regulations as determined by the following groups: 
National Association of Insurance Commissioners (NAIC)

. The major insurance regulators lead this non-profit and non-partisan organization in the U.S. NAIC sets the standards and best practices for the country's insurance industry and assists insurance regulators and consumers. 
National Association of Insurance and Financial Advisors (NAIFA)

. The Virginia-based trade organization is for insurance professionals in the U.S., with more than one chapter in every state. NAIFA fosters favorable regulatory settings, offers professional training services, and enforces ethical conduct for its members. 
A BPO firm works with an insurance company's claims department to simplify the subrogation process. Its team delivers quick responses and mediates between the third party and the insurer. The specialists act as liaison officers, regularly communicating with both groups. 
Additionally, a BPO provider gives clients access to its secure subrogation claims database. The data repository contains all unsettled and completed claims, including details such as:
Status

Responsible parties

Loss description 

Financial data on estimated and actual recoveries

Work stage
A third-party specialist also provides insurers access to a proprietary digital subrogation and recovery library. The library materials include international law digests, comparative charts, papers, and reference sources written by insurance experts. 
3. Latest Technologies To Improve Subrogation Services 
Many insurance companies invest in the latest claims management systems. These tools help them accurately adjust claims to maximize collection and minimize losses.
But collection systems are not the insurers' top priority, despite their legal right to claim compensation from parties that cause them to lose money.
One of the advantages of healthcare BPO providers is they allow insurers access to their advanced systems. Their tools are powered by artificial intelligence (AI), which aids in identifying subrogation opportunities that in-house claims adjusters have missed. 
The service provider's AI-based applications enable specialists to find more subrogation potential from the claims filed. Its technology conducts swift, precise, and deep information extraction without requiring users to read the entire text or document. The intelligent machine determines whether a subrogation process in a certain case is possible. 
4. Abundant Talent Pool To Resolve Staffing Issues
Insurance providers' operations are adversely affected when they experience employee turnover. Over the years, the U.S. insurance industry has faced staff shortages because workers leave faster than the company can find replacements.
The following are some of the reasons for the lack of talent supply:
Intense market competition 

Lack of staff retention among millennials (born between 1981 and 1996)

Employee relocation issues 

Lockdown and social distancing due to the pandemic

Mass retirements 

Lasting effects of the Great Resignation of 2021
Outsourcing can meet an insurance firm's staffing needs. Service providers work in different locations worldwide, giving them access to an ample talent supply. They have different outsourcing operations:
Onshore.

Service providers operate in the same country as their insurance clients. The headquarters of both groups are in the same territory but can be in separate cities. For example, an insurer in Washington recruits a BPO company in Texas.

Nearshore.

Third-party vendors run their operations in a country close to the carrier's main office. An insurance provider in Mexico hiring the services of a BPO organization in Arizona is an example. 

Onsite.

The BPO firm and insurance company are in the same country. The service provider dispatches its outsourced team to the carrier's physical office. The insurer prefers the in-person work arrangement for better management and monitoring of the outsourced processes.  

Offshore.

The BPO provider's operation is based in a country far from the insurance organization's physical location. For instance, the insurer is in the U.S., while its BPO partner is in the Philippines or India, where trainable, educated, and English-speaking talent abounds. 
5. Scalable Operations To Suit Business Conditions  
A BPO provider offers upward and downward scalability for subrogation outsourcing. This enables carriers to handle financial expenses better. 
A service provider can add or remove features, capabilities, or functions based on the insurer's business situation and needs. It increases or decreases the number of outsourced specialists without interrupting the existing workflow. 
Below are some advantages of scalability:
Cost-efficient

. The BPO firm provides carriers with the correct team size for their situation and helps them save money, effort, and time. The service provider determines the number of specialists needed to optimize tasks, reducing the insurer's staffing and operating expenses.

Self-service

. A BPO company uses cloud computing systems, offering a self-service feature accessible anytime anywhere. This on-demand service lets carriers address inquiries and concerns regardless of how busy they are.

Hybrid

. Scalability can spread the workload between the BPO provider and the insurance company's in-house department. The third-party vendor tackles common and repetitive tasks, while the in-house team focuses on high-value ones. 
Flexible

. Scalable services allow insurance providers to react promptly to changing demands and requirements. It enables the outsourced processes to adjust quickly for optimized performance.
Scalability contributes to the insurer's long-term viability. The service provider must be able to scale its IT tools and applications. It must also handle unforeseen situations without increasing delays that impact outsourced processes. 
What Are the Challenges of Subrogation Outsourcing?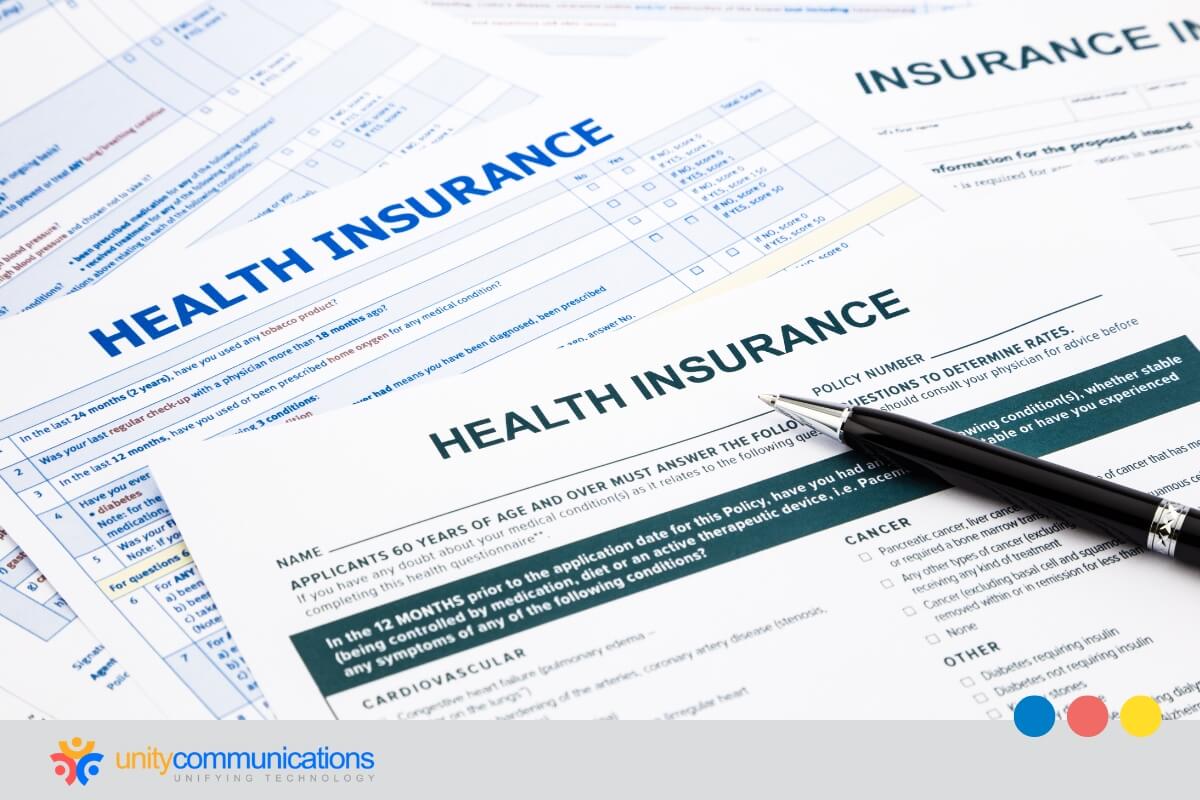 Here are some potential drawbacks when delegating insurance claims recovery to a service provider:
Hidden Costs of Outsourcing Services  
Some providers in the healthcare BPO industry do not reveal their complete service charges from the get-go. They do not disclose the full roster of their pricing schemes, rates, and charge details to their potential clients. 
Some causes of unforeseen or implicit expenses are:
Additional outsourced specialists 

Work disruptions 

Cancellation or pre-termination 

Production, printing, and physical delivery of reports and records 

Staff lay-off 

Extra-legal services
These scenarios affect an insurance provider's funds and its business relationship with its BPO partner. 
Less Management Supervision
Subrogation outsourcing means insurance organizations must let go of some control. They must authorize responsibilities to the BPO provider to meet desired goals. But this provider might stop the insurer's standards and policies and apply its own for better workflow alignment and performance. 
Insurance companies might find it difficult to exert the degree of control they want over contractor specialists. The team is most likely based in a physical location far from them. As such, they must adapt to the unfamiliar work arrangement and permit the BPO firm to train and monitor the third-party team. 
Inadequate Security Protocols 
Insurance providers connecting their IT systems to the BPO partner risk exposing their critical and sensitive data to hackers and threat actors.  
Data breaches are the primary concern. Insurers keep private and confidential details of their customers and partner, such as: 
Medical information 

Financial data, including credit card numbers and bank accounts

Passwords 

Usernames 

Residence addresses

Driver's licenses, social security, and other government-issued IDs
Compromised or stolen data is possible if the BPO company neglects to implement advanced security measures and data security best practices.
Subrogation Outsourcing Best Practices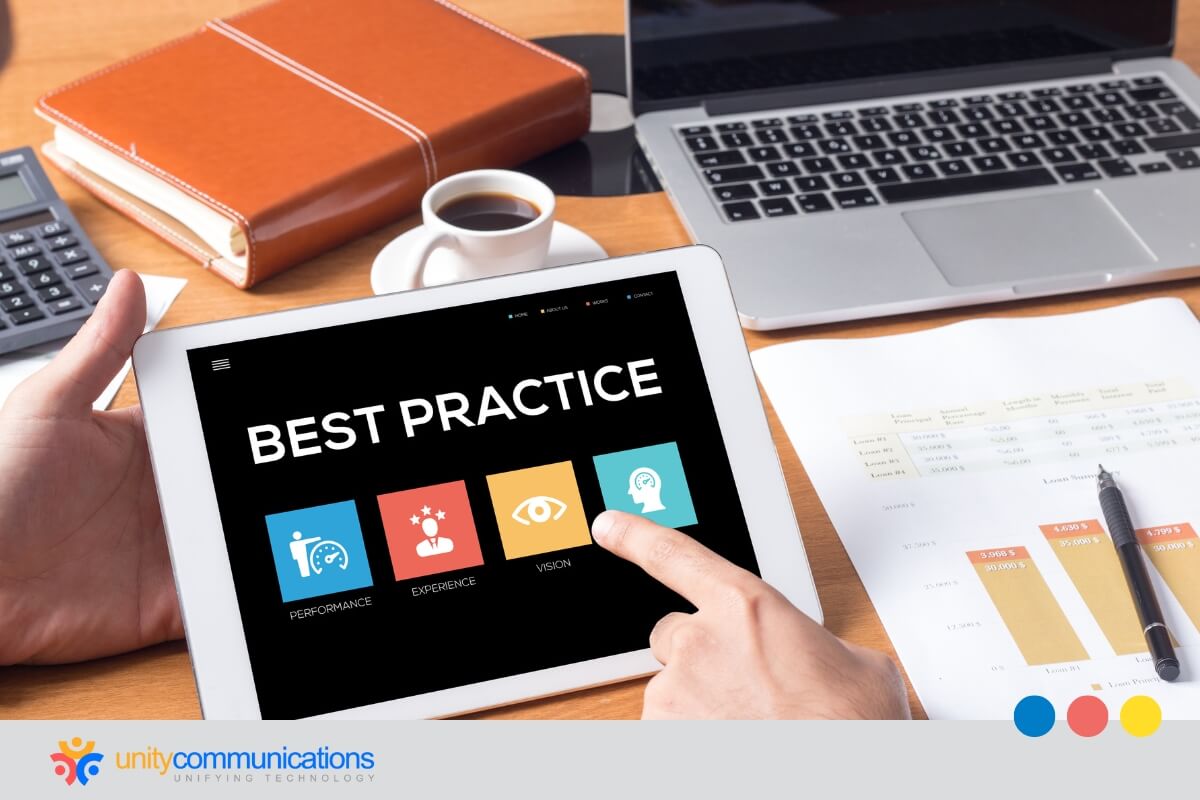 Consider these points before and after outsourcing subrogation tasks:
Define goals and needs

. Generate a clear plan with objectives. Some goals to strive for include cost reduction, market expansion, core competency focus, and collection improvement. Determine the outsourced team size and outsourcing type (offshore or nearshore).
Search for a BPO partner

. Examine each prospect's background, expertise, achievements, experience, and client feedback. Check their security and privacy policies and whether they have claims recovery specialists.  
Ask about complete service costs

. Request their full rates for outsourced processes, including extra fees. Review and compare each pricing plan. Short-list those considered the best service providers within your budget. 
Develop a request for proposal (RFP)

. Make a draft and submit the RFP to the short-listed candidates. The RFP shows them the task scope, budget, and timeframe required. This document encourages them to bid.
Track outsourced activities

. Choose a deserving BPO provider and complete the deal. Ready a service-level agreement (SLA) detailing the services it will offer and the terms of the engagement. Monitor the BPO team's output to ensure SLA is met.
The Bottom Line
Subrogation is a crucial element of healthcare claims management. It is a vital process for insurance providers to reduce claims losses. They use subrogation outsourcing to help improve their financial performance and keep insurance premiums from rising. 
Knowing more about outsourcing best practices is important for better decision-making. Before deciding, insurance organizations must reach out to an established and reliable BPO company such as Unity Communications to help them with their requirements.