Written by Joyce Ann Danieles
Spanning many industries, business process outsourcing (BPO) is a solution for companies seeking cost-effective, streamlined operations. The healthcare BPO market helps hospitals deliver a superb patient experience without compromising their non-clinical tasks. 
For several years, global health crises and technological advancements have heightened the demand for efficient health services. As a result, healthcare facilities and hospitals have been outsourcing aspects of both clinical and non-clinical functions – and there's no sign of this outsourcing slowing down.  
This article guides you through hospital outsourcing and the factors driving its growth.
Exploring Hospital Outsourcing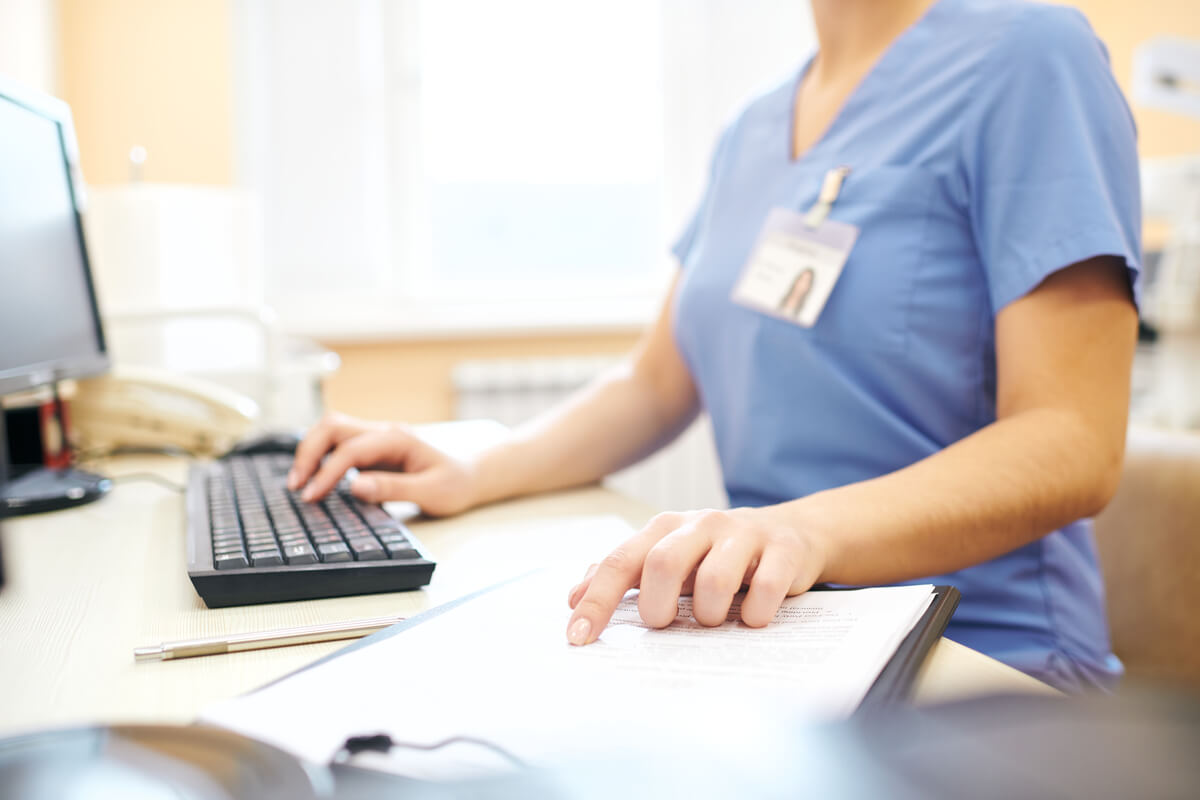 Hospitals aiming to improve their healthcare offerings while reducing operating costs hire medical BPO services. They contract with third-party service providers to handle their back-office functions. This allows them to focus on delivering high-quality patient care. 
Hospital outsourcing vendors typically provide their services by signing a long-term contract with fixed monthly fees. But some offer a pay-as-you-go setup, where client organizations pay only for services they need after completion. Either way, BPO contractors usually cover the following non-core tasks:
Data entry

means inputting data into word processing software for easy categorization, storage, management, and analysis.
Medical billing

entails organizing medical costs and insurance claims, sending out invoices, and collecting payments.
Claims processing

involves

evaluating and verifying medical claims requests.
Medical coding

is converting patient records into universal numeric and alphanumeric codes to ensure accuracy and avoid errors.
Medical transcription

means typing out medical professionals' voice recordings of patient symptoms, diagnoses, and lab test results.
Understanding Hospital BPO Growth Drivers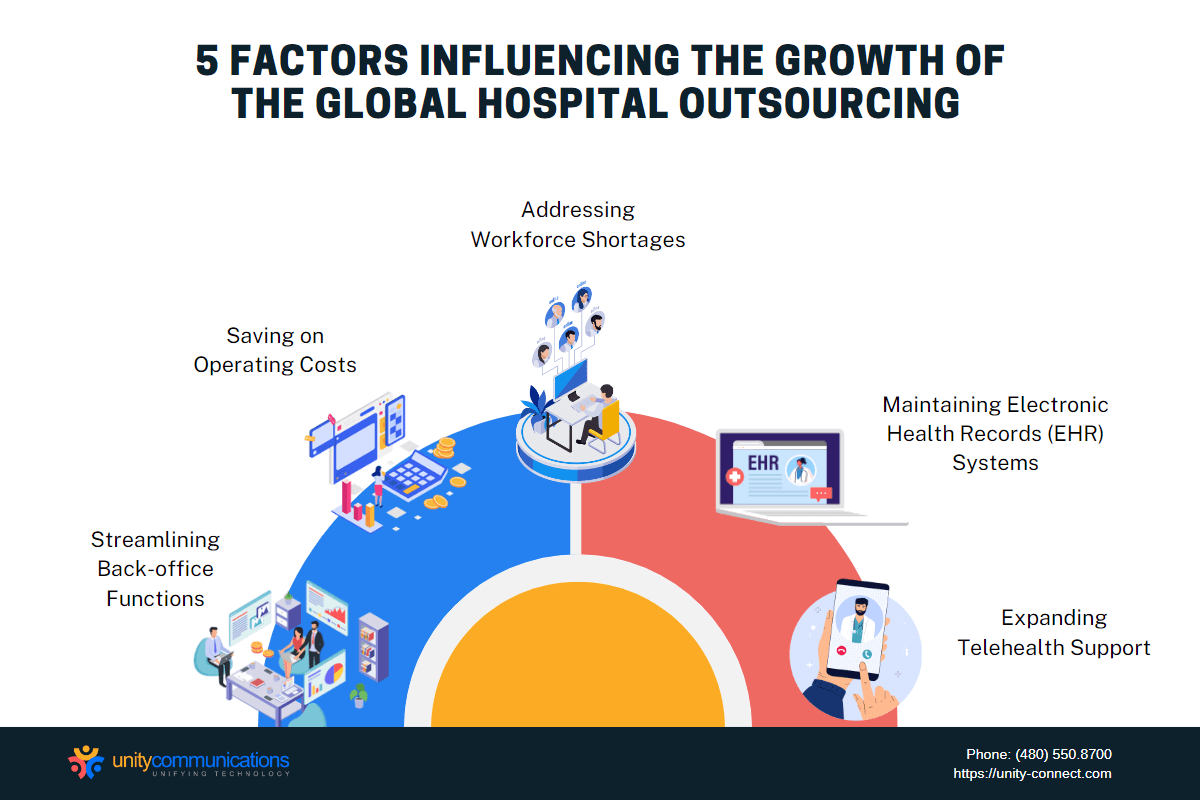 Since the pandemic, outsourcing hospital processes has gone mainstream. Constant technology upgrades also contribute to the practice's growth. Hence, The Business Research Company reported that the global hospital outsourcing market reached $281.4 billion in 2021. 
As the demand for BPO grows, the industry should expand to approximately $326 billion in 2022 and nearly $527 billion in 2026. The research firm also anticipates the market to register a compound annual growth rate (CAGR) between 12.8% and 15.8% during the forecast period. 
Below are the different factors influencing the industry's continued expansion.
1. Streamlining Back-office Functions
Establishing a separate back-office team within your organization requires considerable funding, time, and effort. Medical providers must allocate capital to hire and train skilled employees, acquire advanced technologies, and provide a comfortable workspace. 
Assigning non-core functions to the same team working on core initiatives can also help save on costs. But doing so might affect your overall productivity and output. Administrative tasks overrunning core tasks can lead to delayed growth and employee burnout.
Thus, many healthcare businesses embrace the outsourcing of hospital sources. According to Precedence Research, hospitals rapidly hire outsourcing services to let BPO providers manage their back-office processes such as information technology (IT) and medical billing. 
Third-party employees undergo regular training and certification to quickly and effectively accomplish tedious administrative work. Medical providers trust them to deliver high-quality outcomes because these workers specialize in the field. In-house teams can then focus on their most important projects and give unmatched patient care.
More healthcare organizations are adopting BPO to experience enhanced productivity and efficiency thanks to these benefits. As the number of healthcare organizations recommending, attempting, and implementing the practice surges, the outsourcing market trends upward.
2. Saving on Operating Costs
Cost reduction largely pushes the continuous increase in outsourcing of hospital functions. Setting up an in-house team to supervise back-office functions demands huge funding but does not guarantee returns. While these non-core processes are not revenue generators, they are essential to a hospital's continued functioning and profitability.
Hiring healthcare BPO services eliminates the need to recruit and train more full-time workers, especially during peak season or holidays. Third-party service providers already employ a skilled workforce capable of completing administrative work efficiently.
Contractors also use modern software and infrastructure to expedite accomplishing such time-consuming activities. They have also implemented a remote or hybrid work setup. So hospitals do not need to reserve extra office space to accommodate contractors.
Moreover, medical providers can pay their BPO partners by signing a monthly billing contract or paying on an as-needed basis. These payment terms are for complete service packages, removing the need to spend separately on labor, infrastructure, and real estate expenses.
3. Addressing Workforce Shortages
Despite prompting flexible work arrangements and advanced technology adoption, the global health crisis has resulted in severe workforce shortages worldwide. Even as hospitalizations increase, health workers are leaving all aspects of the field due to overwork and burnout.
The back office is also affected by these changes. Due to accumulating workloads and backlogs, in-house administrative teams encounter endless medical bills and claim requests that need processing. Meanwhile, they also have to ensure the organization and security of medical records.
Without proper compensation and work-life balance, some workers leave to find new opportunities elsewhere. Other employees – including those in direct-care positions – may have to pick up the slack, leading to an overstressed and overworked labor force. This affects productivity and the quality of health services.
Medical providers are outsourcing hospital processes to address such shortfalls. Since BPO companies already have a team of well-trained employees, they can quickly deploy them after signing a contract.
This advantage of healthcare BPO allows hospitals to scale their workforce based on their recurring needs without spending extra dollars. Increased cost savings and productivity are also part of the benefits. All these factors attract medical providers and urge them to implement BPO, further expanding the hospital outsourcing market.
4. Maintaining Electronic Health Records (EHR) Systems
EHR is the digital version of patient records, including lab results, diagnoses, prescriptions, treatments, and personally identifiable information. The EHR software automates data access, storage, and management. The platform speeds up clinicians' tasks and improves patient care by:
Enhancing medical record accuracy and clarity

Reducing medical errors

Providing evidence-based tools to guide healthcare improvement strategies

Implementing strict data security and privacy policies and procedures
Because the EHR system involves massive amounts of data, delegating its operations and maintenance to employees might be overwhelming. So medical providers purchase the platform's full subscription, which includes after-sales support from third-party software vendors. Outsourced EHR support ensures patient data protection throughout healthcare delivery.
As remote monitoring technology gains prominence, more hospitals turn to the healthcare BPO industry to get EHR software and support. Even with stringent protocols, EHR helps healthcare professionals seamlessly track patients' status from home.
As the pandemic subsides in some areas of the world, the outsourced EHR segment continues to expand. Many hospitals continue to implement remote monitoring to provide flexibility for patients and doctors. 
5. Expanding Telehealth Support
Aside from remote monitoring, telehealth has also become the new normal. Patients continuously connect with their attending doctors through their preferred communication channels. 
But operating and maintaining telemedicine platforms require hospitals to allocate significant upfront capital. Fast and effective telehealth also demands extra employees and modern solutions. All these resources add to their expenses. 
Medical providers thus hire BPO companies to deliver smooth telehealth support. Along with EHR, third-party service vendors also use artificial intelligence (AI), automation, and an omnichannel platform. These solutions let their staff immediately respond to patients seeking telehealth services.
Such capabilities help hospitals provide personalized patient care. Contractors also use a contact center platform that integrates multiple communication channels, such as video calls and live chat. Omnichannel support allows patients and clinicians to connect with ease.
The Bottom Line
Global health issues and digital transformation constantly influence the outsourcing of hospital sources. Healthcare providers hire healthcare BPO services to reduce the workload from back-office functions and reduce operating costs. Resolving workforce shortages, maintaining EHR systems, and increasing telehealth support further drive market growth.
Due to these benefits, hospitals continue to work with BPO companies such as the award-winning Unity Communications. By entrusting back-office tasks to third-party teams, healthcare organizations have more time to enhance their primary products and services. They can also prioritize improving patient care while ensuring a well-structured workflow. 
Contact us today to get started with healthcare outsourcing.