Written by Allie Delos Santos
Many businesses do not know how to approach customer support properly. You might have a great brand and list of products. But your company's bottom line and client retention will only improve if you communicate with customers effectively. Excellent customer experience leads to a successful business.
Outsourced e-commerce customer service can help.
This guide explores how to leverage outsourced customer communications to streamline processes and improve retention. You will learn about the factors and costs to consider when choosing a business process outsourcing (BPO) provider.
Seven Steps in Outsourcing Customer Communications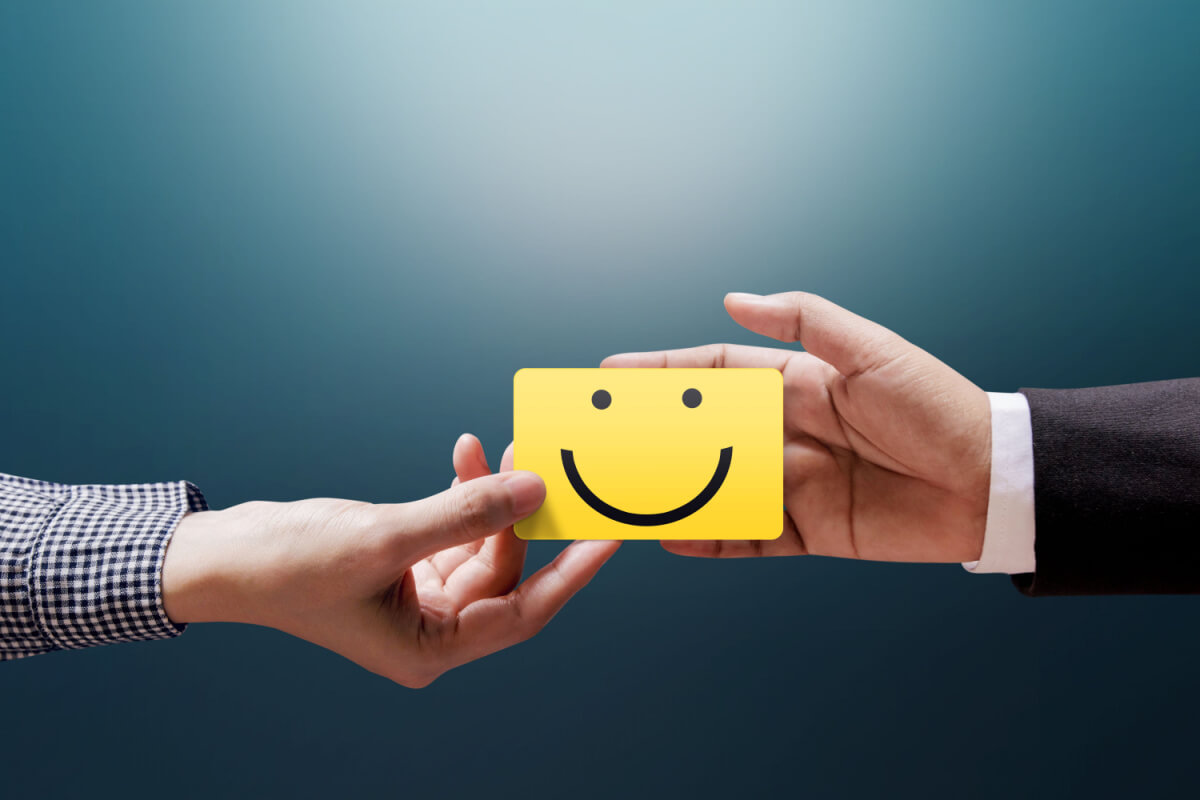 Salesforce reports that 78% of buyers will continue doing business with a brand even after a mistake if the customer service is good. This demonstrates the importance of excellent customer support. 
While having an in-house department to handle customer tickets is a good solution, it is ineffective in scaling your business. Your team experiences a bottleneck as your company expands and gains new buyers.
Likewise, outsourcing customer communications to contractors who do not understand your brand makes customers feel disconnected from your business. It makes them think that customer care is an afterthought, not a priority.
How can you solve this? Outsource customer support the right way. 
Below are the steps to follow to succeed with this strategy.  
1. Create Clear Objectives Before Starting
The initial step in outsourcing customer communications is establishing clear objectives. Why do you want to outsource customer care in the first place? Ask yourself the following questions:
Do you want to provide round-the-clock support? 

Do you want to improve your net promoter score (NPS)? 

Are you looking to gain better coverage across various marketing channels? 

Do you need to scale support staff up or down to handle tickets?
Hopefully, your answer is yes to all these questions. But you can outsource customer support for various reasons. To identify and establish what a successful outsourcing partnership is like for your organization.
Ultimately, you want to satisfy customers by quickly and effectively answering their concerns and questions. Understanding how you want customer communication to look helps you find a BPO partner that ticks all the requirements.
2. Integrate With Reliable Customer Service Providers
Once you know what you need from a customer service tool, the next step is to automate the processes. This is when contact center as a service (CCaaS) comes into play. It offers you flexibility when outsourcing customer communications.
Many vendors are available in the market. To find the right one, look for features such as:
Access to the round-the-clock support staff that you can scale as necessary

Automated client insights that track return on investment (ROI) and progress

Smart call deflection to reduce customer support volume

Seamless integration with other systems you already have
3. Determine Where Your Clients Contact You
Now that you have a platform to automate customer service, you need to identify your marketing channels. With so many ways shoppers can contact you, you must know where tickets are coming from. Companies must ensure that they don't forget or neglect certain platforms through which their customers reach out.
Email and chat work well for many millennials, so outsourcing email support is a good solution. Most Gen Z clients go to social media to voice their concerns. Know your customers' demographics to know where they might contact you.
Use the following platforms to communicate with buyers and create a better customer experience:
Live chat.

Many customers prefer live chat because they simply need to press a button to start a conversation with an agent if they have inquiries. It also has a high satisfaction rate because clients appreciate knowing they can get help quickly when they need it.
Email.

To this day, email remains a major channel for customers to reach businesses and vice versa. Research from Northridge Group noted that 269 billion emails are being sent daily. Companies can target both existing and potential customers with email.
Social media.

This is integral to customer service because many consumers spend extra time browsing online. The more widely used channels include Facebook, Instagram, and Twitter. Social media is where brands reach customers across different demographics and profiles. 
Mobile apps.

Accessing support is easier if you provide customers with a way to contact you directly without leaving your mobile app. The added convenience helps create a positive impression of your brand.
Having a variety of channels through which customers can communicate with you gives them flexibility. Sometimes buyers prefer to talk to a live agent using voice calls, and others prefer to send private messages on Twitter.
Outsourcing customer communications to an omnichannel provider allow your clients to choose where to reach you. This helps you stand out from the competition and shows that you value the people supporting your brand.
4. Develop Brand Guidelines
Use brand guidelines to maintain consistency when talking to multiple customers. Tone guidelines and brand voice indicate how your business speaks to consumers. They define your brand's personality.
Whether your business is small or large, brand guidelines help your customer service team work effectively. Without it, maintaining consistency across different messaging channels is difficult. 
Make sure your provider understands your brand voice before outsourcing. Train your contracted support agents in tone guidelines before deploying them. 
5. Start Small
Do not outsource everything right away. Start small and get comfortable with the process before trying large projects. You can start by hiring a few agents or outsourcing only email support. 
Starting small reduces your exposure and commitment should things go differently than expected. 
6. Take Full Control of Training
Suppose you're outsourcing customer support to a contractor with an extensive client portfolio. In that case, their agents handle multiple companies simultaneously. If you are an e-commerce brand selling women's apparel, your brand language and voice must differ from that of an insurance provider. Nor should the type of support your shoppers receive be similar.
Therefore, training your customer service representatives personally is critical. Make sure they understand the ins and outs of your brand—right from your mission and vision down to the detailed aspects of your merchandise and services. Inform them about the frequently asked customer questions and the correct way to respond.
Moreover, consider cultural and language differences and their effect on your image if your BPO provider is offshore. While most service providers train their employees about this, specific areas of your branding might require more thorough training.
Lastly, make sure to closely monitor agent interaction with customers. This allows you to keep tabs on quality, iron out problems, and make appropriate adjustments along the way. 
7. Measure Success
Did you know that 36% of consumers share their customer service experience with others, whether good or bad? Hence, you need to provide excellent support. Once you establish your brand voice and tone guidelines, let your customer care provider know the best way to communicate with your clients.
Quality assurance is the key to a successful business. You can use contact center as a service (CCaaS) tools to expedite this process. Such software gives you an idea of agent performance as more tickets get resolved.
Look for a CCaaS tool that offers a customizable dashboard and real-time reporting on your staff's customer satisfaction score, overall revenue, and relevant client data on website conversions.
Additionally, measure the following key performance indicators (KPIs) when outsourcing customer communications:
Net promoter score (NPS).

Your NPS ranges from 1 to 10, with 1 being the lowest rating buyers can give. Generally, you want an NPS of nine to ten, which indicates that customers will more likely recommend your brand to others.
Customer effort score (CES).

This is a single question determining how easy or hard it is for customers to do business with your brand. You can ask questions such as, "How easy was it to process your order?" The answer can be easy, medium, or hard.
Customer satisfaction (CSAT).

Your CSAT score indicates how the buyer finds their experience with your company. One way to measure CSAT is through a survey with multiple questions. You can ask, "How would you rate your overall customer service experience and satisfaction with us?" Customers then answer the question using a 1 to 5 Likert scale.
These metrics might look similar, but tracking each one is vital. This helps you better understand the ROI and performance of outsourced customer communications.
8. Meet Regularly
A good tip for outsourcing customer service is to hold regular meetings with your provider. Outsourcing customer communications can easily go south if you and your provider communicate infrequently. Discussing the problems that crop up and how you can solve them while they're in their infancy is crucial. 
Regular meetings also help you know if there are spikes in specific trends regarding customer inquiries. For instance, if most customers request a certain feature or product, consider letting your research and development team add it to the pipeline.
10 Things to Look for in a BPO Company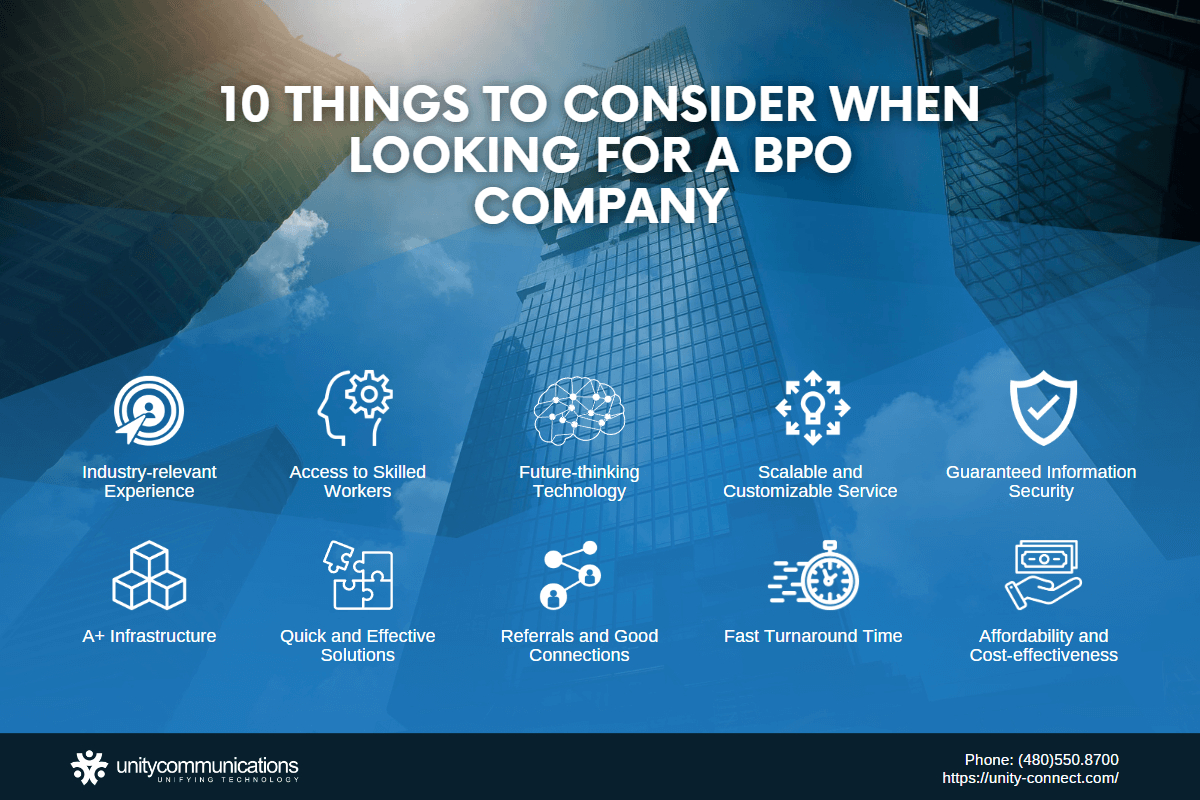 Outsourcing customer communications is better than appointing an in-house team for the task. Insourcing is time-consuming and incurs considerable capital investment.
You need to conduct your due diligence to determine what business process outsourcing company is best for you. Consider the factors below when choosing a BPO partner.
1. Industry-relevant Experience
You should outsource to a company with a great deal of experience. An experienced BPO provider has the knowledge and domain expertise to handle challenging situations. The vendor's experience also provides a competitive edge over other providers with similar services.
2. Access to Skilled Workers
Another important consideration is the availability of skilled workers. A BPO company should guarantee qualified candidates who deliver their work on time. Always assess their resources before committing to a firm.
3. Future-thinking Technology
Developments in technology improve the productivity and efficiency of a BPO company. Ensure your potential provider uses the latest technologies and is familiar with tools relevant to your operations.
4. Scalable and Customizable Service
An outsourcing service provider capable of scale is crucial for strengthening your resources. Scalability is important during the peak season to cater to customers without increasing overhead.
5. Guaranteed Information Security
Data security is an important consideration when choosing an outsourcing partner. When outsourcing customer communications, you share highly sensitive data with your service provider. Hence, you should check whether they have a robust security policy and non-disclosure agreement.
6. A+ Infrastructure
Good infrastructure is essential in setting up exclusive teams and equipment. Infrastructure such as phone connectivity, high-speed internet, hardware, and software are necessary to deliver services smoothly.
7. Quick and Effective Solutions
Delays hinder your business. A customer will not wait for replies and will switch brands instead. Your BPO partner should be responsive to deliver the best service to customers. In general, contact centers must give buyers quick solutions, or sales might drop.
8. Referrals and Good Connections
Referrals work in most industries—marketing, sales, or inventory management outsourcing. Consider the referrals of known contacts or competitors when choosing a service provider. Then, cross-check the referred company based on client testimonials and performance.
9. Fast Turnaround Time
Delivering work to customers within the stipulated time is crucial. So choose only an outsourcing partner with a good turnaround time. You will meet outsourcing milestones easily if your provider has a fast turnaround time.
10. Affordability and Cost-effectiveness
Consider cost-effectiveness. Compare prices quoted by various BPO providers and check their service quality. A lower price might indicate poor service quality, but a premium rate might be too expensive. Thus, choose wisely and pick a vendor that fits your budget.
How Much Does Outsourcing Customer Communications Cost?
The cost of outsourcing customer communications varies depending on the job function. A customer support representative costs at least $5 and at most $12 per hour. Most customer service providers offer reasonable prices if you think of the benefits of outsourcing.
More comprehensive price and cost breakdowns vary from one BPO company to another. The standard pricing model depends on certain computations. The cost of service is computed based on factors such as:
Number of seats:

The number of seats you need affects overall pricing. Through this, customer support providers can identify how many representatives and materials they must prepare for your operation.

Expertise of agents:

Contact centers offer extensive training to their employees, whether old or new to the industry. Agents receive equal treatment, but the more skilled and experienced agents are, the higher their fees.

Language of communication:

Expect that uncommon languages have a higher price than universal and local languages. The demand for agents fluent in a foreign language is high, making it difficult to find one.

Length of contract:

The length of engagement affects the total price of the service. The longer the agreement, the more competitive the fees are. On the other hand, shorter engagements have higher rates.

Labor market rate:

The demand and supply of labor also influence the price. If the demand for agents is higher than the supply, the rate will be higher. Once the demand goes down and the supply hikes, the fees will be lower.
Existing laws about the service also influence the cost of customer communications outsourcing. Additional functions, such as when you outsource data entry services or business emergency plans, also add to the total price.
The Bottom Line
Outsourcing customer communications helps you extend coverage and save on resources. If you operate globally, hiring a BPO company is easier than forcing an in-house department to learn a foreign language.
But before you outsource, make sure to establish clear goals and understand your needs. Then look for a cost-effective service provider that can meet all your requirements. Maintain a good partnership by keeping all communication lines open, ensuring transparency, and measuring success.
Outsource your customer service to one of the best contact center providers today. Contact Unity Communications now to find out more.