Written by Allie Delos Santos
Some small businesses hesitate to outsource their bookkeeping because they don't know where to start. Other small businesses put off outsourcing because they think it's expensive.
If you're one of these small business owners, your reservations are valid. But by looking at outsourcing more closely, you'll understand why you need to outsource your bookkeeping and why it's a good investment.
This article will give you a complete rundown of outsourced bookkeeping for small businesses. We'll teach you how to get started and what to consider when looking for a service provider. Finally, you'll learn how much it costs when you outsource this specific task.
What Is Outsourced Bookkeeping?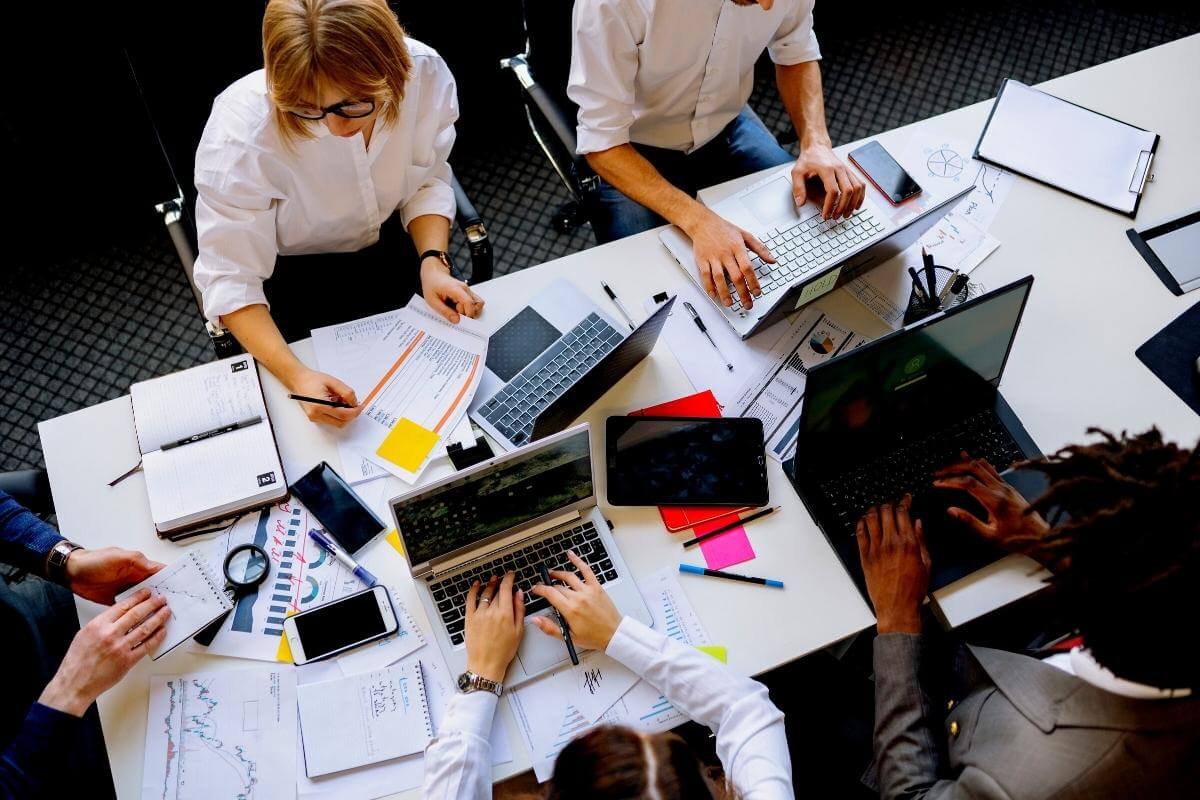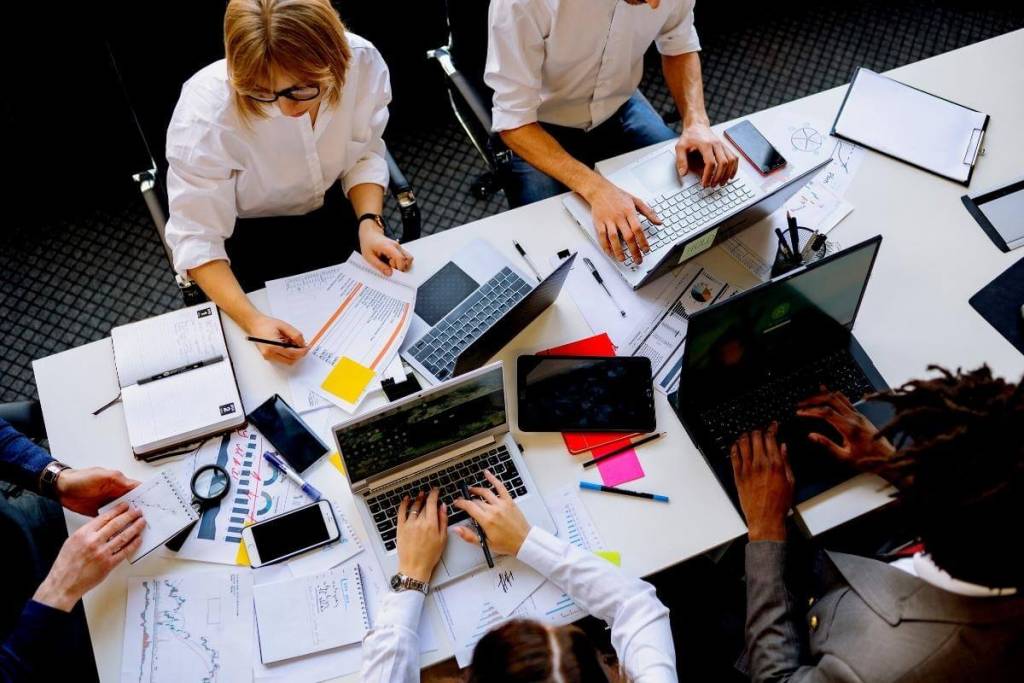 Outsourced bookkeeping refers to the assigned task of daily recording financial activities and transactions of a company to an external service provider or a business process outsourcing (BPO) company.
An organization partners with an external bookkeeping service provider that can present it with qualified candidates. For example, you own a small business, and you've decided to outsource your bookkeeping. You have the final say on hiring the external bookkeeping staff recommended by the third-party service provider.
You have access to experienced and highly trained bookkeepers when you outsource this function for your small business. You can delegate day-to-day bookkeeping work, which may have been consuming significant time to complete, to your external team. 
With the amount of time you regain because of outsourcing this particular task, you can focus on your primary business operations.
What Does Outsourced Bookkeeping Do for Your Small Business?
When you outsource bookkeeping for your small business, the subcontracted bookkeepers are responsible for managing your books day in, and day out. Generally, they oversee all data entry activities into accounting software or ledgers. Their main tasks revolve around maintaining your business' financial transaction records by tracking transactions and generating financial reports. 
Other tasks these professionals carry out when you outsource bookkeeping and data entry services include:
Creating and sending invoices to customers

Vendor maintenance for accounts payable

Client maintenance for accounts receivable

Collecting overdue accounts receivable

Coding, entering, and paying bills

Reconciling credit card and bank accounts

Supporting controller or chief financial officer (CFO) by conducting account analysis

Preparing client source documents for audit purposes

Work papers for audit support and month-end closing

Scanning and attaching documents for audit and tax support
Why Should You Outsource Your Bookkeeping?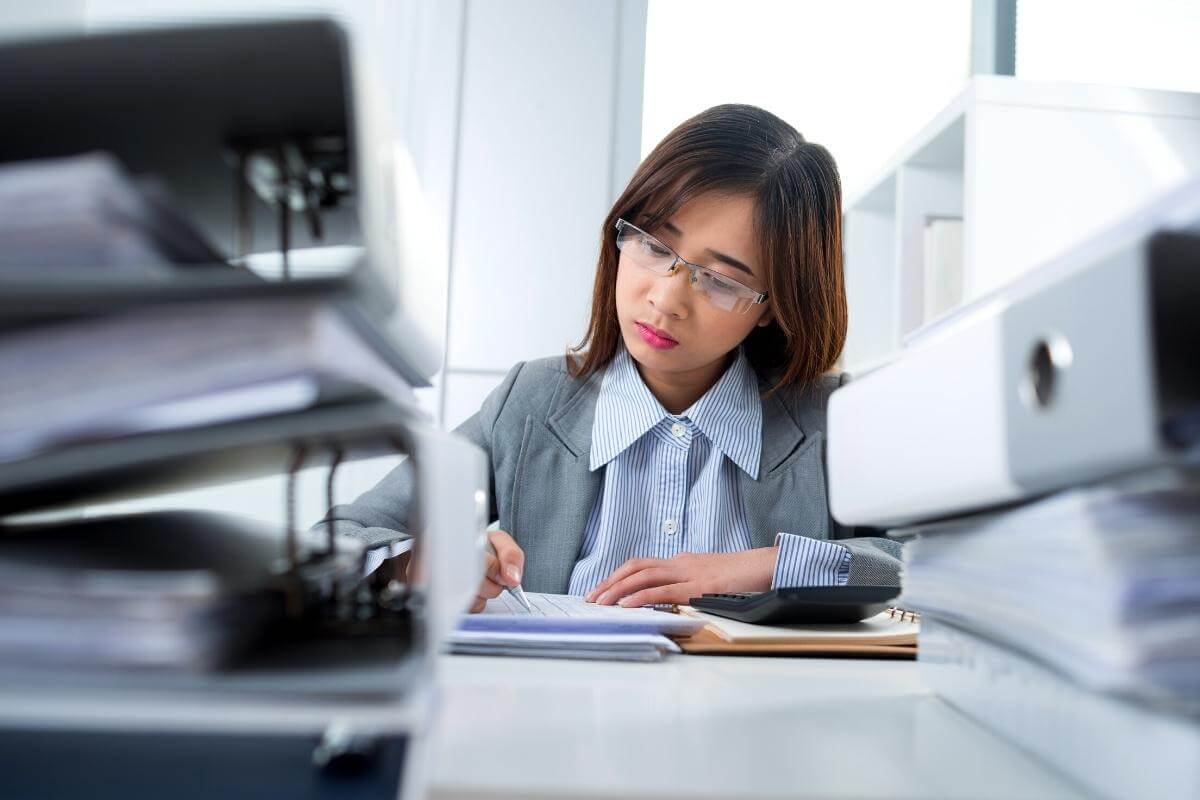 Bookkeeping makes a good candidate for outsourcing. Small businesses that have this function overseen in-house find it one of the most cumbersome aspects of running a business. 
According to a report, 40% of small companies rank tax preparation and bookkeeping as the worst part of running a business. Most companies also waste 41 hours on tax preparation each year. On top of that, companies spend over $82,000 per year on a full-time accountant.
You can reduce your bookkeeping costs to $1,000 to $5,000 per month, which is equivalent to $12,000 to $60,000 per year when you outsource bookkeeping for your small business. 
You can bring down the costs even further by working with a service provider that uses cloud-based accounting software to synch bookkeeping data. Automation reduces the time staff spends on manual data entry, which decreases your billable hours.
Benefits of Bookkeeping Outsourcing
Your small business has other critical tasks to focus on. Delegating bookkeeping to a third-party provider means that you can concentrate on serving your customers and growing your business.
1. Resources
Growing businesses ensure that they're at the forefront of the competition. A significant factor in being ahead of your competitors is staying abreast of the newest accounting technologies. If your company has access to the latest resources, you can guarantee that your bookkeeping is up to date.
Access to the newest technologies is one of the advantages of outsourcing your bookkeeping. Moreover, your external service provider will manage infrastructure maintenance on your behalf.
2. Time
If you have only a low transaction volume, which is common among small businesses, hiring full-time staff might not make sense. When you outsource your bookkeeping, you get just the necessary amount of time dedicated to your company's needs.
As your business expands or goes through peak season, your external provider requires no changes from you. Outsourced bookkeeping for startups will make all the adjustments to meet your current demands.
3. Lower Costs
When you're running a small business, managing your costs is critical to your success. But you must not sacrifice quality for the sake of cost savings.
You can cut back on costs through bookkeeping outsourcing. The expenses you can save on include employee compensation, payroll taxes, paid vacations, insurance, and health benefits. You also don't have to spend on turnover and employee training.
4. A Dedicated Team
If you were to employ someone to manage the bookkeeping demands of your small business, you would most likely need to hire only one person. However, you need to fill different roles as your business grows over the years: clerks, a CFOs, a controller, etc.
Your BPO partner gives you access to these experts. It will recommend the best professionals as needed. Whether you need to outsource data entry services, forecasting, and budgeting, financial reporting, or internal controls, your team is only one phone call away.
5. Required Skills
Cheaper costs don't necessarily mean lower-quality service. You can still get access to expert bookkeepers that your company needs despite cost savings. 
When you outsource bookkeeping for your small business, you can hire employees who are one hundred percent dedicated to bookkeeping, undergo continuous training, stay abreast of new trends, and have reliable experience in helping other companies like yours.
The following section talks about outsourced bookkeeping guides so that you can outsource successfully and realize a high ROI.
What Should You Consider Before Outsourcing Your Bookkeeping?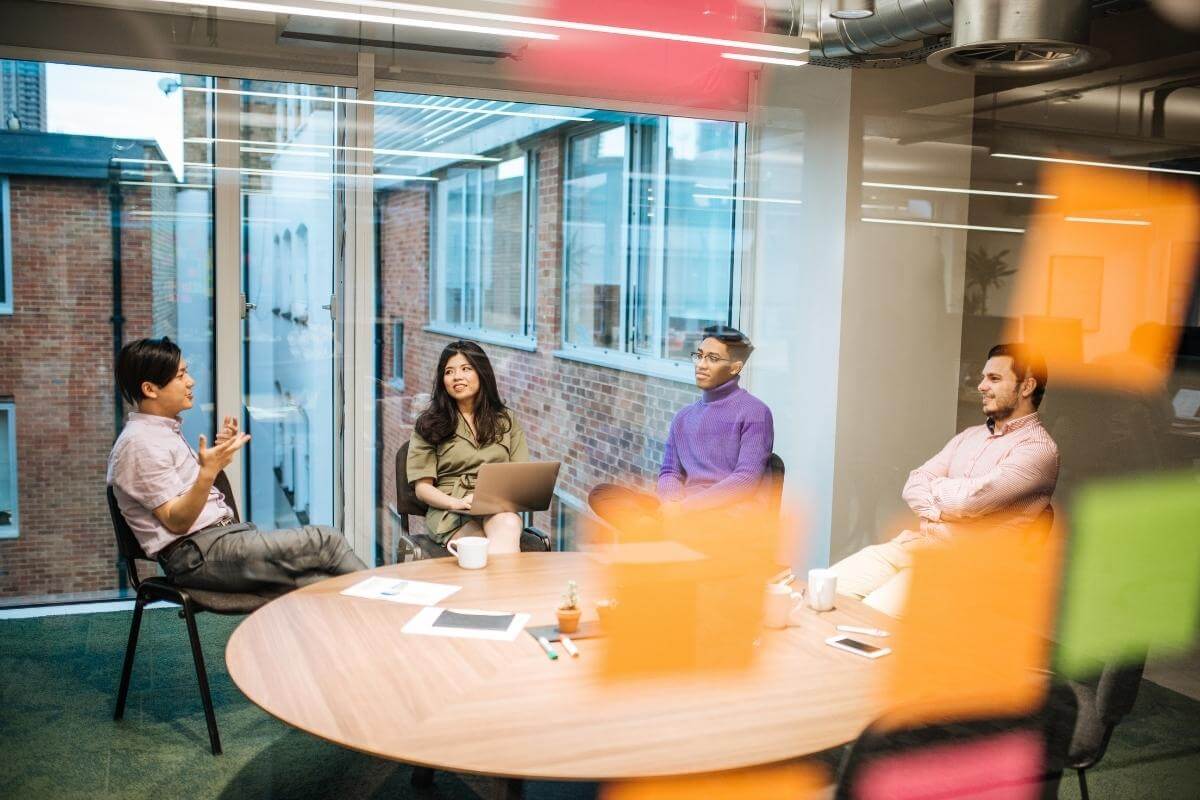 Now that you know the advantages of outsourced bookkeeping for your small business, it's time to learn the factors worth considering before making a move.
Establish your objective for delegating this function to an external team. By identifying your goals, you're giving your team direction.

Check if the BPO company will be a good partner. Work only with a service provider that fits your company well.

Assess if you can collaborate with your new global team in terms of tools and time. Consider technology and time zones.
You can assign someone from your company to oversee the external bookkeeping team. They should be able to embrace change, understand back-office outsourcing, and have excellent communication skills. They should also always be available to conduct team meetings.
Questions to Ask Your Prospective Bookkeeping Company
When you outsource your bookkeeping, you must look for the right partner. To do that, you need to ask the right questions. 
So when talking to your potential service providers, consider asking the following questions:
What are their experience and expertise regarding accounting standards and U.S. tax legislation?

What quality standards do they meet?

What type of software do they use to oversee bookkeeping functions? Are they comfortable using your company's software?

How do they keep client data safe? What are their security measures?

What are their turnaround times?

How do they collaborate? How will they keep track of your bookkeeping work?

What engagement models do they have?

Can you choose the staff you want to work with?
The answer to the following questions will give you enough confidence in choosing the right vendor for this business function. Their answers will show the ability of their back-office outsourcing services to meet your requirements and needs.
Factors That Make up the Costs of Bookkeeping Outsourcing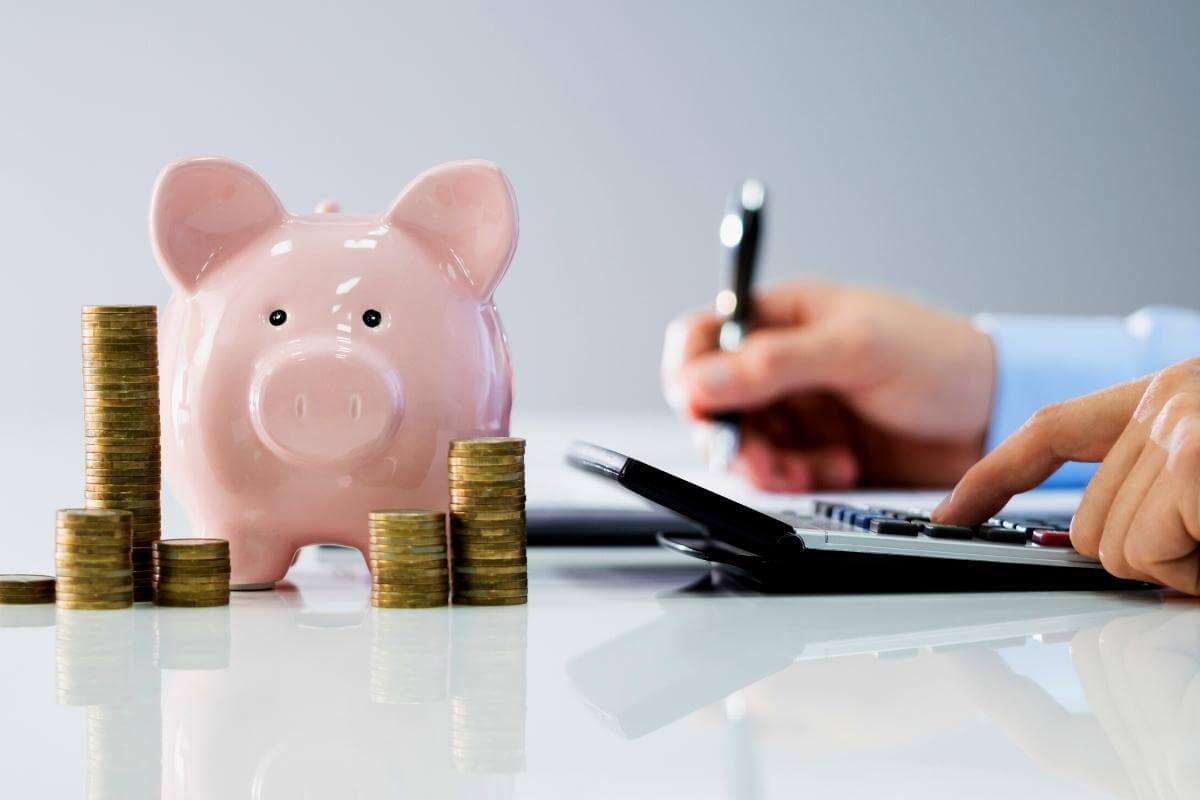 The costs you incur when you outsource your bookkeeping will depend on many factors, including:
Company lifecycle and size

Number of transactions in a month

Number of employees

Payroll processing procedure

Number of credit cards, expense accounts, and bills to pay

Number of balance sheets to reconcile

Number of invoices to send
In addition to repetitive bookkeeping work, your costs will also depend on how you set up and administer your policies and procedures, systems, and reporting needs when you outsource your bookkeeping.
Basic Bookkeeping vs. Full-service Accounting
During the early stages, most small businesses primarily focus on compliance—receiving payments, paying bills, checking the accuracy of the payroll, and following federal and state regulations. 
Your company will, at some point, cross a threshold, so you'll start focusing more on the generation of accurate, timely financial reports. During this point, you will require more advanced bookkeeping, managerial accounting, and accrual-based accounting to help make informed decisions.
Therefore, the first thing you need to consider when you outsource bookkeeping for your small business is whether you need basic bookkeeping—compliance—or you're ready to move on to full-service accounting. The two require different levels of expertise and effort, and as you can imagine, the costs of full-service accounting are higher.
The Bottom Line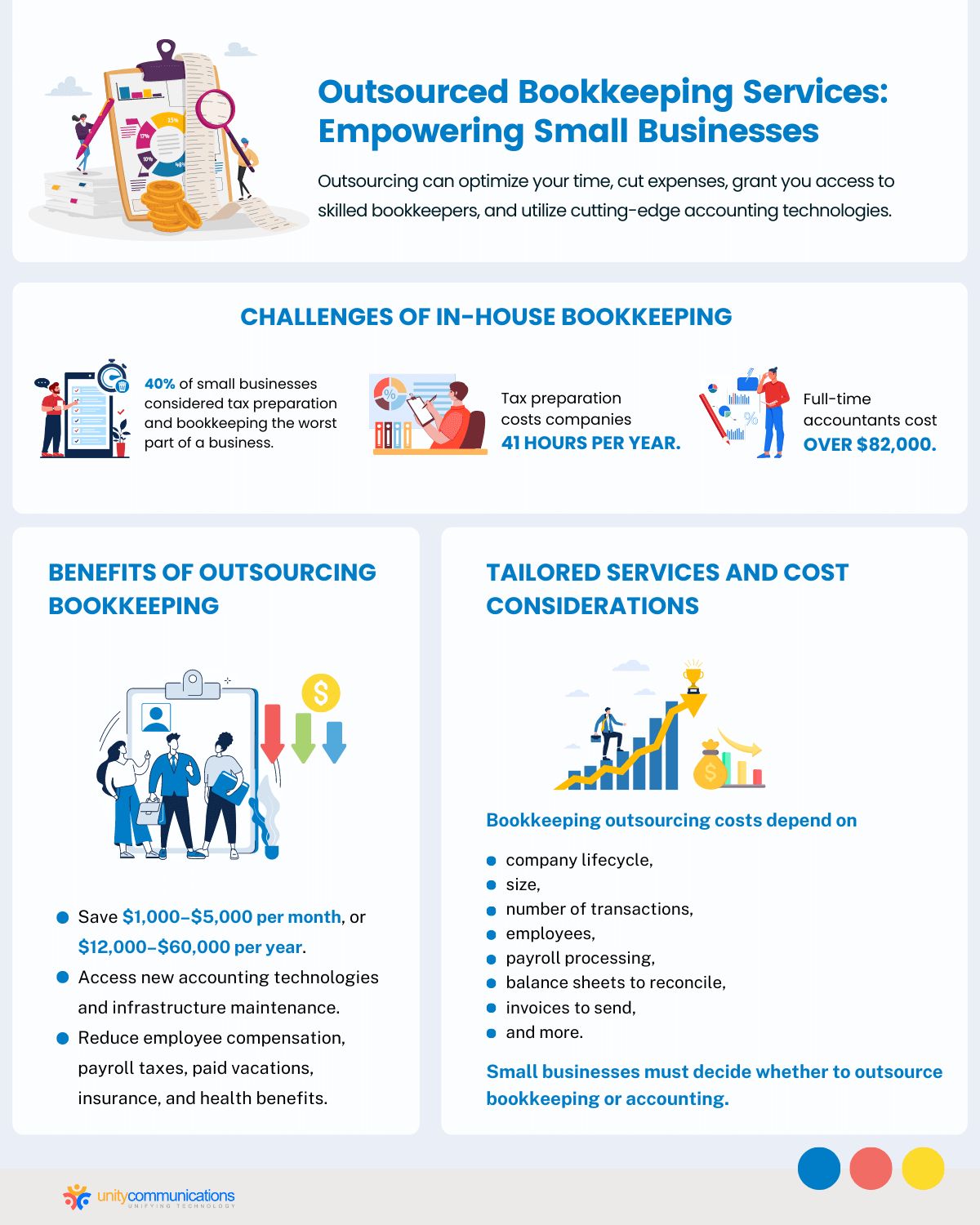 Many small businesses experience significant advantages by embracing outsourced bookkeeping. You not only gain access to expert advice and enhanced peace of mind but can also achieve cost savings that contribute to boosting your overall bottom line.
Furthermore, the ability to generate daily reports provides you with a vital edge in making well-informed decisions and maintaining a competitive edge in your industry. Collaborating with a dependable BPO company that consistently delivers precise and punctual reports becomes instrumental in propelling your small business toward expansion.
When you're prepared to simplify your bookkeeping tasks, don't hesitate to reach out to us. At Unity Communications, we adeptly manage all the behind-the-scenes functions to ensure the seamless operation of your company. Partnering with us guarantees that your financial records remain both accurate and up-to-date, empowering your business for sustained success.