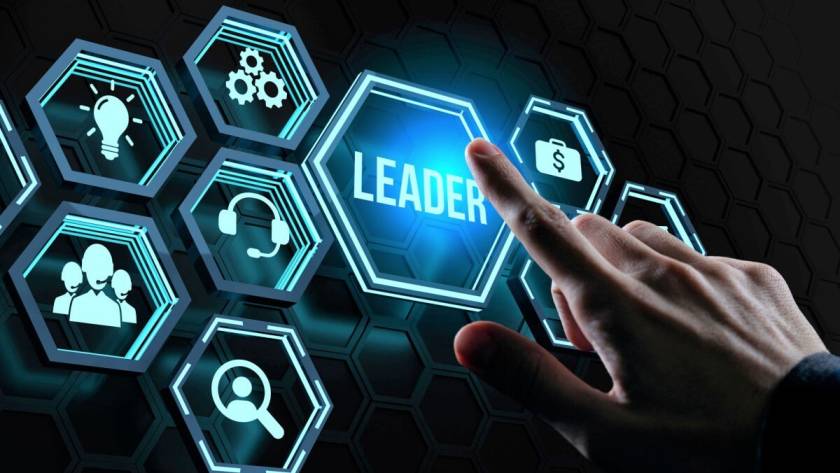 Written by Joyce Ann Danieles
The Philippines is a top-tier destination for information technology outsourcing (ITO). Recent statistics show that the country cornered 13% of the global industry market share, ranking first in voice-related services.
But why has this country become one of the leading ITO destinations worldwide?
Continue reading to discover why many businesses partner with an ITO offshoring provider in the Philippines. 
Seven Reasons the Philippines Is an ITO Leader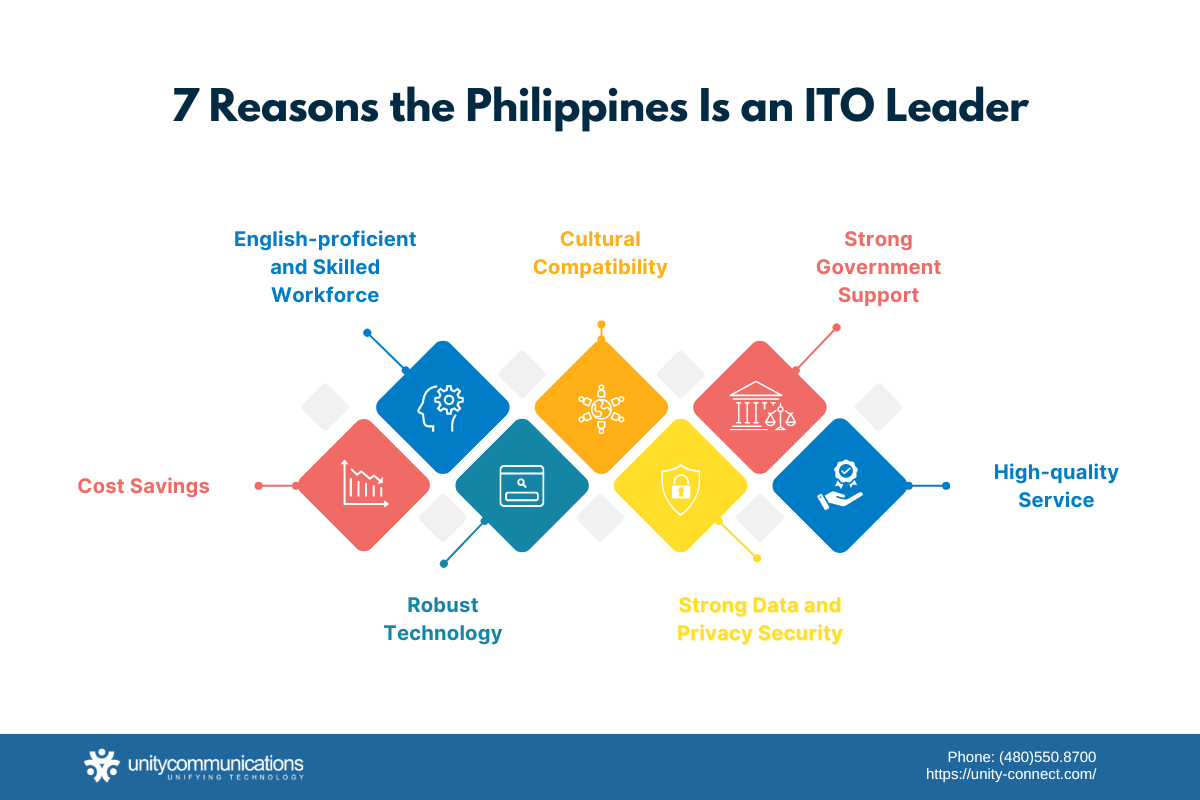 According to recent data from Statista, the global ITO market reached a revenue of about $395.1 billion in 2022. The statistics portal expects the industry to expand to $587.3 billion by 2027 at a compound annual growth rate (CAGR) of 8.07%. The increasing demand for modernization, security, and cloud service support drives the global ITO market's growth. 
The Philippines has evolved from an alternative hub for low-cost IT services to a prime provider of high-quality tech support at competitive prices. According to an Outsourcing Journal report, the country accounted for 13% of the global ITO market share in 2021. It also ranked first in voice-related technical support accounts.
On top of that, Statista recorded revenue of nearly $500 million in 2022 for the Philippine ITO industry. The research firm expects the figure to reach over $836 million by 2027. Digitalization and the increasing adoption of home offices contribute to the expansion.
Let us explore why the Philippines became a leader in ITO offshoring with a rapidly expanding service scope in the global arena.
1. Attain Cost Savings
Cutting operating expenses is the most significant benefit of outsourcing IT support to the country. As a developing nation in Southeast Asia, the Philippines has lower cost of living and wages than other nations such as the United States or India.
Based on the latest Payscale data, the average hourly rate of software developers in the Philippines amounts to approximately ₱270 or $5. Their U.S. counterparts take home nearly ₱1,582 or $29; in India, the equivalent is about ₱337 or $6. 
So if you outsource your software development activities to the Philippines, you can save between 50% and 90% on labor costs. To give a real-life example, Wireless Watchdogs hired Unity Communications for help desk assistance. The wireless management company gained up to 65% in labor cost savings by contracting the Philippine-based IT support provider.
2. Leverage English-proficient and Skilled Workforce
The Philippines does not only have low labor costs; it also has a vast IT talent pool with a high English proficiency rating and educational background. The country has a large young population capable of adjusting to your business needs and demands.
Here are the reasons many companies seek the Philippines for a unique combination of skills and work ethics in the ITO offshoring sector:
High English literacy.

The Philippines is the third-largest English-speaking country worldwide. It earned an

Education First English Proficiency Index score of 578

, ranking second of 24 Asian countries with high literacy in the language.

Clear and effective communication:

Besides adeptly speaking English, Filipinos can smoothly converse with native speakers. They have neutral accents that make communication easier. They are also well-versed in expressing their thoughts in concise written words.

Completed tertiary education.

According to the Technical Education and Skills Development Authority (TESDA)'s 2020 Workforce Skills and Satisfaction Survey, over

76% of ITO employees

have finished tertiary education. Such data indicates Filipino IT specialists have in-depth knowledge and expertise.

Flexible and scalable operations.

Filipinos can immediately adjust to changing work rules and regulations. They have a knack for adapting to your operating hours to help provide 24/7 IT support.

Professional attitudes.

Filipino workers share an optimistic mindset. Because they are naturally hospitable and resilient, they do not let rude clients get on their nerves. Instead, they do their best to resolve situations with a warm and helpful attitude.

Resourceful and competent talent.

Expect creative and innovative solutions to daily problems when working with a Filipino IT team. This labor force always looks for alternatives to achieve personal and group goals.

Eager learners:

Filipino workers value continued career learning and upskilling. Getting their bachelor's degree is insufficient; they continue taking tech courses and certifications from verified organizations such as TESDA and the Computer Networking Career and Training Center. This way, they expand their insights and capabilities.

Efficient teamwork:

The ITO offshoring culture in the Philippines requires mindfulness of individual contribution, unity, and cooperation. This approach makes the workplace more amiable and motivating. So anticipate superb outcomes when outsourcing to the country.
3. Access Robust Technology
The Philippine technical support outsourcing industry deploys up-to-date solutions to complete tedious tasks more efficiently. They use or provide these advanced technologies to enhance IT services and boost productivity:
Artificial intelligence (AI)

simulates human intelligence to process duplicate and tedious tasks such as diagnosing technical issues and responding to support requests.
Machine learning (ML) algorithms

analyze big data to help your team identify patterns and make predictions to prevent worsening technical problems.
Chatbots and interactive voice response (IVR) systems

optimize AI and natural language processing (NLP) to deliver quick answers to common inquiries. Various messaging platforms and web applications integrate with these tools.
Virtualization tools

allow multiple operating systems to run on a single physical machine. This technology assists IT support teams in combining and overseeing infrastructure more effectively.
Cloud computing

enables access to online resources, digital files, and apps for collaboration. It lessens the need for on-premises infrastructure and hardware.
Remote access tools

let ITO offshoring personnel in the Philippines virtually control computers, laptops, and other smart devices. These solutions remove the need to visit users in person to diagnose and fix problems, especially when end users are overseas or encountering simple issues only. 
The

Internet of things (IoT)

helps generate big data to provide insights into the system's performance, detect issues, and proactively repair them.
Augmented reality (AR)

delivers real-time visual IT support to remote users.
An

omnichannel help desk

or a

contact center as a service

(CCaaS) platform

comprises different integrated communication channels such as live chat, voice calls, email, and social media. This cloud-based software lets IT specialists easily connect with customers or users.
4. Guarantee Cultural Compatibility
Anticipate high cultural compatibility when working with an IT business process outsourcing (BPO) provider from the Philippines. 
The country's colonial history shows that the Western world has strongly influenced Filipinos' lifestyles and cultural diversity. The examples below demonstrate why Philippine-based contractors work well with U.S. employers and clients.
Matching educational and work experience.

The Philippines implements the K-12 curriculum modeled after the American educational system. Therefore, Filipinos know how to perform exceptional service based on international education standards.
Knowledge of recent tech trends and news.

Filipino service providers demand that workers learn about the latest IT developments to deliver high-quality outcomes. Such knowledge helps them provide practical tech repairs and resolutions.
Globalized mentality.

Since Filipino IT professionals are updated with the latest industry innovations, they can quickly solve urgent tech problems. They also help personalize tech support experience; they can have friendly conversations with your end users while working.
This advantage prevents miscommunication and potential conflicts during your agreed-upon project timeline. It fosters a stronger partnership with your chosen Philippine ITO offshoring provider, leading to excellent quality output and an improved bottom line.
5. Ensure Strong Data and Privacy Security
Filipino IT service providers guarantee reliable data and privacy protection. They strictly follow security policies and procedures mandated by the Philippine government. Founded under the Data Privacy Act of 2012, the National Privacy Commission safeguards your sensitive information by:
Requiring every BPO company to appoint data protection officers (DPO),

Handling DPO filing and personal data processing system registration,

Tracking information security and cybersecurity measures,

Monitoring privacy rule execution,

Addressing data-related complaints, lawsuits, and violations,

Implementing temporary restrictions on data processes that threaten national security, and

Working with overseas data privacy authorities for cross-border deals.
So if you plan to offshore your data entry services to the Philippines, you do not need to worry too much about security. Just make sure to talk to your service provider to align your security strategies.

6. Experience Broad Government Support
Due to the significant contribution of front- and back-office outsourcing to the Philippine economy, the national government has implemented comprehensive rules and regulations. These policies and procedures ensure long-term benefits and amicable agreements for BPO providers and foreign clients.
As the ITO offshoring sector expanded, the Philippine government developed and executed various laws to protect every party's rights, assets, and advantages.
The

Department of Information and Communications Technology (DICT) Act of 2015

provides universal access to cost-effective ICT services. It simplifies collaborations with outbound and overseas industries.

As mentioned in the previous section, the

Data Privacy Act of 2012

ensures compliance with international security standards and policies. The law defends personal data confidentiality and integrity against global cyber threats.

The

Special Economic Zone Act

handles foreign investments such as ITO and other BPO services. Foreign businesses outsourcing to the country benefit from tax benefits and exemptions.

The

Telecommuting Act

authorizes BPO employers to offer telework under mutual agreements with their employees.
7. Receive High-quality Service
Given all the factors above, companies of all sizes worldwide experience high-quality services when outsourcing tech solutions to the Philippines. 
Filipino contractors have all the necessary skills, technologies, cultural affinities, government backups, and security measures. Thus, they carry out the following IT-related tasks with scalable and superior results:
Technical support

Data entry and management

Software and website development

Help desk assistance

Information and system security

Telecommunications support

Cloud services

Backup and recovery

Desktop support

Network and server monitoring

System maintenance and repair

Wireless and mobile computing services

Managed security support

IT consulting services

Data analysis and reporting
The Bottom Line
Cost savings, access to a highly skilled workforce, and optimization of advanced technologies urge many foreign businesses to outsource their IT-related functions to Philippine service providers. 
Cultural compatibility, unmatched government assistance, and robust security further encourage them to trust Filipino tech professionals. The reasons and figures presented here prove that the Philippines is a top ITO offshoring leader globally. 
Schedule a meeting with our team at Unity Communications to learn more. We offer competitive solutions and reliable professionals to boost your IT processes.