Written by Joyce Ann Danieles
A place to seek treatment—that is what people always think of when hospitals come to mind. Little do they know that to grow, these healthcare institutions also have to deal with non-clinical tasks.
These back-office processes, however, can hinder hospitals' in-house teams from providing superb patient care. Thus, hospitals rely on business process outsourcing (BPO) for their sales-related services.
This article defines healthcare sales outsourcing and explains how it benefits hospitals' non-clinical teams. It also details how healthcare BPO helps hospitals boost sales. 
What Is Healthcare Sales Outsourcing in Hospitals?

Healthcare sales outsourcing is when hospitals let third-party professionals or companies manage some of their sales-related processes. This approach is beneficial when in-house teams lack the expertise, time, or resources to deal with all sales-related processes.
Such gaps happen when hospitals with high patient volumes fail to recruit more non-clinical employees to accommodate extra sales-associated tasks. These healthcare institutions thus seek third-party support to expedite these processes.
Fortunately, many providers offer different service options to address a hospital's sales-related requirements at affordable costs. These selections allow non-medical staff to focus on their primary tasks. They also help hospitals stay on schedule and within budget.
Sales-related Activities Hospitals Can Outsource
Although hospitals do not sell medical equipment or manufacture pharmaceutical drugs, they still do sales-related activities to help boost their bottom line.
These processes, however, often hinder their non-medical employees from prioritizing primary clinical tasks. Hospitals contract the following sales-related healthcare BPO services to ease the burden:
Lead generation

is the most commonly outsourced sales-related function for hospitals. It involves prompting prospective patients to choose their institution for healthcare services. 
Revenue cycle management (RCM)

involves monitoring and managing revenue generated from healthcare services provided to patients. A hospital's revenue cycle begins with a patient's registration and concludes with payment collection.
Appointment setting

means assisting patients in scheduling appointments for hospital consultations and follow-ups. This process can be done online or in person.
Patient care coordination

refers to the process of managing a patient's treatment. Coordinators create care plans and submit patients' treatment status and updates to attending physicians. 
Multi-communication management

uses an omnichannel approach to connect with patients for appointments, follow-ups, and healthcare status updates. This function also includes helping patients connect with their doctors through telehealth platforms.
Patient relationship management (PRM)

facilitates patients' care journeys with their chosen hospitals.
Medical billing

covers processes from payment processing to insurance filing and submission. Service providers ensure timely billing and insurance claims processing to avoid increasing and late fees.
Member insurance plan administration

is developing, monitoring, and managing proper documentation of patients' insurance plans. 
How Outsourcing Benefits In-house Non-clinical Teams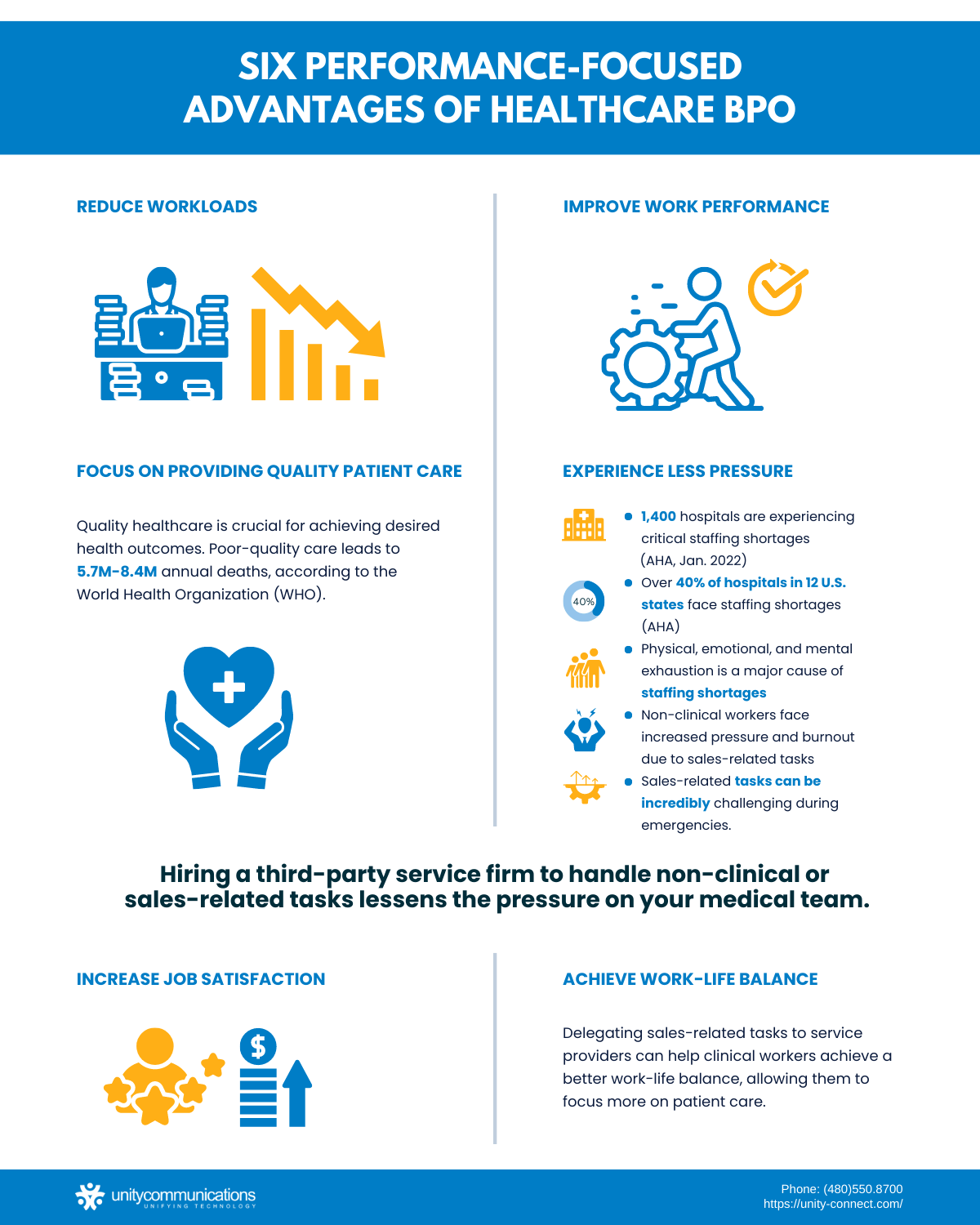 Hospitals welcome thousands of patients daily, regardless of their size and reach. Given the increase in patient volume, non-clinical hospital workers encounter increased backlogs and delays, resulting in overwork and burnout.
Healthcare sales outsourcing serves as hospitals' key to addressing those issues. They achieve the performance-focused advantages of healthcare BPO, as listed below.
1. Reduce Workloads
Non-medical hospital staff experience reduced workloads when entrusting sales-associated functions to BPO companies, third-party experts, and freelancers. 
In its most recent report, the American Institute of Stress found that businesses lose over $300 billion annually due to stress-driven issues such as low productivity and absenteeism. Although this report shows generalized cost estimations, hospitals can still lose the same amount if their non-clinical teams handle heavy tasks daily.
Increasing non-clinical backlogs affect work performance and productivity. Burnout and overwork also lead to substandard service delivery. So imagine the mistakes and delays if back-office hospital employees must simultaneously work on appointment scheduling, payment processing, and insurance filing.
Healthcare sales outsourcing helps reduce stress for those workers by taking over some sales-related services. BPO companies and professionals specialize in handling front-office or back-office functions. Thus, hospitals can trust them to accomplish sales-related tasks well, exempting in-house medical staff from performing repetitive processes.
2. Improve Work Performance
Hiring professionals or service providers to perform sales-related tasks helps in-house, non-medical employees improve their work performance. Outsourcing frees the in-house staff from performing time-consuming and repetitive sales-related functions.
For instance, scheduling patients' checkups and follow-up consultations seems simple. It requires only a non-clinical worker to input a patient's data into a spreadsheet and give them specific appointment dates.
The process is easy but becomes tedious when multiple patients want to book simultaneously. It consumes more time when employees must verify every detail. The work increases even more when errors occur while the team assists in in-person hospital visits.
BPO providers help prevent poor performance and unsatisfactory healthcare service by:
Deploying professionals trained to quickly and effectively accomplish appointment setting and other sales-related tasks;

Using advanced technologies to automate repetitive processes such as appointment scheduling and medical billing;

Executing an omnichannel strategy to accommodate patients' communication choices for a superb healthcare experience; and

Collecting and analyzing patient feedback to help improve strategies.
3. Focus on Providing Quality Patient Care
Because service providers and third-party experts take charge of hospitals' sales-associated processes, in-house non-medical workers have more time to help clinical teams provide quality patient care.
Ensuring high-quality healthcare increases the possibility for individuals and communities to achieve their desired health outcomes. Poor-quality care has resulted in 5.7 million to 8.4 million annual deaths, according to the most recent data from the World Health Organization (WHO). That makes focusing on healthcare quality critical. 
The healthcare BPO industry helps provide excellent patient care. Hospitals can quickly and easily hire contractors to manage their sales-related processes such as RCM and PRM.
Non-clinical employees no longer need to handle sales-related services simultaneously. For instance, they can focus on handling medical claim filing and reporting while third-party workers manage appointment bookings.
These non-medical workers also have sufficient time to assist clinicians in accurately and effectively delivering quality health service by:
Collecting data critical to providing evidence-based healthcare;

Implementing a people-centered approach to the telehealth experience;

Learning to use advanced tools to prevent clinical errors, wait time, and delays;

Helping maintain the excellent condition of medical devices and tools; and

Reviewing security measures to ensure patients feel safe when receiving care.
4. Experience Less Pressure
Reducing work pressure is another critical healthcare sales outsourcing benefit for non-clinical hospital employees.
Data from the American Hospital Association (AHA) shows that nearly 1,400 hospitals face critical staffing shortages as of January 2022. AHA further reveals that more than 40% of hospitals in 12 U.S. states reported the same issue amid the pandemic. Physical, emotional, and mental exhaustion is one of the crucial factors causing the problem.
Many non-clinical workers experience increased pressure and burnout if they must simultaneously fulfill their sales-related tasks, especially during emergencies. Heavy workloads lead to poor performance and eventual resignation. Entrusting some sales-related services to a third party helps alleviate the pressure of accomplishing these non-core activities.
For example, non-medical hospital workers feel pressure to keep their composure when dealing with inpatients while addressing online inquiries. Their anxiety and distress might increase twofold if they face rude individuals in person or virtually.
Assigning online customer service to a BPO company or professional helps lessen such pressure. Contractors implement the following strategies to ensure superb omnichannel patient support:
Using a cloud contact center platform to seamlessly and immediately connect with patients seeking support online

Personalizing the telehealth experience by accommodating online patients' preferred communication channels

Enabling automatic responses and self-service options for simple online patient inquiries

Implementing automated processing and monitoring of patient issues, checkup appointments, follow-ups, and requests

Practicing customer service etiquette when voice calling, chatting, and emailing patients
5. Increase Job Satisfaction
Adopting healthcare sales outsourcing helps increase job satisfaction for non-clinical hospital employees.
According to Elsevier's 2022 report, 47% of clinicians plan to leave their current roles if they fail to meet their job expectations. They also feel undervalued and unappreciated in their profession. Typical non-medical employees experience the same, especially when they are underpaid but must accomplish simultaneous sales-related tasks.
Imagine an in-house team's burnout when dealing with overdue medical billing and insurance processing tasks. At the same time, they must complete demanding assignments from medical practitioners, such as patient profiling and appointment scheduling.
If hospitals partner with healthcare sales BPO service providers, they can let their in-house teams experience the benefits listed below.
Fair wage.

Non-medical workers receive a competitive income to match their daily workloads. Since hospitals worry only about paying the BPO service provider monthly or by the hour, they can allocate more funding to increase their in-house staff's salaries. 
Comfortable and safe workplace.

Healthcare sales outsourcing helps hospitals set up a comfortable and safe workplace for their employees. As service providers free up more resources and funds, hospitals can spend significant money to establish a space for medical and non-medical staff to relax during their breaks. 
Strong workforce engagement.

Hospital leaders have sufficient time to plan more workforce engagement activities when delegating their sales-related processes to a third party. They can hold events such as team-building activities, seminars, and online forums to enhance their employees' camaraderie and career growth.
Flexible operations.

BPO companies let hospitals quickly scale their workforce deployment. Following changing demands, the approach allows them to easily hire third-party professionals to help their in-house teams accomplish sales-related tasks.
Improved incentives.

Besides providing adequate or increased income, sales outsourcing also enables hospitals to offer competitive incentives for their non-clinical employees. An enhanced bonus during holidays or overtime motivates employees to perform better.
6. Achieve Work-life Balance
Healthcare sales outsourcing fosters work-life balance for non-medical hospital employees. Having that balance means harmony exists between the different aspects of an individual's life and work.
In a hospital setting, non-clinical employees work more hours than most in other industries. The former must be sharp and efficient to accomplish front- and back-office tasks, especially during health emergencies. Working long hours affects their health, heightens stress, and reduces leisure.
Entrusting sales-related functions to service providers or freelancers helps non-clinical workers achieve work-life balance. BPO service providers help employees ensure a satisfying home life. Thus, in-house team members have more time to perform these activities to maintain balance:
Creating a realistic timeline for daily activities

Using vacation leaves without feeling guilty

Adopting a hybrid work setup whenever possible

Getting sufficient rest and sleep

Regularly exercising for overall physical, emotional, and mental health
How Hospitals Increase Sales With Outsourcing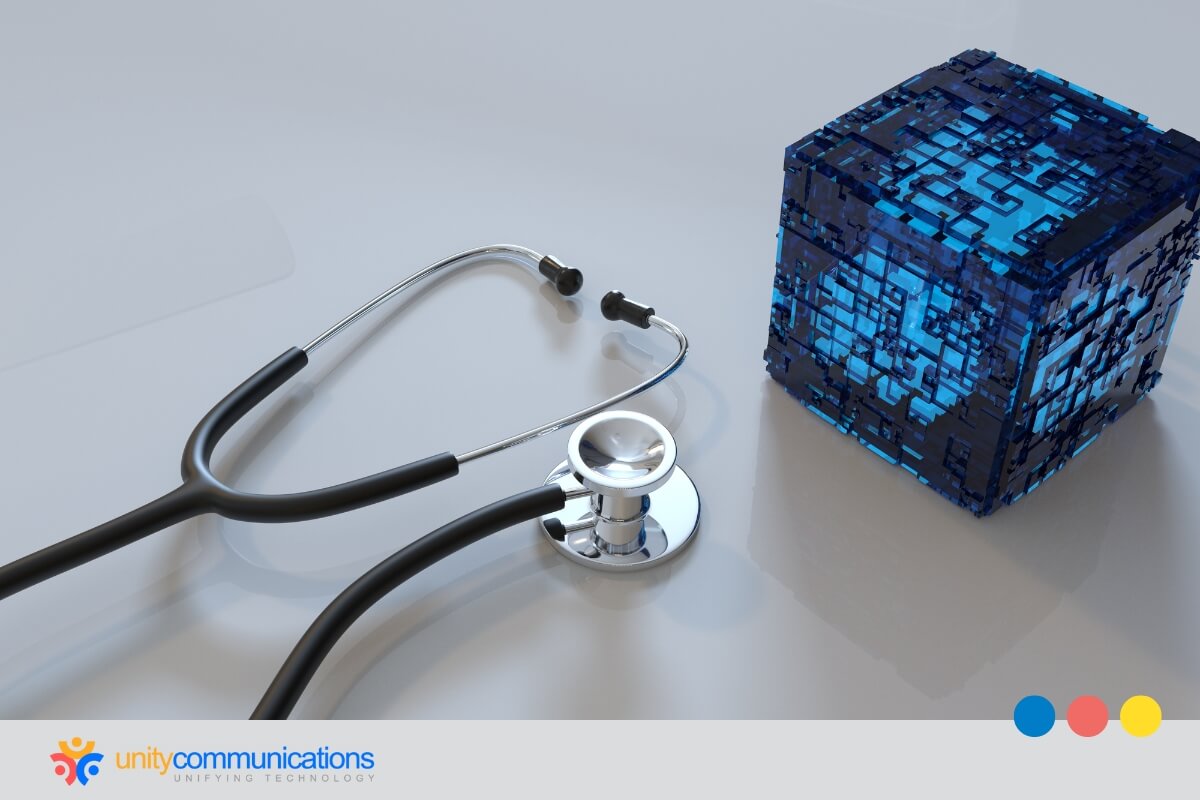 Similar to other industries, healthcare sales outsourcing providers implement different approaches to help hospitals increase their sales. Hospitals benefit from BPO through these cost-effective methods:
1. Build and Maintain Brand Awareness
Outsourcing assists hospitals in expanding their market reach online.
According to the Pew Research Center, 93% of American adults used the Internet in 2021. Given this extensive usage, another 2020 study showed that nearly 69% of American adults browsed health-related data online. These figures indicate that most people attempt to find remedies online before consulting a doctor.
Thus, hospitals need a well-structured, interactive website or social media account to boost their digital presence. They must establish an online community and portal to let patients communicate and monitor their medical records. Launching targeted web marketing campaigns helps them stand out from their competitors.
Handling all those initiatives alone hinders hospitals from focusing on quality healthcare service delivery. Hence, they contract BPO providers or third-party professionals to perform the following activities for generating and maintaining brand awareness:
Advertising

promotes a hospital's services and health-related messages via print, radio, television, or online ads.
Social media marketing

helps widen hospital brand reach and establish a loyal customer base through online platforms such as Facebook and Twitter.
Content marketing

involves creating, publishing, and sharing informative content online to help hospitals educate and engage patients.
Public relations

generates media coverage and visibility to deliver hospital-related press releases and media interview transcriptions.
Influencer marketing

means working with individuals or groups with a huge following to promote a hospital's healthcare services.
Website development

is designing, building, and maintaining an official website to make a hospital brand stand out.
2. Access Diverse Talent
Healthcare sales outsourcing lets hospitals work with a diverse and global pool of skilled contractors. Third-party professionals undergo regular training, upskilling, and certification programs. They also stay on top of the latest market trends to meet client demands.
Regardless of daily or seasonal needs, hospitals can hire these professionals to perform some of their sales-related functions:
Graphic designers

create visual content for print, digital media, and advertising.
Video editors

produce content for various purposes, such as marketing, entertainment, and education. 
Website developers

build and organize fully functional websites for healthcare-related promotions.
Social media managers

draft and execute social media strategies that build brand awareness, increase engagement, and drive traffic to their clients' online accounts.
Lead generalists

develop and execute sales strategies aligned with a hospital's goals.
Revenue cycle managers

oversee financial operations for hospitals and manage patient accounts.
Appointment setters

assist patients in scheduling appointments for their checkups and follow-ups, whether in person or online.
Patient coordinators

serve as liaisons between patients and their physicians.
Multi-communication officers

administer engagement with patients across multiple channels such as social media, telehealth, and live chat.
Medical coders

use a system of codes to precisely describe medical treatment and procedures for proper medical reimbursement and insurance claims processing.
Medical billers

work with coders to smoothly process invoices and bills for treatments and procedures.
Member insurance plan administrators

manage insurance plans for members. 
3. Optimize Advanced Technologies
BPO service providers use up-to-date technology to streamline labor-intensive functions for their client hospitals. Medical providers adopt healthcare sales outsourcing to gain access to modern tools at reduced prices. BPO providers use the following technologies to boost their sales-related services:
PRM software

quickly collects and analyzes changing patient demands.
Omnichannel technology

enables seamless collaboration via multiple integrated channels such as live chat, voice calls, social media, and email.
A

lead enrichment platform

provides a comprehensive view of patient contacts.
Automation and artificial intelligence

automate duplicate non-clinical tasks.
Cloud computing

simplifies data storage, access, and exchange over the internet.
Appointment scheduling software

allows appointment setters or patients to easily book consultation schedules.
A

medical billing and coding solution

helps to quickly and more accurately accomplish medical billing and coding processes.
An

insurance policy administration system

enables insurance companies to efficiently manage their policies, underwriting activities, and claims processes.
4. Leverage Appropriate Channels
As part of delivering sales-focused medical BPO services, contractors help hospitals provide a seamless and consistent patient experience through an integrated omnichannel platform.
For instance, after seeing an online ad for recent or improved hospital care services, patients contact appointment setters through social media. They end the interaction with an email confirming the checkup schedule and including important instructions.
In short, an omnichannel approach enables patients to begin their healthcare journey in one channel and continue it in another without repeating information or missing critical data. Contractors combine the channels listed below into one platform to expedite telehealth and patient engagement.
Voice calls

Email

Social media

Live chat

Text messaging

Chatbots

Video chat
5. Maximize Market Insights
BPO vendors use market insights to create recommendations and suggest best practices that help hospitals increase their sales. They monitor trends and changing patient needs to guide hospitals in making informed decisions.
Service providers execute these steps to assist hospitals in driving growth, boosting sales, and staying ahead of the competition.
Identify target markets.

Contractors use research findings to identify potential clients for hospital products and services. These data back the development of targeted marketing campaigns and sales strategies.

Understand patient needs.

Vendors analyze market trends and patient behavior to help hospitals better understand their patients' ideal healthcare services. These insights guide hospitals in creating and improving offerings that meet their target patients' needs.

Analyze competitors.

BPO companies provide market insights to inform hospitals about their competitors' latest moves. Healthcare institutions can also use such data to understand how to position themselves in the market.

Optimize pricing and promotions.

Third-party teams leverage market insights to guide hospitals in optimizing their pricing and promotional strategies. This step lets them effectively reach their target audience.

Provide market intelligence.

Service providers offer ongoing market intelligence to ensure hospitals stay up-to-date on changing market conditions and trends. They also adjust sales strategies according to evolving demands.
The Bottom Line
Healthcare BPO is crucial in helping hospitals boost their sales without compromising their non-clinical workforce productivity or primary services. Service providers perform different cost-effective methods to streamline sales-related hospital processes.
Sales outsourcing services alleviate pressure, improve job satisfaction, and reduce the burden for in-house medical workers. They also let hospitals focus on providing high-quality health services and work-life balance for their non-clinical staff.
Contact Unity Communications if you need a reliable service provider to accomplish your sales-related tasks. We provide cost-effective, scalable healthcare BPO solutions to boost patient experience and increase your bottom line.