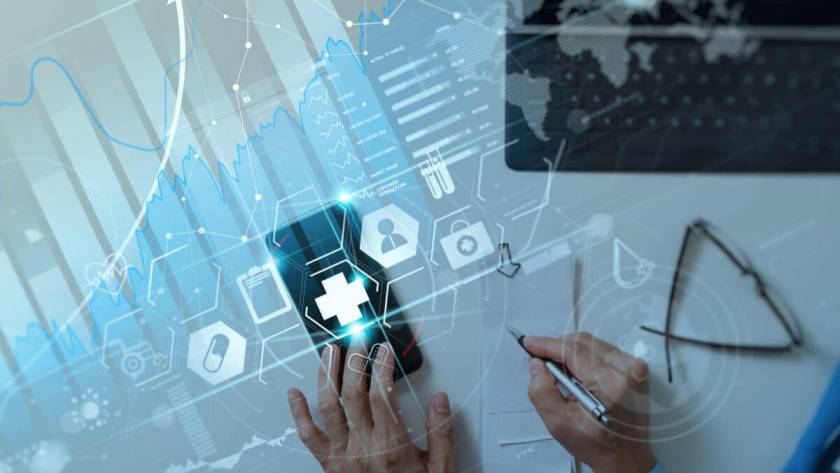 Written by Allie Delos Santos
Most medical institutions face pressure to reduce costs while adapting to growing IT trends, big data, and cloud computing. Ever-changing rules and regulations also make compliance a challenge for many hospitals and healthcare organizations.
These factors fuel the expansion of the healthcare business process outsourcing (BPO) market.
This article discusses the tremendous growth the healthcare BPO faces. It explores key market players, factors affecting its expansion, and medical outsourcing trends.
Read on to learn more.
Current State of the Healthcare Business Process Outsourcing Market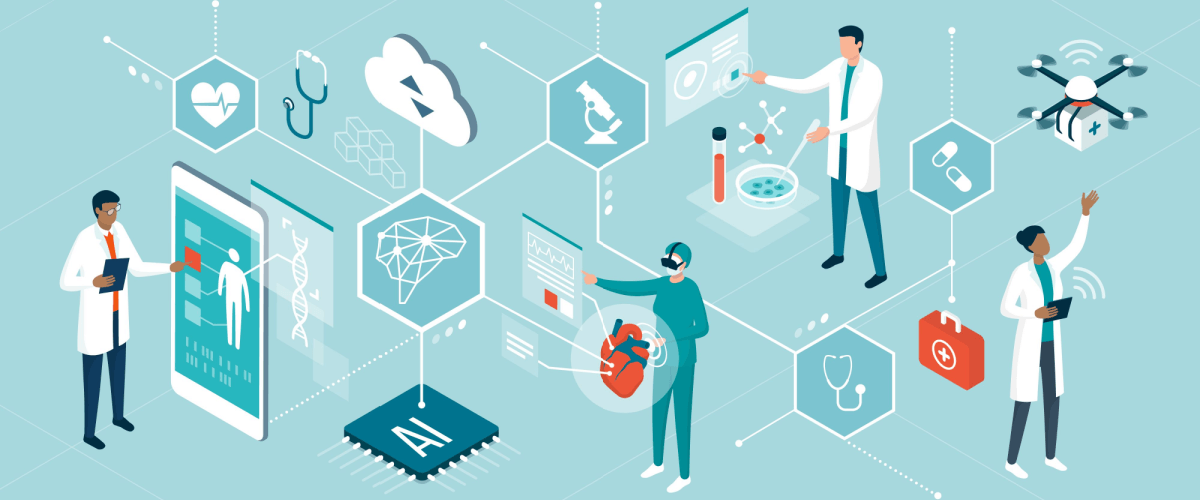 The healthcare business process outsourcing market reached a global value of $25.7 billion in 2021. The medical BPO market might grow to $44.5 billion by 2027 at a 9.1% compound annual growth rate (CAGR).
Healthcare outsourcing is a business strategy that hospitals and medical institutions use to hire third-party providers to manage certain business functions on their behalf. That way, these healthcare organizations can focus on their core competencies. Outsourcing helps analyze patient enrollment and data, process claims, conduct strategic planning, and manage billing, business acquisitions, and accounts.
Medical BPO is a solution for hospitals to adopt smarter approaches to support the business by increasing productivity and reducing costs. The healthcare outsourcing industry is categorized based on service types, such as front-end and back-end. The market expansion is due to:
Increased outsourcing in pharmaceutical industries and life sciences

Growing need for niche services such as care management and fraud detection

Demand for structured documentation and process in the medical industry

Enhanced patient awareness of telehealth services and insurance plan availability 

Rapid technological developments

Integration of cloud-based business process outsourcing solutions
Conversely, data security and privacy concerns and the fear of losing control and visibility over business functions are key factors that can restrain market expansion. Differences in regulatory processes within various countries and unforeseen costs also impede the growth of the global medical BPO market.
Healthcare BPO Market Players

The healthcare BPO industry comprises:
Payer services

– claims management, provider management, care management, customer relationship management (CRM), administrative/operational management, human resource management

Provider services

– patient enrollment and strategic planning, revenue cycle management (RCM), patient care services

Pharmaceutical services

– research and development, manufacturing

Non-clinical services

– sales and marketing, analytics, supply chain management, and logistics, performance reporting
In terms of geography, the key players include North America, South America, Asia-Pacific, Europe, the Middle East, and Africa.
The Impact of the Pandemic on the Healthcare BPO Market
The pandemic significantly affected the global economy. Consequently, the pressure on medical institutions to establish a well-connected and well-coordinated environment with other healthcare units rose. Hospitals were inclined to contract healthcare BPO services such as CRM and telehealth to focus on their core competencies.
The healthcare BPO market saw a multifaceted impact from the pandemic. Fortunately, the industry could adapt and function digitally, enabling BPO companies to keep operating with minimal safety and health risk for staff.
The pandemic was a catalyst for the rapid transition of legacy business process outsourcing. Furthermore, the pharmaceutical/bio outsourcing sector saw increased research and development demands due to the pandemic.
The increase in demand caused many contract research organizations (CROs) to adjust their focus and operations. Deploying digital innovation platforms and solutions helped many medical outsourcing services to continue operating with accuracy and efficiency even in times of crisis.
Factors Affecting Healthcare BPO Market Growth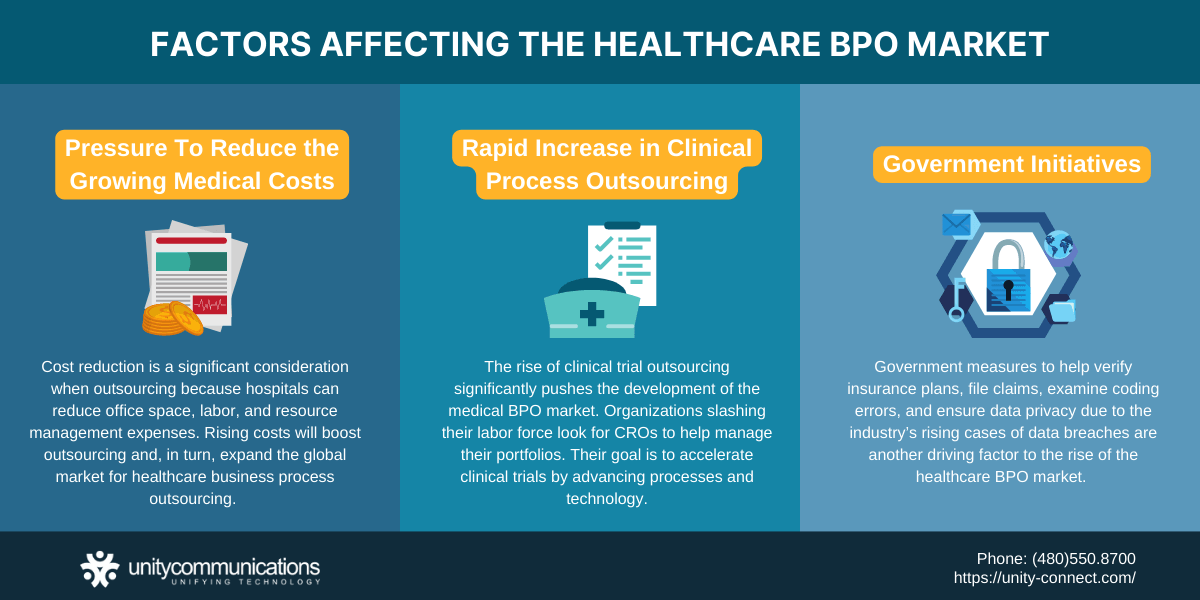 Some factors driving the expansion of the global medical outsourcing market are western nation labor shortages, especially skilled experts; increased costs; rising demand for better healthcare; and developments in IT technology. Additionally, low productivity, expensive research, and development costs, and drug manufacturing compel pharmaceutical companies to outsource.
Other factors that push companies to outsource are the lack of industry knowledge and the cost-effective availability of the workforce. Strong collaboration among key players and extensive use of electronic health records (EHRs) for storing patient information create a positive outlook for the industry.
Below is a closer look at the driving factors affecting the healthcare BPO market.
Pressure To Reduce the Growing Medical Costs
Cost reduction is a significant consideration when outsourcing because hospitals can reduce expenses on office space, labor, and resource management.
Pressure lies on the margins of healthcare payers due to the increase in insurance exchanges (digital marketplaces to buy insurance from competing providers) in the U.S. This allows consumers to gain coverage from competing medical providers and accelerates the support for outsourcing to rationalize costs.
Structural changes such as more emphasis on care management, a bump toward paying for value, and more cost-sharing with customers increase relevance as healthcare becomes a bigger part of the overall economy. These factors pull back against the rapid medical spending growth.
However, healthcare costs stayed around the same level—between 6% and 7% over the last five years, which drives medical expenditures. Thus, rising costs will boost outsourcing and, in turn, expand the global market for healthcare business process outsourcing.
Rapid Increase in Clinical Process Outsourcing
The speedy increase of clinical process outsourcing significantly pushes the development of the medical BPO market. Clinical process outsourcing involves administrative work that requires clinical expertise.
The rise of clinical trial outsourcing is due to the increased number of drugs passing through clinical trials. Organizations slashing their labor force look for CROs to help manage their portfolios.
For example, Veeva Systems (a cloud-computing company focusing on life sciences and pharmaceutical industry applications) and Parexel (an American medical outsourcing vendor) announced their strategic collaboration in 2021. Their goal is to expedite clinical trials by advancing processes and technology.
Based on the feedback of patients, sites, and sponsors, the organizations partner to accelerate Parexel's clinical trial delivery processes and Veeva's cloud solutions. Thus, the growth of clinical process outsourcing is projected to push the medical BPO market.
Government Initiatives
The government bodies of various nations undertake numerous favorable initiatives to adopt BPO strategies.
These solutions will help verify insurance plans, file claims, examine coding errors, and ensure data privacy due to the industry's rising cases of data breaches. In the second half of 2022 alone, the average breach size reached 81,487 records, which led to the disclosure of 278,034 patient records.
Fastest-growing Regions in the Healthcare BPO Market
Geographically, the healthcare business process outsourcing market is divided into destination source geographies and outsourcing source geographies. Under outsourcing source geographies, the market is further divided into the U.S., Europe, and the rest of the world.
The United States dominates the global medical BPO market among all outsourcing source geographies. This is due to the increasing need for lower healthcare costs and the high expense of R&D and the manufacturing of drugs. The legislative reform of the Patient Protection and Affordable Care Act also drives the outsourcing market for more affordable healthcare.
Europe is the fastest-growing outsourcing source geography. The reason behind this is the rising demand for improved healthcare in the area.
Healthcare Outsourcing Trends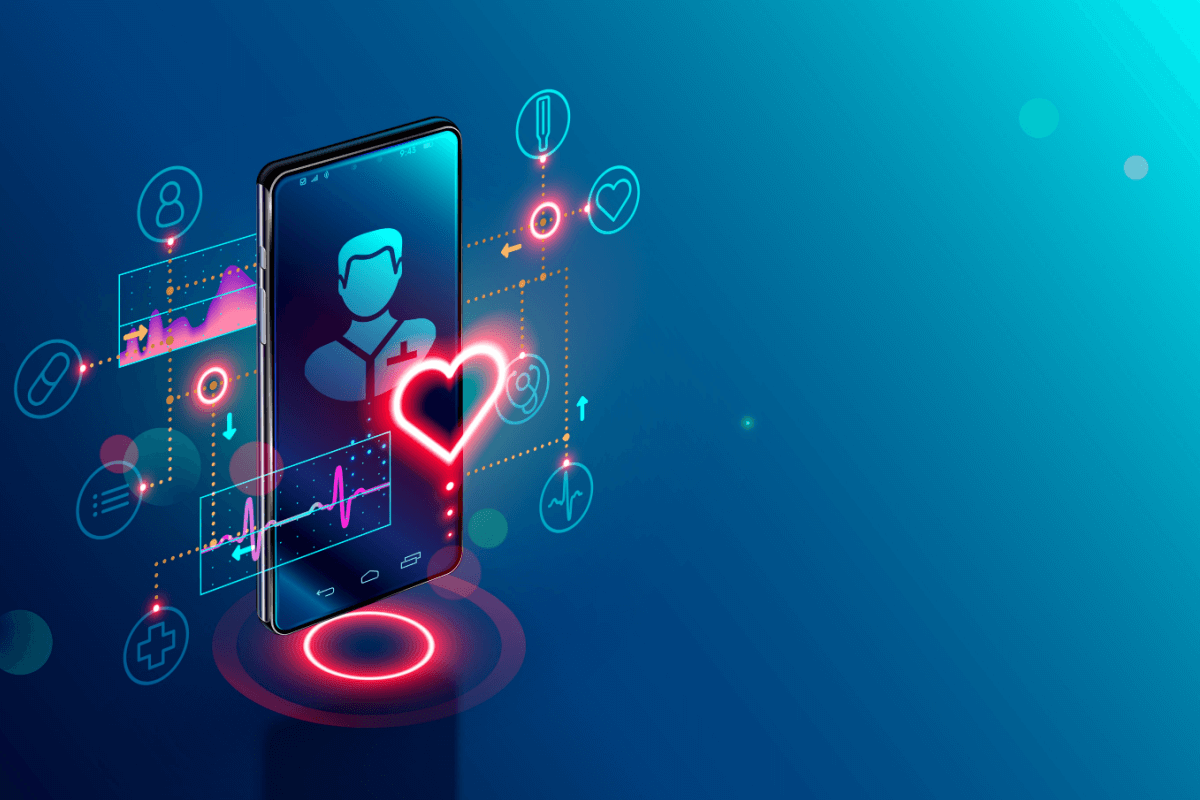 The pandemic, rising healthcare costs, and a labor shortage are driving companies to adopt medical BPO services. Additionally, many facilities and hospitals plan to invest more in digital solutions over the next five years based on the HIMSS Future of Healthcare Report.
Here are some of the biggest trends impacting the healthcare business process outsourcing market.
Growing Adoption of AI-based Tools
Machine learning (ML) and artificial intelligence (AI) expedite the drug discovery process and significantly enhance the success rate during the early stages. This helps healthcare outsourcing vendors achieve substantial breakthroughs in AI because it plays a key role in discovering drugs for chronic diseases.
Owing to its capabilities, AI decreases the required time to bring medicines to consumers, leading to a significant expansion in the BPO service market.
Many pharmaceutical organizations collaborate with reputable AI-driven companies to leverage their capabilities in boosting drug-discovery programs. The rising number of drugs being developed is increasing the number of research and clinical trials, with a knock-on effect on the CRO service market.
Such factors encourage the adoption of artificial intelligence by biotechnology and pharmaceutical companies for drug discovery.
Telemedicine and Remote Healthcare
A Deloitte report showed that the percentage of remote medical consultations grew from 0.1% to 43.5% in the past year. Many patients are happy with this alternative and will continue to use virtual visits.
The reason behind this increase is apparent. But even without the pandemic forcing this new kind of health consultation, there are many great reasons to check, diagnose, and treat patients remotely. Telemedicine can save lives in remote places by significantly boosting access to medical treatment.
In previous years, patients saw the rise of virtual hospital wards, where a unified communication tool oversees the treatment of multiple patients, all in their homes. The Pennsylvania Center for Emergency Medicine has an advanced version of this under development called the "Virtual ER."
Outsourcing telehealth frees doctors' time to treat in-patients, while remote medical teams manage basic out-patient concerns.
Benefits of Healthcare BPO

The right BPO partner can augment daily business operations for the better. Outsourcing certain back-office functions and patient experience helps healthcare businesses grow and deliver exceptional medical care.
Below are the advantages of healthcare BPO.
 

Focus on patients:

Outsourcing time-consuming activities to a third party gives you more time to focus on providing patients the care they deserve. Decrease your workload by outsourcing repetitive tasks and administrative duties so your team can improve your patients' experience.

 

Reduce costs:

Reduce operating expenses and save money by outsourcing instead of hiring and training in-house employees. You can then use the money you have saved from outsourcing to enhance operations.

Expand business offerings:

Outsourcing certain roles enables you to focus on expanding your services and providing exceptional care. When you outsource, you gain more financial resources and time to deploy new services and specialties in your facility.

Avoid costly mistakes:

The medical industry is sensitive. You can access patient information, medical records, and comprehensive private data. Additionally, rules and regulations regarding data security are hard to navigate. Outsource certain functions to avoid costly blunders and penalties.

Access industry experts:

Partnering with a reputable BPO provider adds value to your existing staff. It offers you access to trained professionals who can efficiently handle data entry, medical coding, and medical billing. Plus, you need not manage training and onboarding in-house because your provider can do it on your behalf.
The Bottom Line
The healthcare business process outsourcing market is continuously growing. This is due to the growing need to reduce costs, adopt the latest technology, augment business processes, and leverage global talent.
Trends such as remote healthcare and the growing adoption of AI solutions push companies to extend their outsourcing investments. Partnering with a reputable BPO provider lets medical facilities focus on patient care, expand business offerings, prevent costly blunders, and access industry experts.
If you want to reap these benefits, outsource to Unity Communications now. Get in touch with us to find out more!