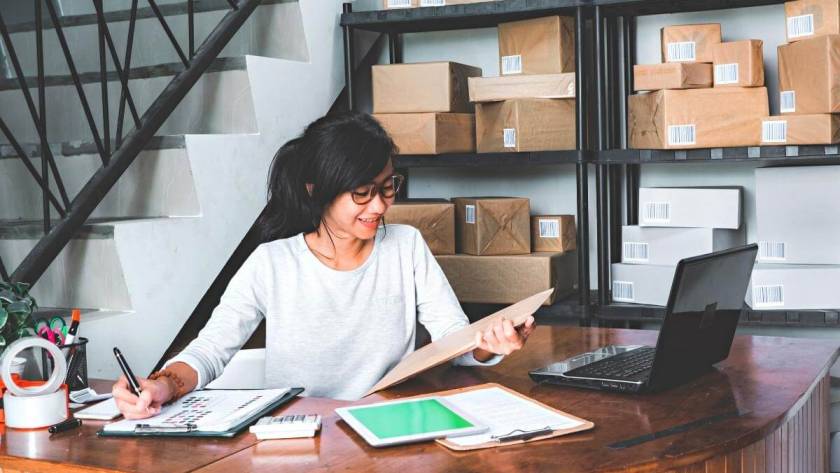 Written by Joyce Ann Danieles
As Covid-19 showed us, more and more consumers are turning to online purchasing for safety and, now, also for convenience. As technology advances and pandemic issues persist, consumers will continue to turn to E-commerce businesses to fulfill their needs. This is resulting in increased workloads and backlogs that challenge companies to meet customer demands quickly.
Hiring an e-commerce outsourcing service provider can help you accelerate efforts to support your buyers. Outsourcing can enable you to keep up with the fast-paced competitive environment.
Dive into this article to learn more about ways and services to outsourcing. You will discover the pros and cons of adopting this approach.
What Is E-commerce Outsourcing?
Contracting with a third-party service provider to carry out non-core functions of your online business is what e-commerce outsourcing is all about. Data entry, inventory management, order processing, bookkeeping, and customer service are e-commerce tasks that you can outsource to a third-party provider.
These services are important to keep your business humming along and stable. However, these often repetitive tasks are time-consuming and labor-intensive. Having a dedicated in-house team to handle these processes could also add more to your operational expenses, hindering your company's ability to expand.
If you want to accomplish these activities effectively while reducing costs, continue reading to learn how e-commerce outsourcing works.
5 Steps in Outsourcing E-commerce Services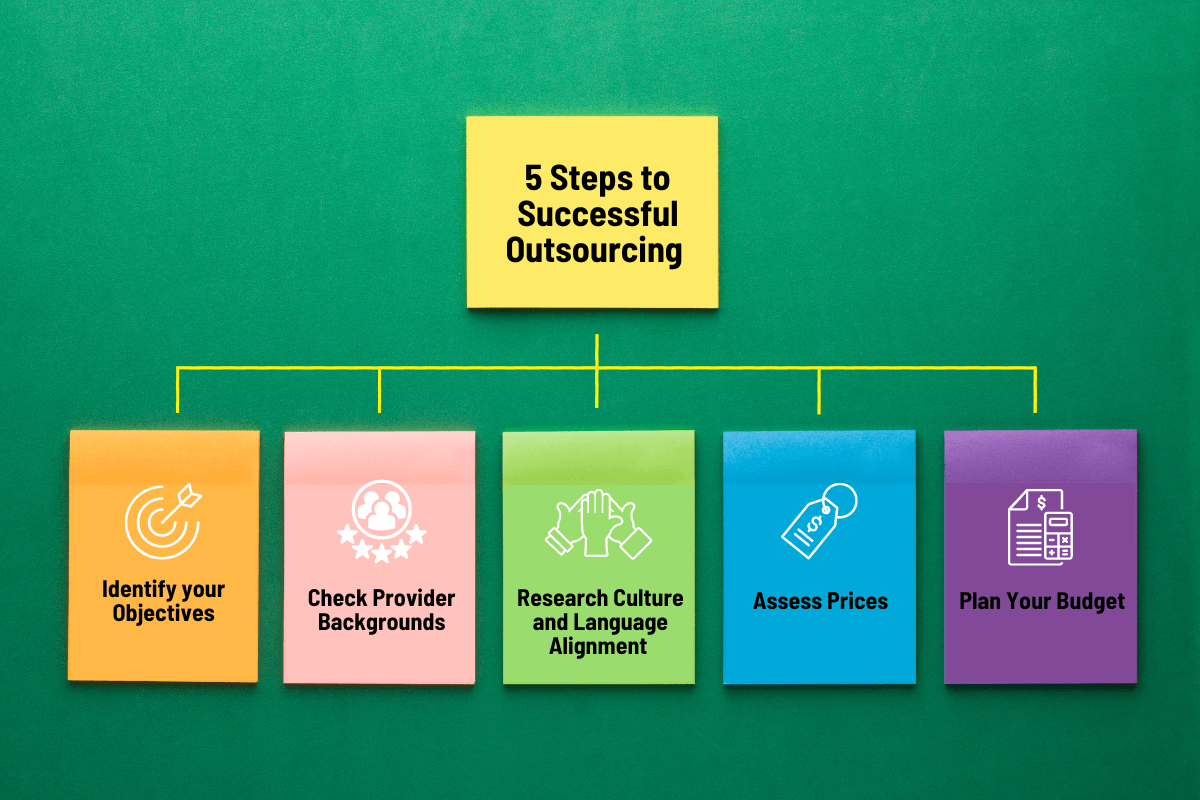 Before seeking a third-party service provider, you should know the factors to consider and measures to take for outsourcing e-commerce services. Doing so helps you clearly gauge when and in what ways you should think about outsourcing some of the tasks in your company. It will also give you an idea of how much time and money you can save if you outsource tasks.
To start streamlining your e-commerce processes now, follow these five easy tips for back-office outsourcing.
1. Identify your Objectives
First and foremost, you have to define and set concrete goals for outsourcing an e-commerce service. Creating a list of objectives will guide you in identifying which areas might need third-party support to free up workloads and lower expenses.
Having clear targets also helps you develop a roadmap for expanding your business further. Implementing this step can accelerate both your core and non-core functions.
2. Check Provider Backgrounds
Verifying the status and reputation of your potential third-party provider is critical to acquiring an e-commerce outsourcing service. To match your needs, you must know your potential partner's specialization, human resource capacity, and access to the latest technology trends. 
You should also know the provider's capability to protect systems, manage risks, and combat security threats to prepare for unforeseen technical challenges. Most importantly, knowing your partner's work ethic could help avoid future conflicts.
3. Research Culture and Language Alignment 
In addition to conducting background checking, you need to study your culture and language alignment with your potential outsourcing partner. If you're considering outsourcing a business process overseas to take advantage of lower labor costs, you need to ensure that you and your third-party provider can properly communicate and engage with each other.
If left unexamined now, culture and language differences that emerge later can hinder your progress in escalating your e-commerce tasks and achieving growth. Misunderstandings and miscommunications could also result from the non-alignment of your culture and language with your third-party provider.
4. Assess Prices
Expect that different outsourcing providers offer their services at varying prices. The pricing level depends on a company's market status, vertical alignment, and industry category.
Thus, you have to assess and compare the pricing of third-party service providers when deciding which of them to hire. Doing so helps you select the right outsourcing partner with the right service package that fits your needs and budget allocations.
5. Plan Your Budget
After completing the initial steps, draft your budget for hiring an e-commerce outsourcing service. Be aware that getting top-of-the-line service from a third-party vendor comes at a high price. Therefore, control your expectations and establish a comfortable price for your outsourcing investment before proceeding. 
Explicitly communicate your budget plan with your potential partner. Ask whether it can provide you with a pricing model that suits your needs and funding levels.
Services E-commerce Businesses Can Outsource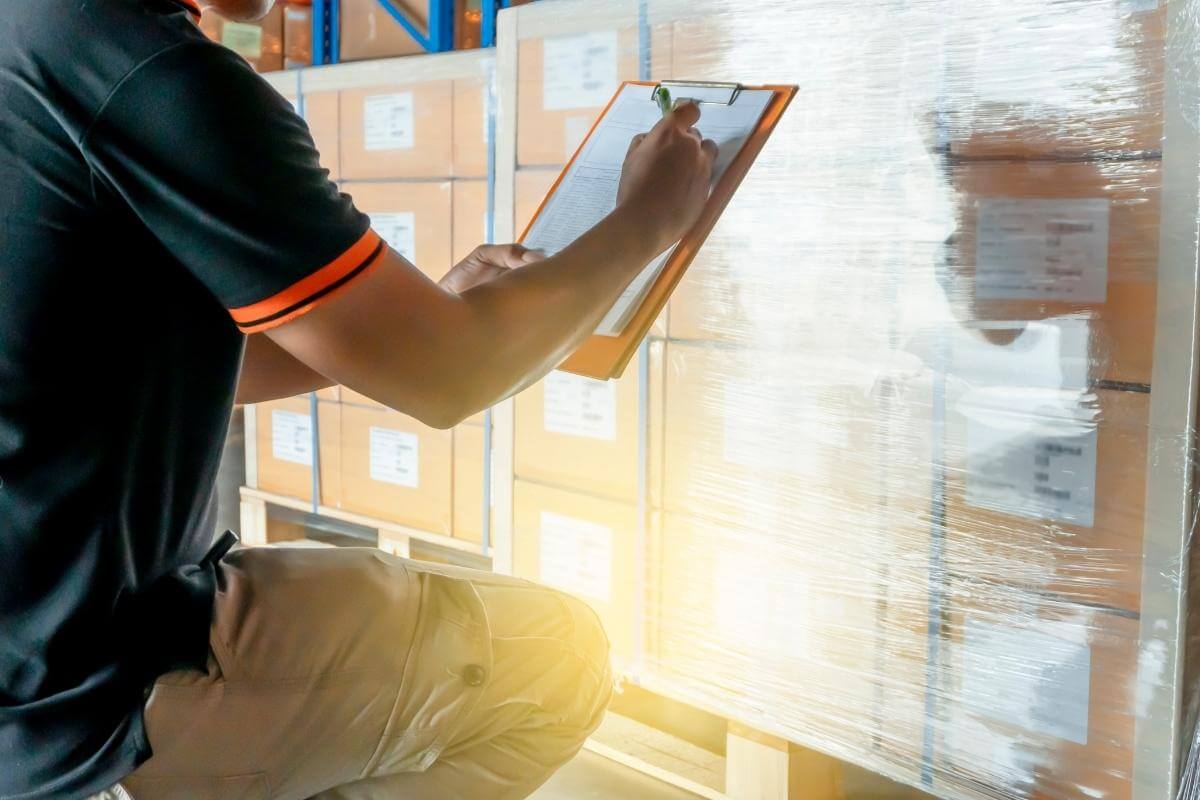 Now that you know the steps for outsourcing, consider which e-commerce business processes you can delegate to a third-party service provider. Below are some of the most common front-office and back-office functions that you can outsource to ease your workload and prioritize your expansion.
Data Entry
Data entry outsourcing involves hiring a third-party service provider to organize information relevant to your daily tasks. You can hire an outsourcing partner to conduct data management and classification via a structured system. 
Outsourcing data entry can help accelerate your back-office functions without hiring or training an in-house team. It can also allow you to generate savings while getting accurate datasets done by your partner's skilled workers.
Inventory Management
Hiring a third-party provider to monitor your inventory enables you to meet supply chain and customer demands. Your partner uses emerging technologies, such as robotic process automation, cloud, and artificial intelligence, to speed up stock auditing with accuracy. 
Your e-commerce outsourcing service provider also employs skilled workers to streamline your inventory management. As a result, you save resources while managing your supplies more efficiently.
Order Processing
Outsourcing order processing allows you to accommodate your customers' online purchases immediately. A third-party service provider can quickly and accurately fulfill orders for your e-commerce business using automated systems and skilled workers. 
The approach offers you cost savings because it eliminates the need to recruit, train, and retain order fulfillment staff. It also enables you to focus on developing new strategies to boost your brand loyalty and reputation.
Customer Service
According to Salesforce's State of the Connected Customer report, 89% of 12,000 surveyed consumers consider making another purchase following a positive customer service experience. So you want to prioritize ways to improve support for your online buyers through phone calls, emails, and live chats.
Delegating this work to a third-party provider allows you to respond to your customers' needs round the clock. The outsourcing firm has skilled employees to address customer inquiries 24/7. It also uses the latest technology to automate customer support.
Bookkeeping
Bookkeeping keeps your financial transaction files and records structured and organized. Despite its importance in supporting back-end functions, bookkeeping does not mainly contribute to your company's success.
Outsourcing finances enables you to prioritize the core functions that contribute to the growth of your e-commerce business. A third-party company provides experienced bookkeepers who help simplify your financial data management. Outsourced bookkeeping also lets you save resources without paying for full-time specialists.
5 Benefits of Outsourcing E-commerce Business Processes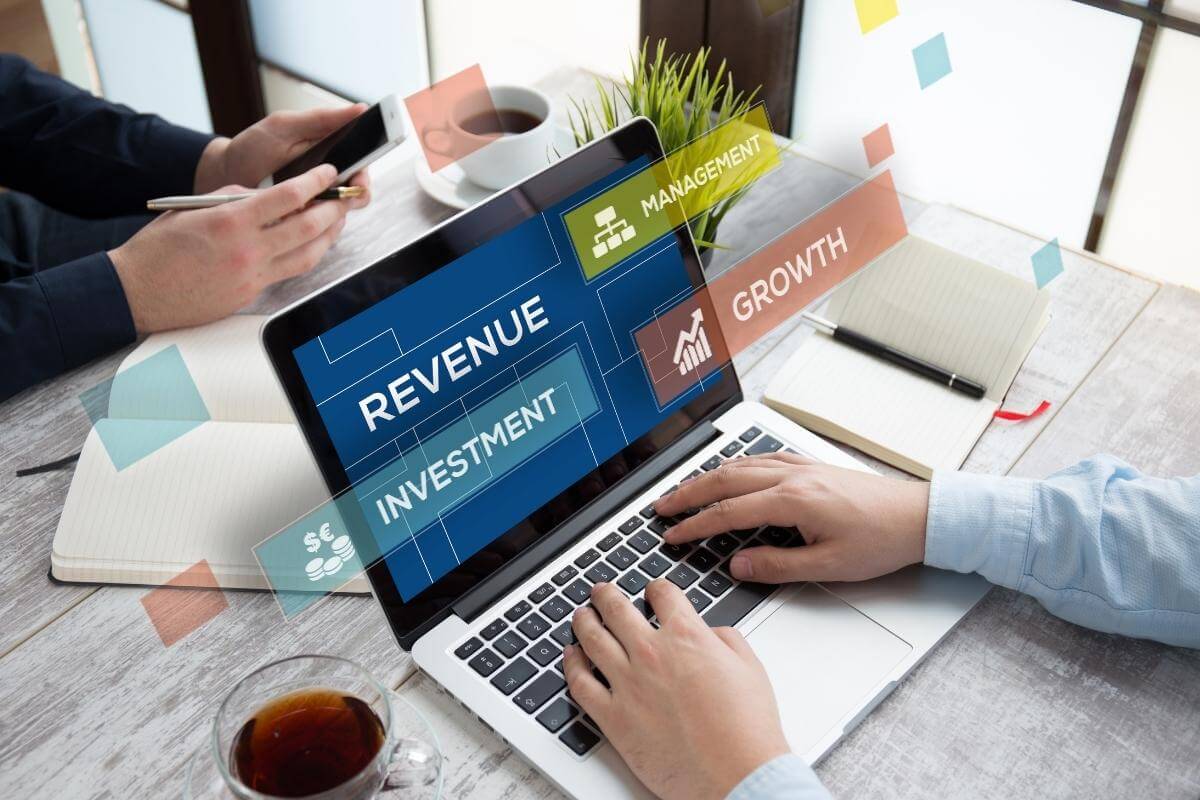 Knowing and selecting which e-commerce outsourcing services to use is only the first step. You also need to know what advantages you gain from outsourcing your e-commerce business processes.
1. Increase Savings and Revenue
You can see growth in your savings and revenues when you outsource because of low-cost, streamlined work done by your third-party provider's certified employees. Outsourcing also eliminates the need to establish your in-house front-office and back-office teams. It allows you to free up resources and reinvest funds in more effective business development programs.
2. Prioritize Primary Business Functions
You can focus on enhancing your core business functions when outsourcing your front-office and back-office tasks to a third-party vendor. By assigning your time-consuming, labor-intensive, and redundant processes to your outsourcing provider, you can now prioritize developing your strategies to expand your e-commerce business further.
3. Improve Productivity
You can boost your productivity by delegating repetitive tasks to experienced employees of your outsourcing partner. They are trained to perform specific back-office and front-office activities with high accuracy and speed. Hence, you can also work on your critical capabilities to improve efficiency.
4. Tap Skilled Professionals
You can gain access to a pool of skilled professionals when obtaining e-commerce outsourcing services. These people have undergone training and certification to perform back-office and front-office outsourcing services. Thus, you can expect that they will accomplish your tasks with speed, accuracy, and efficiency.
5. Optimize Modernized Systems
You can experience using the latest technology when you hire an outsourcing partner. The provider owns and deploys advanced systems to streamline your workloads, such as AI, RPA, and cloud technology. These platforms help increase your productivity and growth.
5 Drawbacks of Outsourcing E-commerce Business Processes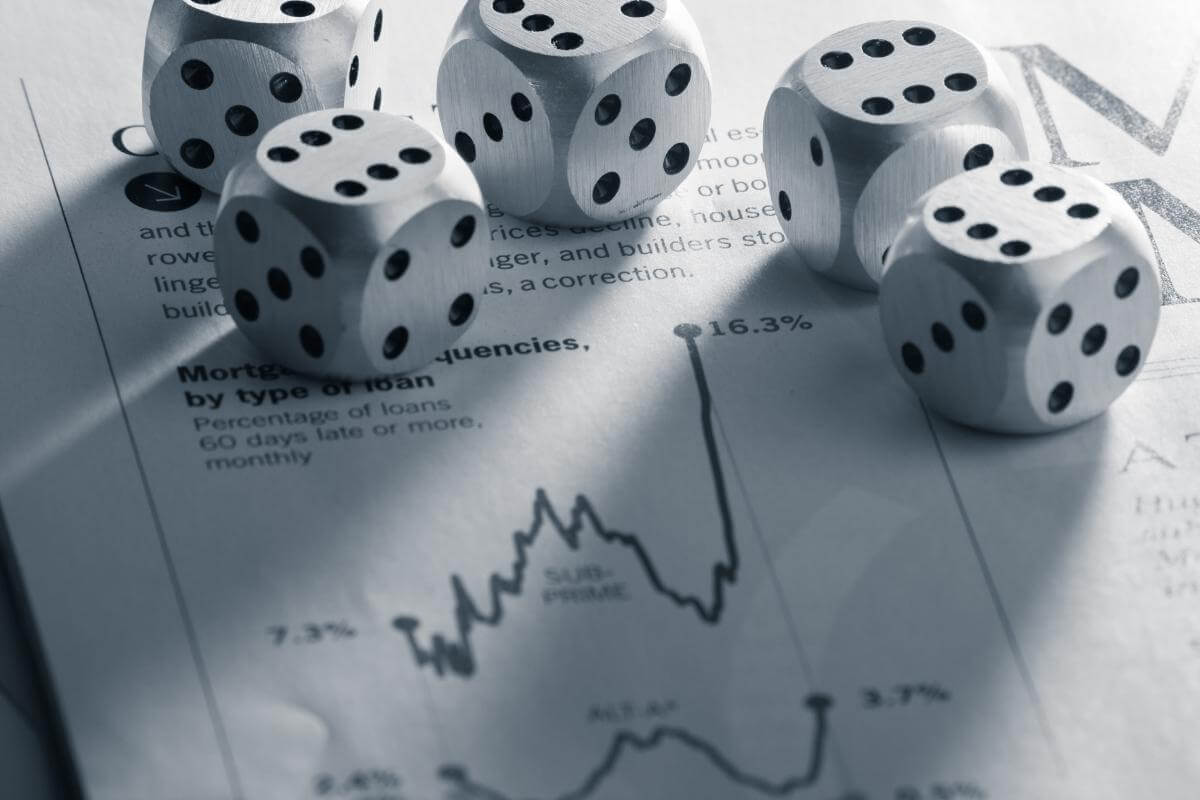 Remember that e-commerce outsourcing services do not always produce positive outcomes. You will still experience issues if you do not monitor your outsourced services properly.
1. Less Quality Control
Though rare, you can lose the quality of your products and services when outsourcing to a third-party provider. Sometimes the desire to accelerate tasks results in lower-quality products and services. Also, you cannot constantly monitor your outsourced tasks because you must prioritize your business development efforts.
2. Overlooked Hidden Costs
You can unknowingly pay more than your agreed rates with your outsourcing contractor because of some hidden fees. These costs may come in the form of conversion rates and payment options. If you do not carefully examine the contract terms with your third-party provider, you might overlook these hidden charges.
3. Data Privacy and Security Threats
You can still encounter threats to data privacy and protection if you do not select the right partner with strict security policies. Moreover, you will face breaches and hacks if you do not set your boundaries clearly with your outsourcing partner. 
4. Lack of Flexibility
You can experience a lack of flexibility in outsourcing your e-commerce business processes because of agreed contract terms with your third-party provider. You cannot quickly implement changes to your management due to the risk of contract breach. Thus, you need to consult your planned upgrades with your outsourcing partner before implementing them.
5. Unreliable Communications
Due to varied time zones, technical challenges, and language differences, you can struggle to establish regular communications with your third-party provider. If you do not choose an outsourcing partner that can accommodate these issues, you will continue to face difficulty connecting and engaging with each other.
Characteristics of a Good E-commerce Service Provider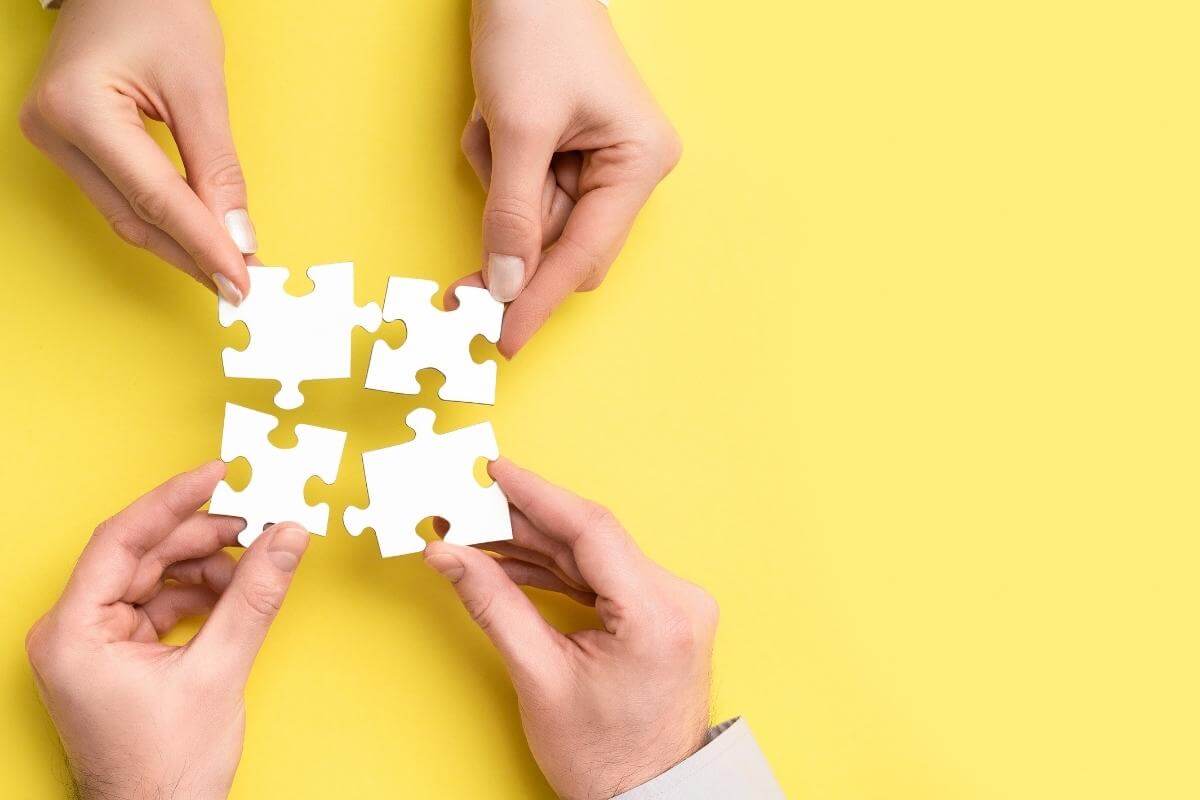 Now that you know the advantages and disadvantages of investing in e-commerce outsourcing services, you should explore ways to look for the right third-party provider. 
According to the latest data from TeamStage, 37% of employees rate teamwork and collaboration as very important company elements that create loyalty and a desire to stay with the company. Therefore, you should pick your outsourcing partner who can match your work ethics, strategies, and goals.
Consider these characteristics for choosing a good e-commerce service provider.
Experience and Reputation
Look for an outsourcing partner with a wide range of experience providing specific e-commerce business processes at affordable costs. The third-party service provider should also have a good reputation in the industry. These factors are essential to ensure that you will receive excellent service while generating savings.
Commitment to Quality Service Delivery
Select an outsourcing partner that aims to deliver quality output in any form. You and the provider should also have a clear and concrete service level agreement that details the scope of work and quality assurance. In this way, you can ensure that your outsourcing investments will not go to waste.
Flexibility
Choose an outsourcing partner that can be flexible enough to adapt to your changing business landscape. Flexibility is critical to maintaining a long-term relationship with your third-party service provider. After all, it is better to have a long-time partner that can be with your business through ups and downs.
Technical Expertise
Pick an outsourcing partner that has access to the latest technology. The third-party provider should also have employees with deep technical expertise to help escalate workflows. 
Dedicated Management Team
Hire an outsourcing partner that has dedicated teams to handle different projects simultaneously. The provider must clearly delegate tasks among its employees to ensure that projects are accomplished on time.
The Bottom Line
The growing number of people who turn to the e-commerce industry to fulfill their needs results in increased workloads and backlogs for online businesses. Companies acquire e-commerce outsourcing services to ease their business processes to accommodate increased demand. 
Tapping outsourced skilled professionals helps your e-commerce business increase savings and efficiency while prioritizing your core functions. However, streamlining your work also means lower quality control risks, security threats, and overlooked hidden fees. Hence, you need to look for a reliable partner with a good reputation, a dedicated workforce, and a commitment to quality service. 
If you want an excellent e-commerce service provider, Unity Communications is right around the corner. Visit its website to start your long-term relationship now.