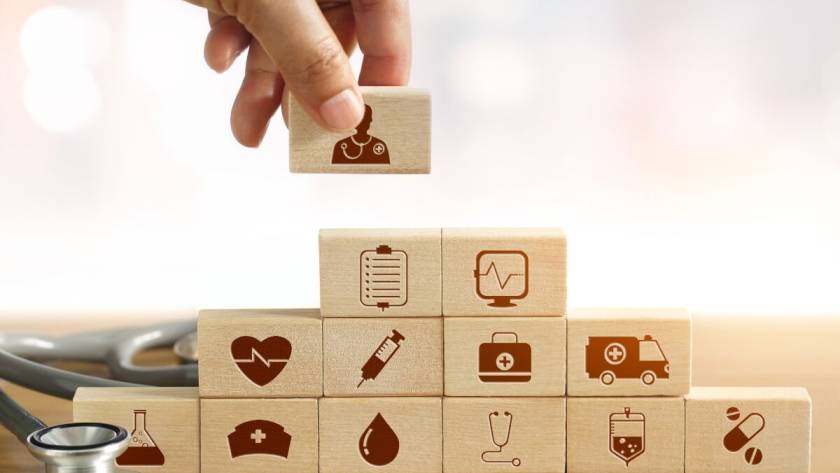 Written by Allie Delos Santos
The medical and healthcare industries are pivotal to society. Healthcare organizations attend to patients round-the-clock and are subject to many compliance standards from insurance companies and government institutions. They require as much help as they provide. That's why healthcare BPO exists.
This comprehensive guide to healthcare outsourcing defines medical business process outsourcing (BPO) and outlines its history. It also enumerates common services you can outsource, along with their benefits. Lastly, it offers tips for partnering with a service provider.
Let's start.
What Is Healthcare BPO?

Healthcare business process outsourcing involves delegating non-urgent or non-clinical functions to an outside provider. Incorporating BPO solutions lets hospitals expedite task completion, reduce costs, and simplify operations.
Brief History of Medical Outsourcing
Outsourcing is not a new concept in medicine. Many healthcare organizations hire contractors to handle utility maintenance, janitorial services, and other tasks needed to run a hospital. But because of the sector's high touch and segmented nature, healthcare is the last industry to use BPO for client-facing functions.
The growth of medical outsourcing began when clinics and hospitals started using technology to maintain patient records. Since then, healthcare BPO has slowly become a common strategy to improve service delivery and profitability.
The U.S. healthcare outsourcing market reached nearly $53 billion in 2020. It is projected to grow to $66 billion by 2025.
What Is the Current Biggest Driver of Outsourcing in Medicine?
Telehealth is the biggest driver of outsourcing in medicine. It is one of the most important functions outsourced today.
Telehealth involves providing non-urgent healthcare services such as diagnosis, consultation, and triage remotely. It is beneficial because it:
Prevents the spread of infectious diseases

Promotes safety and convenience to healthcare providers and patients

Reduces medical service costs

Helps hospitals and clinics comply with the guidelines set by regulatory organizations.

Improves overall delivery of healthcare

Preserves limited personal protective equipment

Restricts the use of medical facilities to urgent and crucial cases

Expands patients' access to behavioral and specialty health services
Since the pandemic, telehealth has been one of the most influential trends in medicine. A McKinsey report states that:
The overall telehealth use increased 78 times between February 2020 and April 2020.

Capital investments in virtual medicine were three times higher in 2020 than in 2017.

Telehealth utilization was 38 times higher in 2022 than pre-pandemic.

Telehealth is here to stay because it receives more positive feedback from patients and healthcare providers. 

About 84% of doctors offered virtual consultations as of April 2021, and more than half want to continue doing so.

Some 40% of patients will continue using the alternative.
Common BPO Healthcare Services To Outsource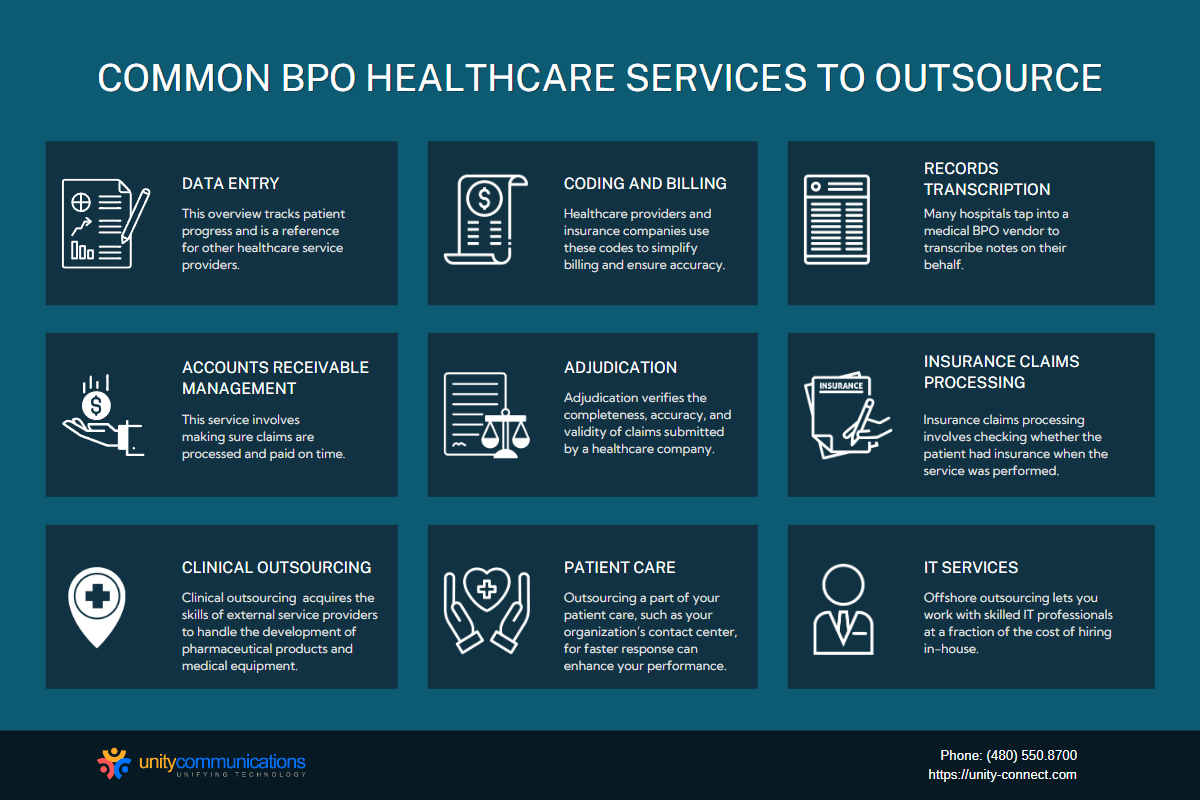 Hospitals can acquire various healthcare BPO services, which can be both clinical and non-clinical. Conducting a needs assessment is necessary to identify what you need to outsource. This way, organizations have more confidence in their investment decisions.
A word of advice: Consider outsourcing first those processes in which you have little expertise or knowledge, but keep your specialization in-house. Non-clinical functions that require technical expertise include information technology (IT), provider training, and administrative tasks. 
Remember that your patient's health and experience come before everything else. Efforts that improve patient well-being are the core focus of your business. Healthcare outsourcing should supplement your current services and fill in gaps in your organization.
Below is a helpful guide to healthcare outsourcing services.
Data Entry
Data is crucial in medicine. Doctors and other healthcare professionals use patient information to diagnose and treat symptoms. Further, information guides their recommendations and helps ensure patients stay healthy post-treatment.
Healthcare data entry involves collating all patient information to establish their medical history. This overview tracks patient progress and is a reference for other healthcare service providers. Patient information includes:
Medical history

Personal patient information

Surgery records

Specimen information
Coding and Billing
Medical coding involves transforming doctors' diagnoses and notes into numeric and alphanumeric codes. Healthcare providers and insurance companies use these codes to simplify billing and ensure accuracy. A different code is designated for each service and treatment, equivalent to a certain fee.
Medical billing is a standard payment practice in the U.S. healthcare system. It is the process of collecting payments for various medical services such as tests, consultations, and treatments. Billers submit medical invoices to health insurance providers, but they also send these to patients directly.
Records Transcription
Health professionals frequently do not have time to manage paperwork. Hence, they often record medical reports and diagnoses as audio files in real-time and transcribe them later. The written format is a useful reference that doctors can share with other physicians.
Some of the transcribed documents include:
Surgery notes

Clinical summaries

Physician's findings
Hiring an in-house assistant to transcribe notes is expensive. Some healthcare providers even resort to transcribing at the end of their shift due to the cost. This puts the records at risk of errors. The extra workload can lead to burnout for the affected doctors. 
To avoid such scenarios, many hospitals tap into a medical BPO vendor to transcribe notes on their behalf.
Accounts Receivable Management
Complex reforms in the U.S. healthcare system make payment processing a challenge. This is why medical companies engage in BPO for accounts receivable management.
This service involves making sure claims are processed and paid on time. Healthcare outsourcing vendors help organizations achieve a healthy cash flow by reducing unprocessed claims.
Adjudication
Adjudication involves identifying an insurance provider's financial responsibility to a healthcare company based on its patient's coverage. Insurers often hire medical BPO firms to perform this function.
Adjudication verifies the completeness, accuracy, and validity of claims submitted by a healthcare company. Insurance providers use adjudication reports to corroborate whether claims shall be denied, returned for revision, or paid.
Insurance Claims Processing
Insurance claims processing involves checking whether the individual processes mentioned above are performed correctly and on time to avoid payment denials or delays. It also involves the following steps:
Making sure there are no fraudulent claims

Checking whether the patient had insurance when the service was performed

Verifying whether the procedure was necessary and eligible for insurance coverage

Negotiating the cost that the insurer shall pay

Performing an in-network review
Adjudication can take a long time due to inaccuracies in submitted claims. Even minor errors, such as misspelled names, cause delays in processing claims. The worst-case scenario is that mistakes lead to denials.
Outsourcing claims processing is like having an expert coordinator on your team. They walk you through and simplify the tedious process involved in the process. Therefore, many companies turn to BPO providers for insurance claims processing.
Clinical Outsourcing
Clinical outsourcing means acquiring the skills of external service providers to handle the development of pharmaceutical products and medical equipment. Some common clinical outsourcing services delegated to BPO vendors are R&D, testing, and marketing.
Biopharma companies tap into outside contractors to keep the high cost of developing new drugs under control and simplify complex processes. The latest reports show that the average cost of bringing new drugs into the market is $2.6 billion. The number might increase for the treatment of understudied and novel diseases.
Patient Care
Excellent customer service leaves a lasting positive impact on your company's bottom line. Similarly, a good patient experience also improves your image and cash flow.
Outsourcing a part of your patient care, such as your organization's contact center, for faster response can enhance your performance. Most patients expect healthcare companies to engage with them in real-time.
The demand for immediate response is growing. Stand out from the competition by capitalizing on outsourced contact centers and omnichannel support.
IT Services
Outdated systems are the bane of the seamless delivery of modern healthcare services. They slow down your process and limit you from offering an exceptional patient experience. Plus, old systems are a risk to data security and privacy.
Consider exploring outsourced services if you struggle to embrace digital transformation due to an insufficient budget, a lack of expertise and IT understaffing. Offshore outsourcing lets you work with skilled IT professionals at a fraction of the cost of hiring in-house.
When Is It Ideal to Outsource Back-office Medical Services?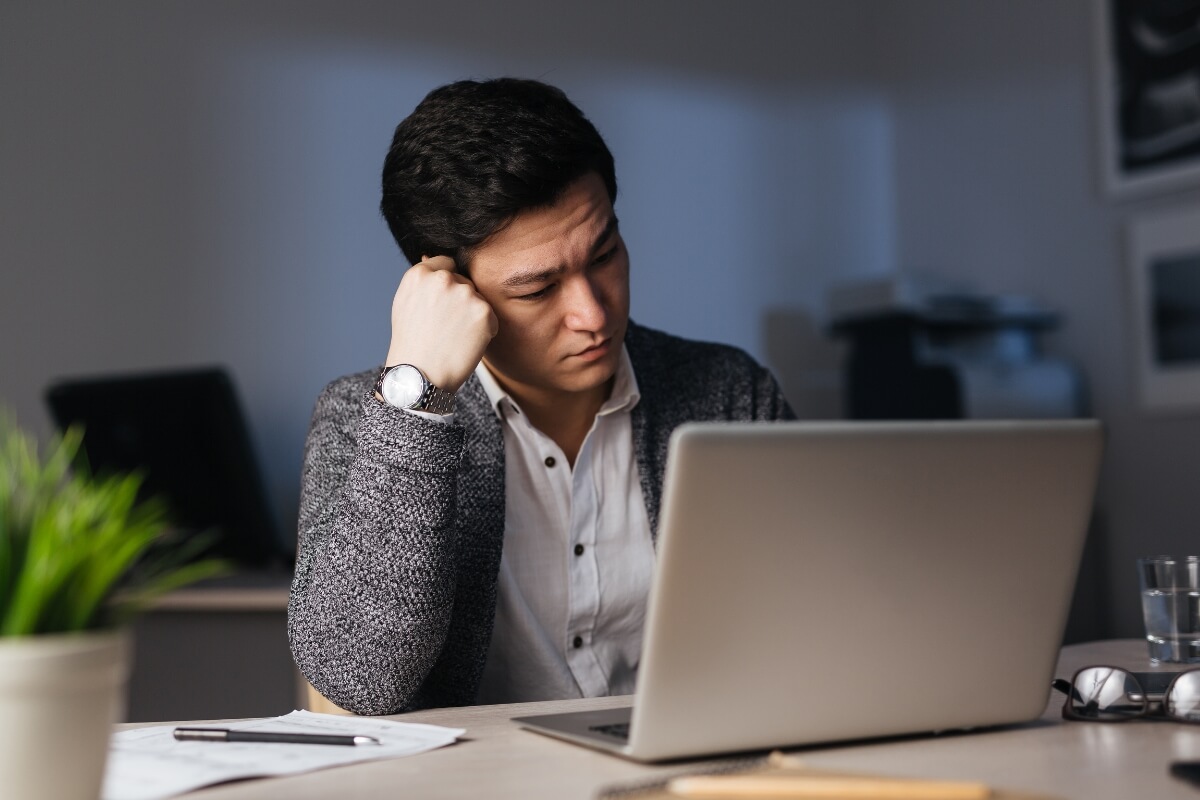 If you wonder when is the best time to outsource, try answering the questions below. If you answer a definite yes to most or all of the questions, then healthcare BPO is a good fit for your company.
Do your medical staff spend too much time on administrative work?

Do you need help improving medical delivery?

Are you struggling to fill vacancies in your facility?

Do you want to cut costs?

Do you need help strategizing and implementing digital transformation?

Do you have risk mitigation plans to ensure data privacy?

Will you conduct your due diligence before outsourcing?
It's critical that you do your due diligence before outsourcing. Look at comprehensive guides to healthcare outsourcing to determine whether it is the right choice for you.
Cost of Outsourced Healthcare Services
The cost of medical BPO services depends on the provider. Outsourcing location also affects the total price.
Offshore outsourcing is more cost-effective due to low labor costs. Nearshoring or onshoring does not produce significant cost savings because they comply with the basic salary rates in your jurisdiction.
Additionally, here are more factors that determine the final cost of healthcare outsourcing:
Number of staff

The expertise of healthcare workers

Services you need

Length of contract

Full-time equivalent (FTE)

Additional features (software upgrades or business continuity options)
Why Should You Consider Healthcare BPO?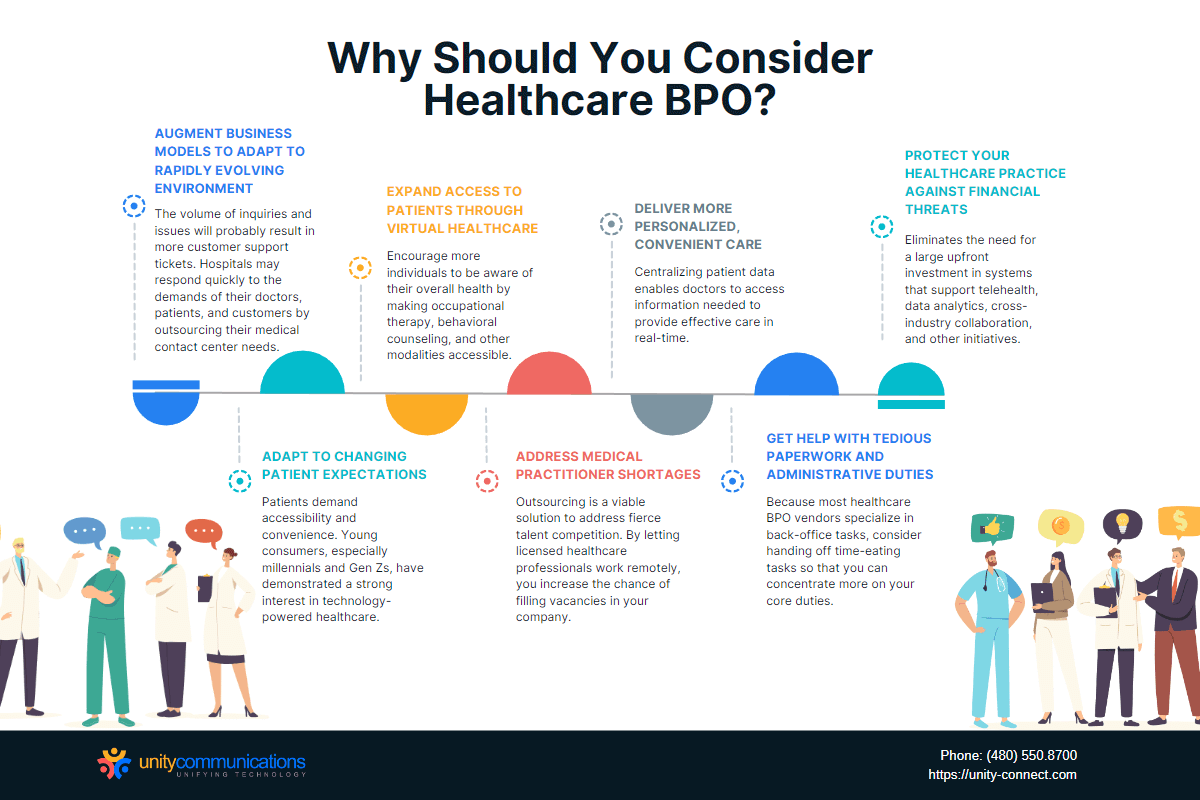 Hospitals should consider BPO due to financial uncertainty. Some healthcare organizations do not earn enough revenue to cover their operating expenses. They also have to consider the rising cost of labor expenses due to workforce shortages.
Below is an explanation of the specific benefits of healthcare outsourcing.
Augment Business Models To Adapt to Rapidly Evolving Environment
The problems of medical equipment and personnel shortages, congestion, and high service fees are long familiar in the healthcare industry. The pandemic was a significant turning point for the global sector to reinvent. Thus, the new goal is to move toward a smarter healthcare future that is patient-centric, digitally empowered, and capable of generating higher returns.
Understanding the immense role technology plays in revolutionizing the medical environment drives stakeholders and industry leaders to take a necessary leap:
Venture capital investment for telehealth reached $14 billion.

The global telemedicine market will grow up to $460 billion by 2030.

Remote patient monitoring will reach $31 billion by 2023 and $85 billion by 2026.
However, only a small percentage of medical organizations can meet the intelligence and infrastructure needs of innovative business models. Healthcare BPO helps companies and stakeholders address the challenges and opportunities of the new medical ecosystem.
The healthcare BPO industry has long invested in modern technologies and analytical tools necessary to manage various functions remotely. Healthcare outsourcing solutions that will become an inherent part of the new ecosystem include data analytics, software development, financial management, and help desk services.
Moreover, many patients and healthcare providers must familiarize themselves with new setups. Customer support tickets will likely increase as questions and concerns pour in. With medical contact center outsourcing, hospitals can respond immediately to the needs of their providers, patients, and consumers.
Expand Access to Patients Through Virtual Healthcare
Healthcare outsourcing easily integrates virtual medicine into practice. It makes multidisciplinary patient services available to more people. The affordability and convenience of the service help:
Encourage more individuals to be aware of their overall health by making occupational therapy, behavioral counseling, and other modalities accessible

Expand healthcare access to people with mobility impairment

Broaden medical access to residents of rural and remote areas

Enhance the participation of socially disadvantaged patients

Fill the vacancies for healthcare providers in remote locations
Expanding access to virtual medicine with healthcare outsourcing is a win for practitioners, stakeholders, and patients. The more people use healthcare services, the healthier a society is, and the better the revenue cycle of healthcare organizations.
Deliver More Personalized, Convenient Care
The healthcare environment promises to be more patient-centric as it becomes more digital. Outsourcing allows you to address current pain points that providers and patients face. Here's how:
Automated processes let healthcare providers deliver fast and frictionless patient support.

Outsource-friendliness of the new healthcare ecosystem promotes affordable medical services.

Remote solutions eliminate the need to travel for non-clinical care.

Patients have access to healthcare on demand.

Centralizing patient data enables doctors to access information needed to provide effective care in real-time.

Data centralization removes silos that hamper collaborative, cross-organizational, and end-to-end services.

Data analytics help physicians predict treatment success better and improve patient outcomes.
Protect Your Healthcare Practice Against Financial Threats
Bouncing back from the financial strain brought on by the pandemic to the medical industry is difficult. Industry analysts and experts expect a less positive financial future for the healthcare sector over the next few years. Here are some reasons why:
Hospitals incurred an estimated loss of $323 billion in 2020.

The rise of unemployment led to the loss of employer-sponsored insurance for many organizations.
Healthcare outsourcing is one-way companies can recover from long-term financial strain. Medical BPO services provide organizations access to the requisites of digital transformation, such as engagement, intelligence, and infrastructure. They manage this at a lower cost by:
Transforming variable costs into fixed costs

Reducing operating expenses by up to 70%

Leveraging the offshore market to reduce staffing costs

Removing the need to make an upfront investment in systems that promote cross-industry collaboration, telehealth, data analytics, and more
Adapt to Changing Patient Expectations
Patients demand accessibility and convenience. Young consumers, especially millennials and Gen Zs, have demonstrated a strong interest in technology-powered healthcare.
But many providers focus more on industry needs than patient needs.
A cost-effective way to meet patient expectations is through outsourcing customer service to a reputable BPO provider. Outsourced contact support delivers quality care to remote patients.
Address Medical Practitioner Shortages
Staff shortage is a major challenge for healthcare leaders. The competition for top talent affects companies' operations. How do you fill the job openings in your facility?
Outsourcing is a viable solution to address fierce talent competition. The business approach allows hospitals to hire remote workers. This setup favors individuals who leave the industry due to excessive stress and employee burnout.
By letting licensed healthcare professionals work remotely, you increase the chance of filling vacancies in your company.
Get Help With Tedious Paperwork and Administrative Duties
Paperwork and administrative duties are necessary to collect, store, and analyze pertinent records. However, each minute spent in administrative work is a minute lost from patient care.
Because most healthcare BPO vendors specialize in back-office tasks, consider handing off time-eating tasks so that you can concentrate more on your core duties.
Disadvantages of Healthcare BPO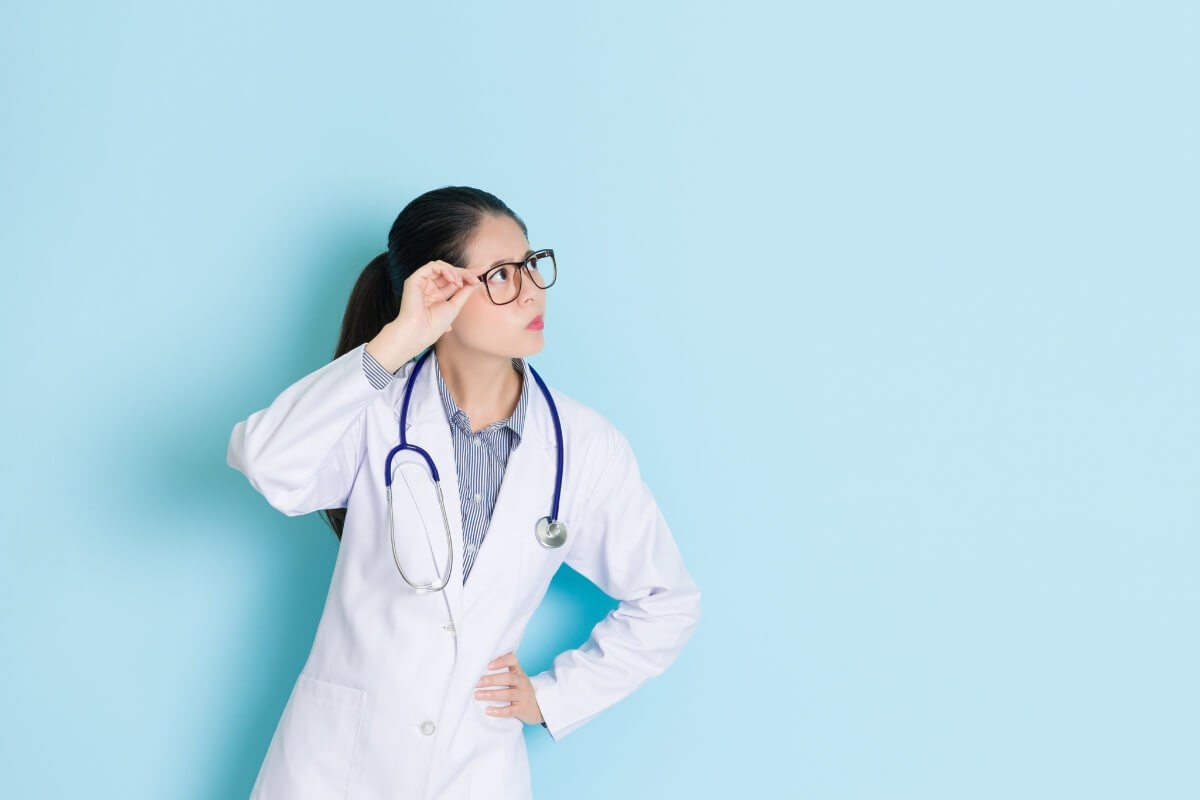 Outsourcing has potential disadvantages, especially when done poorly. Here are some problems you might face with healthcare BPO and solutions to mitigate possible setbacks.
Lost Control Over Outsourced Functions
Outsourcing means you must be willing to let go of certain tasks you delegate. It is not about who has more control over the function; instead, it is about how you guide your service provider to achieve your desired results.
Ensure that all communication lines are open. Make it a habit to inform all parties whenever you encounter an issue. This allows you to act on problems on time and accordingly.
Inconsistent Service Quality
The service quality you get can be inconsistent with what you provide without proper onboarding, training, and handover of tasks.
Avoid this situation by allotting time at the start of your outsourcing engagement. Take your time to train employees. Make sure to inform your service provider about your expectations. Additionally, provide all the required materials (such as playbooks and guidelines) that your contractor must follow so that they will understand what to do.  
Incompatible Platforms
Your technical platforms should integrate seamlessly with your vendor's systems without delay. Check their tools before signing any contract or engagement documents to prevent technical incompatibilities.
Unclear Work Scope
Unclear expectations lead to misunderstandings and an outsourcing nightmare.
You should not let this happen.
Identify minimum performance standards, key performance indicators (KPIs), and processes for evaluating and reporting your service-level agreement (SLA) at the start of the partnership. That way, your service provider knows the outcome they must meet and how they should perform.
Data Security and Privacy Threats
Data breaches are a disaster for medical organizations. It exposes confidential patient information, medical records, and other sensitive data to possible threats.
Each employee who can access sensitive and pertinent patient data is a risk. Bringing an outside contractor into the picture naturally heightens the security and privacy risks. You can mitigate the risk by implementing a strict risk management plan.
Cyber attackers intentionally target the healthcare industry because it is relatively new to employing advanced privacy technologies. The medical system became even more vulnerable to hackers as the pandemic took effect:
The

highest medical data breach took place in June 2021

, when 10,000 or more records encountered 19 data breaches.

Healthcare cyber attacks compromised more than 25 million patient records.

Over half of security breaches are ransomware attacks on various medical organizations, including BPO vendors.
Avoid such catastrophic events by picking a service provider that meets Health Insurance Portability and Accountability Act (HIPAA) regulations and other compliance rules.
The advantages of healthcare BPO still outweigh the disadvantages. Medical outsourcing can address the concerns and risks mentioned above with the right service provider.
What To Look for in a Service Provider?
When searching for a service provider, consider the prospect's track record, experience, data security protocols, and pricing.
Medicine is a complex field, so you must be meticulous when selecting a BPO firm. The right healthcare BPO vendor:
Has access to competent staff with solid experience in healthcare

Shows high ethical standards

Has sufficient experience supporting reputable pharmaceutical, medical, insurance, and other health service companies

Has thorough knowledge of the ins and outs of healthcare, biopharma, and other industries related to medicine

Can adapt to your processes and act as an in-house member of your business

Offers value-added solutions such as customer support, IT, accounting, and management

Maintains open communication and promotes transparency

Capable of creating a diverse team of data scientists to avoid biases when collecting information and training AI

Uses advanced data security processes and software
Outsourcing Healthcare Services: Best Practices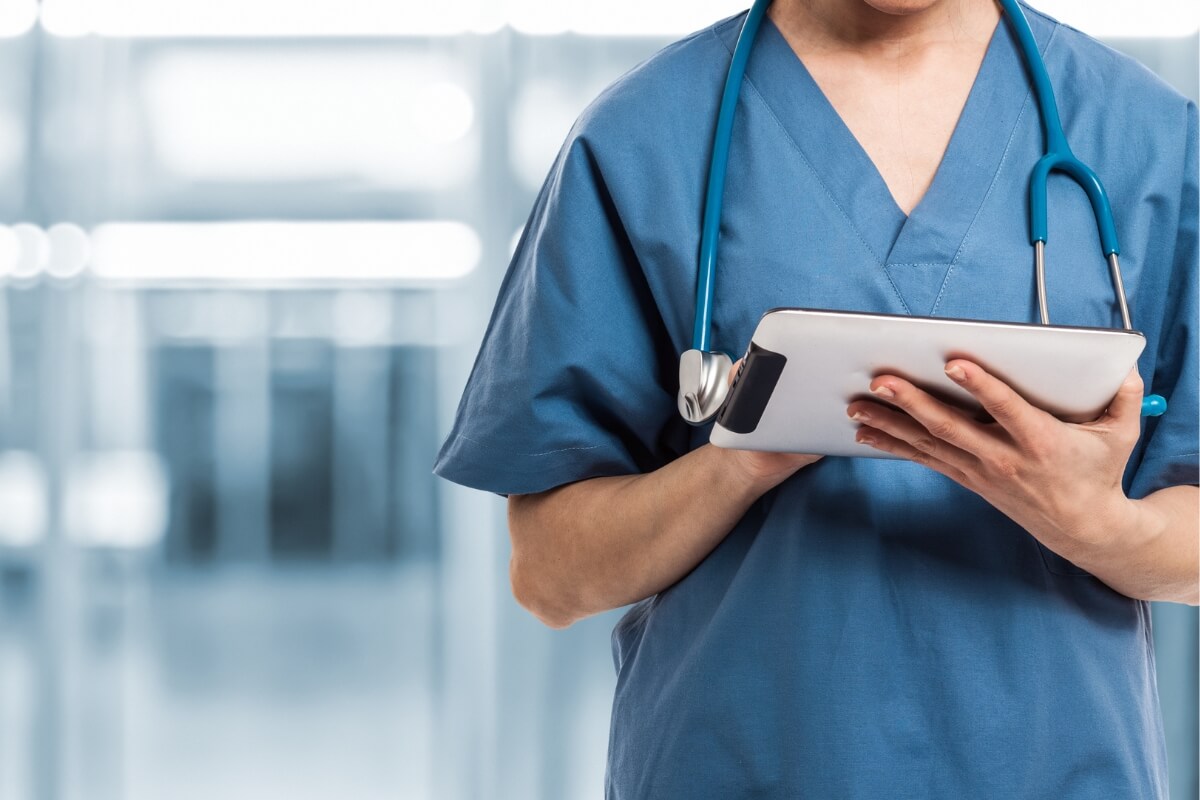 We have here a list of best practices to prevent outsourcing mistakes. These will save you time and protect your business from damaging mistakes.
Outsource the right activities:

Retain functions that make your business unique and define your brand. If you are already an expert in service levels in an area, do not outsource it. Retaining the aspects of your business that patients appreciate the most is crucial.

Pick the right help:

Hiring the right vendor takes time, so resist the urge to choose the first provider you contact. Compare the strengths of various prospects against each other. Take the time to shop around outsourcing websites and select one that specializes in your needs.

Consider feedback and reviews:

Read customer reviews carefully and consider their feedback when weighing one vendor against another.

An expensive company with multiple positive reviews is more worthwhile than a cheaper provider with negative or no feedback.

Interview carefully:

The interview process is a great way to know your potential contract hire better. Talk to a prospect long enough. Ask experience-based questions—suggest a situation and ask how they have managed similar events before.

Take your time during the transition:

Do not rush through your transition process. Your partnership will be more successful if you give your partner more control and delegate the rest based on their performance.

The transition p

eriod ensures things are going well before giving them more responsibilities.
The Bottom Line
Medical BPO involves acquiring the services of third-party vendors for back-office and non-urgent clinical processes such as data entry, medical coding and billing, and customer service. Hospitals enjoy many benefits thanks to these services. 
Medical outsourcing is not without challenges. Just make sure you look for a reliable provider to address your needs and integrate seamlessly.
We hope you find everything you need in this comprehensive guide to healthcare outsourcing. Unity Communications is here to help you take the next step. Schedule a call to discuss your needs and what we can do in detail.