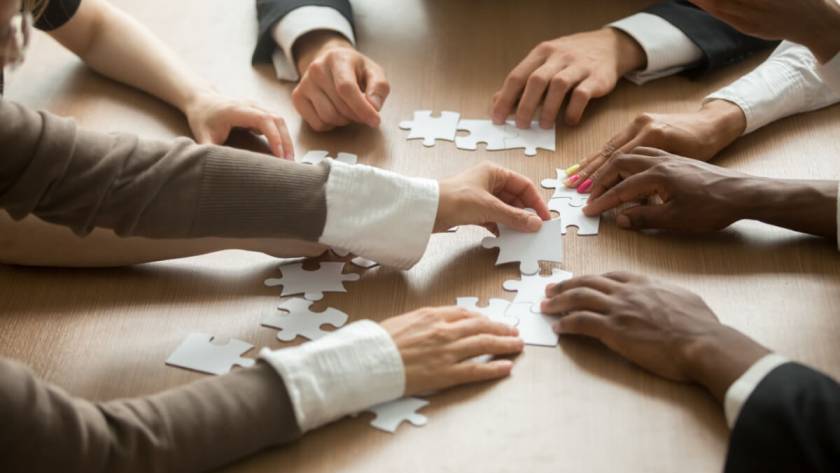 Written by Allie Delos Santos
If you are considering hiring an offshoring provider in the Philippines, you might have already heard of this strategy's many advantages. Without a doubt, outsourcing provides an affordable scheme for organizations to streamline operations and reduce labor costs.
But outsourcing is a double-edged sword. You must also carefully consider the disadvantages to see whether delegating certain activities offshore is a smart move for your business.  
This article discusses the common challenges of offshoring to the Philippines. We also share tips to overcome potential problems.
Challenges of Offshoring to the Philippines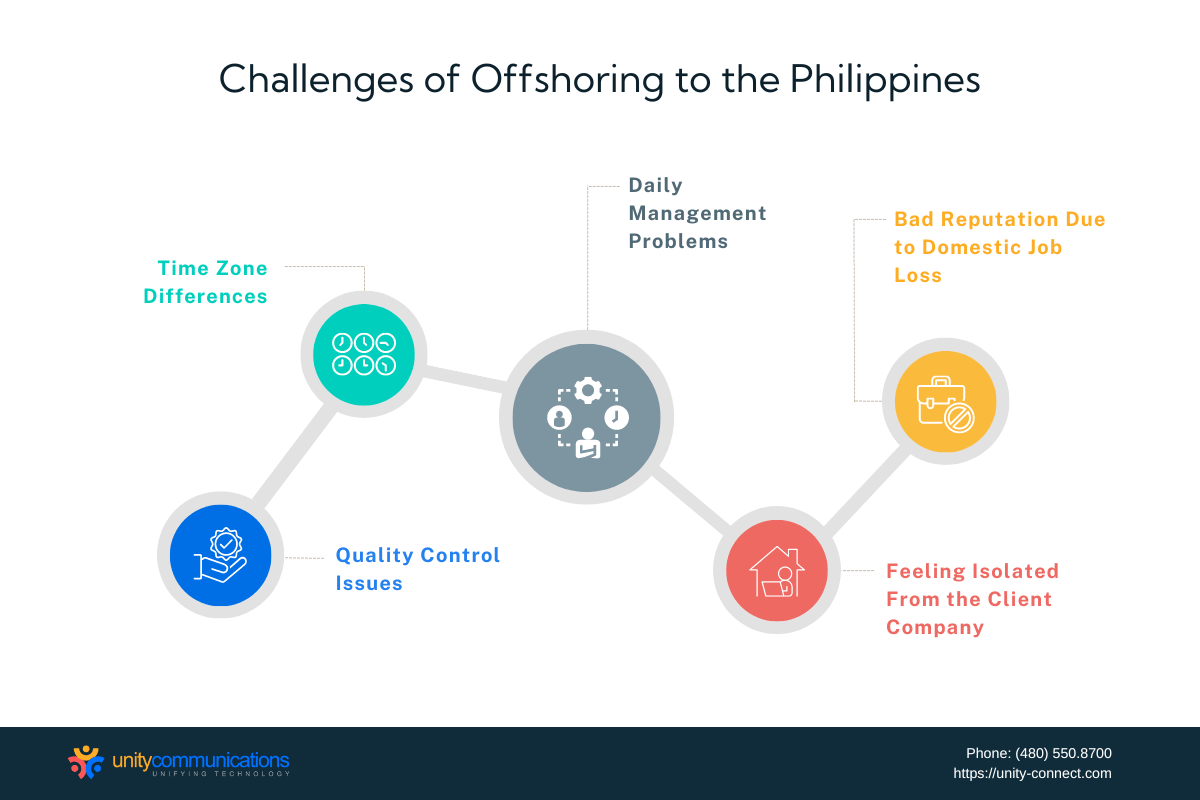 A quick search for good business process outsourcing (BPO) destinations eventually points you to the Philippines, one of the most popular offshoring hubs in the world. The nation has long been a key contributor to the BPO industry. As with all things, however, there are pros and cons.
To help guide your decision, here is a quick list of the challenges you might encounter when offshoring to the Philippines.
Quality Control Issues
Offshore outsourcing of business functions inevitably leads to quality-related issues because the production regulations and conditions in the service provider's country differ from those in your home country.
Despite multiple reminders and instructions, the BPO company's output might be subpar by your standards. The constant delivery of substandard results might lead to a poor customer experience, reduced demand, and costly blunders.
Time Zone Differences
One of the primary perks of outsourcing is that it can cut labor costs by 70%, driving businesses to transfer functions away from their country of operations, such as the U.S., the UK, and Canada. Since the Philippines is a popular destination for these Western clients, the in-house and third-party teams usually work on a five-hour time difference.
Thus, businesses should prepare to have their offshore team on the opposite side of the globe. Challenges might arise even if the BPO team adjusts its schedule to match your time.
Teams with different time zones experience delays in communications and deliverables. For instance, setting up a team meeting with all members present can be challenging.
Moreover, the Philippines also celebrates many holidays, leading to frequent time off. Unplanned project delays may lead to work friction and missed deadlines.
Daily Management Problems
One challenge of offshoring to the Philippines is that the teams are miles apart. Communication issues, language barriers, and cultural differences inevitably lead to management headaches.
Ineffective management contributes to poor productivity. Moreover, progress monitoring is harder. Other direct consequences of this distance include:
Delays.

Late submission of deliverables occurs due to different types of workflow.

Scheduling problems.

Employees might be unaware of the third-party team's agenda and priorities.

Lack of transparency.

Offshore teams get too many or too few details on tasks.

Poor worker performance.

In-house managers might struggle to measure the productivity and efficacy of the offshore staff.
Feeling Isolated From the Client Company
At some point, offshore and remote team members might feel left out of events and specific processes. They might long for a face-to-face element when interacting with the in-house team.
Overseas staff might misunderstand back-office outsourcing tasks assigned via chat, leading to errors and decreased project clarity. Worse, they might get confused with your company's branding and vision. Ultimately, the feeling of detachment from the in-house team can lead to a lack of motivation or burnout.
Bad Reputation Due to Domestic Job Loss
Some customers are opposed to outsourcing. For example, some see technical support outsourcing as draining work opportunities from their local areas. Recently, people have debated the ethics of offshore outsourcing and its effect on the economy.
Hence, you might gain a negative reputation if customers discover you offshore certain functions. It also attracts negative reactions from dissatisfied employees.
Tips for Managing an Offshore Team in the Philippines

The challenges of offshoring to the Philippines are enough to make businesses doubt whether it is a smart move. After all, just because offshore outsourcing is an affordable solution does not make it right for your organization.
Whether you plan to outsource tech solutions, customer service, or other back-office functions, you must clearly understand your challenges before sealing the deal. 
The tips below can help you make the right preparations for your organization.
Solving Quality Problems
The key to solving problems regarding service quality is to team up with a reliable BPO provider with a proven track record. A long history of service guarantees that it can provide first-rate customer experiences, which is crucial for managing client interactions. A poor customer experience hurts a brand's reputation and financial performance.
You must study the service provider's regulations, administration, and business practices. Establish a work process containing regular checks and balances to ensure timely and quality output. Assign a quality control specialist from your in-house team to monitor the offshore workers.
Make sure to inform your BPO partner that failure to deliver on agreements has consequences. Write a service-level agreement (SLA) that specifies the goals it needs to achieve and the repercussions of falling short. You can also incentivize the service provider to meet your quality standards.
Managing Time Zone Differences
Your in-house and offshore teams must have some shared work schedules. Set aside a few hours a day to collaborate on work. Dedicating specific hours for everyone to be "online" and productive allows both parties to coordinate and ensures a smooth workflow.
You can also think of time differences as an asset. For example, your in-house team can begin a task, and the overseas team can continue it during their shift, allowing for 24-hour operation.  Round-the-clock workflow and efficient contact center as a service (CCaaS) solutions make for an empowered customer service unit.
Most Philippine BPO companies also operate on a schedule that benefits their clients. They do not mind working the night shift, so the risk of business disruption is small.
Fighting Operational Issues
The right technology solves any operational issue. Whether managing workflow or disseminating information, you can find a tool or software to address your needs. Certain apps help track staff performance; others let employees from different countries collaborate.
When outsourcing, prepare for workflow management ahead of time. Use a project management tool such as Trello or Asana. Deploy a time-tracking system to monitor the idle hours of workers, track schedules and shifts, and automatically generate productivity reports.
Overcoming Detachment From the Other Team
Since branding is vital to securing your reputation, you do not want to see problems with inclusivity in contractors' feedback. Avoid an "us vs. them" mentality and make all staff members feel at ease when working together. When you celebrate diversity and create an inclusive workplace, morale increases, and workers are motivated to reach their full potential.
Another way to handle detachment is to share your project vision with the offshore team. Whether it be data entry services or customer service, the remote staff must understand your goal to empower them to think outside the box and make smart choices at work. Knowing the project objective and upcoming work items helps the third-party team focus on the long term.
Finally, use videoconferencing apps to add a human touch during meetings. Video calls help you determine workers' moods and prevent feelings of isolation.
Acknowledging Bad Reputation
The first thing to do is to acknowledge that the public's concern is valid and authentic. Do not take their worries lightly or dismiss them altogether.
Reach out to employees and critics to discuss why offshore outsourcing benefits you and the Philippine service provider. For example, the BPO industry contributes about $29 billion to the nation's economy and provides opportunities to 1.4 million Filipino workers.
But you must tread lightly if employees lose their jobs due to offshoring. You might want to consider compensating them more or rehabilitating them in your organization.
The Bottom Line
Inevitable challenges arise when offshoring to the Philippines. Communication and collaboration become tricky when team members are not under the same roof or trained by the same organization in person.
You can overcome these difficulties in many ways. Build a strong bond with open communication through careful planning. Also, be open to different management styles to get the most out of your offshore team. If you do it right, you can guarantee a highly productive and engaged team.