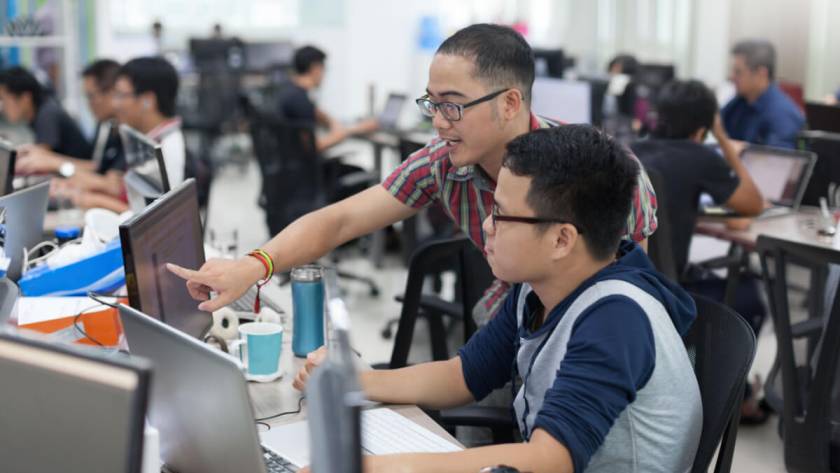 Written by Allie Delos Santos
Running and maintaining a business are no easy feat. As your organization grows, so do the problems that come with it. You might encounter issues adapting to rapid technological developments, inflation, and labor shortages. Hence, you should constantly seek ways to improve operations.
Outsourcing to the Philippines is a strategic way to leverage your business potential. However, working with an offshoring provider in the Philippines can have possible drawbacks for your business, from security risks to communication delays.
This article explores the common advantages and disadvantages of outsourcing to the Philippines.
Seven Advantages of Outsourcing to the Philippines
A quick online search for popular offshore outsourcing locations leads you to the Philippines, one of the world's top business process outsourcing (BPO) destinations. The country has been a significant player in the outsourcing sector for the last three decades, especially in customer support, contact center as a service (CCaaS), and back-office services.
As with any business decision, offshore outsourcing comes with pros and cons. You must analyze them to know whether outsourcing makes sense for your company. For many businesses, the advantages outweigh the disadvantages of outsourcing to the Philippines.
Here are some reasons you should consider outsourcing to the Philippines:
1. Language Proficiency
One of the biggest reasons BPO clients prefer to outsource to the Philippines is Filipinos' excellent command of the English language. In 2022, the Philippines scored 578 on the EF English Proficiency Index, ranking 22nd globally and second  in Asia. This score indicates that the Philippines is highly proficient in English.
Filipinos' excellent English skills are due to their exposure to American TV shows, movies, and music. Filipinos also have a close U.S. accent, so customers hardly notice that the agent they are speaking to is from the Philippines. Filipino agents have no trouble interacting with foreign nationals.
Since English is the common language used in the corporate world and the language with the most speakers, many BPO clients seek Filipino professionals.
2. Cultural and Professional Similarities
One advantage of working with Filipino offshore teams is their cultural harmony with Western countries. A U.S. company has no problem collaborating with service providers in the Philippines due to their similar cultures.
Moreover, one can find many professional similarities between the United States and the Philippines. For one, their education systems are very similar. They have similar legal processes and procedures. Filipino certified public accountants (CPAs) and other professionals also undergo the same education and training as Americans.
Below are other noteworthy points:
The two countries exchange around $27 billion worth of goods and services.

The Philippines is a major supplier of semiconductor materials to the U.S.

The U.S. is one of the largest foreign investors in the Philippines.

The U.S. is also the third-largest trading partner of the Philippines, thanks to the bilateral agreement signed in 1989.
3. Strong Government Support
The Philippine government continues to support the local BPO industry, knowing its contribution to the economy. The country is home to over 800 BPO companies, holding 10% to 15% of the world's outsourcing market. Outsourcing is the nation's largest contributor to its gross domestic product (GDP), providing $30 billion annually.
The Department of Information and Communications Technology (DICT) plans to strengthen collaboration with BPO companies nationwide. The department also passed a law providing Filipino BPO workers with protection and security of tenure. 
In addition, outsourcing providers reward workers with sufficient compensation and benefits packages, such as housing, health insurance, and social security payments. The strong company and government support encourage more workers to join the industry.
4. High Literacy Rate
Another critical trait that mitigates the disadvantages of outsourcing to the Philippines is Filipinos' high literacy rate. Aside from being excellent English speakers, Filipinos are trainable and have one of the highest literacy rates in the world. The current literacy rate in the country is 99.27%.
Furthermore, Filipinos are innately hospitable and friendly, which makes them ideal for contact center functions. They can maintain tact and patience despite fielding numerous tickets in a day. Customers who visit your business for assistance can immediately notice and appreciate a Filipino agent's natural ability to put others at ease.
Lastly, the Philippines has a young demographic that is more inclined to learn about the new technology necessary in the BPO industry.
5. Cost Efficiency Coupled With Quality
Although price is important, it is not the only focus of outsourcing. Choosing the cheapest provider might do more harm than good by sacrificing quality for cost savings. Therefore, look for value for money when outsourcing.
This mindset leads various companies to the Philippines. While not the cheapest outsourcing destination, the Philippines has affordable BPO service charges. 
Compared to other BPO locations, the Philippines has the right balance of English proficiency, cultural affinity with the West, technical prowess, and affordability. Client companies also cannot deny the value and quality of the work of Filipinos.
6. Improved Productivity Level
Businesses that offshore processes find that back-office outsourcing streamlines operations and improves overall productivity. The in-house team can focus more on core competencies instead of dividing their time between less important functions.
Working with Philippine BPO companies also improves document accountability and accessibility due to the reduced workload in the home office. Companies save on support staff, office rental, and capital expenditures, which they can allocate to improving work processes.
7. Streamlined Recruitment Process
Onboarding recruits take a long time and drains essential resources. Instead of wasting time and money on hiring and training, why not work with a BPO team in the Philippines and allocate the rest of your savings to growing the business?
Landing the best candidate is incredibly challenging with the labor shortage. An outsourcing partner takes away the stress of finding qualified talent, interviewing them individually, and training and onboarding those hired.
Filipinos are ready for most BPO work, so training them is easy. Their natural aptitude increases their value as potential team members. You must provide the necessary training modules and materials; the service provider handles the rest.
Six Disadvantages of Outsourcing to the Philippines and How to Manage Them
If done properly, outsourcing to the Philippines can be a game changer. The benefits are low costs, highly educated English-speaking staff, and increased productivity, which can help you grow significantly.
But business process outsourcing comes with inevitable challenges that can put your company at risk. The most important thing is to arm yourself with facts and prepare for possible issues.
That said, let us discuss the potential disadvantages of outsourcing to the Philippines and how you can address them.
1. Little to No Control Over Team Functions and Structure
With an offshore BPO partner, you have limited control over task distribution or the structure of the remote team. Retaining staff is also a problem. The account manager or team leader has full control over moving team members around.
This becomes a problem for the following reasons: 
The staff member you communicate with might be transferred to another project or account.

Your offshore team leader might suddenly quit or leave the company.

Naturally, you worry about the implication of this change to your project because you are unaware of the new staff's capabilities.

You must also build rapport with the new staff member just when you and the previous team leader have established a working relationship.
How to ensure control over team structure:
Opt for a dedicated team model to create your team structure and decide the function of each member. With this arrangement, you can select the number of staff members you need and their proficiency level and build your desired team.
The dedicated team model prevents the BPO provider from adjusting your team structure and the allocated resources on the project. Managing the offshore team can be as easy as managing your in-house team. Plus, you get to leverage great expertise at a fraction of the cost of an in-house team.
2. Daily Operational Challenges
The daily operational hurdles are one of the disadvantages of outsourcing to the Philippines. The fact that the offshore team is miles away from your company contributes to management issues. Common complaints are communication problems, time differences, and language barriers, all of which hamper productivity levels.
Here are some drawbacks to expect when working with an offshore BPO provider:
Lack of performance assessment.

Team leaders might struggle to measure the productivity of offshore contractors.

Delays in deadlines.

Different work processes might lead to late delivery.

Misalignment of schedules.

Teams might struggle to schedule meetings and collaborate without knowing the other department's status.
How to solve operating challenges
Companies engaged in offshore outsourcing must prepare for human resource management problems. The easiest way to address this issue is by using the right tools.
Nowadays, an app is almost always available for every business need, whether to disseminate information or manage workflow. Find a tool that supports long-distance collaboration or tracks worker performance. A productivity tool can help you overcome management challenges by:
Tracking all productive hours;

Keeping a record of worker schedules and shifts;

Receiving detailed productivity reports on offshore staff;

Monitoring the remote team with ease; and

Connecting your payroll software for a smoother payment process.
3. Lack of Control Over Shared Resources
Sharing resources is a requirement for all outsourced services. You must be prepared to share proprietary business knowledge, especially when you outsource tech solutions.
Traditionally, companies draft an airtight contract, thinking it is sufficient to prevent unauthorized sharing or use of private resources. This is one of the disadvantages of outsourcing to the Philippines. Because the third-party team works on the other side of the world, you are less able to control the movement of resources.
Moreover, tracking data leakage is difficult, if not impossible. The information leak might cause damage before you can detect it. The problem worsens if you are handling data protected by privacy regulations.
Imagine how severe the impact would be to your organization if your external team caused a data breach, whether by mistake or by design.
How to prevent data from leaking:
Draft a white-label contract with strict terms for a non-disclosure agreement (NDA) and have your BPO partner sign it.
Moreover, check the security status of your service provider before finalizing the agreement. If your business is in the healthcare space, does your BPO partner comply with the Health Insurance Portability and Accountability Act of 1996 (HIPAA)? Do they have certification from the International Organization for Standardization (ISO)?
Finally, hiring a dedicated team is the best way to ensure security when outsourcing. This way, you are fully aware of your team structure and can identify your project's resources. A dedicated external team offers you the same reassurance and transparency as internal staff.
4. Negative Reputation Due to Job Loss
Offshore outsourcing is generally frowned upon by many. So one of the disadvantages of outsourcing to the Philippines is the potential backlash.
Some believe offshoring drains work opportunities from their home country to other countries. Customers and employees have debated the negative impacts of offshoring business functions amid economic uncertainty.
Companies that outsource multiple jobs might encounter employee dissatisfaction and attract negative press.
How to manage a negative image due to job loss:
You first need to acknowledge people's fear of job loss. Contact employees and critics to inform them about your reason for offshoring. Help them see the advantages and why the decision benefits both parties.
Moreover, you must be careful with how you handle domestic job losses. Consider rehabilitating employees in your organization or compensating them fairly.
5. Hidden Charges Leading to Overcharging
The management style of your BPO collaborator might lack the flexibility or scalability to make mid-project adjustments. This approach has a major difference in value from traditional outsourcing agreements. Potential problems that might arise from this inability include:
Small potential for retraining or upskilling talent

Teams remaining top-heavy to increase billables by sacrificing agility
For example, when you outsource data entry services, the service provider might insist that a seemingly unnecessary price hike is a must to acquire additional human resources for your project.
You are in a tight position to negotiate due to your lack of knowledge about the hiring regulations in their country or control over the structure. This is one of the hidden disadvantages of outsourcing to the Philippines.
How to avoid overcharging:
Choosing a BPO partner that guarantees scalable solutions is the best way to prevent this. Research a service provider thoroughly before signing a contract. Speak to their previous clients to understand their experience working with your potential collaborator.
The traditional project-based or fixed-price outsourcing approach does not allow for adjustments once the project begins. Hence, it is best to use a dedicated team model, where you can adjust project priorities, change the scope, and oversee the offshore staff and resources based on your business priorities.
6. Lack of Visibility
You have little to no access to the day-to-day activities of your offshore team, which is one of the disadvantages of outsourcing to the Philippines. You might notice that project completion is slower than usual.
In that case, you can voice your concern and ask for an explanation, but you shall be pressured to accept the vendor's explanation. Figuring out what is wrong is difficult without visibility in daily operations.
How to improve operational visibility:
Depending on the nature of your project, you might need to monitor daily work progress. Otherwise, you might encounter problems such as deflection from the project scope or delayed timelines. Here are some action plans you can make:
Pick a transparent vendor with a reliable track record.

Use appropriate communication channels.

Maintain constant communication.

Make sure offshore team leaders stay active.

Request regular meetings and constant updates with project managers.

Establish a process review.
Outsourcing to the Philippines vs. Other Countries
Now that you know the advantages and disadvantages of outsourcing to the Philippines, you should also consider how the country stands against other BPO destinations. Filipinos are known for their excellent call center skills, while India is the go-to for information technology (IT) services and technical support outsourcing.
Knowing each location's strengths and weaknesses gives you a more holistic idea. Here are some points about outsourcing to the Philippines versus other countries.
Country
Philippines
India
China
Thailand
Vietnam
Types of Outsourcing Offered

Contact center services

Back-office services

Data transcription

Software development

Animation

IT services

Human resources

Accounting and payroll

Software development

 

Business process outsourcing (BPO)

Information technology outsourcing (ITO)

Knowledge process outsourcing (KPO)

Manufacturing

IT management

Payroll management

Human resource

Manufacturing

Financial Accounting

Software development

Accounting and finance

Customer service

Human resource

Strengths

Excellent English skills

High literacy rate

Strong data protection laws

Helpful government policies

Low labor costs

Large Talent pool

High English proficiency

Fast-growing economy

Innovation capabilities

Helpful government policies

Growing IT infrastructure

Expanding economic freedom

Incentives for private investment

Emerging middle class

Highly skilled population

Stable and fast economic growth

Average Salary

$3,218 per year

$428.49 per month

$4,534 per month

$2,904 per month

$277 per month
The Bottom Line
After knowing the advantages and disadvantages of outsourcing to the Philippines, keep in mind that it might not work for everyone. Generally, working with Filipino BPO providers is a gratifying experience for business owners and staff involved. They quickly realize third-party teams are as qualified and valuable as in-house teams.
A successful outsourcing venture depends on collaboration and communication with your selected provider. If you find the right partner, create a mutually beneficial contract, recruit smart, and establish a well-defined process, your BPO journey will surely be a success.
Thinking of building an offshore team? Unity Communications is here to help. Let's connect so that we can support you through the next step.