Written by Joyce Ann Danieles
Employ a team to deal with dismayed and frustrated customers. Check!
Buy and deploy a solution to help streamline support operations and inquiry responses. Check! 
Implement a well-structured strategy to make clients happy and satisfied. Check!
Is your checklist of customer service goals complete, or is it still lacking? 
Fret not! This article gives you practical contact center as a service (CCaaS) and calls center tips and tricks to boost customer experience. 
Read on to learn more.
Six Best Tips and Tricks To Optimize CCaaS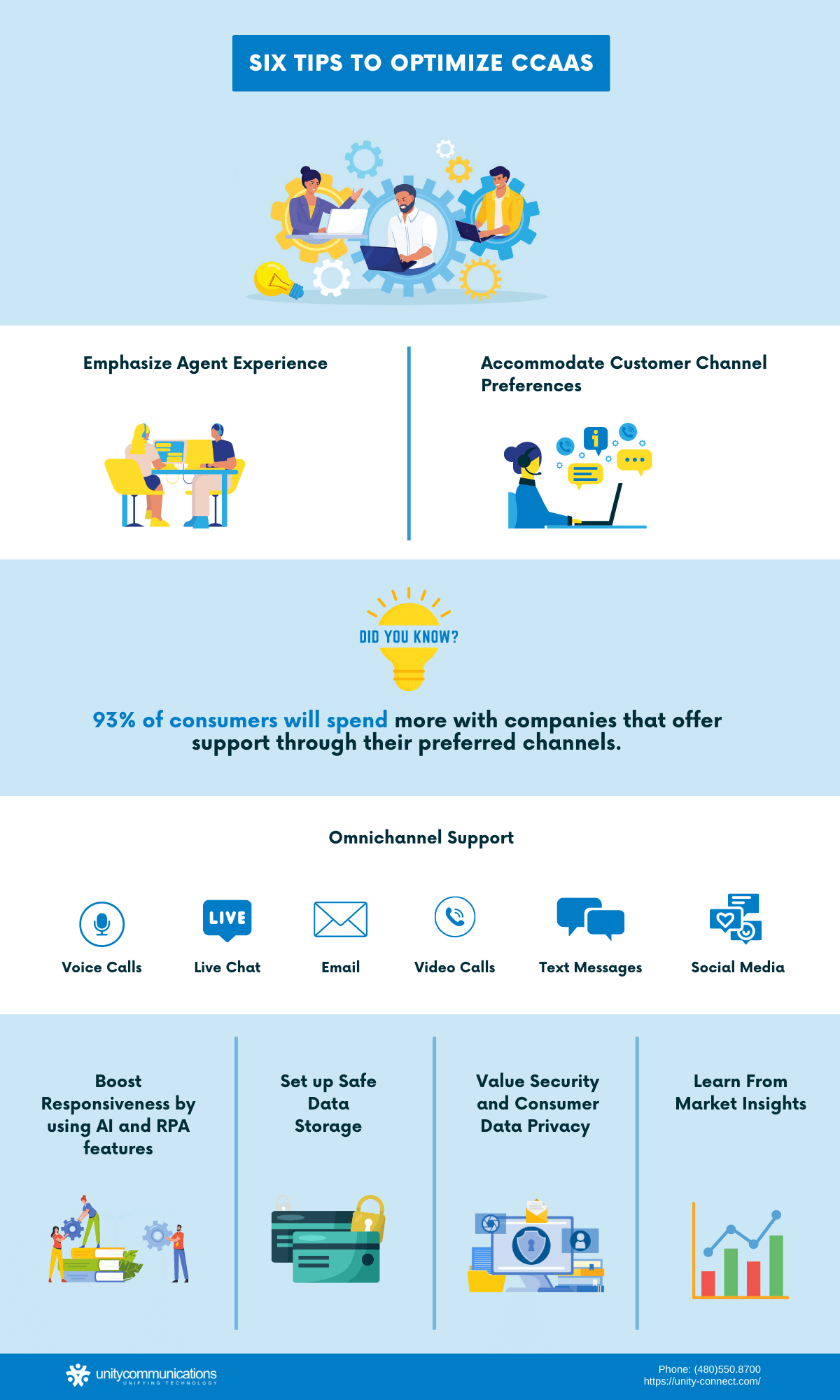 By using artificial intelligence (AI) and robotic process automation (RPA) tools, CCaaS helps improve customer service. The cloud-based customer experience solution facilitates an omnichannel approach to personalizing consumer interactions. 
Unlike call centers, cloud contact centers enable scalable client support services over high-speed internet connectivity. They eliminate the need for physical equipment and extensive infrastructure. As a result, they can offer cost-efficient service packages to businesses of all sizes.
But before taking advantage of this solution, you must know how to put it to good use. To kick off our list of call center tips and tricks, here are measurable ways to optimize CCaaS:
1. Emphasize Agent Experience
Prioritizing user experience is the first and most important thing to remember when implementing a CCaaS solution. 
Many businesses use technology to improve customer experience. They somehow forget that a superb customer experience begins with empowered personnel.
Whether they work remotely or on-site, your staff should feel at ease when using the cloud platform for their daily tasks. Ensure your employees can navigate the solution with as little support as possible by doing the following activities:
Pick a cloud contact center platform with a simple, easy-to-use interface that can work on any device, including laptops, computers, and tablets.

Set up a back-end collaboration feature where customer service representatives (CSRs) can connect with their coworkers to get assistance anytime.

Use built-in virtual assistants and chatbots to answer common questions concerning your team's daily tasks such as call routing, email queueing, and data uploading.

Prepare and implement a well-structured software management strategy. This ensures agents can access different CCaaS features while working from home or at the office.

Integrate the cloud solution with existing tools such as customer relationship management (CRM) and e-commerce platforms. This removes the need for your staff to run multiple apps separately. It also enables you to migrate critical data easily.
2. Accommodate Customer Channel Preferences
Use cloud contact center software to let customers seamlessly interact with your agents on their preferred communication channels. This approach is essential for any contact and call center tips and tricks.
Consumers have different preferences when contacting customer service for help; certain problems are best solved using the appropriate communication channels. Age and experience with technology also influence such biases.
For instance, an agent can quickly answer a simple product question through live chat. Meanwhile, a phone call is an ideal way to address complaints from older customers who encounter complicated product defects. 
Accommodating customer needs and demands helps drive your revenue. Zendesk's latest statistics show that 93% of consumers will spend more with companies that offer support through their preferred channels.
With a CCaaS platform, you can enjoy such benefits by giving each customer a personalized experience. The solution provides a single omnichannel dashboard to help CSRs monitor and answer inquiries from the following channels: 
Voice calls

allow users and agents to converse using traditional telephones or phone software applications.
Live chat

lets agents interact with customers via a chat window on company websites.
Email

enables consumers to send long-form, detailed written inquiries. They can attach images, video, audio, and other digital files to support their complaints and service requests.
Video calls

let CSRs and customers talk while seeing each other in real time using videoconferencing apps.
Text messaging

facilitates the exchange of electronic text messages between support agents and clients.
Social media

allows customers to share concerns and ask questions through automated replies and live chat.
3. Boost Responsiveness
Capitalize on your CCaaS platform's AI and RPA features to respond to customers faster. Most contact and call center tips and tricks highlight this step for enhanced efficiency.
AI simulates human intelligence to accelerate repetitive business processes. The technology can help your contact center agents complete time-consuming tasks such as data entry, customer support, and information analysis. AI-powered capabilities let your team improve daily productivity at reduced costs.
Along with AI, RPA uses automation to expedite back-office tasks such as moving data and accomplishing forms. This technology relies on application programming interface (API) and user interface (UI) interactions to emulate and perform human processes. 
These next-generation tools let businesses set up automatic customer responses and self-service options in their CCaaS platforms. The AI- and RPA-driven features below allow agents to free themselves from answering simple, repetitive customer inquiries.
Interactive voice response (IVR)

combines text-to-speech technology and a dual-tone multifrequency interface (DTMF) to deliver pre-recorded messages about products and services. Thus, the automated phone system provides incoming callers with important information without agent intervention.
Chatbots

imitate human agents to converse with consumers over the internet. They send scripted responses or helpful content to address common customer questions and problems.
Email response management

automatically collects and categorizes customer inquiries sent via email. This tool sends preset replies for repetitive concerns. It then forwards complicated issues to human support agents.
A

ticketing system

enables the automated processing, management, and tracking of customer problems from submission to resolution. This help desk solution serves as a central dashboard to help CSRs tag, categorize, and assign tickets as they arrive.
Auto text replies

automatically send responses to particular text messages from customers. Businesses use autoresponders to answer status follow-ups or provide updates on issues filed through other channels.
Automatic call distribution

quickly routes incoming voice calls based on predefined criteria. This automated procedure is a crucial part of our contact and call center tips and tricks. It assists customers in connecting with the right support agent to resolve their product and service issues.
4. Set up Safe Data Storage
Optimize your cloud-based contact center platform's data storage and management tool to better handle clients' personally identifiable information (PII). If you already have one, you can also integrate a CRM solution with CCaaS.
Do not make customers give you their personal information repeatedly. They quickly get frustrated when they have to fill out multiple request forms for similar concerns. Regular and loyal customers expect you to keep their records so that they do not need to accomplish another form on their next purchase or consult. 
This vital contact and call center tip and trick makes your customers feel valued and appreciated. Hence, they stick to your brand and help boost your bottom line. According to the same Zendesk report, 92% of the 3,500 consumers polled said they would spend more with businesses that did not let them repeat information. 
Moreover, safe data storage enables your team to switch seamlessly between multiple channels without losing relevant PII and inquiry details. This capability helps strengthen customers' trust in your brand, expanding your client base and market reach.
5. Value Security and Consumer Data Privacy
While establishing your secure data storage with CCaaS, create and implement practical measures to protect your customers' privacy. 
As many business transactions occur online, PII and other sensitive information become vulnerable to cyber threats. You need critical security approaches to safeguard such data from unauthorized access, use, and disclosure.
Triple your consumer data privacy defense by implementing the following solutions along with your contact center software's built-in security:
Encryption

involves converting data into a code to avoid unauthorized access.
A

firewall

tracks and filters incoming and outgoing network traffic. 
Automated antivirus software

detects and eliminates viruses in computer systems.
Multifactor authentication

requires users to provide two or more identity verification factors to access their accounts. 
Biometrics

uses biological measurements such as fingerprints, facial features, and retinas to confirm a user's identity.
Backup and recovery

refer to

creating and storing data copies on the cloud or a hard drive to prevent loss.
As part of this critical contact and call center tip and trick, be transparent with how and where you use customer data. This solidifies consumers' trust and keeps them loyal to your brand.
Salesforce's State of the Connected Customer report confirms that. Its findings show that eight out of 10 consumers trust transparent companies more. Meanwhile, 61% of the survey's respondents feel comfortable with businesses using personal data transparently. 
6. Learn From Market Insights
Maximize your CCaaS for collecting and analyzing customer ratings and reviews. Such feedback gives you critical insights to enhance service efficiency and product quality. This data also guide you in improving your workforce management, keeping up with the latest market trends, and delivering a superb customer experience.
Automate feedback collection using your virtual contact center software. Combine the solution with your predefined metrics and information-gathering techniques for better outcomes. Gather feedback through the following methods:
Outbound calls, emails, or chats 

Digital survey forms

Clickstreams

Heatmaps

Web-based customer feedback forms

Social media monitoring activities

Online forums
Seven Best Call Center Tips and Tricks To Use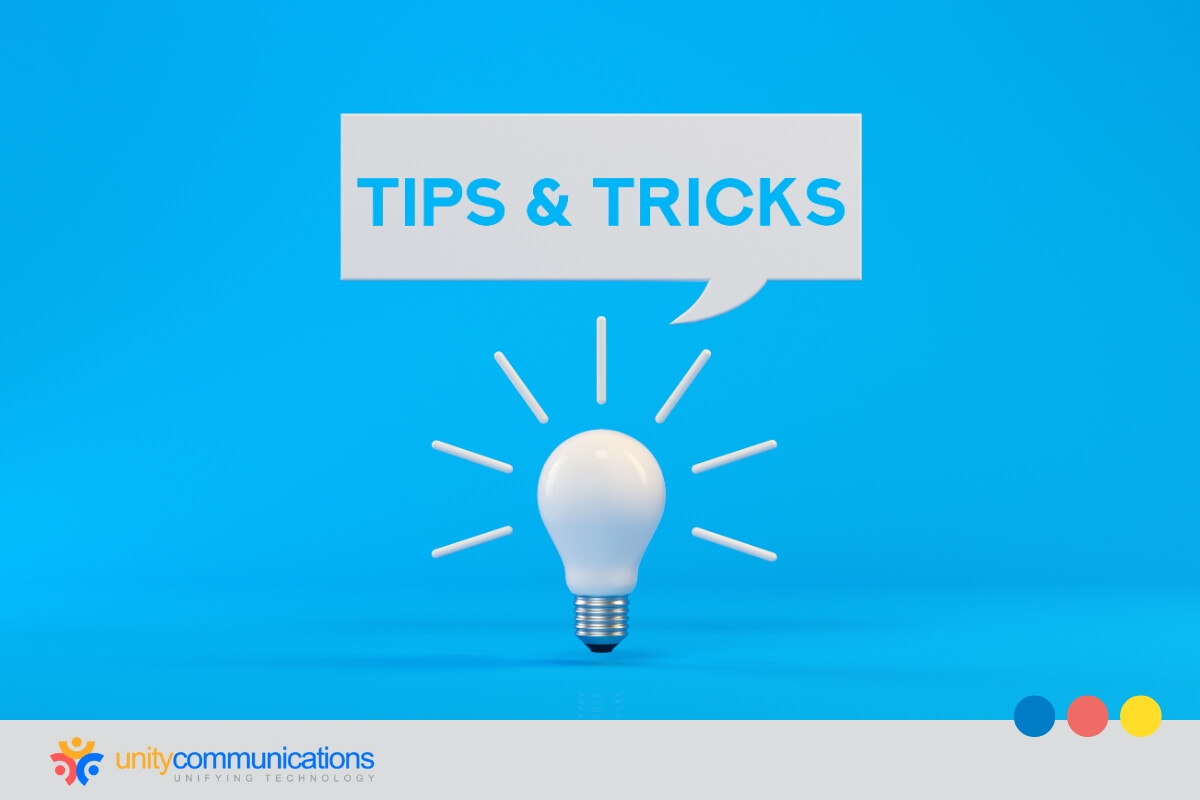 Many people treat contact and call centers as synonymous since they cater to customer needs. However, a call center focuses on only one communication channel when providing customer service. In contrast, a contact center combines all channels to provide more personalized customer service.
Hence, the strategies for delivering an unmatched customer experience through contact and call centers vary but are still aligned. After knowing what CCaaS is and how to optimize the platform, let us now tackle the tips and tricks to enhance your call center service.
1. Know Your Audience
Start improving your customer support by understanding consumer needs and demands. You must identify their patterns to ensure your team is ready to address concerns at any time.
Determining your customers' preferences also helps you exceed their support expectations. Once you meet those expectations, you get good ratings and reviews, resulting in more leads that expand your market reach.
Although considered one of the most vital call center tips and tricks, knowing your audience is not simple. It requires careful planning and analysis. So here are some easy ways to understand your clients better:
Track customers' real-time behavior.

Invest in a CRM tool to automatically monitor the time, reason, day, or month consumers call your business for support. This way, you can learn how to meet their demands and resolve their problems.
Categorize consumers.

Sort your customers based on their purchases, geographic areas, call frequencies, and problem difficulty levels. Categorizing and tagging concerns let your team prioritize critical issues.
Leverage engagement data with clients.

Use insights from your daily call center interactions. This lets you know more about the changes in your customers' behavior, support service ideals and channel preferences.
Set up Secure Contact Data Storage.

Like the CCaaS tip discussed in the previous section, ensure you have a centralized database consisting of a comprehensive contact list. The database helps your agents easily access customer profiles and transaction histories, streamlining operations and problem resolution.
2. Take Notes During Interactions
Although technology makes it possible to record and store calls, taking notes while on the line remains an essential call center tip and trick. 
Your team does not always have the time to listen to long audio files when making customer service reviews. So remind your agents to use their computers' built-in notepads to quickly type details about their customer interactions. 
Jotting down notes allows agents to review the important steps they take while assisting customers. They can apply such insights to similar situations in the future.
3. Show Empathy
Instill in your CSRs the idea that customers need someone who can listen, understand, and help them address their problems. They do not need agents who cry when they are upset or get impatient when they become frustrated.
Your employees must be willing to assist your consumers in the quickest and most effective way. Start by training them to improve their listening and comprehension skills during calls. Your team can follow these simple steps:
Allow customers to finish sharing their issues before responding accordingly.

Clarify concerns, if necessary, to find appropriate ways to solve them.

Ask open-ended questions when consumers struggle to express their problems.

Urge callers to continue speaking and relay their insights.

Be patient and well-grounded, especially when facing rude customers.
4. Speak Naturally
Advise your agents to use their typical tone of voice. This makes their conversations with customers more natural and personalized.
Consumers can understand your agents' emotions just by hearing their tone. If your CSRs speak harshly, customers can get upset and hang up. They will struggle to understand if your agents talk fast. If your agents sound relaxed, customers can express their concerns calmly.
This call center tip and trick enable your team to develop better customer relationships. Clear conversations speed up problem resolutions, benefiting both your consumers and agents. Your employees can avoid burnout and overwork, while customers can receive immediate solutions.
5. Use the Mute Button
Urge your CSRs to use the mute button whenever they need to express or relieve stress, especially when dealing with rude customers. But warn them of the risks involved when using call center software.
Sometimes, the mute button does not work due to system bugs. Your agents thus need to double-check the feature's functionality to avoid releasing pent-up emotions during calls.
6. Find the Real Issue
Agents must know how to find and determine the root cause of customer issues. They must list crucial points in their notebooks to better understand problems and identify the right solutions.
Create predefined questions to assist your CSRs in screening customer problems accurately. You can formulate questions similar to these:
When did you buy the product or service?

Where did you purchase the product or service?

How did the problem start?

What is causing the issue?

How many times does the problem occur?

Have you captured images or recorded clips as proof of product or service defects?

What steps have you taken to address the issue so far?
7. Utilize the Cloud
Make your call center operations cost-effective by maximizing cloud technology such as CCaaS. The platform lets you save on costs by eliminating the need for many on-premises telephone systems and equipment.
The solution also unifies multiple channels, allowing your agents to communicate with customers in real time. Its automation features help your CSRs provide quick responses and resolutions to urgent customer problems. 
In addition, you can access relevant customer information anytime without worrying about security or data loss. The technology has a built-in repository for safe data storage. You can even integrate your existing CRM tool for real-time data uploading and sharing.
Regarding workforce advantage, CCaaS provides flexibility and scalability. You can set up your agents to work remotely or in a hybrid arrangement so that they can be more productive at their own pace. 
The Bottom Line
People and enterprises often perceive cloud contact and call centers as similar business processes. They forget that these hubs differ in scope and customer service delivery methods. Hence, their management and improvement strategies match but still vary.
This article offers you practical CCaaS and call center tips and tricks that you can follow to enhance customer experience. From agent empowerment to cloud optimization, your team can boost performance when using a cloud contact center solution or running a call center. Applying these tips leads to an expanded, loyal customer base and helps improve your bottom line.
Do you want to know more about our best customer service insights and offerings? Contact Unity Communications now!