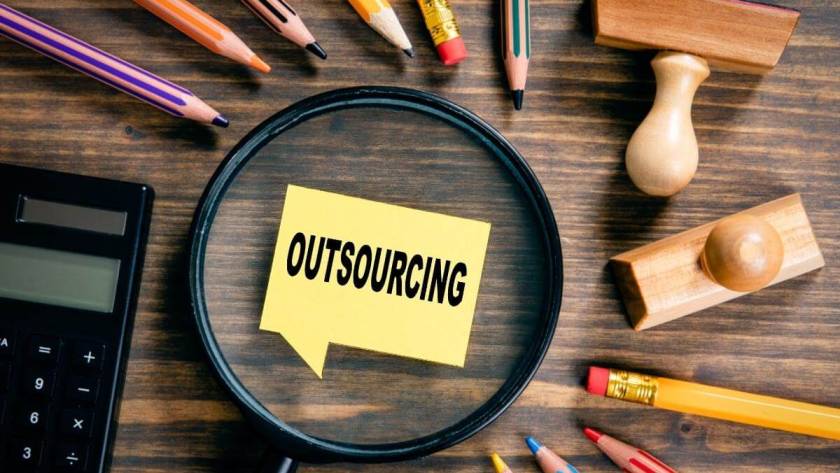 Written by Dion Jay Tality
Handling business processes and maintaining operations can be challenging for big companies and expanding businesses. Mismanaging front-office and back-office tasks can lead to backlogs, customer dissatisfaction, and business failure.
Outsourcing is a better way to address the problems above than hiring new people to work in-house. It will reduce backlogs, downtime, and operating costs, build a reliable workforce, and ultimately lead to business success.
In this article, you'll learn more about the benefits of outsourcing. You'll also explore the most common BPO services example and see which one will fit your business.
Examples of Business Process Outsourcing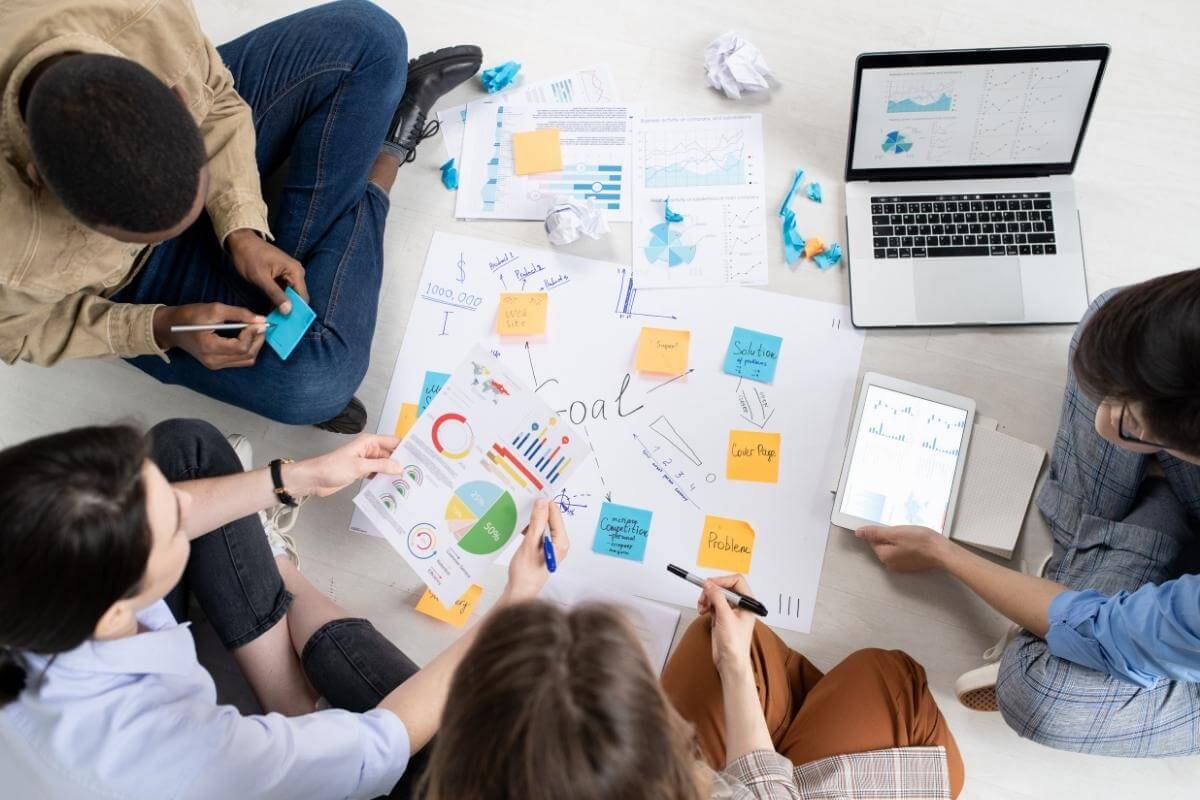 The business process outsourcing industry has grown and evolved. The global outsourcing market already reached $261.9 billion in 2022. What started as a business strategy recognized in 1989 has become a robust sector today. BPO services are now as varied as the industries these companies serve. 
Business process outsourcing (BPO) entails entrusting some business operations to a third-party service provider. A company can outsource its front-office and back-office tasks to a BPO company. 
The front office includes tasks that require working directly with customers. Sales, marketing, and customer support are a few examples of these. On the other hand, back-office functions are not customer-facing. They include outsourced bookkeeping, accounting, data entry, and IT support.
Today, the BPO sector caters to many big companies and small and mid-sized enterprises (SMEs) worldwide. It offers a broad range of front- and back-office services. The industry is especially notable for its IT support outsourcing, forecast to hit $460.10 billion this year.
Explore some specific examples of business process outsourcing below.
Administrative Tasks
Generally, administrative functions are an integral part of a business because it ensures continuous operations. A company usually consists of several units, each department performing its duties and responsibilities. 
Administrative tasks include accounting and finance, recruitment and human resources (HR), legal affairs, and research and development. Consider outsourcing some administrative functions to a BPO company. This third-party service provider can take care of several aspects of your business.
Customer Service
Essentially, customer service is about caring for customers. It's more than just assisting customers; it's about improving customer experience and making them completely satisfied with your products or services.
The job primarily involves answering questions and addressing needs. It also involves processing requests and providing status updates. The most challenging customer service tasks include handling complaints, managing disputes, and resolving issues.
Data Entry
Data entry is the process of encoding information into a computer. But it goes beyond typing text and storing data using an input device. Data entry specialists protect business and customer information more than ensuring data accuracy.
Data processors are also responsible for managing and organizing data. Data entry outsourcing is the most cost-effective way to handle these tedious tasks. Data entry specialists from BPO companies perform them better at a fraction of the cost of an entire data entry staff.
Inventory Management
Inventory management entails managing materials and products and tracking the movement of goods, from raw materials to finished products. The process includes obtaining raw materials, storing goods, producing finished products, fulfilling orders, and monitoring transactions. 
Many functions in inventory management can be tedious and repetitive. Contractors can handle them better. Outsourcing them to a third-party vendor can give you more time to improve your material acquisition, business production, and product delivery.
IT Support
The global IT outsourcing market might hit $460.10 this year, with a compound annual growth rate (CAGR) of 11.07%. Information technology (IT) ensures continuous business operations in this digital era. IT support services include troubleshooting, system updates and maintenance, network management, technical support, and web creation and development. 
Consider onshore, nearshore, or offshore IT outsourcing before hiring a reputable BPO company. Capitalizing on IT BPO has become prevalent during the pandemic. Businesses have adopted remote work and let external vendors handle IT support. 
Telemarketing
Telemarketing is the process of contacting potential customers to sell products or promote services. However, the entire process also involves receiving inbound calls (customers showing interest in your ads), generating leads (through market research), and making successful sales. 
Leave your telemarketing to sales experts. Outsourcing this function to a third-party service provider can give you access to some of the most talented telemarketers at a low rate.
Technical Support
Technical support helps customers solve issues with their technology products, such as phones, computers, printers, electronic devices, and even software. Assisting customers in their technical concerns requires expertise and specialization. 
Hiring in-house technical support specialists and building your workforce can be costly. You must spend on recruitment, training, and onboarding and the technologies and resources required for these activities. If you outsource your technical support to a BPO company, you will have an expert team.
The Benefits of Business Process Outsourcing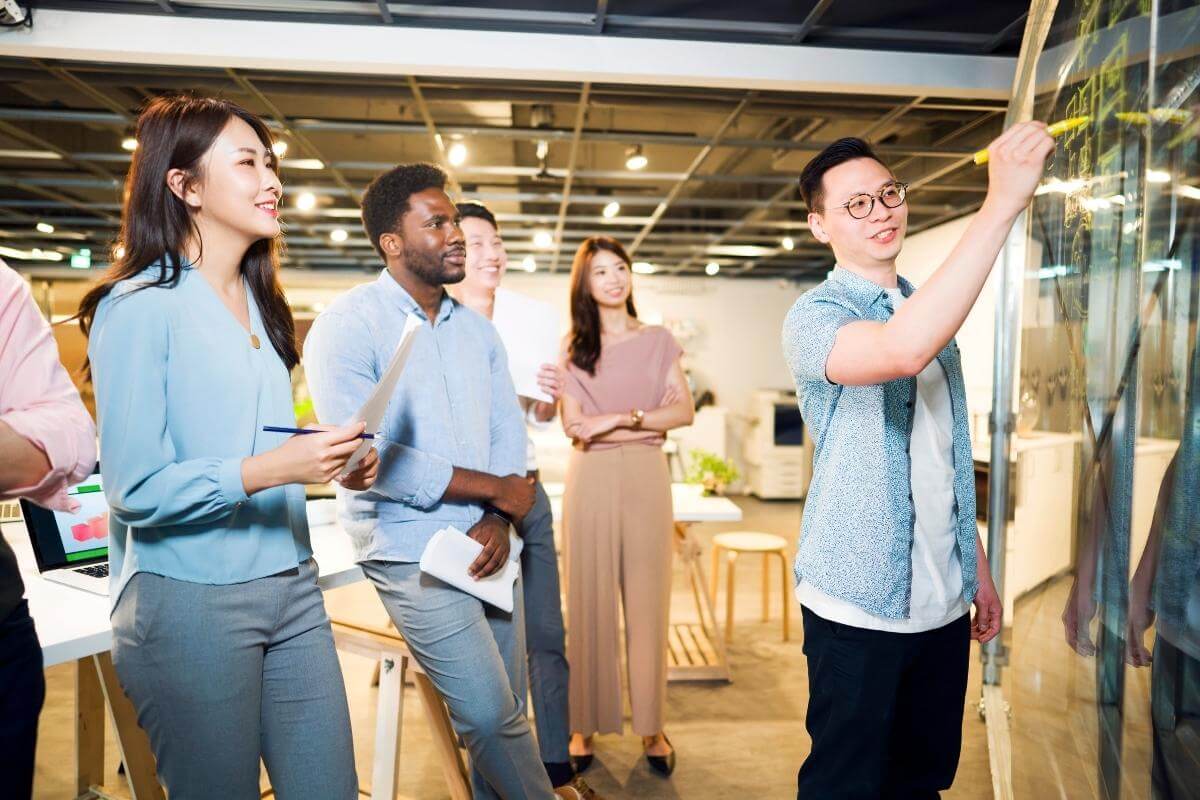 In-house employees can handle the business functions or processes discussed above. But why should you consider outsourcing? Below are some of the potential benefits of business process outsourcing:
Focus on Core Competencies
A business consists of several operations, whether front or back offices. Some of these tasks are tedious to handle. If you pay much attention to them, you won't have the time and energy to focus on your core business functions.
Outsourcing some processes to a third-party service provider allows you to manage your business better. Instead of performing repetitive, mundane tasks, you and your in-house employees can focus on your core competencies. BPO gives you more time to develop business strategies and grow your company.
Reduced Operating Costs
Outsourcing allows businesses to save on labor, production, and material costs. Letting an external vendor handle some of your business functions is cheaper than building your own workforce in-house. This is especially true if you choose an overseas BPO company. 
In addition, outsourcing finance and accounting services to an expert third-party service provider can help you save on business resources. A BPO company can help manage your finances with its certified accountants and accounting software.
Access to a Pool of Global Talent
The world has a vast pool of global talent. These individuals have the knowledge, skills, expertise, and industry experience. They usually undergo proper orientation and process or product training before they hit production. 
Outsourcing allows you to access the best people from all over the world to build your workforce. They can help your business grow and succeed. They can significantly contribute to your overall success. 
Reliance on BPO Companies for Digital Tools and Technologies
Outsourcing allows you to take advantage of the external vendor's digital tools and technologies. Outsourcing makes much sense if you don't have the resources to perform some jobs for your business. This approach can be more cost-efficient than hiring people and investing in tools and equipment.
Business Scalability Through Industry Experts and Solid Workforce
Most BPO companies consist of industry experts. These experts know the industry's ins and outs, the latest technologies, and the most effective business strategies. They can implement effective business practices and employ the newest technologies to help grow your business.
In addition, BPO service providers usually have a team of highly knowledgeable and trained employees. They do not only handle specific business tasks assigned to them; they also make a stable workforce that can win customers and help your business succeed.
Customer Acquisition and Retention
A company exists because of customers; you must prioritize them. Make sure to meet their needs and keep up with their demands for products or services. This way, you can achieve two key things: customer acquisition and retention. 
Outsourcing lets you tap into competent and reliable employees. They can help you acquire more and more customers for your business. They can also help keep customers for your business through excellent customer experience. Ultimately, they can go as far as building a community of loyal supporters.
Increase in the Bottom Line
The end goal of outsourcing is to boost your business profits. You can realize this ultimate objective through high efficiency, increased productivity, and high-quality service. 
Outsourcing allows you to employ a knowledgeable and skilled workforce. It also enables you to use the tools, technologies, and resources required to succeed in business. Outsourcing to a competent third-party service provider can help boost your business sales and revenue.
The Bottom Line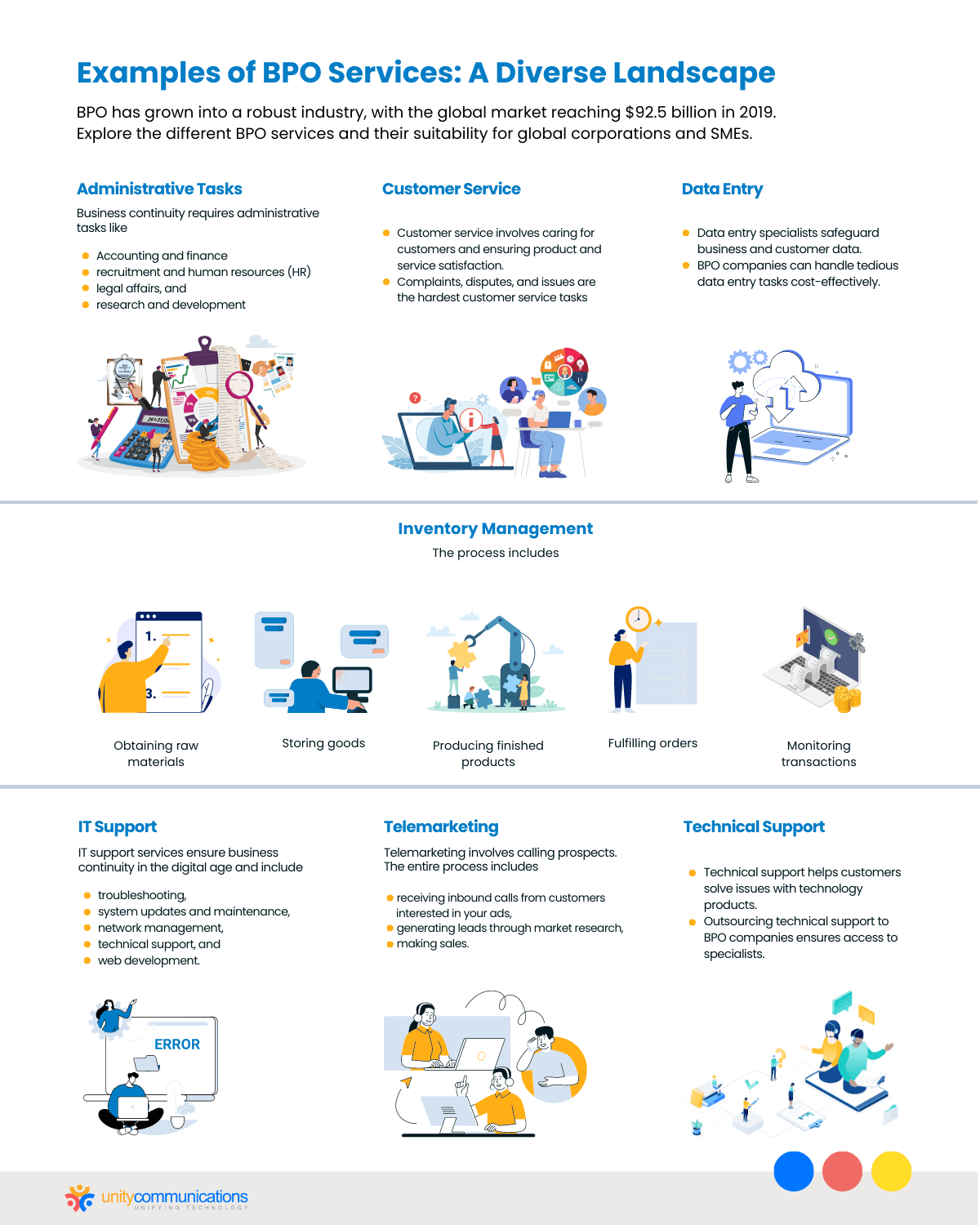 Business process outsourcing proves effective in helping a business grow and succeed. Capitalize on the BPO sector through front-office or back-office outsourcing services. Consider the BPO examples outlined above, as they will help you decide what business functions to outsource.
Outsourcing gives you access to a broad range of knowledge, skills, expertise, and experience. It also allows you to employ a third party's tools, technologies, and resources. Lastly, BPO will help you win more customers and increase your bottom line.
So whether you want to boost your ecommerce customer service, improve your data management, or optimize your IT support functions, consider working with a reliable BPO company. In the end, outsourcing can kick your business up a notch or two.