Written by Joyce Ann Danieles
As a business owner, you aim to boost your bottom line without overspending. You always hear from your colleagues, read online, and see in the news that business process outsourcing can guide you toward greater success and benefits.
But do you actually understand this approach? Do you have an idea when to outsource services? Most importantly, do you know how to find and manage the right service provider?
Explore this ultimate guide to get every bit of information you need about outsourcing to maximize your efficiency.
What Is Business Process Outsourcing?
Business process outsourcing (BPO) is when a company delegates specific, typically non-core, repetitive, and time-consuming tasks to a third party. You have outsourced if you ever paid a contractor or freelancer—local or foreign—a fixed monthly or one-time fee. 
The increasing demand for streamlined front- and back-end functions encourages companies of all sizes to work with third-party service providers. Outsourcing business processes lets them focus on their growth efforts.
As a testament to its growth, the global business process outsourcing industry will reach almost $262 billion in 2022, according to Grand View Research's latest guide. Enhanced flexibility, reduced expenses, and improved service quality drive the BPO market's expansion. 
Types of Business Process Outsourcing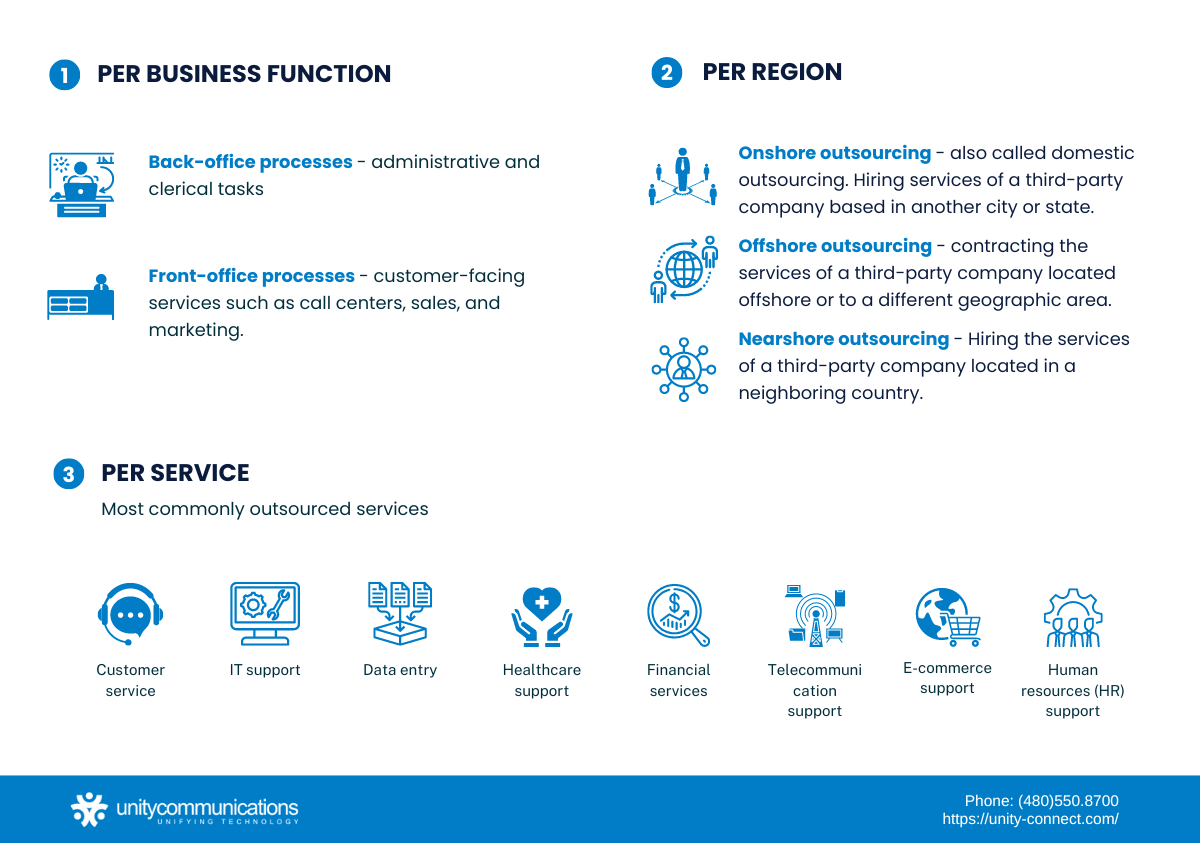 To understand what BPO is better, explore the different services that business process outsourcing providers offer. Such insights guide you in developing a more concrete plan to match your enterprise needs and budget allocations. 
Per Business Function
To prioritize primary initiatives that generate revenue and contribute to growth, companies outsource two sets of non-core business functions:
Back-office processes.

These administrative services include accounting, information technology (IT) assistance, records maintenance, and regulatory compliance. Vendors handle these processes to help keep clerical tasks smooth and paperwork organized.

Front-office processes.

These customer-facing services cover contact and

call centers

, marketing campaigns, and sales activities. Third-party agents respond quickly and effectively to consumer inquiries, concerns, and issues.
Per Region
The business process outsourcing industry has three location-based categories to guide you in picking your ideal provider:
Onshore outsourcing

refers to contracting a third party headquartered in another state or city to perform specialized services. For instance, a Virginia-based company hires an Arizona-based BPO provider for technical support services.

Offshore outsourcing

is assigning your non-core tasks to a foreign vendor to take advantage of low labor costs. A U.S.-based company, for example, works with a Philippine BPO provider for manufacturing and inventory management.

Nearshore outsourcing

means employing a third-party team in a region close to your home country. To illustrate, a U.S.-based company contracts a Mexican BPO provider for contact center services.
Per Service
As the business process outsourcing market constantly broadens, vendors also expand their service offerings. This guide lists the most commonly outsourced services:
Customer service

IT support 

Data entry 

Healthcare support

Financial services

Telecommunication support 

Marketing and creative services

E-commerce support

Human resources (HR) support

Manufacturing

Cloud services

Inventory management

Legal processing

Knowledge processing
BPO Market Trends To Watch Out For
The pandemic and other public issues worldwide have heightened the use of innovative approaches to gain actual business value. Thus, companies rely on business process outsourcing to guide them in delivering cost-efficient, high-quality services.
As a result, the BPO sector constantly evolves. Statista expects the global BPO segment to reach $0.45 trillion by 2027 at a compound annual growth rate (CAGR) of 6.48%.
But what are the remarkable BPO trends shaping the industry this year and beyond? Let us find out below.
Organizations progressively need virtual assistants (VAs).

They seek support from

business process outsourcing

providers to

guide

them in hiring VAs. These administrative contractors help handle companies' daily operations, letting them prioritize profit and revenue generation.
The widespread adoption of telework and automated processes has accelerated the deployment of artificial intelligence (AI) solutions.

Companies, therefore, experience more efficient operations and improved productivity.

Social media continues to serve as the go-to hub of businesses aiming to promote their brands.

Hence, they constantly explore ways to boost the platform's management with their selected providers. They aim to rapidly meet increasing customer demands.

Corporations increasingly purchase cloud services from service providers.

These include

contact center as a service

(CCaaS) and infrastructure as a service (IaaS). Such solutions help them streamline

customer support

, improve collaboration, and accelerate data-driven analytics at affordable costs.

The growing demand for a more personalized consumer experience sparks widespread omnichannel adoption.

BPO companies use this approach to seamlessly address customer inquiries via integrated communication channels such as calls, live chat, email, and social networks.
Five Steps in Preparing for Outsourcing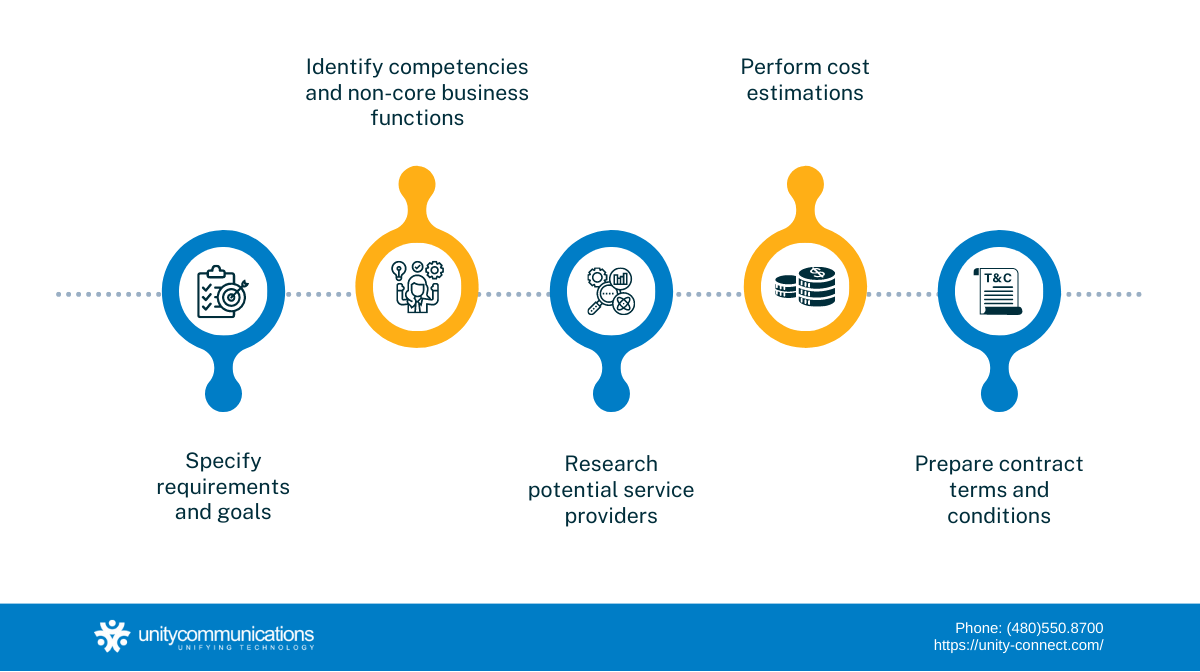 BPO partners free up your time for your primary efforts. But you must plan thoroughly before trying out business process outsourcing. Let these steps guide you:
Specify requirements and goals.

You must determine how and why you need third-party support. Also, establish measurable targets when seeking a provider. This step helps you develop a well-structured BPO investment plan with guaranteed returns.

Identify competencies and non-core business functions.

Identify the areas your team excels and lags at before procuring

business process outsourcing

. This step

guides

you in selecting processes that require third-party assistance or in-house prioritization.

Research potential service providers.

Once you list your needs, goals, and competencies, explore the vast pool of BPO providers. Decide first whether you want to outsource locally or internationally. This step is also the perfect time for creating the criteria for your ideal contractor.

Perform cost estimations.

Conduct a cost analysis to know whether you can save on operating costs and increase revenue when adopting

business process outsourcing

. The cost analysis can

guide

you in planning and drafting a service-level agreement (SLA) with your potential vendor. 

Prepare contract terms and conditions. Upon completing all the previous steps, develop your terms and conditions for contracting a BPO provider. Consult with legal counsel to ensure their validity and regulatory compliance. Lastly, negotiate with your chosen service vendor for strategic outsourcing aligned with your goals.
Tips for Choosing the Right BPO Provider 
Whether you acquire front- or back-office outsourcing, knowing how to pick the best service provider helps you enjoy benefits in the long run. Consider the tips listed below.
Verify market reputation and credibility.

Check whether the prospective provider has a good industry standing and clean service history. Research the provider's accolades and market certifications to validate its credibility.

Confirm whether positive outcomes drive their global presence.  Whether they take care of their BPO taxes also says much about them. 
Identify service and pricing.

Collect and compare service packages for

business process outsourcing

to

guide

you in the selection process. You can directly get this data from vendors by contacting them through their websites. Try reaching out to their previous clients to obtain further details.
Assess workforce skills. Examine your prospective provider's staff capabilities and capacities. Confirm whether it undergoes regular training and upskilling. Verify whether it can adapt to different

time zones

to ensure smooth collaboration.
Evaluate technology and infrastructure.

Assess the equipment providers use to accomplish tasks. Make sure they use advanced

business process outsourcing

solutions to

guide

your accelerated operations.

Validate security and compliance.

IBM reported that U.S. companies lose

$9.44 million on average due to data breaches

. To avoid such high costs, ensure your potential provider adheres to critical security and compliance standards. This measure helps you avoid the high cost of threat mitigation efforts, lawsuits, and violations.
Ways To Implement and Manage BPO Services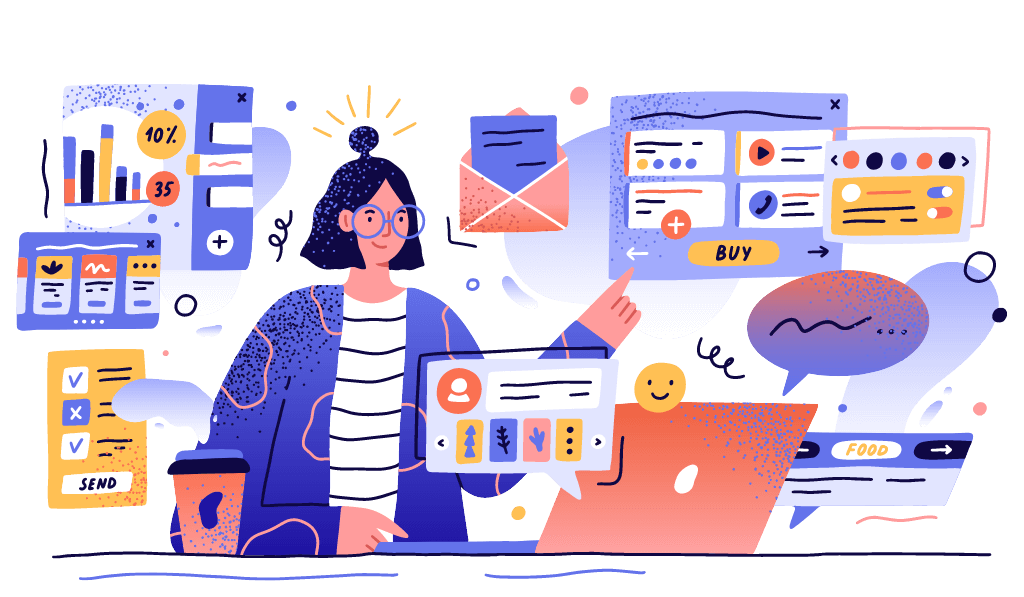 Your BPO planning does not end with the contract's drafting and signing. You must learn how to implement and manage your business process outsourcing partner to ensure success. Take this guide as an example:
Identify the company that will manage and act as a guide to the business process.

Both parties should have a contact person or team to distribute tasks and monitor results.
Set up communication and collaboration techniques.

Determine which channels and platforms to use to ensure real-time interactions.
Create metrics for task and performance monitoring.

List key performance indicators (KPIs) to evaluate your contractor's progress and output. This step helps ensure the provider follows your agreed SLA terms and conditions.
Schedule meetings and report deadlines.

Set regular meetups to submit reports and exchange insights on current achievements, existing issues, and necessary improvements.

Assist in BPO training.

Provide concise course materials to support third-party training. These documents help familiarize BPO contractors with your products and policies.
Benefits of BPO
After understanding the details and executing best practices in this business process outsourcing guide, expect to gain the following advantages:
Save on operating costs.

Achieving

cost savings

is the top benefit of outsourcing your non-core functions. Outsourcing eliminates spending significantly on labor, real estate, and equipment. Vendors offer fixed fees payable monthly or every after service completion.
Optimize advanced technology and a skilled workforce.

The BPO segment has a broad talent pool and modernized infrastructure. These resources enable streamlined front- and back-office operations.
Improve core competencies.

Working with a

business process outsourcing

provider

guides

you in enhancing your strengths and capabilities. This measure helps you keep up with the fast-paced market competition.

Boost productivity.

Service providers specialize in quickly and effectively accomplishing non-core tasks. So you can trust them to produce quality paperwork. This advantage allows you to prioritize initiatives for enhancing your core products and services.
The Bottom Line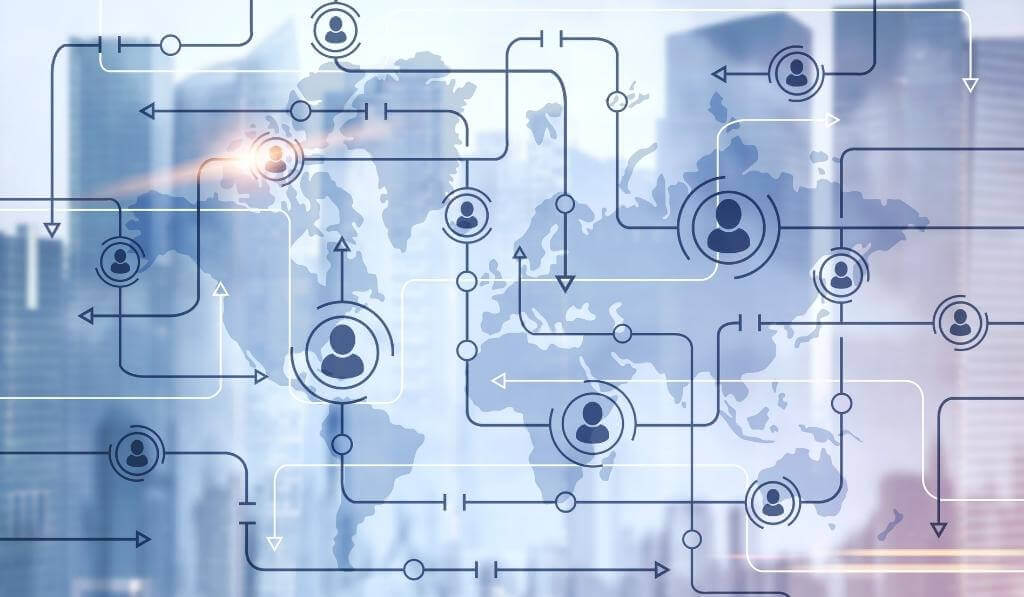 Treat BPO as another crucial project to help boost your growth and efficiency. The least you can do to ensure success is to understand the concepts and steps involved in outsourcing your non-core business functions. This guide shares all the necessary information.
Ready to collaborate with a reliable service provider? Let's connect to know how you can start. Unity Communications has a highly skilled workforce and robust technology to help expand your enterprise.
Enjoyed what you just read? Share it with your network.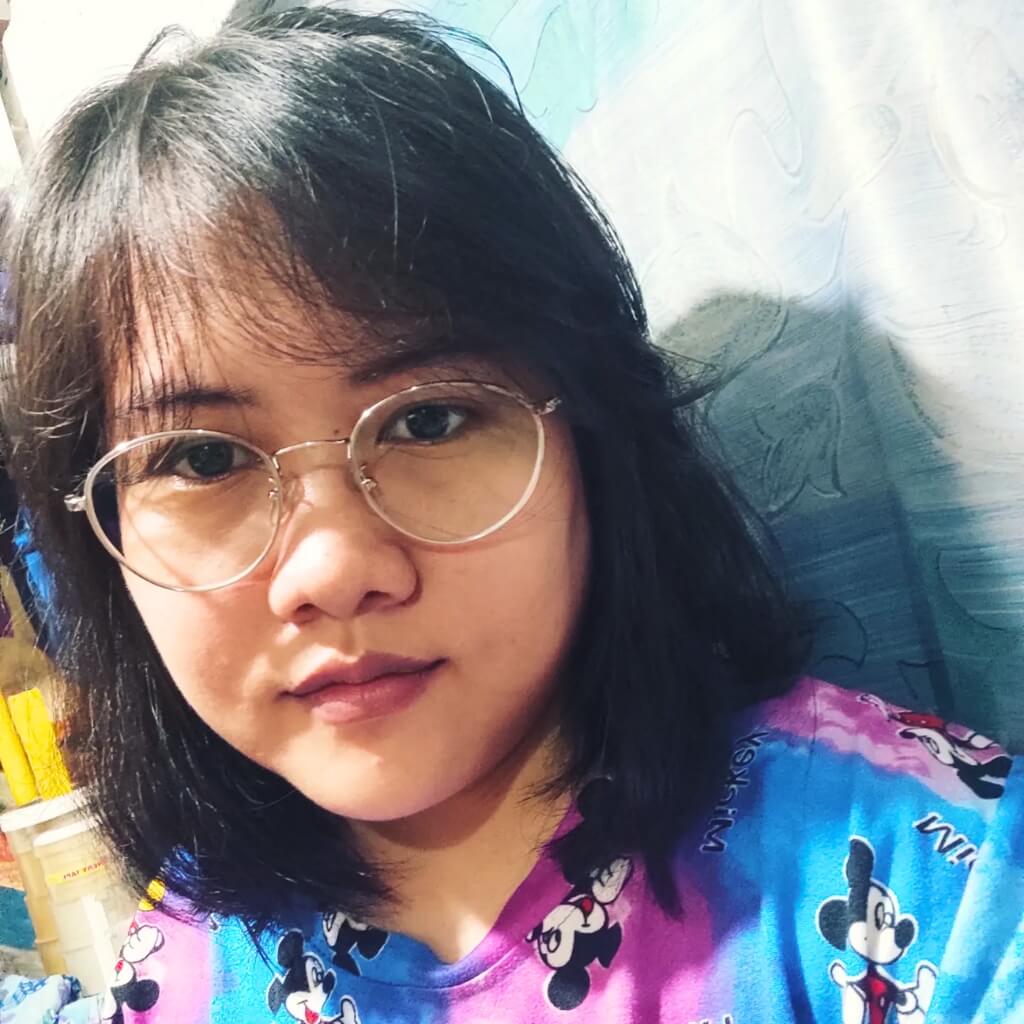 Joyce Ann Danieles is an SEO content writer from Manila, Philippines. She's comfortable writing outsourcing-focused articles, helping you clarify the confusing concepts surrounding the BPO industry. With her experience in news writing and copywriting, she's always ready to feed your brain with random facts and creative insights.
Outside work, Joyce explores the world of literature. She tries to write fiction she hopes to share with everyone someday.