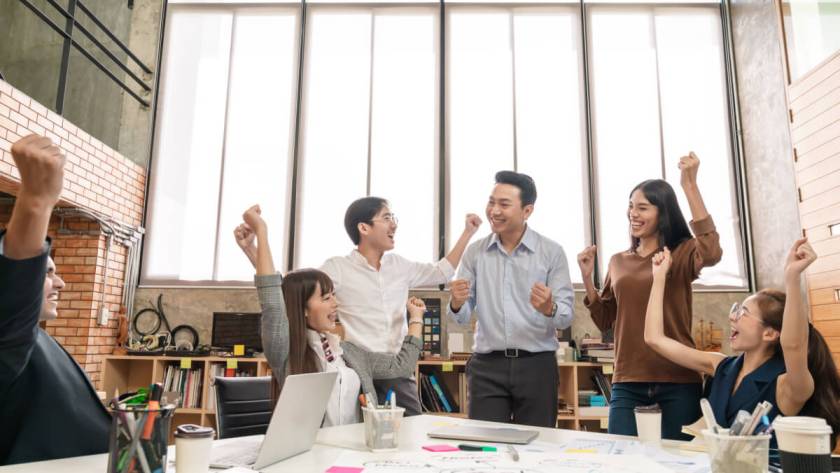 Written by Dion Jay Tality
The practice of business process outsourcing (BPO) to a third party has gained popularity as a way to increase productivity while decreasing expenses. The secret to outsourcing success is getting the best BPO deals.
However, searching for and sealing the best deal with a BPO partner can be challenging, especially if you are unfamiliar with the ins and outs of the outsourcing industry. 
Fret not—we have rounded up some tips and tricks to help you unlock the secrets to getting the best deals. Read on to learn the best tactics to implement for strategic outsourcing.
Understanding BPO Deals in Outsourcing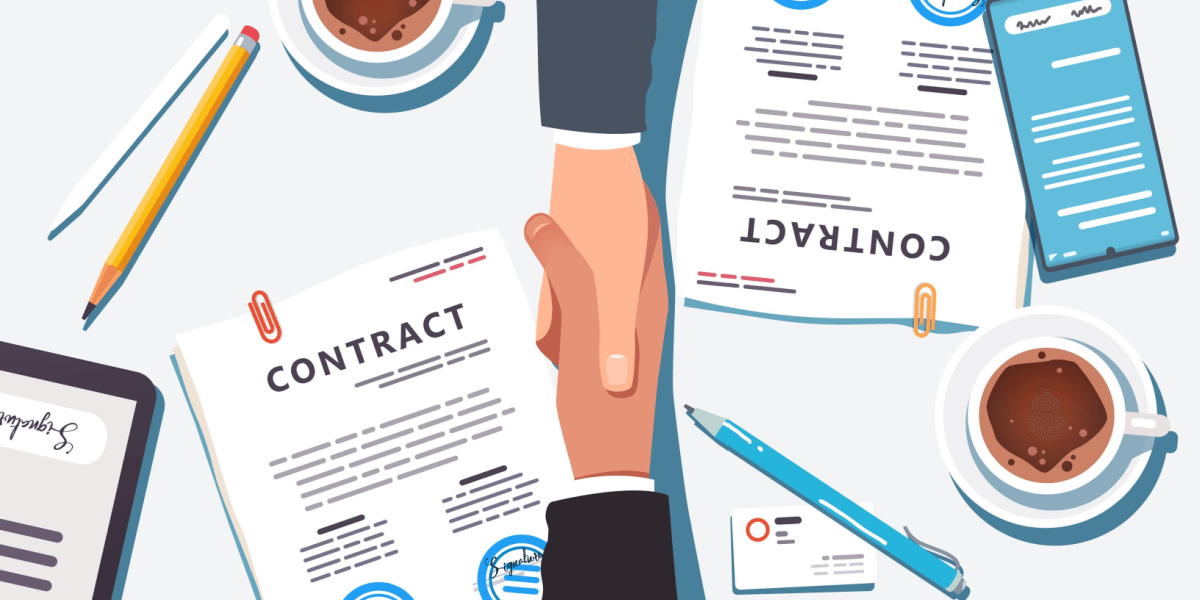 Let us start by asking: what is BPO? It involves delegating non-core tasks to a third-party vendor instead of handling them in-house. Companies of all sizes usually employ outsourcing to achieve the following business objectives:
Core business as the primary focus

Cost reduction

Easy access to expertise and technology

Streamlined business processes 

Scaled operations and growing businesses
Before starting a BPO engagement, businesses should review outsourcing deals and hire the BPO provider with the best offer.
BPO deals are outsourcing agreements between a company and an external service provider. These agreements usually detail vital aspects such as the work scope, workforce requirements, technology and resources, and pricing structure.
When searching for a BPO partner, "deals" can refer to what an outsourcing company can offer. But when you finally hire a service provider, your BPO deal should be legally binding to protect both parties. This outsourcing contract covers the following:
Business goals (including operational objectives)

Scope of work (detailed service descriptions)

Deliverables (expected output)

Service-level agreement

(SLA), including

key performance

indicators (KPIs)

Pricing model (how, when, whom, and how much)

Workforce (contractor head count and skill requirements) 

Technology and resources (tools, apps, software, equipment, etc.)

Data privacy, network security, confidentiality agreements, intellectual property rights, warranties, etc.

Insurance provisions and tax obligations

Monitoring and audit provisions

Dispute resolutions

Breach of contract (violation penalties and contract termination)

Clauses (for specific terms and conditions)
According to recent HFS Research, the global total contract value in the first quarter of 2021 increased by a whopping 251% year over year. The banking, financial services, insurance (BFSI), information technology (IT), telecommunications, and public sectors drove this increase.
Further, ISG reported that IT services comprised 72% of all global outsourcing contract values. Unfortunately, due to automation, Gartner predicted that 60% of BPO contracts for finance and accounting would not be renewed by 2025.
Five Proven Tips and Strategies for Finding the Best BPO Deals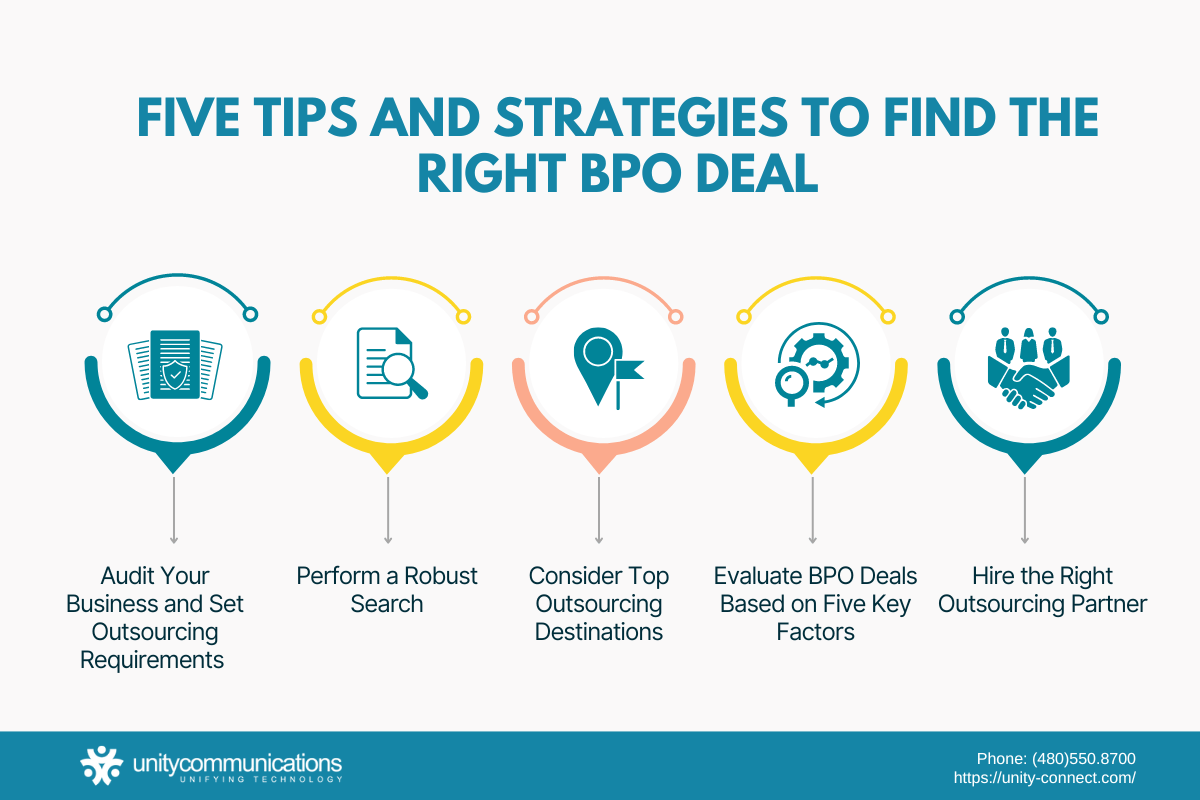 Outsourcing is a viable business solution for growth and success. However, finding the right BPO partner can be daunting. Getting the best outsourcing deal is a challenge, too. As much as possible, hire a BPO service provider that can provide the best value for your money and organization.
Below are five proven tips and strategies to help you find the right deal for your business needs.
1. Audit Your Business and Set Outsourcing Requirements 
Before looking for the best BPO deals, examine your operations first. A thorough audit helps you identify the following:
Operational Challenges.

Determine the pain points and areas for improvement in your business. This step helps you understand the specific challenges that outsourcing can address for your business.
Business Needs.

Getting to the bottom of your problems allows you to uncover your business needs. But aligning your outsourcing goals with these needs ensures

long-term

benefits.
Tasks To Outsource.

Decide which non-core business functions to outsource. This step allows you to free up resources, access expertise, and prioritize core competencies.
Outsourcing Requirements.

After determining which tasks to outsource, define the specific requirements for outsourcing. For example, list communication channels, cloud-based software and applications, and workforce specializations for your

customer service

operation.
Outsourcing Budget.

Finally, conduct extensive research and set your budget for outsourcing. Remember that the outsourcing goal is to save money in the long run.
2. Perform a Robust Search for the Best Outsourcing Deals
It is time to start searching for the best BPO deals. The goal is to pick an outsourcing partner best suited for your business needs and budget. 
Here are a few steps you can consider:
Search Online.

Check search engines, online directories, review websites, and social media channels. List the BPO companies that offer the

outsourcing services

you need.
Seek Referrals.

Ask colleagues, business partners, and industry associations for recommendations. They might have previously worked with reliable BPO companies that can help your business.
Attend Events.

Attend industry events such as conferences and trade shows to network with potential service providers. These events allow you to meet and connect with BPO companies offering the services you need.
Consult Agencies.

Consider working with a reliable outsourcing agency or consultant. They can provide expertise and guidance in your outsourcing journey, from identifying potential providers to evaluating proposals and negotiating contracts.
3. Consider Top Outsourcing Destinations for Better Deals
You can employ onshore, nearshore, or offshore outsourcing. But the key to outsourcing success is choosing a top outsourcing destination and a service provider that offers the best BPO deals. 
Here are a few recommendations:
Philippines.

The country is the world's BPO capital, known for its cost-effective labor, English-proficient workforce, and ideal business environment. Its IT and business process management (IT-BPM) industry ranked first in voice-related services, accounting for

13% of the global BPO market share

.

India.

This country remains the top outsourcing hub for businesses worldwide, especially IT services. The functions commonly outsourced to this nation are software development, software engineering, and BPO services. India tops the Tholons Top 50 Digital Nations list for 2023.
United States.

The U.S. also shares the top spot with India on this year's Tholons Top 50 Digital Nations list. The nation is becoming increasingly popular for businesses looking to employ onshore and nearshore outsourcing for their back-end operations. U.S.-based BPO companies guarantee geographical proximity, a

high-quality

workforce, and advanced infrastructure.
Latin America.

This region is an emerging outsourcing destination, particularly for businesses based in North America. Countries such as Mexico, Colombia, and Costa Rica offer a highly skilled workforce, a favorable business environment, and geographical proximity to the United States and Canada.
Europe.

This continent is also a top outsourcing hub for businesses outsourcing their non-core functions. Countries such as Poland, Ukraine, and Romania top the list of outsourcing destinations in Europe. They offer cost-effective services, skilled talent, and ideal business environments.
4. Evaluate BPO Deals Based on Five Key Factors
Once you have a list of potential service providers, it is time to screen them. Evaluate your prospects based on key factors that can influence the success of your outsourcing engagement. 
Here are some points to consider:
Experience and Expertise.

Look for a BPO partner with experience serving your industry and niche. For example, if you run an e-commerce business, ensure the service provider offers customer support, order fulfillment, and inventory management.
Management and Workforce.

Assess your prospects' management teams and workforce. Consider BPO companies with strong leadership, effective communication, and dedicated team members. Evaluate their training programs and support initiatives.
Technology and Resources.

Factor in the technology and resources that potential outsourcing providers offer. Consider BPO companies with advanced resources such as artificial intelligence (AI), automation, data analytics, and cloud-based technology.
Pricing Structure and Cost.

Evaluate the pricing models of your prospects, whether fixed price (FP), staffing, or time and materials (T&M) models. The pricing model should favor your outsourcing budget and help you save in the

long term

. Lastly, ensure the service provider has streamlined and seamless

BPO payment

processing

.
Credentials and Reputation.

You want to work with a BPO partner with a good reputation. First, consider crucial credentials such as business licenses, standard certifications, and even BPO awards. Second, review client feedback to gauge their competency, reliability, and credibility.
5. Hire the Right Outsourcing Partner With the Best BPO Deals
Finally, you have reached the final yet most important step: hiring a BPO partner. To make informed decisions, ensure that the outsourcing offer is:
Relevant to your niche or industry.

Hire a BPO partner with experience working with businesses in your industry or niche.
Appropriate for your business size.

Work with an outsourcing provider that can meet your business needs. Ensure you receive the level of support your business requires.
Suitable for your outsourcing budget.

Look for a BPO partner providing a cost-effective solution that fits within your budget. Consider both the upfront and long-term outsourcing costs.
Compliant with your outsourcing requirements.

Work with an outsourcing provider that ticks all the boxes of your outsourcing requirements. These requirements include workforce type, modern technology, data privacy, network security, and privacy regulations.
Here are some points to avoid:
Not examining your business operations before outsourcing

Employing offshore outsourcing without checking onshore and nearshore outsourcing

Choosing outsourcing affordability over service quality

Focusing on technology and resources over talent

Not checking websites, asking for quotes, or conducting interviews during screening

Not creating an SLA after hiring a BPO provider
Best Practices for Successful Outsourcing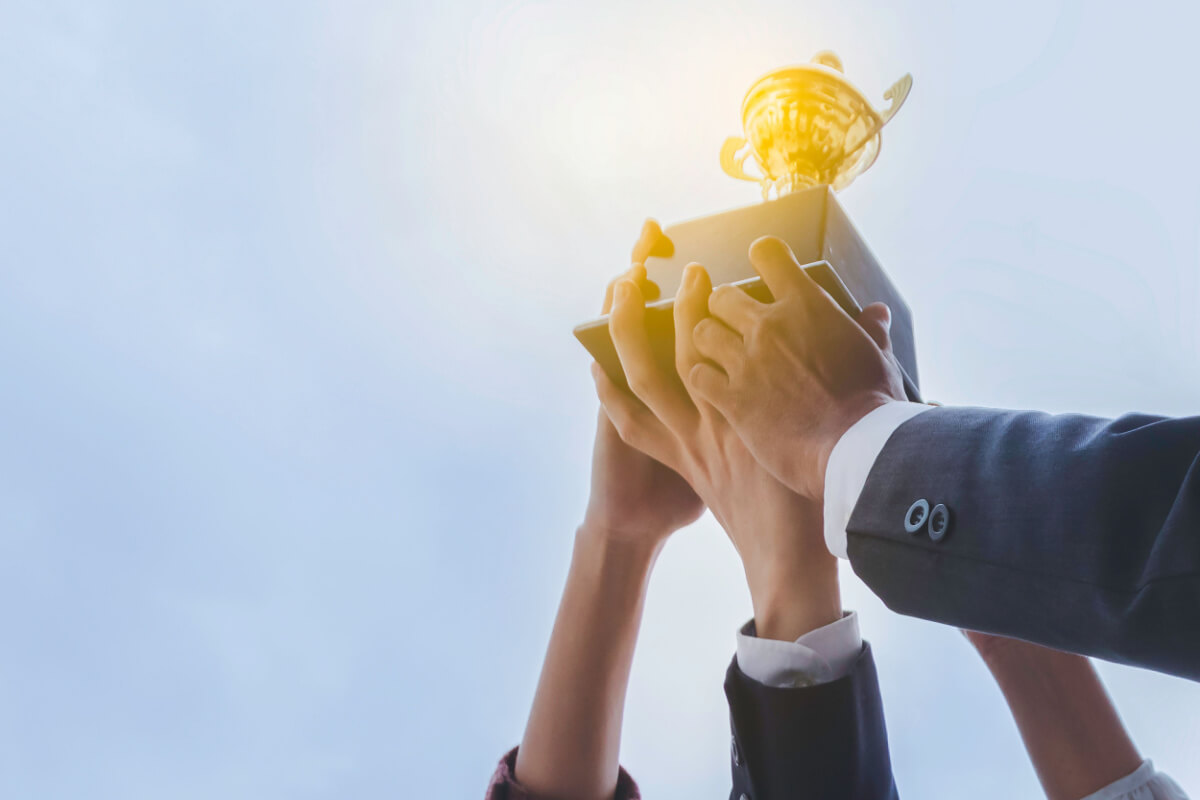 According to Bloomberg's most recent PR release, the BPO global market value could be worth $422.61 billion by 2029 at a 7.8% compound annual growth rate (CAGR). These figures prove how many businesses find outsourcing highly reliable. But the secret to BPO success is strategic outsourcing.
Smart outsourcing leads you to the best BPO deals. It gives you access to the right expertise, technology, and resources. It also offers several benefits such as saving on operating costs, prioritizing core functions, streamlining processes, and increasing efficiency.
Besides getting the right outsourcing deal, implement the following best practices to ensure successful outsourcing:
Pick the right outsourcing partner.

The success of your outsourcing venture boils down to choosing the BPO partner offering the best deal.
Negotiate the terms and conditions.

Including detailed terms in your

outsourcing contract

helps avoid misunderstandings and conflicts later.
Establish an SLA.

As part of your

BPO contract

, this legally binding agreement sets your hired provider's work scope and your obligations as a client.
Communicate and collaborate regularly.

Constant interaction with your BPO partner helps align expectations, build trust, and promptly address issues.  
Measure performance and track progress.

This step helps you evaluate your outsourcing engagement's efficacy and identify improvement areas.
Optimize processes continuously.

Adjusting and streamlining workflow helps improve your service efficiency, quality, and productivity.
Reskill and upskill the workforce.

Training your workforce enhances their knowledge and skills, making them adaptable and effective in the

long term

.
Invest in the latest technology.

As part of your

BPO deals

, ensure your BPO partner leverages advanced technologies such as AI, automation, and cloud computing.
Stay abreast of industry trends.

Stay updated with the latest outsourcing developments such as

digital transformation

, omnichannel solutions, talent upskilling, and strategic outsourcing.
The Bottom Line
Smart outsourcing is a viable solution for improving business operations and reducing operating costs. But every outsourcing case study, whether successful or not, hints that you must approach this venture strategically and perform due diligence to get the best offer from the right BPO partner.
Unlock the secrets to the best BPO deals and achieve success in your outsourcing endeavors by following our tips and tricks here. These help you maximize your outsourcing deals for business growth and success.
Looking to get the best outsourcing deal? Contact us, and let's connect! Unity Communications offers reliable BPO services at an affordable cost. We can help your business grow and flourish.
Enjoyed what you just read? Share it with your network.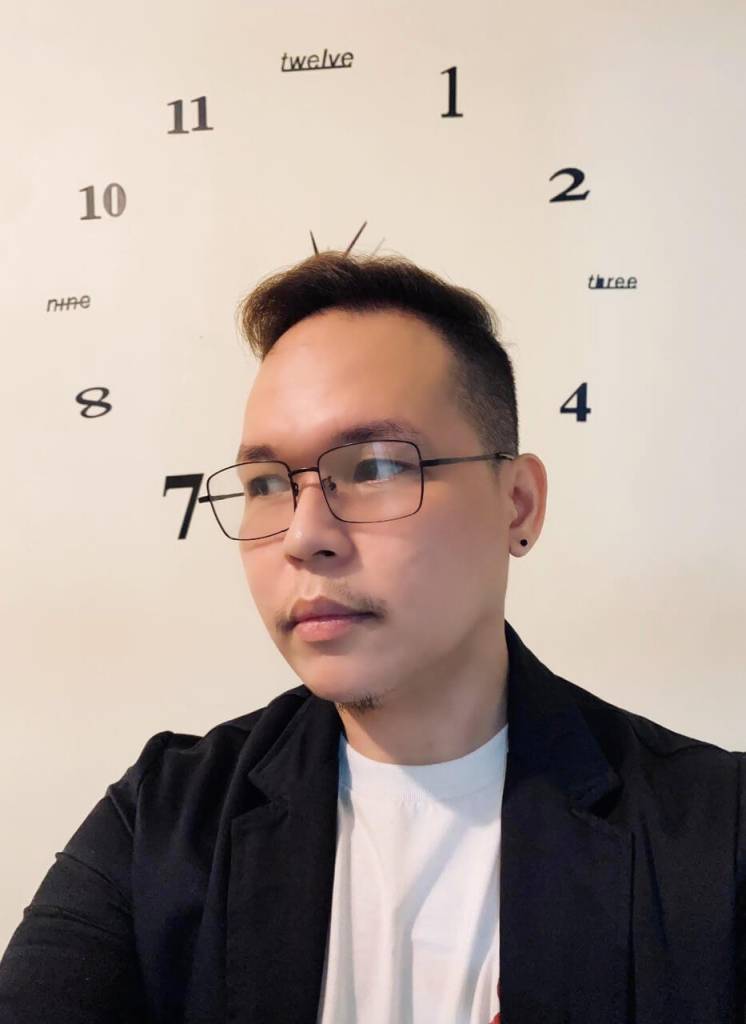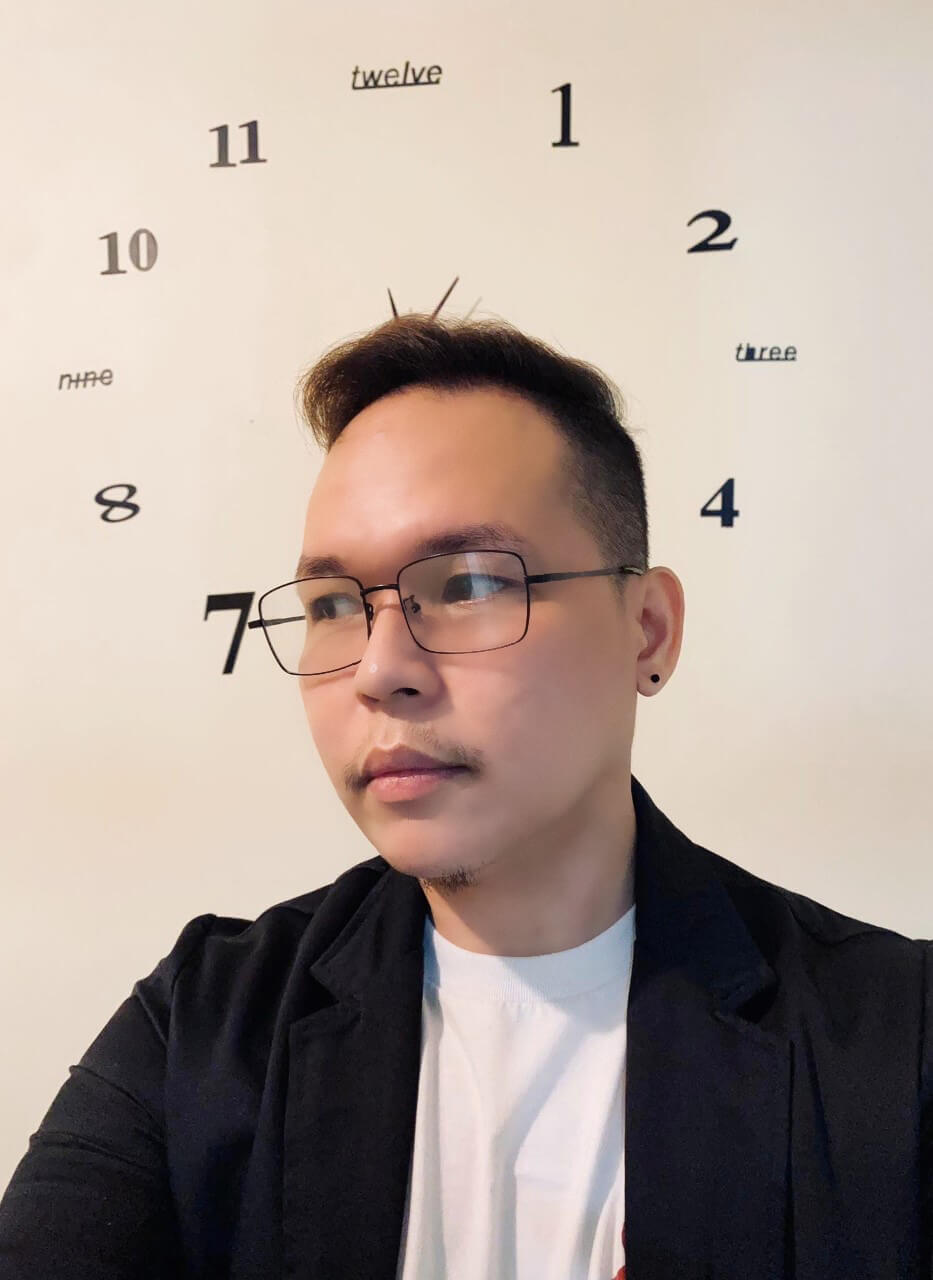 Dion Jay Tality is a content writer and one of the creative forces behind Unity Connect's blog posts and marketing copy. Before joining Unity Communications, he spent over five years in the BPO industry, wearing various hats—from being a CSR and email and chat support specialist to being an SME and QA analyst. Name it; he tried it!
Passionate about writing, Dion loves to bring ideas to life through the power of words. When he's not busy crafting content, you might find him working out, enjoying mindful walking, exploring conspiracy theories, or singing at the top of his lungs.